"Wishing you a pot o' gold,
And all the joy your heart can hold."
                                       - Unknown
My name is Patrick. My grandfather was born in County Cork, Ireland. My great-grandfather and great-grandmother were from County Louth, Ireland. I have freckles. And if I let my beard grow long enough you can see hints of red. So when it came time to write this article on St. Patrick's Day for Visit Fairfax, I slowly put down my Guinness and raised my hand to volunteer my services. Aside from having Irish blood running in my veins, I also appreciate the whole concept of what it means to me to be Irish - quick to lend a hand, interested in our history and culture, desire to make others smile, a strong work ethic, deeply spiritual, and always enjoying a fresh pint (or three) in the good company of friends. So with all that being said...here are some suggestions of fun things to do on St. Patrick's Day to help all of you reach peak Irish during the week of St. Patrick's Day here in Fairfax County.
 
Grab Some Whiskey
I know, I know...it's kind of cliché to start off an Irish article with something about drinking and whiskey. But the Irish did invent the stuff, and it's also really, really good. So what better way to honor the Irish and their invention than a visit to a local bar to find your favorite. You can start at the MacMillan Whisky Room in Mosaic where you'll find almost 40 Irish Whiskeys to choose from (I tend to like Powers or Redbreast). Or maybe journey over to Bourbon Boulevard where over 30 Irish Whiskeys await. If you can't make it to one of these places, I'm sure most local bars or restaurants will have some Jameson or Bushmills to quench your thirst.
 
Partake In Some Irish Food
Bangers and mash. Fish and chips. Beef stew. And, of course, potatoes in some shape, form, or fashion. These are some of the more traditional entrees and sides you'll find on Irish menus around St. Patrick's Day. Book yourself a seat at either The Old Brogue in Great Falls or The Auld Shebeen in the City of Fairfax - both have fantastic Irish fare and spirited entertainment all day long on March 17th. Both these restaurants are on our list of Irish Pubs - all of which will gladly give you your fill of fare - but make sure to book your spot early as these places can be quite packed when St. Patrick's Day arrives. And if you're cooking at home, do yourself a favor and get some Kerrygold Pure Irish Butter to add to your dish if it's called for - it's truly the best in the world.
 
Find Some Clovers
The shamrock, a small clover, is the official flower of Ireland. Shamrocks are a member of the Oxalis (wood sorrel) family, which contains more than 300 species. If you believe Irish legend, the shamrock only grows in Ireland, but the secret is that clovers are actually found all over our beautiful parks here in Northern Virginia. I encourage you to get outside, enjoy the bright springtime sunshine, and go in search of your very own elusive four-leaf clover. Fun fact: There are approximately 10,000 three-leaf clovers for every "lucky" four-leaf clover. Here are more clover facts if you're interested.
 
Enjoy An Event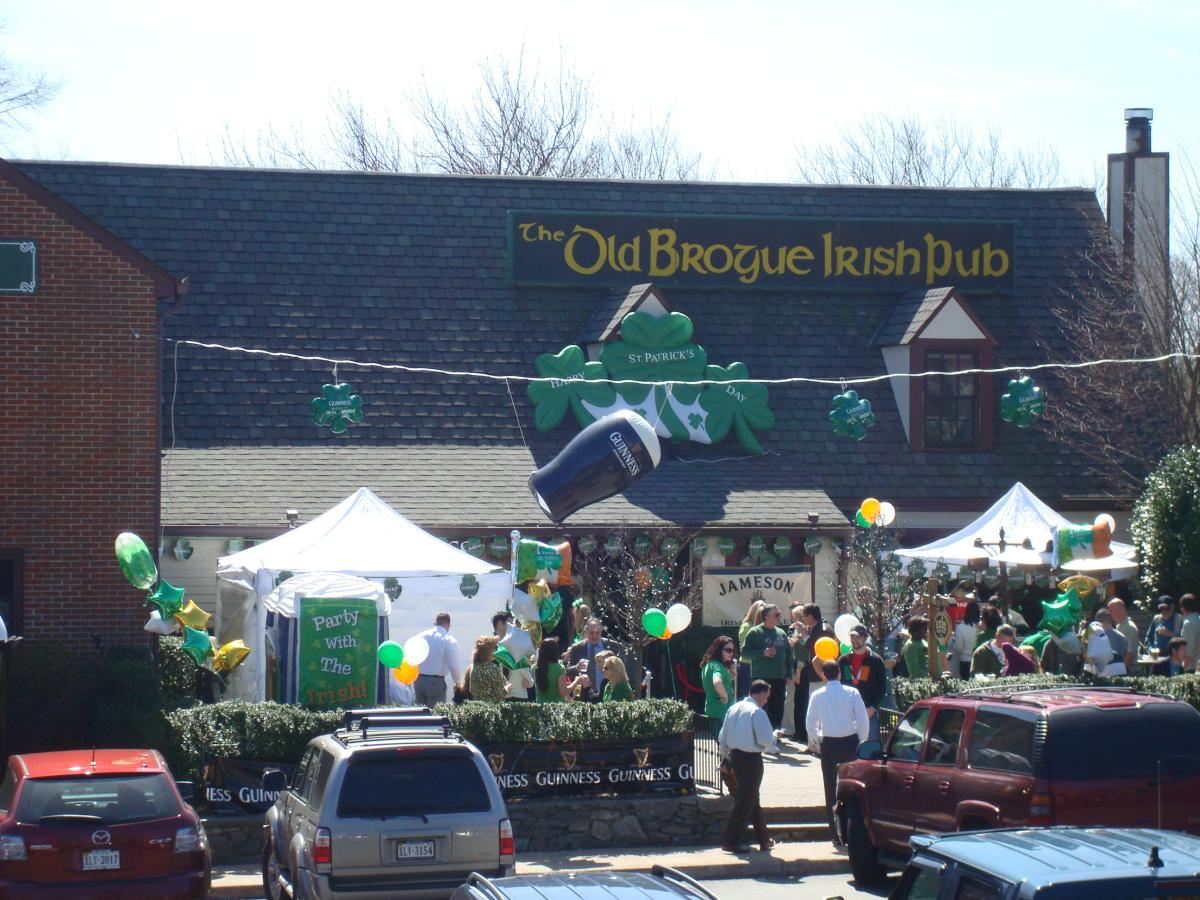 Photo courtesy The Old Brogue
The Irish love a good time, so it makes sense that there will be plenty of fun to had by all here in Fairfax County. You can bet there will be plenty of Irish music and dancing all over Fairfax County (especially at my house ) and the festivities can be found at various locations all throughout the week of St. Patrick's Day. Visit our St. Patrick's Day page to see all the festivities.
 
Learn About Irish Immigrants In Fairfax County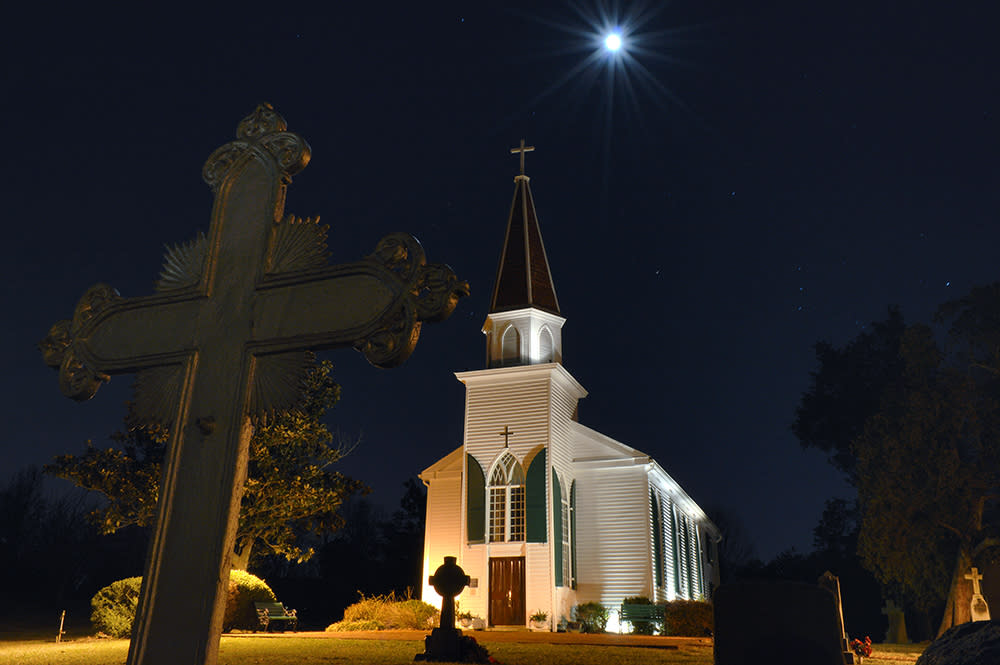 Saint Mary of Sorrows Catholic Church
Fairfax County (and the rest of America) saw the beginning of the greatest influx of Irish immigrants in the 1800s due to the Great Potato Famine that ravaged the "Emerald Isle." The ones that settled here typically were laborers who worked on railroads or farms. One of the most notable Irish-related sites in Fairfax County is Saint Mary of Sorrows Historic Catholic Church. The church was dedicated in 1860 and was made possible by a land donation by a couple of Catholic families living in the area. In the 1850s, the Orange and Alexandria Railroad began to lay track westward from Alexandria and advertised for working men. Irish immigrants responded and ultimately settled at Fairfax Station. The pastor of St. Mary's in Alexandria and his assistant took care of the spiritual needs of the Catholics at Fairfax; they often said mass for railroad workers in boxcars standing at the Station, about one-quarter mile from the Historic Church. These immigrants became the nucleus of the new parish. You can visit the historic church today and walk the grounds, and also learn of interesting stories of Clara Barton, the Civil War, and how events that took place at the Church were an early inspiration for Barton's founding of the American Red Cross. (Another interesting site nearby? The Fairfax Station Railroad Museum)

So for this St. Patrick's Day, you now have your guide on how to achieve Irish zen. Reach out to us on social media using #FXVA or @VisitFairfax or tag us in your photos, and show off your Irish spirit as you celebrate. You get bonus points if you're wearing green in the photos. Have fun everyone and Happy St. Patrick's Day!!!