It's summer, and it's hot out. And the kids (even the teens) are bouncing off the walls. Where can you take them that will cool them down AND let them burn off that dizzying energy?
Fairfax County is home to five full-size waterparks, but did you know there are countless other spray grounds and splash pads that even the littlest tykes can run amok in?
Here are some of Fairfax County's best outdoor spray grounds, splash pads, and waterparks that kids can cool down in and you can all have some family-friendly fun.

Our Special Harbor & Chessie's Big Backyard
6601 Telegraph Rd, Franconia

This isn't your average spray ground - in fact, it was named the No. 2 splash pad in the nation according to USA Today's 2023 Readers' Choice Awards. Styled around the Chesapeake Bay and located within Lee District Park, Our Special Harbor is a fully accessible, zero-water-depth spray ground for children of ALL abilities. (Think of it like Clemyjontri Park, but with water!) The play area features a water maze, a dumping crab basket, fountains, misting sunflowers, and a beach area with interactive water tables.
Nearby, Chessie's Big Backyard is the dry play area – complete with a 2,160-foot trail designed for children of all abilities that appeal to the various senses. Follow the boardwalk to encounter wildlife figures representing animals indigenous to the region. Climb the accessible treehouse, play on the playground, or take a spin on the Carousel.
Fairfax City Splash Pad at Old Town Square
10415 North St, Fairfax

The City of Fairfax's Old Town Square is home to a concrete surface that shoots blasts of water upward for kids to play in during summer months. After dark, the spray ground turns into various shades of neon colors, making it a particularly memorable time to dash through the cool water. Open 8am – 10pm daily through October; check their site for dates the fountains will be closed due to event programming.
Pirate's Cove Waterpark
6501 Pohick Bay Dr, Lorton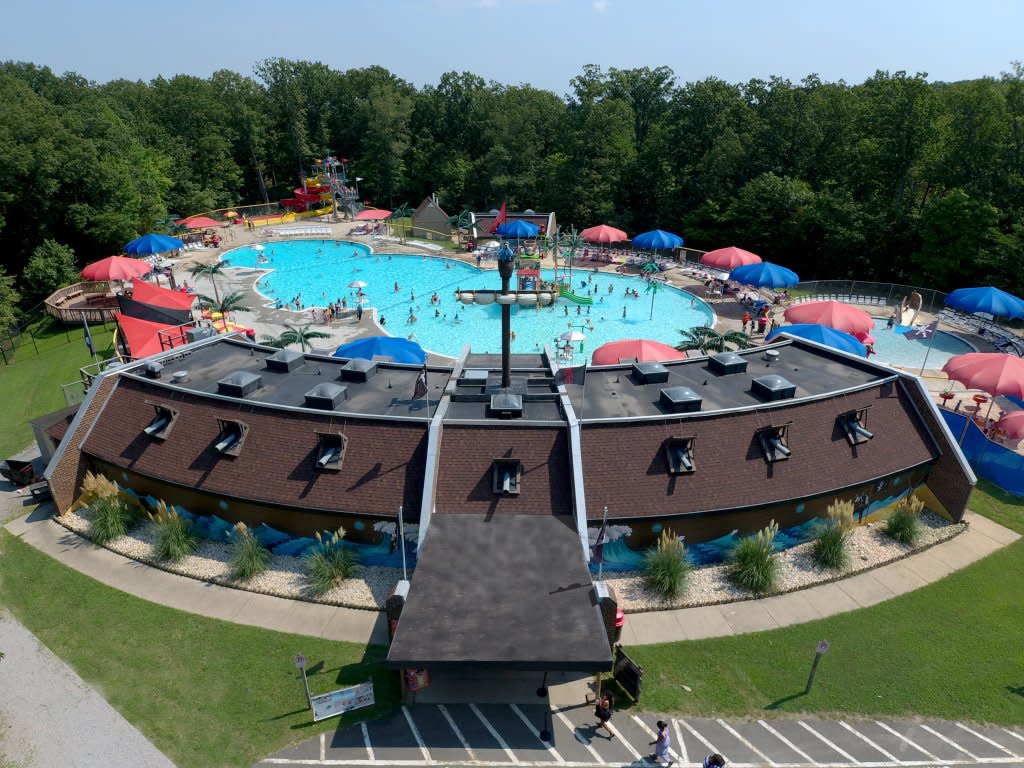 Image courtesy NOVA Parks
Many locals already know about this seasonal waterpark at Pohick Bay Regional Park, as it has a huge play area including slides and a 300-gallon dumping bucket. But, for little ones, the park also has water-spraying palm trees, a spacious tot pool with a smaller slide, and a beach area complete with a sand play area. Maybe your kid will get lucky and find the buried treasure!
Atlantis Waterpark
7700 Bull Run Dr, Centreville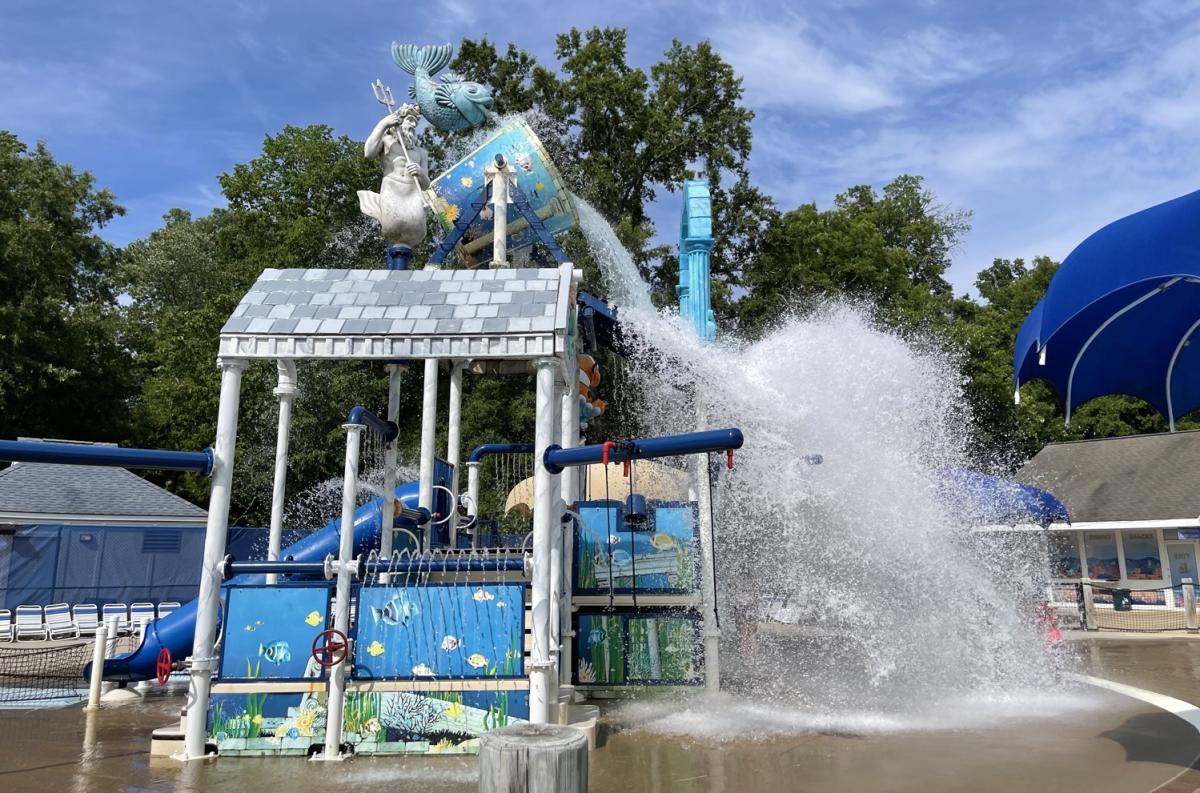 Image courtesy Stephanie Sheaffer/Metropolitan Mama
Similar to Pirate's Cove, this waterpark at Bull Run Regional Park is a bigger attraction. However, younger kids can still enjoy a baby pool with splash jets, a sand play area, and a large water-based playground with sprayers and dumping buckets.
Water Mine Family Swimmin' Hole
1400 Lake Fairfax Dr, Reston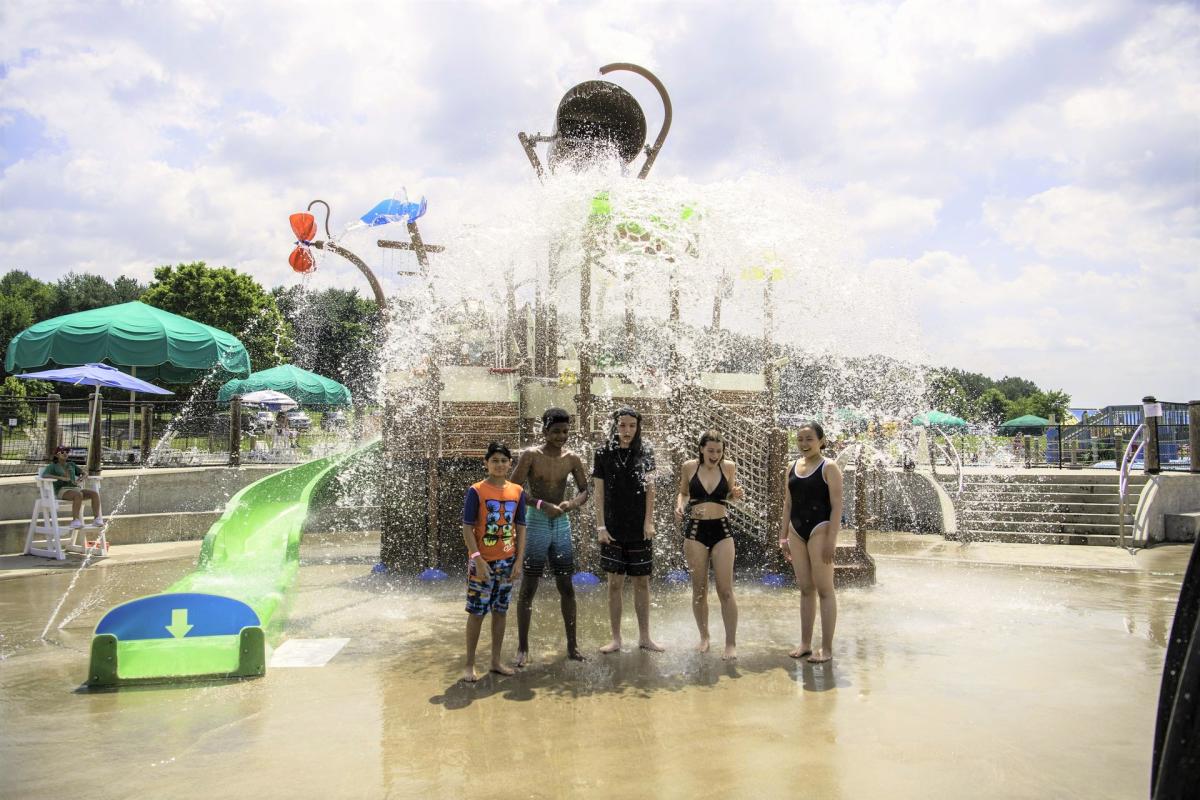 Image courtesy Fairfax County Park Authority
This beloved mainstay managed by the Fairfax County Park Authority has something for all ages. While adults and older kids may love the lazy river, the young tots can start their water play experience in the Tenderfoot Pond, complete with a pint-sized slide and gentle bubblers. Kids can run through the spray fountains and bubblers in the Boomtown water playground and of course the more adventurous kiddos can splash and play in the larger slides and pools.
Reston Town Center Fountains
11900 Market St, Reston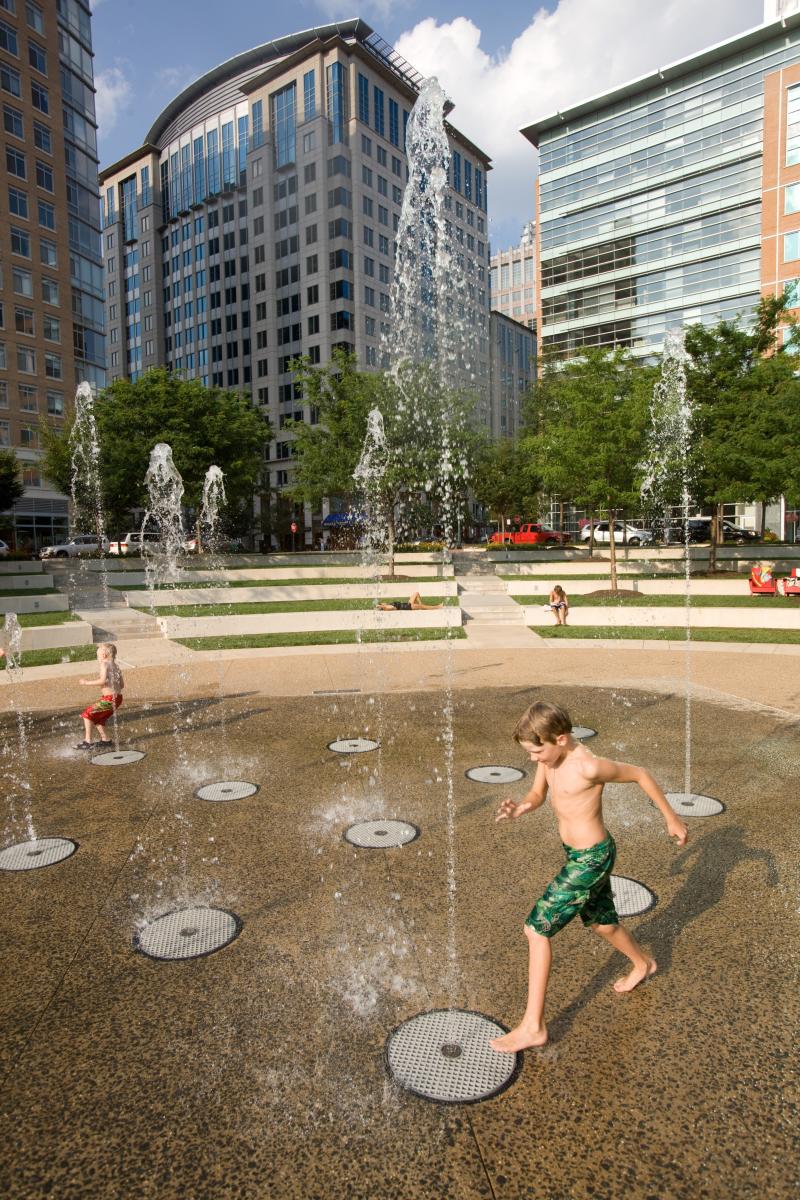 Image credit Mark Finkenstaedt for Boston Properties
Located in Town Square Park, this spray ground is open May through September from 10am – 10pm daily except during special performances in the park and features about a dozen jets that shoot high into the sky. Amphitheater-style seating surrounds the spray ground, so grab some lunch from a Reston Town Center restaurant and watch the kids play with glee.
The Boro Splash Pad
8350 Broad St, Tysons

Located on the upper promenade of this thriving new development in Tysons is a 15-jet splash pad at Boro Park. Open 9am-9pm daily during the summer season.
Lake Anne Plaza Fountain
1609 Washington Plaza N, Reston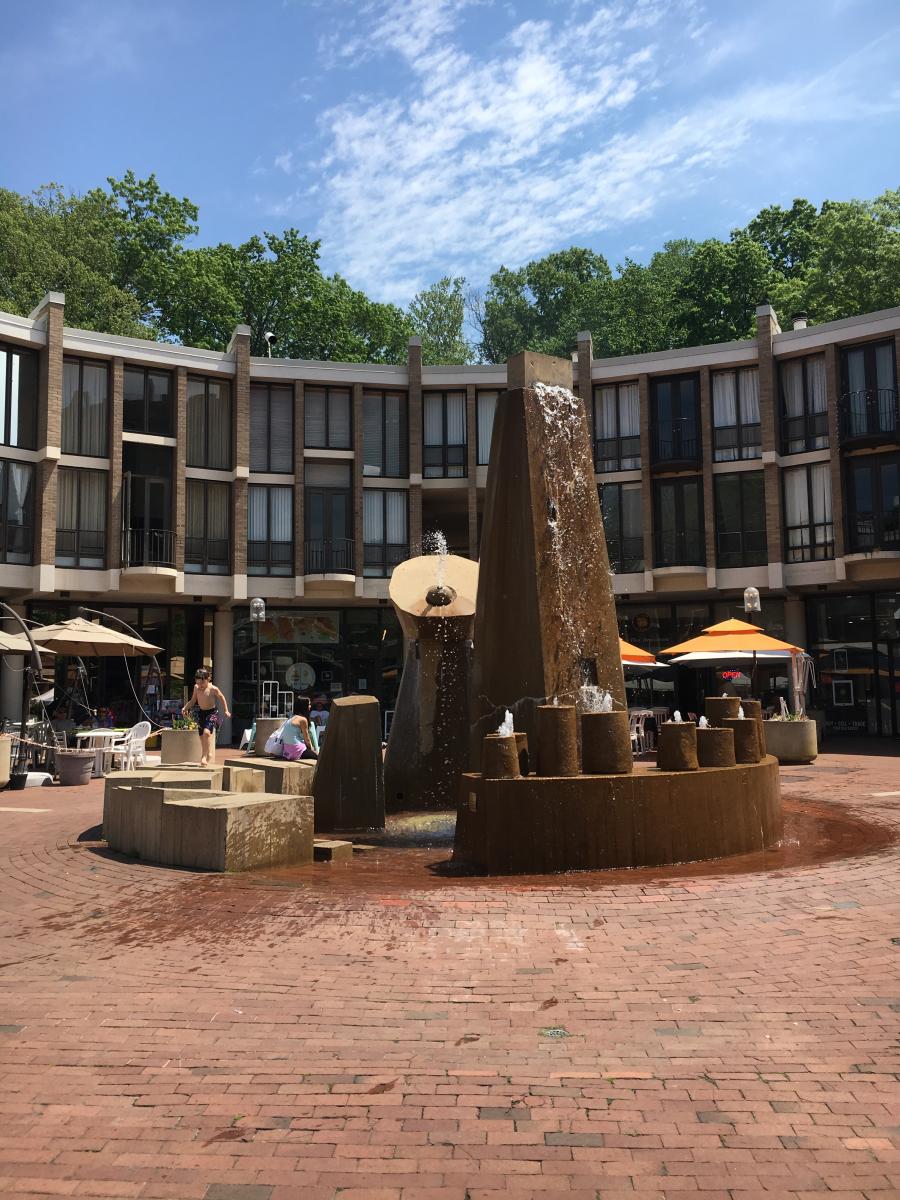 Image courtesy Public Art Reston
Built as a focal point and gathering place of Lake Anne, this 1965 concrete sculpture by James Rossant was created as a piece of public art. However, often, you will find the littlest tots exploring water for the first time in the light spray that the fountain puts off. After playing, the big kids might like to rent a paddleboat and pedal out into Lake Anne.
For a deeper dive (see what we did there!?) into water-based fun in Fairfax County, check out this ultimate guide to waterparks, pools, cruises, boating, and river walks. Share your water adventures with us on social using #FXVA and @VisitFairfax. Did we miss a spot on this list? Let us know in the comments below.