It would be nearly impossible to visit Fairfax County without noticing it. We are practically encircled by it. And, within that circle, there's even more, bearing names like Accotink, Anne and Audubon. We celebrate driving alongside it. We recommend eating besides it. And we definitely think you should take a walk next to it. What is it?
It's water. From the roiling, rocky force of Great Falls to the placid marshlands of Huntley Meadows, water is everywhere here. And instead of going into further depth about how you can get near the water, today we will tell you how to get on the water. So slap on your life vest, slather yourself in SPF and get ready for the experience of your life atop the waters of Fairfax County!

By boat.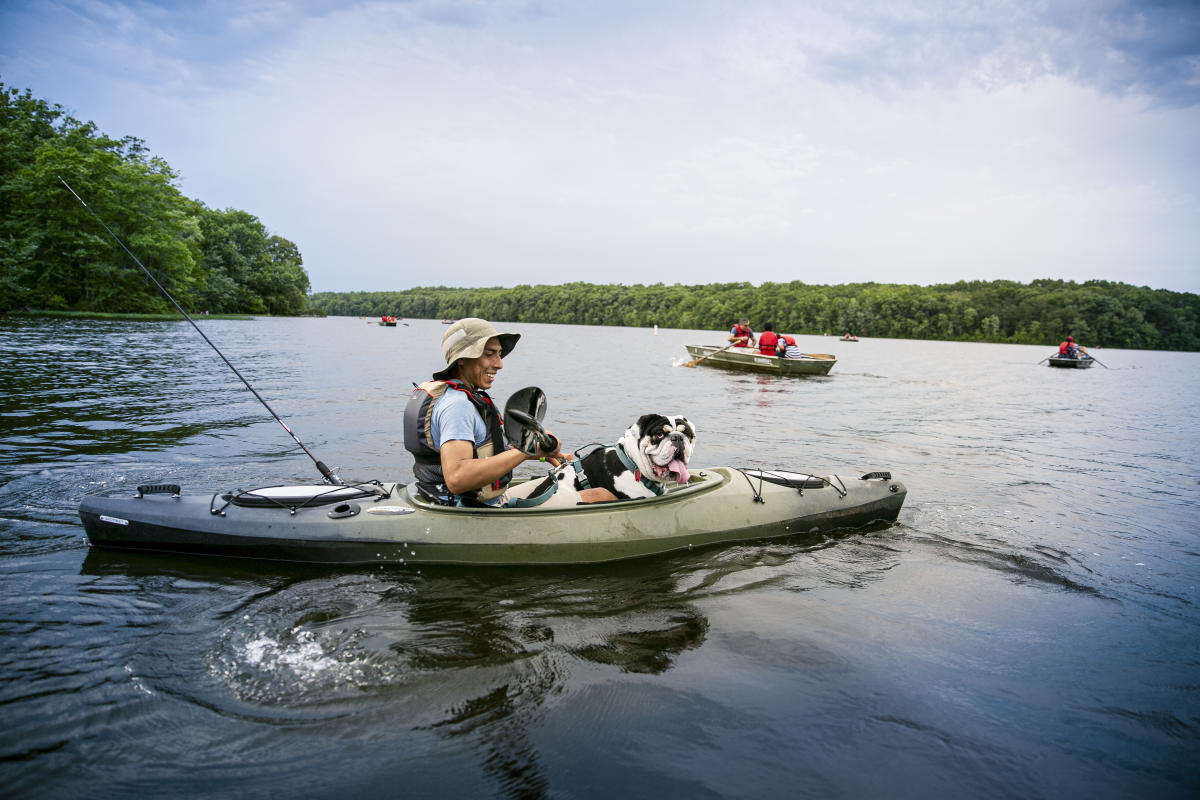 Want to float or gently paddle the day away here in Fairfax County? It's not hard to do. Many of our parks offer canoe, kayak, and paddleboat rentals. Or you can rent (or bring your own) stand-up paddleboard for some totally Insta-tastic selfies in front of Washington, DC's monuments or in popular spots at Lake Anne, Pohick Bay or Riverbend Park. Of course, many of the same places you can get on the water also offer hiking, bird watching and fishing (check regulations, as some parks limit fishing to a shoreline activity.)
But the real appeal—especially on a hot summer day or amidst fall color—is getting out into the water on a boat and drinking in the sights for yourself. Here's where to do that:
Belle Haven Marina. A scenic park along the Potomac River, midway between DC and Mount Vernon. Rent a sailboat, kayak, canoe, jon boat, stand-up paddleboard and more to explore the sights seven days a week. Want to learn how to sail? They offer a number of classes and courses for children and adults!
Pohick Bay Regional Park. Extensive riverfront access with swimming, golfing, camping and eagle sightings. Rent canoes, kayaks, pedal boats and paddle boards on Fridays and weekends through summer.
Mason Neck State Park. On the Potomac River, adjacent to Pohick Bay and known for its bald eagle population. Rent a kayak Fridays and on weekends. Must have reservations.
Fountainhead Regional Park. Situated on the Occoquan River, this park also offers mountain bike and equestrian trails, as well as a boat ramp and paddle tours. Rent kayaks, canoes and power boats.
Occoquan Regional Park. Across from the town of Occoquan and adjacent to the Workhouse Arts Center, this park combines well with other sightseeing. Rent a kayak daily through the thick of summer and on weekends thereafter.
Lake Accotink. Enjoy the park's carousel, hiking trails, mini golf and other activities. Then rent a canoe, kayak or pedal boat (or bring your own non-gas-powered craft to launch from their ramp) and explore the scenic shoreline.
Burke Lake Park. A large and scenic lake with golfing, a carousel, disk golf, picnic areas, an amphitheater, and mini golf. Rent a boat or bring your own, non-gasoline-powered boat.
Lake Fairfax Park. Home to the Water Mine water park (see below) and a skate park, Lake Fairfax also features weekend kayak and pedal boat rentals and a boat ramp. (No sailboats, motored boats or paddleboards allowed.)
Riverbend Park. This idyllic Potomac River-adjacent park sits just above Great Falls Park with its Class V+ rapids (that are only recommended to be navigated by pros). But here, above the falls, there are little islands and rocks to explore upriver in the calm waters by boat. Kayaks and canoes are available to rent on weekends. Swimming, however, is prohibited.
NOTE: Check the individual park's websites for hours of operation and seasonal rental info. Information above references summertime rentals.
By cruise.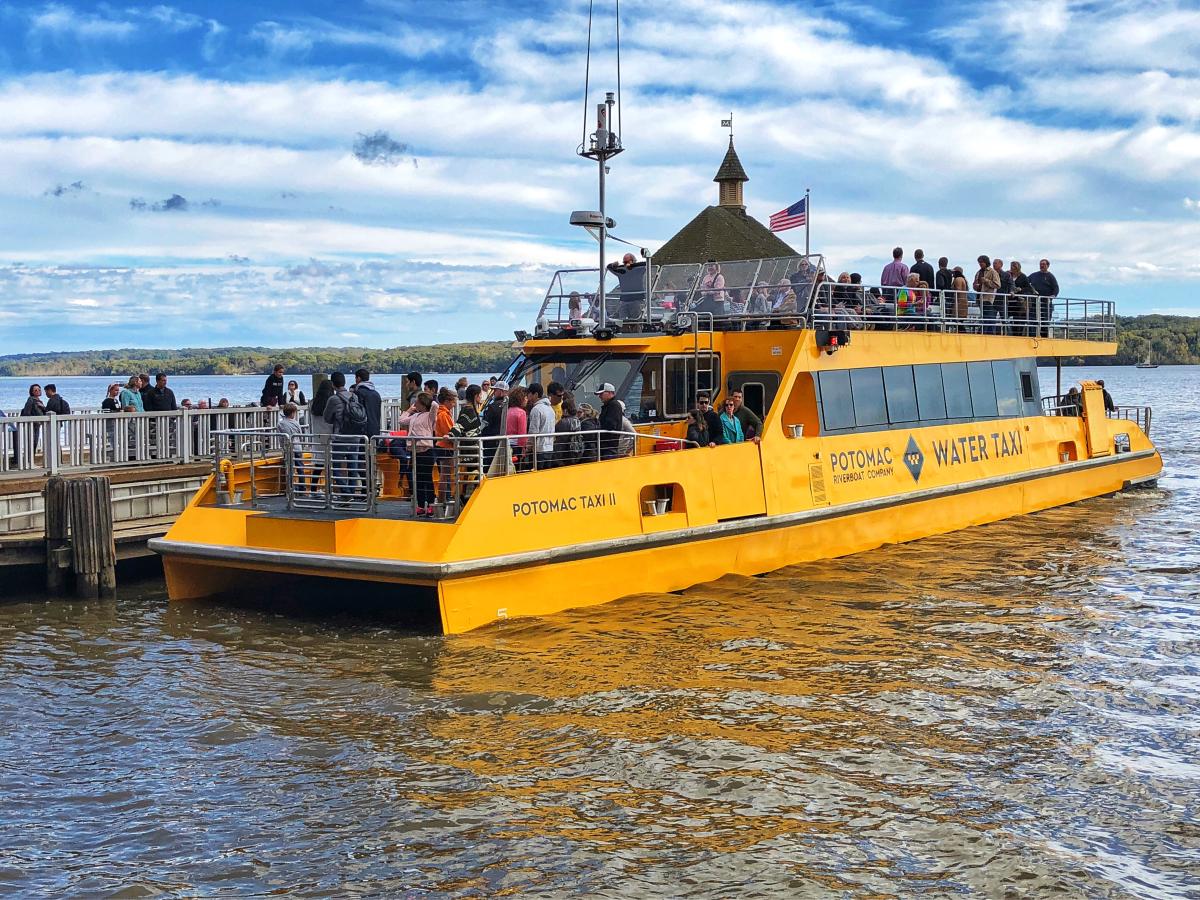 Wharf at Mount Vernon by Water Taxi, courtesy George Washington's Mount Vernon
So maybe you don't feel like paddling the 8 or 10 miles between the monuments and George Washington's Mount Vernon. Fortunately, there's a cruise for that. Float down the river on a guided tour that takes you past the Washington Monument, Lincoln Memorial, Jefferson Memorial, Reagan National Airport, Old Town Alexandria, National Harbor, and Mount Vernon. You'd have a hard time seeing so many iconic sites on any cruise in any destination in the U.S. Make it a one-way trip and tour America's most popular historic home. Not to oversell, but the museum at Mount Vernon alone is worth the trip, not to mention the house tour, gardens, Pioneer Farm and spectacular view.
By floatie.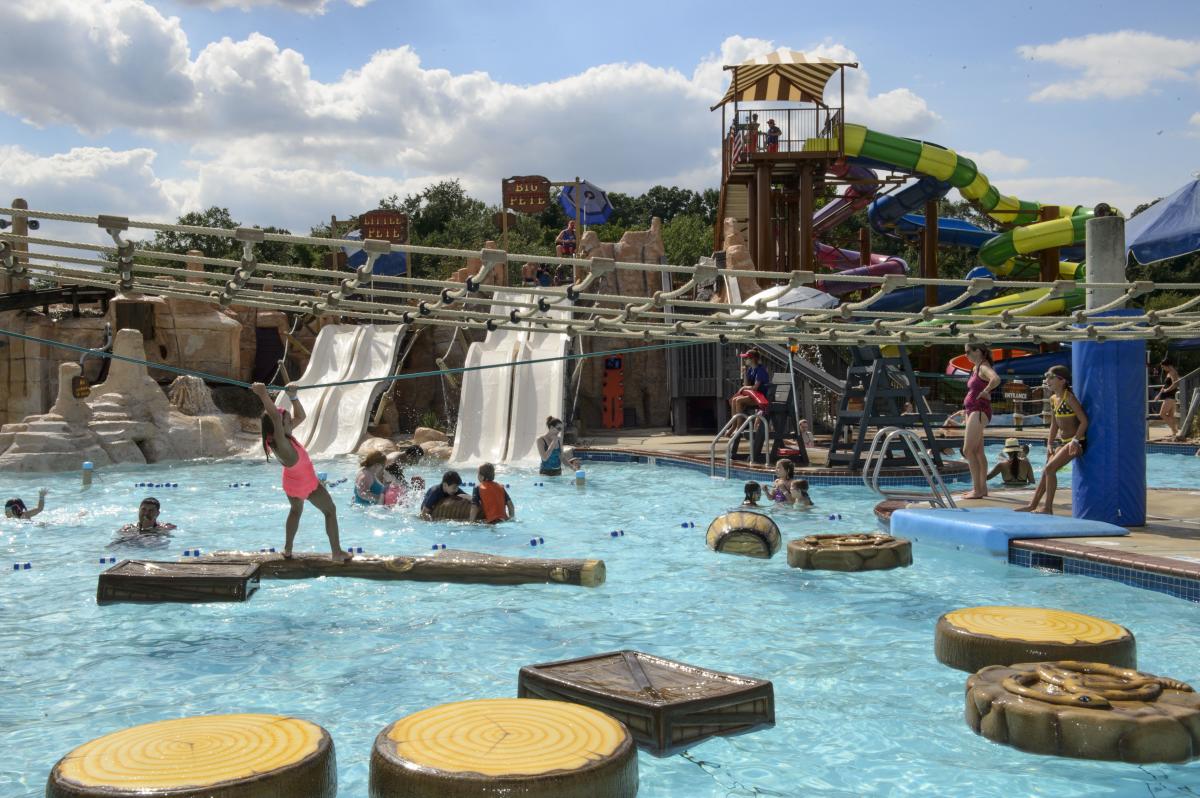 Water Mine Family Swimmin' Hole, courtesy Fairfax County Park Authority
Grab your noodles and rubber duckies! It's time to hit the waterpark! With both indoor and outdoor parks, there is something for everyone—year-round!
By speedo.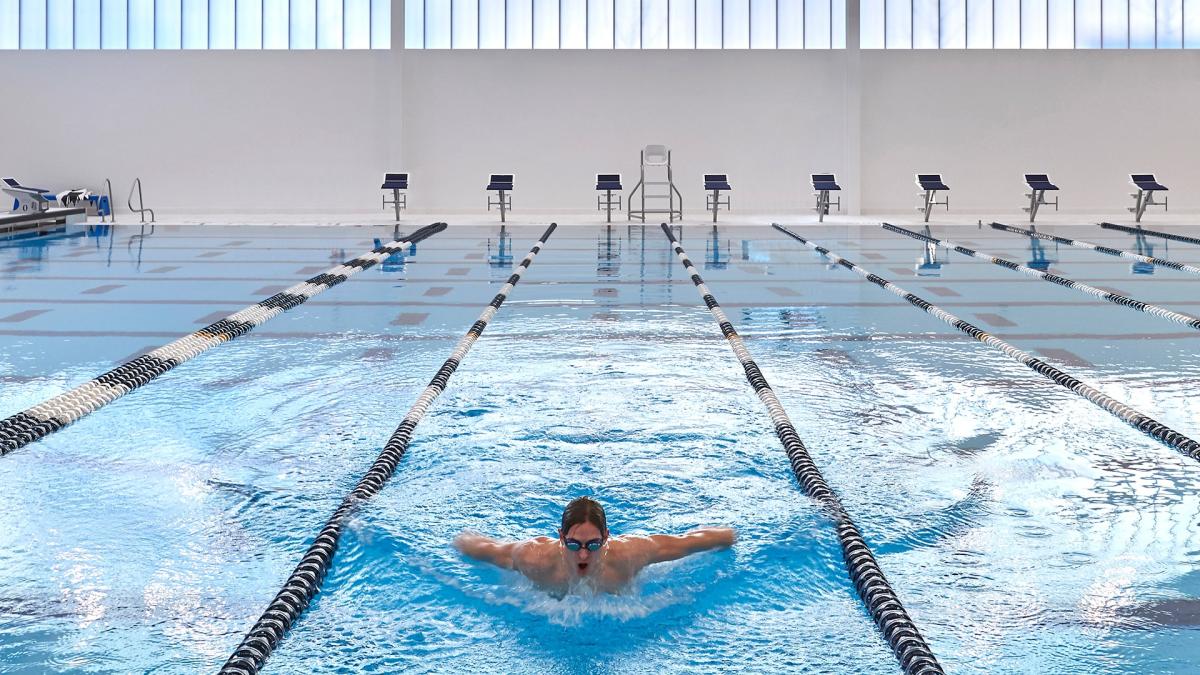 Swimming at The St. James, courtesy The St. James
In addition to the pools at our waterparks and the fabulous facilities at SpaWorld and The St. James, Fairfax County's Rec Centers have public indoor (unless otherwise noted) pools for your family to get on and in at reasonable rates (see page 9). Most also have saunas, a spa, a sundeck and other features to enjoy:
By other means.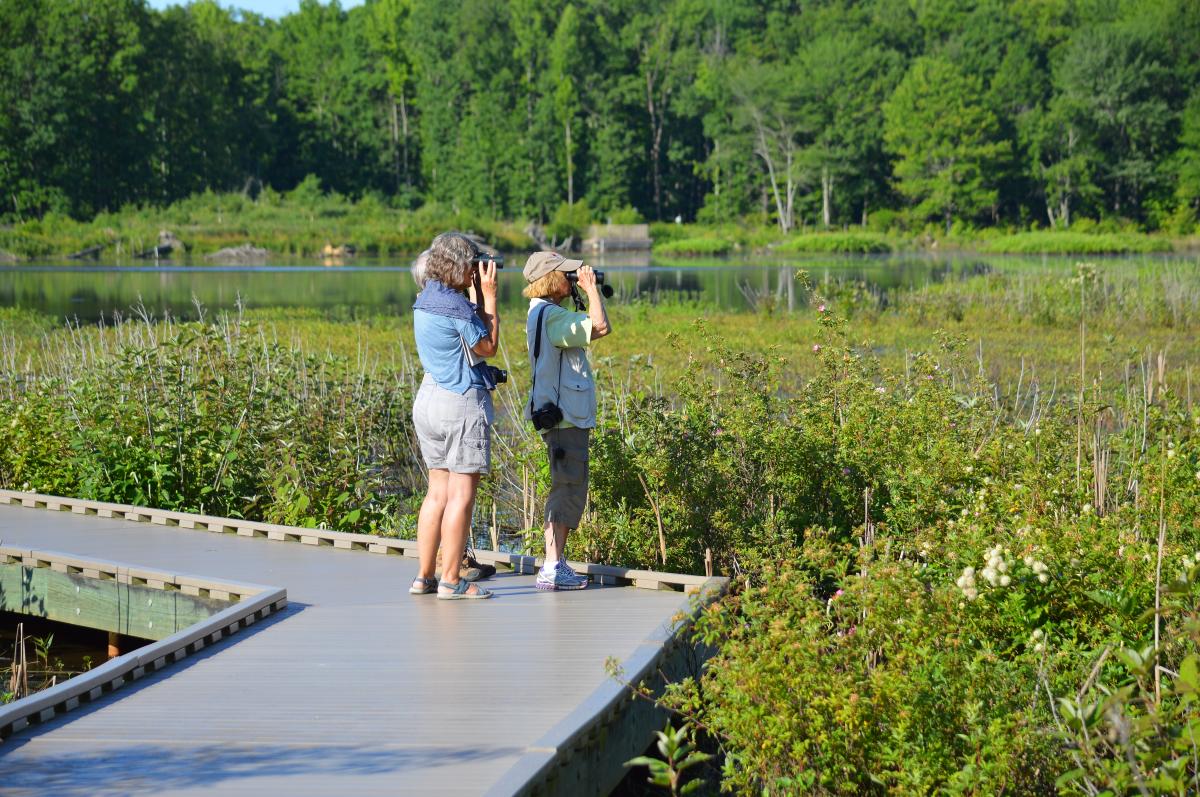 Huntley Meadows Park boardwalk
When you think "on the water," you likely think of watercraft. But in Fairfax County, you can also walk on the water. And heal on it, too. Check out these interesting ways to get on the water:
Which watery adventure sounds best to you? The Mount Vernon cruise? Canoeing on the Potomac River? A day at the water park? Whatever it is, we hope you stay cool—and surrounded by water—on your next trip to Fairfax County!