Sweeten up the holiday season with a selection of scrumptious, melt-in-your-mouth desserts - straight from the kitchens of Fairfax County's most talented chefs and restaurants. 
L'Auberge Chez Francois - Great Falls, VA
Chocolate Truffles (Le Truffes au Chocolat)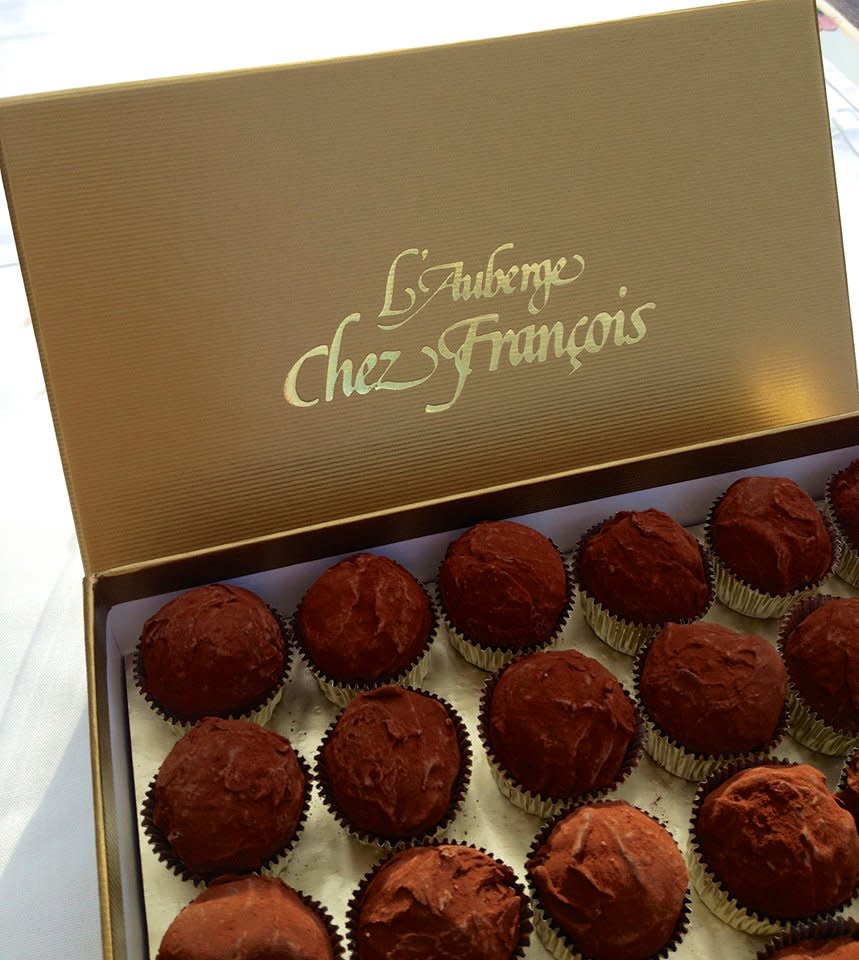 Yields about 36 Truffles
Ingredients:
1/3 cup heavy whipping cream
12 oz. semi-sweet dark chocolate
2 TB orange liqueur (Grand Marnier), optional
1 cup confectioners sugar
1 cup cocoa powder

Directions:
To Prepare the Truffle Cream:
Pour the cream in a heavy-bottomed saucepan and bring to a boil over high heat.
Reduce heat and add 6 oz. of the chocolate broken into small pieces.
Stir constantly with a spoon until the chocolate is completely melted.
Remove from heat and stir in the orange liqueur. 
Transfer to a bowl and refrigerate for about 2 hours until mixture is firm. The chocolate cream may be placed in the freezer to accelerate hardening.

To Make the Truffles:
Using a melon ball cutter or teaspoon dipped in hot water, scoop out all the chocolate onto a plate. 
Dust moderately with powdered sugar and shape into balls by rolling in the palms of your hands.
Place the chocolate balls on a wax paper or foil-lined plate and freeze for a minimum of 1 hour. 
Melt the remaining 6 oz. of chocolate in a double boiler, stirring once or twice. (A metal bowl set over a pan of simmering water takes the place of a double broiler.)
Remove the bowl or the top of the double boiler from the hot water. 
Cover the bottom of a small shallow baking pan with the cocoa powder. 
Remove the truffles from the freezer and dip in the melted chocolate, one at a time, coating all sides.
Drop the coated truffles into the cocoa powder and gently shake the pan in a back and forth motion to completely powder the truffles. 
Lift the powdered truffles into a fine sieve and shake gently back and forth to remove the excess cocoa powder. 
Place the finished truffles in one layer in a covered container. Store in the refrigerator but serve at room temperature. 

L'Auberge Chez Francois is a beloved destination dining experience in Great Falls. Its housemade Valhrona Chocolate Truffles are a popular gift and treat year-round. For another, more ambitious holiday favorite, try your hand at Papa Francois' Holiday Mocha Yule Log - the Bûche De Noël. (Pictured in header image. Get the multi-part recipe here!) Follow them on social media at @laubergechezfrancois.
Mount Vernon Inn - Mount Vernon, VA
Martha Washington's Great Cake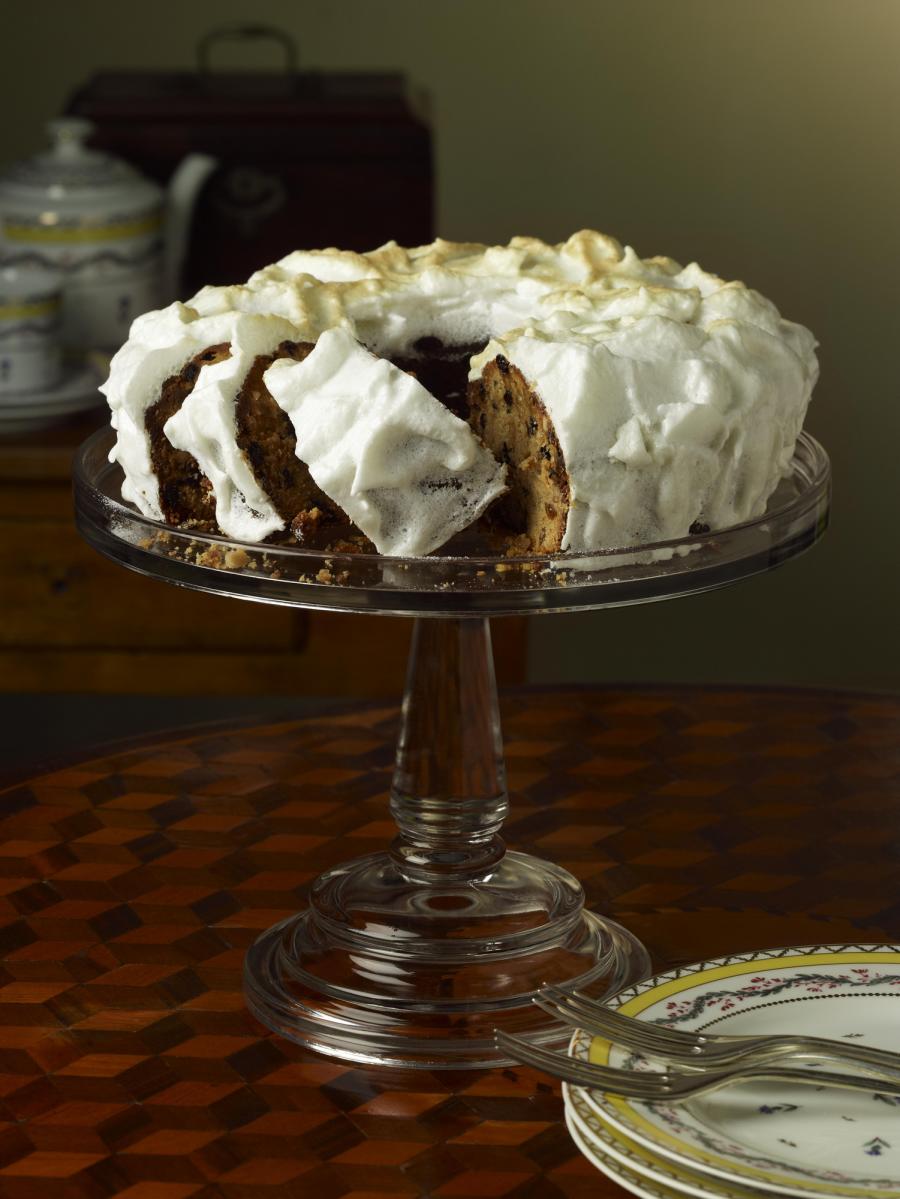 Makes one 10-inch tube cake
Ingredients:
1 1/2 cups currants
1/3 cup chopped candied orange peel
1/3 cup chopped candied lemon peel
1/3 cup chopped candied citron
3/4 cup Madeira, divided
1/4 cup French brandy
3 cups all-purpose flour, sifted
1/2 cup slivered almonds
1/2 teaspoons ground nutmeg
1/2 teaspoons ground mace
3/4 cup unsalted butter, softened
1 1/2 cups sugar
3 large eggs, separated
Sugar Icing (recipe follows) (optional)
3 large egg whites at room temperature
1 1/2 cups sugar
2 tablespoons rose water or orange-flower water

Directions:
Combine the currants, orange and lemon peels, and citron in a large bowl. Add 1/2 cup of the Madeira, and stir to combine. Cover with plastic wrap, and set aside for at least 3 hours, or as long as overnight. Stir the remainder of the Madeira together with the brandy, cover, and set aside.
When ready to bake the cake, preheat the oven to 325°F. Grease and flour a 10-inch tube pan.
Drain the fruits in a large strainer set over a bowl, stirring occasionally to extract as much of the Madeira as possible. Add the strained Madeira to the set-aside Madeira and brandy.
Combine 1/4 cup of the flour with the fruit, and mix well. Add the almonds, and set aside. Sift the remaining flour with the nutmeg and mace.
In the bowl of an electric mixer, cream the butter until it is light. Add the sugar, 1/2 cup at a time, beating for several minutes after adding each ingredient. Whisk the egg yolks until they are light and smooth, and add them to the butter and sugar. Continue to beat for several minutes, until the mixture is light and fluffy.
Alternately add the spiced flour, 1/2 cup at a time, and the Madeira and brandy, beating until smooth.
In a separate bowl, beat the egg whites to form stiff peaks. By hand, gently fold them into the batter, combining lightly until well blended. By hand, fold in the fruit in thirds, mixing until well combined.
Pour the batter into the prepared pan, smoothing the top with an offset spatula or the back of a spoon. Bake for about 1 1/2 hours, or until a wooden skewer inserted in the center comes out clean. Set the cake on a wire rack to cool in the pan for 20 minutes. If serving the cake plain, turn it out of the pan to cool completely. If finishing it with icing, turn the warm cake out of the pan onto a baking sheet, and proceed with the icing.
To ice the cake, spread Sugar Icing generously onto the surface, piling it high and swirling it around the top and sides. Set in the turned-off warm oven and let sit for at least 3 hours, or until the cake is cool and the icing has hardened. The icing will crumble when the cake is sliced.

For the Sugar Icing:
In the bowl of an electric mixer, start beating the egg whites on low speed, gradually adding 2 tablespoons of the sugar. After about 3 minutes, or when they just begin to form soft peaks, increase the speed to high and continue adding the sugar, 2 tablespoons at a time, beating until all the sugar is incorporated and the egg whites form soft peaks.
Add the rose water, and continue beating to form stiff peaks. Use immediately to ice the cake.

Great Cake likely would have been served as part of a grand Christmas dinner or Twelfth Night party and is one of the few surviving recipes directly associated with Martha Washington. In fact, George Washington's wife's recipe was so well-liked that it was passed on to many other members of the Washington family. The recipe above is a modern adaptation of the 18th-century original, which, like many others of its time, was a bit vague regarding certain ingredients and methodology. Here's more on the history of Great Cake and how it may have been served at Mount Vernon. 
Seasons 52 - Tysons, VA
Ginger Snap Cookies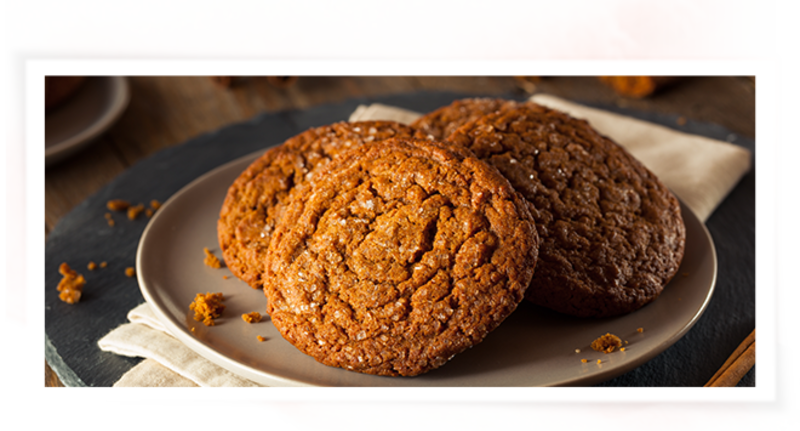 Ingredients:
3/4 cup Butter, unsalted, softened
1/2 cup Dark brown sugar
1/2 cup Granulated sugar
1/4 cup Molasses, unsulphured
1 whole large egg
1/4 tsp Vanilla extract
2-1/8 cup all-purpose flour
1/2 tsp Baking soda
1/4 tsp Kosher salt
1-1/2 tsp Ground cinnamon
2 tsp Ground ginger
1/2 tsp Ground cloves
1/4 cup Sugar in the Raw®
Directions:
Combine softened butter with brown and granulated sugars in an electric mixer with a paddle attachment.
Mix on medium speed until light and fluffy (3-4 minutes).
Add molasses, egg, and vanilla extract; mix until incorporated (1 minute).
In a separate mixing bowl, whisk together flour, baking soda, salt and spices.
Add butter mixture to the flour, and mix by hand until completely combined.
Cover dough directly with plastic wrap, and refrigerate the batter for at least 60 minutes.
Place sugar in the raw in a mixing bowl.
Scoop dough into quarter-size portions, and roll into balls.
Roll balls in sugar in the raw. Place on paper-lined metal sheet tray.
Bake at 350ºF for 6 minutes. Rotate pan after 3 minutes.
Cool to room temperature.

Seasons 52 is a fresh grill and wine bar located in Tysons Corner Center that showcases a seasonally-inspired menu and an award-winning wine list. Famous for their "just-the-right-size" Mini Indulgences to finish off a delicious dinner, these Ginger Snap Cookies are the magic touch to the Pumpkin Pie Mini Indulgence. Follow them on social media at @seasons52.

In the mood for even more recipes? Try your hand at these apple and pumpkin beverage recipes! Rather leave it to the professionals? Book a table at one of our fine restaurants in Fairfax County.