This is part 3 of our guest blog series exploring Fairfax County's craft brew scene. Read part 1 here and read part 2 here and stay tuned for next month.
We are blessed with plenty of outstanding breweries in Northern Virginia but perhaps none of them are as tightly tied to their own neighborhoods or offer as deep a sense of place as Reston's two gloriously eccentric craft nanobreweries. Reston itself was born with the motto "Live, Work and Play" and if your idea of "play" includes a cold pint of excellent beer served up by your own neighbors, then you simply cannot go wrong with Lake Anne Brew House and Bike Lane Brewing.
Lake Anne Brew House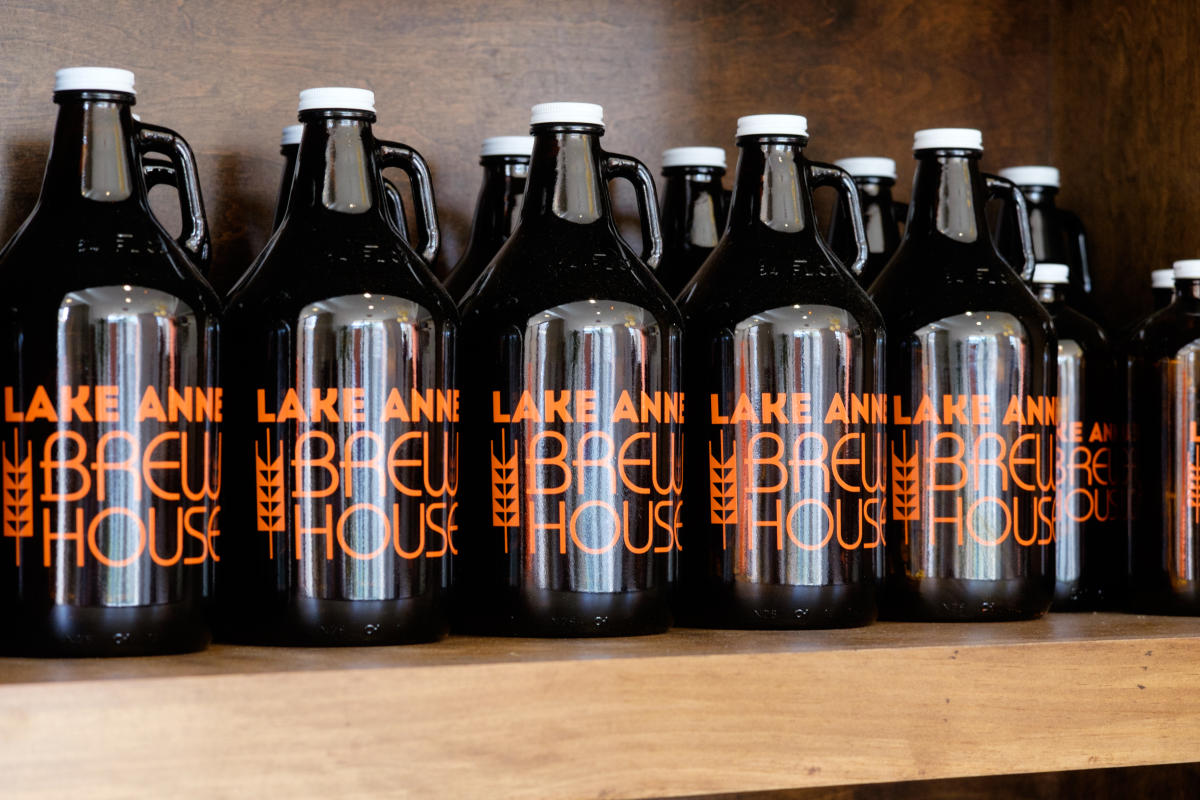 Image courtesy Charlotte Geary Photography via Lake Anne Brew House
Lake Anne Brew House is nestled within historic Lake Anne Plaza and is right at home as the social hub of Reston's "original" town center. The space boasts a small two-barrel tank-to-tap production brewery and a cozy taproom that pays homage to the original vision and aesthetic of Reston founder Robert E. Simon. Enjoying an expertly crafted brew on their patio overlooking Lake Anne is a quintessential Reston experience. In three short years since opening, LABH has gained a passionate neighborhood following as well as some well-deserved regional and state-wide recognition. This includes five different medals at the annual Virginia Craft Brewers Guild Beer Cup and recognition by The Washington Post for one of the best waterside drinks in the region: the Baron Cameron Summer Shandy, a delicious mix of LABH's own Skinny Dip Kolsch and locally sourced blueberry kombucha.
Opening the brewery was a passion that owners and Lake Anne residents Melissa and Jason Romano pursued together. Melissa put her architecture training to work to design the space and the result is stunning. The taproom is bright and airy and has a very distinct mid-century modern design that sits in perfect harmony with the surrounding plaza. It also features an original residential floor plan with several separate rooms, which Melissa incorporated into the design to give it a "unique, home-like feel," inspiring guests to get to know their neighbors.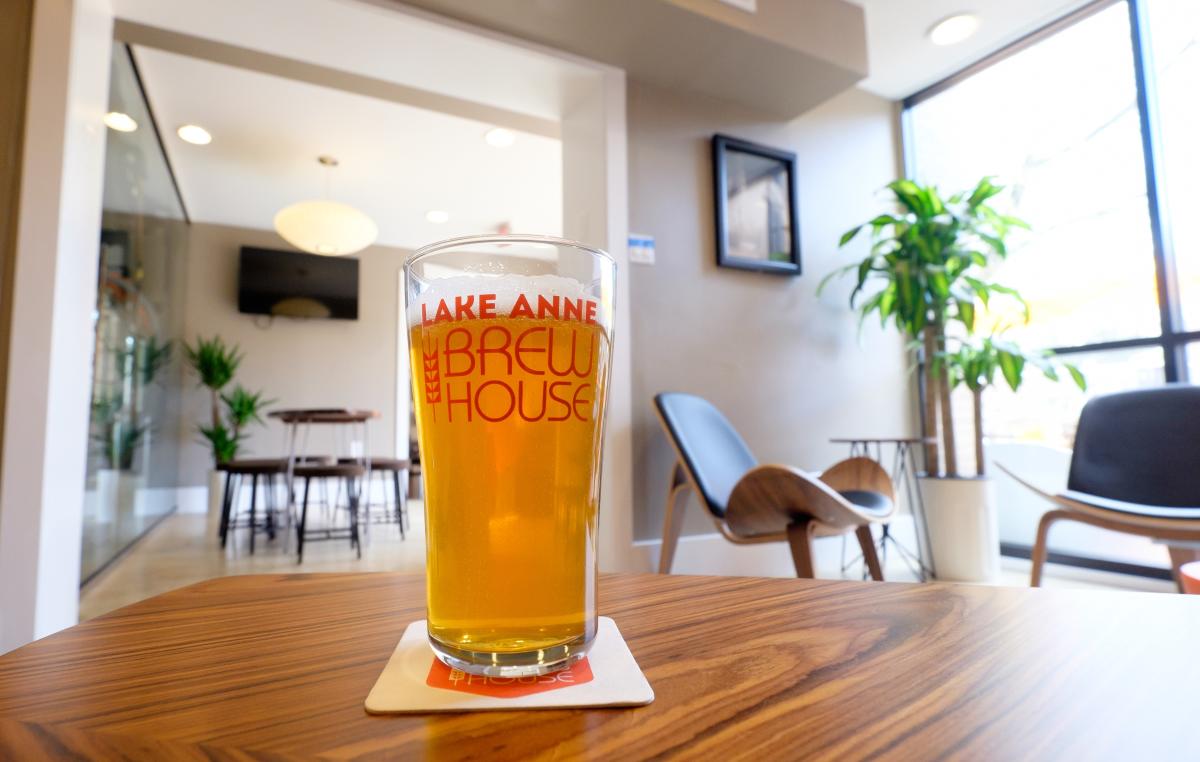 Image courtesy Charlotte Geary Photography via Lake Anne Brew House

While Melissa was busy designing the taproom, Jason got to work on the beer. All recipes are his originals perfected over 25-plus years of home brewing and they are outstanding. Try the award-winning Lord Fairfax Pale Ale for a true English-style IPA experience. It's much more subtly hopped than its American-style counterparts and has a devilishly complex floral and herbal aroma. Make sure to ask the bartender about the Lord Fairfax backstory too for some hilarious international intrigue. Also outstanding are the Silver Line Saison, a Belgian-style farmhouse ale and the Stand-Up Paddle Porter, a chocolatey and roasted malt delight. If beer isn't your thing, that's fine too; LABH also serves up delicious locally brewed kombucha and cold brew coffee.
Life moves quickly in the DC area. Lake Anne Brew House is a place where time slows down, if only for a pint or two, and where there is always a friendly neighborhood face to greet you. Take advantage of that and make a new friend while you're there. Isn't that what sharing a beer is all about?

Bike Lane Brewing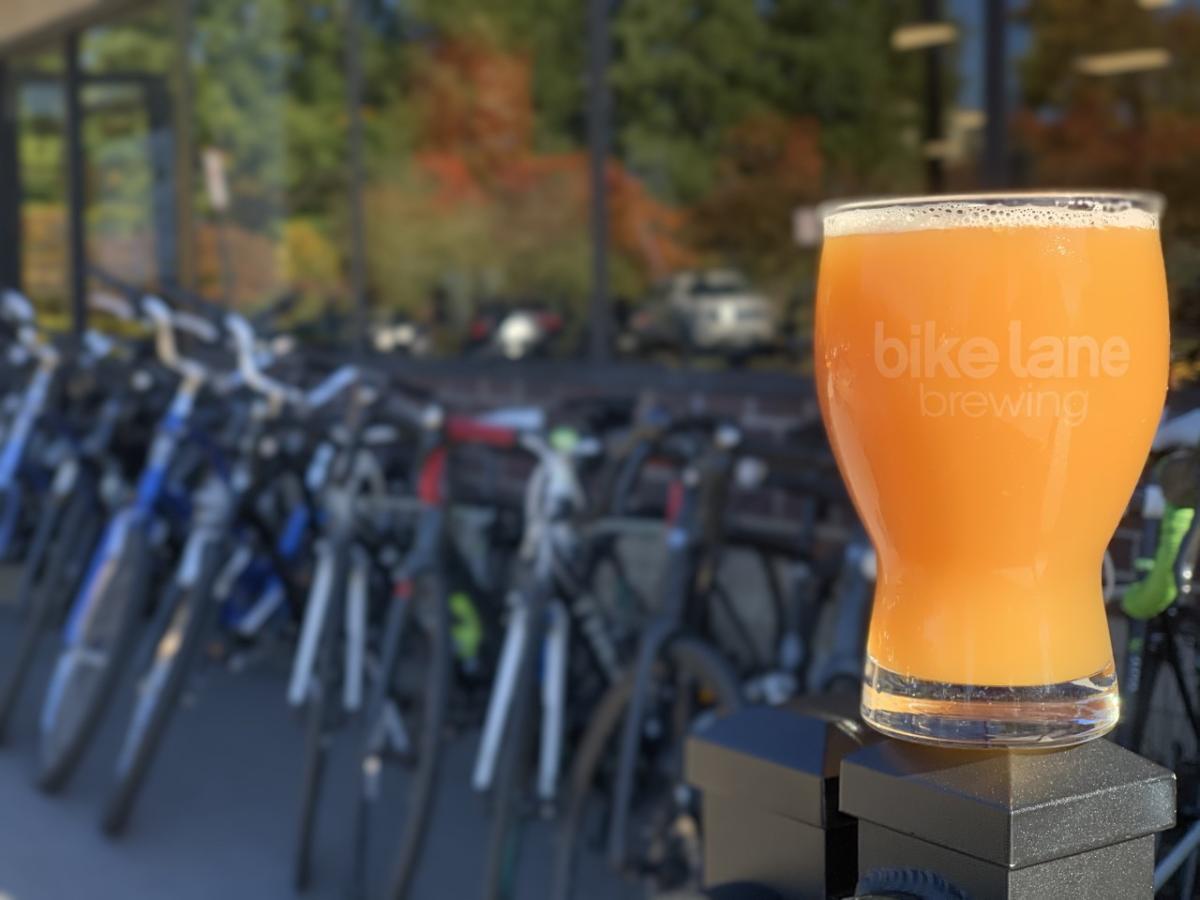 Attention fans of the Washington & Old Dominion bike trail! Wouldn't it be nice to grab a beer while you're getting your bike tuned? Welcome to Fairfax County's most unique brewery! Bike Lane Brewing is a bike shop, café, and brewery located steps off the W&OD Trail and Sunset Hills Road in Reston. The space packs an enormous amount of fun, fitness, delicious food and excellent beer into its small and unassuming storefront.
The one-barrel brewhouse is in a small room behind a rack of mountain bikes and next to the café. It's not much bigger than an ambitious homebrew system and you might miss it if not for the mouthwatering smell of boiling malts wafting through the shop. But what it lacks in size, it more than makes up for in excellent beer and in the passion of lead brewer Blake Ross and co-owners Anne and Todd Mader. I sat down with Blake to learn more about this one-of-a-kind entry in the Fairfax County craft beer scene. 
Bike Lane Brewing is the result of a homebrewer's passion to "go pro" and stands as proof that you can find excellent craft beer anywhere, no matter the setting or size as long as the talented brewers believe in their product. Todd Mader started production brewing at Bike Lane about a year ago and the core recipes are based on his homebrew formulas. Blake Ross was working at nearby Aslin Beer Company and recently joined Bike Lane as their new head brewer. Together they share a passion for "well rounded, exceptional, clean beer."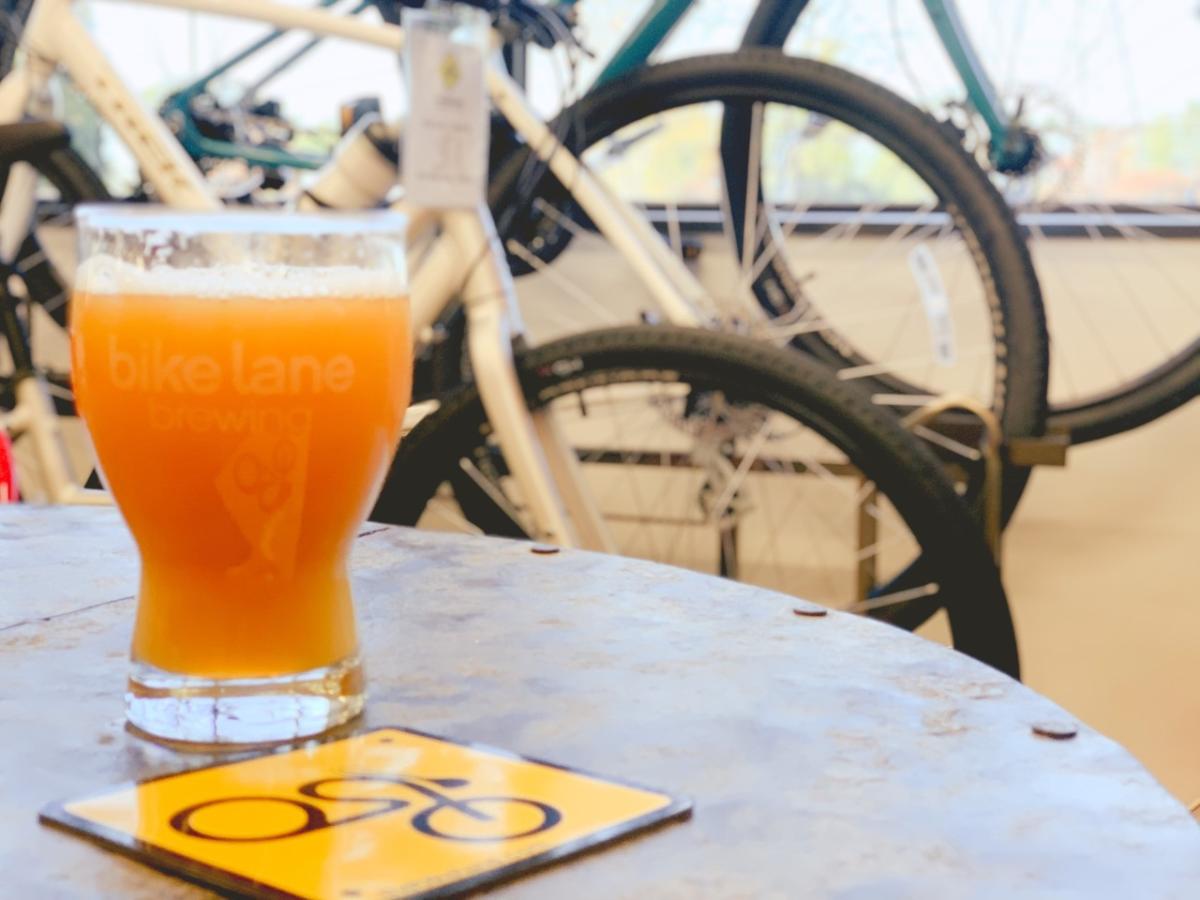 Go right now and try the Pappy's Pumpkin Porter, a delightfully subtle take on the seasonal favorite. The balance of the pumpkin and spice aroma and the chocolatey porter is just incredible. Also incredible is their bestselling Hellwig NEIPA, a cloudy thirst quencher with spirited tropical and citrus notes balanced against a resinous finish. Pair either with the delicious and locally sourced food in Anne's café, which is great for a light lunch or dinner.
As you might imagine, Bike Lane Brewing takes full advantage of its location and draws an eclectic mix of passionate regulars including nearby office workers as well as bikers, runners, and anyone else enjoying a day on the trail. It was designed as – and very much is – a community-based watering hole, devoted to providing excellent small-batch, locally sourced beer to the Reston community and those passing through on the trail. Its motto "Savor globally, sip locally" comes through in everything they do, and they are even happy to listen to your ideas or recipes for a new brew. 
It's all about the community and bringing different passions together at Bike Lane Brewing. Come enjoy a beer anytime or a flight for happy hour on Fridays. Or rent a bike and go for a ride on the trail. You'll have a great time and will enjoy being so well-rounded and balanced. Kind of like a great beer!
Stay tuned for upcoming profiles on more of Fairfax County's breweries. Can't wait that long? Visit FXVA.com/beer for more information, including how to pick up your official Fairfax County Brewery Field Guide. Cheers!
*This is Part 3 in a series highlighting the Fairfax County Craft Brew scene – read part 1 here and part 2 here; copy and photos provided by guest blogger Brian Hennighausen of Brewscapes.org except where otherwise noted.*