This is part 2 of our guest blog series exploring Fairfax County's craft brew scene. Read part 1 here and stay tuned for next month.
Have you ever wondered how something as universal as beer can be so complicated? What was once a choice between a few mass-produced and near-identical macro-brews has exploded into the bewildering and bedazzling world of IPAs, kettle sours, pastry stouts, and countless others.  How do craft beer fans stay informed consumers through this churn, and what can they hold onto as a beacon of stability in these crazy seas of craft beer nation?
How about an uncompromising dedication to quality, an appreciation for the inherent and timeless elegance of beer, and a rock-solid passion and commitment to the craft? This month, we visit two Fairfax County breweries who infuse these elements into their craft: Mustang Sally Brewing Co. and Ono Brewing Co.
Mustang Sally Brewing Co.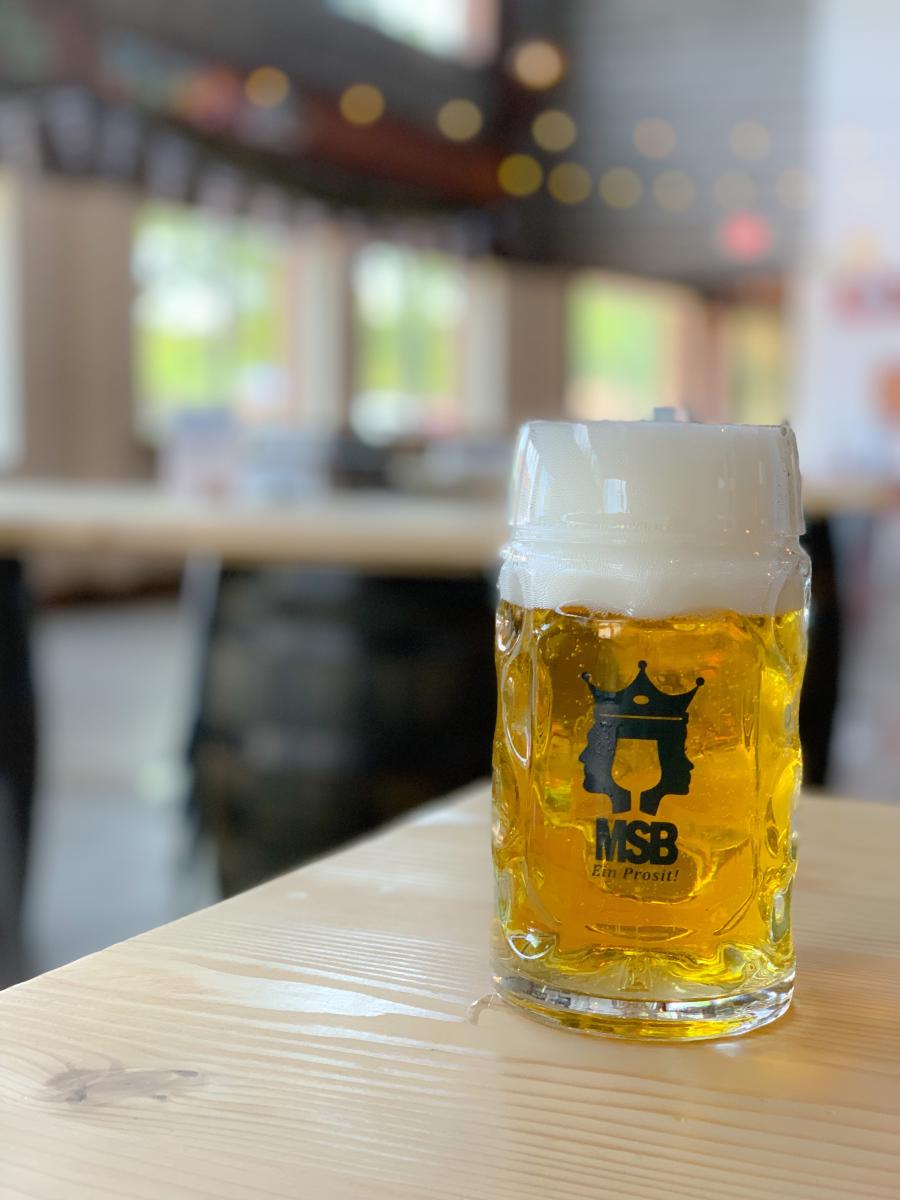 Mustang Sally is nestled in a light industrial office park in Chantilly. They boast a 30-barrel production brewhouse and an expansive taproom with delicious Venezuelan offerings from Panas, as well as plenty of games including cornhole and a wall of fun retro pinball machines. 
Owner Sean Hunt describes Mustang Sally as a place where his customers "can come and relax and feel comfortable knowing that we did our job right."  He spent some of his youth in Germany and was influenced by that brewing tradition's focus on technically superb and meticulously well-crafted lagers. His vision in opening Mustang Sally was to bring that tradition to the U.S. craft beer community with a focus on these elegant styles. His belief was that perfecting technically demanding traditional beers would provide them a solid foundation to branch into more experimental styles. 
This evolution is apparent in their stand-out tap list. It is strikingly balanced and diverse; the work of a gifted and knowledgeable brewer who knows how to fuse the timeless and the trendy into an exciting and eclectic lineup.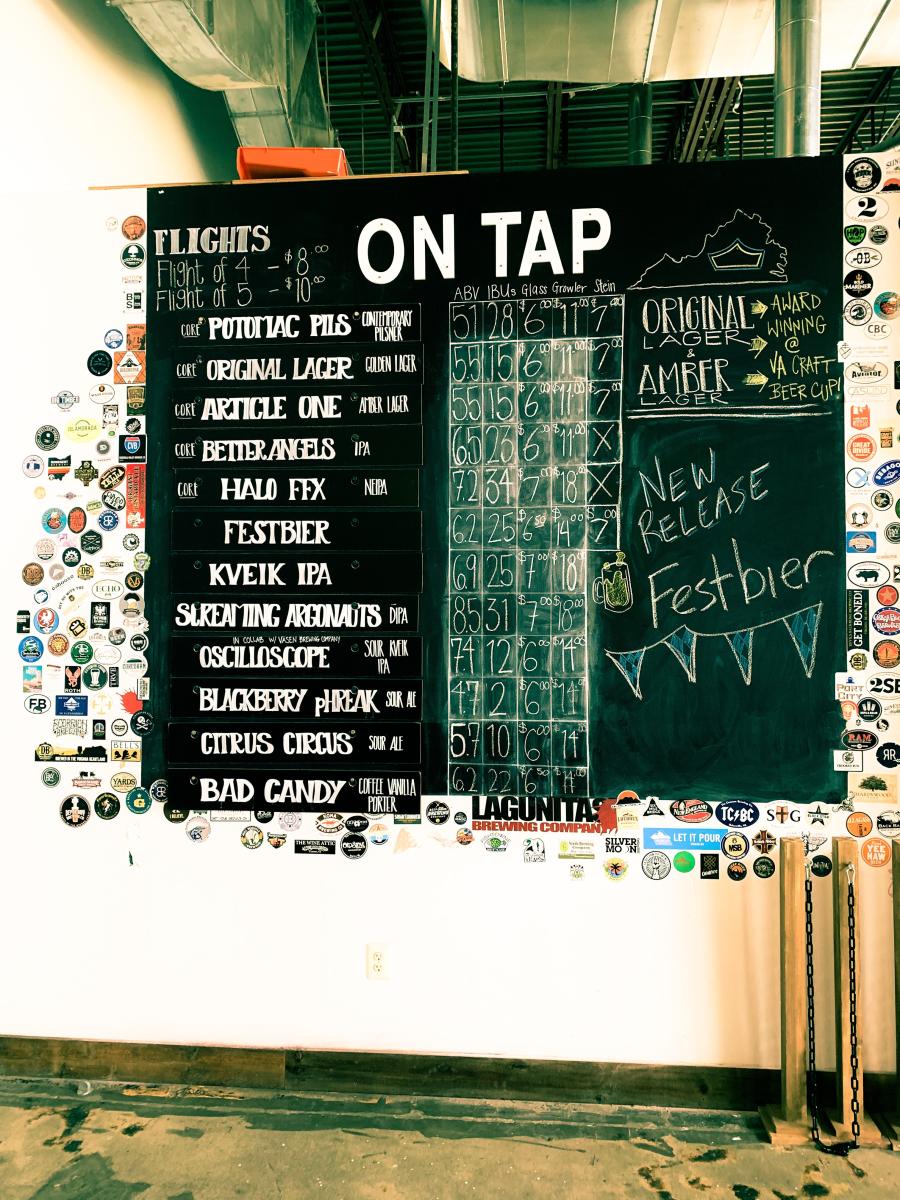 The core lineup consists of three lagers, including their best-selling Amber Lager; as well as an American IPA and a New England IPA.  All are delicious and I especially enjoyed the Potomac Pils which combined the hoppy crispness of a German Pils with the more complex maltiness and cloudier appearance of a traditional Czech Lager.  It was exceptional.
Their rotating list is trendier and includes several sours including Blackberry pHreak, a delightfully understated blackberry gose, and two Kveik- fermented IPAs.  The famously hot-burning Kveik yeast produces an astounding array of flavors and I was able to pick up hints of both mango and apple in the standard Kveik IPA even though the beer wasn't made with either of these very different fruits.
There are a lot of exciting things coming up at Mustang Sally. DO NOT MISS their 4th Annual Fairfax County Brewfest on September 21 which features every Fairfax County brewery plus numerous Virginia breweries.  Also coming soon are new 16 oz. cans and can art, as well as a delicious-sounding Passionfruit Vanilla Milkshake IPA at the end of the month.  Mustang Sally Brewing Company is a must-see for regional craft beer fans. It's a place where traditional brewing elegance and rebellious brewing fun don't clash, but instead, come together to produce something delicious for any palate!
One Brewing Co.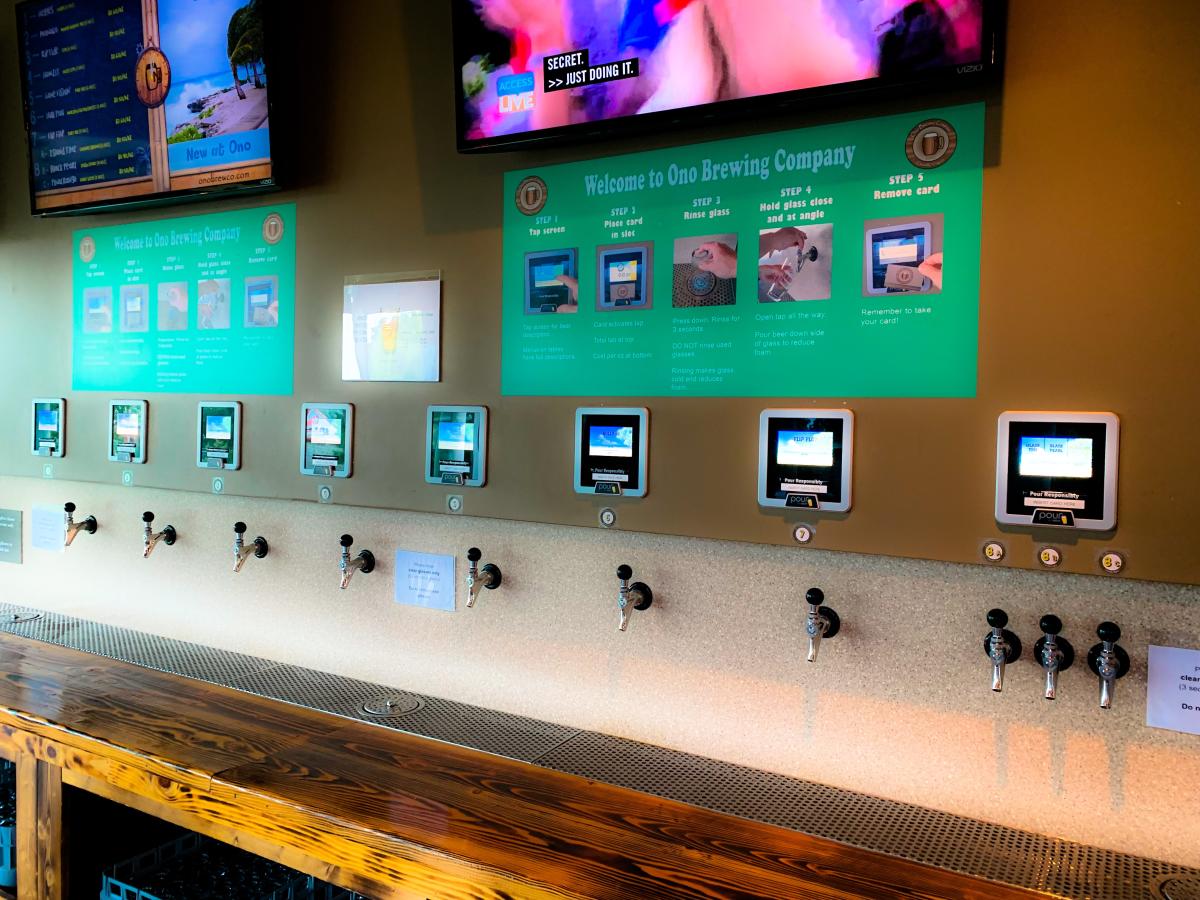 One of the greatest things about visiting craft breweries is the sense of community that comes with sharing a beer or two with friends old and new, and the escape it provides from the crazy pace of everyday life.  Even better if said escape also has a laid-back island theme, excellent BBQ, and self-serve beer.
Owners Scott and Cyndi Hoffman opened Ono Brewing Company in 2017 with the goal of recreating a little bit of Hawaiian paradise in Chantilly.  As former Hawaii residents, they thought that infusing the craft beer culture with a distinct Pacific island vibe would be a great way to stand out in a competitive market and would also provide their customers with a much-needed relaxing atmosphere. Starting with the name Ono, which means "delicious" in Hawaiian, they designed a space to delight the senses and put the soul at ease.  The bright taproom is filled with island-themed murals as well as tropical light fixtures and ceiling fans, and the in-house food vendor Odd BBQ serves up some great Korean, American and Hawaiian fusion BBQ dishes.  But the undisputed star of the Ono taproom is the unique self-service tap line.  Customers pour their own beers according to a by-the-ounce pricing structure and can even mix beers to create their own blends.  There's no need to wait in line or struggle to get the bartender's attention – at Ono, you are the bartender!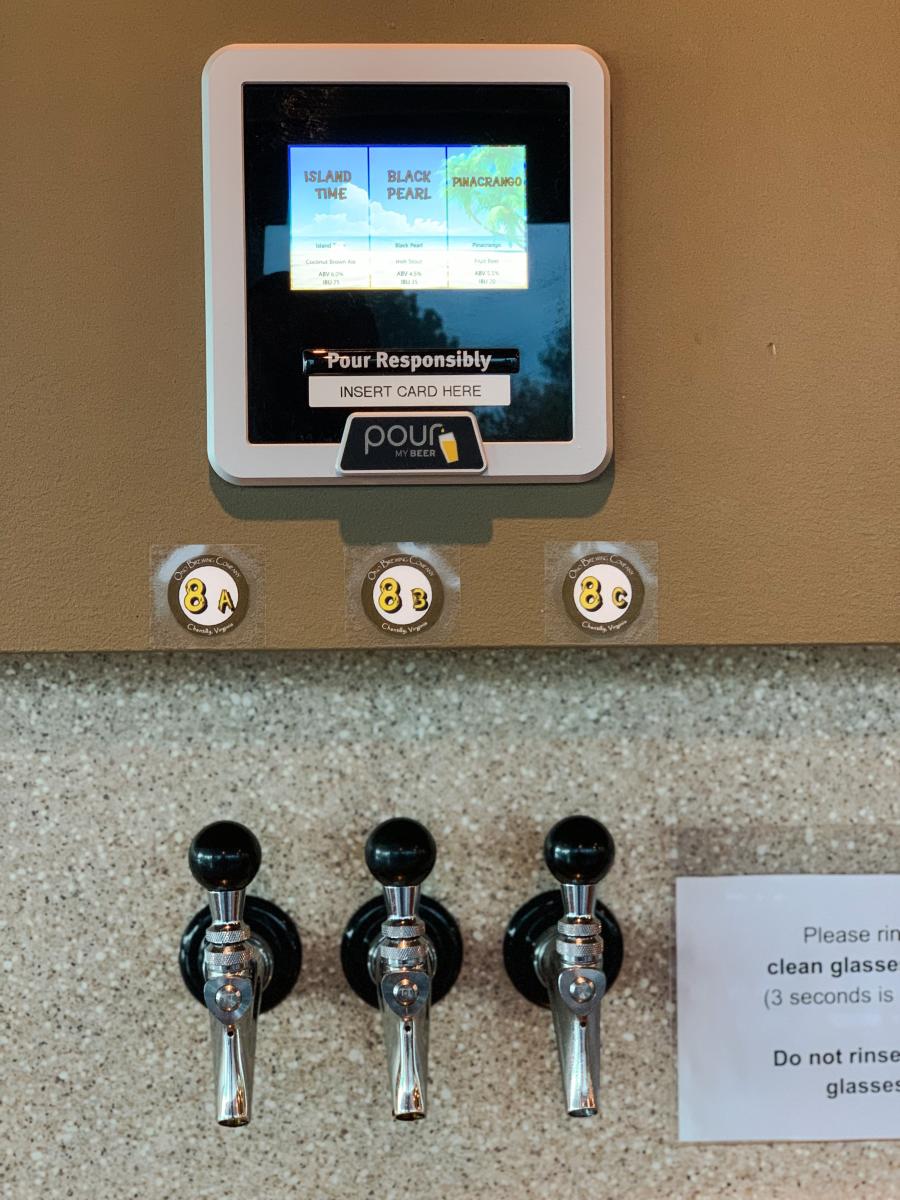 Scott perfected his recipes over many years as a homebrewer and is still the principal master brewer.  Almost all the beers on tap are based on his own homebrew recipes and they are delicious.  The bestselling Manako Mango Wheat is a unique mango-infused American Wheat Ale. Its tropical notes provide a lively counterpoint to the mild wheat base and conjures happy memories of summertime beach vacations. The Black Pearl Irish Stout is an excellent representation of the style; roasted, coffee-like, dry and delicious.  The Howzit IPA is a hazy style IPA dry-hopped with a citrus and tropical explosion of El Dorado, Citra and Mosaic hops.
Don't miss some of the great activities coming up this fall, including Ono's huge 2nd anniversary party on September 28 that will feature 14 different Hawaiian-themed acts and entertainment. Also coming soon is their popular Jack-o-Pumpkin seasonal brew. Exciting and delicious things are happening at Ono Brewing Company. Would you expect anything less from a place that is literally named Delicious?

Stay tuned for upcoming profiles on more of Fairfax County's breweries. Can't wait that long? Visit FXVA.com/beer for more information, including how to pick up your official Fairfax County Brewery Field Guide. Cheers!
*This is Part 2 in a series highlighting the Fairfax County Craft Brew scene – read part 1 here; copy and photos provided by guest blogger Brian Hennighausen of Brewscapes.org.*