Nobody does Independence Day better than the National Capital Region. It's more than just the fireworks, concert, and parade on the National Mall, though. Between our community parades and celebrations, early fireworks shows, and the Smithsonian Folklife Festival, the Capital Region celebrates America's independence for at least a week, making it an ideal time to visit. After all, when better to visit the iconic sites around the region that showcase our nation's greatness? If you've never been here for the Fourth of July, it's time to cross it off your bucket list!
Here are some of the best places to catch 4th of July fireworks in Fairfax County this year. Scroll to the end for some updates on the Washington, DC festivities, too.
Independence Fireworks at Mount Vernon
June 24, 2022 - June 25, 2022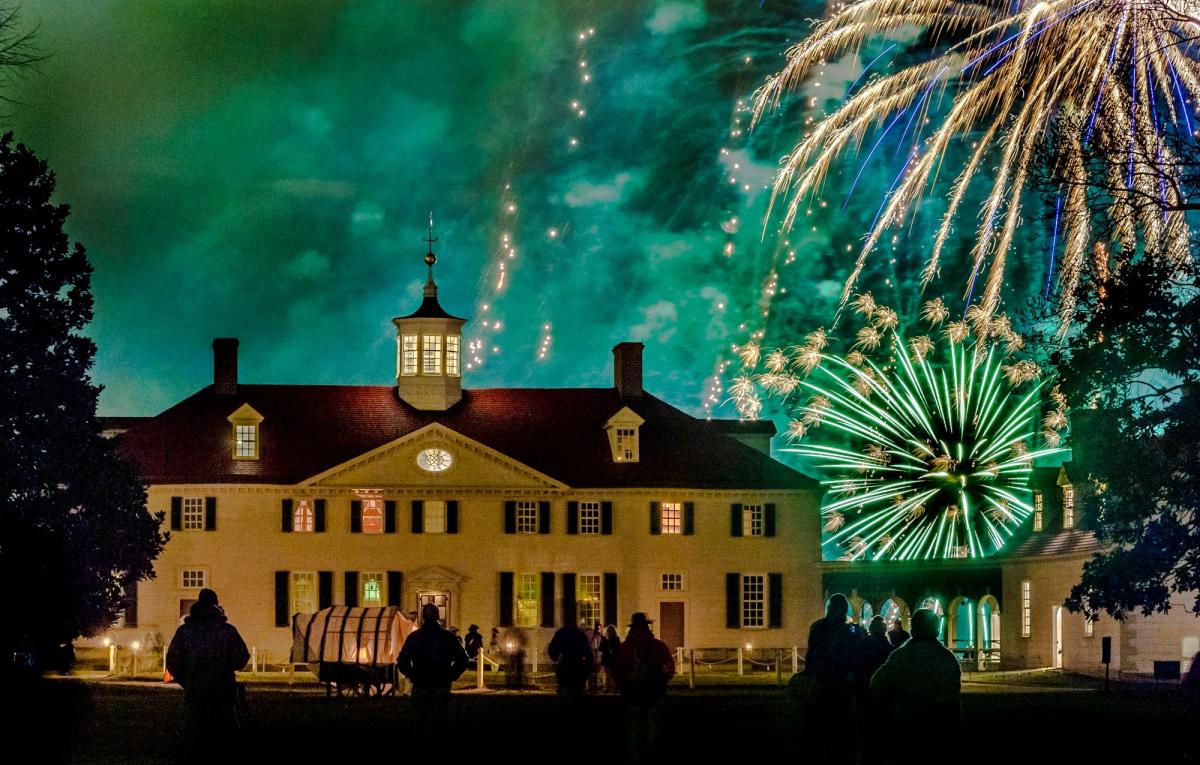 Image courtesy George Washington's Mount Vernon
Start your Independence Day celebration with a bang! Get an early start on the commemoration of American Independence at George Washington's beloved estate. Relax and enjoy a patriotic evening that includes dazzling fireworks and musical performances! Meet people from George Washington's world as you hear about their experiences during the War for Independence. Visit Washington's Tomb at night—this event is one of the few times this area is open in the evening. Concessions from the Mount Vernon Inn Restaurant will also be available. 

Town of Vienna July 4th Celebration & Fireworks
July 1, 2022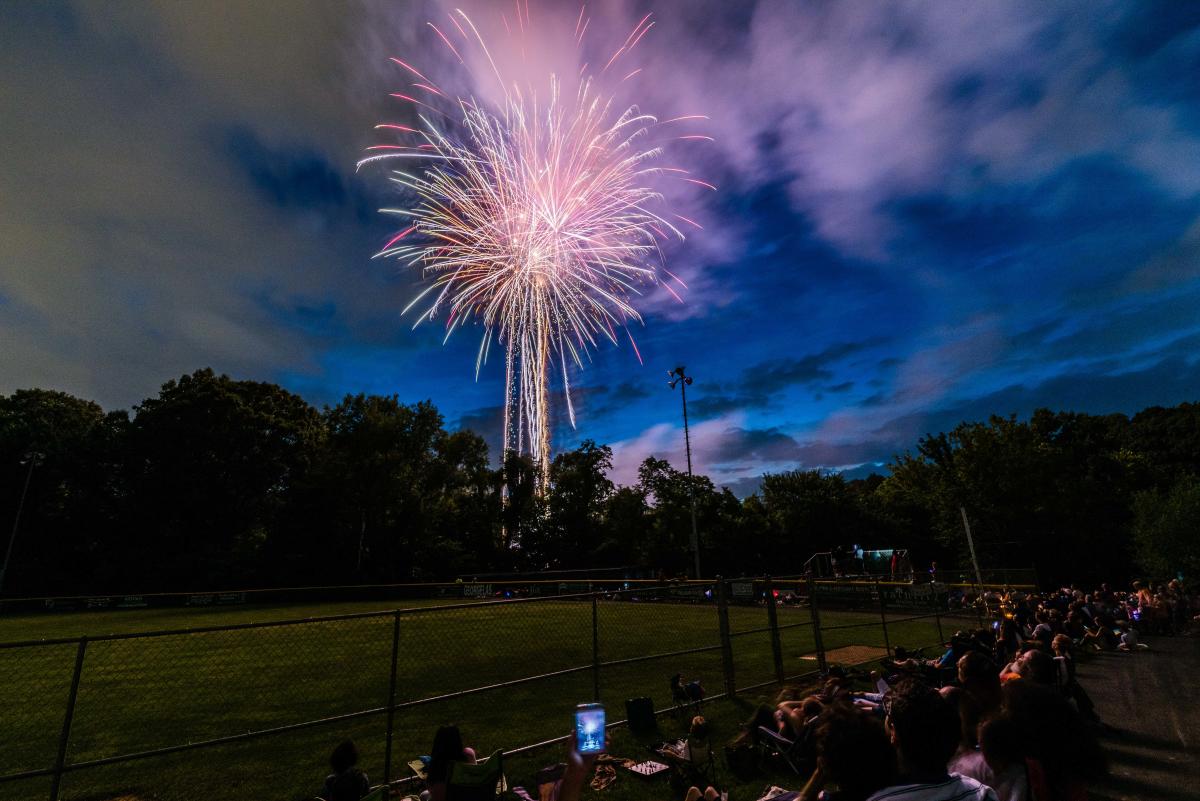 Celebrate America's birthday with a hometown fireworks show worthy of "oohs" and "aahs" and live music from United States Navy Concert band. The festivities take place at Yeonas Park, starting with live music at 8pm, followed by fireworks at 9:30pm.

Workhouse Fireworks
July 2, 2022   Postponed to: July 10, 2022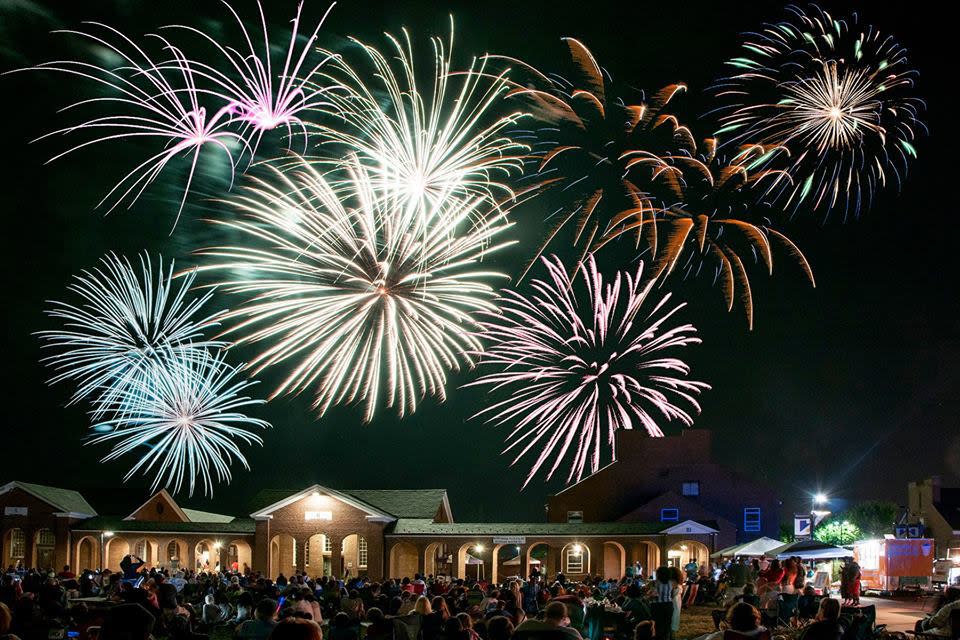 Image courtesy Workhouse Arts Center
Launched from the historic 55-acre Workhouse Arts Center campus, the region's largest pre-Independence Day fireworks show celebrates the history of this nation and honors the courage and sacrifice that have made America a beacon of hope and freedom around the world. The event will dazzle all visitors with an incredible display of vibrant colors, bright lights, and ground-shaking explosions and offer entertainment that all have longed for in recent times. A spectacular fireworks show follows a musical performance by Mark G. Meadows in the Rizer Pavilion. Guests can also enjoy culinary delights from local food trucks, craft beer, and fine wine, and other beverages will also be available.

Fireworks, Food, and Family Fun at Lake Fairfax Park
July 2, 2022
Lake Fairfax will host fireworks on Saturday, July 2, 2022, for this fun community celebration. Be sure to arrive by 8 p.m. to ensure sufficient time to park and find a spot to watch the show! For those looking to make a day out of it, the park will be open at sunrise and will have various food trucks on-site throughout the day providing delicious food and beverages. The Water Mine Family Swimmin' Hole will also be open from 11 a.m. until 6 p.m., but come early as water park routinely reaches capacity by noon. Come on out, enjoy the park, find a spot and enjoy the show!

McLean Independence Day Celebration
July 2, 2022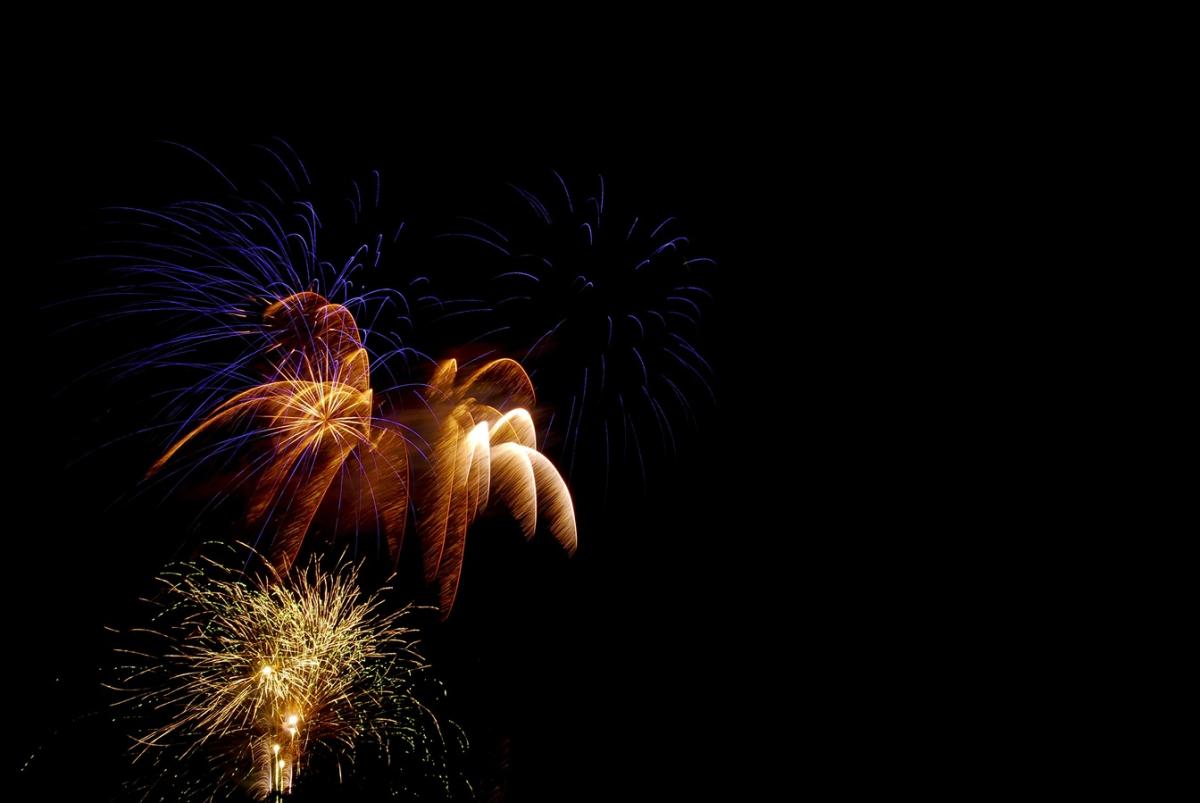 Food trucks, fireworks, and family fun will be taking place at Langley High School as McLean celebrates Independence Day. Free shuttles to the event site throughout the evening. Visit their website for full details.

An American Celebration at Mount Vernon
July 4, 2022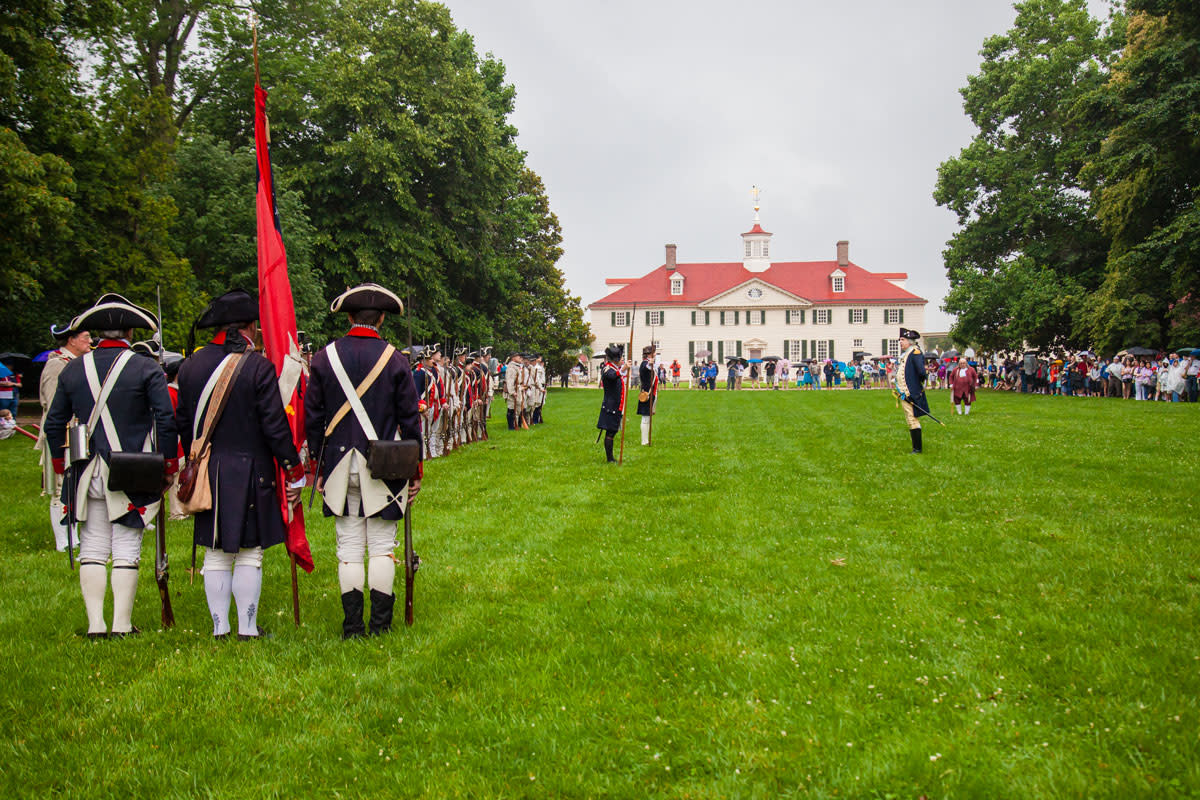 Image courtesy George Washington's Mount Vernon
For a more unique way to view fireworks, visit George Washington's Mount Vernon on July 4 for a dazzling made-for-daytime fireworks show over the Potomac River. Guests will also be able to view special revolutionary war military drills, hear 18th century music, visit with General Washington, listen to performances by the National Concert Band, observe a moving ceremony to honor new U.S. citizens, and attend wreath-laying ceremonies at Washington's tomb.
 
Hometown Celebration and Parade at Great Falls Village Center
Fireworks at Turner Farm Park
July 4, 2022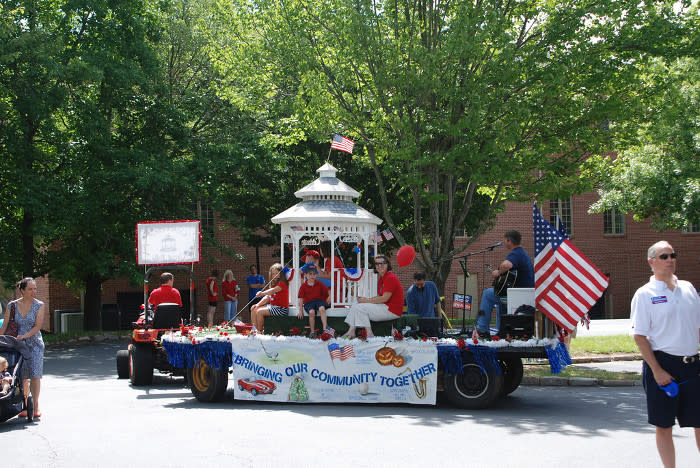 Image courtesy CelebrateGreatFalls.org 
It's a Great Falls hometown celebration! The day begins with a 5k walk/run at 8am. Babies and toddlers up to age 5 can parade their finest patriotic display around the Town Green. The main parade kicks off at 10am with floats, horses, antique cars, and firetrucks. Festivities continue until 2pm with field games, music, treats, merchandise, and magic! Come back in the evening for a dazzling fireworks display at nearby Turner Farm Park. Gates open at 6pm and live music, games, contests, and food trucks will entertain until the big show starts just after dusk.
 
Herndon's 4th of July Celebration
July 4, 2022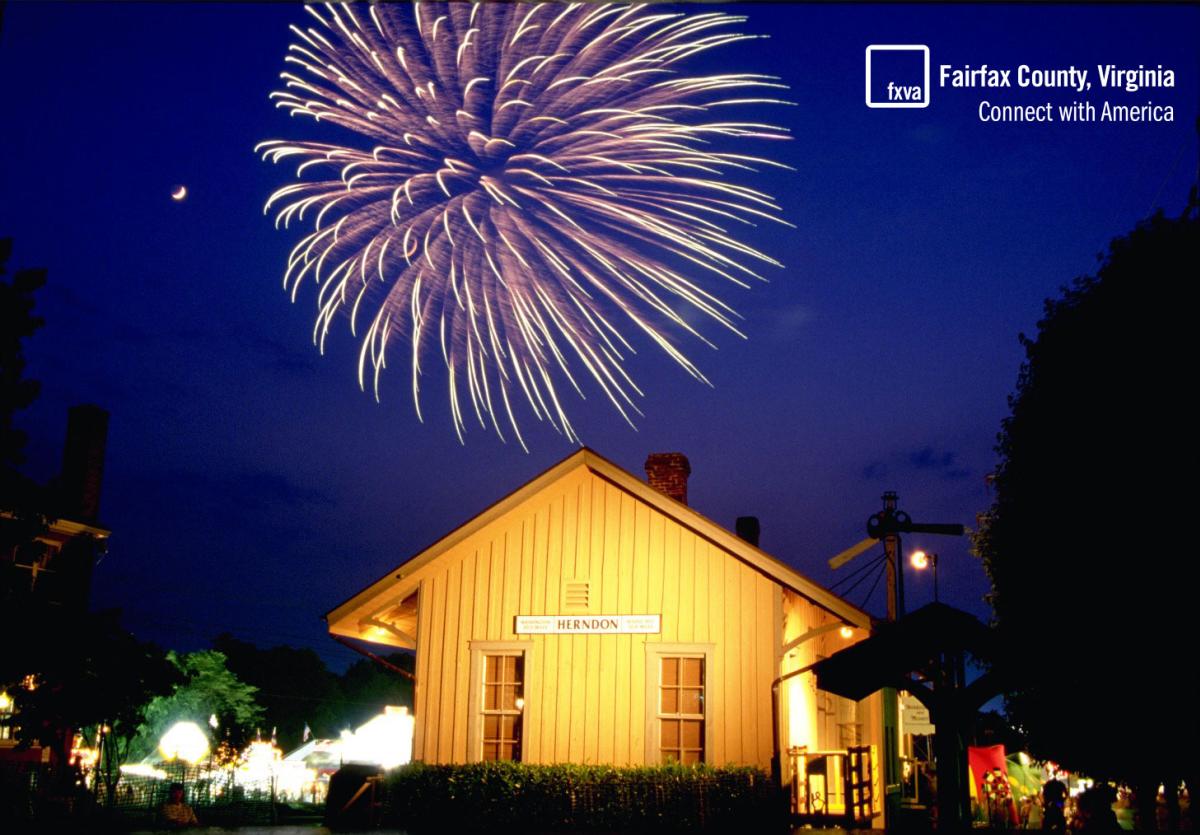 This family-fun event features a fabulous fireworks show at Bready Park. Hot tip: Bring a blanket or lawn chair, remember that all coolers will be searched (no alcohol, glass, or personal fireworks), and parking is available at Herndon Middle School, Herndon Golf Course, and Herndon Community Center.
 
City of Fairfax Independence Day Parade
July 4, 2022
Join the City of Fairfax this year as they kick off 56th annual Independence Day Celebration! The parade starts at 10am, and loops around Downtown Fairfax, along Chain Bridge Road, Main Street, University Drive and Armstrong Street.  

Washington, DC Fireworks July 4, 2022: Festivities, & Tips:

City of Fairfax Independence Day Evening Show and Fireworks
July 5, 2022
Enjoy music and dancing during the Evening Show at 6:30 p.m. at the Fairfax High School Stalnaker Stadium, 3501 Lion Run. On-stage entertainment begins at 6:30 p.m. with rockin' music, a few parade awards — and, of course, a spectacular fireworks display after dark. 
How will you be spending your 4th of July? Share your favorite vantage points, celebrations, and events in Northern Virginia with us in the comments below. Join the conversation online using @VisitFairfax and #FXVA.