Nobody does Independence Day better than the National Capital Region. It's more than just the fireworks, concert, and parade on the National Mall, though. Between our community parades and celebrations, early fireworks shows, and downtown's Smithsonian Folklife Festival, the Capital Region celebrates America's independence for at least a week, making it an ideal time to visit. After all, when better to visit the iconic sites around the region that showcase our nation's greatness? If you've never been here for 4th of July, it's time to cross it off your bucket list!
Here are some of the best places to catch 4th of July fireworks in Fairfax County this year. Scroll to the end for some updates on the Washington, DC festivities, too.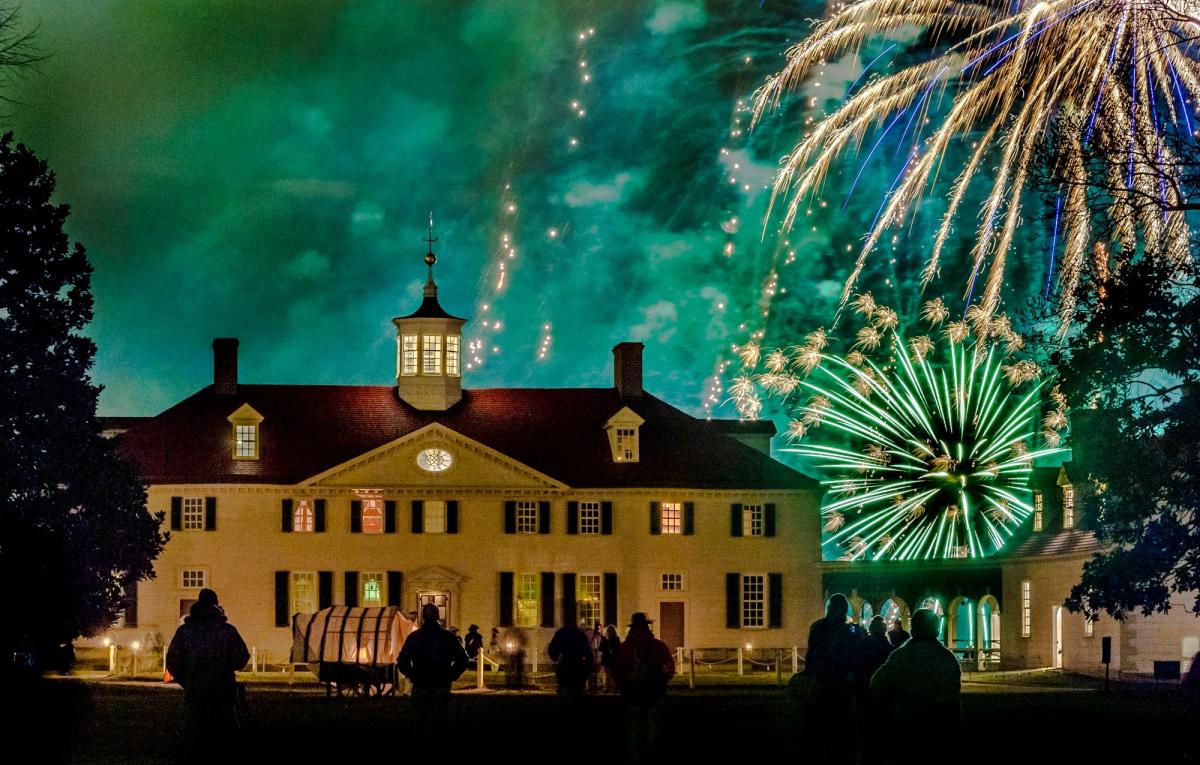 Image courtesy George Washington's Mount Vernon
Start your Independence Day celebration with a bang! Enjoy a patriotic evening filled with dazzling fireworks, Mansion tours, musical performances, and games on George Washington's beloved estate! Greet General and Mrs. Washington in the historic area, try your hand at bocce ball, watch 18th-century dancing demonstrations, or see how 18th-century ice cream was made in the days before freezers. Fireworks begin at approximately 9:30pm. Admission: Fireworks with mansion tour, $36 for adults, $26 for youth. Fireworks without mansion tour, $30 for adults, $20 for youth.

Workhouse Fireworks
June 29, 2019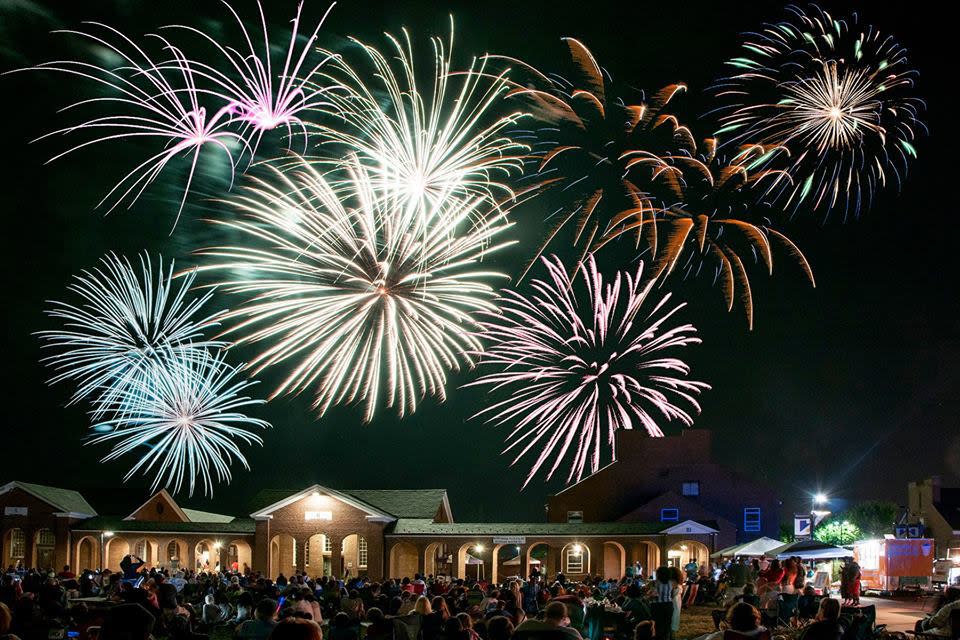 Image courtesy Workhouse Arts Center
Launched from the historic 55-acre Workhouse Arts Center campus, the region's largest pre-Independence Day fireworks show celebrates the history of this nation and honors the courage and sacrifice that have made America a beacon of hope and freedom around the world. A nearly 30-minute fireworks show follows a musical performance by the US Navy Band Sea Chanters in the Rizer Pavilion. Guests can also enjoy art exhibits in 12 galleries and meet and explore the studios of nearly 80 resident and Arches Gallery artists. Culinary delights from local food trucks, craft beer and fine wine, and other beverages will also be available. Admission is free. Parking is $25 per car or $30 cash only at the Workhouse if spaces are available after pre-sales. Parking sells out every year, so buy early!

Fireworks, Food, and F​amily Fun at Lake Fairfax Park
June 29, 2019
Lake Fairfax Park opens at dawn for all-day outdoor fun, including the Water Mine Family Swimmin' Hole (10am - 8pm). Live music kicks off from 3:30pm - 9pm featuring Modern Vintage and The US Navy Band Commodores. Food vendors will be available. Fireworks begin at 9:15pm. Hot tips: Admission to park is free, but there is a $10 parking fee per car. The park generally closes to new arrivals around 8:45pm, so be sure to get a seat early for the fireworks show! Also note that the Water Mine Swimmin' Hole reaches capacity early and regular admission fees apply for the waterpark.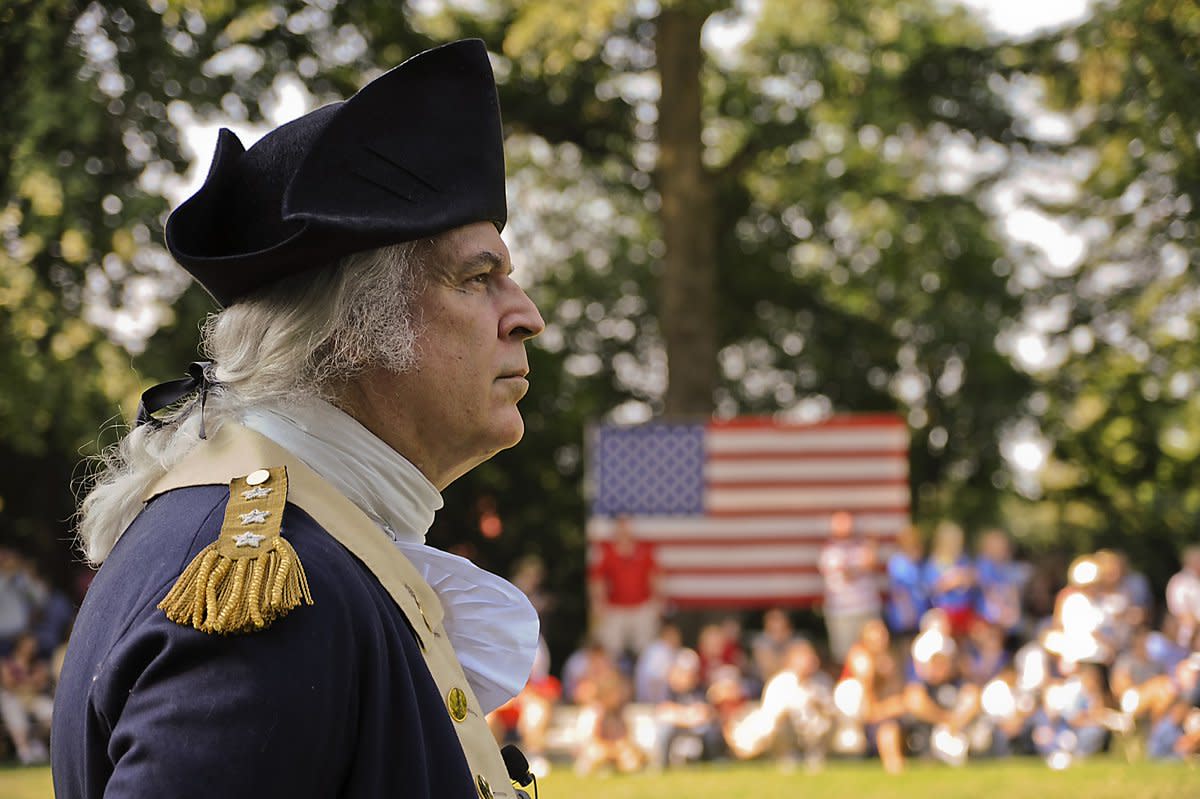 Image courtesy George Washington's Mount Vernon
For a more unique way to view fireworks, visit George Washington's Mount Vernon on July 4 for a dazzling made-for-daytime fireworks show over the Potomac River. Guests will also be able to view special military re-enactments throughout the day, visit with General and Mrs. Washington, listen to performances by the National Concert Band, observe a moving ceremony to honor new U.S. citizens, attend wreath-laying ceremonies at Washington's tomb, and enjoy free birthday cake (while supplies last). Admission: Regular Mount Vernon estate admission.

Hometown Celebration and Parade at Great Falls Village Center
Fireworks at Turner Farm Park
July 4, 2019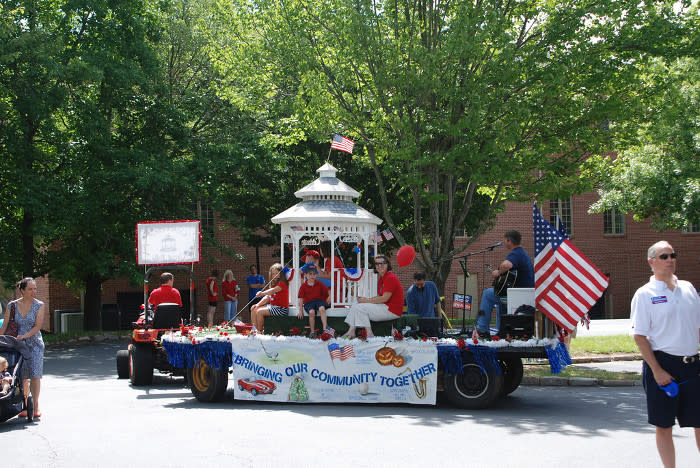 Image courtesy CelebrateGreatFalls.org 
The day begins with a 5k walk/run at 8am. Babies and toddlers up to age 5 can parade their finest patriotic display around the town Green. The main parade kicks off at 10am with floats, horses, antique cars, and firetrucks. Festivities continue until 12:30pm with field games, music, treats, merchandise, and magic! Come back in the evening for a dazzling fireworks display at nearby Turner Farm Park. Gates open at 6pm and live music, games, contests, and food trucks will entertain until the big show starts just after dusk.

Herndon's 4th of July Celebration
July 4, 2019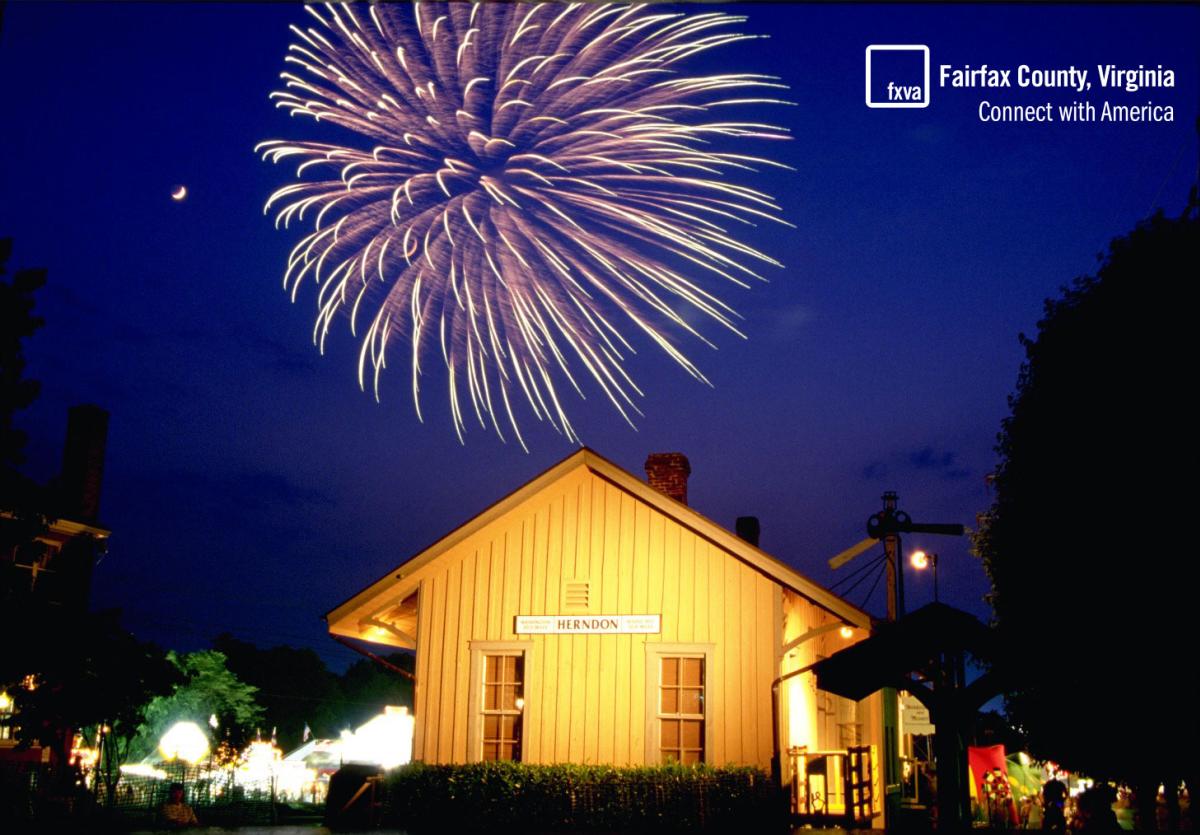 This family-fun event features patriotic arts and craft activities, live music, family games, bingo, food vendors selling dinner and dessert items, and a fabulous fireworks show. Come early for the family-fun starting at 6:30pm, stay for live music kicking off by Guys In Thin Ties at 7:15pm, and then get ready for the fireworks show kicking off at approximately 9:30pm. Hot tip: Bring a blanket or lawn chair, remember that all coolers will be searched (no alcohol, glass, or personal fireworks), and parking is available at Herndon Middle School, Herndon Golf Course, and Herndon Community Center.
City of Fairfax Parade and Fireworks
July 4, 2019
Join the City of Fairfax this year as they kick off A Hometown Celebration! The Independence Day parade starts at 10am in Downtown Fairfax. The Fairfax Museum & Visitor Center will be holding an open house from 9am - 4pm, the Ratcliffe-Allison-Pozer House will be offering free guided tours from 11:30am - 1pm, and the Old Fashioned Fireman's Day (firefighter competition, food & beverages, fun for kids) will begin at 12pm on University Drive. Head on over to Fairfax High School for the annual Evening Show & Fireworks from 6:30 - 10:30pm, featuring live music by The Darby Brothers. Hot tip: Shuttle buses will run from 5-10:30pm from Woodson High School to Fairfax High School, as there is limited parking at FHS.

McLean Fireworks Celebration
July 4, 2019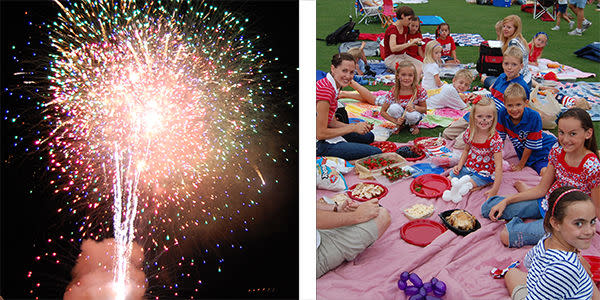 Images courtesy McLean Community Center
McLean's annual Independence Day celebration begins at 6:30pm featuring a DJ, food trucks, and of course, a spectacular fireworks show. Admission is free and there will be free, but limited, onsite parking at Langley High School. Additional free parking and shuttle buses available at McLean Community Center, St. John's Episcopal Church, and St. Luke Catholic School. 

Declaration of Independence Reading at Historic Pohick Church
July 4, 2019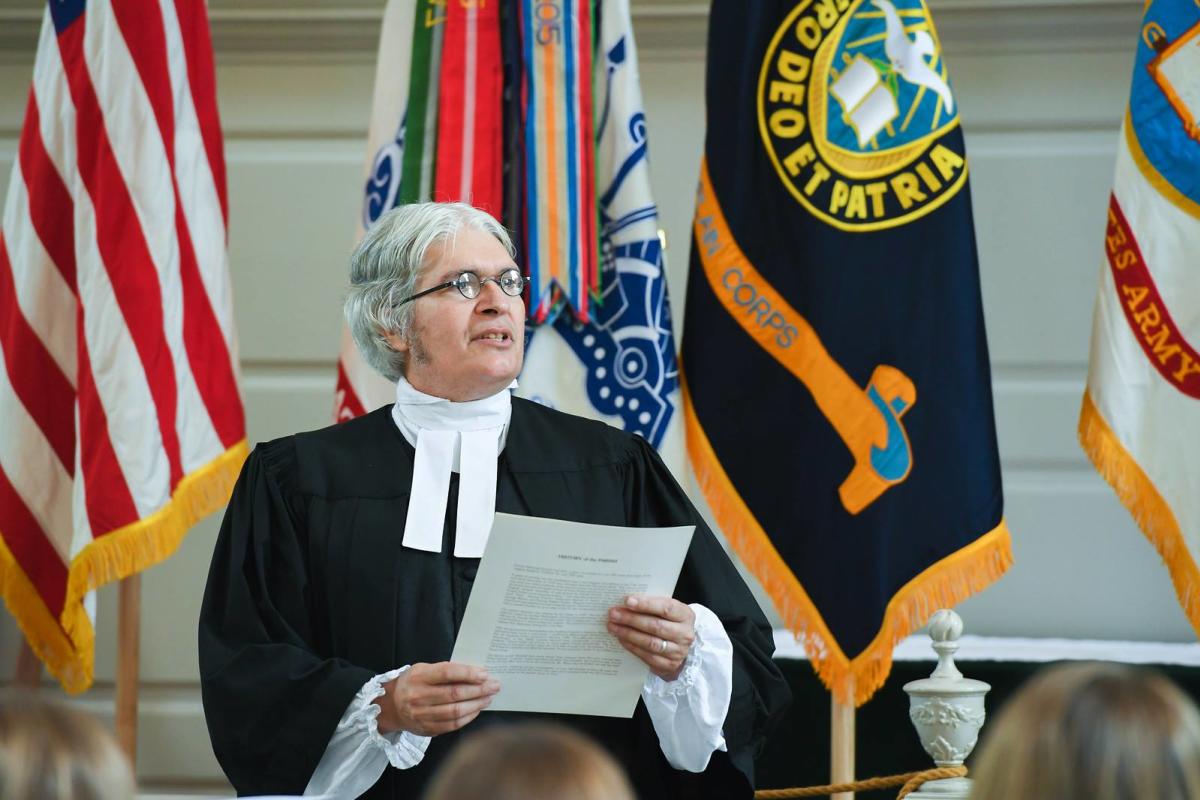 Image courtesy Pohick Church

For a historical way to spend your 4th of July, head over to the Historic Pohick Church in Lorton for a special reading of the Declaration of Independence by historical re-enactor, the Rev. Dr. Thomas Costa, portraying the Rev. Mr. Massey, rector of Pohick Church in 1776. The reading will take place at 12pm, with free docent tours of the colonial church of George Washington and George Mason following. 

Town of Vienna July 4th Celebration & Fireworks
July 4, 2019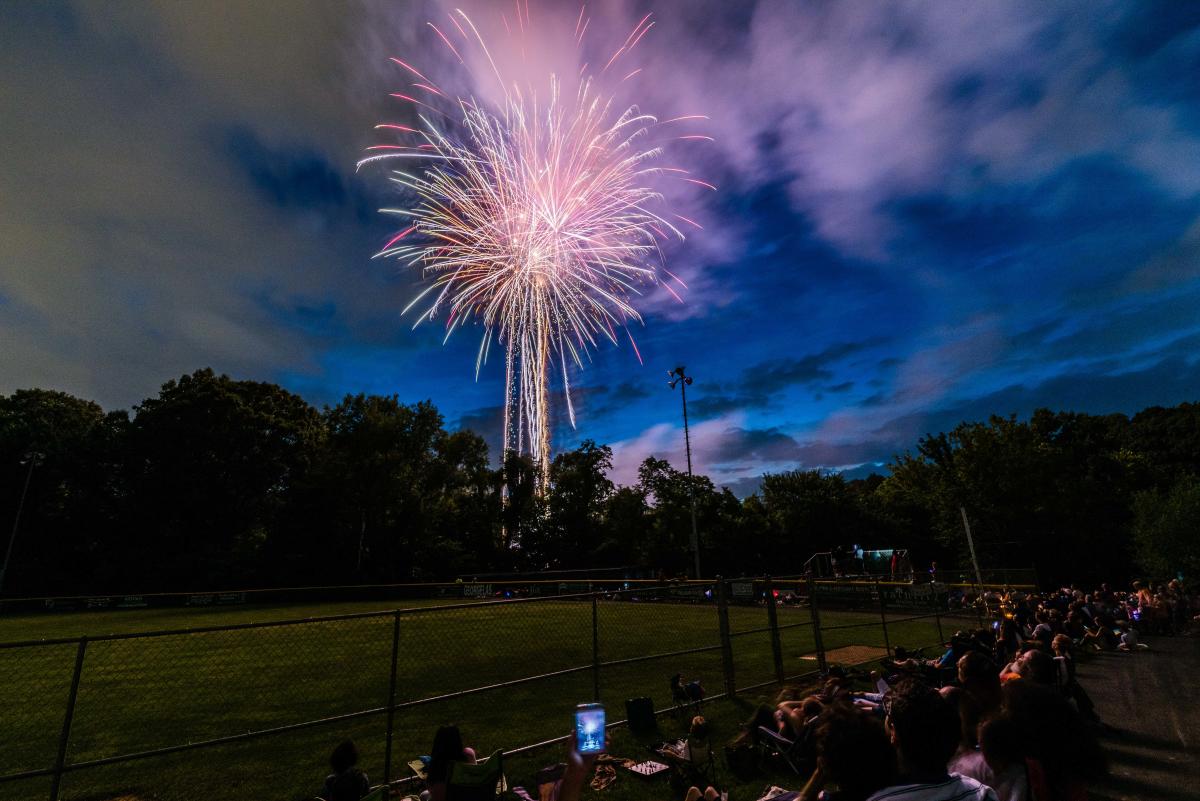 For a splish-splashy celebration, head to the Vienna Community Center for a family-friendly Independence Day party that features giant water slides, sprinklers, water games, food trucks, puppet shows, live kids music, and crafts. The festivities take place from 10am - 2pm. After the afternoon fun, head to Yeonas Park for the Town's annual Fireworks Display at 7:15pm. Fireworks begin at dark, approximately 9:30pm. The Josh Christina Band will entertain you with boogie woogie and rock n' roll oldies. Food and non-alcoholic beverages will be available.

Falls Church July 4th Celebration
July 4, 2019
The fun kicks off at 6pm at George Mason High School where guests can enjoy food trucks, live music by The Excellent Drivers, and a fireworks show at 9:20pm. Seating is available at Jack Gambrill Athletic Fields or the Northern Virginia Graduate Center Parking Lot. Admission is free. Visitors encouraged to park at the West Falls Church Metro Station Parking Garage (free on holidays). 

USA & Alexandria Birthday Celebration
July 13, 2019
Just when you thought the 4th of July celebrations were over, Alexandria has you covered with one more party! Head to Oronoco Bay Park for entertainment, a cannon salute during the 1812 Overture, food and beverages, and a grand finale fireworks show at 9:30pm to celebrate the 243rd birthday of America and the 270th birthday of the City of Alexandria. 
 
Washington, DC Fireworks, Festivities, & Tips:
The city's annual National Independence Day Parade is held on Constitution Ave, NW between 7th and 17th streets from 11:45am - 2pm.
The annual 'A Capitol Fourth' concert, held on the West Lawn of the U.S. Capitol, begins at 8pm featuring a star-studded lineup including Carole King, Vanessa Carlton, and the National Symphony Orchestra. 
The jaw-dropping DC Fireworks display runs from approximately 9:07pm to 9:27pm. Make sure to arrive early and expect security screenings. The launch spot has moved to West Potomac Park this year.
A new "Salute to America" will take place near the Lincoln Memorial and will feature live music from the Old Guard Fife and Drum Corps, the US Army Band, the Armed Forces Chorus, and the US Marine Corps Silent Drill Team. Military demonstrations and flyovers are also expected. Gates open at 3:30pm. 
Take a cruise on Entertainment Cruises, Embark DC, or Potomac Riverboat Company for unique views of the fireworks.
Go early to browse some of the most iconic monuments and memorials in the nation's capital. 
Take Metro if you can, but expect crowds. 
How will you be spending your 4th of July? Share your favorite vantage points, celebrations, and events in Northern Virginia with us in the comments below. Join the conversation online using @VisitFairfax and #FXVA.