Updated for 2022
Whether you're visiting Northern Virginia, the Washington D.C area this Thanksgiving or you're hosting hungry friends and family, let Fairfax County restaurants do the turkey cooking for the holiday (which also means no clean-up for you!). Many popular Fairfax County restaurants are offering great menus for the holiday. Whether you are looking for a delicious Thanksgiving meal to go, family meal, or special dine-in menus, we got you covered!
Here are a few places that will not lead you astray for this year's Thanksgiving dinner.
Capital Grille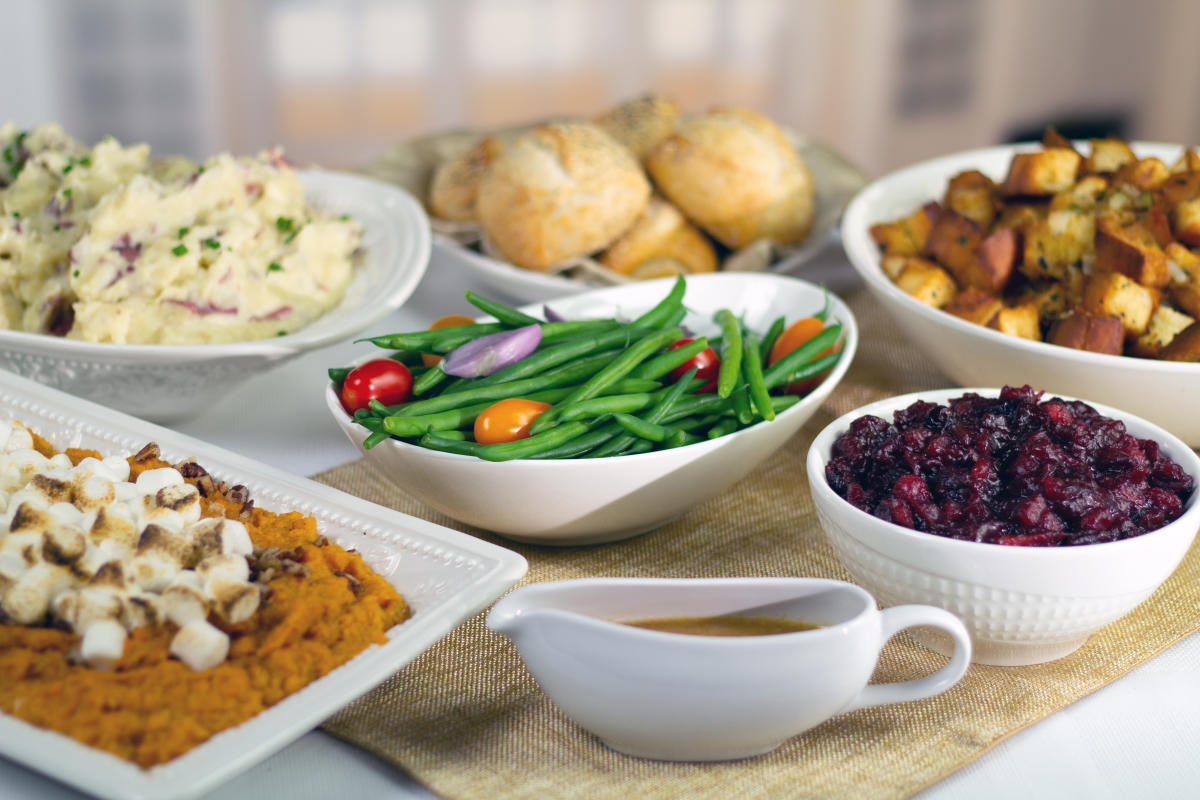 At The Capital Grille (locations in Tysons and Fairfax), guests can enjoy a chef-prepared traditional Thanksgiving dinner with an upscale twist, including Slow-Roasted Turkey with Brioche Stuffing, French Green Beans with Marcona Almonds, Cranberry-Pear Chutney and Sam's Mashed Potatoes, with the option to add Pecan-Crusted Sweet Potatoes with Hot Honey and Pumpkin Cheesecake at an additional charge. In addition, those looking to enjoy dinner at home may order a bundle of the restaurant's Thanksgiving sides. To place a pre-order for pickup on November 23 or 24 or to make a reservation, visit TheCapitalGrille.com.
 
Cedar Knoll
Dine waterfront at the always fabulous Cedar Knoll for a family-style feast this Thanksgiving. Reservations are bound to go fast, so if you want to enjoy Chef Andrew's palette-pleasing Autumnal Bisque (a blend of butternut squash, kabocha squash, sweet potatoes, pears, and apples with salted maple cream) paired with some warm mulled cider, plus an entree of turkey breast with pear apricot glaze, toasted chestnuts and golden raisins, and sides that include glazed baby carrots, whipped buttermilk potatoes with chives, parmesan and black pepper brussels sprouts, among others, click this link to get your spot. ($79/person; ages 4-11, $25; ages 3 and under are free.)

Eddie V's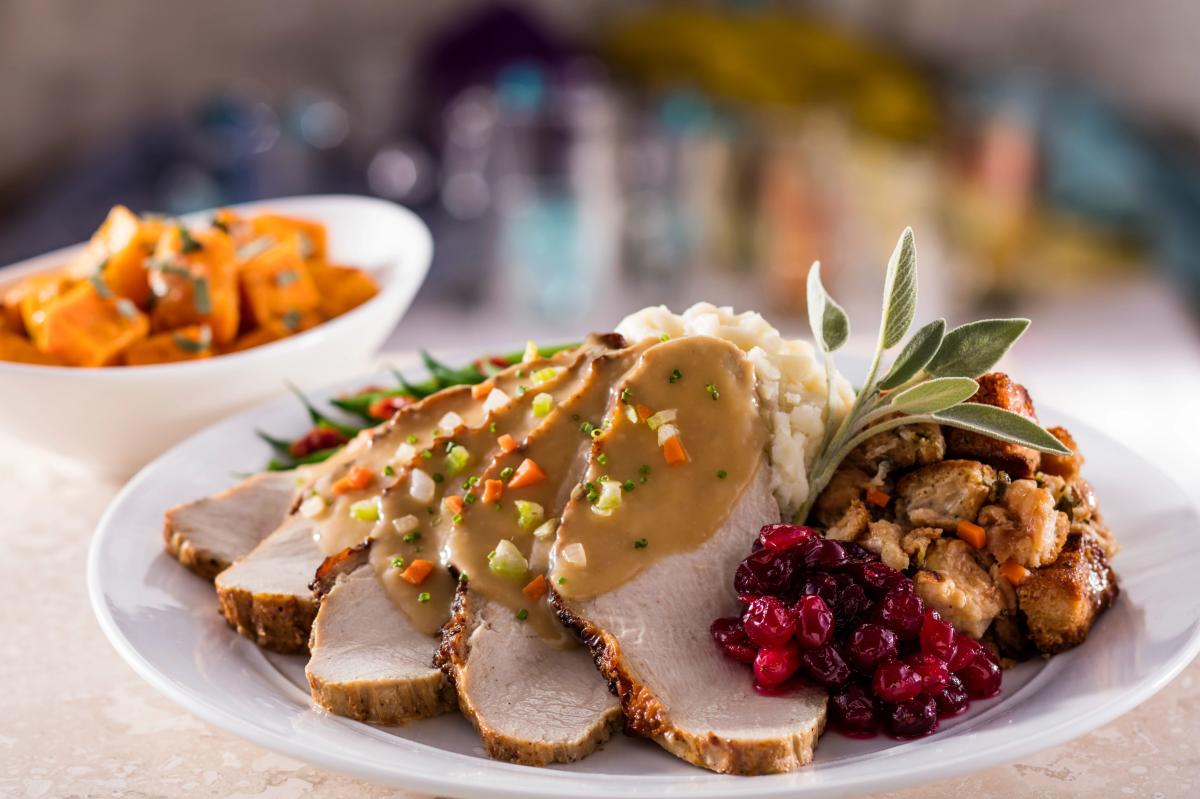 Eddie V's in Tysons is hosting a luxe Thanksgiving celebration with options such as hand-carved Slow-Roasted Turkey with gravy, Brioche Sage Stuffing, Cranberry Chutney, Roasted Butternut Squash, hand-whipped Mashed Potatoes and Pumpkin Pie Tartlet. Against a backdrop of live music, guests can toast to the holiday with Veuve Clicquot champagne by the glass as well as eye-catching signature cocktails, such as the Smoked Old Fashioned, torched tableside on a wooden plank, or the color-changing Hope Diamond. To make a reservation, visit EddieV.com.

Founding Farmers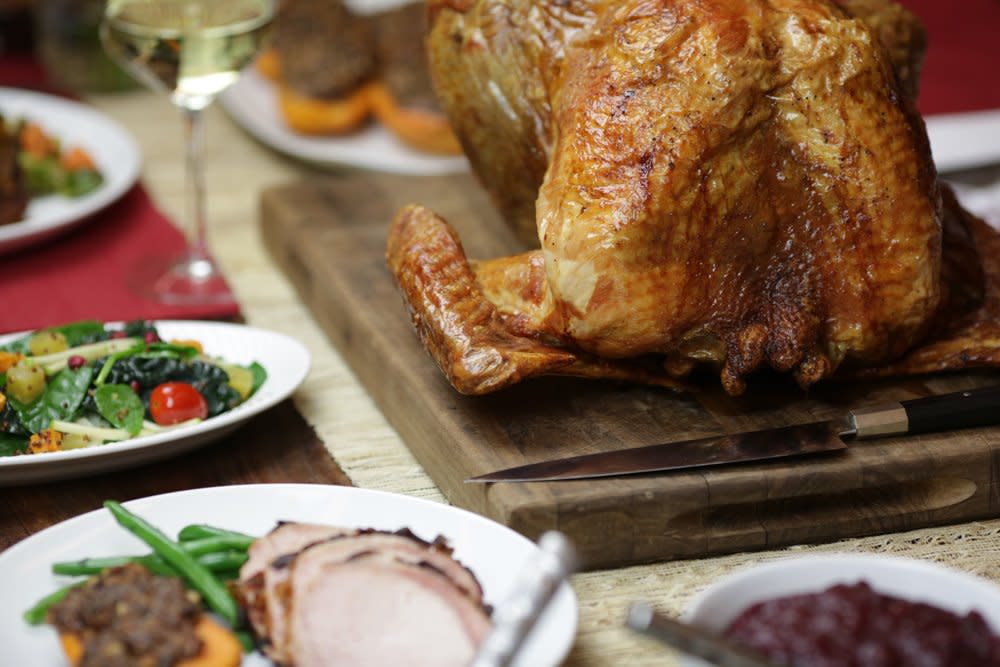 Founding Farmers offers a Heat & Eat Thanksgiving Weekend at Home menu available for pickup. Take your pick of starters and sides to entrees, desserts, and drinks. In addition to the Thanksgiving menu, you can also order their popular leftover kits, brunch offerings, or just a selection of snacks and sweet treats, including their artisan, house-crafted Founding Farmers Chocolate. Order by November 18 at 12pm for pickup November 23 (8am-4pm).
Both restaurants are also open on Thanksgiving Day for dine-in. Enjoy shared plates, fresh salads, and your choice of a main course accompanied by Founding Farmers favorite sides like Roasted Autumn Vegetables, Cornbread Stuffing, Sweet Potatoes with Pecan Fig Butter, and much more. And you won't want to miss their dessert options, like an Apple Cider Sorbet, Pumpkin Spice Cheesecake, and an assortment of holiday pies. A vegetarian option is also available! Reservations for dine-in here.

Harth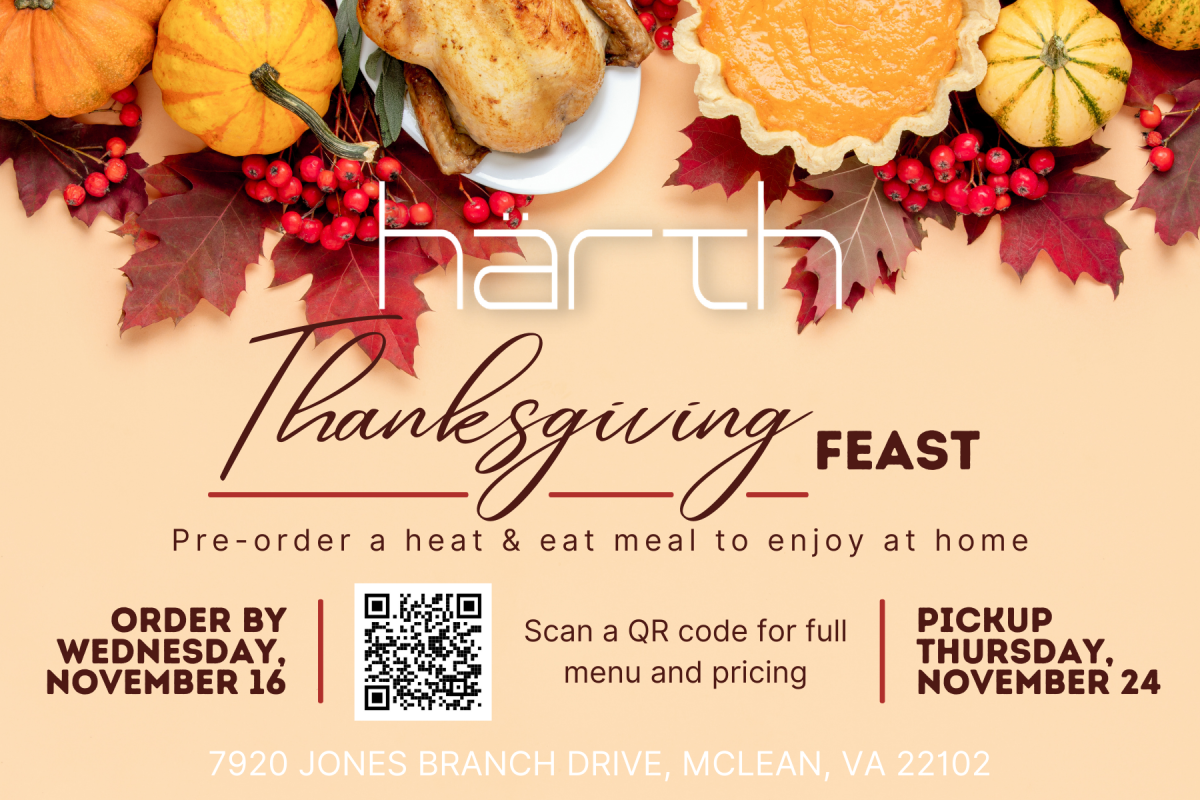 This farm-to-table-style restaurant, tucked into a homey corner of the Hilton McLean Tysons Corner hotel, is offering a heat & eat Thanksgiving feast for families of 4 ($249) and families of 8 ($499). Meals include turkey breast, roasted garlic mashed potatoes, roasted green beans with caramelized red onion and mushrooms, homestyle harth mac n' cheese, cornbread & andouille stuffing, and scrumptious desserts like Toasted S'mores Pie and classic Pumpkin topped with Chantilly cream. White and red wine bottles can be added, or for something different, some warm drinks like apple cider and/or hot cocoa. Order here by November 16 for pickup on November 24. 

J. Gilberts
Gather 'round their table in McLean for a plated, 3-Course Thanksgiving dinner menu between 11am - 8pm on November 24 for just $45 ($21/children under 12). Make your reservation here.
L'Auberge Chez Francois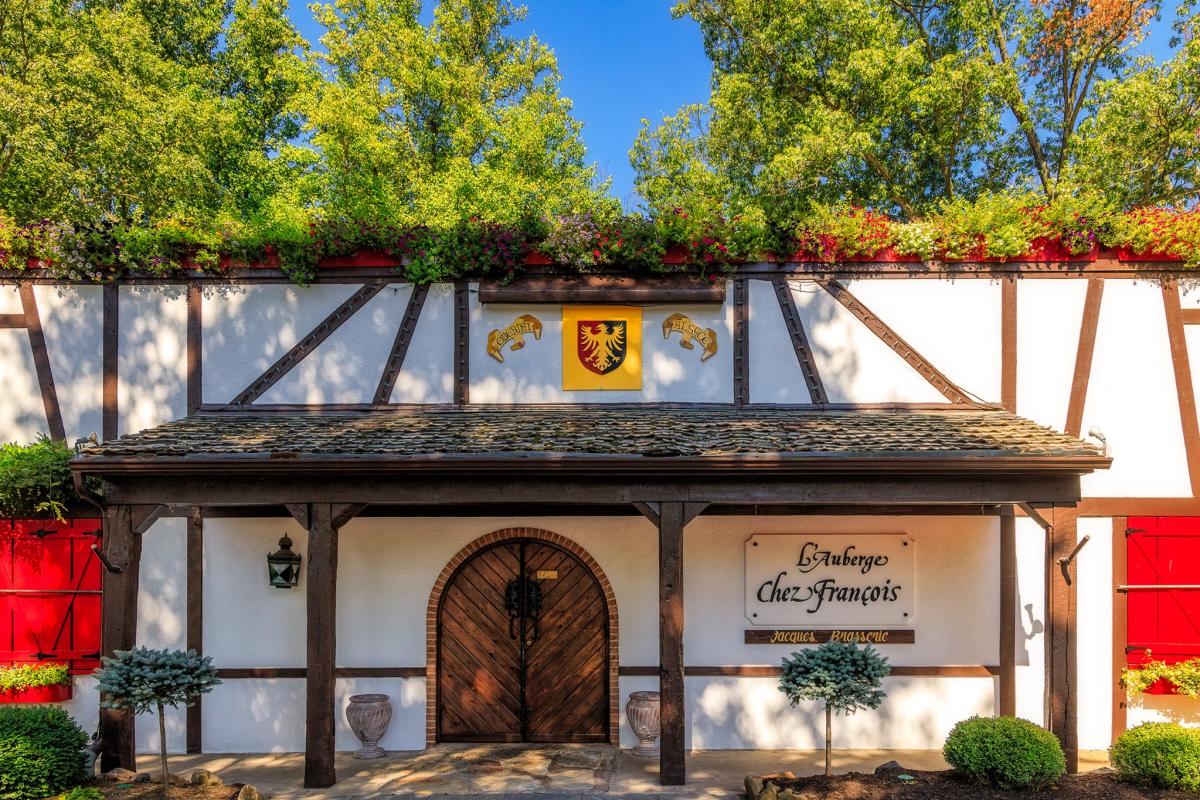 For a truly gourmet and special experience, L'Auberge Chez Francois is offering a take-home Thanksgiving Celebration Experience straight from their kitchen to yours. The Chez Vous experience includes Whiffletree roasted turkey and an abundance of their classic holiday sides from Francois Haeringer's hand-written recipe book from his homeland of Alsace. You can choose to add additional menu items, wine pairings, and even glassware, cookbooks, and other goodies! Order by November 17.
If you'd rather venture out, there are limited seatings available for an elaborate 7-course Thanksgiving dinner at this destination restaurant in Great Falls. Check out the menu here. Call to reserve your spot ASAP: 703-759-3800 or make an online reservation here.

Lebanese Taverna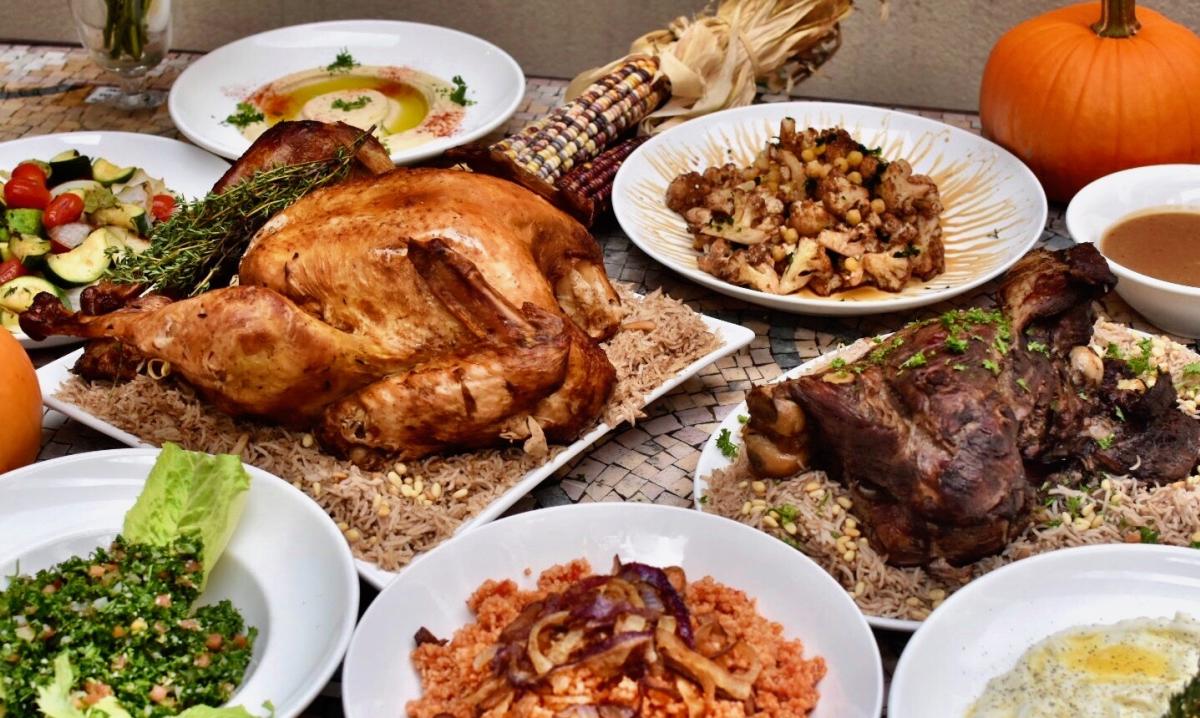 Lebanese Taverna's Thanksgiving family meals to-go feature all the makings of a traditional holiday meal, but with a home-style Lebanese twist. Mains include options like Pure Bred Lamb American lamb shoulder or leg, as well as sumac-rubbed roast turkey served with spiced rice, toasted nuts, and gravy. Sides range from roasted za'atar potatoes and arnabeet to mujaddara and bulghur pilaf, and desserts include baklava-crusted pumpkin cheesecake and whole knafe. Order online for pick-up on November 23. 
Makers Union Pub for the People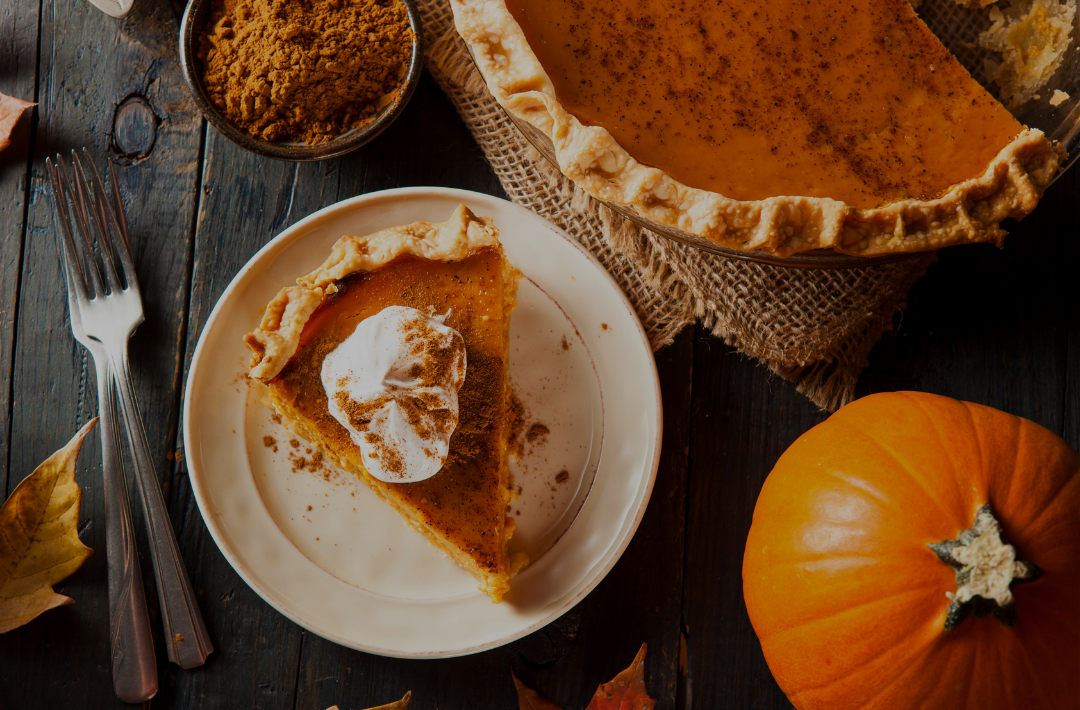 One of Reston's newest restaurants, Makers Union Pub for the People, is also offering a selection of Reheat & Serve Thanksgiving packages featuring turkey (or prime rib!), red wine-shallot gravy, cranberry-orange sauce, and some tasty sides like Brow-Butter Sage Mashed Potatoes, Makers Crispy Brussels Sprouts, and cornbread stuffing! Order for pickup on November 23 (2-4pm) and November 24 (9am-11am).
Mount Vernon Inn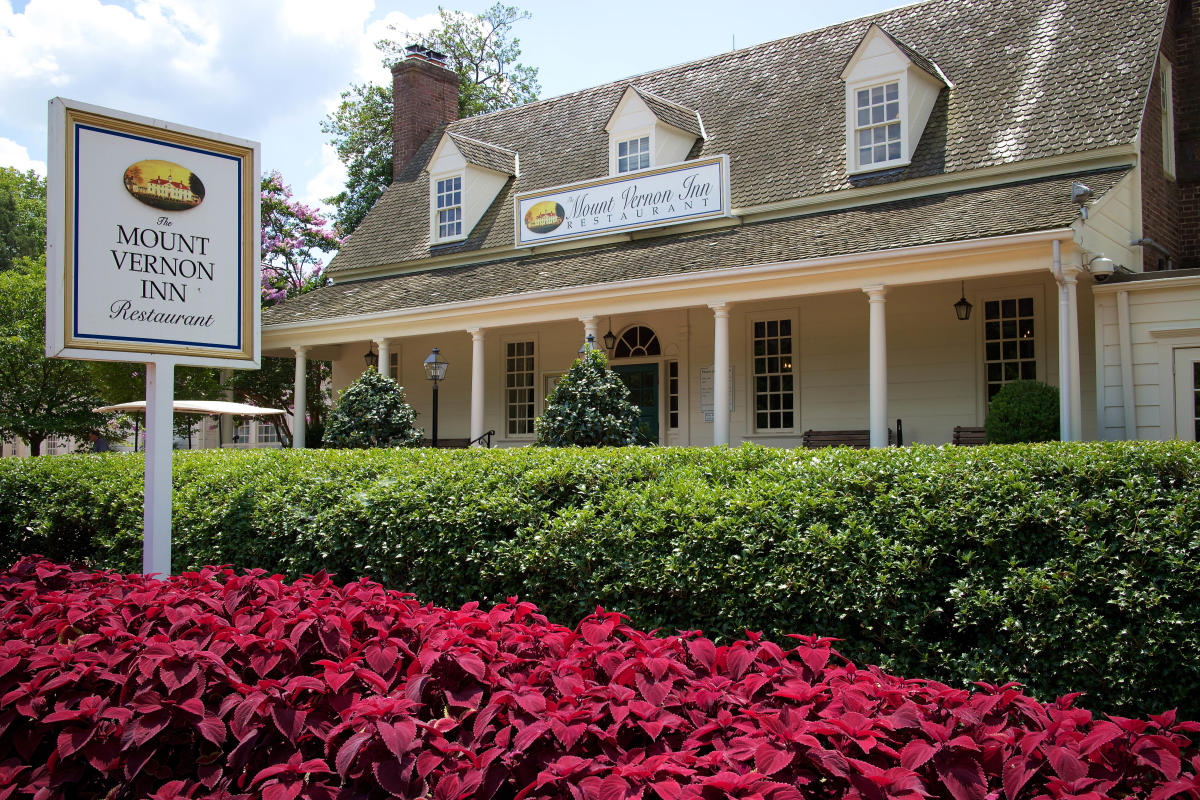 Bring home a Thanksgiving spread that would make George Washington proud! The Mount Vernon Inn is offering pickup packages for 4-6, and for 8-10 people that includes whole roasted turkeys, cornbread stuffing, Yukon mashed potatoes, roasted mixed vegetables, Caesar salad, and bread, plus your choice of Apple Pie or Pumpkin Pie for dessert. Other add-ons also available. Order by 12pm on November 21 and pickup curbside November 23. 
If you prefer dine-in, a Thanksgiving buffet will be offered at the restaurant on November 24 from 10am - 5pm. $57/adults, $20/kids ages 6-12. 

Not Your Average Joe's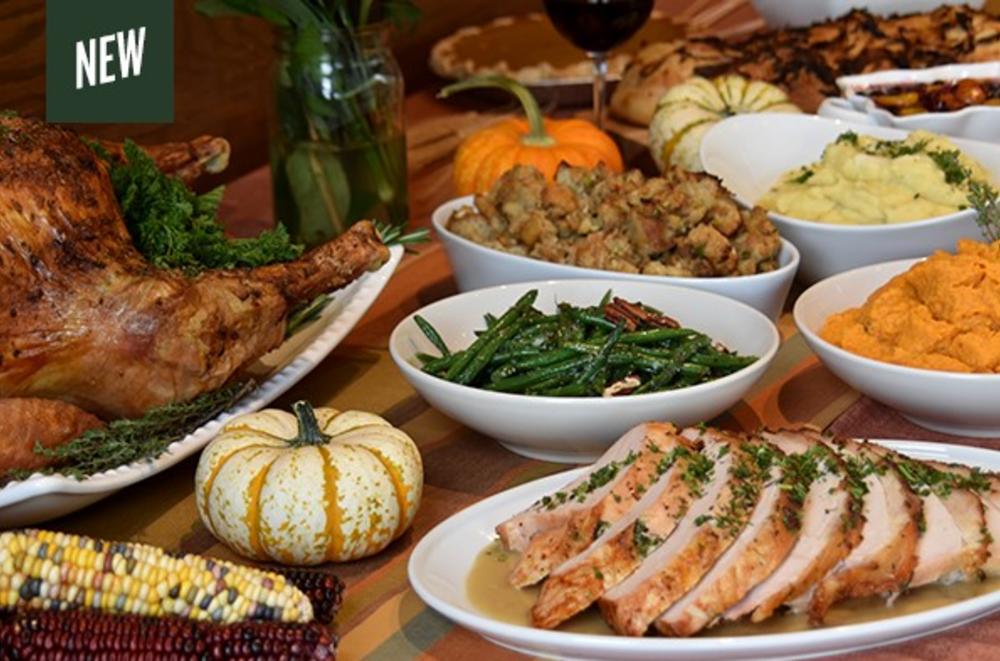 Take the stress out of the season and enjoy a whole new holiday tradition with Not Your Average Joe's in Reston. Bring home a fresh and, most importantly, fully-prepared Thanksgiving feast with all the fixings that serves up to six guests. Items include turkey, homestyle gravy, focaccia stuffing, green beans with caramelized pecans, cranberry chutney, and yes, NYAJ's famous focaccia loaf with cheesy romano-red pepper dipping sauce! Bonus - all Market Feast orders include a $10 Appreciation Card that can be redeemed from January - March 2023. Order here, at least 48 hours prior to your intended pickup time. If you'd rather dine-in, don't miss their holiday specials, including the Ultimate Holiday Turkey Sandwich, the Sage-Pecan-Pesto Salmon, and an Autumn Spiced Sangria! 

Open Road Grill & TRIO Grill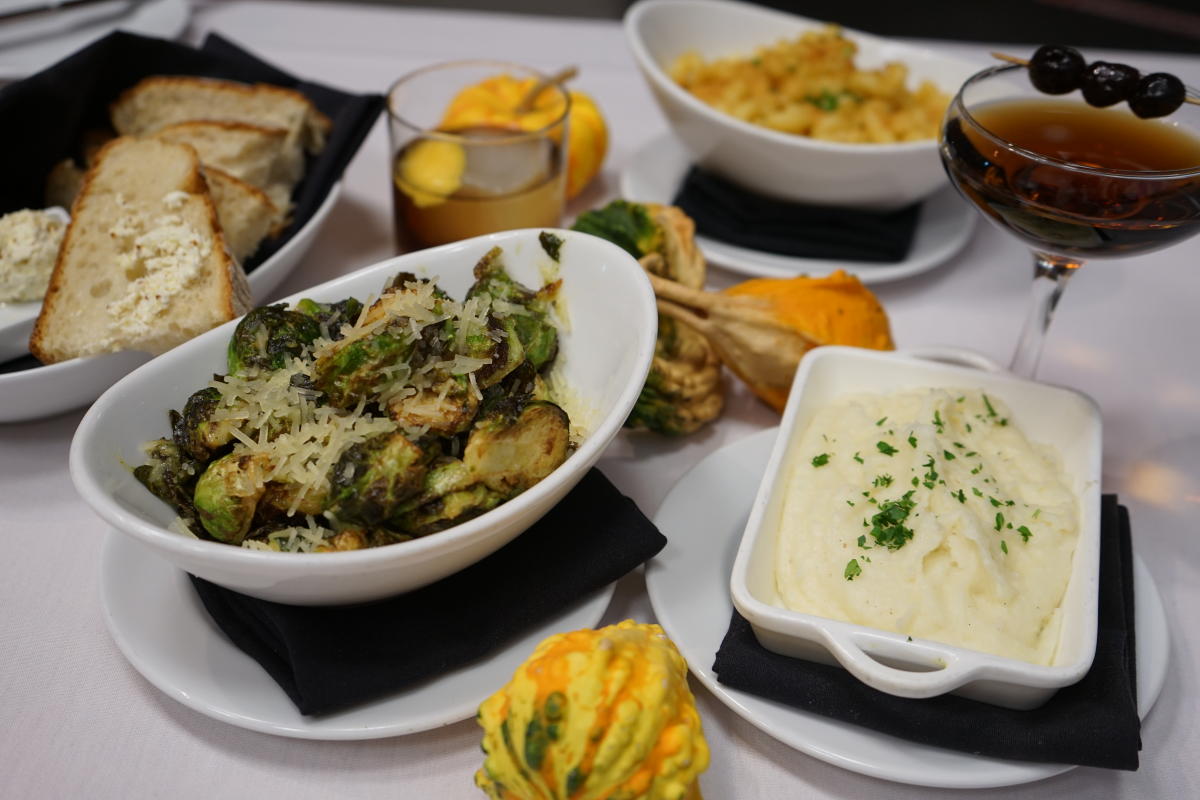 Gather around the table with a pre-made selection of yumminess from Open Road Grill and TRIO Grill (sister restaurants in Merrifield) whether you choose the Roasted Turkey Breast or Roast Beef with Chianti Jus or Maple Glazed Ham! Sides include Sage Stuffing, Brussels & Blue, Green Beans Amandine, among others. Add a la carte items like Asparagus or a Charcuterie Board before topping the whole thing off with a slice of Pumpkin or Pecan pie. Don't forget the wine and/or bottled cocktails! Order by November 16 for pickup on November 23. A 2-serving menu is available for $95 and a 4-serving for $185.
Seasons 52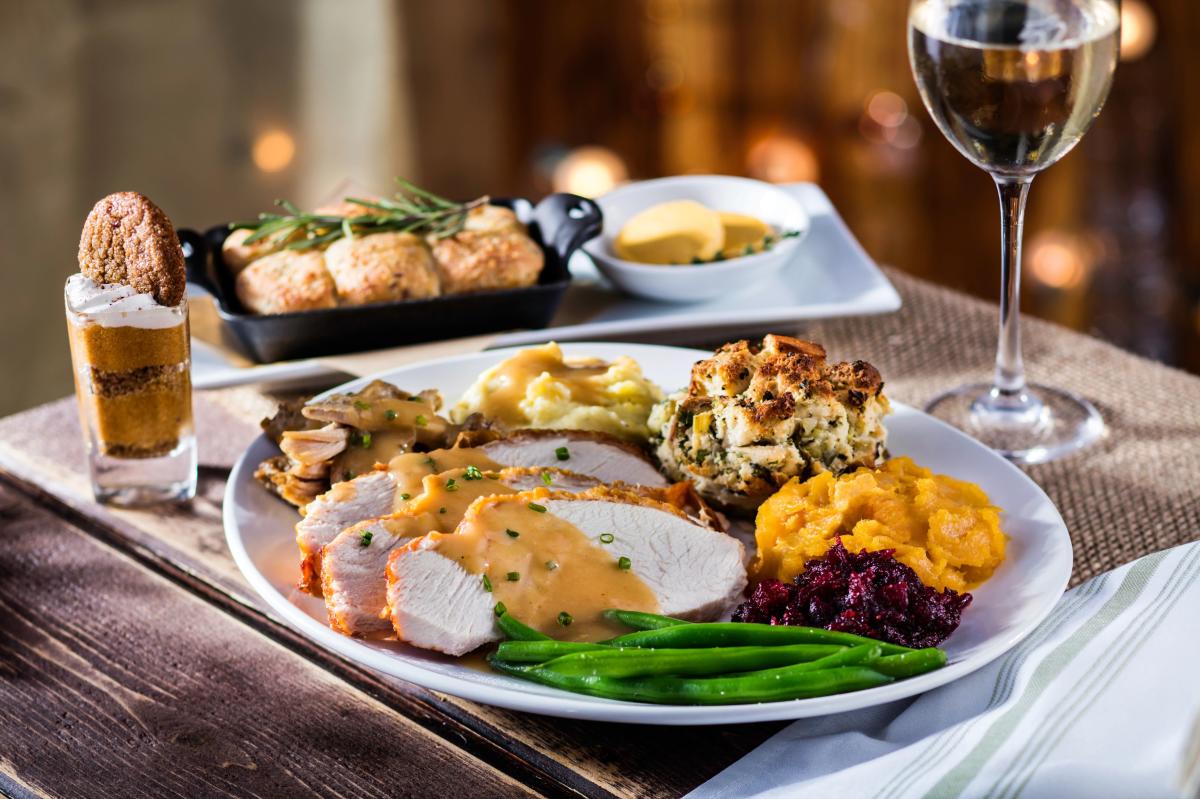 Seasons 52 guests can enjoy a lighter take on Thanksgiving with a spread of freshly prepared classics using peak-season ingredients. The menu includes Oven-Roasted Turkey, Cranberry Relish, Mashed Butternut Squash and a Pumpkin Pie Mini Indulgence dessert, among other sides. New to the Thanksgiving menu is the Pumpkin Spice Margarita, available at an additional charge only for the month of November. The Seasons 52 Thanksgiving Green Box dinner allows guests to celebrate at home with turkey, all the in-restaurant fixings, salad and six Pumpkin Pie Mini Indulgence desserts. Additional sides and desserts are available online. Boxes serve four to six people and are available for pickup on November 23. Pre-orders and reservations can be made at Seasons52.com. 
Social Burger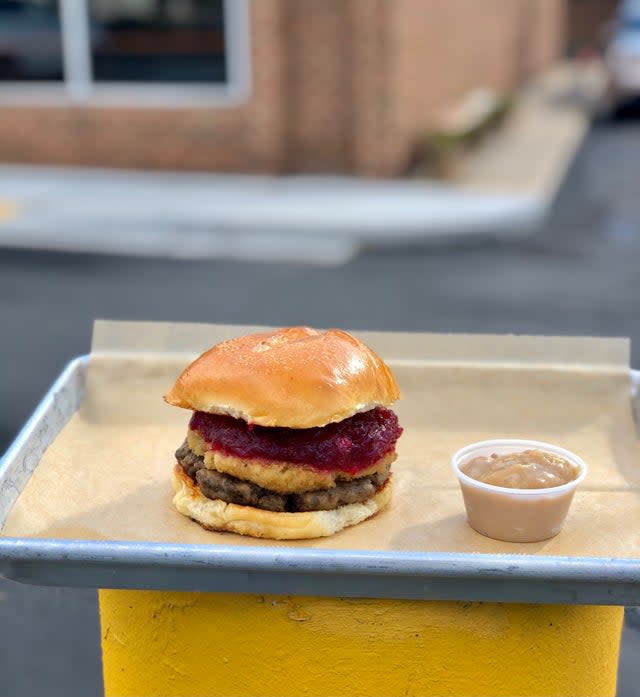 On the go this Thanksgiving holiday? Stop by Social Burger – or order ahead for delivery through UberEats and DoorDash – for their Thanksgiving Burger. A delectable 5 oz Turkey Patty, topped with traditional Bread Stuffing, your choice of Jalapeno or Orange Cranberry Sauce, and roasted garlic aioli on a potato bun – served up with a side of turkey gravy. All the Thanksgiving fixings without any of the clean-up! Order online at mysocialburger.com or call 703-364-5420.

Trummer's Restaurant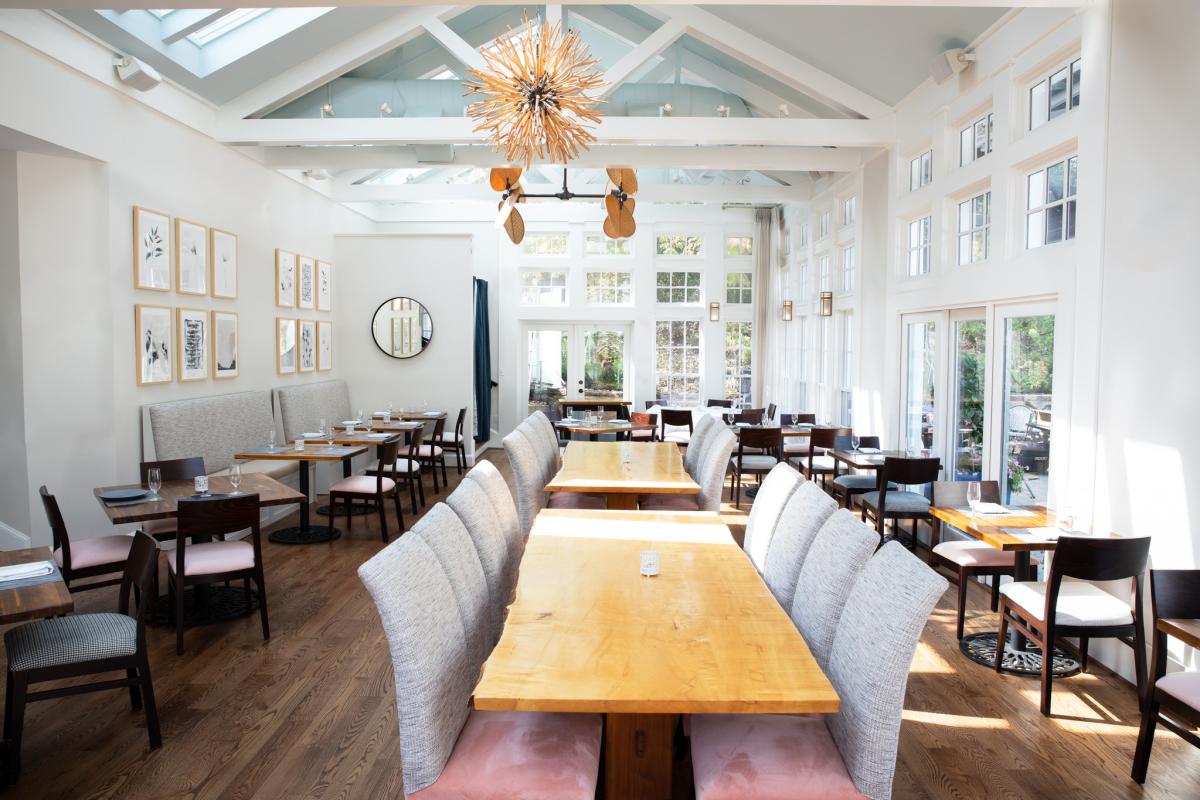 This Clifton mainstay won Upscale Brunch of the Year at the 2020 RAMMYs, so you'll definitely want to enjoy their tried-and-true favorites. Order your Thanksgiving feast featuring whole-roasted rotisserie heritage turkey, deboned and served with turkey gravy. Sides include Anson Mills cornbread with maple cinnamon butter, cranberry relish, cornbread dressing, green bean casserole and sweet potato gratin. A 10-inch pumpkin pie with Chantilly cream and candied pepitas round out the offerings. Order by November 17.
In the restaurant, newly appointed executive chef, Zach Ridenhour, will serve a four-course, family-style menu featuring Thanksgiving favorites like cornbread, a kale harvest salad and green bean casserole. Entrée options include a rotisserie heritage turkey, prepared in the restaurant kitchen's rotisserie oven, spit-roasted porchetta and whole-roasted branzino with sides like cranberry relish, sweet potato mousse and cornbread dressing. Pastry Chef Amanda Seiver will prepare a pumpkin pie with candied pepitas and Chantilly cream as well as a chocolate bourbon pecan pie with spiced caramel and whipped cream. ($87/adults, $39/kids under 12)
This is just a sampling of holiday offerings from local Fairfax County restaurants. Be sure to browse the myriad of other options in Fairfax County to find alternative options. Want to burn some pre-Thanksgiving steam at a Turkey Trot or other seasonal festivities? Visit our events calendar for ideas on getting out of the house safely. You can add many family-friendly attractions to your list for when the whole family is together. And since the day after Thanksgiving officially kicks off the holiday shopping season and is also the popular #OptOutside day, we've got options for shopping and hiking available for you and your loved ones too.
 
No matter how you spend this annual holiday, we hope your day is filled with love, laughter, and the best kinds of memories. Be sure to share your favorite holiday photos with us on social media using #FXVA or @VisitFairfax or tell us what you are most grateful for in the comments below.