Updated for 2023 season!
Looking for a safe and family-friendly way to celebrate the spooky season of Halloween? Buckle up and head on out to some of the best home haunts in Fairfax County, where local residents deck out their homes with ghosts, goblins, monsters, and ghouls.
Here are a few homes to add to your route, but keep checking back as more will be added as they become available.
But, make sure to see them before Halloween Night, as many come down immediately after and to ensure safety for the neighborhood children who get to trick-or-treat during the Halloween night festivities.

**Reminder: These are private properties, so please respect the owners' homes and stay out of the light display and yard when visiting, and please, do not block driveways.

610 Spring St, Herndon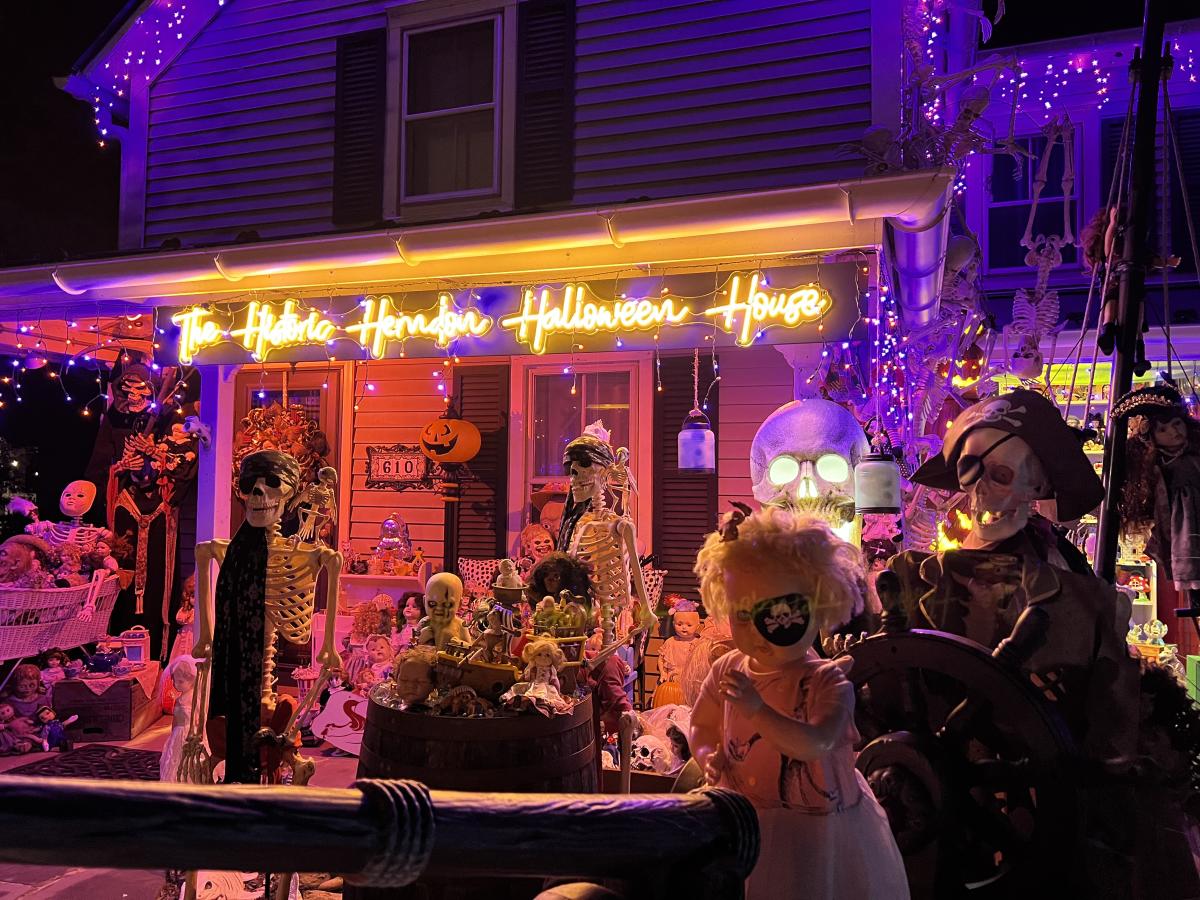 Image courtesy Colleen Delawder
This year, The Historic Herndon Halloween House is celebrating its 19th year with "Creepy Dolls" as its theme. These festive homeowners have scoured local thrift stores like The Closet, Goodwill and estate sales to gather as many antique dolls as they could find to create a fun, festive, and ghoulishly freaky atmosphere at this beloved Herndon Halloween home.
Remember, there are certain things that show up more clearly during the day and others that are best seen at night. The owners suggest coming in the early evening before the sun goes down, to see everything in the daylight and then taking a stroll through The Town of Herndon and dining at one of its great local restaurants. After dinner, when the Halloween House lights have come on, come back for another look in the dark. It's a great way to spend an evening in Historic Herndon.
For parking, due to construction surrounding the area, consider parking in the Herndon Town Lot and walking down to the house.
 
13601 Brass Harness Ct, Herndon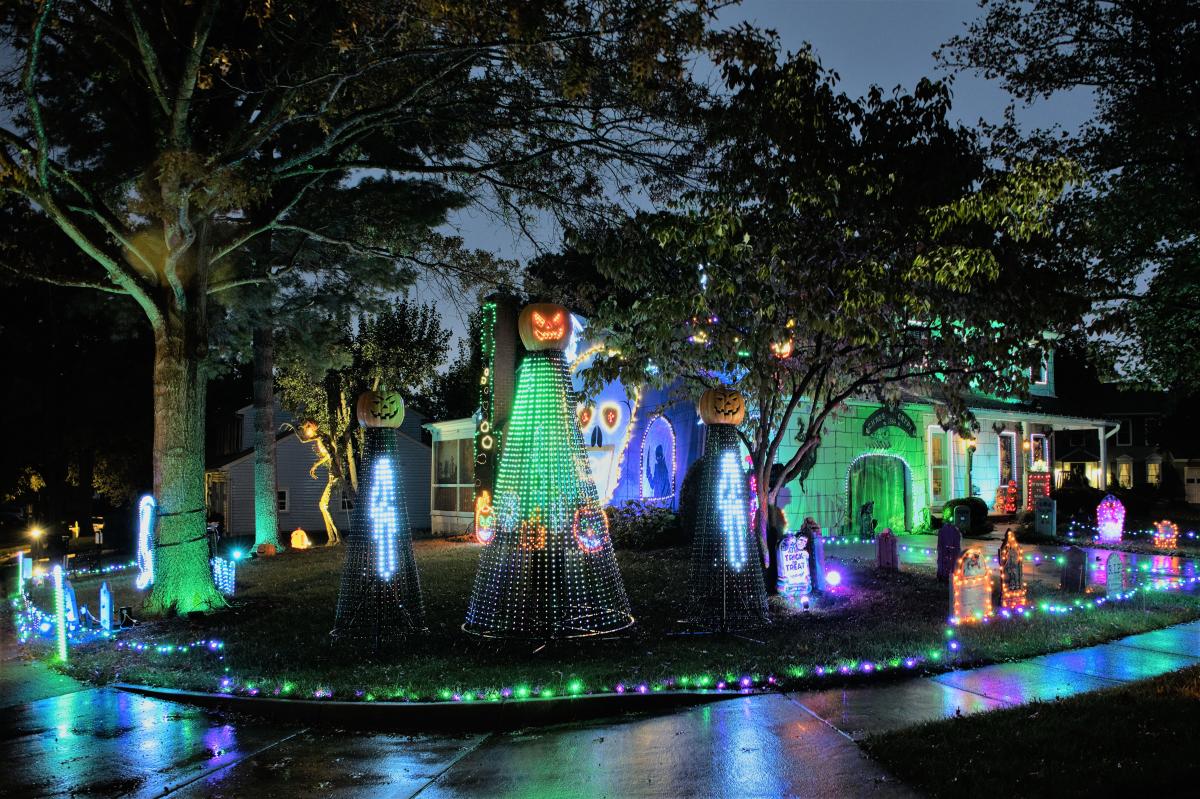 Image courtesy Mike Barsky
Their move to Colorado got delayed, so there will be one more year for the popular Chaos Crypt in Herndon. The Chaos Crypt is an animated display that covers a corner lot, with the lights synchronized to Halloween-themed songs. The display will look a bit different this year, with a few new props and songs. The display includes over 25 tombstones, some with custom epitaphs. The side yard features several zombies where visitors can pose for a photo op with a 12' inferno skeleton as part of the backdrop.
You can listen to the show in the comfort of your car by tuning into 96.1 FM, or enjoy it from the sidewalk while listening courtesy of outdoor speakers. To keep up with what's happening at the Chaos Crypt, or for information about the upcoming Christmas Light Show, visit https://www.facebook.com/MonstrousMike. (You can also check out videos from years past of both holiday light shows at www.monstrousmike.com.)
The show begins Sunday, October 8 at 6:45pm and runs through Halloween.
Pro tip: To help control traffic in this family neighborhood, please consider parking at Franklin Middle School. It's about a 1 minute walk from the school to the Halloween light display.
 
4401 Dolphin Ln, Alexandria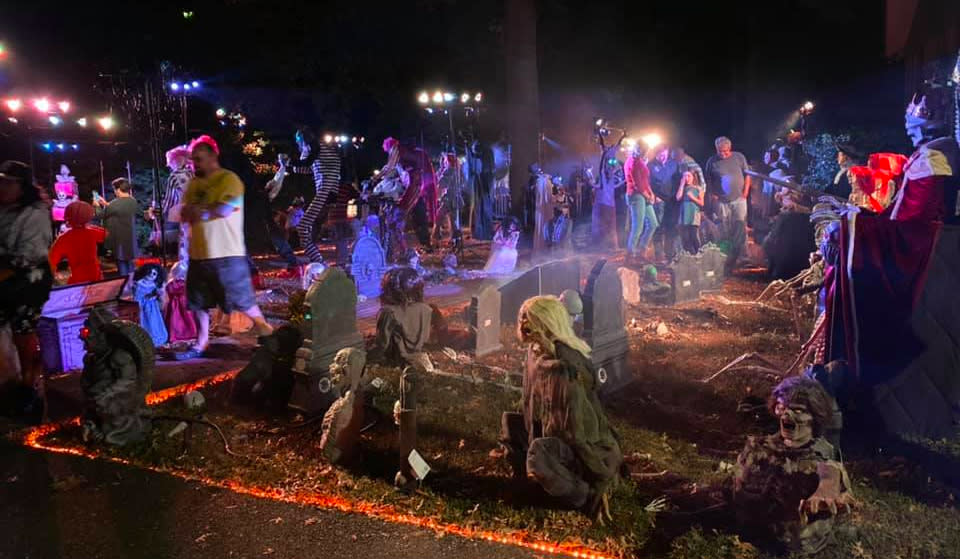 Image courtesy Haunting of Yacht Haven/Facebook
Do you go into "Spirit Halloween" stores every year to see the new animated figures? The homeowners at The Haunting of Yacht Haven are up to about 150 animatronics and lights on display in a walk-through yard haunt, arranged in groupings of scarecrows, clowns, witches, monsters, a King with his dragons and horsemen breathing smoke, plus a graveyard with pirates. This one can really scare the little ones but is quite a sight and sound extravaganza for the brave. Follow along on Facebook: The Haunting of Yacht Haven.
This year, the family also looped in the community and hosted a barbecue and setup event to get neighbors, friends, and visitors in on the fun of decorating for the season. The display is now open and will remain so on Fridays-Sundays from 5-9pm through Halloween. For parking, consider parking in the street and be respectful of other homeowner's private residences. 
 
5109 Mount Vernon Memorial Hwy, Alexandria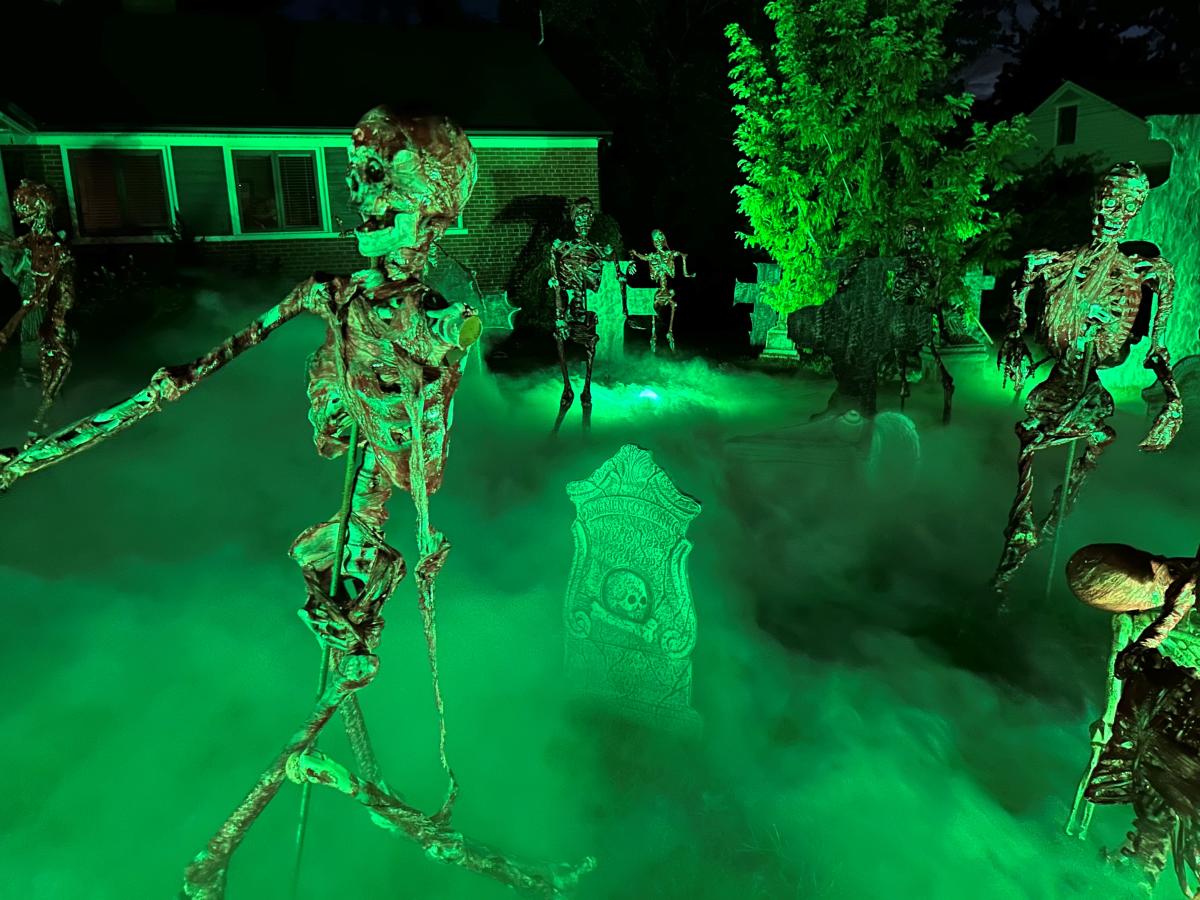 Image courtesy Matthew Hammond
This homeowner truly gets into the spooky spirit as a tried and true Halloween decorator - this is his 37th year of epic displays. The theme this year is Therapy...but for whom, we might add, is the question! Hundreds of skeletons lord over the graveyard landscape and these skeletons surely look like the walking dead thanks to some handcrafting by the homeowner. Several 12-foot skeletons lurk about and the fog show adds an eerie atmosphere to an already frightening scene.

13204 Stone Heather Dr, Herndon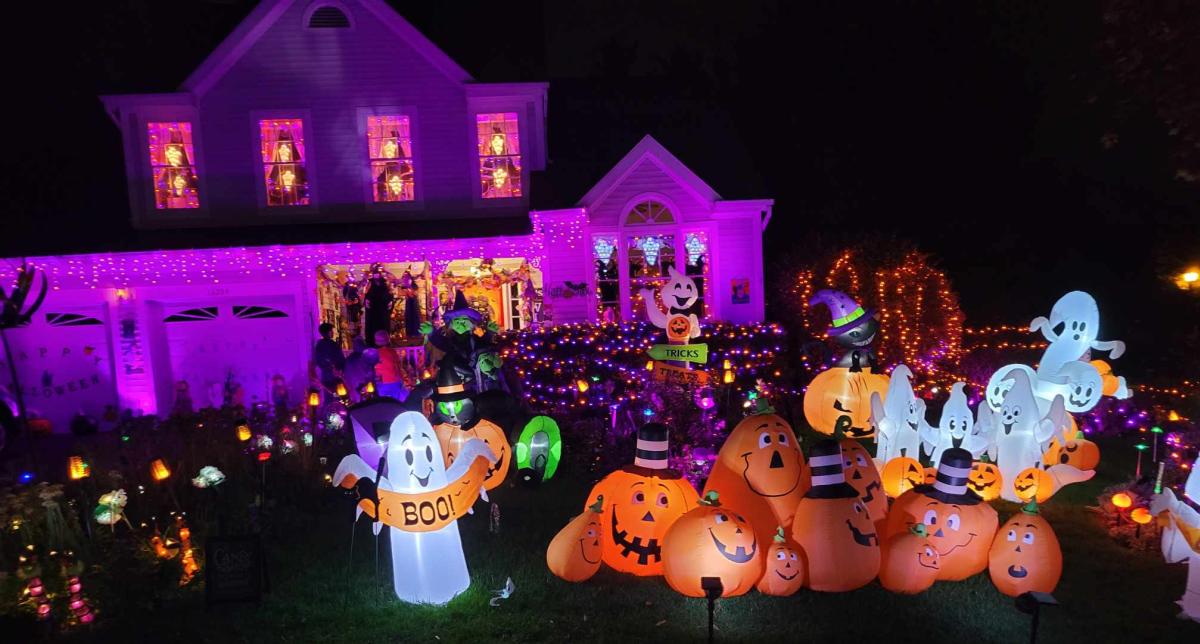 Image courtesy Wendy Callarman Hunt
In its 24th year of a bright lights display, this local family-oriented favorite in the Oak Hill neighborhood of Herndon features thousands of purple and orange lights, 200+ pumpkins of one kind of other, numerous animated and inflatable decorations including lifesize floating witches that talk to you, and a spooky walkway under Leyland cypresses (great to walk through with the kids). Beware of the ghosts flying overhead and the witches stirring their cauldrons! Snap photos of the pumpkin heads, witches, and ghosts, and don't miss special appearances by Snoopy and even Hello Kitty! 
The porch features original Halloween artwork by Charlotte Henley Babb and the festive garlands and wreaths are all handmade by the homeowner herself. 

3006 Rosemoor Lane, Fairfax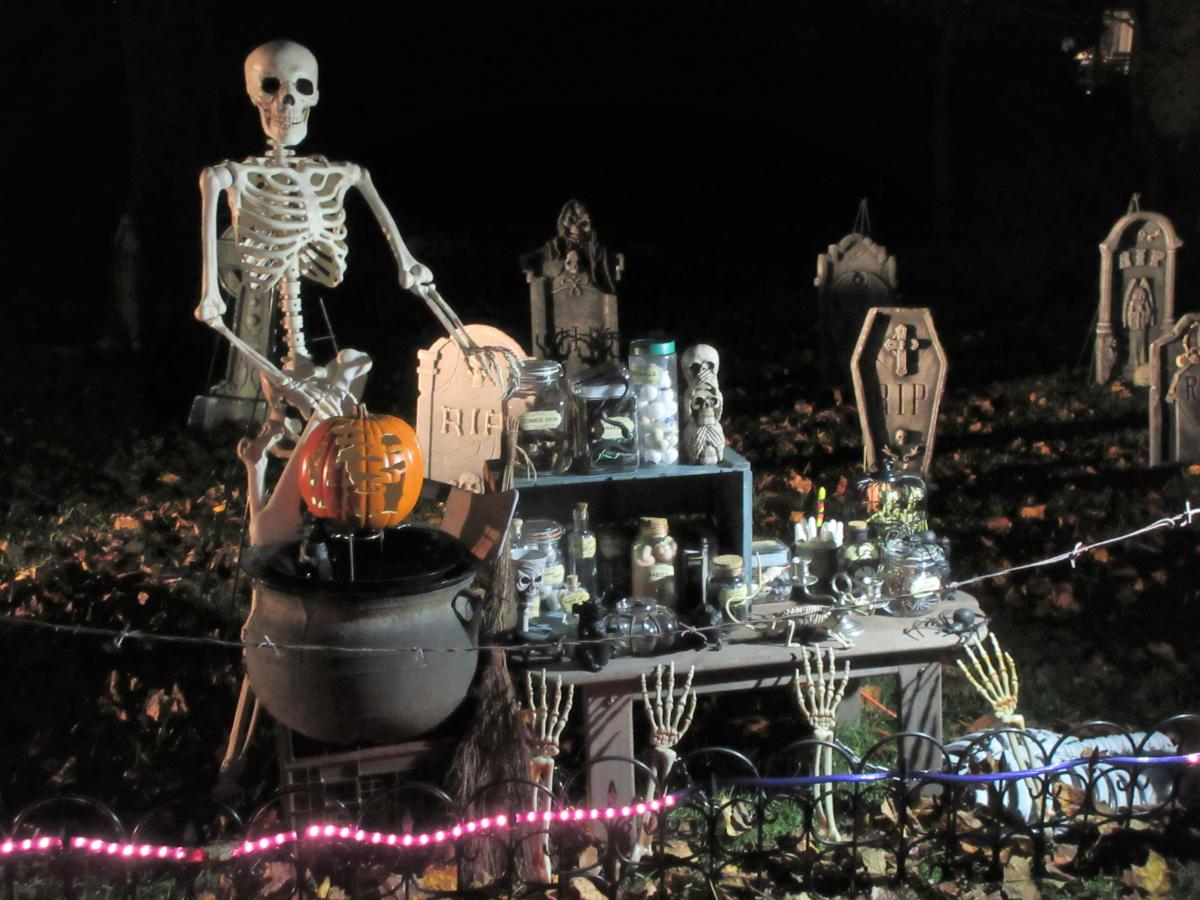 Image courtesy Holly Zell
Welcome to the HOLLYWEEN MEMORIAL CEMETERY. Enter through the driveway/graveyard, past the fresh grave, and the skeletal cook who is busy mixing potions, to get your "treats" from the man in the coffin. Be sure to visit the mausoleum full of silly-named residents before you leave. Beware the giant spider doesn't get you and drag you into his web. For more on HOLLYWEEN and her handmade props, check out her Facebook group here.

415 Queens Row St, Herndon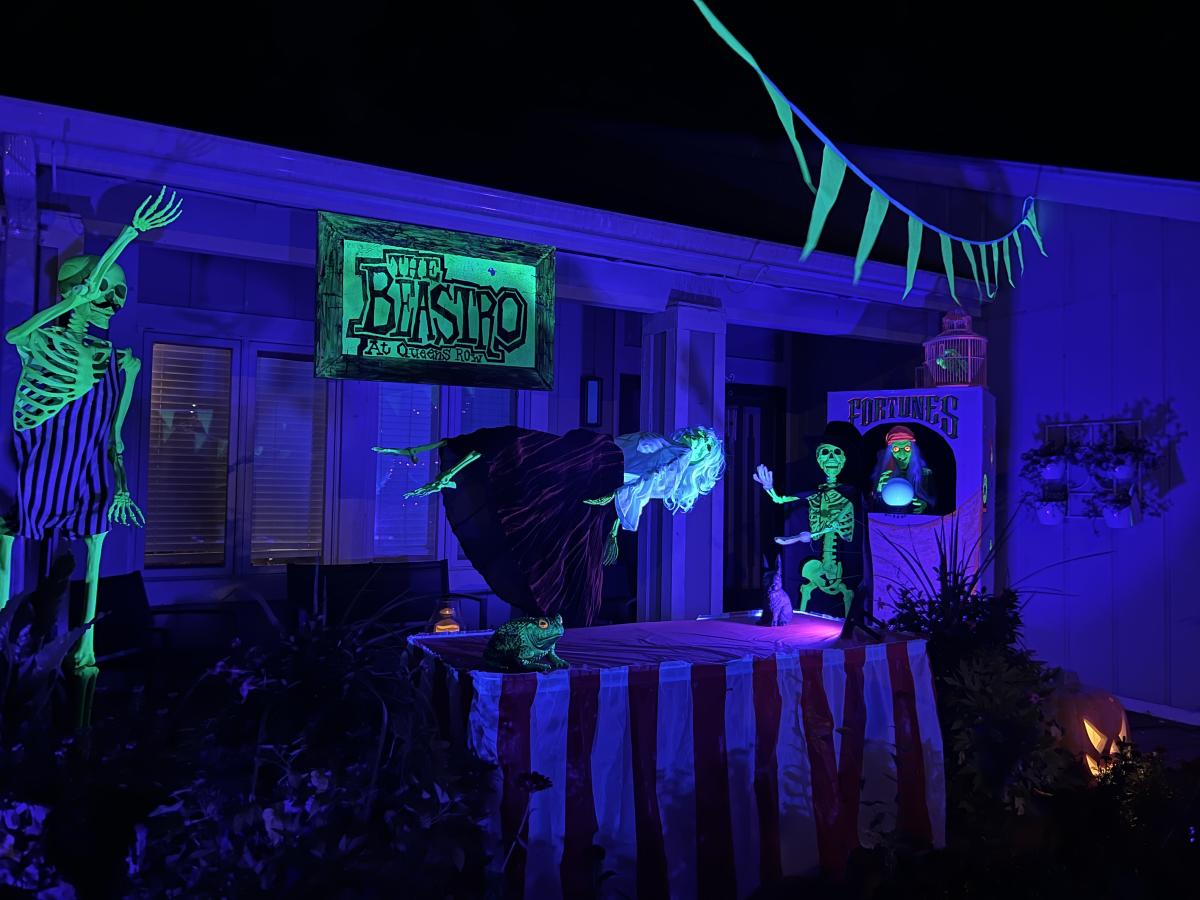 Image courtesy Justin Jameyson
Monsters, Ghouls and Goblins! The Beastro at Queens Row - Freakshow was conjured up as a place for monsters to gather during Halloween to enjoy putrified dishes or catch up over a drink. This Herndon home has conjured up a spine-tingling spectacle with a wondrous carnival of oddities, curiosities, and the supernatural, featuring mind-bending magic, uncanny fortune-telling, astonishing feats of strength, and jaw-dropping wonders that will leave you spellbound. 
While these curious performers are always on display, be sure to visit during the cloak of night when the eerie lighting enhances the mystique of the environment.
Also, new this year, the homeowners have announced they will have a donation link available at the home, with contributions going towards supporting LINK Against Hunger, a local food bank that serves Herndon, Sterling, Ashburn and the surrounding communities. Come one, come all, for an unforgettable season of chills, thrills, and goodwill under the moonlit sky.

7302 Rhondda Dr, Lorton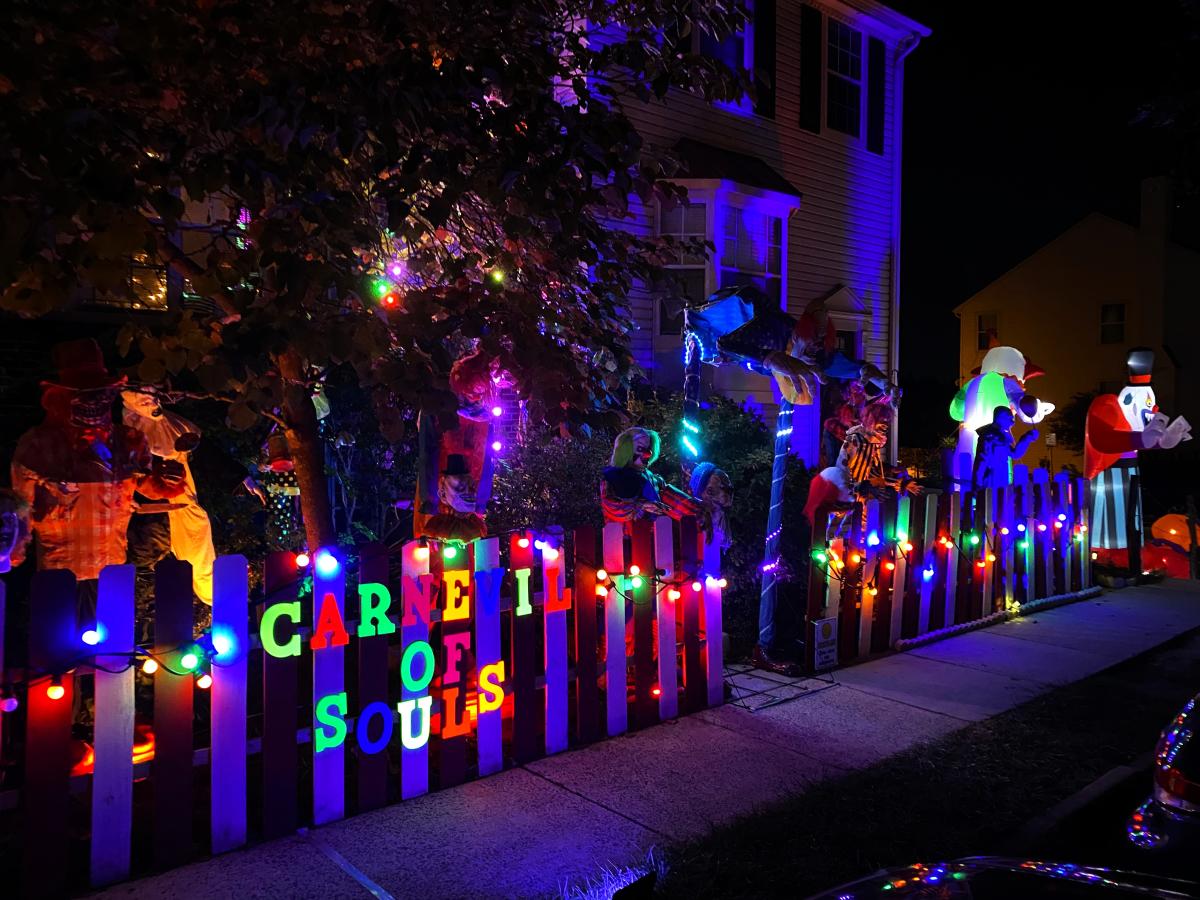 Image courtesy Craig Rupert
This decked-out townhome in Lorton delivers the shivers with a mixture of animatronic, homemade, and inflatable creations. This year's theme is a scary clown-filled CarnEVIL and while smaller than others, this frightening display is well worth a visit - photos just don't do the spook-factor justice! 

1604 Jubilation Ct, Herndon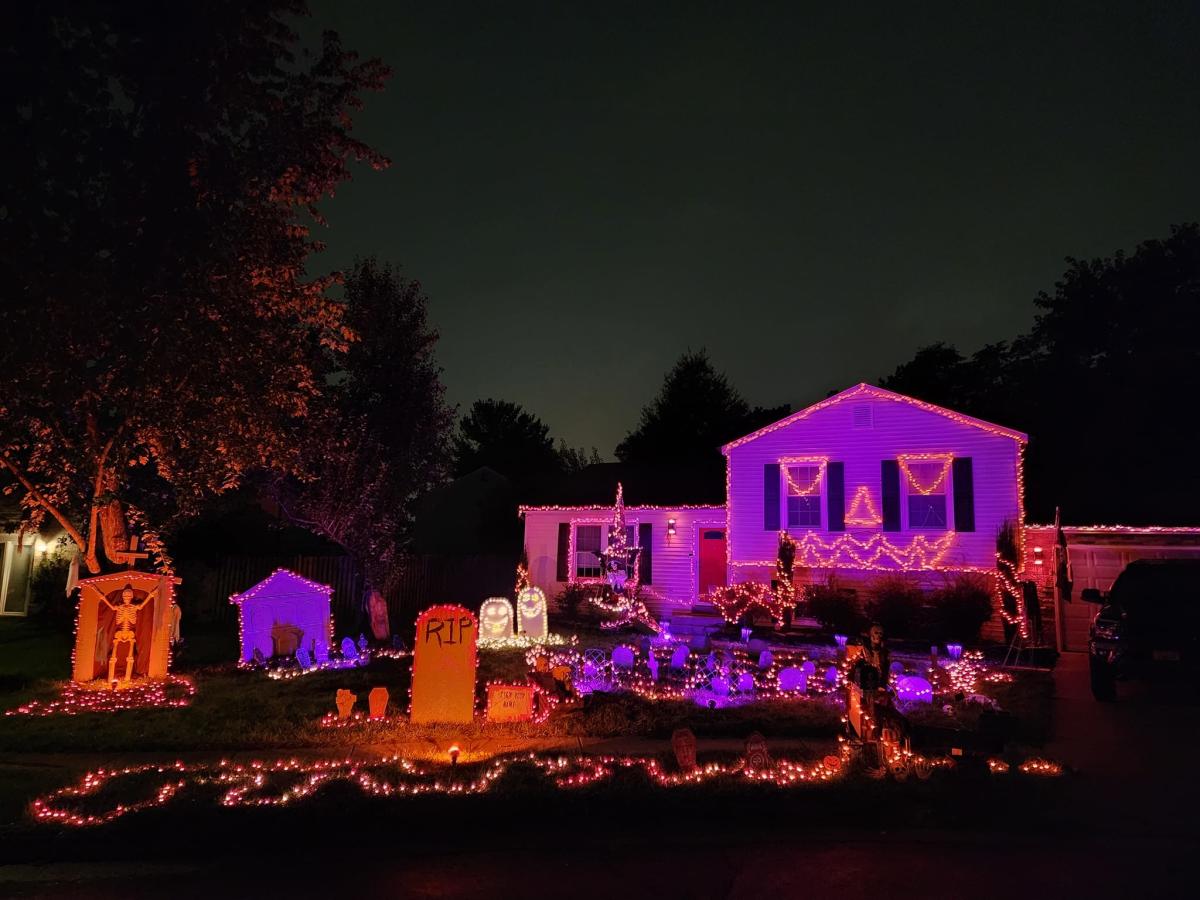 Image courtesy Ryan McDonnell
This interactive Halloween light show in Herndon is synced to music over 87.9 FM and consists of over 10 Halloween-themed songs for all ages. Guests walking by can also tune in by turning on outside speakers at an interactive station (switch through songs or start the show from the beginning!). The display also includes giant singing jack-o-lanterns, ghosts singing back-up, a pirate ship overrun with skeleton pirates, and a foggy crypt. New this year is a Flying Dutchman skeleton ship in the driveway! Don't miss it!  Learn more and check out the show online too!
 
1911 Stirrup Ln, Alexandria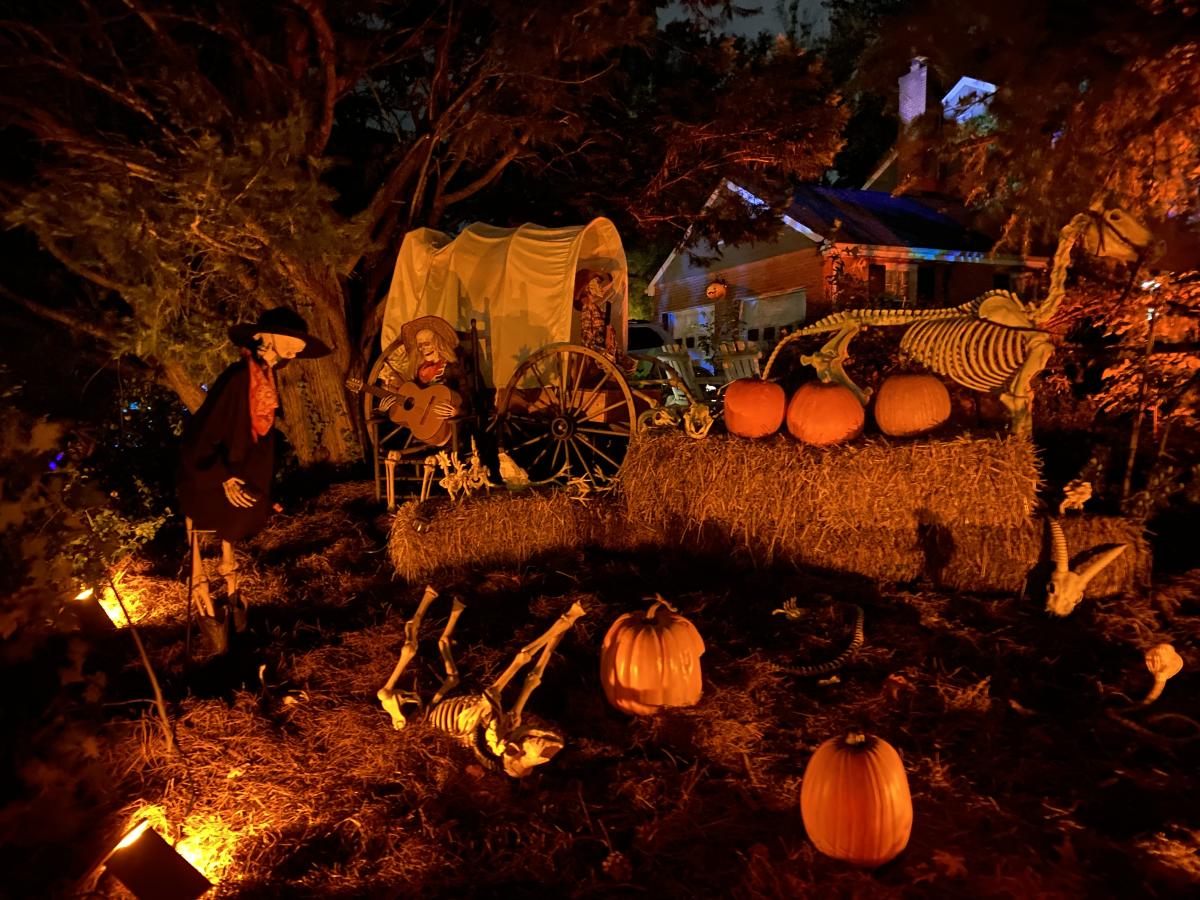 Image courtesy Liz Schroeder
At this bone-covered yard is a pirate area, a Western campfire complete with a covered wagon, a fantasy section with Knights and fighting dragons, and of course - a giant pet cemetery. Fog machines fill the air with spooky vibes and singing pumpkins perform about 16 different song animations.


For more Halloween fun and events, go here. Scares and spooks not your thing? Check out the fall foliage viewing and scenic fall drives in the area, or just take a trip to the pumpkin patch or a fun fall festival before the season is over.
Are there other homes you know of that aren't on this list? Let us know in the comments below. Find even more great Halloween and Christmas home displays, check out Holly's Tacky Christmas Lights' special Halloween page (updates coming soon!) or join her Facebook group for the latest on Halloween and Christmas light displays in the neighborhoods of Northern Virginia.