Out of oodles of holiday traditions associated with this time of year, none may be as beloved as loading the family into the car in search of the best neighborhood light displays and shows. There are even entire network reality shows dedicated to the tradition – in fact, one Fairfax County couple took home the top prize on ABC's The Great Christmas Light Fight back in 2018 (unfortunately no lights for them this year - but don't worry, there are plenty of other Christmas light displays in Northern Virginia to check out!). 
But where can you find the best neighborhood Christmas lights in Virginia for 2020? We spoke with local expert Holly Zell, the owner of the resourceful website, Holly's Tacky Christmas Lights, to get her take on the best of the best in Fairfax County. Here are the top 10 light shows for Fairfax County in 2020 to add to your must-do list.
Editors note: We, like Holly, lovingly refer to these displays as "tacky" in the most endearing sense of the word - truly these displays are pieces of art and are testaments to the owners' hard work and dedication in an otherwise very busy season! Also, as a reminder – these are private properties, so please respect the owners' homes and stay out of the light display and yard when visiting and do not block driveways.

10108 Marshall Pond Rd, Burke
On through Jan 4, 5:30-11pm
Lights always on, though rain may have other plans.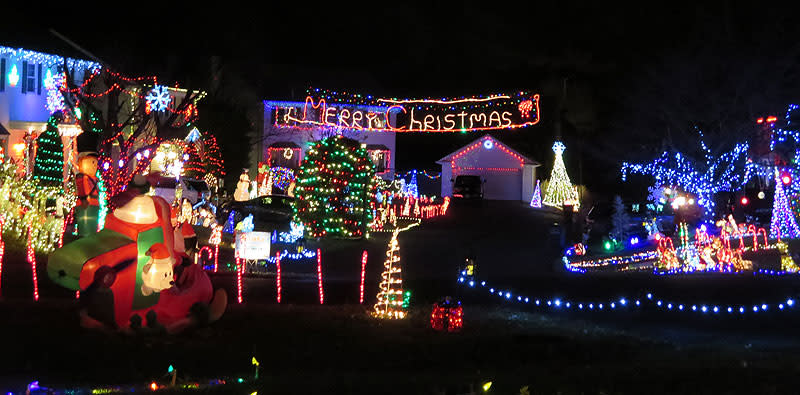 This massive display, dubbed Marshall Pond Christmas Village, is thanks to seven different homes in a cul-de-sac/pipestem. Pay a visit to "Santa's Village" – and keep tabs on their Facebook group page to find out when the Big Man in Red might make a (covid-friendly) appearance! Be sure to park at the top of Marshall Pond Road and walk from there to enjoy the displays.

3912 Lincolnshire Street, Annandale
On through Jan 1, 5-10pm (10:30pm on Friday/Saturdays)
Lights are off during any wet/humid conditions. Tune to 88.1 FM.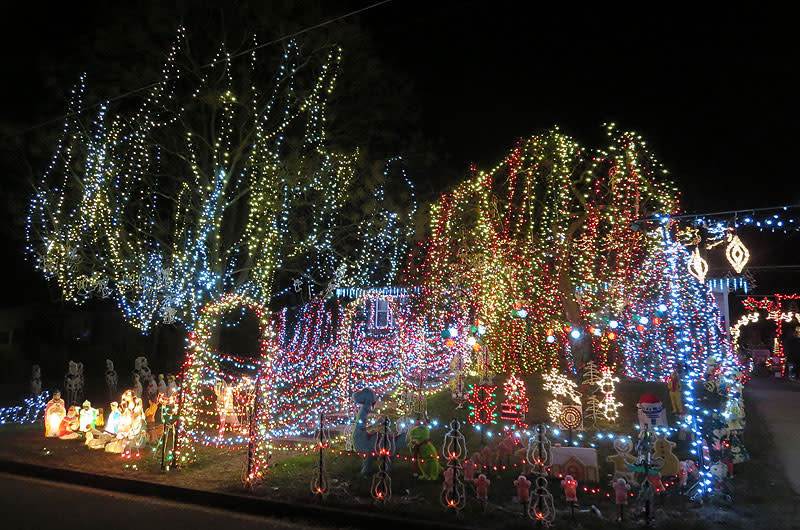 Multi-color lights and figurines cover every square inch of the property, backed by music and animation. Even the backyard is decorated! Gazers can tune in to 88.1 FM to listen to the show. Tip: You may walk up the driveway to the fence to view the backyard displays.

7302 Rhondda Dr, Lorton
On through Jan 8, 5-9:30pm weekdays and 5-10:30pm Fri/Sat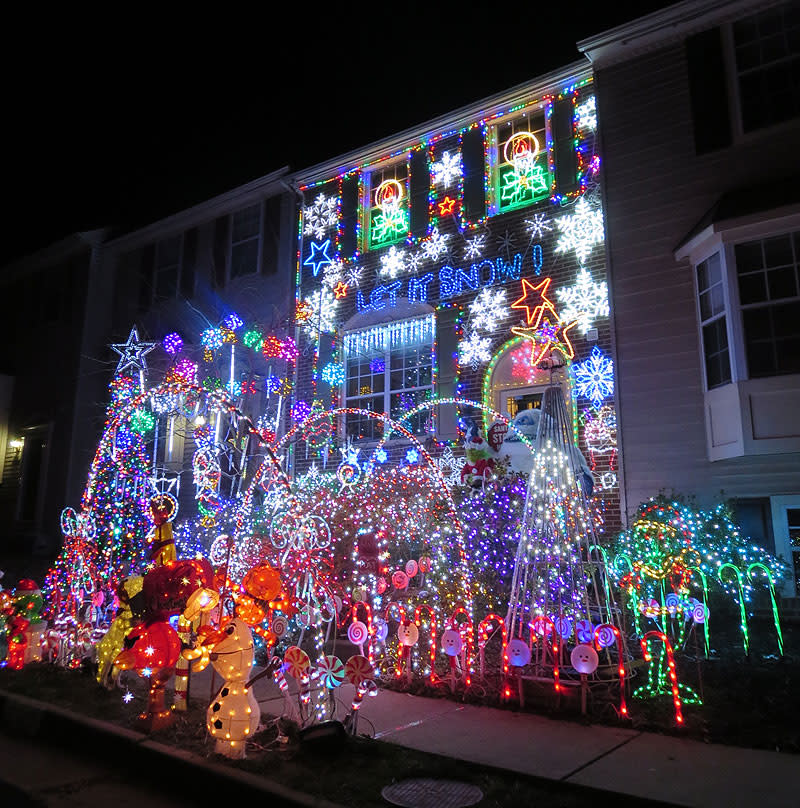 One of the only townhomes on the list, this home makes incredible use of its small space with layers and layers of colors, a Letters to Santa mailbox, and full-size homemade props of the Bumble, Grinch and Taz (on weekends, weather permitting). Stop by to take a selfie with them and drop your letter to Santa!

10800 Stanhope Pl, Fairfax
On through Jan 1, dark - 11pm
Lights off during rain.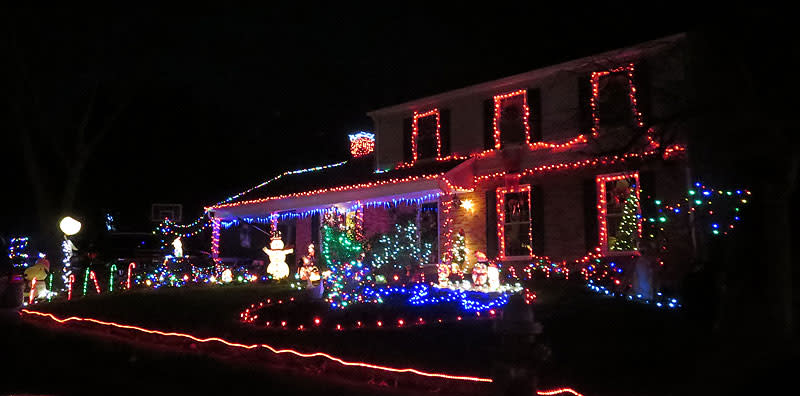 This neighborhood effort has nearly an entire block lit up for the holidays! Enjoy a drive by these nine homes, some that are animated to music and others that make neighborly use of tree lights.  

5406 Fremont St, Springfield
Dec 12 – 31, 5:30-10:30pm on weekdays and 5:30-11pm on Fri-Sat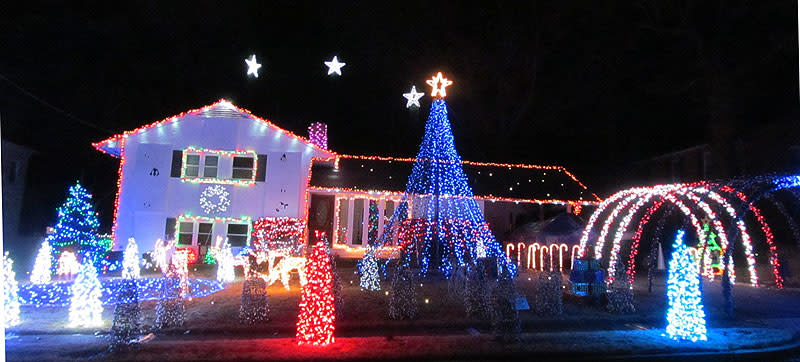 This home's unique, colorful, and animated show begins with Charlie Brown's famous inquiry on the meaning of Christmas and adds a layer of fun by bringing Looney Tunes characters to life. Please remember to not block neighboring driveways while visiting.
5700 Claret Place, Centreville
On through Jan 4, 4:30-11:30pm. Animated to music 6-10pm on 105.7 FM.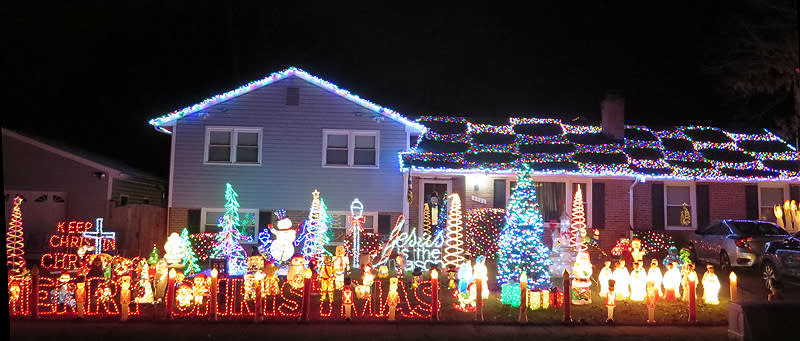 This highly animated display in a corner lot is home to many vintage blow-molds, an authentic Santa film in the window, and a two-story light tree. The family holds a food drive to benefit the WFCM Food Bank and they have been featured on The WETA Guide to Christmas program.

10203 Lawyers Rd, Vienna
On through Jan 8, 5-11:30pm.
Lights are off during rain.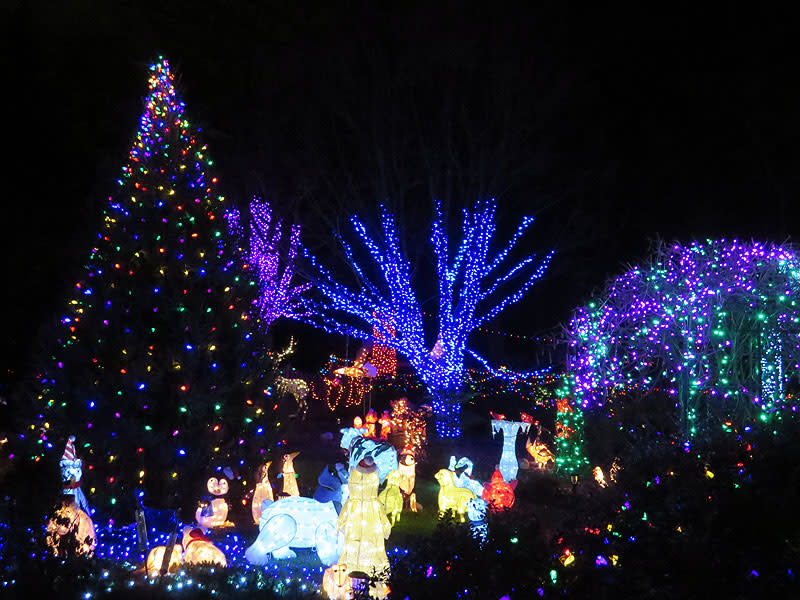 Stunning layers of multicolored lights and large decorated trees make up much of this beautiful display. Be on the lookout for the "zoo" of approximately 100 lighted animal figures of all types (can you count the number of polar bears?) and a flowing waterfall scene. Tip: Park on Galloping Way and carefully cross Lawyers Rd for the best views.
11920 Bennett Rd, Herndon

Neighbors have dubbed this beautiful display as the "Enchanted Christmas Forest." Featuring several homemade animated displays, tall trees wrapped in lights, a unique sprawling layout with running toy trains, and even a 14-foot tall European pyramid, your eyes won't know where to start!
12708 Kettering Dr, Herndon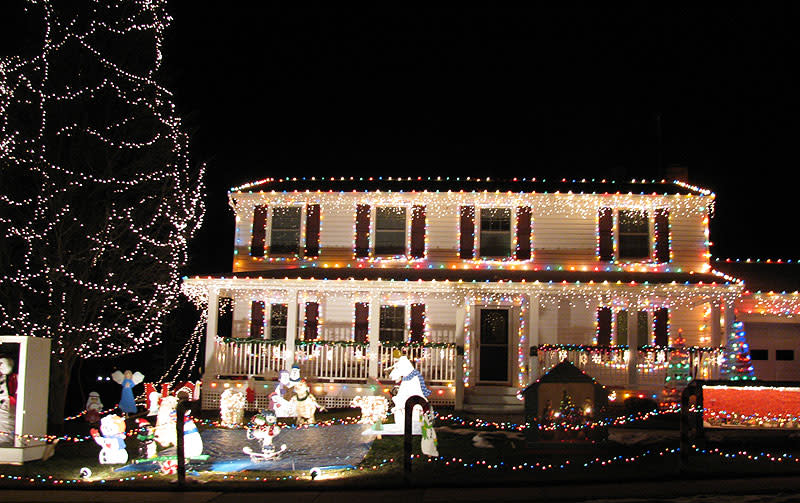 The homeowners of this beautiful show have decided to bring back their display for holiday cheer in a year marked by a global pandemic. Featuring handmade wooden figurines, animated characters, a unique pond surrounded by North Pole characters, this Fox Mill neighborhood home is a true delight.
14549b Lock Dr, Centreville
Animated show runs on a continuous loop from 5-10pm weekdays, 5-11pm weekends. No animation during heavy rain.


Image courtesy the Abrahams Family
It's been four years since this family has last decorated but couldn't resist bringing smiles to people's faces in an otherwise challenging year. Their 2020 show is completely new and will be the last time you can see such a display at this address. (Want to try a display of your own? The Abrahams Family will be selling all supplies at the end of the season.)
There are many other homes to explore, and Holly has a great map to highlight the best of the best, some honorable mentions, and even locations outside of Fairfax County. Most importantly, keep in mind some of her best viewing tips:
Respect the owners' properties and please stay out of the yards and light displays. This also pertains to your safety and the safety of the owners' homes. Similarly, don't touch any of the displays and be considerate to the neighborhood and other light viewers around you.
Rain, snow, and wind can all influence the light displays. Check Holly's site or Facebook page for hours and weather closings.
Overall, the best time of day for viewing lights is between 6pm and 8pm.

For a list of all the best light displays in the area, be sure to visit Holly's website or plan out your trip by using her handy Route Guide. Want to make a night of it and have a Holiday Lights Show Tour of Fairfax County? Check out our video here for ideas on perfecting your new holiday tradition:
Looking for other dazzling light shows in the area? Don't miss these park-operated shows before the season ends. And be sure to bookmark our winter guide for more seasonal fun!
Do you know of other spectacular light displays in Fairfax neighborhoods or at Fairfax County businesses? Tell us in the comments below or tag us on social media using #FXVA and @VisitFairfax.
*All photos credit to Holly Zell of FairfaxChristmasLights.com, unless where otherwise noted.