UPDATED FOR 2022
Out of oodles of holiday traditions associated with this time of year, none may be as beloved as loading the family into the car in search of the best neighborhood light displays and shows. But where can you find the best neighborhood Christmas lights in Virginia for 2022?
We spoke with local expert Holly Zell, the owner of the resourceful website, Holly's Tacky Christmas Lights, to get her take on the best of the best in Fairfax County. Here are the top light shows for Fairfax County in 2022 to add to your must-do list, in no particular order.
Editors note: We, like Holly, lovingly refer to these displays as "tacky" in the most endearing sense of the word - truly these displays are pieces of art and are testaments to the owners' hard work and dedication in an otherwise very busy season! Also, as a reminder – these are private properties, so please respect the owners' homes and stay out of the light display and yard when visiting and do not block driveways.

10108 Marshall Pond Rd, Burke
2022 STATUS:Lights are on and will be through holidays, usually through 10-11pm
Lights always on, though rain may have other plans.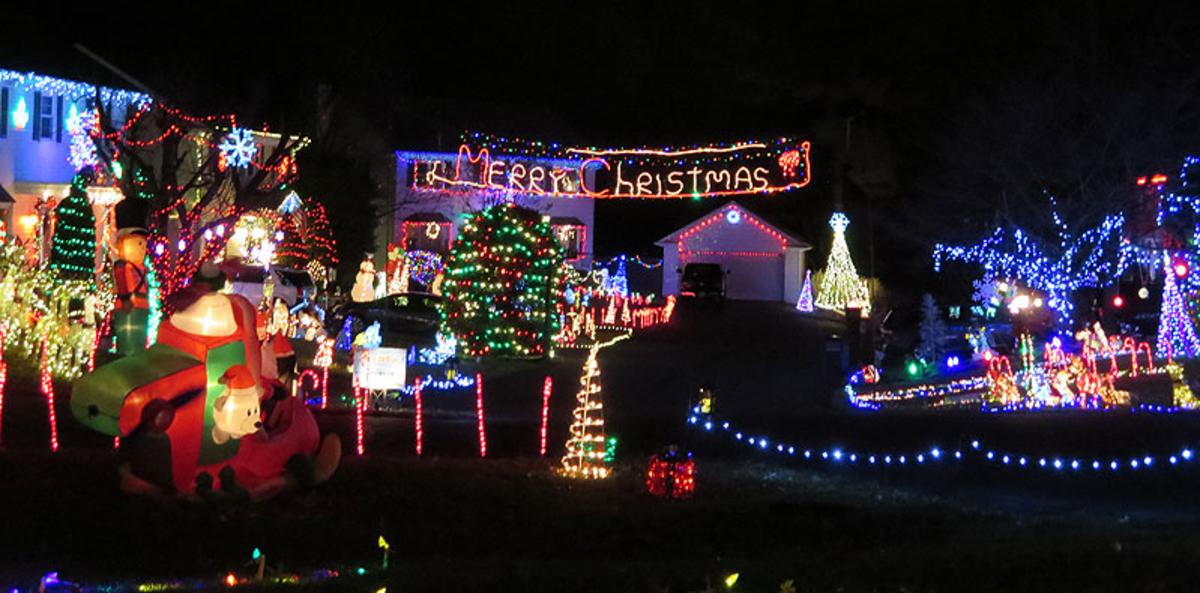 This massive display, dubbed Marshall Pond Christmas Village, is thanks to seven different homes in a cul-de-sac/pipestem. Pay a visit to "Santa's Village" – and keep tabs on their Facebook group page to find out when each home has their full set of lights on! Be sure to park at the top of Marshall Pond Road and walk from there to enjoy the displays.

3912 Lincolnshire Street, Annandale
2022 STATUS: On through January 1
Lights will be off during any wet/humid/snow conditions. Tune to 88.1 FM.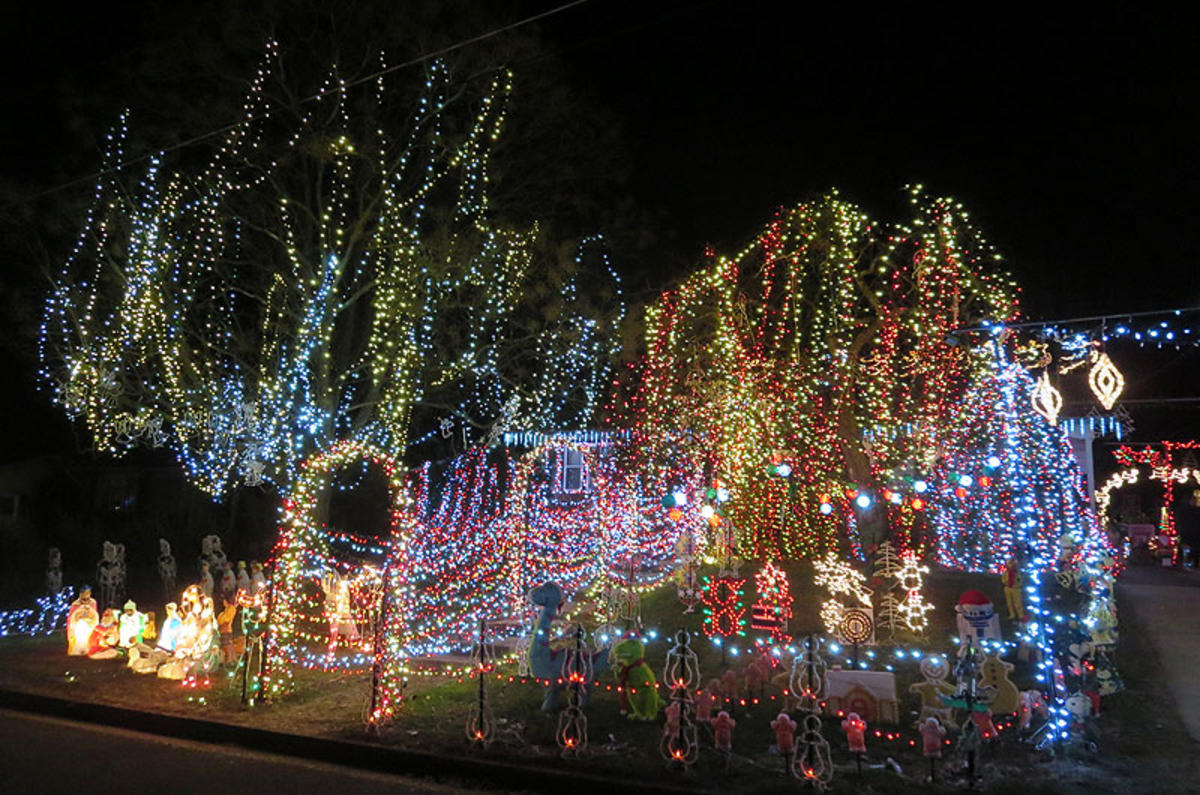 Multi-color LED lights and figurines cover every square inch of the property, backed by music and animation. See if the kiddos can spot Santa and his reindeer on the home's rooftop! Gazers can tune to 88.3 FM to listen to the show. Tip: You may walk up the driveway to the fence or up the steps in front of the house.

7302 Rhondda Dr, Lorton
2022 STATUS: Currently on! November 27 - early January, 5-9:30pm weekdays and 5-10:30pm Fri/Sat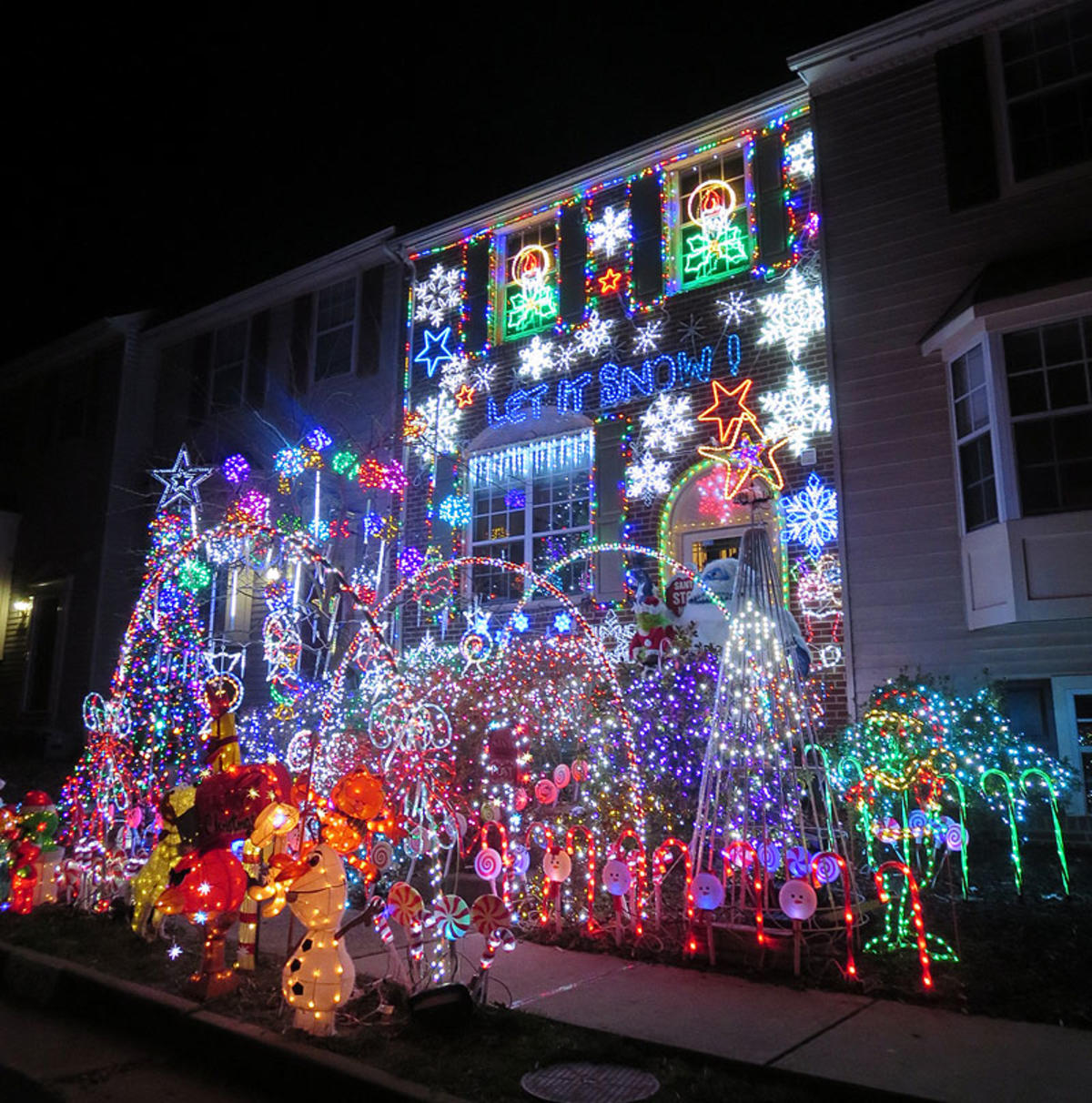 One of the only townhomes on the list, this home makes incredible use of its small space with layers and layers of colors, a Letters to Santa mailbox, and full-size homemade props of the Bumble, Grinch and Taz (on weekends, weather permitting). Stop by to take a selfie with them and drop your letter to Santa! Each letter left may just get a special response from Santa himself!

10800 Stanhope Pl, Fairfax
2022 STATUS: Currently on! November 25 - January 2, dark - 11pm
Lights off during heavy rain. Tune to 89.7 FM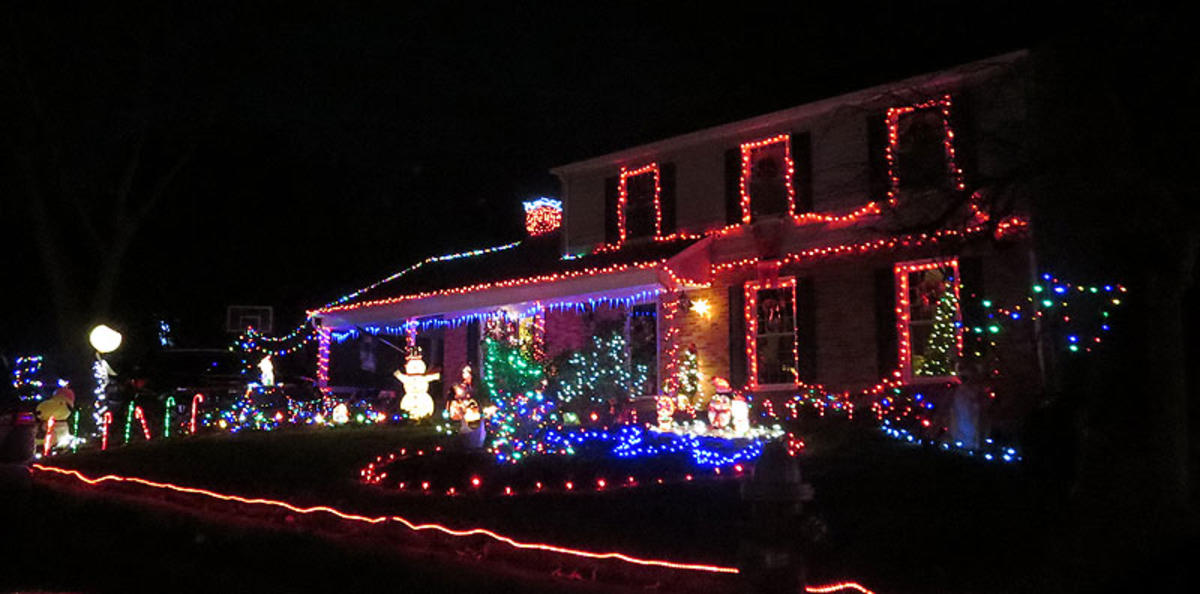 This neighborhood effort has nearly an entire block lit up for the holidays! Enjoy a drive by these nine homes, some that are animated to music and others that make neighborly use of tree lights. Nearby house 10803 is programmed for a lights/music show. 

2507 Fairview Dr, Alexandria
2022 STATUS: Coming on December 11. 5:30pm - 10pm.
Lights are off for rain/wind.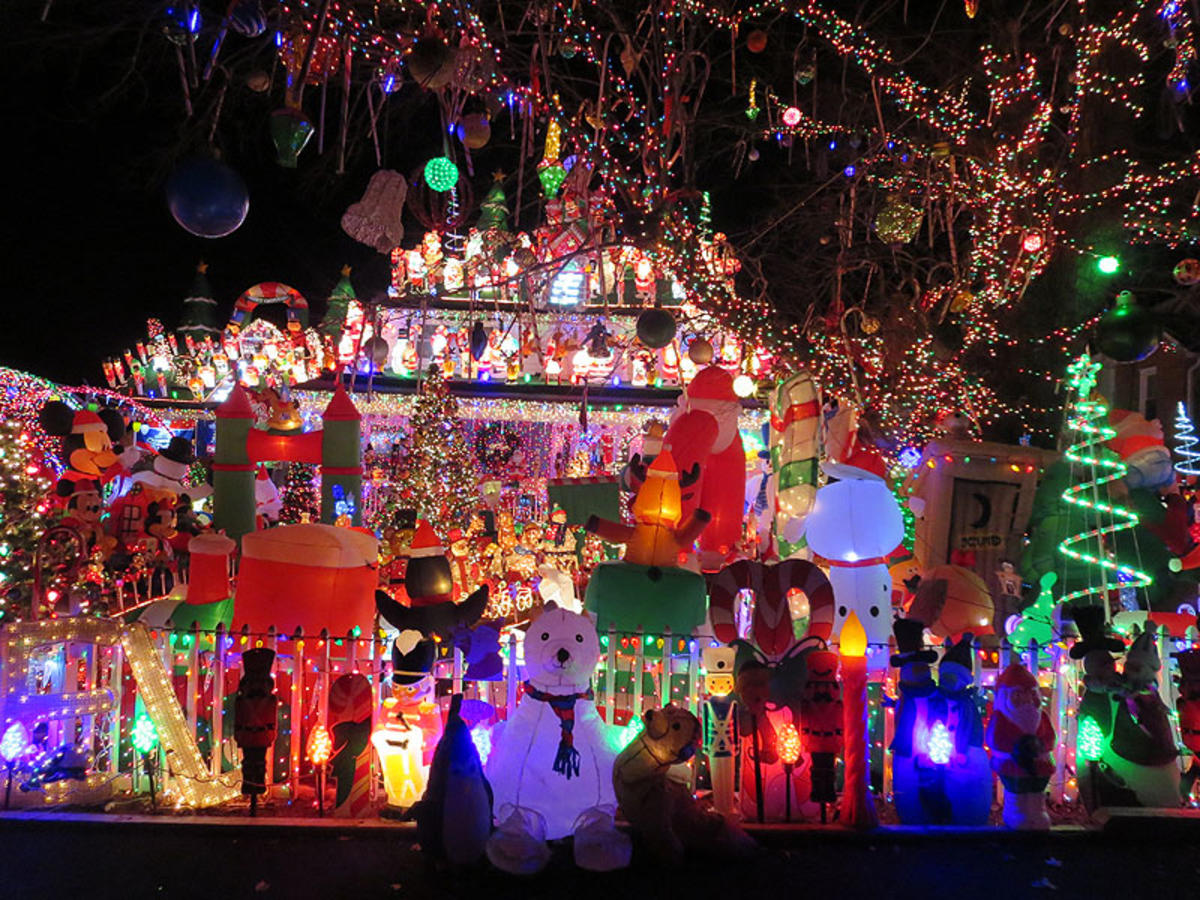 There's nothing like seeing the glow of the house through the trees as you approach this decked-out home in southern Fairfax County. Decorations are EVERYWHERE, from lighted figures to inflatables to vintage pieces to lights, lights, and more lights. Known as Farmer's Christmas House, the owner has even created pathways that allow you to walk through the display. Keep tabs on the Facebook page for live updates.

7815 Birnam Wood Dr, McLean
2022 STATUS: Currently on, through December 31. 5-9pm Weekdays, 5-10pm Weekends.
Lights are off in rain and wind.

This McLean spectacle is thanks to a mother-son decorating effort and features a glowing, multi-colored, striped house with an ever-changing array of unique inflatables. The roof, nearby giant trees, and the yard itself are covered in lights. After viewing this home, don't miss the son's own home in Ashburn at 21260 Rosetta Place.

10203 Lawyers Rd, Vienna
2022 STATUS: Currently on, through January 8. 5pm - 11:30pm.
Lights might go off during rain.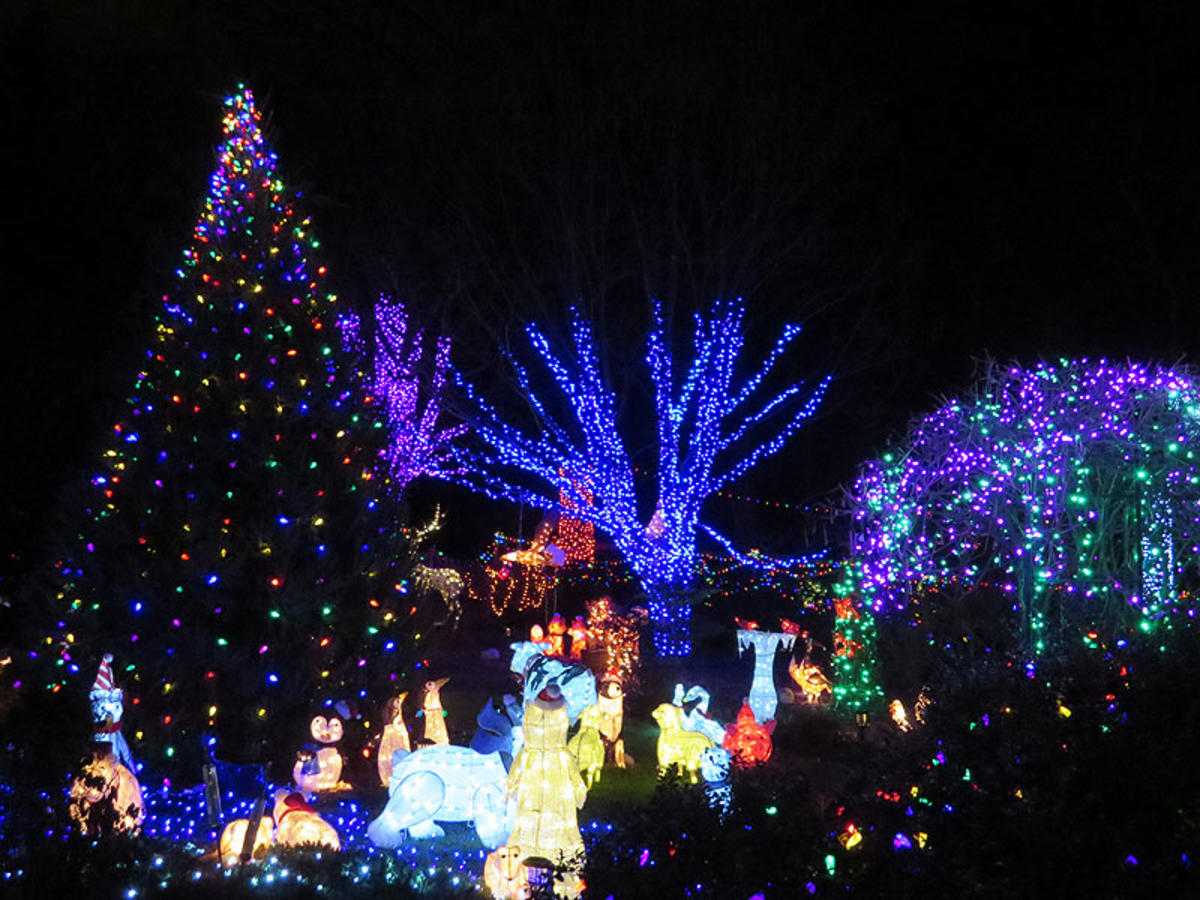 Stunning layers of multicolored lights and large decorated trees make up much of this beautiful display. Be on the lookout for the "zoo" of approximately 100 lighted animal figures of all types (can you count the number of polar bears?) and a flowing waterfall scene. Tip: Park on Galloping Way and carefully cross Lawyers Rd for the best views.
6410 Glenbard Rd, Burke
2022 STATUS: Currently on, through January 8. Typically on through 9 or 10pm.
Lights off for extreme snow/wind.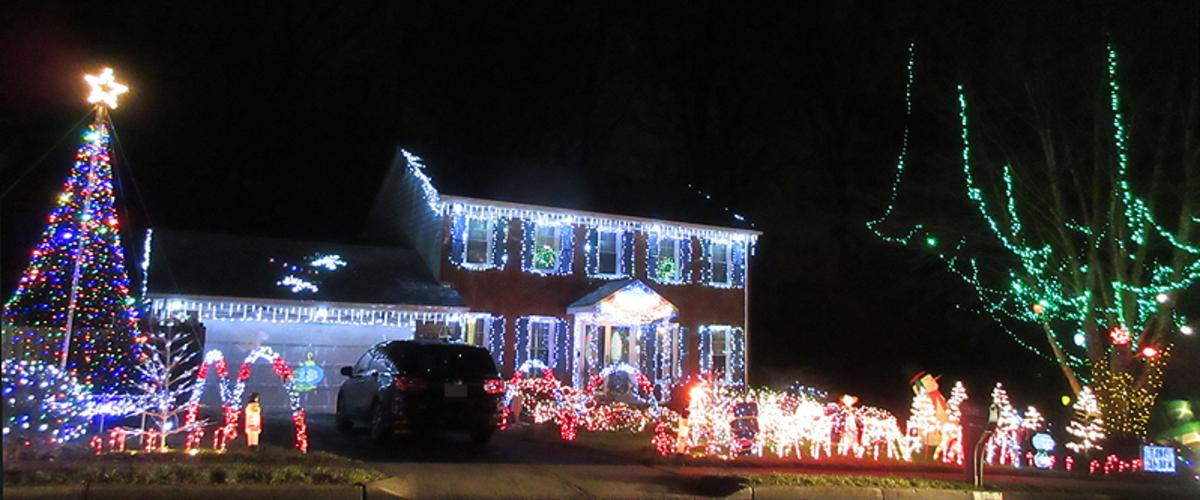 This animated light show (listen in on 88.3 FM) in Burke features a plethora of sea creatures and beautiful lighted trees. This year, it's a journey to Jurassic Park with tons of dinosaurs, including a baby dino paddock. Also keep your eyes peeled for a very wise Baby Yoda. 

1801 Beulah Rd, Vienna
2022 STATUS: Currently on! Through early January

Located adjacent to Meadowlark Botanical Gardens (which has its own incredible light show during the season), this Vienna home joins the fun with a massive array of lights, wireframe scenes, and groupings of fabulously colored trees throughout their large yard. At street level, there's even a special mailbox to drop Letters for Santa. 
6412 Joyce Rd, Alexandria
2022 STATUS: Coming soon! Date tbd
Lights are off for moderate-heavy rain and winds over 10mph.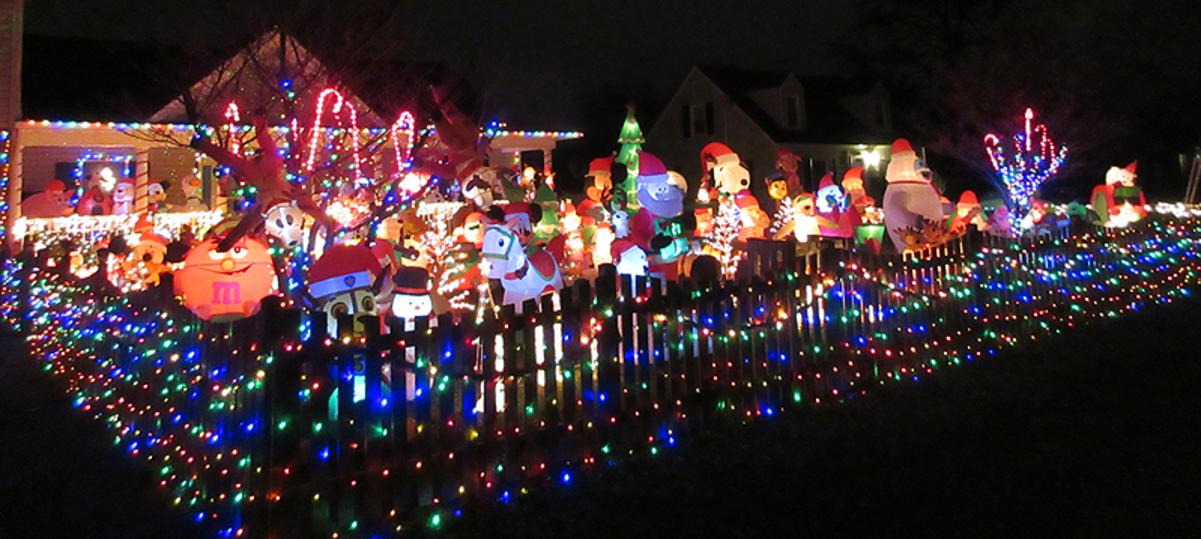 This Franconia-area home features piles and piles of inflatables all contained in a multicolored, lighted fence. Use the driveway to explore the display and to find your favorite character. Keep tabs on their Facebook page for up-to-date details.

2733 Oakton Park Ct, Vienna
2022 STATUS: Currently on! November 27 - January 8, dusk to 10:30pm
Lights off during rain.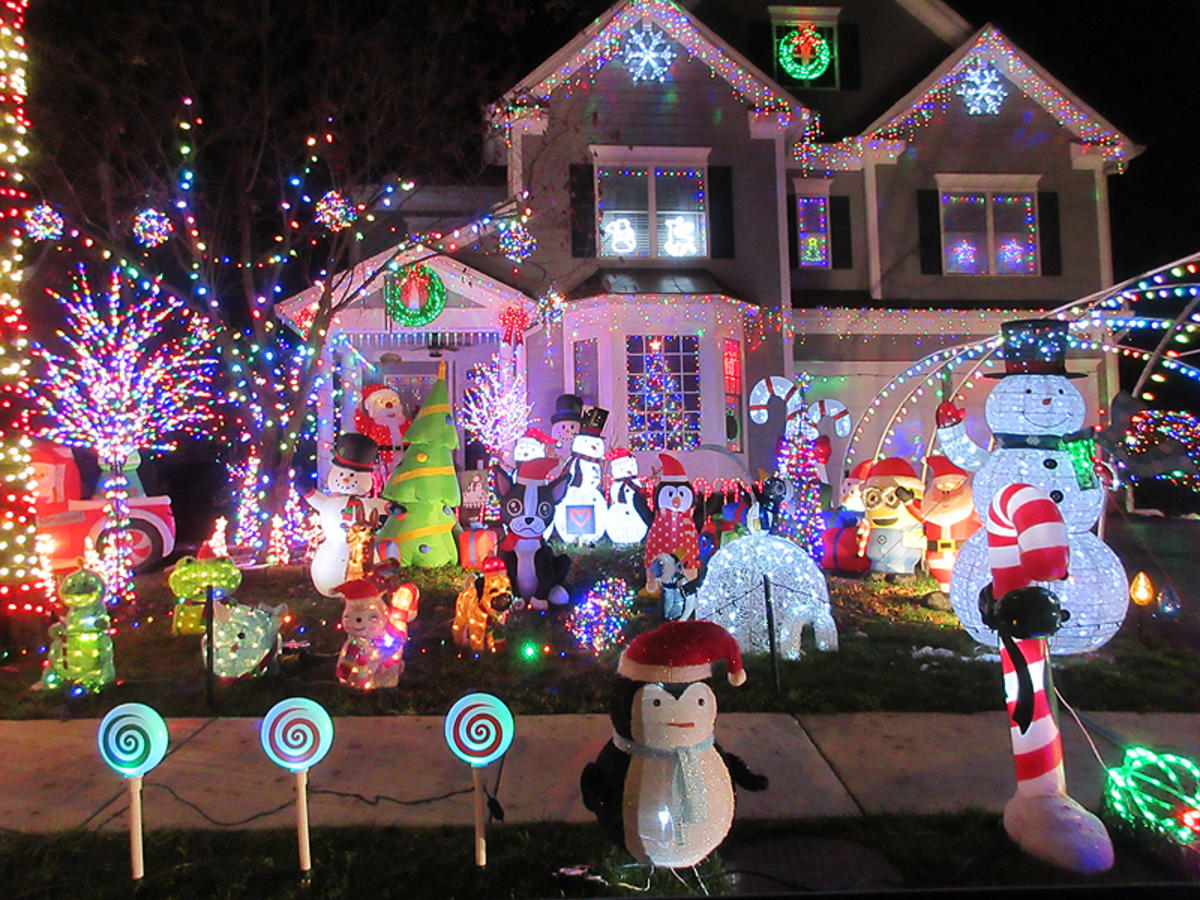 This small cul-de-sac in Vienna glows during the season thanks to this bright and cheery home display. Trees are wrapped in candy-cane-colored lights, a stunning lighted archway covers the driveway, and snowmen and friends are positioned throughout the yard. 

117 Hickory Circle, SW, Vienna
2022 STATUS:  Currently on, through January 6, 5pm-10pm
Tune to 90.3 FM

This Vienna home's animated show is best viewed from the parking lot of Vienna Shopping Center on Maple Avenue, W. Tune your radio to 90.3 FM for the full experience. Music changes throughout the season, colored spotlights light up nearby evergreens, leaping arch-lights line the fence in a beautiful blue hue, and a large screen showcases local organizations that do good within the community. Follow their Facebook page for up-to-date details. In 2022, they have fully revamped the show with a shift to projection mapping!
5700 Claret Place, Centreville
2022 STATUS: Currently on! November 25 - January 6, 4:30-11:30pm. Animated to music 6-10pm on 105.7 FM.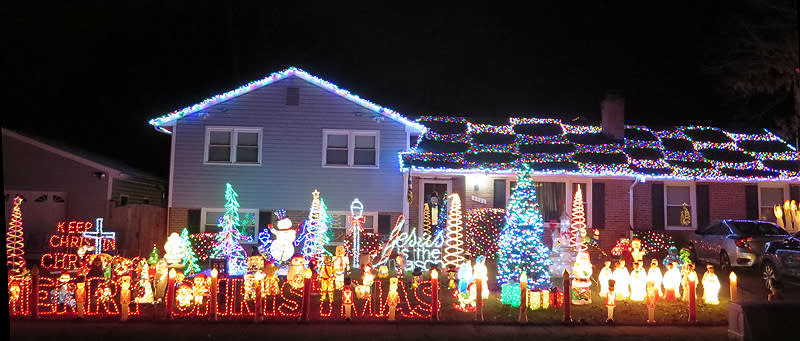 This family's home was off for 2021, but it's back for 2022!! This highly animated display in a corner lot is home to many vintage blow-molds, an authentic Santa film in the window, and a two-story light tree. The family holds a food drive to benefit the WFCM Food Bank and they have been featured on The WETA Guide to Christmas program. Follow the family on Facebook here.
There are many other homes to explore, and Holly has a great map to highlight the best of the best, some honorable mentions, and even locations outside of Fairfax County. Most importantly, keep in mind some of her best viewing tips:
Respect the owners' properties and please stay out of the yards and light displays. This also pertains to your safety and the safety of the owners' homes. Similarly, don't touch any of the displays and be considerate to the neighborhood and other light viewers around you.

Rain, snow, and wind can all influence the light displays. Check Holly's site or Facebook page for hours and weather closings.

Overall, the best time of day for viewing lights is between 6pm and 8pm.

Want to make a night of it and have a Holiday Lights Show Tour of Fairfax County? Check out our video here for ideas on perfecting your new holiday tradition:
Looking for other dazzling light shows in the area? Don't miss these professional light shows before the season ends. And be sure to bookmark our winter guide for more seasonal fun!
Do you know of other spectacular light displays in Fairfax neighborhoods or at Fairfax County businesses? Tell us in the comments below or tag us on social media using #FXVA and @VisitFairfax.
*All photos credit to Holly Zell of FairfaxChristmasLights.com, unless where otherwise noted.