Updated for 2022
Golf is a lifetime sport that encourages good manners, builds friendships, embraces nature and the outdoors, and is a fantastic way for all ages to have a good time, socialize and get healthy! And this August, Golf Fairfax has National Golf Month down to a tee! From par-three to championship length, there are courses for social, newbies, and seasoned players alike. Choose from seven courses conveniently located throughout the county, five driving ranges, and free short game putting and chipping greens at all courses. All courses are open year-round, weather permitting. Courses are owned and operated by the Fairfax County Park Authority. (There are also several other independently-operated courses throughout Fairfax County as well. Get the full list here.)
Here are 10 ways to celebrate National Golf Month in Fairfax County this August.
Kids Play Free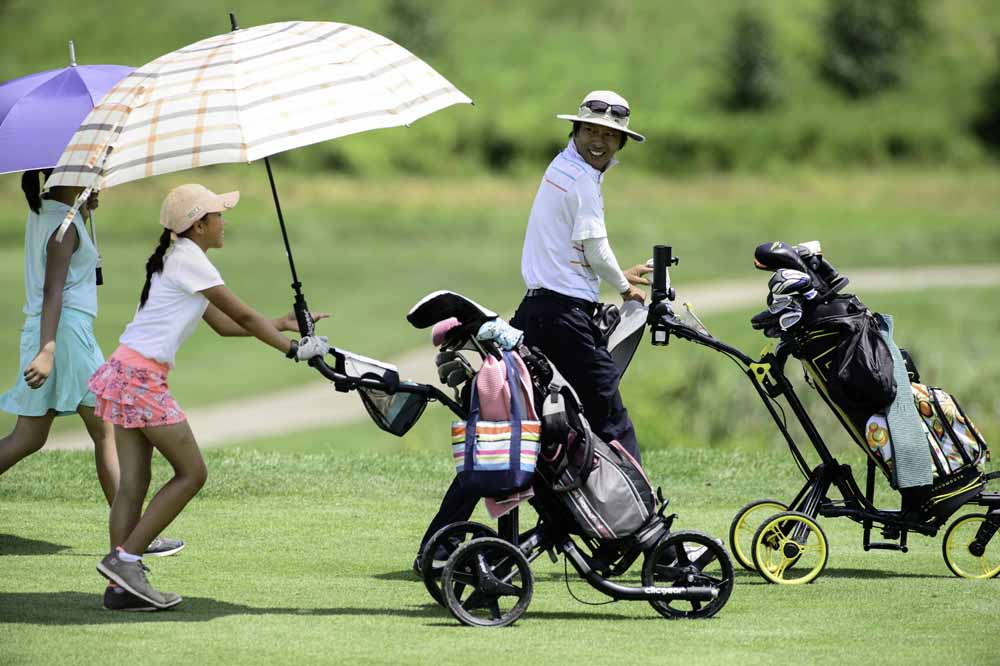 Family Golf Month – "Grow the Game" / Image courtesy Don Sweeney
Bring the whole family out for a round at Burke Lake Golf Center, Jefferson District Course, Oak Marr Golf Center or Pinecrest Golf Course in August for Family Golf Month. Parents pay for their round and accompanying kids and teens (ages 5-17) receive their round at no charge! Valid Monday thru Friday all day and weekends after 1 p.m. Limited to one child per paying adult. 
Practice Makes Par-fect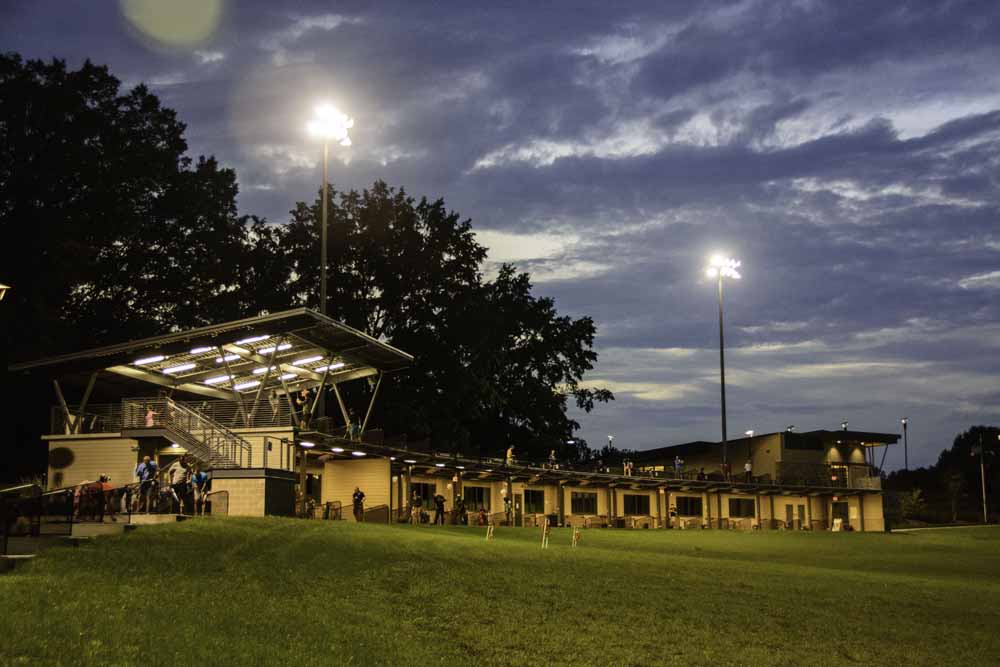 Burke Lake Golf Center's heated, covered and lighted range. / Image courtesy Don Sweeney
Hit up one of our driving ranges to relax and work on your swing! Check out Burke Lake Golf Center's double-decker range complete with LED lighting, covered and heated bays and enhanced food and beverage options. Don't miss Oak Marr Golf Center's renovated range boasting lush Bermuda Sod and LED lighting. Both are open late, with last buckets sold at 9:30PM!

Learn and Improve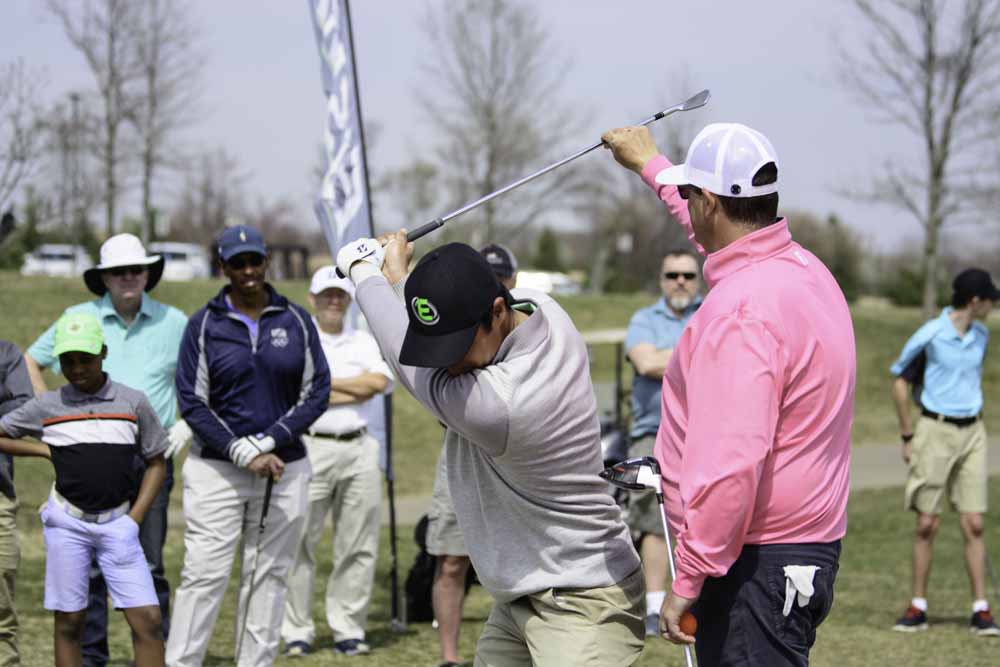 Learn and Improve – Instruction Options for All Levels / Image courtesy Don Sweeney
Looking to pick up the game or brush up on your skills? No matter what stage of the game you are in, we have PGA, LPGA and USGTF professionals and tools to take your game to the next level! Registration for small group classes at Burke Lake and Pinecrest begins August 2, 2022. Private lessons available at Pinecrest, Burke Lake, Oak Marr, Twin Lakes, and Laurel Hill. 

Indoor Golf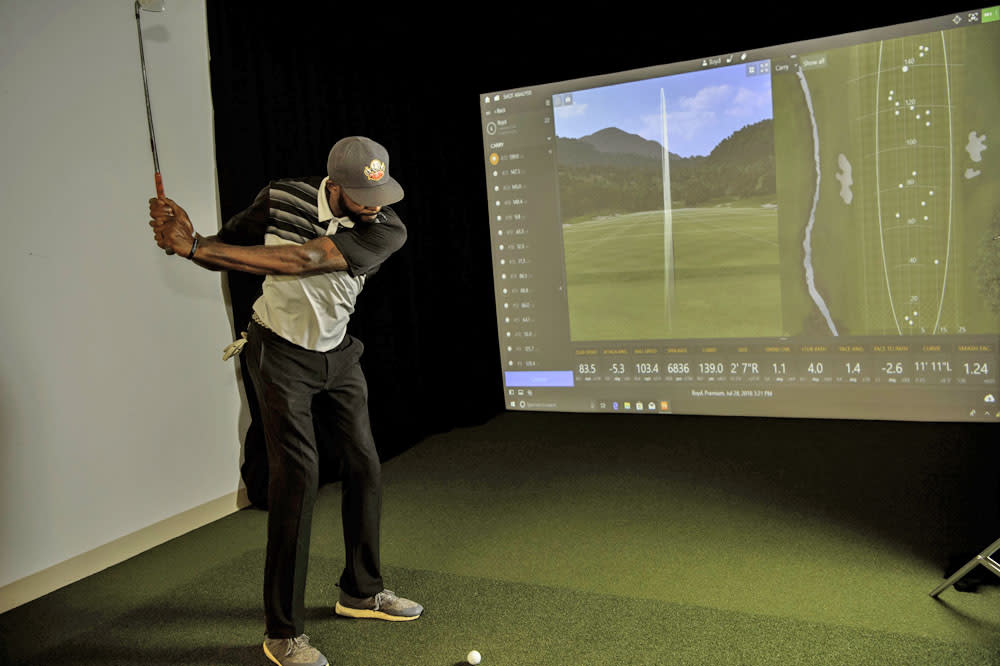 Indoor Golf - Pinecrest's New TrackMan 4 Golf Simulator / Image courtesy Don Sweeney
Stay cool this summer by checking out the TrackMan Golf Simulator at Pinecrest Golf Course's Valis Family Golf Center! Play a virtual round and sharpen your skills with fun games and swing analytics. Indoor practice bays also available.
 
Par-tee Time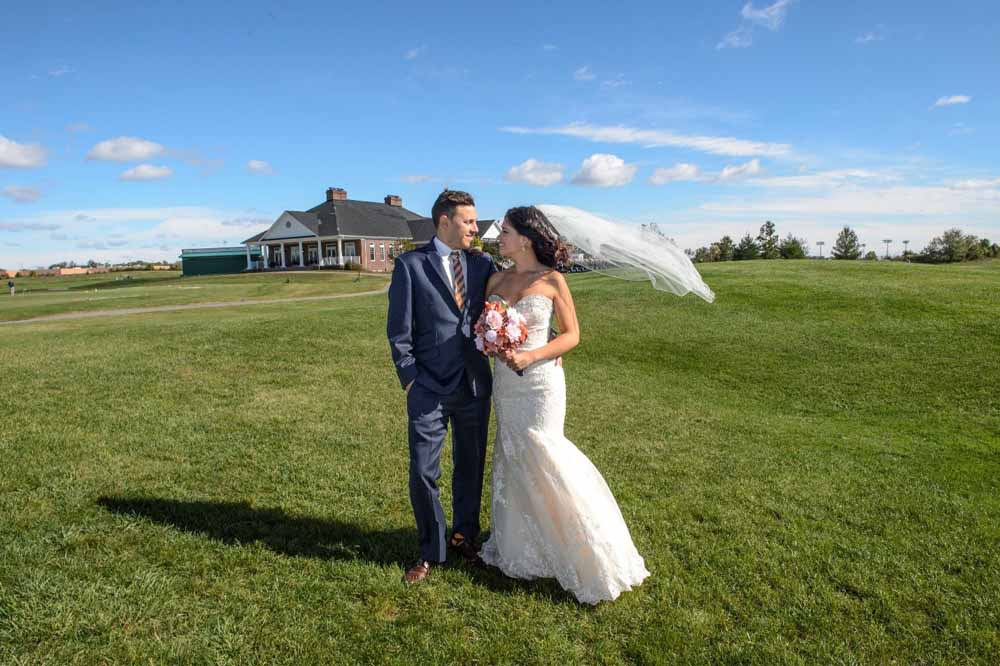 Party Rentals – Scenic Views at Laurel Hill Golf Club / Image courtesy Don Sweeney
Celebrate your next graduation, special birthday, baby shower, wedding or corporate outing with Golf Fairfax! Choose from elegant banquet rooms at Laurel Hill and Twin Lakes to laid back range rentals at Burke Lake with unlimited range balls.
 
#InviteHer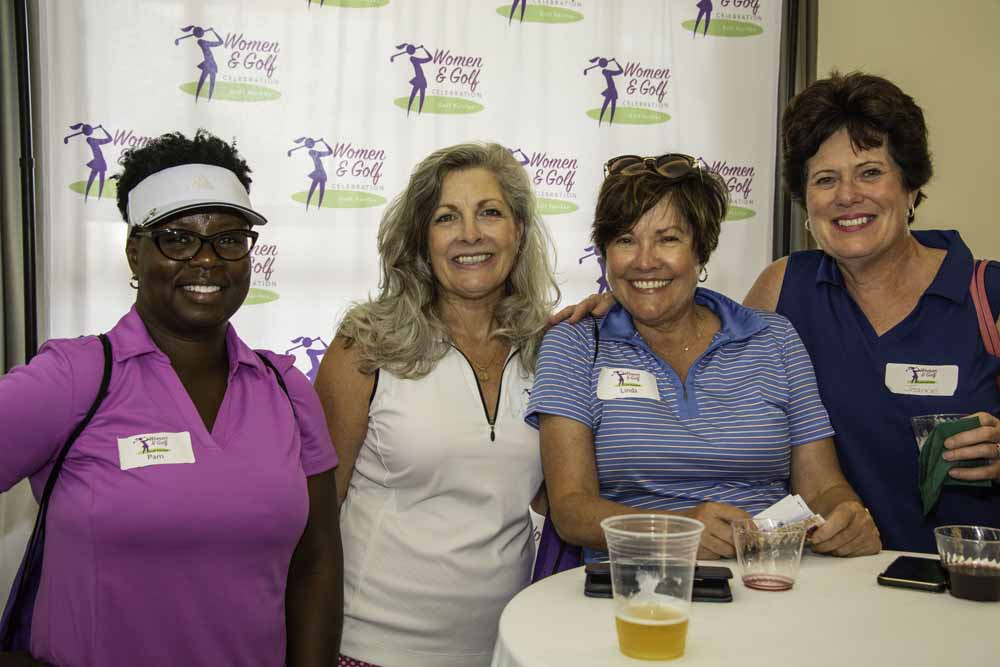 Women & Golf – Join our Welcoming Community / Image courtesy Don Sweeney
Visit our new Women & Golf Fairfax one-stop shop for all things women & golf! DYK a round of golf = 10,000 steps? Switch up your workouts with fun socials, ladies-only lessons, tournaments, and leagues! Golf Fairfax offers a relaxed, unintimidating atmosphere and welcomes ladies of all playing abilities.
You're A Champion
Compete in club championship tournaments at a golf course near you: Greendale Course on August 9, 2022 and Jefferson District Course on August 20, 2022. Juniors can compete in tournaments at Pinecrest Course on August 5, 2022 and Burke Lake on August 12, 2022.  


#NineAndWine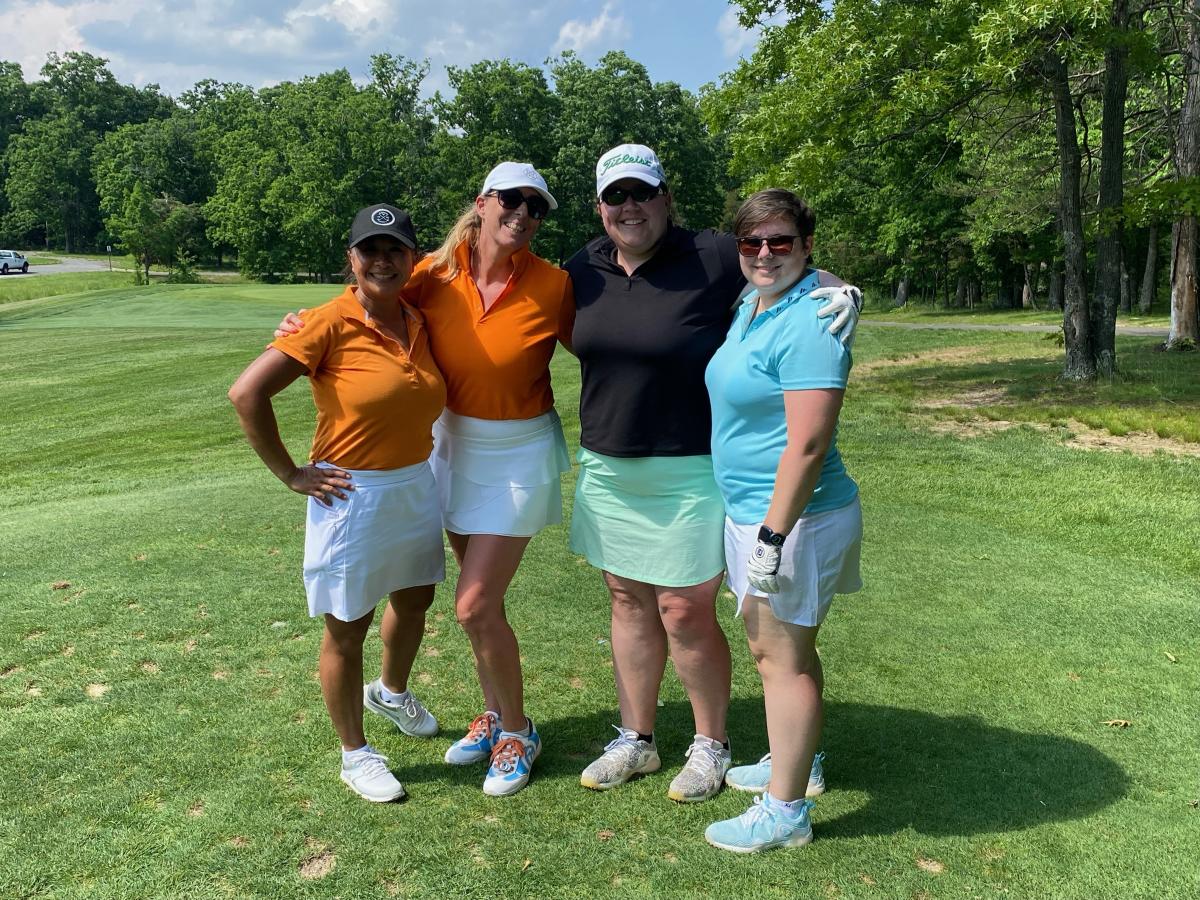 Courtesy Golf Fairfax
Connect with old and new friends during our Nine and Wine events August 15, 2022 at Twin Lakes and August 18, 2022 at Pinecrest. Enjoy a beverage, warm up balls and nine holes of golf while in a relaxed atmosphere. 
Free Demo Days!

Test out Callaway clubs on August 18, 2022 and Cleveland clubs on August 27, 2022 at Burke Lake Golf Center. Learn about your swing from experts and get a custom fitting! Call (703) 323-1641 to save your spot.

Tap Takeover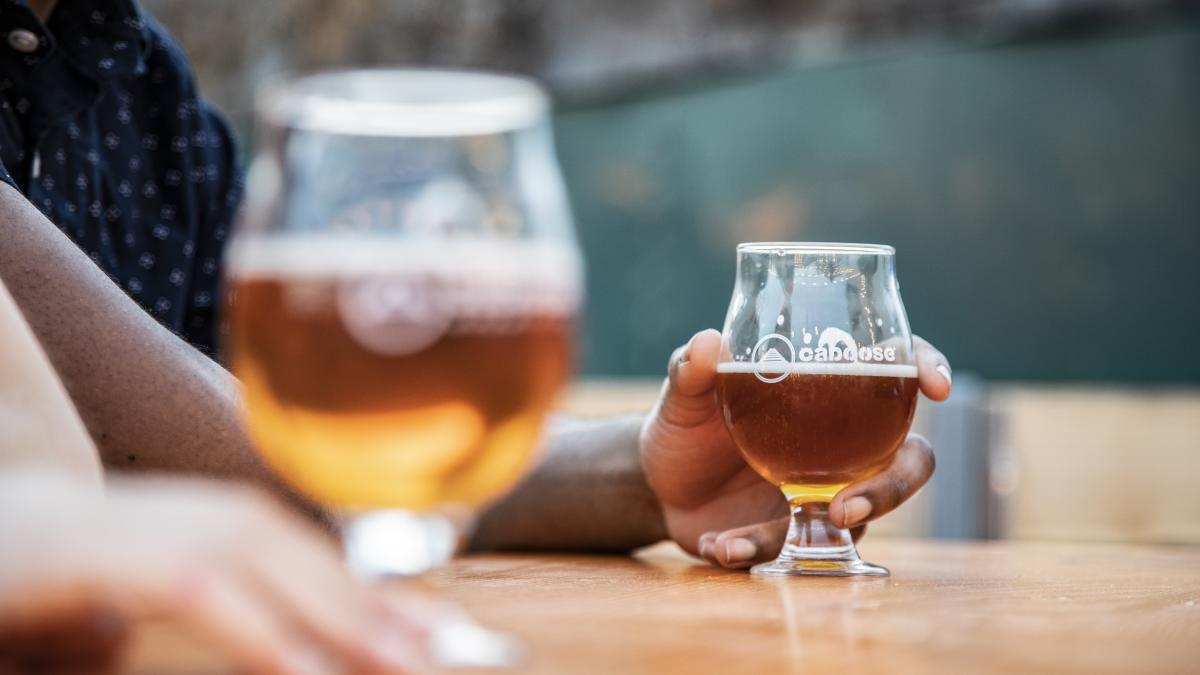 Image courtesy Caboose Brewing Co.
Pinecrest welcomes Caboose Brewing Co. for their first ever Tap Takeover on August 20, 2022! Include golf games, prizes, snacks and beer tasting tickets. Must be 21+ with valid I.D. More information here.

For additional golfing experiences, courses, and more visit the Golf section of FXVA.com. Don't forget to also check out some of the area's mini-golf courses. You can also stay in the know with the Golf Fairfax Golf Club for the latest e-news from many of these courses!
*This guest blog post was provided by Roberta Korzen with Golf Fairfax & the Fairfax County Park Authority. For more fun park activities, visit www.fairfaxcounty.gov/parks.*