At the free Smithsonian's National Air and Space Museum Steven F. Udvar-Hazy Center in Chantilly, VA, aviation buffs, NASA fans, and those who love letting their inner child take flight can spend hours exploring and learning about the over 3,000 air and space artifacts on display in this unique museum.
The lesser-known but equally impressive sister site of the Air and Space Museum in Washington, D.C., the Udvar-Hazy Center is home to some of the most recognizable and record-breaking aircraft and spacecraft in history in a visually dazzling, hangar-like structure. Aircraft at the museum include an SR-71 Blackbird, Enola Gay, and the Concorde. The crown jewel is the Space Shuttle Discovery. The center has everything from aircraft from the early days of flight to recent military helicopters and planes.
 
In front of Space Shuttle Discovery

Open since 2003, the museum is spacious and fully wheelchair accessible. There are elevators and a wide ramped walkway along the inside perimeter of the hangar to reach different levels (although it is advised that wheelchairs, strollers, etc. use the elevators due to grade). There is ample accessible parking ($15 fee) and bathrooms. Additional accessibility information.
In addition to immersing yourself in aviation history at the Center, you can view a restoration hangar, watch a Hollywood movie on IMAX, try a simulator, watch Dulles Airport air traffic, grab a snack at Shake Shack, or buy a souvenir from the store.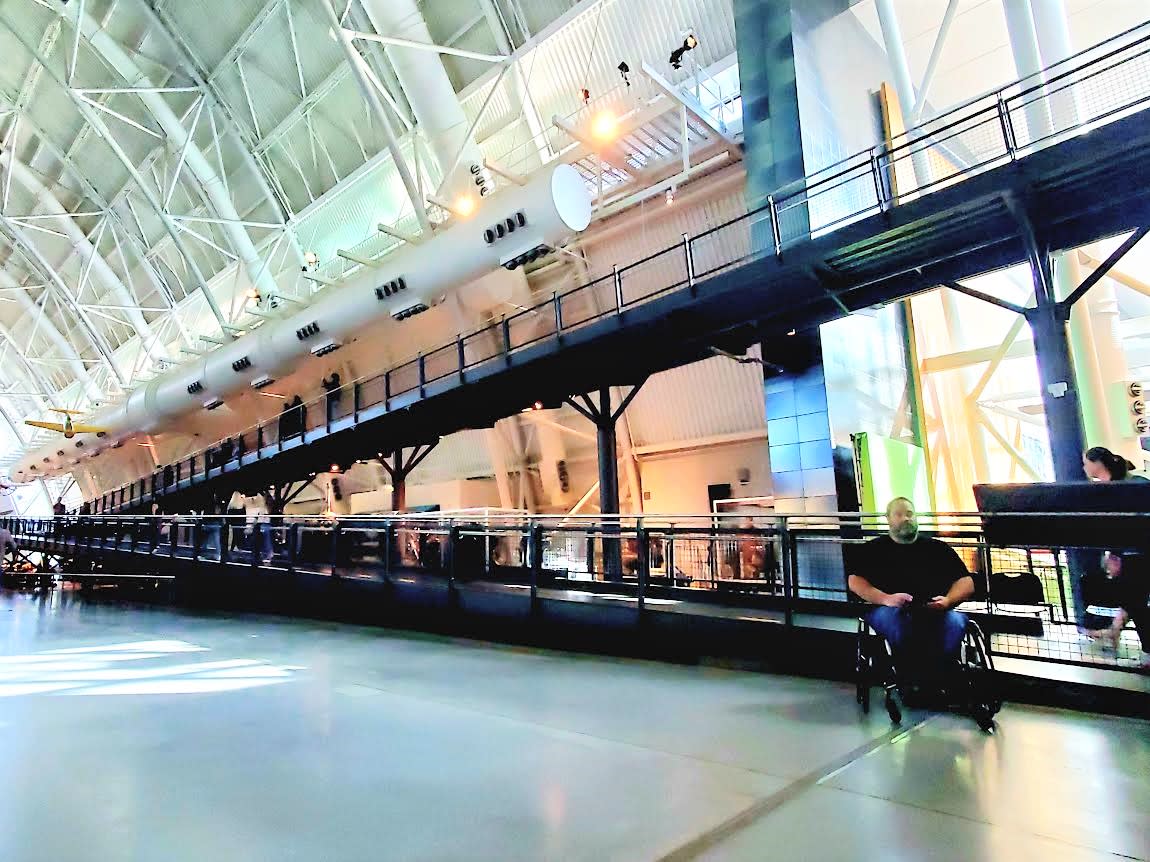 View of ramps to get to the second level at Air and Space Museum Udvar-Hazy Center

Mary Baker Engen Restoration Hangar
From the second floor of the Center, you can observe restoration and preservation projects currently underway in the Restoration Hangar. The hangar contains several specialized workshops to maintain the collection's artifacts. Fun Find: On one visit, we saw a full-scale made-for-filming Star Wars X-Wing Starfighter being worked on. It is now on display at the Smithsonian's National Air and Space Museum in Washington, D.C. You never know what you might see in the Restoration Hangar!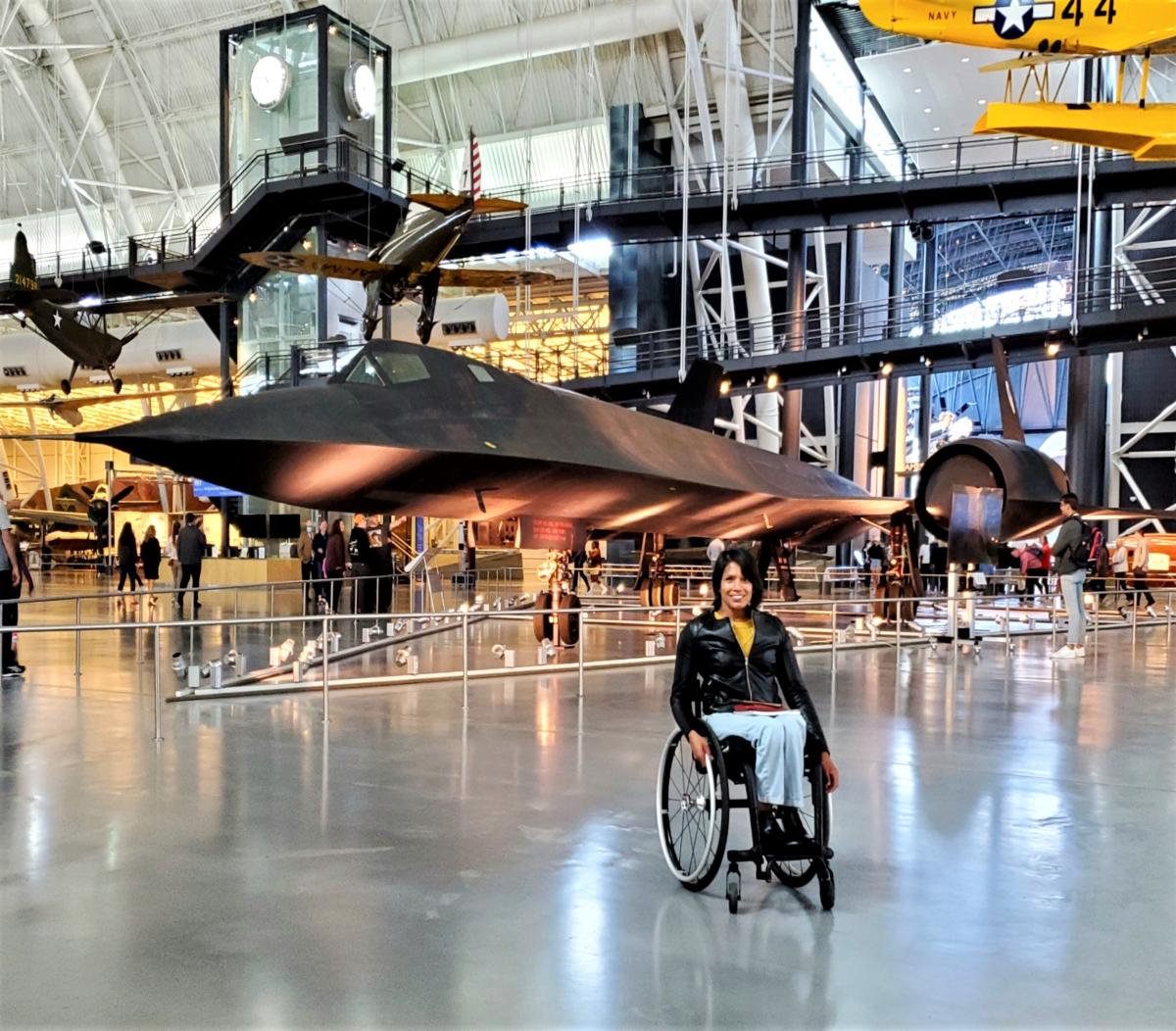 In front of the SR-71 Blackbird at the Air and Space Museum

Airbus IMAX Theater
Boasting an 86-foot wide screen, dual 4K laser projection system, and 12 channel with sub-bass audio system, this theater always has a selection of documentary and Hollywood features that showcase space, flight, or military aircraft. IMAX tickets are available for purchase.
In front of an F-14 Tomcat (not simulator) at the Air and Space Museum

Simulators
Two types of simulators are available at the Udvar-Hazy Center: ride and interactive. The ride simulators include Wings: Flights of Courage, Destination: Black Hole, Red Baron, and Discovery: Space Mission Hubble. The interactive simulators allow you to fly combat sorties in iconic aircraft such as the P-51 Mustang, F-18 Hornet, A-10 Thunderbolt II, F-16 Fighting Falcon, P-40 Warhawk, and F-4 Phantom II, to name a few. These experiences are full-motion rides and have safety requirements to participate in. Please note: some have steps to enter. Simulator tickets are available for purchase, no reservations required.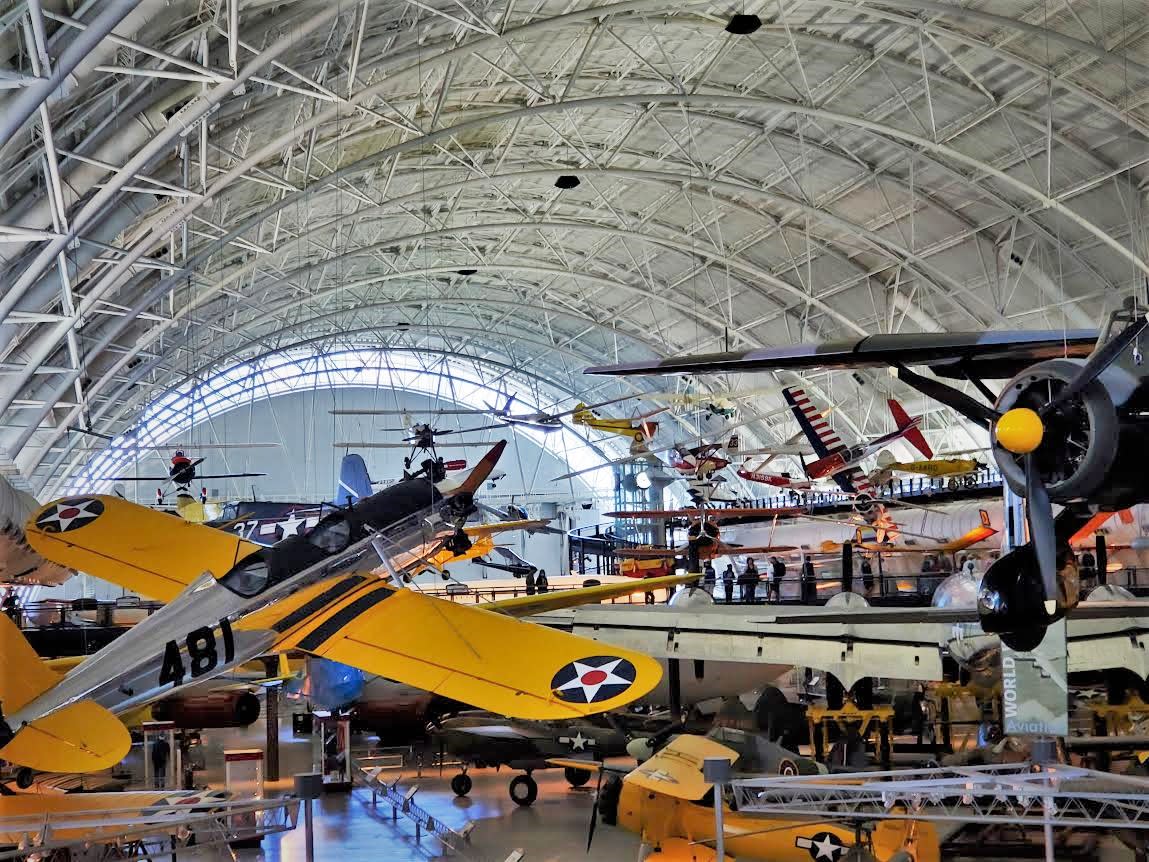 A small section of the interior space at Air and Space Museum, taken from an upper ramp

Donald D. Engen Observation Tower
Watch planes take off and land at Dulles International Airport from the observation tower, which offers a 360-degree view of the surrounding area. The observation deck exhibits airport features and the U.S. air traffic control system.

Museum Store and Food
If you get hungry during your visit, stroll over to Shake Shack, located near the entrance/exit, for burgers, hotdogs, chicken sandwiches, fries, and more! Remember to stop into the Museum Store before you leave for some NASA gear or a memento of your visit!
A trip to Fairfax County, VA is not complete without discovering all there is to see at the Udvar-Hazy Center!
*This guest blog is the result of a collaboration with www.photoswithaspin.com. Check out Abe & Maggie's suggestion for an accessible weekend getaway in Fairfax County. Check back each month for more in our accessible travel series with Abe & Maggie!*