July is a month filled with celebrations of independence, both in America and France. While Americans mark the Fourth of July, signifying their freedom from British rule, the French honor "Quatorze Juillet" on July 14, remembering the storming of the Bastille and the end of monarchy rule. These two nations share a history rooted in their revolutions and continue to forge strong bonds.
As we approach France's independence day, one may wonder how the famous Bastille Key, an iconic symbol of French freedom, ended up here in Fairfax County. Uncover the remarkable tale of how the iconic artifact found its way to the historic grounds of George Washington's Mount Vernon. Plus, discover other ways to celebrate Bastille Day here in #FXVA! 
A Revolutionary Uprising
Storming of the Bastille on July 14, 1789 (Image: Bibliothèque nationale de France, Public Domain)
 
It all started on July 14, 1789 - the fateful day when hundreds of French revolutionists seized control of the notorious Bastille prison, a symbol of royal oppression. In that dramatic act, they ignited the flames of change, setting off the beginning of the French Revolution. Although the prison was demolished in the chaos, a small number of items managed to survive - including the main prison key. This Bastille key, a symbol of liberation, was presented by revolutionaries to the Marquis de Lafayette, leader of the Paris National Guard.
Thirteen years earlier, a young and spirited Lafayette, just nineteen years old, journeyed across the Atlantic Ocean to join forces with American colonists in their battle against the tyranny of King George III. It was in George Washington, the general leading the struggle, that Lafayette found a mentor and friend. Their shared passion for freedom and admiration for one another fostered a deep connection that evolved into a father-son type of relationship. The two remained friends throughout the years, which is the central connection that led the Bastille Key to find its way to America. 
 
The Key's Remarkable Journey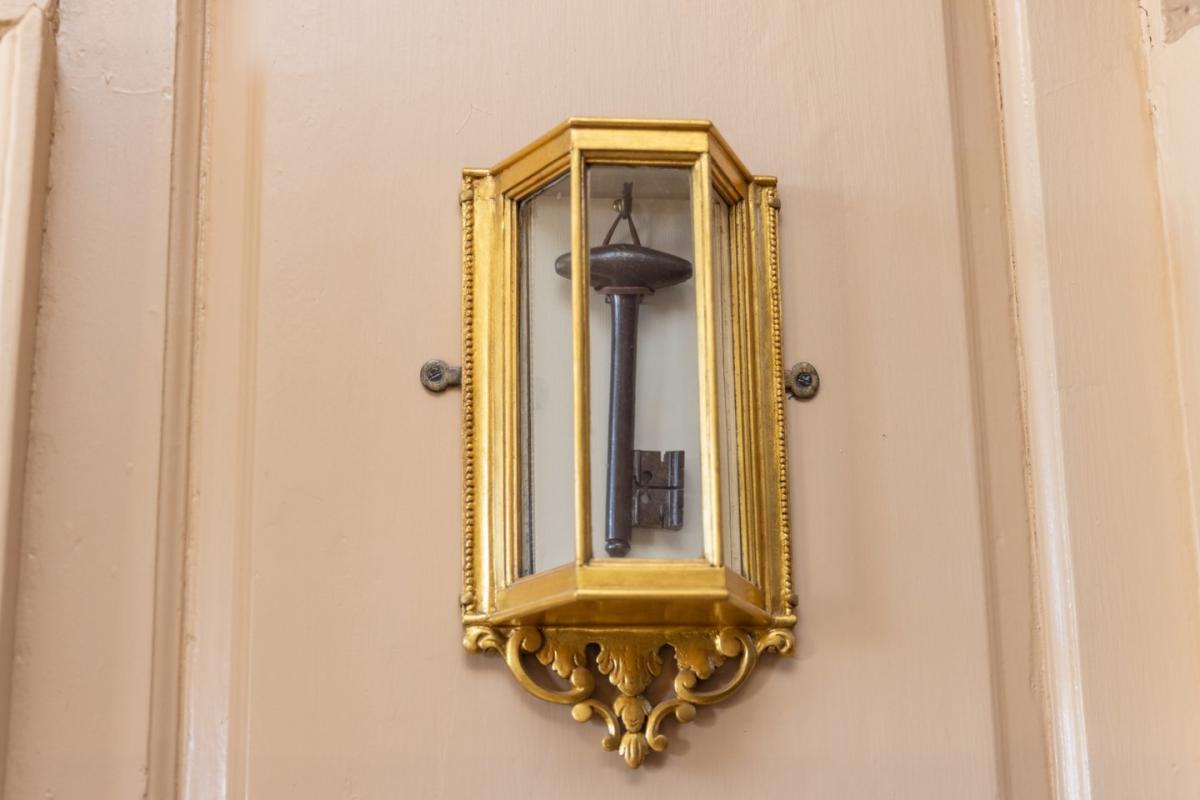 The Bastille Key hangs proudly in Mount Vernon's central passage (Image courtesy Mount Vernon)
 
On March 17, 1790, as a testament to their friendship and shared values, Lafayette sent the Bastille Key to George Washington alongside a sketch of the Bastille ruins by the French architect who oversaw its demolition. In the accompanying letter, he wrote, "Give me leave, my dear general, to present you with a picture of the Bastille just as it looked a few days after I had ordered its demolition, with the main key of that fortress of despotism - it is a tribute which I owe as a son to my adoptive father, as an aide-de-camp to my general, as a missionary of liberty to its patriarch."
For its delivery, Lafayette sought the help of trusted confidant Thomas Paine, a prominent advocate of American independence. However, when Paine's journey was delayed, he entrusted the Bastille Key's safekeeping and delivery to John Rutledge Jr., a distinguished figure from South Carolina who was sailing to America from London. 
Through Rutledge's journey, the Bastille Key finally made it to Mount Vernon in the summer of 1790. George Washington, deeply touched by this symbol of solidarity, proudly displayed the key at his cherished Mount Vernon estate. To him, it represented not only his personal quest for independence - but also a beacon of hope for all those seeking freedom and justice. Today, visitors to Mount Vernon can see the Bastille Key for themselves in the central passage as a living testament to the connection between two countries both pursuing liberty and justice. 

Marquis de Lafayette Bedchamber at Mount Vernon
For even more ties to the Marquis de Lafayette, in the summer of 2022, Mount Vernon announced that one of the bedrooms at the estate, commonly referred to as "Marquis de Lafayette Bedchamber" had been freshly restored. Following the American Revolution in 1784, Lafayette spent an extended visit at George Washington's home. The room he used as a bedchamber - which also hosted a number of other special guests of the Washingtons - is a key part of today's mansion tour. Research and restoration teams had spent years conducting extensive analysis to recover the room's multilayered history and appearance. Hanging proudly on its wall sits the life-size portrait that Washington commissioned of Lafayette in 1779.
 
Celebrating Bastille Day - Events & Activities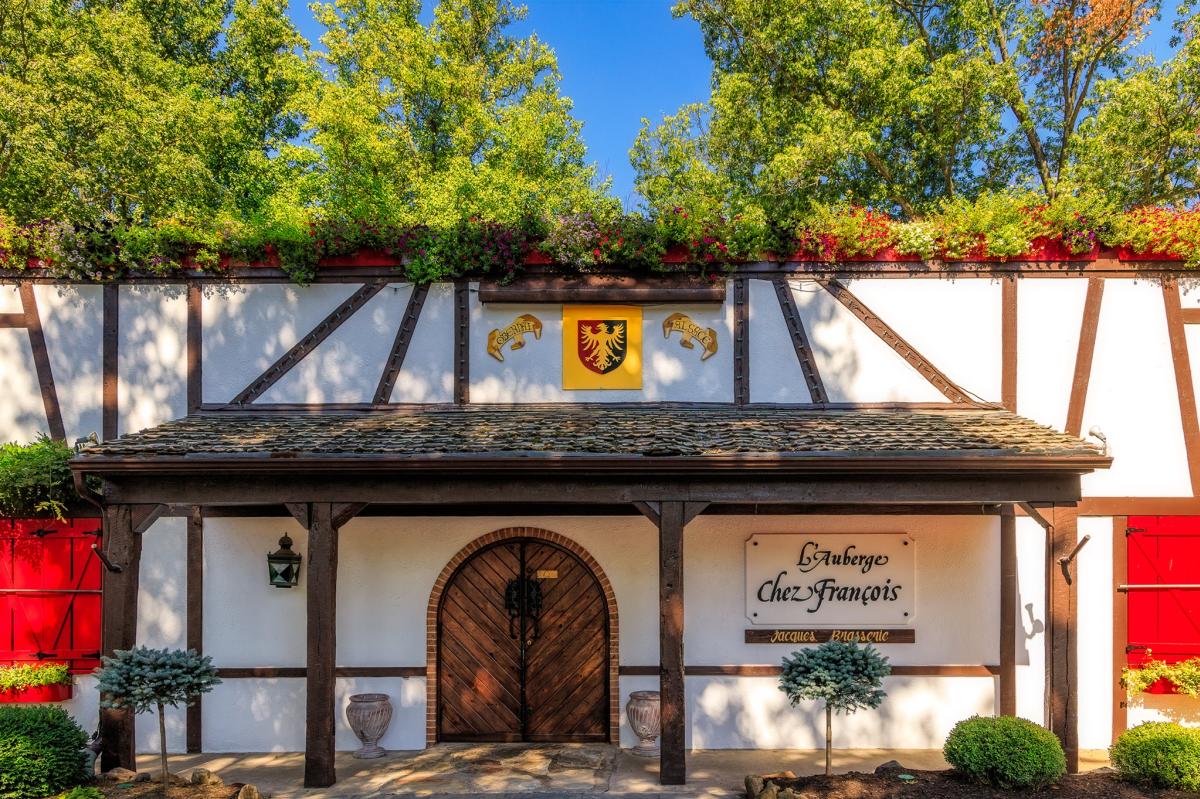 Image courtesy of L'Auberge Chez Francois

July 14: If you're looking to celebrate Bastille Day in Fairfax County, look no further than the award-winning French restaurant, L'Auberge Chez François, for a series of exciting events. On July 14, indulge in a special La Fête Nationale six-course wine dinner experience curated by Chef Jacques Haeringer. Paired with fine French wines selected by Hugues Beaulieu, you'll savor a menu featuring French classics and seafood on the restaurant's scenic garden terrace under "La Grande Tente," providing a beautiful setting for the occasion.
July 16: Continue the festivities on July 16 with a French musical brunch at 11AM featuring the enchanting tunes of the Kati Sol Trio. Immerse yourself in the romantic ambiance while enjoying a delectable brunch on the garden terrace. At 4PM the same day, attend their 10th annual Bastille celebratory soirée. Watch the thrilling Bastille Day Waiters & Waitress Race as the restaurant's staff competes for the coveted trophy. Following the race, indulge in a six-course menu created by Chef Jacques, featuring fresh produce from their on-site gardens. The soirée takes place on the tented garden terrace, allowing you to toast to French independence while enjoying the atmosphere. 
July 13 - 19: Raise a glass for a toast at Mon Ami Gabi while you enjoy French classics and Bastille Day-inspired specials at this popular French restaurant in Reston Town Center.

The display of the Bastille Key at George Washington's Mount Vernon serves as a powerful reminder of the enduring friendship and shared values between the United States and France. As Bastille Day celebrations kick off across the world - and right here in Fairfax County, let us all be inspired to cherish and protect the hard-fought liberties we enjoy because of those before us. Bonne Fete Nationale!