It's official - winter is finally here in Northern Virginia! Sledding is a classic winter activity that's both festive and fun for the entire family.  Dust off your sleds, bundle up, and head to Fairfax County's slopes for a thrill ride and some fresh air! After working up an appetite, be sure to stop by our local restaurants to indulge in award-winning food, heated outdoor dining, or discounts on locally poured craft beer and wine.
 


Westgate Park
7500 Magarity Rd, McLean
Westgate Park, located in McLean and adjacent to Westgate Elementary School, is best known for its public tennis courts. However, behind the second baseball field is one of the park's best-kept secrets: an awesome sledding hill! 
 
"Mount Reston"
1625 Wiehle Avenue, Reston
Lovingly dubbed "Mount Reston" by locals, the hill behind the Unitarian Church on Wiehle Ave is a favorite place to sled every year. With a long ride down (and a long walk back up!), it is sure to get your blood pumping and the wind rushing through your hair.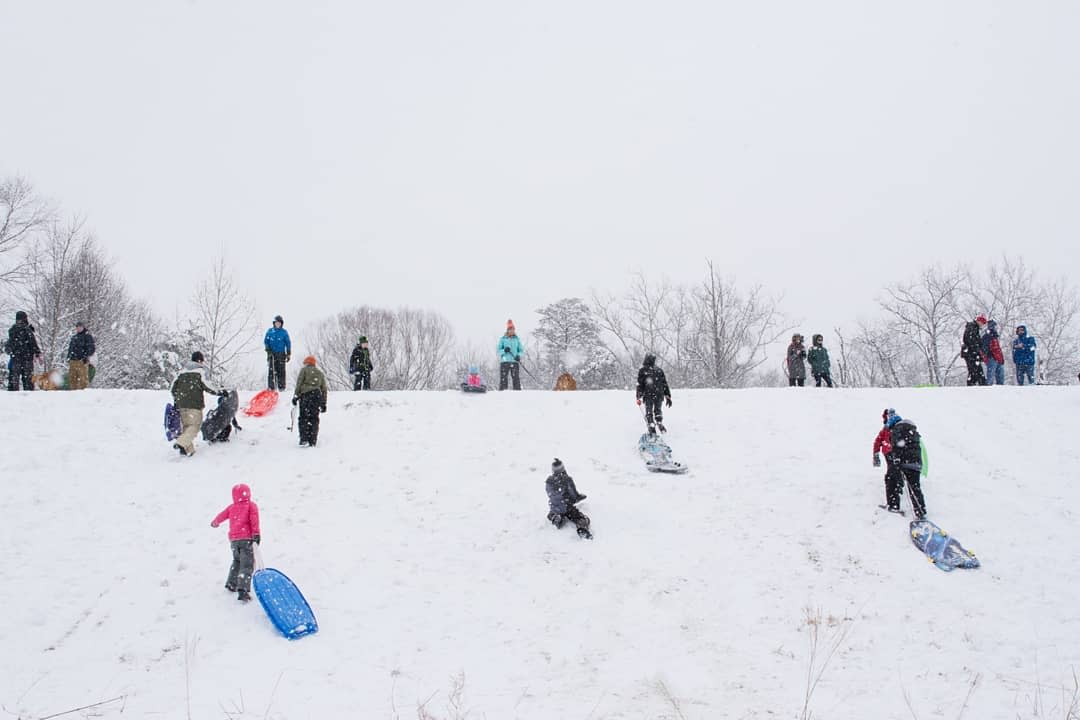 Image courtesy IG user @read.love.travel, at another popular sledding spot near Ellanor C. Lawrence Park in Chantilly

Mason District Park
6621 Columbia Pike, Annandale
Chosen by the Fairfax County Park Authority as one of the best places in Fairfax County to go sledding, Mason District Park in Annandale is perfect for sledding. At the end of Meadow Trail is a perfect hill to get your zoom on.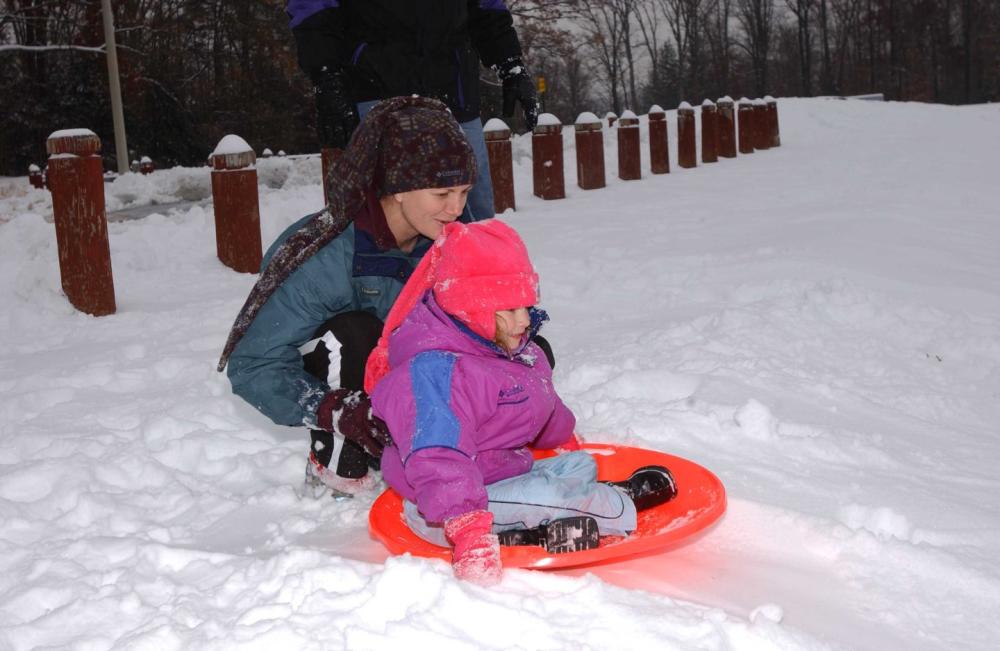 Cardinal Forest Park
6121 Roxbury Ave., Springfield
Cardinal Forest Park is a quiet and tucked-away gem in Springfield. However, when winter dusts the ground with snow, it becomes the ultimate place to get some major airtime. Along the sewer easement, between Carleigh Parkway and Roxbury Avenue, is a beloved hill for sledding.
 
Jefferson Manor Park
2909 Farmington Drive, Alexandria
Nestled on a high hill off Telegraph Road is Jefferson Manor Park, a county-run park surrounded by green space, playgrounds, and basketball courts. Every year, kids and parents take to the sled-ready hill to zip to the bottom at what feels like a million miles an hour. 
 


Lake Fairfax Park
400 Lake Fairfax Dr, Reston
In the summer, Lake Fairfax Park is loved by locals and visitors alike for its fishing opportunities, outdoor boating options, and relaxing lazy river. Little do people know - behind the picnic area restrooms is a short and steep hill perfect for gliding. It's a plus that parking is nearby, making for a shorter trek back to the car! 

This winter, Fairfax County is the perfect place for kids to be kids - and for adults to be kids, too! Be sure to #bundleup, choose the right gear, and of course - be vigilant when taking your sledding adventures!
Did we miss any great sledding hills? Let us know in the comments - and be sure to tag us on social media using #FXVA and @VisitFairfax so we can see your smiles!