Horseback riding is not just a sought-after vacation adventure, but the wellness benefits of horse riding have been widely proven. Experience Fairfax County by horseback on one of these equestrian-friendly trails. Here are some trails that offer the best views from the saddle.
Bridle Path at Washington & Old Dominion Trail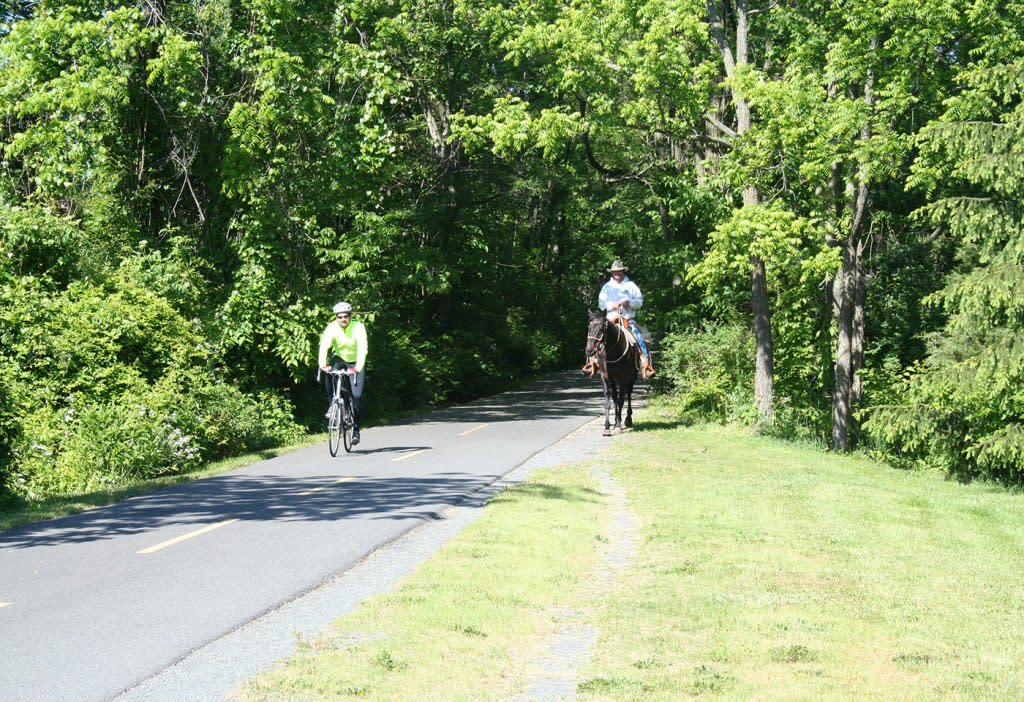 Courtesy NOVA Parks
Many locals know and love this "skinniest park in Virginia," a 45-mile paved trail for hiking and biking that once was a historic railroad line. Yet many may be surprised to know that adjacent to the paved trail lies a 32-mile gravel trail ideal for horseback riding. Encounter some streams and waterways along the way as you saunter through three counties and take your pick from numerous worthwhile stops steps from the trail. Click here for the trail map.
Thompson Creek Loop, Mustang Loop and others at Meadowood Recreation Area
Nestled just off of Gunston Road on the Mason Neck peninsula of Fairfax County, Meadowood Recreation Area is 800 acres operated by the Bureau of Land Management and is known as a fantastic spot for hiking and mountain biking due to its variety of terrains, sloping meadows and intersection of two national trail segments. Horseback riders will find 7 miles of equestrian trails almost entirely covered with aggregate stone. Riders will also find The Stables at Meadowood on property, which offers boarding, horse riding lessons, classes and summer camps. Click here for trail map.
Equestrian Loop Trail at Fountainhead Regional Park
This waterfront park is a 2,000-acre oasis for many outdoor adventures but is a prime spot for horseback trail rides. Featuring four different equestrian trails that vary in length and terrain, some with multiple steep slopes, stream crossings, and rocky or rooted pathways, the park includes nearly 7 miles of natural surface tread. But the views from the saddle here will stay with you as you meander along the Occoquan River. Click here for a trail map.
Bull Run Occoquan Trail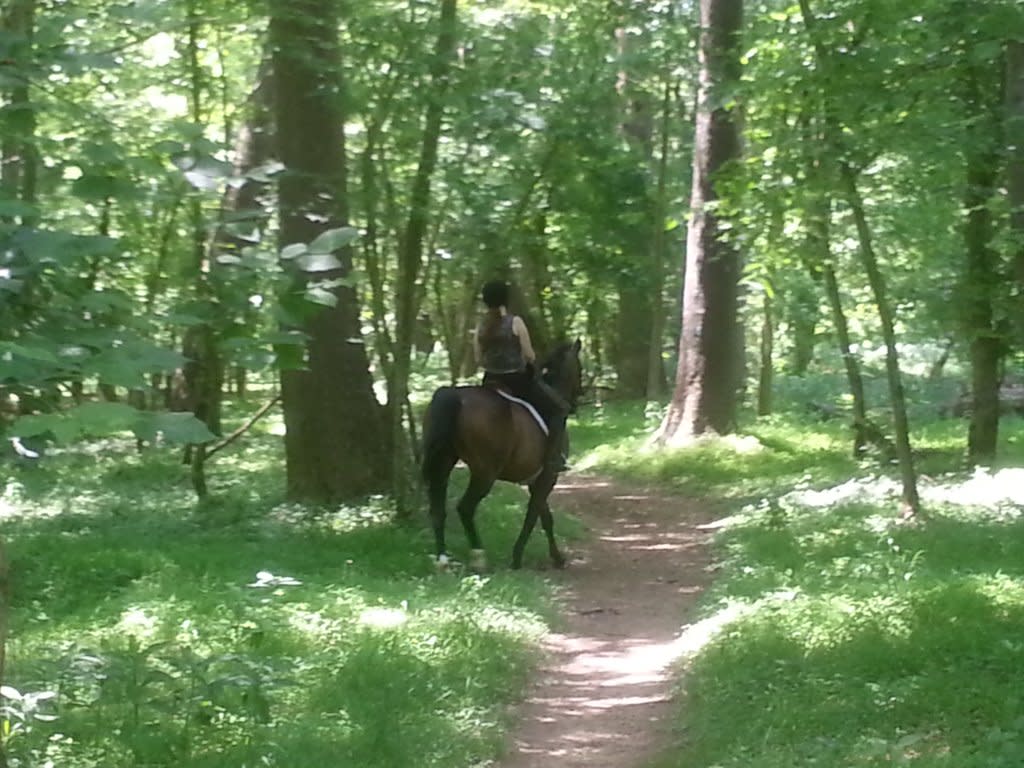 Courtesy NOVA Parks
There are a variety of reasons to add this 17-mile trail to your to-do list, from its fascinating ties to the Civil War (look for a hidden fort among the earthen mounds) to the plentiful wildlife that make their homes along the route. All in all, there are 5,000 acres here to explore and equestrian riders can access a large majority of the trail on horseback. Expect a natural surface ride featuring rocks, roots, logs, loose sand, ledges, steep climbs and descents and narrow bridges. From the trail, you can access Fountainhead Park, Bull Run Marina, Hemlock Overlook Park, and Bull Run Regional Park, the latter of which is a great spot to park your horse trailer. Click here for a trail map.
Seneca Bridal Trail at Seneca Regional Park
This often-overlooked landscape offers some unique variables for the horse and its rider due to its terrain adjacent to the Potomac River. Find this park and its challenging trail network north of Great Falls Park and enjoy a quiet ride through the woodlands. Click here for trail map.
Old Carriage Road Trail, Matildaville Trail and others at Great Falls Park
While Great Falls is one of the most popular and visited parks in the Washington, DC region by people on foot, you are also likely to spot quite a few horseback riders enjoying the jaw-dropping views at this National Park-managed gem. The best spots to take your horse here include the interconnected trails away from the river – Old Carriage Road, Matildaville Trail, Mine Run Trail, and Ridge Trail. All together this loop will run about 8-10 miles. Avoid Patowmack Canal Trail and River Trail on horseback. For parking, expect a $20 entrance fee, but designated horse trailer parking is located about 0.5 miles from the entrance on the right. Click here for the trail map.
Frying Pan Park Trail at Frying Pan Farm Park
This historic dairy farm in Fairfax County is home to a full-size indoor/outdoor Equestrian Center that offers day passes for riders (bring your own horse), plus stabling, rentals, an arena, and classes. Beyond the equestrian areas at the park though you will find the Frying Pan Park Loop Trail that offers a more scenic and wooded trail experience. Dedicated trailer parking is also available at this site. Check out the Equestrian Center offerings here. And see a trail map here.
Giles Run Meadow Trail, Apple Orchard Trail and others at Laurel Hill Equestrian Center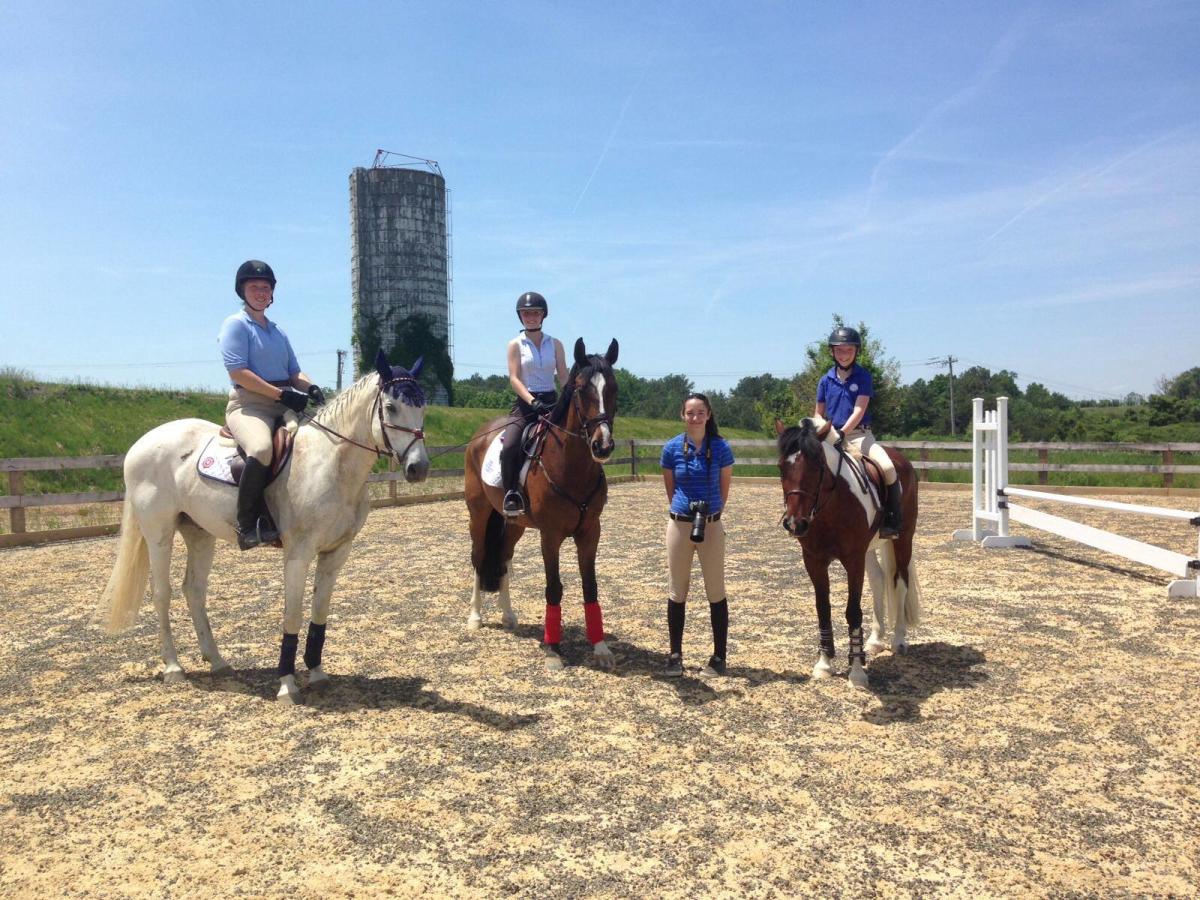 Courtesy Fairfax County Park Authority / Laurel Hill Equestrian
Laurel Hill Equestrian Center is a multi-purpose facility on the site of the old Lorton Workhouse Reformatory, on land that was once a dairy farm. The facility, which includes an outdoor riding ring that is maintained by local equestrian organization Fairfax4Horses, sits next to a network of multi-use trails that run for nearly 6 miles. Giles Run Meadow Trail, Apple Orchard Trail, Workhouse Trail, and Dairy Barn Loop offer a variety of terrain and experiences for you and your horse. Parking is available at the Equestrian Center. Click here for a trail map.
Red Trail at Pohick Bay Regional Park
Pohick Bay has a TON of family fun and outdoor adventure to offer, from camping to golfing to kayaking, but it's also an incredibly scenic place to ride your horse. Follow the 4-mile Red Trail through the woods and out towards the water for some stunning southern Fairfax County vantage points. For something different, use the Path to Mason Neck State Park to ride to your second park of the day. Click here for a trail map.
Lake Accotink Loop Trail at Lake Accotink Park
This waterfront park in Springfield offers a 3.9-mile-long trail that was built off the old Orange & Alexandria Railroad bed. The multi-surface trail circles around the lake and throughout the woodlands. You may find historical markers throughout detailing its past as a rail line. Click here for a trail map.
Share your horseback trail adventures with us on social media using #FXVA and @VisitFairfax.