Throughout the summer of 2019, Fairfax County's first permanent "LOVEwork" sign is on tour and is set to travel around to some of our most popular attractions that represent the eclectic visitor experiences found here. We're now on tour stop number 8, and eventually, the sign will find a permanent home at the Workhouse Arts Center in Lorton. Once there, the letters will be creatively "bedazzled" by several of the artists-in-residence at the Workhouse, making the new Fairfax County "LOVEwork" sign a unique piece of art that visitors will enjoy for years to come.
The current stop on the "LOVEwork" tour is George Washington's Distillery and Gristmill! Located less than 3 miles from the entrance to George Washington's Mount Vernon Estate, the site features fully functioning reconstructions of George Washington's Distillery and Gristmill, where Washington once produced flour and cornmeal. At one point, the Distillery was one of the largest whiskey distilleries in America.  While the "LOVEwork" sign is there, you can plan your visit to Mount Vernon around many of their amazing events - including An American Celebration on July 4th.
And make sure that if you do visit and snap a sweet pic of the LOVE letters, upload them here or post them to social media using the hashtags #FXVA, #SHAREWHATYOULOVE, and #LOVEVA.
 
General Information
LOVEwork Sign Dates: Wednesday Morning, July 3 - Monday, July 10, 2019
Operating Hours: 10am to 5pm from April 1 through October 31
Location: The LOVE sign will be located on the grounds of George Washington's Distillery and Gristmill at 5514 Mount Vernon Memorial Highway, Alexandria, VA 22309.
Cost: Tickets to the Distillery and Gristmill are included with General Admission to Mount Vernon, available for purchase online or can be purchased separately from Estate visit on-site for $6.
Things To Know About George Washington's Distillery and Gristmill
The Gristmill Produced Massive Amounts Of Flour and Cornmeal  - George Washington's merchant gristmill was capable of producing 5,000 to 8,000 pounds of flour and cornmeal a day.  Today, you can purchase flour, cornmeal, and grits produced at the reconstructed Gristmill.
The Distillery Produces the (Award-Winning) Official Spirit Of Virginia - George Washington's Rye Whiskey®, made at Mount Vernon's reconstructed distillery, is the official state spirit of the Commonwealth of Virginia and was a 2019 Silver Medal winner at the American Craft Spirits Association Awards. The whiskey is available for purchase at The Shops at Mount Vernon - the only place you can buy this unique craft beverage.
Purple Heart Recipients Can Visit For Free - Because of the Purple Heart award's connection to George Washington, Mount Vernon welcomes Purple Heart recipients with free daytime admission, year round.
You Can Shuttle There From The Main Estate - You're invited to take a complimentary roundtrip shuttle from the main estate to the distillery and gristmill site. Shuttles run continuously from 10am – 5pm from April 1 to October 1.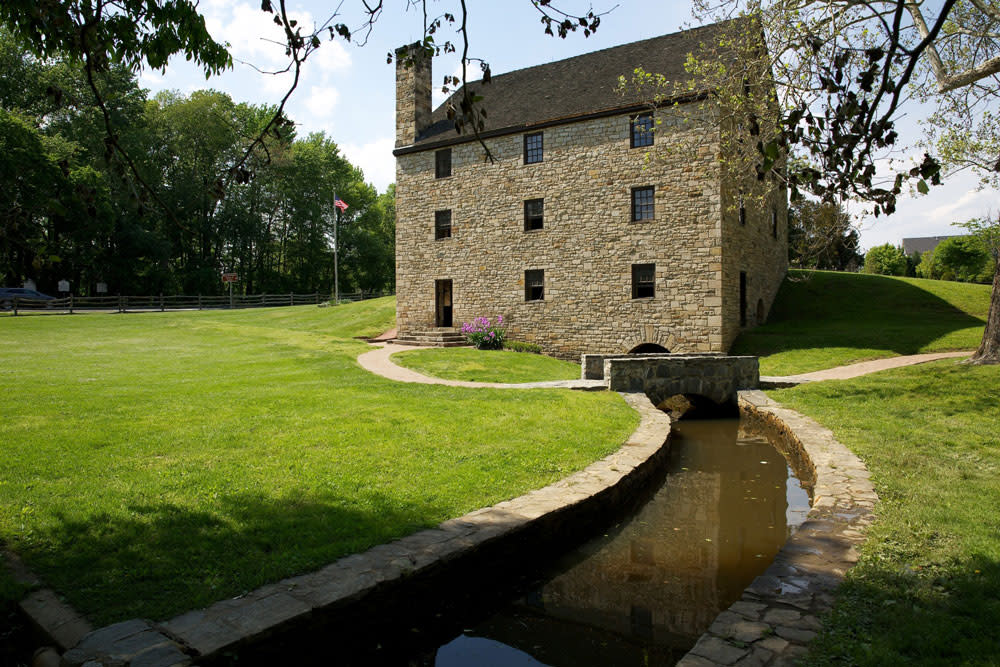 George Washington's Gristmill  
Where the LOVEwork Sign Goes From Here
Next up on the LOVEwork tour is America's only National Park dedicated to the performing arts, Wolf Trap.  So if you can't make it to George Washington's Distillery & Gristmill, we hope to see you at one of the following sites instead:
July 12 – July 24: Wolf Trap
July 26 – August 4: Frying Pan Farm Park
August 6 and beyond: Workhouse Arts Center
Fairfax County is great because of you, visitors and residents alike. Your support of our local community makes this all possible. Help us showcase our greatness:  We'll post our favorite images of you and your Instaworthy "LOVEwork" snaps on our official LOVE page, where you can also find the sign's summer-long tour dates and locations.
If you see our LOVEwork sign during its journey across the county, don't be shy, take a picture with it and upload your images here.