For nearly 90 years, the Garden Club of Virginia has been hosting Historic Garden Week - the perfect way to dive into our region's history and get your floral fix at the same time! More than 150 homeowners will open their garden gates and doors to welcome visitors to their spectacular historic homes and grounds.
This year, Historic Garden Week is highlighting McLean's most picturesque properties with a special tour on Tuesday, April 20th. Take the afternoon to breathe in the historic architecture and peak springtime splendor! Here's everything you need to know about attending the event.
 
What's special about McLean? 
A mix of historic, traditional and contemporary styles make this area quite unique. Its location in Fairfax County offers up stories of the Revolutionary and Civil War through places that have stood through the times. McLean is known for its luxury homes, high-end shopping destinations and is home to diplomats, business owners, and government officials.   Fun fact: McLean, VA received its name from John Roll McLean, the former publisher and owner of The Washington Post.
 
Which properties will be highlighted? 
Those attending Garden Week in McLean will embark on a walking and driving tour of two spectacular private estates and an expansive botanical garden. 

Ballantrae Farm Estate
1288 Ballantrae Farm Drive, McLean

Photo Courtesy of Donna Moulton
The historic estate of Ballantrae Farm welcomes guests up a long driveway lined by alternating Yoshino and Kwanzan cherry trees. A stately white oak tree, estimated to be 250-300 years old, graces the home's front entrance. The six-acre estate is extensively landscaped with stone patios, perennial beds, woodland plantings, a kitchen garden, a small fruit orchard, water fountains, and thousands of color-coordinated tulips. The main home on the grounds is a 9,000 square foot Colonial Revival manor house, built in 1923 using stones from the nearby Pimmit Run. The smaller farmhouse, now called Little Ballantrae, dates to the mid-1800s and serves as the guesthouse. Aside from the spectacular homes and gardens, visitors will find a tennis court, treehouse, and entertaining areas - all while enjoying live flower arranging demonstrations and garden talks. 

Wickersham Garden
8320 Woodlea Mill Road, McLean
Photo courtesy Donna Moulton
The gardens of this Tuscan villa-style home and English carriage house allow visitors to feel they've set out on a European escape. There are numerous sculpted trees, terraces, and fountains. Upon entering the dramatic garden encased by 56 evergreens, guests will notice a silver maple tree, which towers over the house that was built in 1998. The step-down terrace overlooking an English carriage house and vine-covered pergola is surrounded by flowering trees and fountains to complete this oasis.
 
Meadowlark Botanical Gardens
9750 Meadowlark Gardens Court, Vienna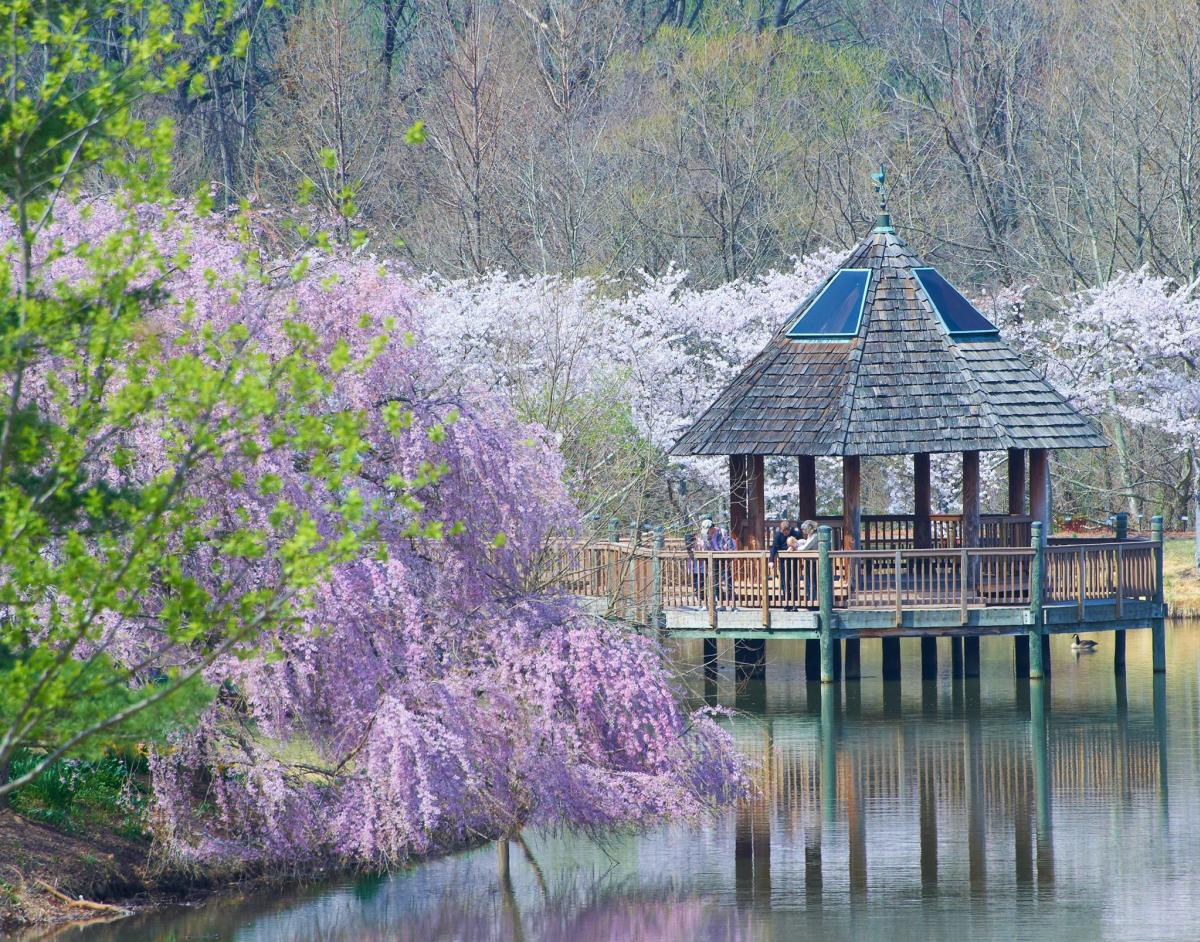 Photos courtesy of NOVA Parks
Meadowlark Botanical Gardens is a bold, yet intimate hidden treasure in Fairfax County. One of the most unique features of Meadowlark is its traditional Korean Bell Garden, which is the only one of its kind in the Western Hemisphere. Standing tall amongst the rolling hills of the garden, it's a symbol of friendship between Virginia and South Korea. Throughout the grounds, visitors can find a picturesque gazebo and three sparkling lakes surrounded by weeping cherry trees and a profusion of colorful blooms—azaleas, lilies, daffodils and so much more—that grace this 95-acre garden park. Large ornamental gardens and native plant collections are featured, and the park's walking trails offer first-rate viewing for visitors.
 
How do I attend? 
For more information about Historic Garden Week in McLean, and to buy tickets online, go to www.vagardenweek.org. Tickets are $35 and must be purchased in advance (online only); tickets include admission to both private estates and Meadowlark Botanical Gardens. 
Make sure to tag us during your McLean Garden Tour by using #FXVA or @VisitFairfax. We can't wait to see your petal-peeping adventures!