For nearly 90 years, the Garden Club of Virginia has been hosting Historic Garden Week - the perfect way to dive into our region's history and get your floral fix at the same time! More than 150 homeowners will open their garden gates and doors to welcome visitors to their spectacular historic homes and grounds.
This year, Historic Garden Week is highlighting Fairfax's most picturesque properties with a special tour on Tuesday, April 26th. Take the afternoon to breathe in the historic architecture and peak springtime splendor! Here's everything you need to know about attending the event.
 
What's special about Fairfax? 
A mix of Colonial and contemporary styles make this area quite unique. Its location in Fairfax County offers up stories of the Revolutionary and Civil War through places that have stood through the times. 
Which properties will be highlighted? 
Those attending Garden Week in Fairfax will embark on a walking and driving tour of two private homes and gardens, a historic cabin,  and two historic homes (one with an in-town public garden) for a total of five properties.
 
Historic Blenheim and the Civil War Interpretive Center
3610 Old Lee Highway, Fairfax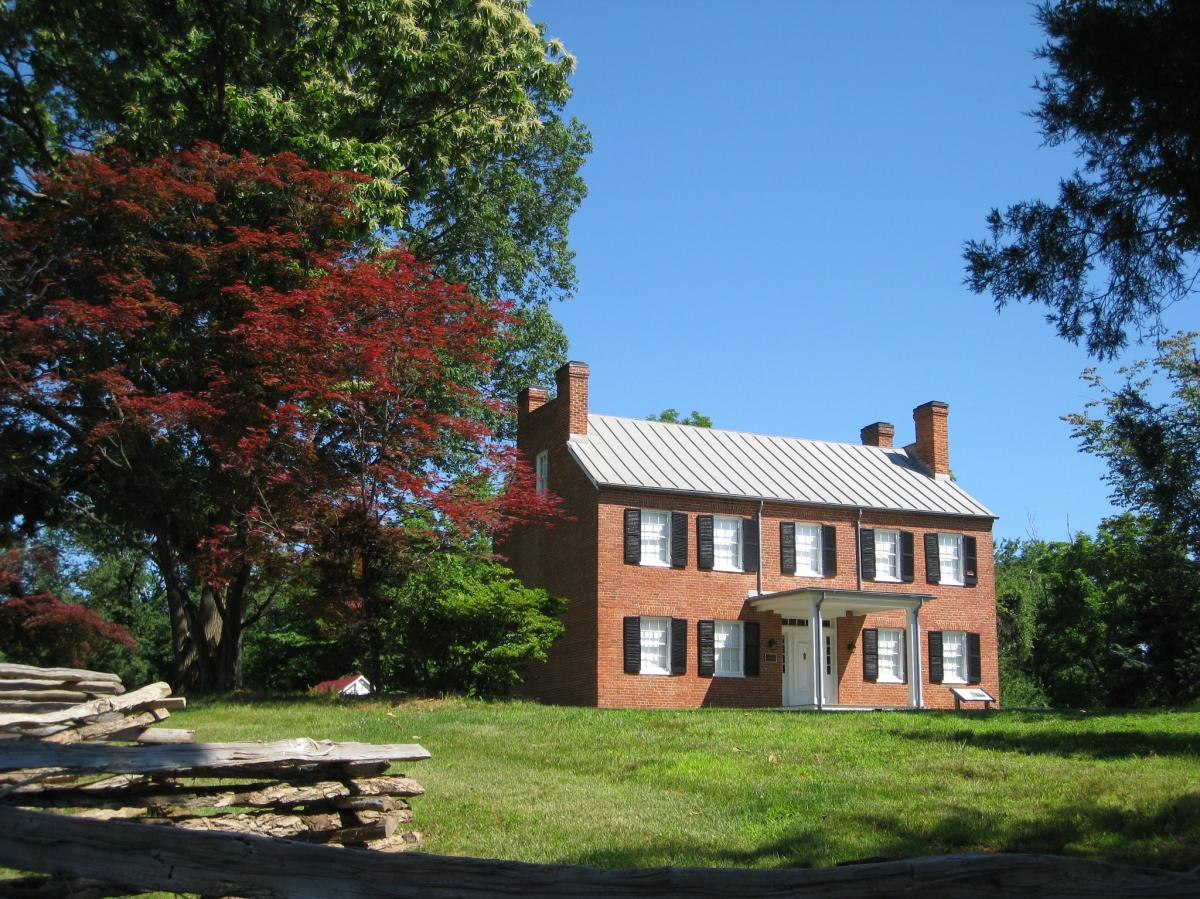 Photo courtesy Historic Blenheim via Facebook
Historic Blenheim is a c. 1859 central-hall plan Greek Revival-style brick farmhouse built by Albert Willcoxon just prior to the Civil War. It is nationally significant for the voluminous quantity and quality of Civil War inscriptions. More than 122 signatures, pictographs, games, and thoughts were left on the house walls by Union soldiers during their occupation of the Fairfax Court House area in 1862-63. This "diary on walls" provides insight into the life of a typical soldier and the effect of this war on local residents—such as the Willcoxon family—and free and enslaved people of African descent. In the Civil War Interpretive gallery, wall inscriptions and pictographs from the house are reproduced with full-scaled photographs in the replica attic. The gallery also includes an illustrated timeline of Civil War events, artifacts that interpret the everyday soldier, biographies of several of the wall signers, and temporary displays. 
Taraworth
11035 Brookline Drive, Fairfax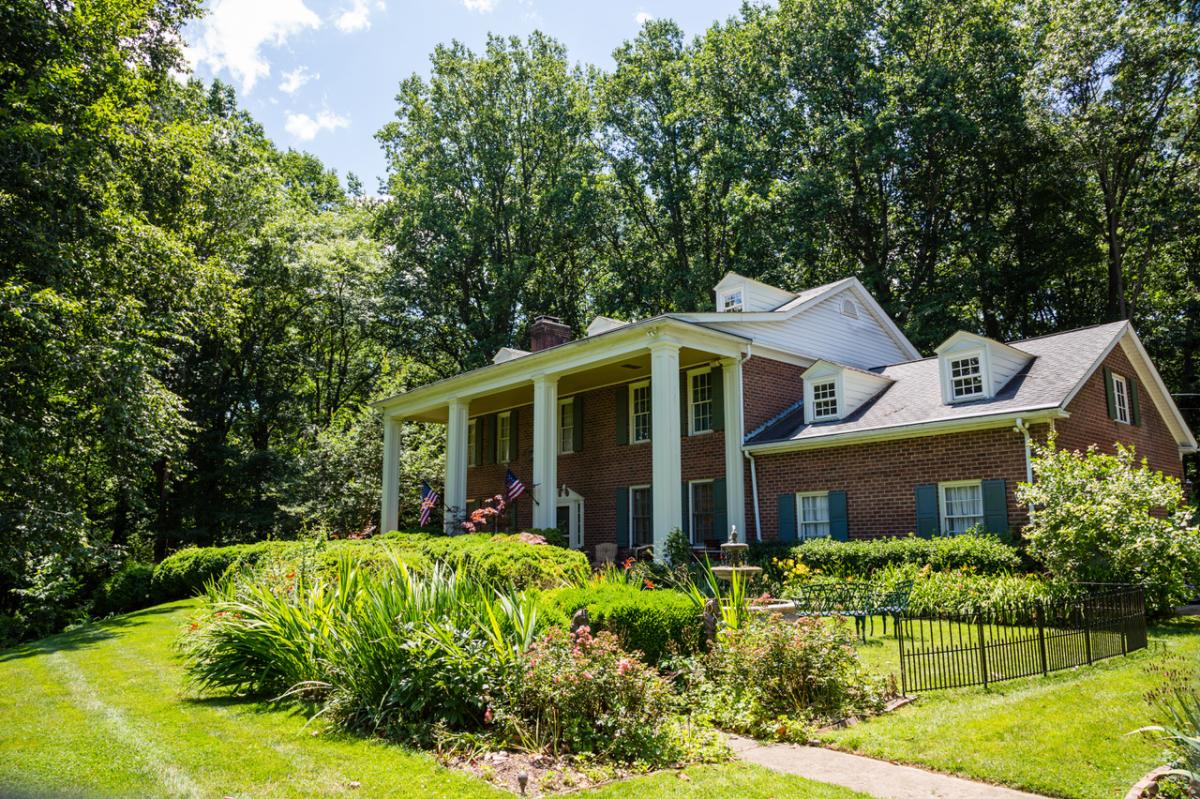 Photo courtesy Donna Moulton
Located at the end of a quiet cul-de-sac, Taraworth is a certified Audubon at Home Wildlife Sanctuary and has a stream, two freshwater springs, and an amphibian pond. The Southern Colonial brick home, built in 1966, is decorated in an English country style, has extensive custom millwork, and retains much of its original design. A brick pathway leads from the street through the front garden to a two-story covered front porch spanning the entire length of the home, where you can take in views of the golf course, a small fruit orchard, and the expansive front gardens including a large fountain. Visitors are welcomed into the green foyer, which boasts the original checkerboard marble floor, a large art deco walnut bar and an 1860s French bronze - as well as the spacious living rooms, sapphire blue dining room, and colonial kitchen. Inviting pathways lead to an exterior dining area, a "secret garden" with colorful glass orbs, and a clearing with a metal gazebo housing a statue.
Mulberry Manor
Shuttle access only, Parking: 5635 Revercomb Ct, Fairfax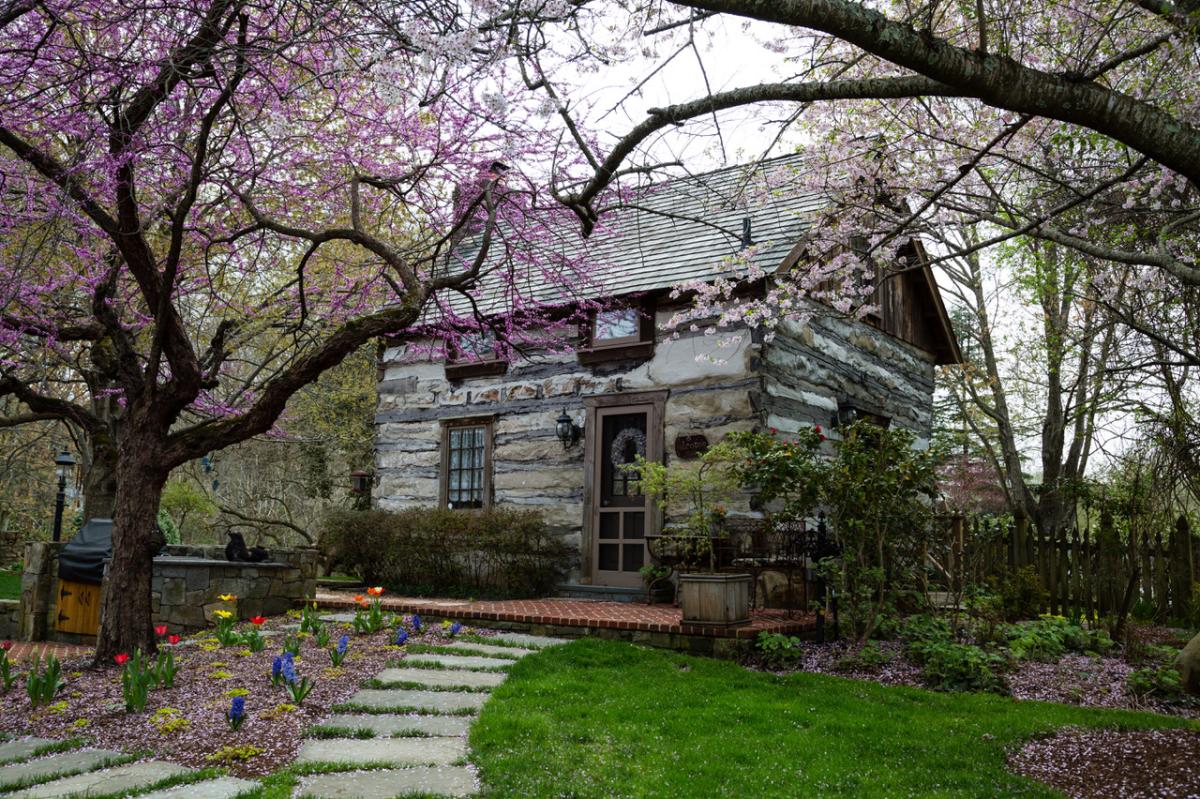 Photo courtesy Donna Moulton
Although this Colonial home was built in 1988, the changes by the homeowners make the home distinctly contemporary. See the open floor plan and walls of windows overlooking backyard koi ponds with three waterfalls and a footbridge. Flooring throughout the home is reclaimed random-plank heart pine. Art collections include four bronze statues, five original Mucha lithographs and a pastel obtained at auction from Clyde's, where the homeowners met. An entire bedroom suite and office are custom-built of wild black cherry from West Virginia, Ms. Braun's home state. A back-lit, stained-glass panel in the piano room is from an old English abbey. A host of other antiques and contemporary items are artfully blended throughout the house. A pre-Revolutionary War-era cabin behind the main house was used as a hunting cabin by Lawrence Washington, half-brother to George Washington. The renovated cabin has a living-dining area with a stone fireplace. A narrow staircase leads to the upstairs bedroom and bath with all-natural wood floors, walls, and ceiling. 
The Ratcliffe-Allison-Pozer House
10386 Main Street, Fairfax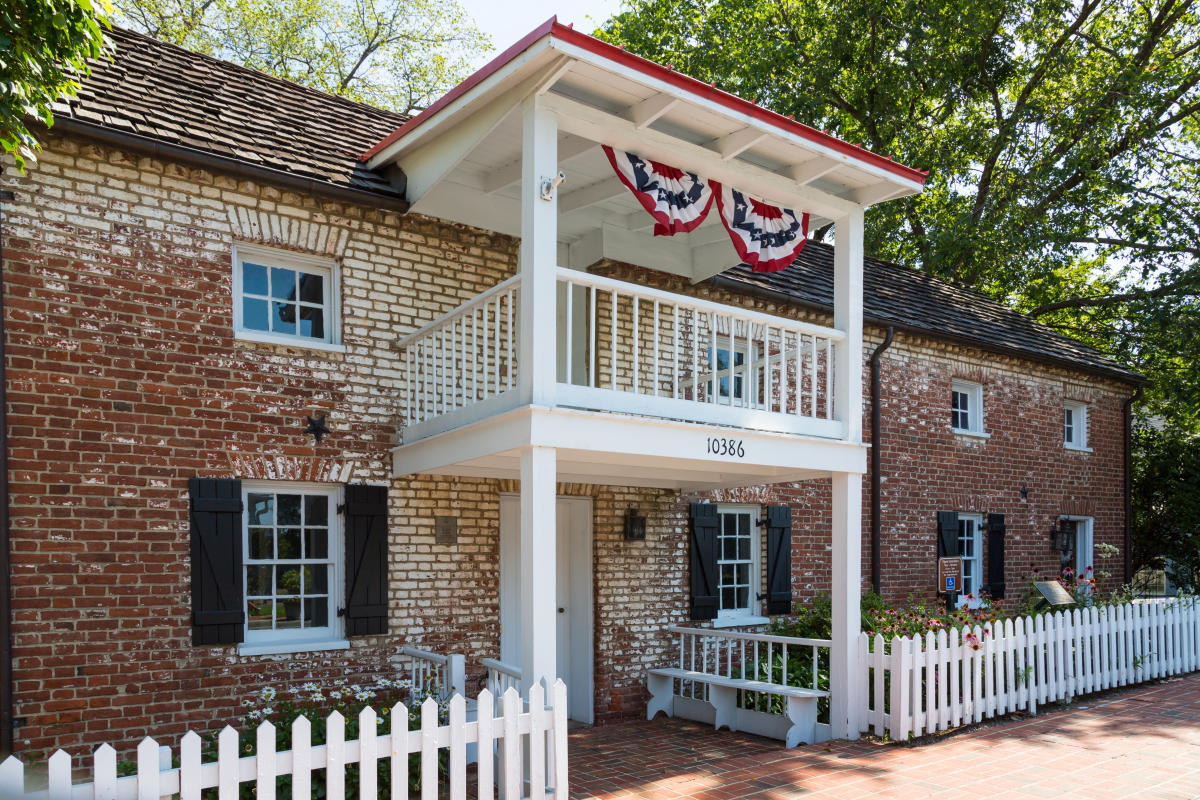 Photo courtesy Donna Moulton
Richard Ratcliffe is especially remembered for his roles in establishing the Fairfax County courthouse in its present location and creating the Town of Providence, today's City of Fairfax. Visit the oldest residence within what was the original six-block Town of Providence, the Ratcliffe-Allison-Pozer House which was built in 1812. The last two owners were Kate Waller Barrett, a prominent social reformer, and her daughter, Kitty Pozer, the first gardening columnist for the Washington Post and writer for other gardening magazines. Following her mother's death, Kitty purchased the house with her husband, Charles Pozer. She deeded the house to the city in 1973. Following her death in 1981, the City purchased her extensive property that extended to North Street to create the Kitty Pozer Garden, a passive park show. Kitty's gardening tastes are intertwined with meandering pathways and benches beneath a tall tree cover. She was one of the founders of the Garden Club of Fairfax and an officer in the Garden Club of Virginia, which sponsors Historic Garden Week, the nation's only statewide house and garden tour. 
How do I attend? 
For more information about Historic Garden Week in Fairfax, and to buy tickets online, go to www.vagardenweek.org. Tickets are $40 and must be purchased in advance (online only).
Make sure to tag us during your Fairfax Tour by using #FXVA or @VisitFairfax. We can't wait to see your petal-peeping adventures!