As Ralph Waldo Emerson put it, "The Earth laughs in flowers." There's no better place in the Northern Virginia region to see this in action than at Meadowlark Botanical Gardens in Vienna. An area for lovers of gardening, flowers, trees, and quiet, serene settings, this garden is a great place to trade in the bustle of city life for tranquility, at least for a few hours.

The Gardens
A serene scene for nature and people alike, Meadowlark is, first and foremost, a public garden with several ornamental and natural plant collections spread across 3.5 miles of paved walking trails and 1.25 miles of mulched trails. Be sure to wear comfortable clothes and proper walking shoes because you will get your steps in.
Enhancing the garden collections are several ponds stocked with giant koi. Where there is flora, fauna settles in, and Meadowlark visitors regularly spot Great Blue Herons among a variety of birds in addition to frogs, turtles, and much more.
A centerpiece of Meadowlark is the Korean Bell Garden. The pagoda was built by hand in South Korea using methods that date back thousands of years and depicts a unique blend of Korean and Virginian images.
Meadowlark also encompasses a horticulture center for garden enthusiasts that preserves plant diversity and an outdoor classroom with thousands of school kids visiting throughout the year. Open year-round, Meadowlark changes with the seasons, and no two visits are the same.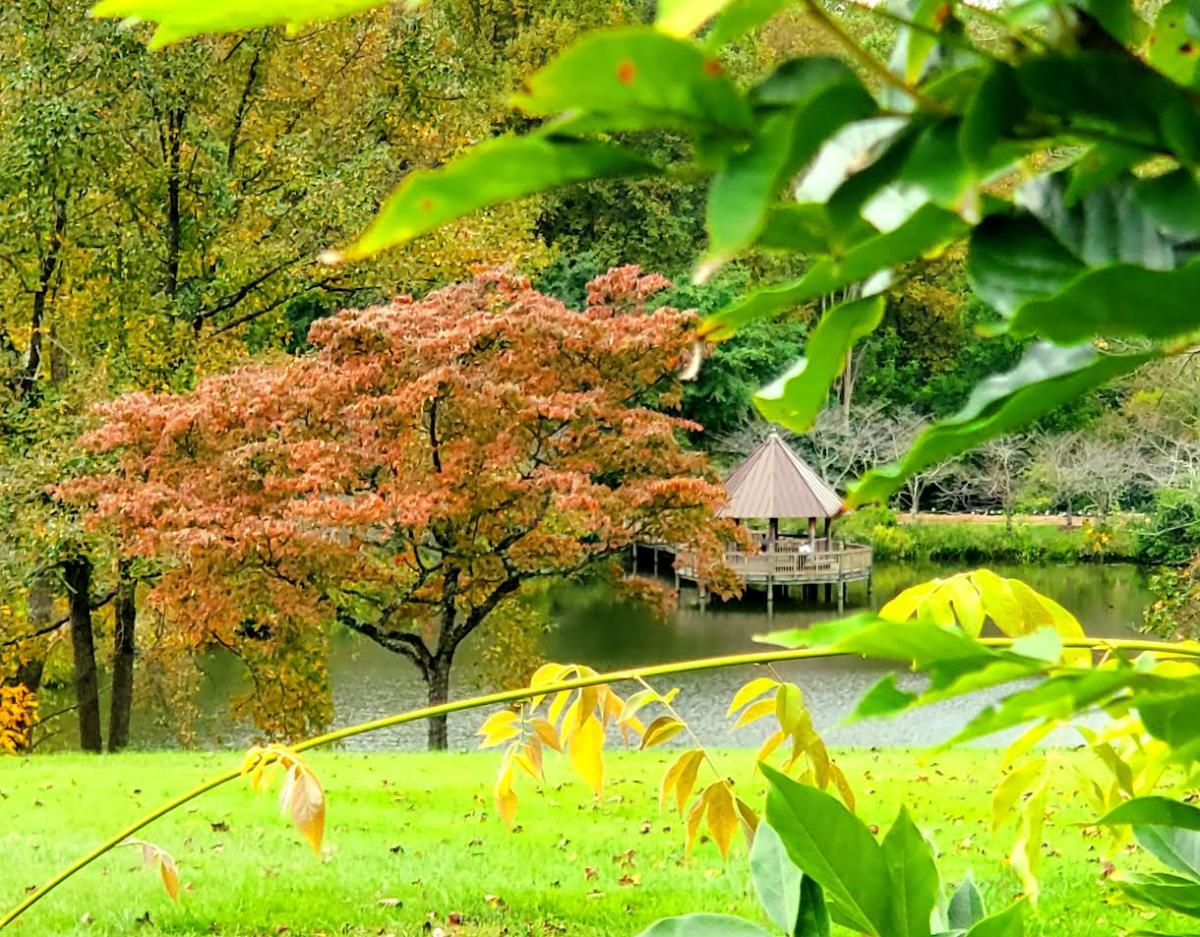 A Note on Accessibility
Please note that while there are miles of trails, many paved trails are steep and not ADA-compliant. An ADA-accessible route is designated on the map, which you must download digitally or scan a QR code upon arrival. Meadowlark offers a wheelchair-accessible cart service to drive you to different places (you can stay in your wheelchair) but call ahead to ensure it's available. Guests can also use the two wheelchairs available in the Visitor Center, free of charge, on a first-come, first-served basis. Contact: 703-255-3631 or meadowlark@nvrpa.org for more information.

Additional Information
The Visitor Center at Meadowlark Botanical Gardens, which everyone must enter through, is open from April – October, 10 am - 6:30 pm, with the gardens closing at 7 pm. Winter hours are November – March, 10 am - 3:30 pm, with the gardens closing at 4 pm. There is a $3 entrance fee for kids ages 6-17 and adults 55+. For visitors ages 18-54, there is a $6 fee. Children ages 5 & under are free.
Outside food and drink, along with pets, are not permitted within the gated grounds. Bikes, skateboards, and outside toys are also prohibited, with no fishing and swimming allowed. However, a small selection of snacks is available in the Visitor Center gift shop, and a picnic area is located outside the fenced garden. The picnic area is open on a first-come, first-served basis. Dogs can also take their humans for a leisurely stroll on the garden's perimeter trail outside the fenced portion.
*This guest blog is the result of a collaboration with www.photoswithaspin.com. Check out Abe & Maggie's suggestion for an accessible weekend getaway in Fairfax County. This includes Great Falls Park, George Washington's Mount Vernon, Smithsonian's National Air and Space Museum Steven F. Udvar-Hazy Center, and the National Museum of the United States Army. Check back each month for more in our accessible travel series with Abe & Maggie!*