The Washington & Old Dominion Trail (W&OD) is a 45-mile trail that stretches from Arlington County, all the way through Fairfax County, and into Loudoun County, ending in the town of Purcellville. It is often called the "skinniest park in Virginia," since this former historic railroad bed is now maintained by the regional park organization, NOVA Parks. The trail winds through small towns, past restaurants and numerous breweries, by parks and other attractions, and includes historical markers that tell the story of the former railroad's past.  
It's easy to plan a fun and regional excursion along each and every mile marker of this fascinating Northern Virginia trail. Here are a few places you should stop along the way.

Jump to:   Arlington County   |   Falls Church   |   Fairfax County   |   Loudoun

In Arlington County:


Mile Marker 0
Here, you're not far from the Village of Shirlington, where you can start your journey with some sustenance from one of the restaurants in this walkable town center. Hearty breakfasts are available at Busboys & Poets, a community gathering place filled with plenty of menu options. Or, for lighter fare, a stop at Best Buns Bread Company gives you a selection of artisan breads and pastries to choose from.
Mile Marker 1
Before you get there, swing by New District Brewing Company right there in Shirlington. Arlington's first distribution brewery, New District offers an array of rotating beers and if you call in advance, tours of the brewery on Wednesday evenings.
Mile Markers 3 & 4
Kids will especially love a stop at Bluemont Park, which is home to 70 acres of space perfect for biking, hiking, an array of sports like disc golf, soccer, baseball, basketball, tennis, and a fun playground. From here, you are nearby to Bon Air Memorial Rose Garden, a picturesque park filled with 120 varieties of roses.

In the City of Falls Church:

Mile Marker 6
Here you'll be entering the City of Falls Church, a small, independent city that gets its name from the historic (circa 1732) parish The Falls Church that still stands and operates to this day. Veer off the trail for a bit to grab bike supplies from Bikenetic Full Service Bike Shop or take a break to learn something new at Cherry Hill Historic House and Farm, a national historic landmark.
From here, it's worth a venture down Broad Street, Falls Church's main drag that is filled with great local dining, from gooey grilled cheeses at Spacebar to classic Italian at Sfizi to locally roasted coffee at Rarebird Coffee Roasters and to fresh-brewed beer at Solace Outpost, and small business retail such as CD Cellar and Doodlehopper 4 Kids.
Before you leave the "Little City," swing up Washington Street to check out the lineup of upcoming shows at The State Theatre, one of the area's beloved venues for live music and concerts.

In Fairfax County: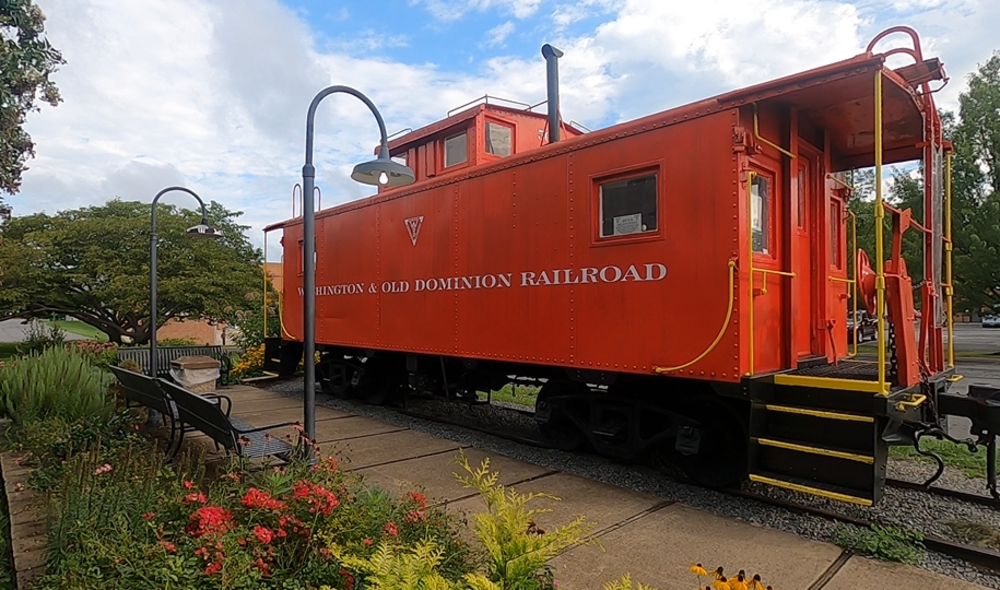 Mile Marker 8
This is when you will be entering Fairfax County.

Mile Marker 11
You'll be approaching one of Fairfax County's quaint small towns, the Town of Vienna. Spend some time here to stretch your legs, as there is much to see in this vibrant downtown.
Snap some Instagram-worthy shots by the old Red Caboose and former train depot (don't miss the beautiful mural!), remnants of the trail's history as a railroad line. Pick up necessities at the Whole Foods market, check your bike tires at one of three local bike repair shops (Trek Bicycle, Conte's Bike Shop or Bikes@Vienna), browse some antique finds at a local shop, soak up some history at the Freeman House Store & Museum, or just relax for a bit on the Vienna Town Green.
Grab lunch at one of the many varied options along Maple Avenue or Church Street, from the world-famous chili dogs at Vienna Inn to a healthy smoothie at Greenheart Juice Shop to some of the region's best tacos or gyros at Taco Bamba or Plaka Grill. Or grab a slice of pizza at live music venue Jammin' Java's new pizza shop, Union Pie. Need a caffeine boost? Stop by Caffe Amouri for a hot or cold coffee, and don't forget to stash a bag of freshly roasted beans for later.
 
Mile Marker 12
You'll approach Caboose Brewing Co.'s Caboose Tavern, directly off the trail with an abundance of bike parking. This favorite local brewery offers 15 rotating beers and also operates as a locally sourced, farm-to-table restaurant with a seasonally inspired menu. (For non-beer drinkers, they also offer wine, ciders, cocktails, mocktails, coffees, and more.)
Mile Markers 12-13
More photo ops await as you pass by Northside Park. Look for the new, custom-built LOVE sign and see if it's decorated for an upcoming holiday!
Mile Marker 14
If you're feeling adventurous – take the Connector Trail 1.25 miles to the one-of-a-kind Meadowlark Botanical Gardens, a 95-acre oasis filled with ornamental gardens, native plants, Lake Caroline (a stunning backdrop especially during cherry blossom season), and the majestic Korean Bell Garden, the only public traditional Bell Garden pavilion of its kind in the Western Hemisphere.
Mile Marker 15
Notice the trio of historical signs at Hunter Mill Station, which was a crucial intersection during the Civil War due to its north-south roads, east-west railway, resources from Difficult Run River and other farmlands. (Learn more about Civil War Trail signs here.) This area is also a great pivot point if you'd like to venture along the north-south Fairfax County Cross County Trail.
It's around this time that you'll be approaching Reston, one of Fairfax County's urban centers.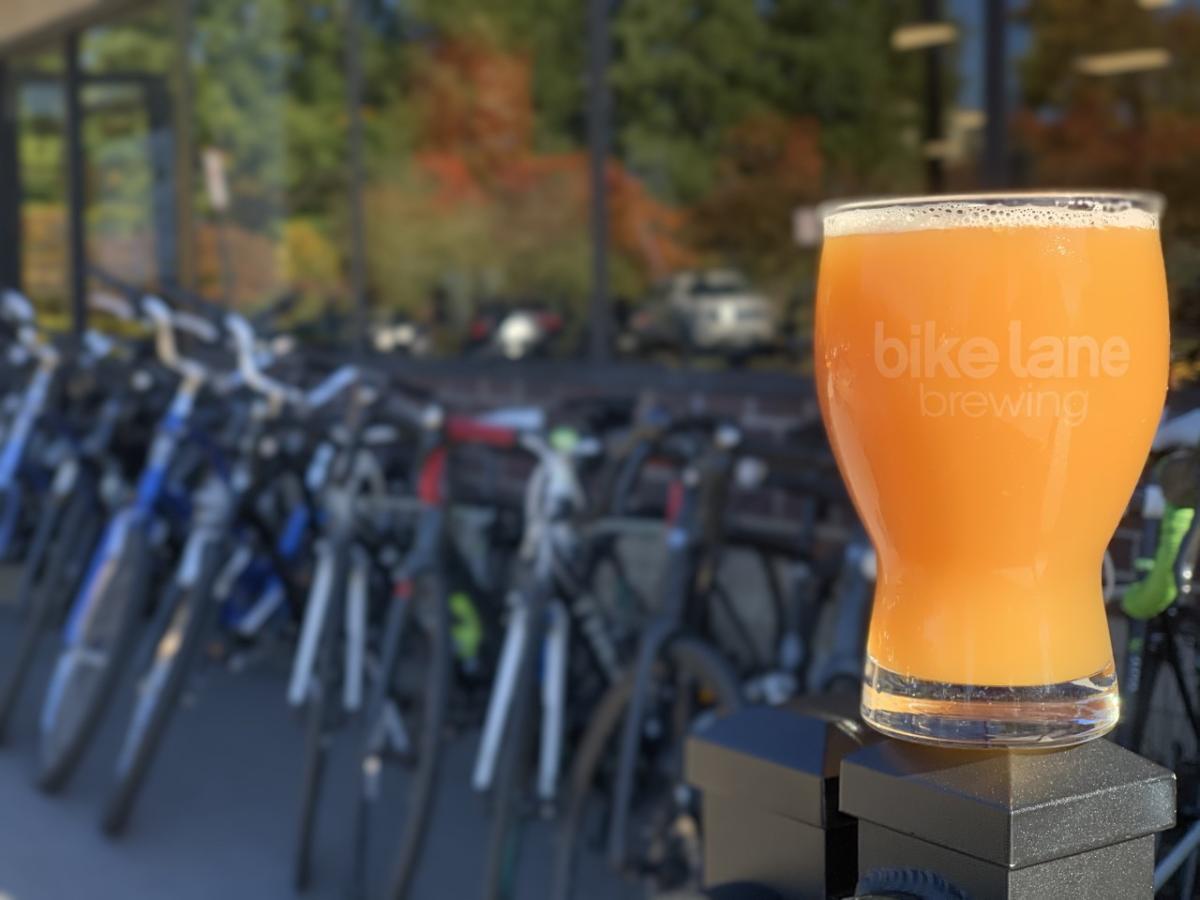 Image courtesy Brian Hennighausen/@Brewscapes
Mile Marker 16.5
You'll spot The Bike Lane and Bike Lane Brewing & Café, a one-stop-shop along the Trail for bicycling needs and freshly brewed beer and locally roasted coffee. The café also offers a variety of snacks and products from other Fairfax County makers.
From here, you can venture just two blocks south to Reston Station, an up-and-coming retail and dining hub with a brand new LOVE sign, a giant outdoor screen for movies and sometimes, a digital shark tank(!), plus restaurants like Founding Farmers, Matchbox, and Sweet Leaf Café. You can catch the Metro here, as it is the main transit station for the Wiehle-Reston Station on the Silver Line.
Mile Marker 18
Immediately past take this mile marker the short connector path to Reston Town Center, Reston's main gathering place and home to an abundance of retail, dining, entertainment, and hospitality services. Here you will find European-style piazzas perfect for strolling, photo ops at the Mercury Fountain and under the festive Pavilion, as well as several key pieces of public art and murals. Make your own candles at Paddywax Candle Bar, pick up some items at the local boutiques, or snack on handcrafted pop tarts at Ted's Bulletin. Soak up some culture at Tephra Institute of Contemporary Art or let the kids play in the Reston Town Square Park splash pad. If you'd like to stop and rest here for the evening, book a room at the Hyatt Regency Reston.
Continuing onward, you'll find access points for various trails, including several of Reston's inter-connecting ones, as well as the Fairfax County Parkway Trail and Sugarland Run Trail.
 

Mile Marker 20
You arrive at the historic Town of Herndon, a small town that truly embraces its railroad past. The Historic Herndon Depot Museum, set in 1857, tells the story of the former railroad and showcases a variety of historic artifacts. Stop for a photo at the Red Caboose, proudly displayed along the Trail, or at several murals nearby. Or just relax for a bit on the Herndon Town Green. (Home to Friday Night Live! concert series during the summer/fall months.)
Pop into Green Lizard Cycling & Coffee for your bicycling needs, or a coffee, beer, or snack. This shop is also home to VeloLabs Cycling Studio – the only endurance training center in the DC Metro area to offer Wahoo KICKR power-based cycling classes for fitness enthusiasts of all levels. Be sure to check their weekly group trail ride schedule as well.
For hungry tummies, other great dining spots include Jimmy's Old Town Tavern, Mediterranean Breeze Restaurant & Sports Bar, Sully's Pour House, and Great Harvest Bread Co. Stop by Elden Street Tea Shop to bring home some loose-leaf tea or for a relaxing tea flight for your afternoon.
For beer lovers, you can't miss Aslin Beer Co., a craft brewery with a cult following for its unique concoctions and known for quite a few delicious IPAs and sours. Kick back on their new rooftop patio or enjoy the modern taproom before hitting the road. Another hidden gem with a lengthy beer list is Mile 20, located just below Mediterranean Breeze.
Mile Marker 21
You'll also pass by Bready Park at the Herndon Community Center, Herndon Centennial Golf Course, and Trailside Park (which has a great skatepark and playground).

In Loudoun County: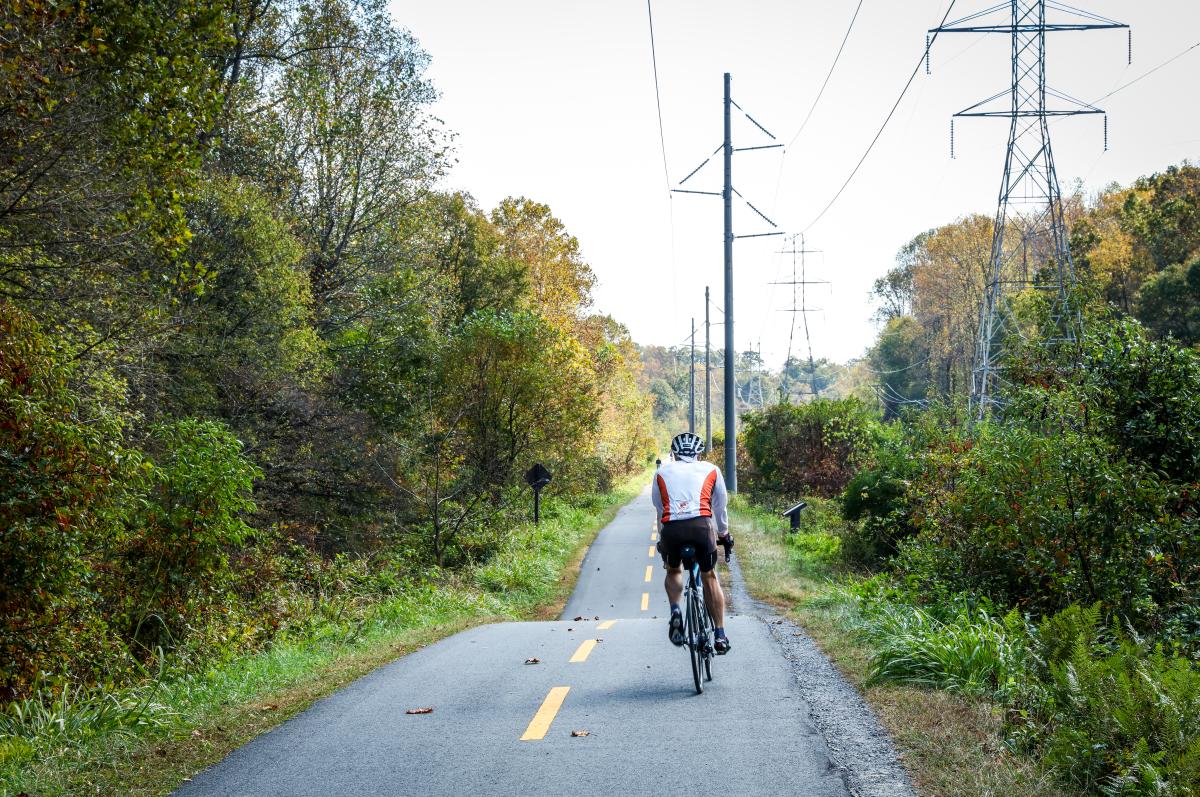 Image courtesy NOVA Parks
Mile Marker 22
You have arrived into the fourth jurisdiction on your trip – Loudoun County. Just beyond this mile marker, you will approach Beltway Brewing Co., a unique brewery as it was built to be a host for partner and contract brewing and the production of private label beers. Check their menu for an always-rotating selection of brands and beers.
A few pedals further, you'll find Crooked Run Brewing's Sterling location, which is part of a collective space with tacos from Senor Ramon's Taqueria, all-day brunch from Daybreak Kitchen & Biscuit Co., and juice cocktails from Nectar Cocktail Bar. Also nearby is Rocket Frog Brewing Co.
 
Mile Marker 24
Just before this mile marker stop for a delicious all-day breakfast at local favorite Joe's Café or wings galore at Buffalo Wing Factory.
Mile Marker 25
Join other trail runners and bikers at Old Ox Brewery, a family-owned and operated brewery directly off the Trail with a name inspired by Old Ox Road that historically connected Loudoun County's agriculture producers to markets in Fairfax County and beyond.
Mile Marker 26
You'll find a rest stop at Smith Switch Station where you can charge phones, use restrooms, and take a break. There is also a 9-acre park adjacent to the station.
 

Mile Marker 27.5
You will see Carolina Brothers Pit BBQ, a much-loved location for finding traditional, slow-cooked North Carolina pit barbecue in the DMV. Don't forget to try a variety of their delicious sauces. Also nearby is Mediterranean Breeze Restaurant, Chicago's Pizza with a Twist, and Honeybee Creamery.
Mile Markers 28 - 33
Here are a variety of parks to check out. Trailside Park offers 20 acres and even an inline hockey rink. Two Creeks Trail Area offers mountain biking trails, wildlife viewing, and water-centered pathways. Venture off the beaten path for a beat or two around Mile Marker 30 for a startling look at the Luck Stone Quarry.
Mile Marker 34
You'll arrive at the Town of Leesburg. Stop here to enjoy a meal, drinks on a restaurant patio, locally-owned boutiques, or even more breweries including Dynasty Brewing, Black Hoof Brewery, and Black Walnut Brewing. You can also explore art galleries, antique shops, and some delicious food in this charming town.  For a special treat, pop into Delirium Café, the first U.S. location of the famed Belgium brand, serving a full menu and hundreds of Belgian-style beers. Nearby, pop into several key bike shops, including Transition Triathlon, Pedego Electric Bikes, or Maverick Bicycles.
Just past King Street, take a photo op with the Discover Charm mural at the Liberty Street parking lot.
Mile Marker 44
Continue riding through Hamilton and Paeonian Springs and onward until Purcellville Take North Maple Avenue towards Belly Love Brewing, which was named for the owner's belief that beer makes bellies happy and shows them love. Grab small bites, good brews, and play a couple of board games while you're here. Nearby, pump your tires at Bicycles and Coffee and get a last dose of caffeine.
Mile Marker 44.5
Wipe the sweat off your brow and push onward to complete your trek!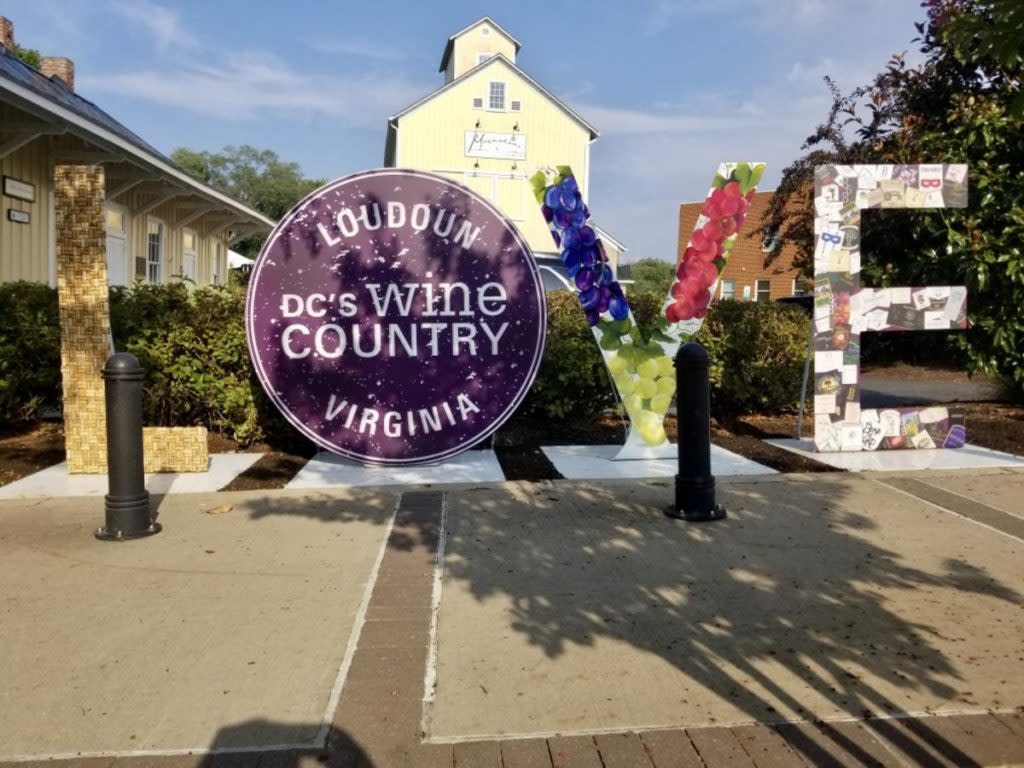 Image courtesy Visit Loudoun
Mile Marker 45
You'll know you've reached the end of the Washington & Old Dominion (W&OD) Trail at the Purcellville Train Station, a national historic landmark and also home to the LOVE sign – a fitting photo op to end your journey.
Nearby, you can reward yourself with a visit to Magnolia's on the Mill for fine dining in the rustic atmosphere of a country mill. Or hop around the corner for yummy barbecue at Monk's BBQ. Load up on baked goods (you deserve a treat!) at Sweet Rose Bakeshop. Or take home some handcrafted whiskey, gin and/or brandy from Catoctin Creek Distillery, the first legal distillery in Loudoun County since before prohibition.

What are your favorite stops along the W&OD Trail? Tell us in the comments below or join the conversation on social using #FXVA and @VisitFairfax.
FAQs
 
How long is the W&OD Trail?
The W&OD trail is 45 miles long. It begins in Shirlington, VA and ends in Purcellville, VA.
 
Where can I find a trail map?
You can view a PDF of the trail map here or visit the NOVA Parks website.
 
Where is the best place to park along the Washington and Old Dominion Trail?
There are places to park in Arlington, Vienna, Reston, and Herndon. For more details visit the Friends of the W&OD Trail website.