Embark on the sweetest journey around the world, right here in Northern Virginia! No passport is required, just your sweet tooth and a sense of adventure. Indulge in some international desserts in Fairfax County that will tantalize your taste buds and leave you craving more. Get ready to try some of the best sweet treats - from Hungary to Japan and Taiwan to France and everywhere in between.
Lokma - Lily's Chocolate & Coffee
📍 Vienna

Lily's Chocolate & Coffee in Vienna is the self-proclaimed "first shop in the USA to serve Lokma," a beloved street food dessert that originated in Turkey, yet comes to Fairfax County from an Iraqi family who wanted to bring these sweet treats to the community. Made of small balls of fried dough, soaked in a sweet syrup, and sometimes topped with cinnamon or nuts, Lokma is the perfect balance of sweet and savory. You can indulge in this delectable dessert while enjoying a hot cup of traditional coffee or a refreshing iced latte. The Lokma at Lily's Chocolate & Coffee is light and fluffy, perfectly fried, and bursting with flavor. It's the perfect way to start our journey around the world of desserts!
Kürtőskalács (Chimney Cakes) - Twisted Sweets & Savory
📍 Herndon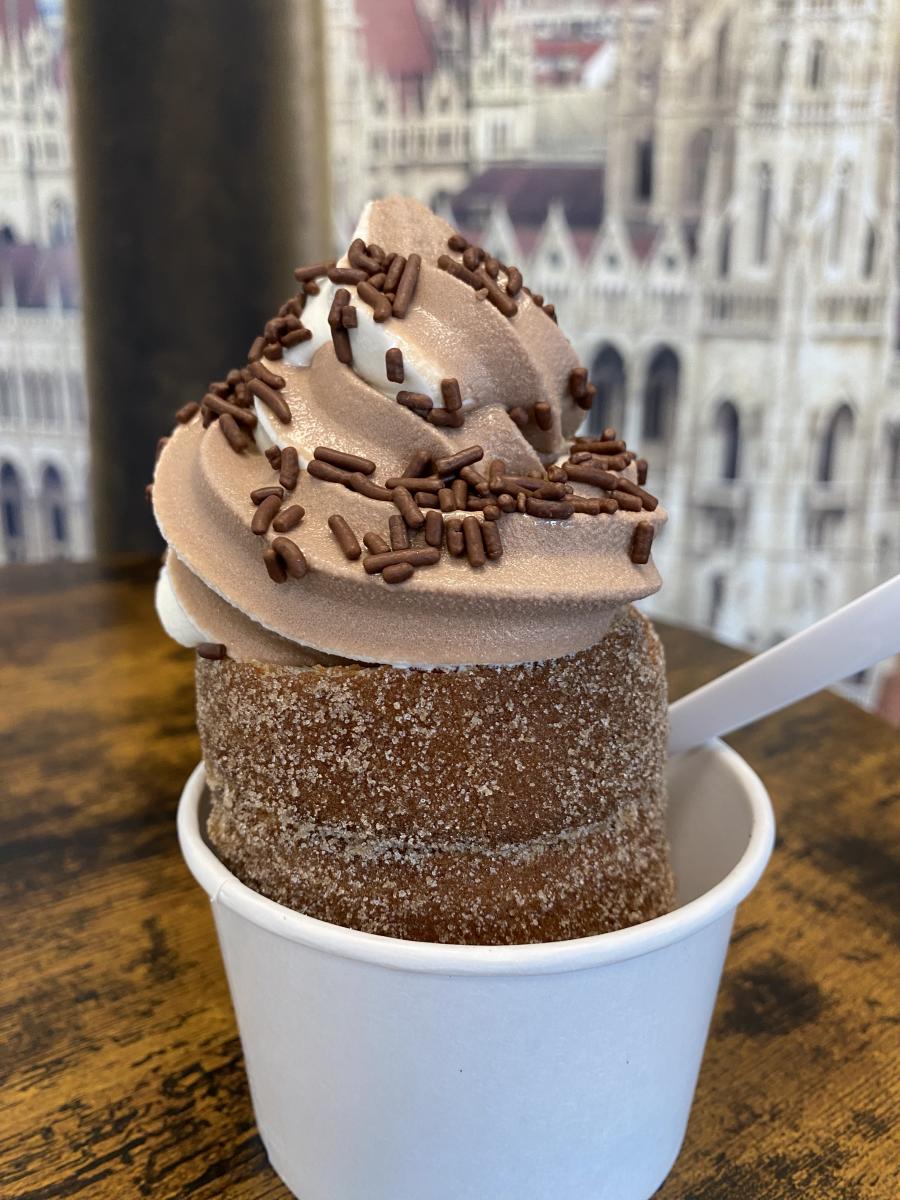 Next stop, Hungary! The kürtőskalác - lovingly referred to as a chimney cake or a spit cake - originated in the late 1600s/1700s as a popular street food where a strip of buttered dough was spun around a skewer, rolled in sugar, and roasted over charcoal. (These days, it's a bit less involved!) Towards the end of 2022, Hungarian natives Juliana Szatmari and her family opened Twisted Sweets & Savory in a tucked away location in Herndon, serving up their versions of these decadent treats. First timer? We recommend the basic cinnamon sugar Chimney, topped with creamy soft serve ice cream for a refreshing snack. Or, go for the Nutty Chimney, the cinnamon sugar dough filled with Nutella spread and topped with crushed walnuts. We promise you'll be back for more.
Poffertjes - Poffy Mosaic
📍 Merrifield

Our next stop is the Netherlands, where we'll be trying Poffertjes (pronunciation: pof·fer·t·jes). These small, fluffy pancakes are a classic Dutch treat and are typically served with butter and powdered sugar. At Poffy in Mosaic District in Merrifield, you can enjoy these delicious pancakes with a variety of toppings like Nutella, whipped cream, or fresh fruit. The texture of Poffertjes is light and airy, making them the perfect snack or dessert any time of day. Be sure to try them with a hot cup of coffee to fully experience the traditional Dutch treat!
Macaron - Olivia Macaron
📍 Tysons

Our journey continues in France, where we'll be trying the world-famous French pastry, Macarons. These delicate cookies are made with almond flour and sandwiched with a filling of buttercream, ganache, or jam. At Olivia Macaron in Tysons Corner Center, you'll find a wide variety of flavors to choose from, like lavender, rose, and pistachio. Each Macaron is beautifully crafted with vibrant colors and a smooth, crisp texture that makes them a perfect dessert for any occasion. The full-sized storefront is located in Georgetown within the bounds of our neighbors, Washington D.C. However, you can find a large selection at the kiosk on level two in Tysons Corner Center, next to Victoria's Secret. 
Taiyaki - Rice Culture 
📍 Annandale & Chantilly (Pre-order only)

From France, we head over to Japan for a unique and fun dessert - Taiyaki. These fish-shaped pastries are filled with sweet red bean paste, custard, or Nutella. With an order from Rice Culture, you can try this fun and delicious dessert that's perfect for Instagram-worthy photos. The outside of the pastry is crispy, while the inside is soft and filled with a sweet, creamy filling. Taiyaki is a must-try for anyone who loves unique and playful desserts! There are a couple of ways to get your hands on these delights: visit the Falls Church Farmers Market on Saturdays from 9-12AM, or pre-order for curbside pickup from Frontier Kitchen (Chantilly) or The Block (Annandale). The best place to find the monthly schedule of other pop-ups is on their Instagram account.
Crêpes - Dulce Crepes
📍 Fairfax

Let's head back to France for another classic dessert - Crêpes. These thin pancakes can be filled with a variety of sweet or savory ingredients, like Nutella, bananas, strawberries, or ham and cheese. At Dulce Crepes, you'll find a wide variety of delicious crêpes, from the classic Nutella and banana to the savory ham and cheese. Each crêpe is freshly made to order, and you can customize your filling to create your perfect dessert. Crepe Amour in Vienna is another local mainstay for fresh, made-to-order crêpes.
Mochi Donuts - Donutchew
📍 Annandale, Fairfax, Vienna, & Kingstowne

Our next stop takes us to the delicious world of Mochi Donuts! Donutchew has brought this unique and delightful Japanese dessert to Fairfax County. These chewy, soft, and crispy donuts are a fusion of traditional Japanese mochi and American donuts. They are available in various flavors like matcha, black sesame, lotus biscoff, Ube, and many more. The texture of these donuts is one-of-a-kind, and the flavors are fantastic. Donutchew's Mochi Donuts are sure to satisfy any sweet tooth craving! The bakery has locations in Annandale, Fairfax, Vienna, and Kingstowne. 
Taiwanese Shaved Ice - Cents Taro Family
📍 Fairfax

From Taiwan, enjoy a refreshing dessert made with shaved ice, sweet syrups, and a variety of toppings, such as fruit, beans, and mochi. At Cents Taro Family in Fairfax, the Taiwanese version of shaved ice is shredded so finely that it has a snow-like texture and is perfect for a hot summer day. Find unique toppings such as mung beans, lotus seeds, tapioca pearls, taro balls, and more. With cold and warm bases ranging from traditional to fruity flavors, it's the perfect dessert to beat the heat and satisfy your sweet cravings!
Baklava - Baku Delicious
📍 Fairfax 

By traveling all the way to the Mediterranean, you'll discover the Baklava from Baku Delicious in Fairfax. Baklava is a sweet pastry made with layers of filo dough, filled with chopped nuts, and sweetened with honey syrup. The layers of filo dough are crispy, while the nutty filling is sticky and sweet, creating a unique texture that's hard to resist. Baklava is an essential part of Mediterranean cuisine, and Baku Delicious serves it up perfectly. 
There you have it - a sweet journey around the world, right here in Fairfax County. From Hungary to Taiwan and Japan to France, there's a dessert for every corner of the world. So, the next time you're craving something sweet, be sure to try one of these international desserts from our local bakeries and sweet shops.