The Smithsonian's National Air and Space Museum on Washington, DC's National Mall is known throughout the world for the awe it inspires. In fact, with more than 7 million visitors each year, it's the most visited museum in our country. But because the experience is so special, there's something nobody really wants to admit—the Smithsonian's National Air and Space Museum Steven F. Udvar-Hazy Center in Chantilly is even bigger, less crowded, and more awesome.
There. I said it.
Not only that, but for the next few years, the museum downtown will be under renovation and some of its artifacts will be moved to the Chantilly location. What it all adds up to is that, if you could only choose one DC-area museum to see during your stay, you wouldn't want to miss the Steven F. Udvar-Hazy Center. [Note: the DC location will be closed until October 14, 2022, when half of its exhibits will reopen to visitors.]
As a travel tip, the Udvar-Hazy Center is 27 miles away from DC, next to Dulles International Airport, on the western edge of Fairfax County. Many visitors to the region fly into Dulles and visit the museum on their way in or out of town. Not that you couldn't make it a day trip during your stay—the museum is so vast; it will take you an entire day to see it all anyway. But if you're flying into Dulles Airport, it would be a shame to miss the convenient opportunity. (From ground transportation, hop the Fairfax Connector No. 983 bus one stop to the museum.)
And with that, here is our list of 10 things you must see and do at the Steven F. Udvar-Hazy Center: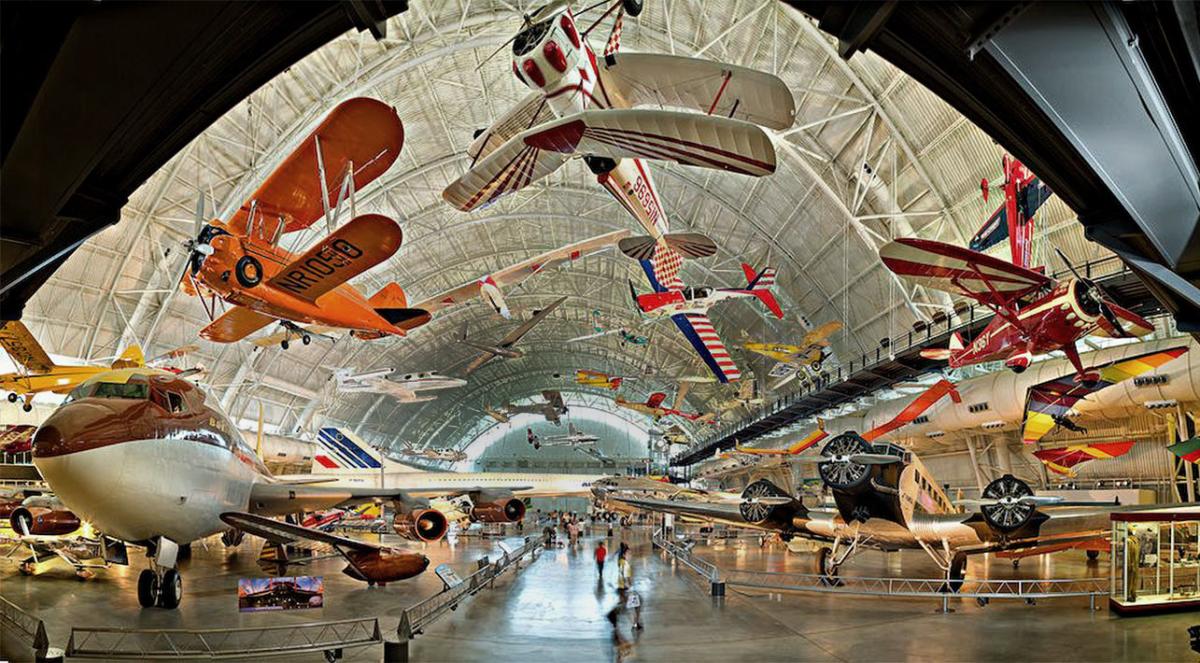 See the exhibits.  ​Made up of two large aviation hangars totaling over 760,000 square feet, the Udvar-Hazy Center is home to some of the world's most renowned aerospace artifacts, including the Space Shuttle Discovery, the World War I-era Sopwith Camel, and the Enola Gay. The museum is arranged in different exhibits covering every nuance of aviation and space flight, from satellites, balloons, and personal planes to commercial, business, wartime, and exploratory flight.

Talk with the Docents.  The Udvar-Hazy Center has several "spotlight" stations set up both in-person and virtually throughout the museum that allow you to speak with aviation experts each day. Many of these docents are retired military and civilian pilots and aviation specialists who love to share their knowledge and first-hand insights. (Currently, tours are offered for groups of 10+ with advance reservations.)


 
Discover new things.  From kid-friendly discovery stations where you can touch a spacesuit to science demonstrations that explain flight, there's plenty new to learn. For instance, did you know the Enola Gay was named after the pilot's mother? Or that the Discovery made a record 39 trips into space and back? After your visit here, you'll be better prepared for Trivia Night, that's for sure!
 
Attend an event.  You don't have to be well connected to snag an invite to an event at the Udvar-Hazy Center. Just keep your eye on the museum's event page to learn about lectures, open houses, family events, and the very popular Air & Scare Halloween event.


Watch planes take off.  At the Donald D. Engen Observation Tower, you'll not only see exhibits about the U.S. air traffic control system, but you'll also get a bird's eye, 360-degree view of the planes landing and taking off at Dulles Airport.
 
MAX your trip out.  You haven't experienced film until you've seen one projected on a screen five stories high with six-channel digital surround sound. The Airbus IMAX Theater plays films that take you into the air and into space in the most engrossing and all-encompassing ways. They even show major motion pictures after hours. If you want to escape the earth for a while, the Airbus IMAX Theater will graciously comply.


 
Experience flight.  Travel into space, past planets and stars, until you reach the black hole in the middle of the Milky Way. Fly combat sorties and perform a 360-degree barrel roll. Or engage in a dogfight with the Red Baron. The museum's ride and flight simulators will make you feel like you're actually there!
 
Watch a restoration.  The Mary Baker Engen Restoration Hangar is where the museum's priceless artifacts are reconstructed, repaired and preserved. You can observe restoration projects in progress from a glassed-in mezzanine.
 
Bring home a memento.  The museum boasts a good-sized gift shop with everything from tees, toys, and books to high-end decorative and clothing items, all with an aviation theme. Personally, I can't pass a Smithsonian museum shop without stopping in. They find such lovely and interesting things to offer up to shoppers.
 
Devour some burgers.  Food service has returned to the Udvar-Hazy Center, with the opening of a Shake Shack - the very first to be located within a museum. The fast-casual restaurant serves up burgers, chicken, hot dogs, fries, shakes, floats, and other yummy beverages including the exclusive "Out of this World" shake and "Constellation Crunch" concrete. You'll also find quick picks like salads, sandwiches, wraps, fruit, and other snacks. Plan ahead by browsing the menu here.
 
One last note. In the Smithsonian spirit, admission to the National Air and Space Museum Steven F. Udvar-Hazy Center is free. However, some attractions inside, like the IMAX movies and simulator rides, charge a fee. And parking costs $15 before 4pm (free after 4pm). Hours are 10am-5:30pm, 7 days a week.

Share your favorite experiences and activities from the Udvar-Hazy Center with us in the comments below or join the conversation on social media using #FXVA and @VisitFairfax.