We know. Last year didn't quite turn out the way we all hoped it would, did it? But, it's a new year and that means a fresh start and a renewed perspective. Luckily, even despite the ongoing challenges we collectively face, there are lots of new things to look forward to here in Fairfax County this year.
Here's a preview of what's to come. What are you most looking forward to?
 
New Openings
From new attractions to new infrastructure (transportation! skyparks! oh my!), Fairfax County will see the openings and (reopenings) of several great spots to add to your must-list in 2021.
For the first time since Dulles Airport opened in 1962, travelers will have a fast, easy, inexpensive rapid transit option for getting from Dulles to parts of Fairfax County and other points throughout Northern Virginia and Washington, DC when the Silver Line Metrorail extension opens - sometime this year!
The Turning Point Suffragist Memorial will unveil the long-awaited national memorial to the women's suffrage movement in spring 2021. After construction delays due to COVID-19, the final stages of the project are moving forward and the site will be a welcome addition to the area, which also is home to the new Lucy Burns Museum at the Workhouse Arts Center – a pivotal location in the fight for women's voting rights and the passage of the 19th Amendment.
Although it officially opened in November 2020, the pandemic has temporarily closed the National Museum of the United States Army. So in 2021, we look forward to the grand (re)opening of one of USA Today's Best New Attractions. The site is the first and only museum to tell the complete history of the U.S. Army in its entirety. Here are 10 must-see exhibits to check out when the museum re-opens.
Capital One Center will debut in 2021 as a new mixed-use, Metro-accessible entertainment epicenter in Tysons, featuring a hotel, performing arts venue, retail, and a 1.2-acre skypark that brings green space, a biergarten, dog park, public art, and a pop-up food truck experience (yes, they will be craning the trucks up!) to the area.
Fun Land of Fairfax is Northern Virginia's new premier entertainment venue, offering hundreds of arcade games, laser tag, Hologate virtual reality, a ropes course, a clip 'n' climb course, and go-karts. Plus, an extensive food and beverage menu awaits you for game days at the adjacent Tailgaters Sports Grill.
Cheers to Beer (and Wine)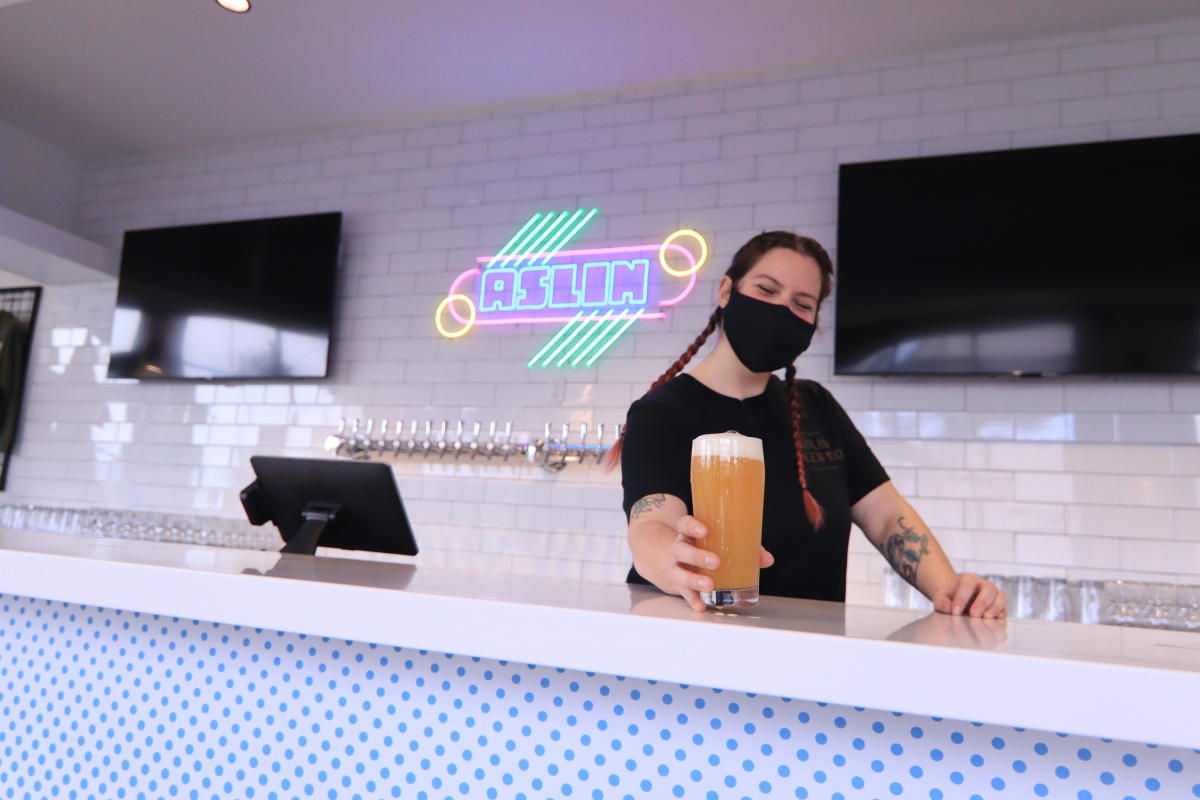 Image courtesy Aslin Beer Co.
Fairfax County is already lucky to have a number of incredibly unique craft breweries available to visitors and residents (do you have your Field Guide yet?), but the area's beer scene is getting just a little bit bigger this year!
The highly anticipated new taproom from cult-favorite brewery Aslin Beer Co. just opened in the Town of Herndon, featuring a modern tasting room and a rooftop terrace. When weather permits, the outdoor beer garden also offers a nice setting to enjoy the brewery's one-of-a-kind lineup of IPAs and sour concoctions.
G34.3 Brewing is one of the newest taprooms in Fairfax County, filling the Lorton space left behind by Forge Brew Works, and offering a variety of brews that challenge your perception of what a beer style is. What's with the name? G34.3 is the largest cloud of ethanol in the universe – enough to supply 300,000 pints of beer to every person on Earth, every year, for the next billion years. Sounds good to us!
You may have seen Honor Brewing Co.'s cans for sale at various grocery stores or beer shops in the area, but this year, you will finally be able to enjoy their brews at their new taproom in Chantilly. Have Their beer is a tribute to the men and women who have served this country and they frequently partner with Veteran organizations to honor those lost in war.
Coming in spring of 2021 will be the latest Fairfax County brewery to join the scene. A retiring Fairfax County firefighter will open Bunnyman Brewing in the Burke area, and yes, will be located near the infamous road associated with the Bunnyman urban legend.
If you have a hole in your heart left by the closure of Tysons Biergarten, fear not! The masterminds behind that successful venture are opening not one, but two new beer-forward experiences in Fairfax County this year. ShipGarten will be Northern Virginia's first roaming outdoor lifestyle experience located in Tysons, featuring four separate food and drink experiences, each being served up out of a 40-foot shipping container surrounded by a quintessential biergarten, family area, fenced-in dog park, and entertainment venue. Plus, in Herndon, the Herndon Biergarten – coming late 2021 – will plunge you into a traditional Bavarian-style biergarten with a 2,000-sq-ft bier hall, 60+ drafts on tap, an 11,000-sq-ft outdoor patio and rooftop deck, plus a whiskey tasting menu for our spirited friends.
And let's not forget about the wine! Woodlawn Press Winery is a new family-owned micro-winery in the southern part of Fairfax County that makes and bottles its own varietals and fruit wines. They offer a variety of custom blends, pre-packaged Tasting Flights, and additional treats like vinegar, olive oils, chocolates, and honey in their shop. They also host classes and tastings and other events throughout the year.
New Tours & Experiences
Embark on a chocolate-fueled journey, bury some hatchets, or dance under the stars during a celebratory anniversary at one of the area's most beloved music venues. 
The Fairfax County Chocolate Safari was launched in December 2020 as a fun way to support local restaurants through the winter. Chefs and restaurateurs submitted a menu item made with the ultimate comfort food – chocolate! See the map and gallery of chocolately deliciousness right here.
In June 2021, everyone's favorite National Park-meets-music venue turns 50! Did you know that Wolf Trap is the only National Park in America dedicated to the performing arts? Check back for details on anniversary events and activities!
River Sea Chocolates, Fairfax County's only chocolate factory, now offers intimate Bean-to-Bar tours. Sign up for this limited capacity opportunity to see exactly how this little shop's delicious chocolates are made! (And yes, samples are included!)
Stumpy's Hatchet House will be bringing a new axe-throwing experience to Fairfax this year, one of the first locations in Virginia. Hatchet throwing offers a mix of adventure, friendly competition, and stress-free fun. Stumpy's joins Bad Ax Throwing, which opened in Merrifield, last year.
New Digs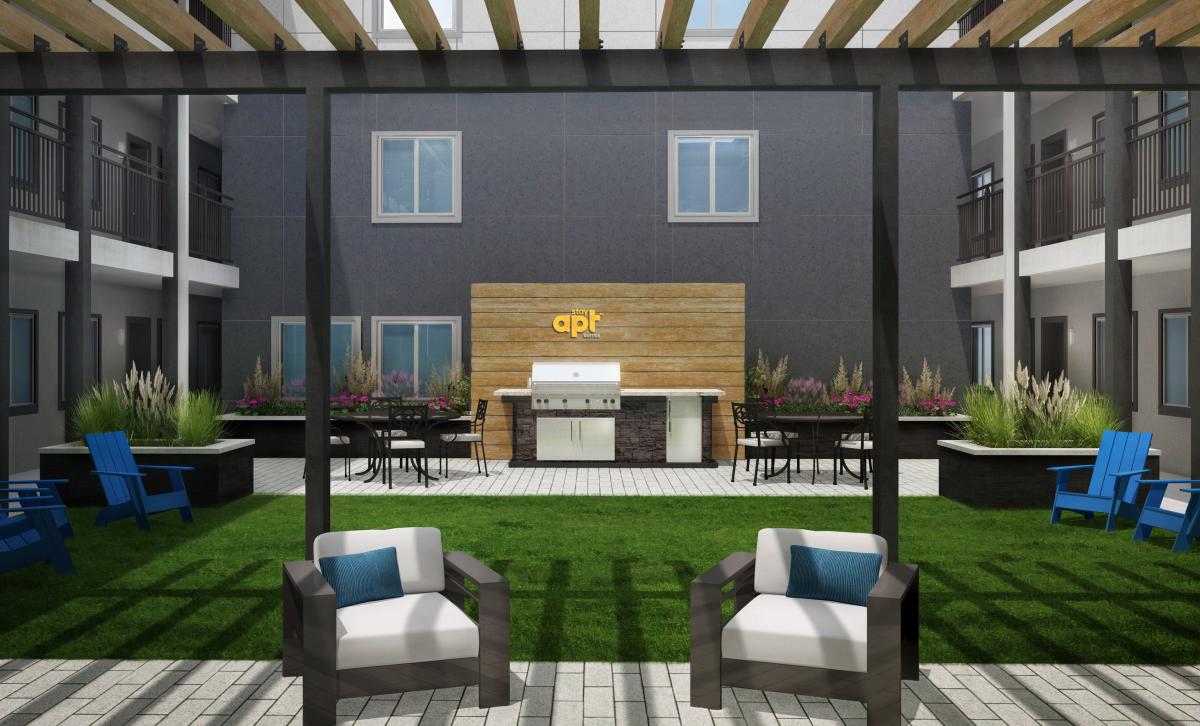 Image courtesy stayAPT Suites
Several new hotel properties have recently joined – or will be joining – the 100+ other hotels in Fairfax County. Be sure to add these booking links to your trip planning notes, or share them with friends and family.
The Archer Hotel Tysons will open in the summer of 2021 with seven stories, 178 rooms, polished event spaces and a rooftop terrace. The brand brings an independent spirit, sense of sophistication and consummate hospitality to the area.
The Watermark Hotel in Tysons will be located adjacent to the brand-new Capital One Center campus. An expected opening is set for fall of 2021.
stayAPT Suites is one of the very first of its (new) brand to open in the U.S., with a location adjacent to the new National Museum of the U.S. Army at Fort Belvoir. This extended-stay property has 73 suites, which include a living room and full kitchen. The hotel also includes a courtyard with a fire pit, onsite laundry, and a gym.
Homewood Suites by Hilton Reston brings 138 suites to the Reston area of Fairfax County and includes studios, one- and two-bedroom suites with separate living spaces.