Throughout the summer of 2019, Fairfax County's first permanent "LOVEwork" sign is on tour and is set to travel around to some of our most popular attractions that represent the eclectic visitor experiences found here. We're now on tour stop number 9, and eventually, the sign will find a permanent home at the Workhouse Arts Center in Lorton. Once there, the letters will be creatively "bedazzled" by several of the artists-in-residence at the Workhouse, making the new Fairfax County "LOVEwork" sign a unique piece of art that visitors will enjoy for years to come.
The current stop on the "LOVEwork" tour is Wolf Trap! This acclaimed National Park for the Performing Arts is welcoming the "LOVEwork" sign on the grounds of the beloved Filene Center from July 12-July 24 where it will greet arriving concertgoers with the perfect opportunity for a photo op.  While the "LOVEwork" sign is there, you can plan your visit around one of the amazing performances they have on their summer concert schedule.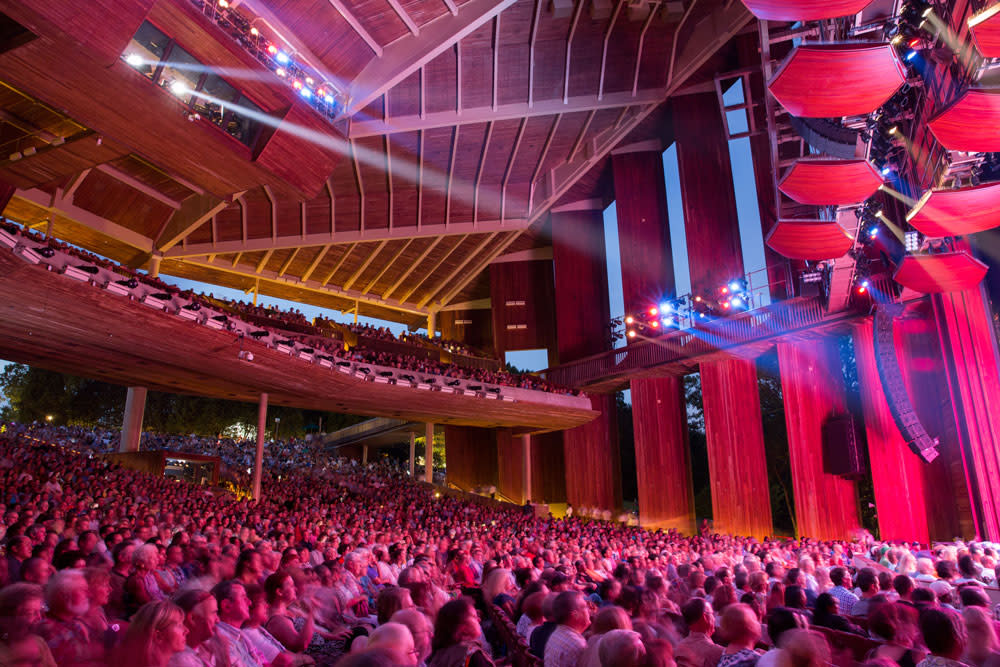 Image courtesy Wolf Trap
And make sure that if you do visit and snap a sweet pic of the LOVE letters, upload them here or post them to social media using the hashtags #FXVA, #SHAREWHATYOULOVE, and #LOVEVA.
 
General Information
LOVEwork Sign Dates: Friday, July 12 - Wednesday, July 24, 2019
Location: The "LOVEwork" sign will be located near the entrance of the Filene Center at 1551 Trap Rd, Vienna, VA 22182.
Cost: Access to the "LOVEwork" sign is free as it is located outside the gates; admission cost to the concerts taking place in the Filene Center varies.  Check Wolf Trap's website for concert lineup and ticket prices.
Things To Know About Wolf Trap
You Can Bring Food and Drink to a Concert -  If you get lawn seats to a concert at the Filene Center, you can bring along a blanket and the food and drink (alcohol is okay, just no kegs) of your choice. This is a great way to take in a performance under the stars and is something that makes attending shows here truly unique.   
There is a Restaurant Onsite  - Dine onsite at OVATIONS by America Eats, presented by José Andrés' ThinkFoodGroup. Concertgoers will enjoy a scenic view of the green meadow and the Filene Center at Wolf Trap while dining on a buffet of American classics. Make a reservation or call 703.255.4017 for additional information. Buffet is $45 per adult and $22.50 for children 10 and under.
The Filene Center Plays Host to a Unique Variety of Performances - While the "LOVEwork" sign is there, the Filene Center is hosting performances ranging from hip-hop legend Nas and Nickelodeon superstar JoJo Siwa, to the timeless Sheryl Crow, and the iconic Lionel Richie. Check the Wolf Trap schedule and see all their upcoming performances. 
There is a Children's Theatre Too - Wolf Trap's Children's Theatre-in-the-Woods plays host to fun and engaging performances for kids all summer long.  This magical venue is located adjacent to the Filene Center and is the perfect way to introduce your mini-me to the wonderful world of music.
The Fun Doesn't Stop When Summer Ends - The Barns at Wolf Trap is a popular night spot for DC area music lovers. At 382 seats, it allows audiences to experience top-notch artists in an intimate setting. You'll find more than 80 performances annually between October and May, everything from jazz greats to chamber musicians to legendary folk singers.  In summer, The Barns is home to the Wolf Trap Opera.
Filene Center at night, courtesy Wolf Trap  
Where the LOVEwork Sign Goes From Here
Next up on the LOVEwork tour is Frying Pan Farm Park.  While the "LOVEwork" is there, you'll have the opportunity to see it during the 71st Annual 4-H Fair and Carnival taking place from August 1 - 4. So if you can't make it to Wolf Trap, we hope to see you at one of the remaining stops instead:
July 26 – August 4: Frying Pan Farm Park
August 6 and beyond: Workhouse Arts Center
Fairfax County is great because of you, visitors and residents alike. Your support of our local community makes this all possible. Help us showcase our greatness:  We'll post our favorite images of you and your Instaworthy "LOVEwork" snaps on our official LOVE page, where you can also find the sign's summer-long tour dates and locations.
If you see our LOVEwork sign during its journey across the county, don't be shy, take a picture with it and upload your images here.