There are historic homes you tour and cross off your list. And then there are historic homes you return to time and again because there are so many fascinating things to learn and do. Woodlawn & Pope-Leighey House fits into the latter category.
To begin with, it's not just one historic home. It's two, built 135 years apart, but each with its own compelling story to tell. And the property also includes a farm to fight food insecurity. In fact, I have been to Woodlawn & Pope-Leighey House twice now and still haven't taken a traditional house tour. Of either house.
Instead, I came for those parts of me that intersect with the property's history. And that's the really beautiful part of Fairfax County's historic homes and sites. They go beyond history at face value to engage visitors with their passions. The seasonal wine tours at George Washington's Mount Vernon sell out immediately. The Air & Scare Halloween events at the Udvar-Hazy Center are at the top of every child's list. And, year-round, the Workhouse Arts Center is also home to one of the most striking and definitive tales of suffrage and the woman's right to vote. So when you visit Woodlawn & Pope-Leighey House in the future, keep in mind there's so much more to do than just the house tours alone.
 
Woodlawn Estate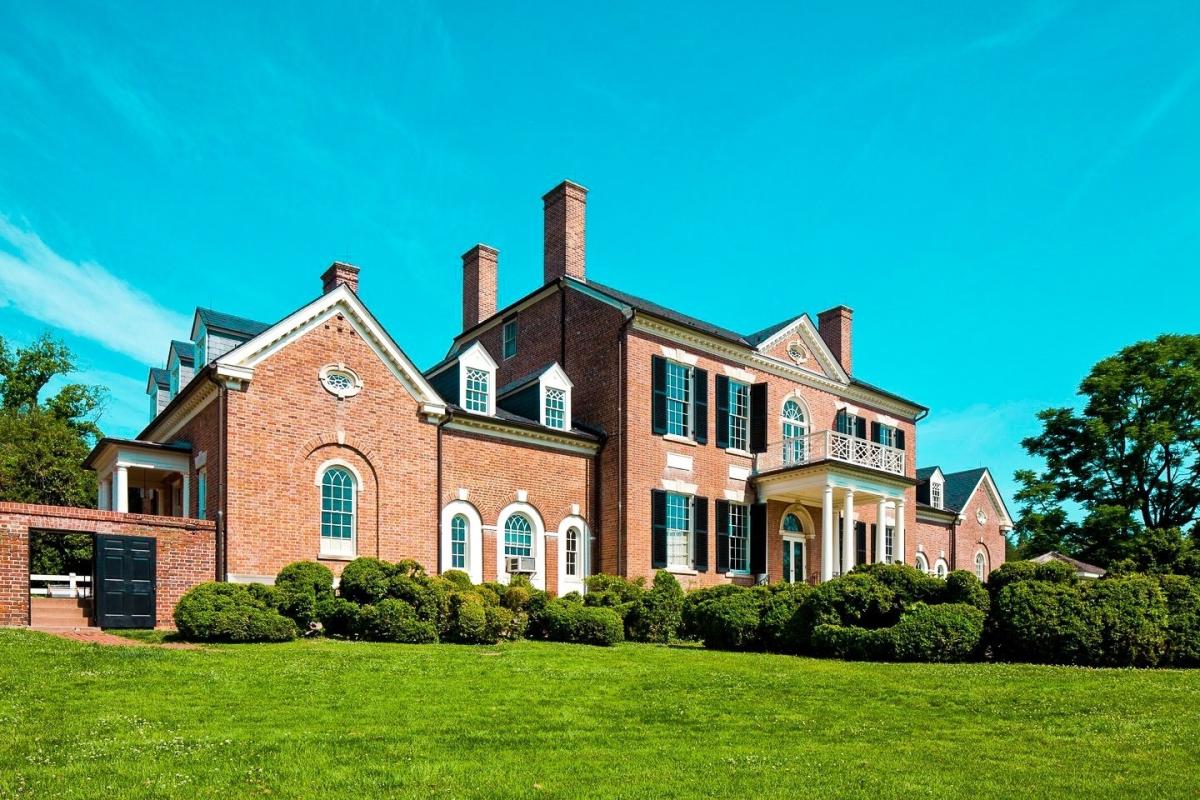 Image courtesy Woodlawn & Pope-Leighey House
History
This 1805 Federal-style mansion has a pedigree reaching back to George Washington—it was a gift to Eleanor (Nelly) Park Custis, Martha Washington's granddaughter who was raised at Mount Vernon. George himself helped design it on a parcel of his own property, along with Dr. William Thornton, who designed the U.S. Capitol. The house is dripping in American history, which you can read about here. The home is a National Historic Landmark and the first site ever owned and operated by the National Trust for Historic Preservation.
Events
That rich history is what shapes the kinds of tours, classes and events you can attend here:
Textiles and Needlework. Nelly Custis was gifted at needlework and each March, the month is set aside for the Annual Needlework Show, a nationally recognized, judged exhibition and competition. Hundreds of pieces of heirloom quality needlework, both current and historic, are on display throughout the mansion. In that setting, the generational and traditional aspects of cross stitch are unmistakable. While that show is epic, you can also expect programs on embroidery, textiles, quilting, and other handwork peppered throughout the year.
Black and Indigenous History. In Nelly's time, black people were enslaved at Woodlawn. In 1846, Quakers bought the property, setting up a rare island of peace in a hotly contested region during the Civil War. The land, well within Confederate territory, was a haven for free blacks, who earned pay for the work they did on the plantation. Woodlawn does a series of educational programs and poetry readings throughout the year to make the voices of the free and enslaved tenants heard. You can also find Black history incorporated into other programs, just as the people were included in the farm and Quaker lifestyle. At this year's Needlework Show, among other Afrocentric presentations, you could sit and chat with an Afrofuturist who was hand-sewing a traditional garment from Osnaburg cloth, commonly worn by the enslaved.
Dramatic Arts. The refinement of life at Woodlawn makes it a great venue for poetry readings and theatrical presentations. Check Woodlawn's events to see what might be playing during your visit.

Frank Lloyd Wright's Pope-Leighey House

Image courtesy Instagram user @klucien237
History
In the 1930s, iconic American architect, Frank Lloyd Wright, set his sights on building affordable, middle-class residences. More than 100 of these Usonian masterpieces were built before Wright's death in 1959. One was the Pope-Leighey House in Falls Church, named after its first two owners. When the Interstate-66 expansion threatened the home, Mrs. Marjorie Leighey gave it to the National Trust, which moved it to Woodlawn. Mrs. Leighey lived in that home on the Woodlawn property until her death in 1983. Today the Pope-Leighey House is the only Frank Lloyd Wright home on regular display in the National Capital Area.
Events
In addition to standard tours and private events, the Pope-Leighey House inspires lectures and events on topics such as:
History and Architecture. Throughout the year, guest lecturers give presentations on the history of the property and the techniques used throughout the house to make it stand out. One notable example is that it was built by a cabinetmaker, not a homebuilder. So the extensive woodwork inside is incredibly precise and masterful. These discussions go beyond the tours to reveal details you won't find anywhere else.
Frank Lloyd Wright. The architect was known for his ego, his control issues, and the tragedies that marked his life. He is a fascinating and brilliant character to learn about. Join experts at occasional events that focus on the man—the force of nature—that is Frank Lloyd Wright.
Twilight and Tipple Tours. See the Pope-Leighey House in a different light…twilight. Observe how the home changes character with the passing of the day and enjoy a glass or two of wine while you are at it.
Arcadia Center for Sustainable Food & Agriculture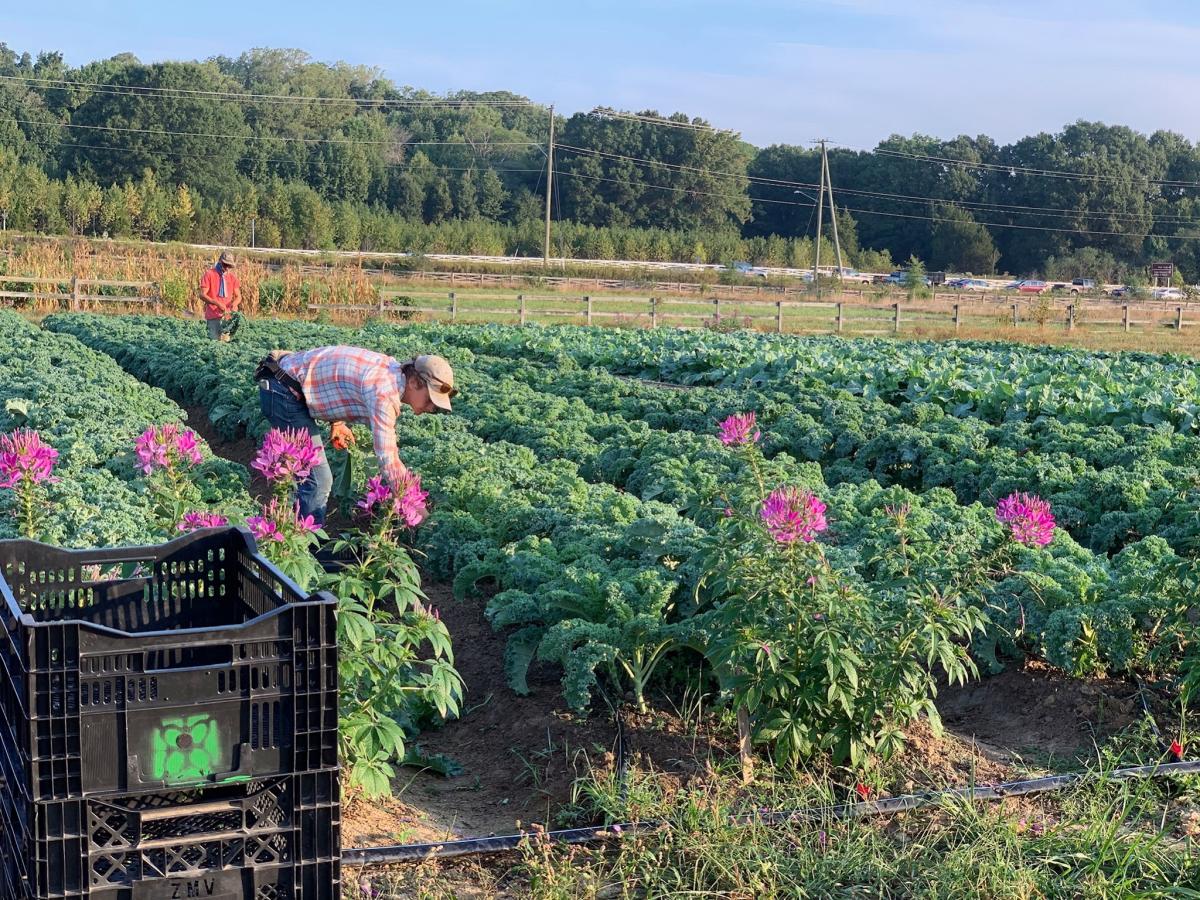 Image courtesy Arcadia Center for Sustainable Food & Agriculture/Facebook
With a nod to Woodlawn's farming background—from George Washington to the Quakers—Arcadia is a working farm on the historic site. In a unique partnership with the National Trust for Historic Preservation, Arcadia Center for Sustainable Food & Agriculture has four distinct program areas, each of which serves a segment of the community:
Arcadia Farm. This four-acre demonstration farm presents a sustainable model of agriculture to new farmers, students, children and the public through hands-on engagement.
Arcadia's Mobile Markets. The Mobile Markets are farm stands on wheels, bringing the fresh produce from Arcadia Farm to food deserts and the underserved in the National Capital Area.
Veteran Farmer Program. Our nation needs more farmers. Veterans are 45% more likely to start their own businesses. And they have the physical strength to farm. Arcadia brings all of that together in a program to teach and mentor new farmers.
Farm & Nutrition Education. These programs teach children about farming and gardening because, if children learn where their food comes from and how to grow it, they will be more likely to consume fresh, healthy foods.
Keep tabs on Arcadia and Woodlawn's website for special events, like an annual Farm to Table dinner, and special ways that you can volunteer on the farm during your travels.
Tours, Information and More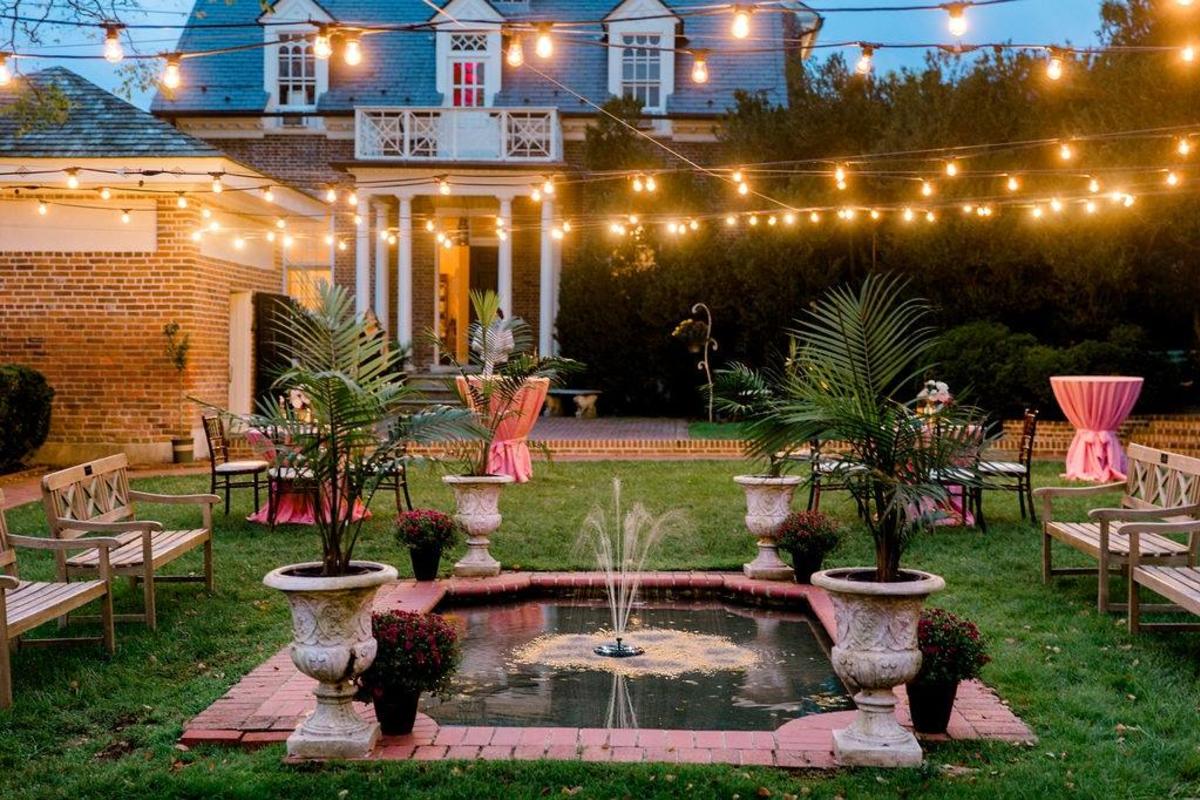 Image courtesy Woodlawn & Pope-Leighey House/Facebook
Woodlawn & Pope-Leighey House FAQs
Does Woodlawn & the Pope-Leighey House offer tours?
Get a guided tour of Woodlawn Estate, the Pope-Leighey House or both. Each property has its own unique story to tell from the standpoint of architecture, craftsmanship, and its own origin. And just try to think of any other site in the world where you can find two designers as notable as Washington and Wright on the same property!
Are there any deals or coupons to use for the Woodlawn & the Pope-Leighey House?
Get the Potomac Banks Saving Pass! This value-packed pass includes admission to four historic homes and up to 20% off tours, gifts and other pursuits in southern Fairfax County, which has been newly rebranded as Potomac Banks. 
Is there a gift shop for souvenirs or gifts?
The Woodlawn Estate contains a gift shop with books about needlework and Frank Lloyd Wright, as well as gifts and mementos marking your trip.
Am I able to host a private event at Woodlawn & the Pope-Leighey House?
Yes! With spectacular grounds, a dramatic staircase, and a legacy borne of love, Woodlawn Estate is the picture-perfect venue for weddings of up to 250 people. For ceremonies of fewer than 20 and receptions of up to 80, the Pope-Leighey House makes a striking backdrop for nuptials. Both homes also make unforgettable venues for meetings and corporate gatherings.
Leave time in your schedule to really capture the essence of the site.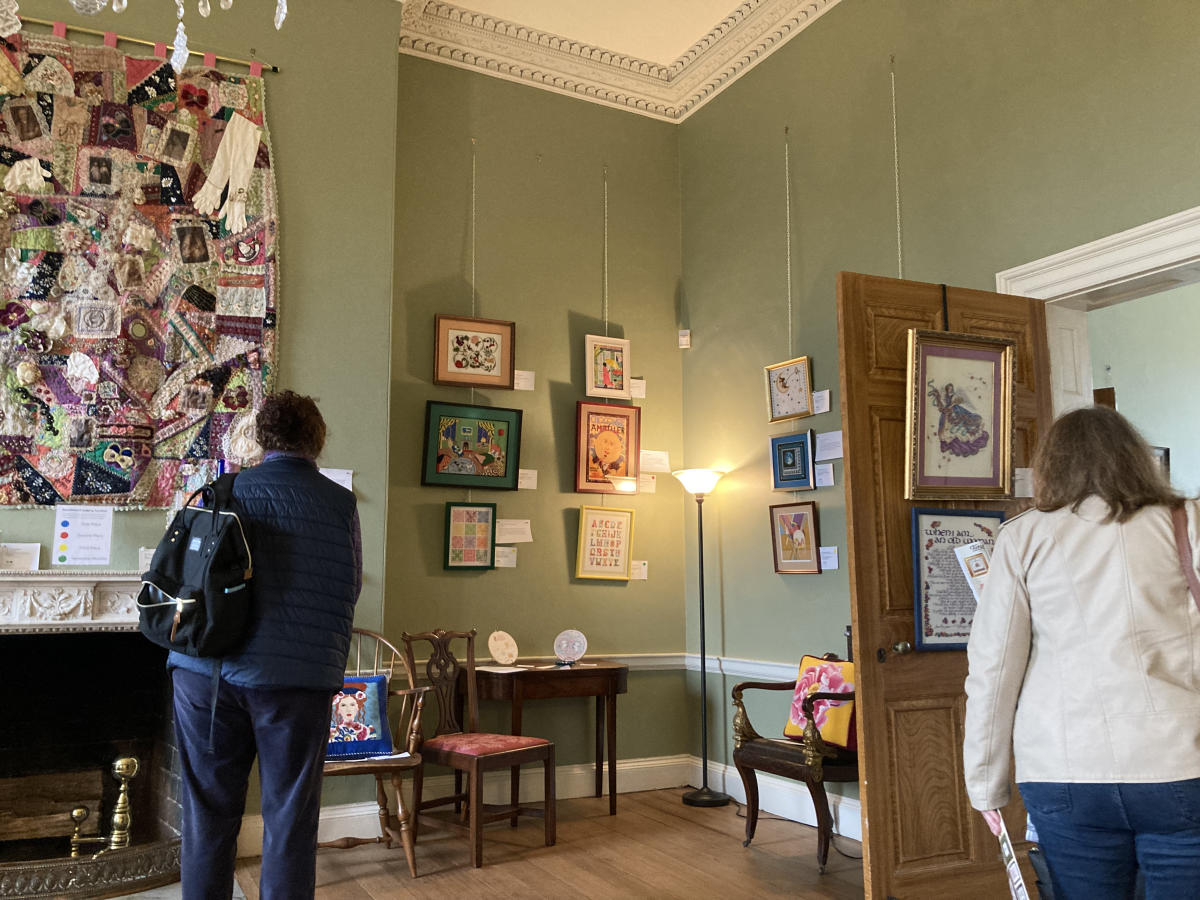 Image courtesy Tierney Sadler
So that's a lot to see and do and realize about Woodlawn & Pope Leighey House. But that's the point. The historic sites and attractions in Fairfax County are never just one thing. Museums are event sites. Artist colonies have prison history. And historic homes often have multiple stories to tell.
At Woodlawn & Pope-Leighey House, the story goes beyond the tale of a founding father and his step-granddaughter. It's also about the struggle for freedom in a time of slavery. A second chance for a Usonian home and its owner. And creating something beautiful with your hands, whether it's needlework, an iconic home or vegetables for the hungry. Put Woodlawn & Pope-Leighey House on your itinerary and leave time to see it all!
Woodlawn & Pope-Leighey House is open now for the Needlework Festival and reopens for tours on April 15 through December 12, 2022.