At long last, the 2020 Summer Olympics will kick off in Tokyo, Japan on July 23, 2021. Originally scheduled for last summer, the Games were postponed due to the COVID-19 pandemic – the first time ever this has happened. (There have been three cancellations in history, all due to the two World Wars. But the Games have never been postponed and rescheduled until now.)
While a decision has been made to omit spectators from the stands due to the ongoing pandemic, athletes from all around the world will finally get the chance to compete for the globe's biggest athletic distinction.
In honor of the Summer Olympics, there are several athletes competing this year in Tokyo with ties to our region. Here is a bit more about them, as well as a look back at a few other famous athletes from Fairfax County.

Competing in Tokyo 2020

Claire Collins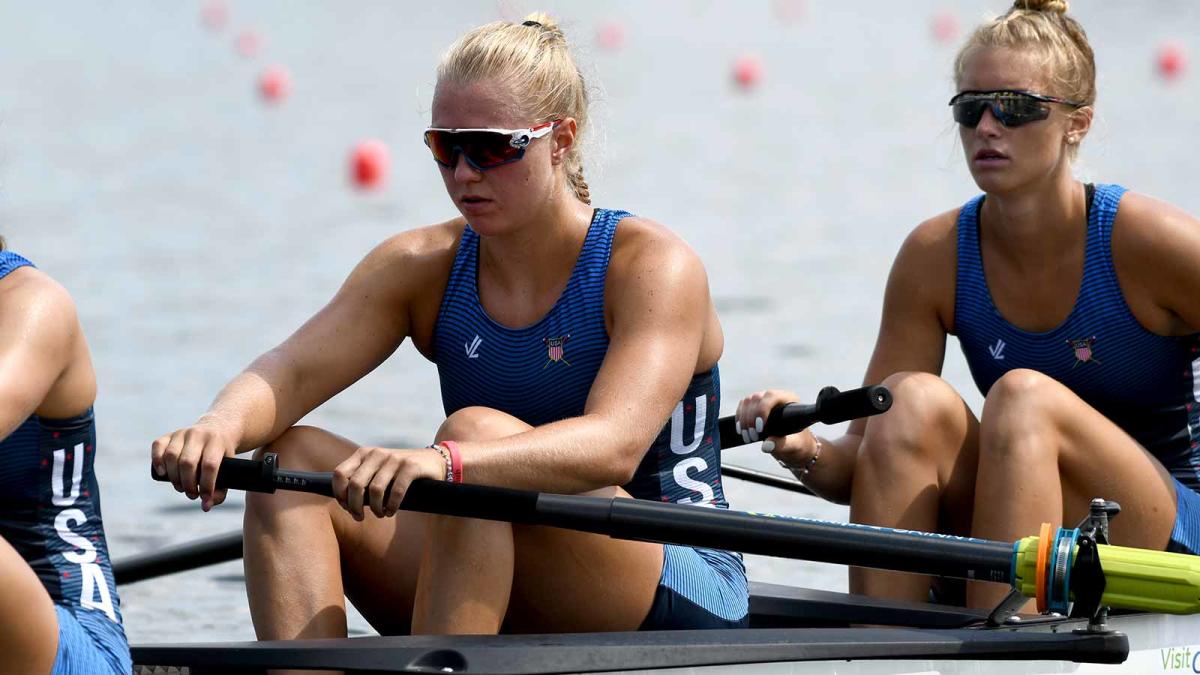 Image Courtesy US Rowing
Sport: Women's Four Rowing
Fairfax Connection: From McLean, VA
Fun Fact: After nearly 30 years, women's four rowing will return to the Olympic games. Claire is a multi-medalist in a variety of prestigious national and international competitions, including the World Rowing Championships.
More about Claire

Lucas Kozeniesky
Sport: Rifle Shooting
Fairfax Connection: Attended Robinson Secondary School in Fairfax, VA
Fun Fact: Lucas previously competed at the Olympic Games in Rio de Janeiro, Brazil in 2016. In his spare time, he also opened his own consulting business focused on supporting youth athletes.
More about Lucas
Update: Lucas took home a Silver Medal in the Mixed 10m air rifle match in Tokyo.

Andrew Seliskar
Sport: Swimming
Fairfax Connection: From McLean, VA and graduated from Thomas Jefferson High School for Science and Technology
Fun Fact: Andrew is a butterfly and medley specialist in swimming and broke the national high school record for the 100-yard butterfly in 2014. Outside the pool, he's a musician and is a big fan of the Washington Football Team.
More about Andrew

Trevor Stewart
Sport: Track & Field
Fairfax Connection: From Lorton, VA; Attended South County High School
Fun Fact: Early in high school, Trevor switched focuses from karate to track and field and was runner-up in the 400m at the 2019 NCAA Championships.
More about Trevor
Update: Trevor took home a Bronze Medal in the 4x400-meter mixed relay in Tokyo.
 
Chioma Onyekwere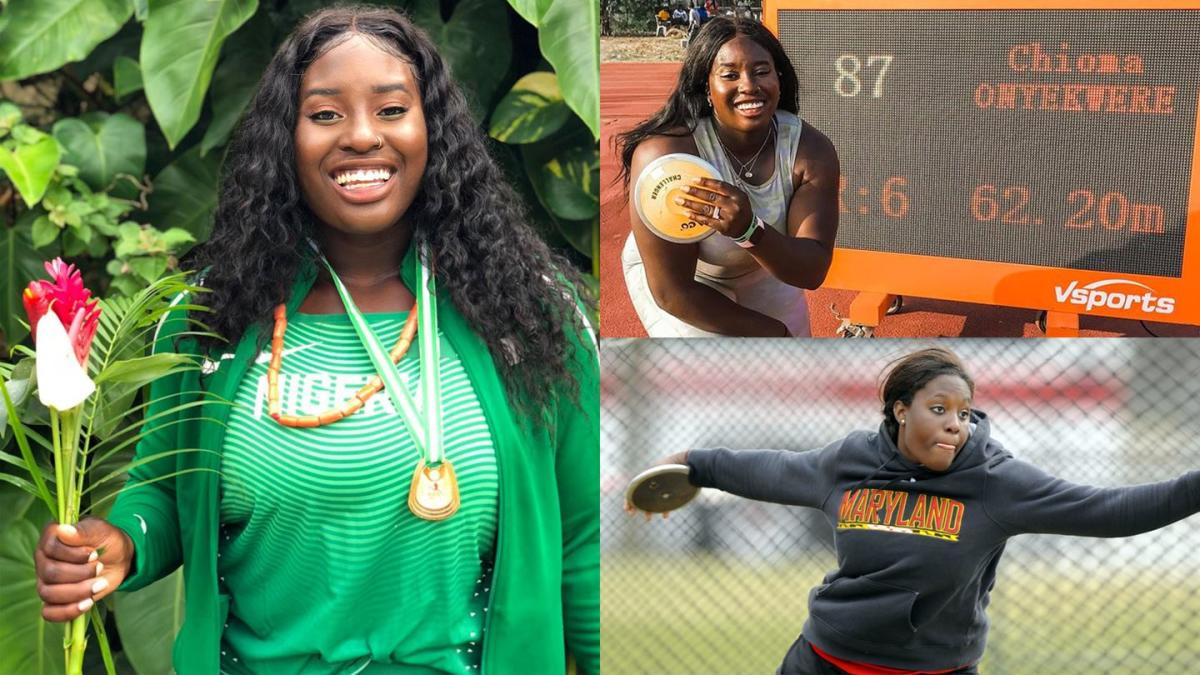 Image Courtesy University of Maryland Athletics
Sport: Women's Discus Throw
Fairfax Connection: Attended Robinson High School in Fairfax, VA
Fun Fact: This dual-citizen was born in Michigan, but grew up in Nigeria before returning to the States and attending high school in Fairfax County, where she ran track. In college at the University of Maryland, she became a record-breaking shotput and discus throw athlete. She currently holds the Nigerian National Record for the discus throw and will represent Team Nigeria at this year's Games.
More about Chioma
Update: Unfortunately, Nigeria failed to meet minimum testing requirements leading up to the Olympics, which caused several athletes to be disqualified from competing.
More Notable Olympian Athletes with Ties to Fairfax County

Grant Hill
Sport: Men's Basketball
Fairfax Connection: Grew up in Reston, VA; Attended South Lakes High School
Fun Fact: Grant Hill played for five USA Basketball teams, winning two gold medals and one bronze medal. In the NBA, he played for four teams during his nearly 20-year professional career and was a 7-time NBA All-Star. He was inducted into the Basketball Hall of Fame in 2018. After the Tokyo Olympics, Grant Hill will become the Managing Director of the USA Men's National Team.
More about Grant Hill

Mia Hamm
Sport: Women's Soccer
Fairfax Connection: Attended Lake Braddock Secondary School in Burke, VA
Fun Fact: In 1989, Mia Hamm played for Lake Braddock Secondary School, helping to lead the soccer team to a state championship. Today she is arguably one of the world's most famous athletes, having won two FIFA Women's World Cup titles and two Olympic gold medals in her career. She continues to be one of the most pivotal forces in the growth of women's professional soccer, was a founding member of the first professional women's soccer league in the U.S., and was the first woman to be inducted into the World Football Hall of Fame.
More about Mia Hamm

Allen Johnson
Sport: Track & Field
Fairfax Connection: Attended Lake Braddock Secondary School in Burke, VA
Fun Fact: Allen Johnson is a three-time Olympian who took home the gold medal in the 1996 Summer Games at the 110m hurdles event and is a four-time gold medalist in the IAAF World Championships in Athletics. He officially retired in 2010.
More about Allen Johnson

Alan Webb
Sport: Track & Field
Fairfax Connection: Attended South Lakes High School in Reston, VA
Fun Fact: Alan Webb represented Team USA in the 2004 Summer Olympic Games in the men's 1500m race and still holds the American national record in the mile, with a time of 3 minutes. He retired from the sport in 2014.
More about Alan Webb

Michael Weiss
Sport: Figure skating
Fairfax Connection: Attended Woodson High School in Fairfax, VA
Fun Fact: From a family of champion figure skaters, Michael Weiss is a two-time Olympian, a two-time bronze medalist in the World Figure Skating Championships, and a three-time national champion who was inducted into the U.S. Figure Skating Hall of Fame in 2018.
More about Michael Weiss

Do you know of other famous athletes from Fairfax County? Tell us in the comments below or join the conversation on social media using #FXVA and @VisitFairfax. Be sure to tune in to the 2020 Summer Olympic Games in Tokyo from July 23 through August 8, 2021 to see if any of these athletes bring home gold!