Bike riding is a heart-pumping way to get to know any destination you visit and Fairfax County's endless trails - both paved and unpaved, steep and flat, kid-friendly and expert-level are ready for your wheels to traverse. 
Here is a selection of the best trails in each category, no matter if you have a road bike, a mountain bike, or a kid-size bike. 

PAVED BIKE TRAILS

Washington & Old Dominion Trail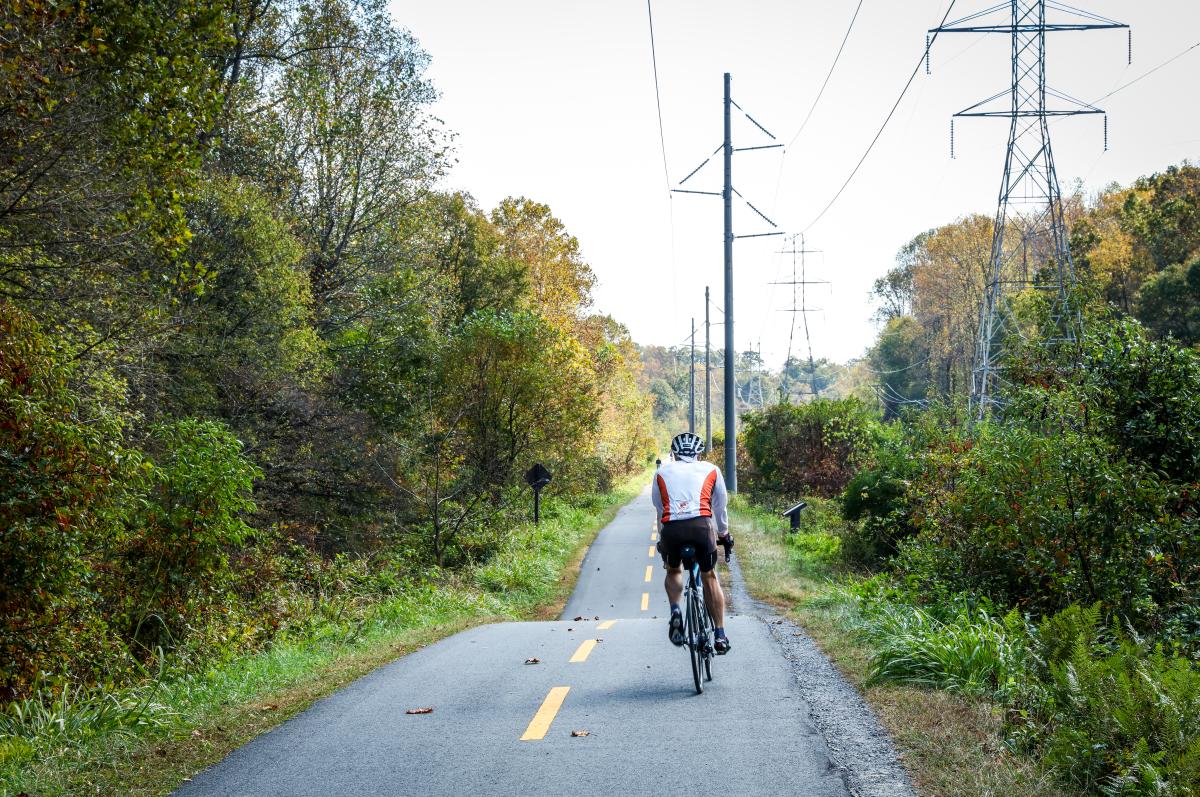 Courtesy NOVA Parks
Access: Trailhead and parking access in Vienna, Reston, and Herndon (within Fairfax County). Trail Map
Description: The 100-foot-wide Washington & Old Dominion Trail is "the skinniest park in Virginia." It's also one of the longest parks - 45 miles of paved trail ideal for bicycling, walking, running, and skating through three jurisdictions. Built on the roadbed of the former Washington & Old Dominion Railroad, the W&OD Trail runs through the heart of Northern Virginia and into the countryside toward Leesburg and Purcellville. There are even sections of the trail set with gravel, perfect for horseback riding.
What you need to know: There are an impressive number of breweries, restaurants, historic sites, gardens, public art, and other points of interest worth stopping at along your ride, many of which cater to the biking audience. Check out this guide of everything to do along the W&OD Trail.
Mount Vernon Trail
 

Access: Parking is available at every site along the trail except Lady Bird Johnson Park and Navy-Marine Memorial. Trail Map
Description: This 18-mile-long paved trail follows the path of the Potomac River and offers one of the most scenic views of the Washington, DC metro area as it passes through three different jurisdictions. This trail is managed by the National Park Service, as it is part of the George Washington Memorial Parkway, and it runs between two iconic sites along the scenic byway: Theodore Roosevelt Island and George Washington's Mount Vernon. While most of the trail is paved, you can expect some sections of the boardwalk; riders should be cautious of their surroundings as this is an exceptionally popular trail for bikers, joggers, etc.
What you need to know: According to TrailLink, "at the midpoint of the Mount Vernon Trail, navigating Old Town Alexandria can be tricky. You have several all-street routes to choose from [to explore the city] … but you can return to the trail at the end of Union Street."
Reston Trail Network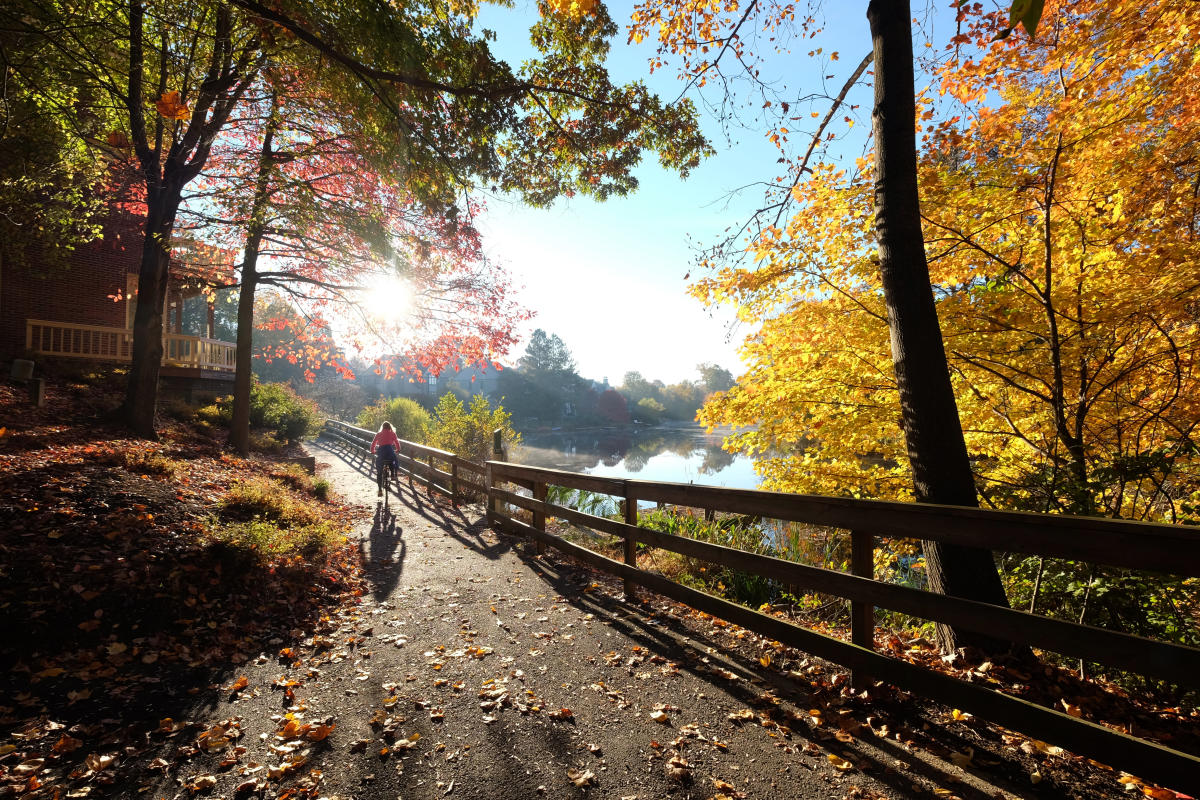 Courtesy Charlotte Geary Photography
Access: Multiple access points throughout the town. Trail Maps
Description: Reston, Virginia was built on the principle of multiple village centers connected via trail system and anchored by an urban town center, encouraging people to embrace the live-work-play movement. So it's no surprise that the town has more than 55 miles of mostly paved trails throughout its bustling neighborhoods.
What you need to know: The Blue Trail takes you 3.44 miles from Tall Oaks to Lake Anne and out to the North Point Trail. The Green Trail is a quick 1.43 miles from Reston Town Center to Lake Anne. The Pink Trail is a great loop of 4.07 miles through North Point Parks. Depending on where you access from, use the trail maps to help you plot your trip.

UNPAVED BIKE TRAILS

Fountainhead Trail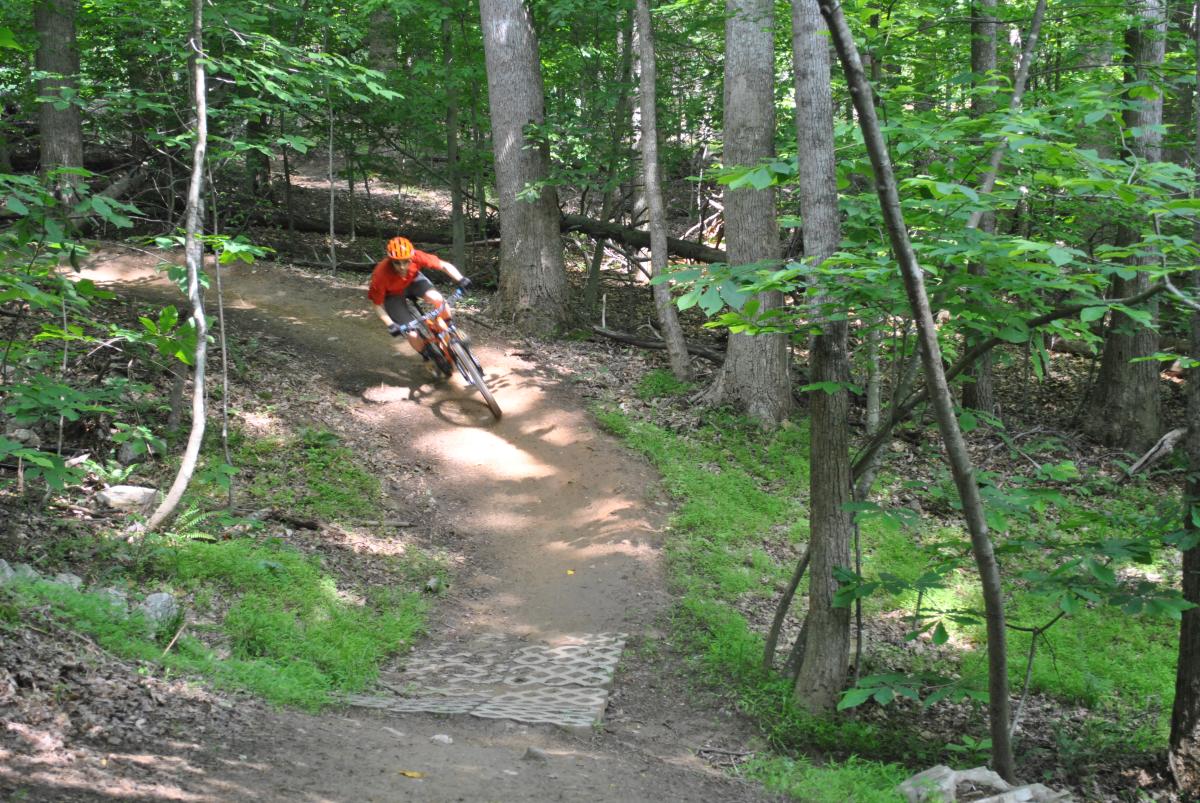 Access: You'll see the trailhead visible from the main parking lot, just 0.6 miles from the park entrance. Trail Map
Description: Fountainhead Regional Park is oft revered as one of the Washington DC area's best and most well-known mountain biking trails. Nestled within a 2,000-acre waterfront park oasis, the trail runs for nearly 15 miles and features a green beginner loop of about 3 miles, an intermediate loop, and an advanced loop. Obstacles include multiple rock gardens, short but steep climbs with fast descents, and some wooden hairpin turns that will keep you coming back for more.
What you need to know: According to Mid-Atlantic Off-Road Enthusiasts (MORE), Fountainhead offers "challenging switchbacks and screaming berms and is a glorious playground in which to take your mountain biking skills to the next level." Also, weather can greatly impact this trail so be sure to call 703-250-9124, option 1 for current trail conditions.


Bull Run Occoquan Trail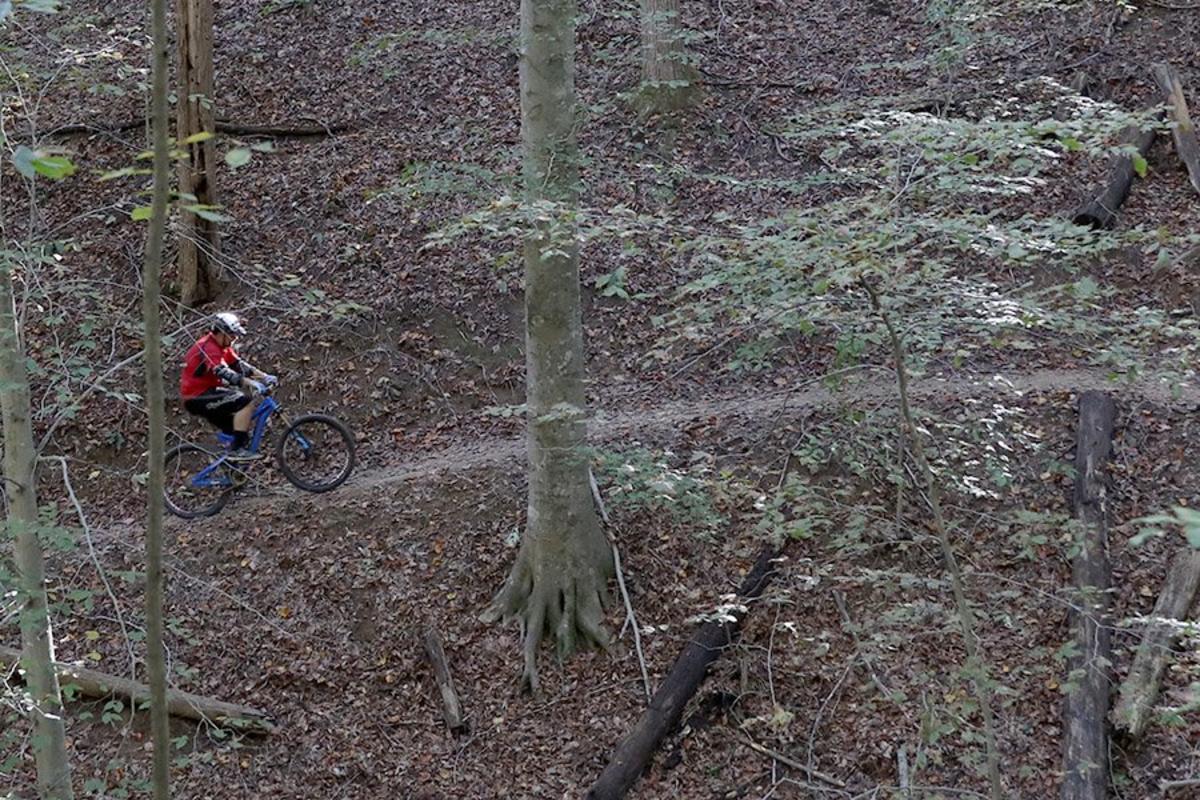 Courtesy NOVA Parks
Access: Parking is available at either Fountainhead Park or Bull Run Marina. Trail Map
Description: While the overall Bull Run Occoquan Trail runs 18 miles and is a popular choice for hikers and equestrian riders, mountain biking is only permitted within a 6.5-mile stretch of the trail between Fountainhead Park and Bull Run Marina. Riders will experience some challenging inclines here on a natural surface trail filled with exposed roots, rocks, and ledges. This is an advanced trail and follows Fountainhead Trail's closure policies.
What you need to know: According to the MTB Project, you'll "forget that you're in Northern Virginia" on this wooded, waterside trail.

Gerry Connolly Cross County Trail
 

Access: Keep an eye out for the red CCT logo. Easily accessible from many neighborhoods in the county, as well as from other major trails, and connected to the Franconia/Springfield Metro station via the Franconia Springfield Parkway Trail. Trail Map
Description: Ambitious bikers can explore ALL of Fairfax County – from north to south – on this Cross County Trail, named after the local politician who helped shepherd its creation. A mix of gravel, asphalt, and natural surface, the entirety of the 40-plus-mile trail, which runs from Great Falls down to Occoquan Regional Park, is open to bikers.
What you need to know: There may be locations along the trail where it is necessary to walk or carry a bike, including an extremely rocky section in the Pohick Stream Valley.
Bonus Rides to the CCT: Join up with two additional great mountain biking trails from different parts of the CCT. At Lake Accotink in Springfield, beginner riders can try their hand at the scenic loop around the lake that offers some steep climbs, root-laced pathways, and some twisty turns. And closer to Occoquan Regional Park, riders can jut off onto the trails at Laurel Hill, which offer a more meadow-like and open-air ride. This is a good spot to ride after a rainy day, as it tends to dry out much quicker than other trails.
Burke Lake Loop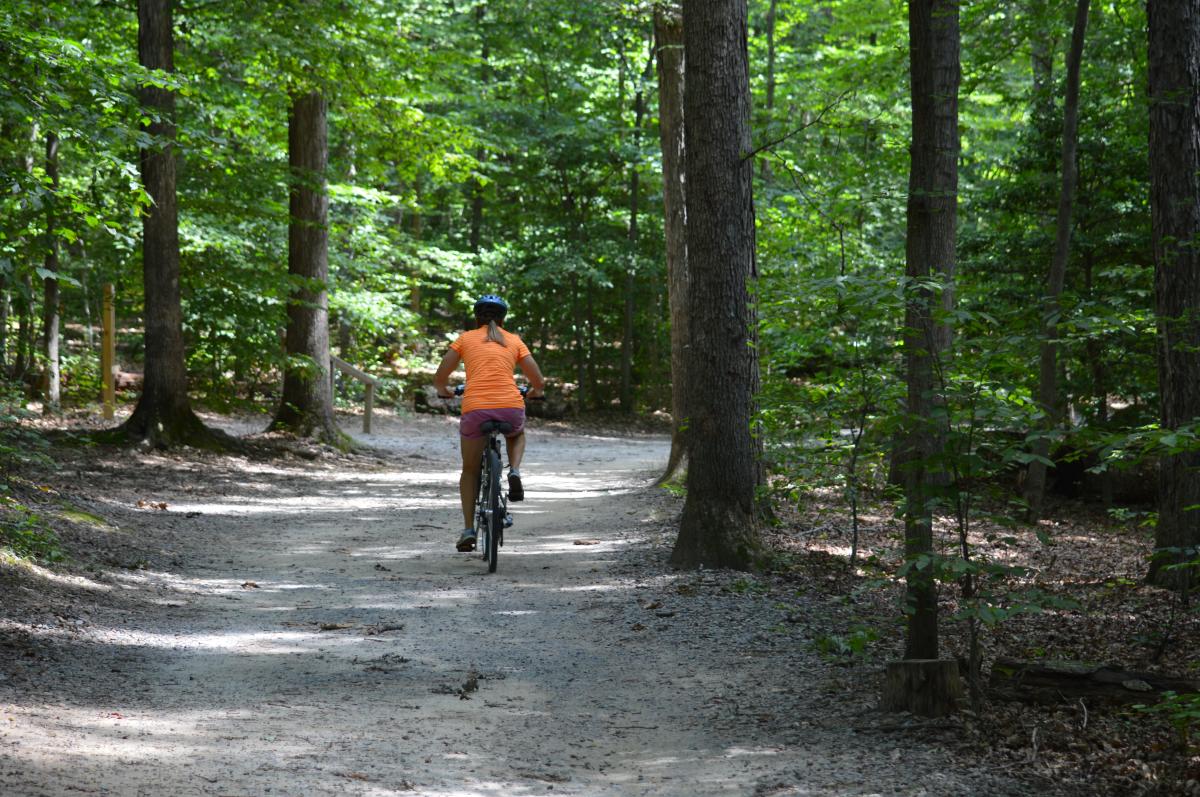 Access: Parking is available at Burke Lake Park; the trailhead is steps from the parking lot. Trail Map
Description: One of the most family-friendly trails in Fairfax County, the 4.5-mile loop trail around bucolic Burke Lake is packed with mostly level dirt, which makes it a great beginner trail ride. Yet, if you want a fast-paced, dirt road ride that whizzes past trees and joggers, you can find that here too.
What you need to know: Deemed one of the "best fitness trails in the nation," this loop trail sees a variety of visitors daily, so watch your surroundings for strollers, dogs, joggers, and bikers of all skill levels.
PUMP TRACKS

Lake Fairfax Bike Park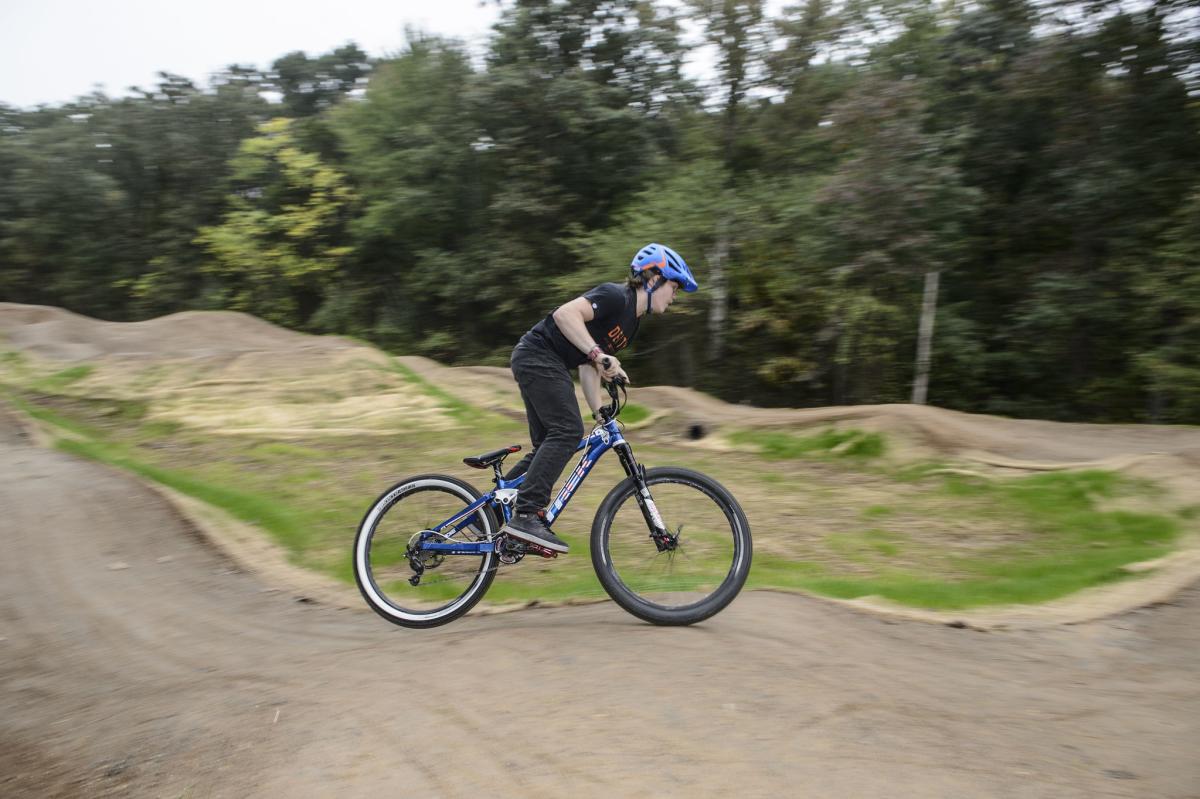 Courtesy Fairfax County Park Authority
Access: Lake Fairfax offers plenty of parking. Head back towards Athletic Fields to be closest to the pump track. Trail Map
Description: In 2016, the Fairfax County Park Authority worked with Mid-Atlantic Off-Road Enthusiasts (MORE) to add the first public pump track to Northern Virginia as an addition to Lake Fairfax's robust network of single and double-track trails. Pump tracks are smaller trail systems that riders navigate by pumping with arms and legs, rather than pedaling.
What you need to know: The track here measures 50x100 feet. In general, Lake Fairfax offers a variety of terrain and according to the MTB Project, "has everything from jumps, rollers, and berms to tight turns, rocks, and roots, all packaged into convenient climbs and descents that maximize the elevation available."

Brookfield Park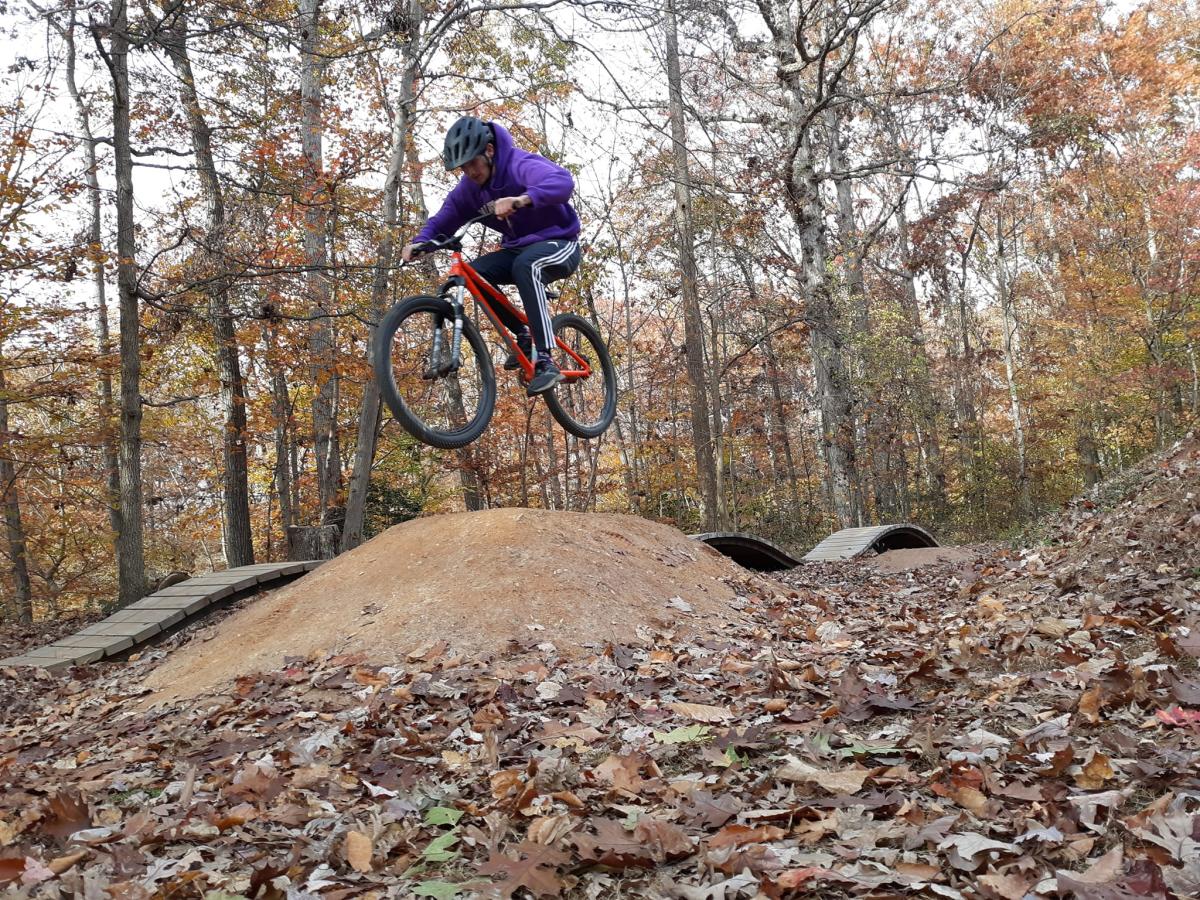 Courtesy Brookfield Park Pump Track/Facebook
Access: Small parking lot is available at the entrance to the park. Trail Map
Description: In 2018, the Park Authority partnered with TrailsforYouth.org to open a new pump track at Brookfield Park in Springfield with several wood and steel features that offer bikers additional challenges and obstacles.  
What you need to know: This is a great spot for kids of ALL ages to give mountain biking a go. Read more about the effort to bring biking opportunities to children of all backgrounds on the International Mountain Bicycling Association (IMBA)'s blog.
For even more trails and to plan your route, be sure to check out Fairfax County's interactive Bike Map or the downloadable Fairfax County Bike Map. If you're here in the fall, here are a few Fall Foliage Bike Rides we recommend. And if you're visiting and didn't bring a bike? Don't fear! The Capital Bikeshare program has dozens of stations throughout Fairfax County where you can rent by the hour or several local bike shops are located near various trails - including The Bike Lane, which also serves up fresh, locally crafted beer.