Admit it. You're a little Kurios.
This summer, get ready for the soaring and marvelous enchantment that a Cirque du Soleil production promises. The Quebec-based acrobatic and performing arts company will bring its most critically acclaimed touring show, KURIOS: Cabinet of Curiosities, to Fairfax County under the iconic Big Top at Lerner Town Square at Tysons II from July 29 through September 25, 2022.
Here's your guide to everything you need to know about seeing Cirque du Soleil in Tysons this summer.
What is Cirque du Soleil's KURIOS About?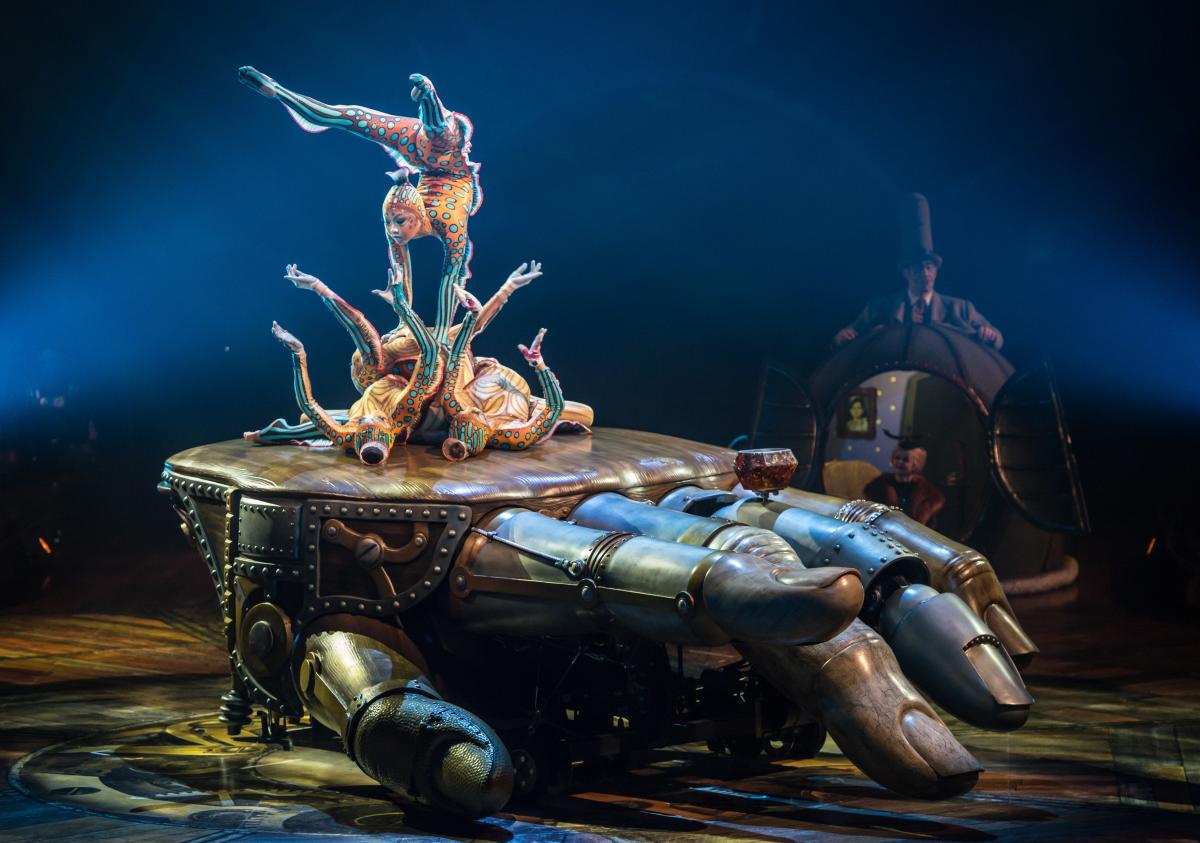 Courtesy Cirque du Soleil, image by Mathew Tsang

In an alternate yet familiar past, KURIOS steps inside the mechanical lab of an inventor convinced that there exists a hidden, invisible world—a place where the craziest ideas and the grandest dreams await. Once the inventor succeeds to unlock the door to this world of wonders, time comes to a complete stop and an uplifted cast of otherworldly characters invades his curio cabinet, bringing his makeshift creations to life one by one. As the visible becomes invisible and perspectives transform, KURIOS bursts into a celebration of the power of the imagination.
The show, with its jaw-dropping acrobatics and refreshing touch of poetry, artistry, and humor in a steampunk-inspired universe, runs two hours in length, including a 25-minute intermission.
Did you know?
What IS a Cabinet of Curiosity? The ancestors of museums; collections housed by a diverse group of people, originating in renaissance Europe.
KURIOS features a cast of 46 artists from 16 different countries. The touring company as a whole includes 122 members from 23 different countries.
There are 426 props in the show, the most of any production in Cirque du Soleil's history.
Rima Hadchiti, the artist who plays Mini Lili, is 3.3 feet tall and weighs 41 pounds. She is one of the 10 smallest people in the world.
More than 100 costumes were created to dress the cast.

When is Cirque du Soleil happening in Tysons?

Courtesy Cirque du Soleil, image by Mathew Tsang

The show runs from Friday, July 29 through Sunday, September 25, 2022.
Performances occur Wednesdays-Sundays with select performances on Monday, September 5 (Labor Day). Various show times are available, typically 1 pm, 4:30 pm, 7:30 pm, or 8 pm – check the performance schedule here.
Where is Cirque du Soleil being performed?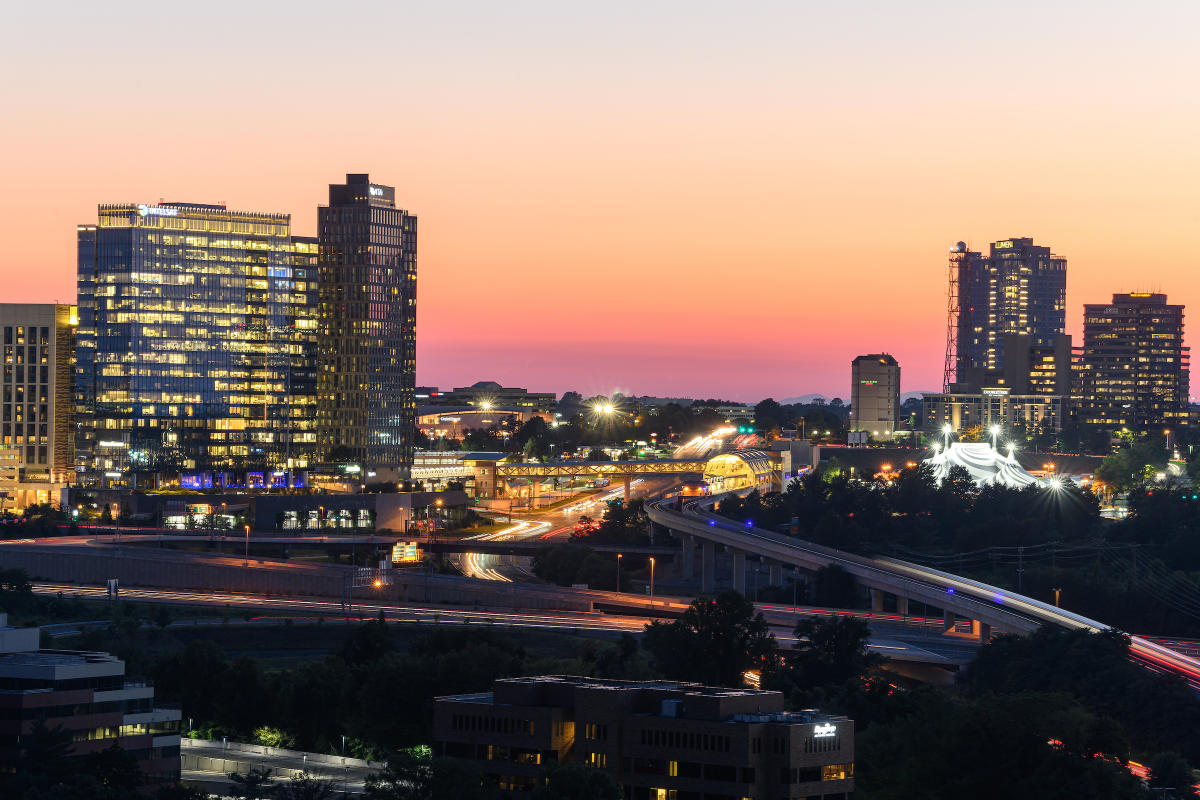 Tysons (look for the Big Top to the right of the photo), courtesy Fairfax County Economic Development Authority

Cirque du Soleil's "KURIOS: Cabinet of Curiosities" will be performed at the Big Top at Lerner Town Square at Tysons II. Paying homage to the days of the traveling circus, this "village on wheels" is an iconic structure in and of itself.
Lerner Town Square is located at 8025 Galleria Drive, Tysons, VA 22102. This is adjacent to the Tysons Corner Center Metrorail station on the Silver Line. The tent will be set up in the paved lot between Tysons Corner Center and Tysons Galleria.

Did you know?
The Big Top stands 62 feet high and takes a team of approximately 50 people to raise the structure.
The flags flying at the entrance of the Big Top represent the 23 nationalities of the cast and crew.

How much are tickets to Cirque du Soleil's KURIOS in Tysons?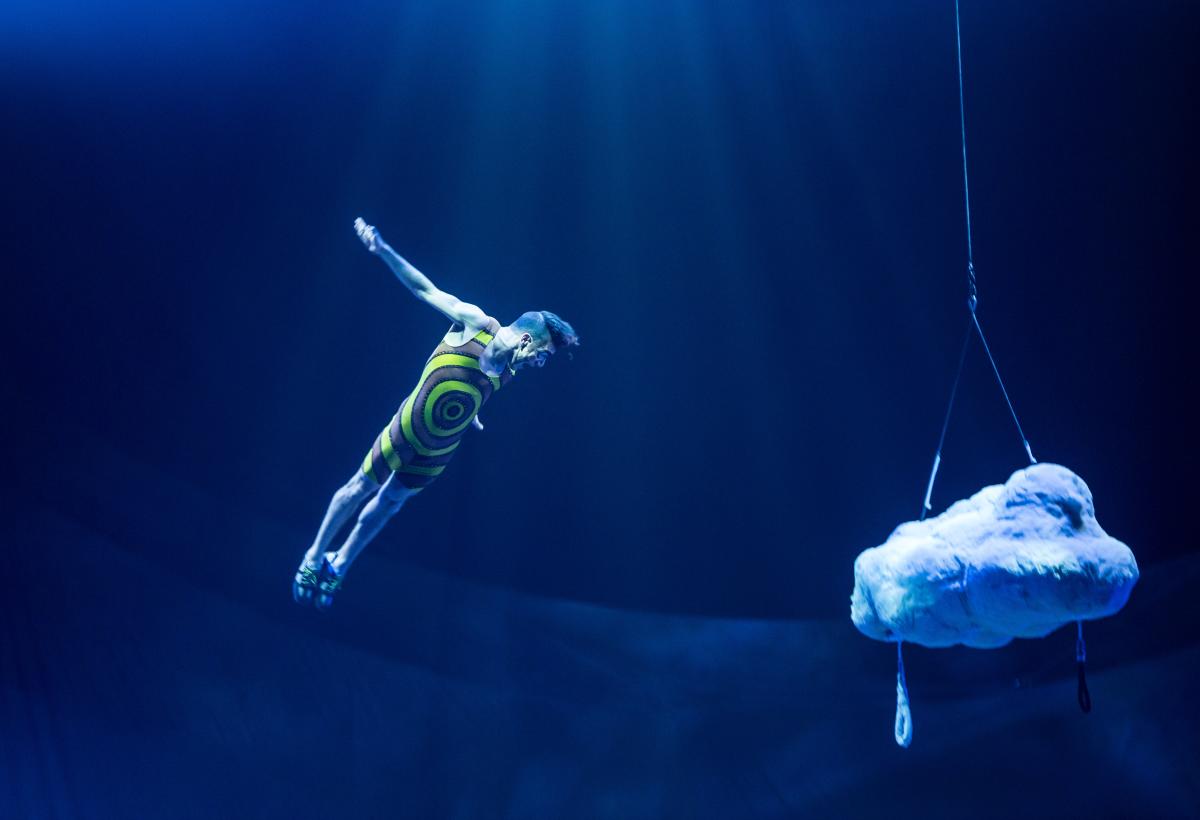 Courtesy Cirque du Soleil, image by Mathew Tsang

Tickets are on sale now and start at $49.
Family offers and VIP ticket packages are also available.
(Hot tip: Attending with a group of 10+? Check out group savings here.)
How to Get to Cirque du Soleil in Tysons & Where to Park

Consider taking the Metrorail to Cirque du Soleil. The show is adjacent to the Tysons Corner Center Metrorail station on the Silver Line. Keep in mind there is no parking lot at this Metrorail station.
Official parking is available with Colonial Parking for $25 at the gate. Book your space online in advance for a discounted rate of $20. The parking garage is located at 1750 Tysons Blvd., Tysons, VA 22102. Plan to arrive no earlier than one hour prior to showtime.
There are various other lots and garages around Tysons to consider, but it is highly recommended to take Metrorail direct to show.
 

Where to Eat & Drink Near Cirque du Soleil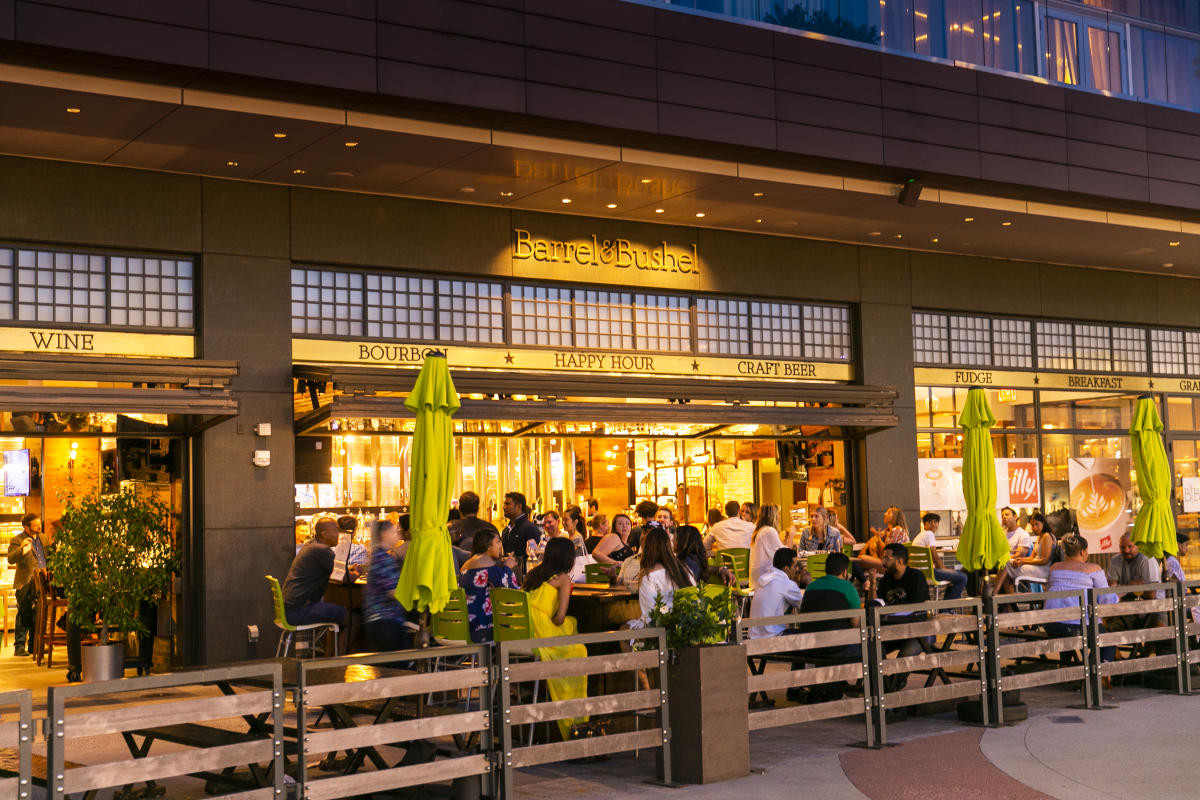 Due to the Big Top's location adjacent to not just one, but two of the best shopping centers in Northern Virginia, your options for eating and drinking before the show are plentiful.
At Tysons Corner Center, enjoy a locally crafted beer on the open-air plaza at Barrel and Bushel or order up tableside guacamole at Richard Sandoval's La Sandia Mexican Kitchen and Bar. Enjoy classic diner music and vibes with an upscale diner menu at Silver Diner. Or do a pre-show cocktail at Earls or Seasons 52.
At Tysons Galleria, browse the Urbanspace Food Hall for unique concepts like London Chippy, Empanadas de Mendoza, or Donburi. Or make a reservation for fine dining at Maggiano's Little Italy, Lebanese Taverna, or Wildfire Steaks, Chops & Seafood.
About a mile down Route 123, take the elevator 11 stories up to The Perch for an out-of-this-world pre-show putt putt game at Perch Putt, or check out one of the "25 Best New Restaurants in the Region" at Wren Tysons, located inside The Watermark Hotel. Across the street, grab bites and drinks at Archer Hotel Tysons' on-site restaurant, akb.
Also nearby are Founding Farmers Tysons, Fogo de Chao Brazilian Steakhouse, Patsy's American, Fleming's Prime Steakhouse & Wine Bar, and Tysons Social Tavern (located within the DoubleTree).

Where to Stay Near Cirque du Soleil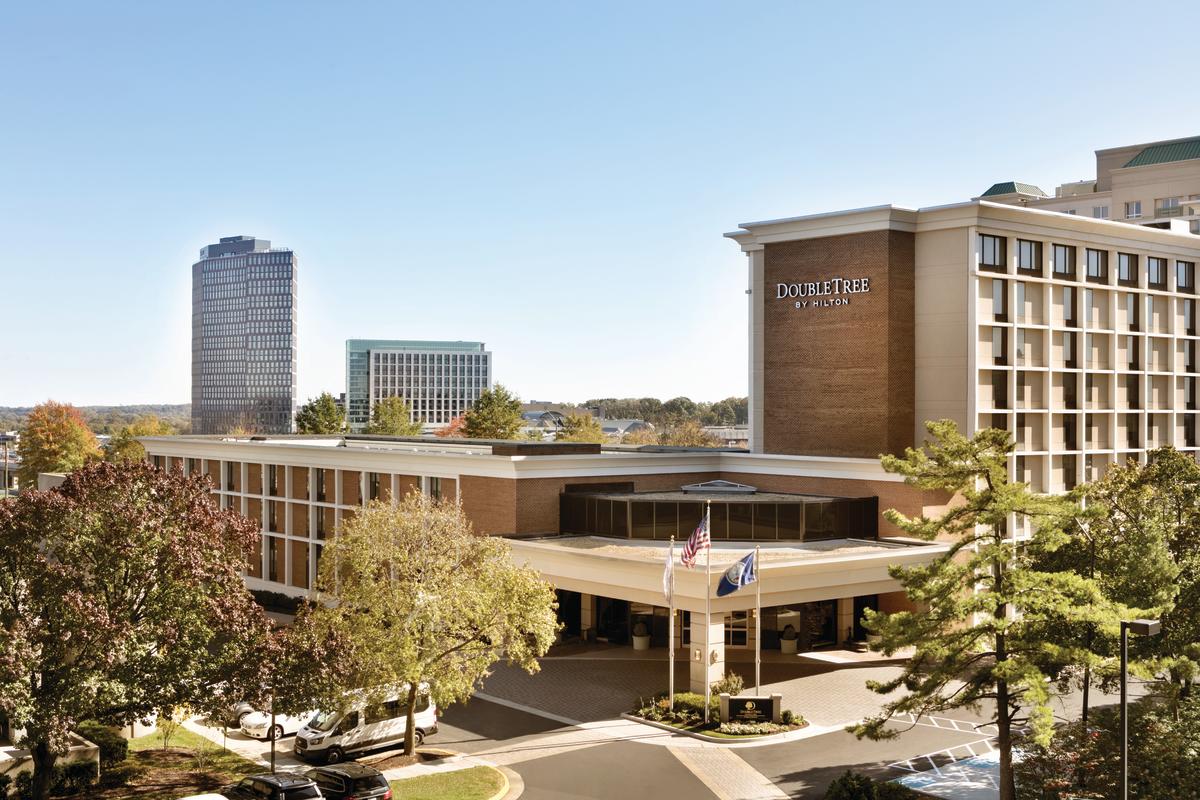 Courtesy DoubleTree by Hilton McLean Tysons

Cirque du Soleil is the perfect excuse to book that staycation or vacation to Fairfax County. Directly adjacent to the Big Top, you'll find several stunning hotel options. Your closest options include:
For all nearby Tysons hotel options, click here.
Do you plan to get tickets to Cirque du Soleil's KURIOS while it is in town under the Big Top in Tysons? Share your experience with us on social media using #FXVA and @VisitFairfax.