This fall, get ready for the soaring and marvelous enchantment that a Cirque du Soleil production promises. The Quebec-based acrobatic and performing arts company will bring its United States premiere of a brand new touring show, ECHO, to Fairfax County under the iconic Big Top at Lerner Town Square at Tysons II from September 6, 2023 through October 22, 2023.
Here's your guide to everything you need to know about seeing Cirque du Soleil in Tysons this summer.
What is Cirque du Soleil's ECHO About?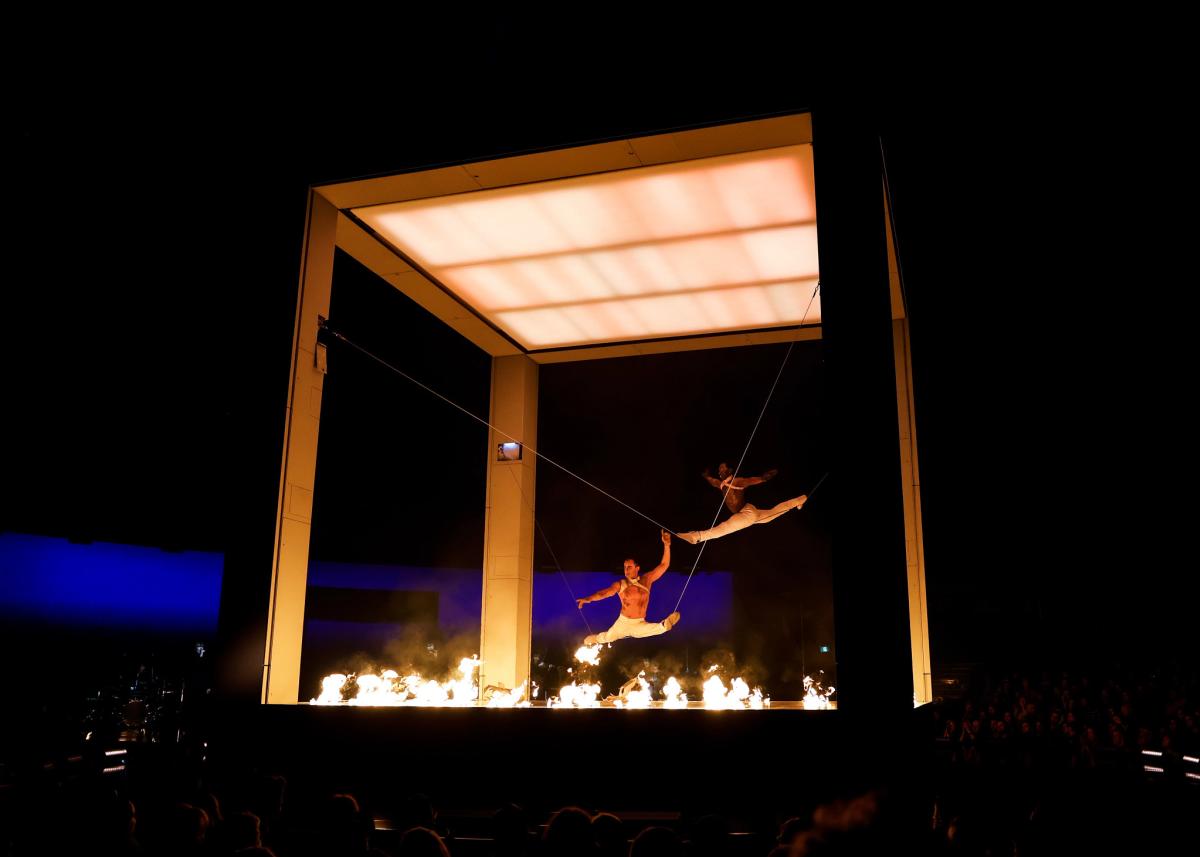 Courtesy Cirque du Soleil, image by Jean-François Savaria, costumes by Nicolas Vaudelet

The underlying theme of this 20th Big Top touring production by Cirque du Soleil explore the symbiotic connection between humans and the natural world.
Fueled by the power of change, the hope of the youth, and the value of empathy, ECHO follows an inquisitive young woman named FUTURE as she wanders into a fantasy world that explores our sacred bond with animals and nature. When FUTURE and her best friend the DOG encounter a mysterious CUBE, they quickly learn how their actions have the power to shape this world, and if we come together, we can rebuild our planet to create the world we all want to live in.
The show brings bold new visuals and a unique aesthetic on tour and is packed with vibrant characters, inspiring music, astounding lights and projections, and never-before-seen acrobatic feats.
ECHO runs approximately two hours in length, including an intermission.
Did you know?
ECHO is the first ever Cirque du Soleil show to feature six live vocalists, with most of the musicians also singing at some part in the show.
The CUBE - the centerpiece of ECHO - measures 23 square feet, weighs 12 tons, can support up to 40 artists, and takes 10 projectors to project imagery on its rotating surface - the most ever for a traveling Cirque du Soleil production.
For the protagonist FUTURE, makeup designers tested hundreds of shades of makeup before perfecting the cloud concept, which adds an emotional touch with sparkles that appear like raindrops or teardrops.
The flying poles act features a first-of-its-kind pole apparatus that is semi-attached to the stage floor, a feat requiring exceptional strength.

When is Cirque du Soleil happening in Tysons?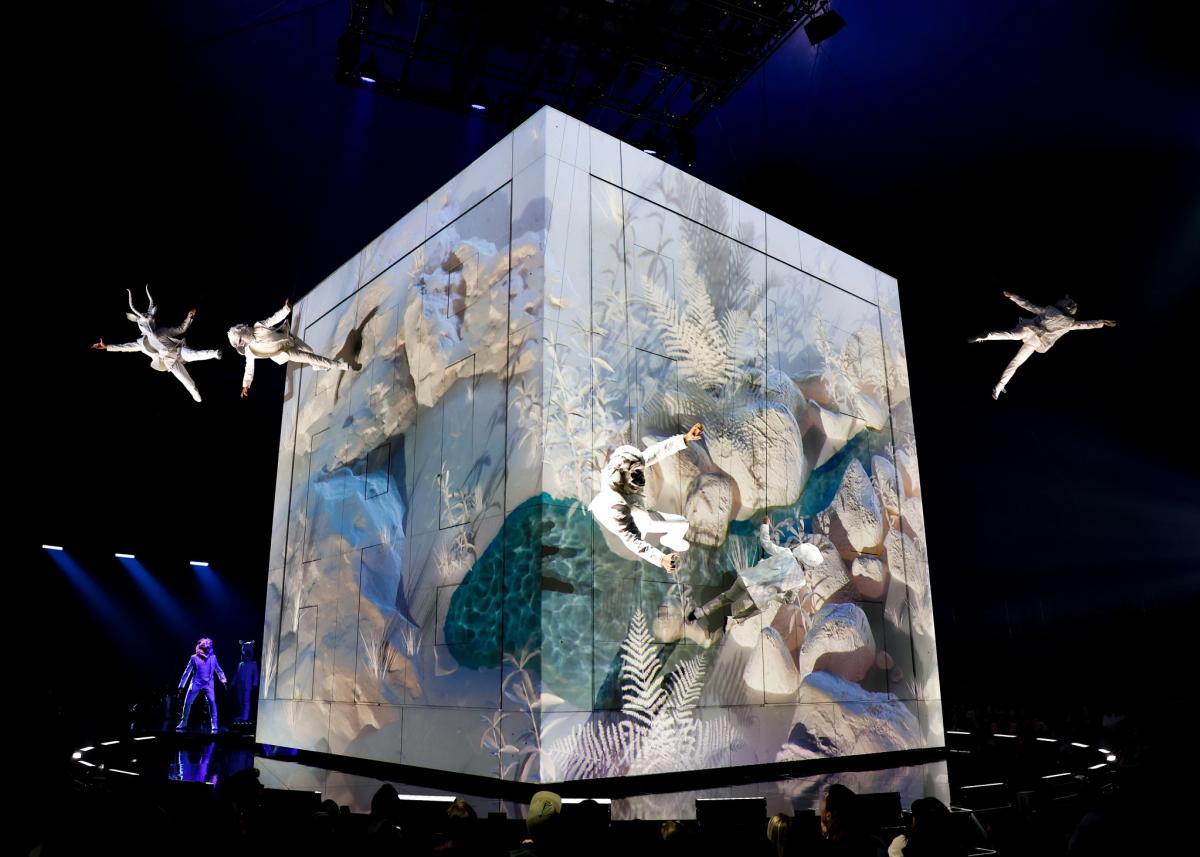 Courtesy Cirque du Soleil, image by Jean-François Savaria, costumes by Nicolas Vaudelet

The show runs from Wednesday, September 6, 2023 to Sunday, October 22, 2023.
Performances occur Wednesdays through Sundays. Various show times are available, ranging from 11:30am, 1pm, 3:30pm, 5pm, and 7:30pm  – check the performance schedule here.
Where is Cirque du Soleil being performed?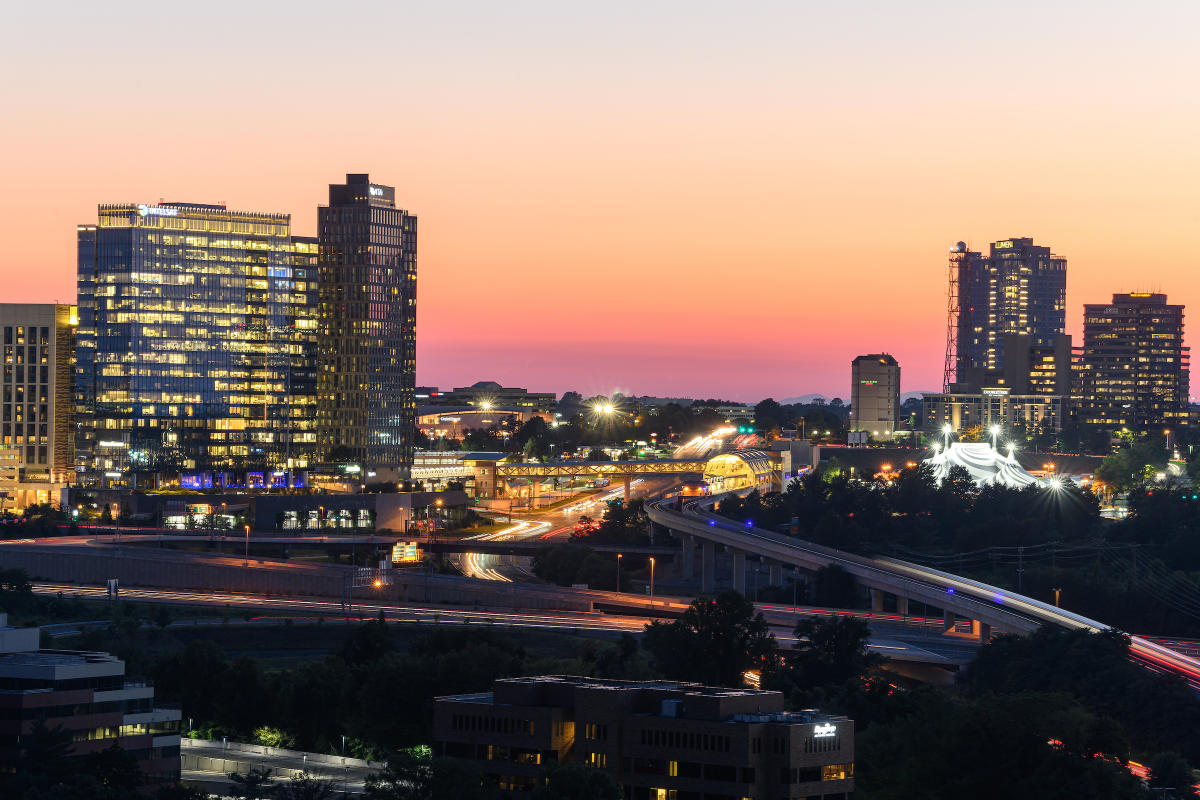 Tysons (look for the Big Top to the right of the photo), courtesy Fairfax County Economic Development Authority

Cirque du Soleil's ECHO will be performed at the Big Top at Lerner Town Square at Tysons II. Paying homage to the days of the traveling circus, this "village on wheels" is an iconic structure in and of itself.
Lerner Town Square is located at 8025 Galleria Drive, Tysons, VA 22102. This is adjacent to the Tysons Corner Center Metrorail station on the Silver Line. The tent will be set up in the paved lot between Tysons Corner Center and Tysons Galleria.

Did you know?
The Big Top stands 79 feet high and takes a team of approximately 50 people to raise the structure.
The flags flying at the entrance of the Big Top represent the dozens of nationalities of the cast and crew.

How much are tickets to Cirque du Soleil's ECHO in Tysons?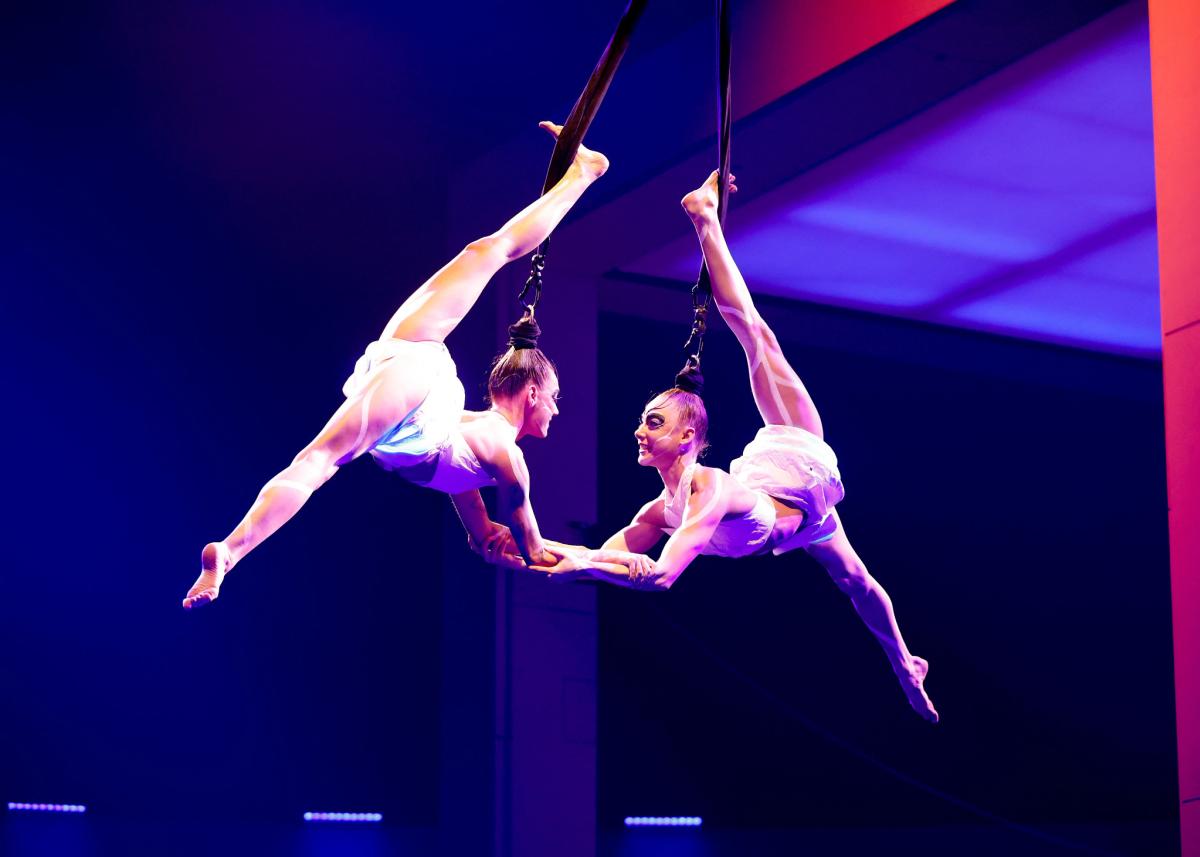 Courtesy Cirque du Soleil, image by Jean-François Savaria, costumes by Nicolas Vaudelet

Tickets are on sale now and start at $54.
Family offers and VIP ticket packages are also available.
How to Get to Cirque du Soleil in Tysons & Where to Park

Consider taking the Metrorail to Cirque du Soleil. The show is adjacent to the Tysons Corner Center Metrorail station on the Silver Line. Keep in mind there is no parking lot at this Metrorail station.
Official parking is available with Colonial Parking for $25 at the gate. Book your space online in advance for a discounted rate of $20. The parking garage is located at 1750 Tysons Blvd., Tysons, VA 22102 or 1775 Tysons Blvd., Tysons, VA 22102. Plan to arrive no earlier than one hour prior to showtime.
There are various other lots and garages around Tysons to consider, but it is highly recommended to take Metrorail directly to show.
 

Where to Eat & Drink Near Cirque du Soleil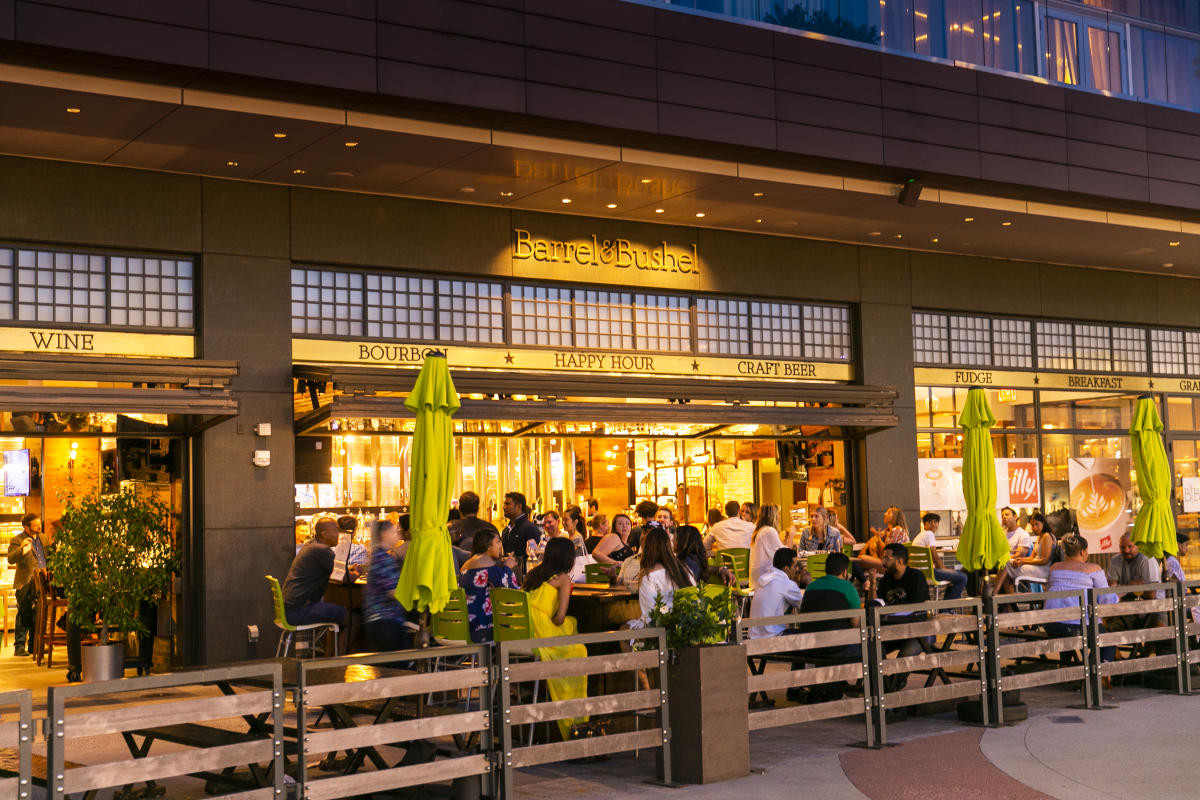 Due to the Big Top's location adjacent to not just one, but two of the best shopping centers in Northern Virginia, your options for eating and drinking before the show are plentiful.
At Tysons Corner Center, enjoy a locally crafted beer on the open-air plaza at Barrel and Bushel or order up tableside guacamole at Richard Sandoval's La Sandia Mexican Kitchen and Bar. Enjoy classic diner music and vibes with an upscale diner menu at Silver Diner. Or do a pre-show cocktail at Earls or Seasons 52.
At Tysons Galleria, try the DC region's only Singaporean restaurant, a new concept from Michelin-starred Chef Pepe Moncayo. Or make a reservation for fine dining at Maggiano's Little Italy, Lebanese Taverna, or Wildfire Steaks, Chops & Seafood.
About a mile down Route 123, take the elevator 11 stories up to The Perch for an out-of-this-world pre-show putt putt game at Perch Putt, or check out one of the "25 Best New Restaurants in the Region" at Wren Tysons, located inside The Watermark Hotel. Across the street, grab bites and drinks at Archer Hotel Tysons' on-site restaurant, akb.
Also nearby are Founding Farmers Tysons, Joon, Fogo de Chao Brazilian Steakhouse, Patsy's American, Fleming's Prime Steakhouse & Wine Bar, and Tysons Social Tavern (located within the DoubleTree).

Where to Stay Near Cirque du Soleil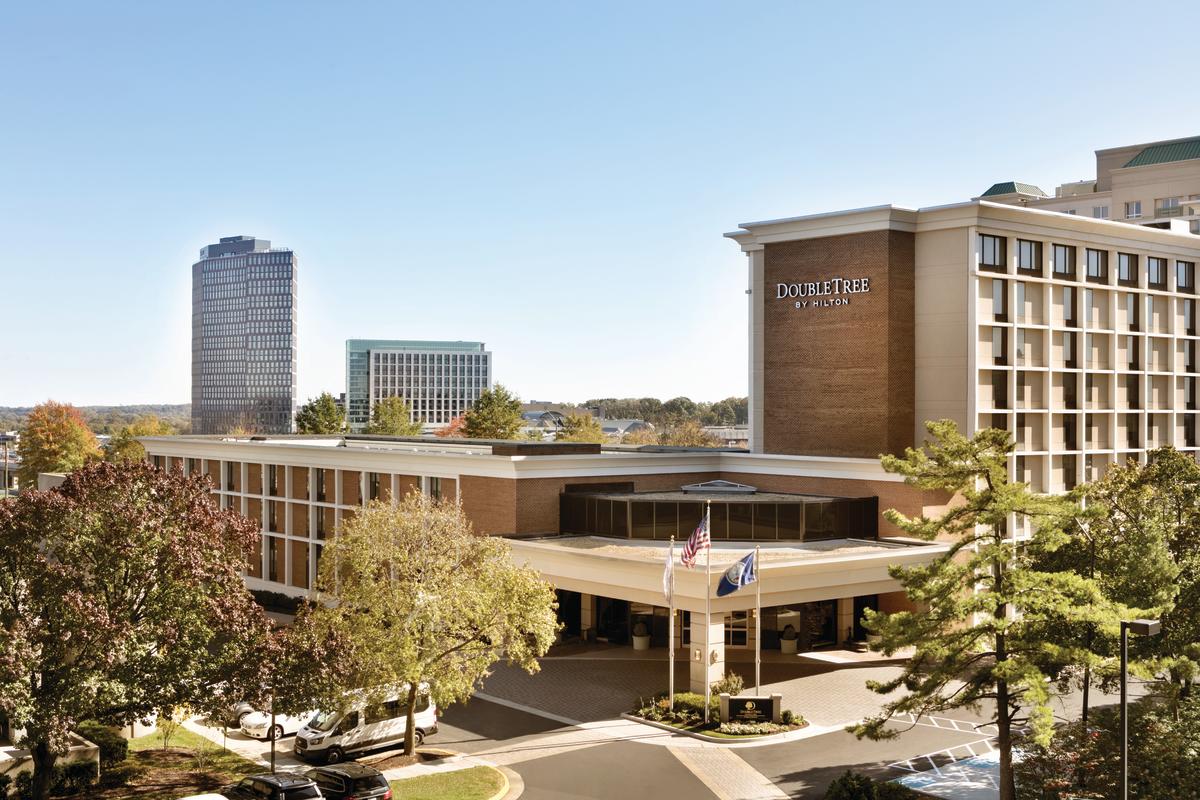 Courtesy DoubleTree by Hilton McLean Tysons

Cirque du Soleil is the perfect excuse to book that staycation or vacation to Fairfax County. Directly adjacent to the Big Top, you'll find several stunning hotel options. Your closest options include:
For all nearby Tysons hotel options, click here.
Do you plan to get tickets to Cirque du Soleil's ECHO while it is in town under the Big Top in Tysons? Share your experience with us on social media using #FXVA and @VisitFairfax.