Trampolines. Zip lines. Movies. Parks. Shopping. Dave & Buster's.
Springfield, VA is a happy fun place in the heart of Fairfax County. It's where you can find heart-pumping activities AND find solace in the great outdoors. It's where weddings, reunions and conferences are held. It's where the southeastern part of the county goes shopping and enjoys a myriad of evening entertainment. And it's where some of the best food in the county can be found.
Springfield got its name due to a large number of streams in the area, including the Wolf Trap Branch of Difficult Run, Scotts Run, Pimmit Run and the Long and Bear branches of Accotink Creek. As pastoral as that sounds, Springfield is also known for its I-95, I-395 and I-495 "Mixing Bowl" interchange that includes 50 ramps and bridges, is 24 lanes at its widest point, and has a capacity of holding 500,000 vehicles per day!
However, the very best part of Springfield is the other big intersection in town—the intersection of food, fitness, fun and fabulous finds. (OK. That was a groaner.) So let's hit the road for happy fun good times and to find the many things to do in Springfield, VA!

Eat well at Springfield restaurants.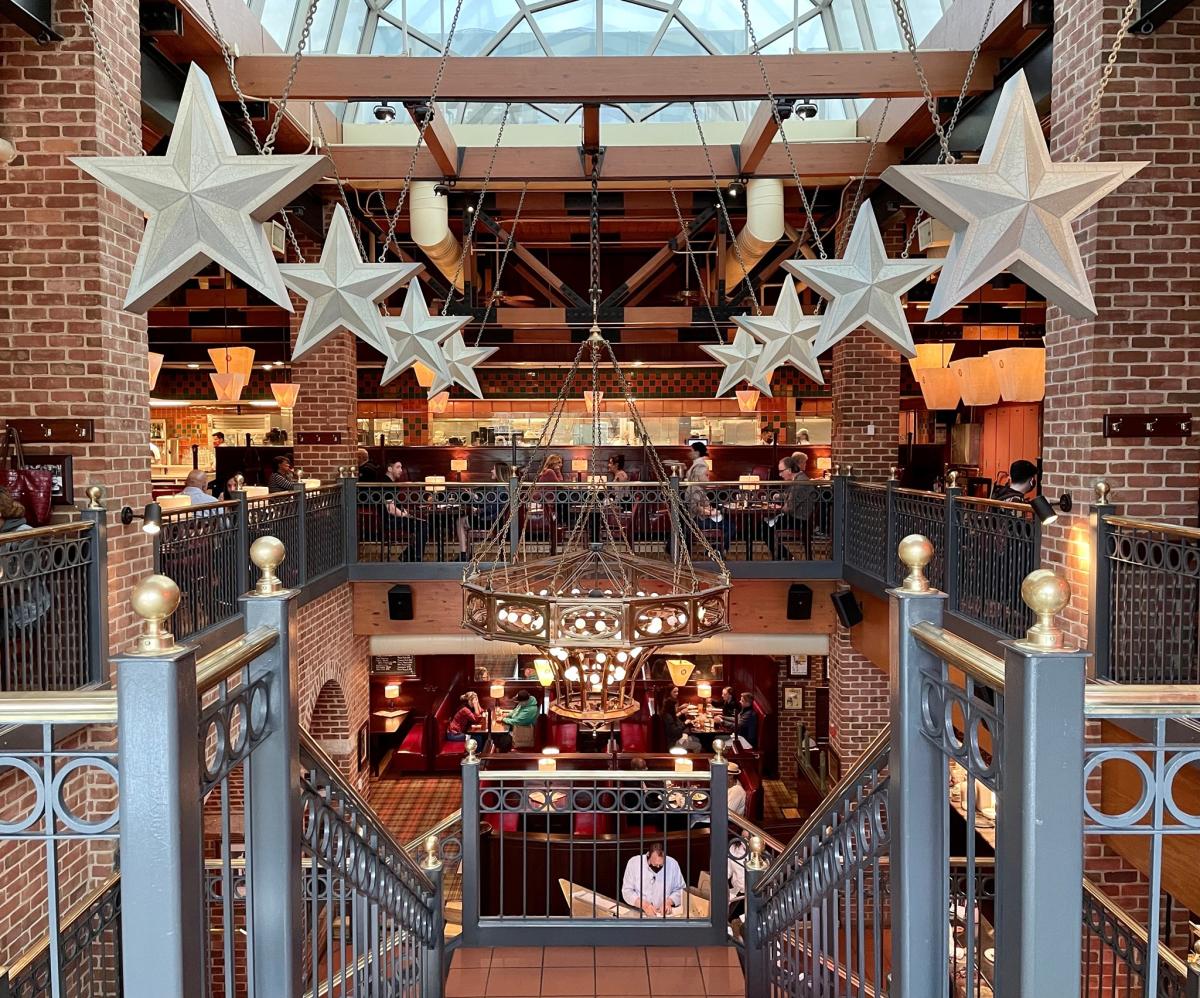 Image courtesy Great American Restaurants (Mike's American Grill)
I confess, I like to eat. And one of my favorite places to eat—heck, one of everyone's favorite places to eat—is Mike's American Grill. It's got great steaks, but get the plank smoked salmon. I'm literally drooling just typing about it.
Pretty much every "Top Restaurant" list in the region includes a small, family-owned hidden gem in a strip mall called Afghan Bistro. Its popularity is greater than its square footage, however, so you'll need a reservation. Other notable locally-owned spots in Springfield include one of the region's favorite diners, Bob & Edith's, and standout Greek cuisine from Eleni's Greek Taverna.
When it comes to national chain restaurants, you'll find a mother lode at Springfield Town Center. My favorites include Yard House and Maggie McFly's with their big menus and tasty American cuisine. And, of course, you can never go wrong at Maggiano's Little Italy and Silver Diner.
There are two more foodie spots you need to visit while in town. The Swiss Bakery is where every strudel, biberfladen tart, and butter zopf bread dreams of being sold. And, just a few doors down in the same strip mall, Lotte Plaza is the largest supermarket you've ever been to that is filled with food you've never heard of.  This Korean and Asian grocery will stun you with its variety and exotic ingredients.
 

And after all those yummy bites to eat, fuel up with a dose of caffeine from woman-owned, single-origin coffee roastery Cervantes Coffee, which offers classes, tours, and educational resources to guests in addition to delicious blends from all over the world. If coffee isn't your cup of tea, but a cup of tea IS, check out the new Cha Tea House located at Springfield Town Center for traditional Pakistani chai tea and snacks under a lighted patio.
For even more popular Springfield restaurants, go here.

Get your fitness on.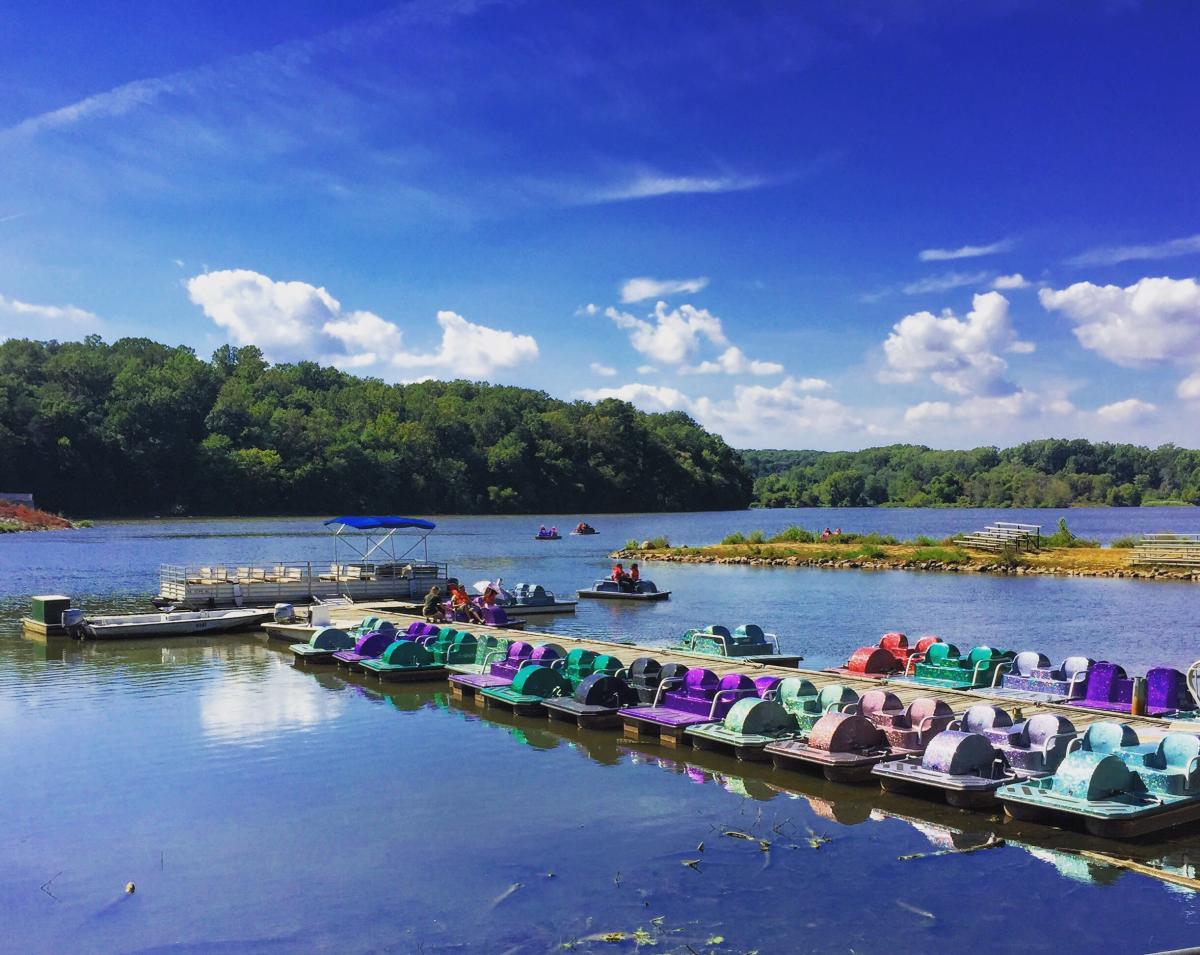 After all that food, you may want to burn a few calories. The St. James is happy to comply. This MASSIVE 450,000-square-foot indoor sports and fitness complex includes a FIFA-regulation turf field, two NHL-regulation ice rinks, four NBA-regulation basketball courts, a 50-meter Olympic-regulation pool and 8 squash courts. Did I mention it was large? Good, because you'll also find a gymnastics training center, indoor water park, obstacle courses, zip lines, rock walls and trampolines. Oh, and a spa and restaurant.
If you're the outdoorsy type, you'll want to visit Lake Accotink. With its 55-acre lake, wetlands and streams, it's got Instagram-worthy views and peaceful spots for quiet reflection. But you're here to burn off lunch! So come prepared to rent a pedal boat or hike, bike, or run on the park's miles of scenic trails.
If you've got kids, don't miss nearby Hidden Pond Nature Center for hands-on activities, programs, nature trails, and a unique perspective on the natural elements of Fairfax County. Plus, there's a pretty sweet playground to help your little ones burn off a bit of energy!

Find Fun & Unique Things to Do in Springfield
Somehow, Springfield got more than the average share of fun things to do. Here are some unique adventures to try:

Discover some great retail finds.
If you tell anyone I said this, I'll deny it. But for a year or two in my early teens, I could have been called a mall rat. We'd hop on a bus with maybe 25 stops between us and the Springfield Mall. We'd have enough money for a hot dog or a movie, but not both. We'd sneak into Spencer's Gifts to giggle at adult things. And we'd kinda hang out thinking maybe we'd be seen. We were SO FREAKING COOL.
Today, Springfield Mall is now the Springfield Town Center. It's the main shopping complex in the southern half of Fairfax County. The movie theater and Spencer's are still there, along with Macy's, H&M, Sephora, JC Penny, MAC, Nordstrom Rack, Torrid, Aeropostale, Target and well over 100 more shops, restaurants and entertainment venues. It's a sleek, modern shopping experience with plenty of places to hang out and be seen.
Now, after exerting so much energy, you're going to want to rest. Luckily, there are a variety of hotels in Springfield that offer that rest and relaxation after an active day. Find the perfect place to stay whether you're looking for the best location, close to Springfield restaurants and shops, or just a great deal on a hotel room, you'll be able to find what you need right here. These hotels have plenty of amenities to make your stay in Fairfax County comfortable and enjoyable. Hotels in Springfield include properties like Embassy Suites, Holiday Inn, Comfort Inn, Courtyard by Marriott, and Best Westerns.
There's a Springfield in at least 34 US states, as well as one on The Simpsons. But if you're looking for happy fun times, we suggest our own. Great restaurants. Great shopping. And more than the average share of adventure for everyone in your family! See you in Springfield!
For more guides to Fairfax County neighborhoods, check out these great itineraries. What are your favorite things to do in Springfield, Virginia? Tell us in the comments below or join the convo on social using #FXVA and @VisitFairfax!