Everyone loves the gourmet restaurants, great shopping, and one-of-a-kind experiences at Mosaic, Merrifield's hip and trendy urban village. But did you know that there are some seriously Instagrammable murals hiding between stairwells, walls, and alleyways throughout the complex? Break out your camera and embark on a colorful tour of these amazing works of art in #FXVA.
 
Picture Pawfect
Penny Lane & District Ave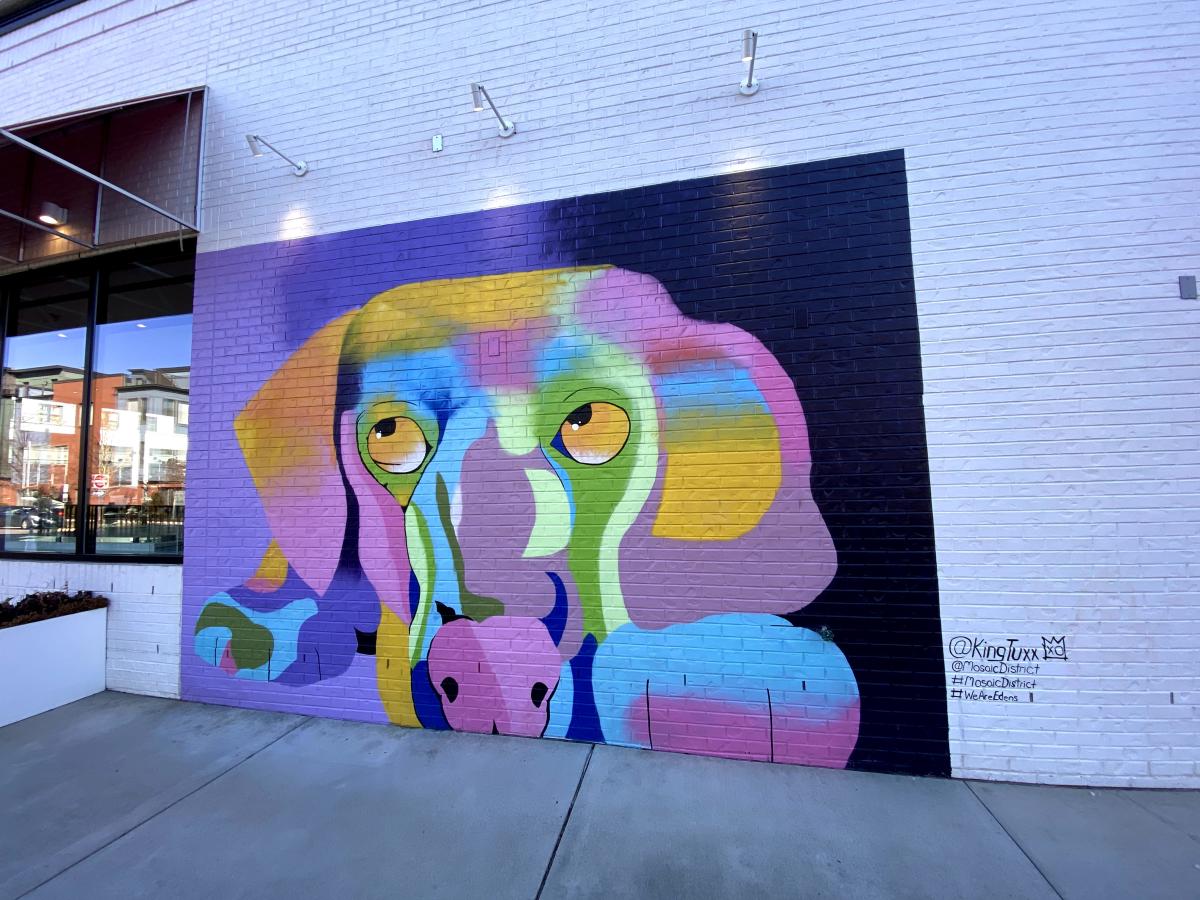 The journey begins with a hidden gem on the outskirts of the shopping district. Head around the corner from Praline Bakery, on the intersection of Penny Lane and District Avenue for an easily missed masterpiece. Painted by artist King Tuxx, this colorful pup is sporting pastel colors galore, making a picture pawfect photo op for any dog lover!
 
Be United
District Ave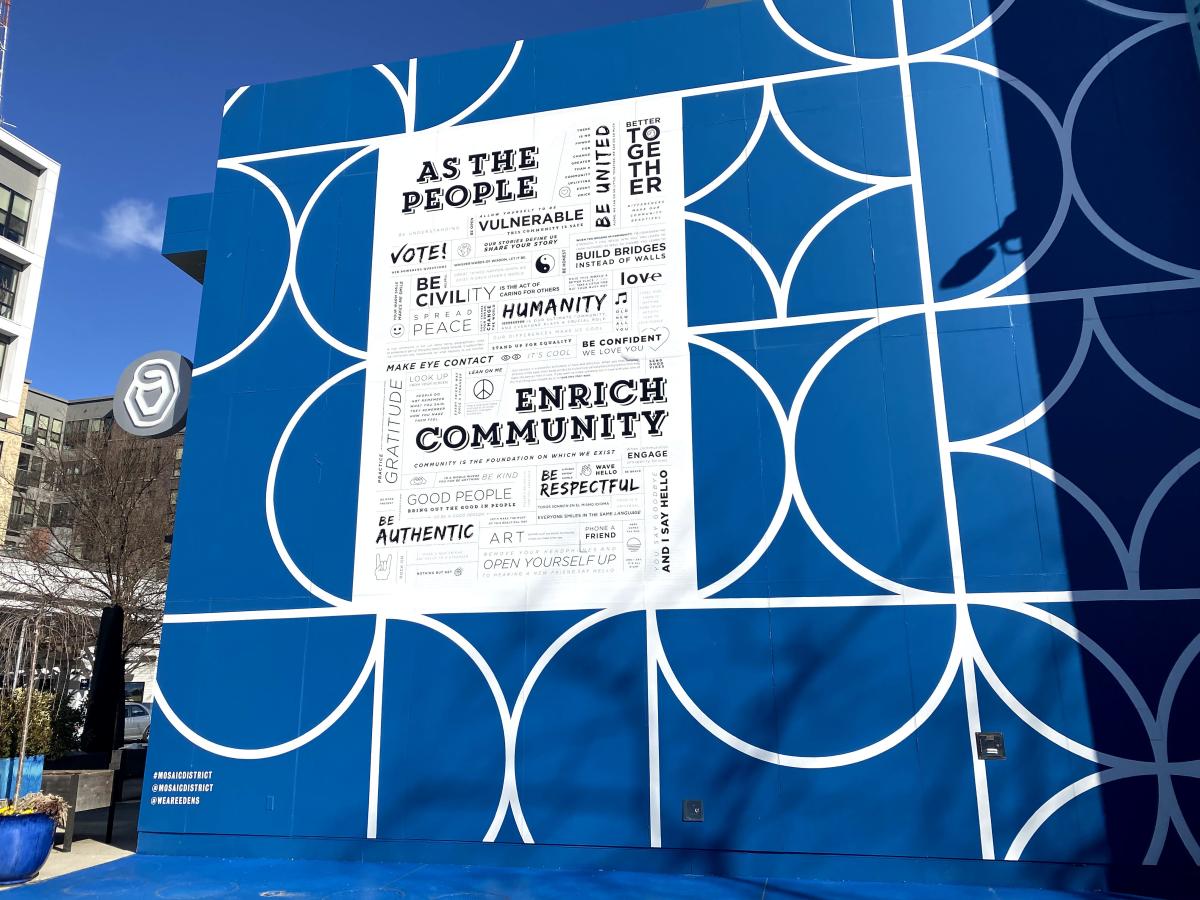 Continue by taking a right on District Avenue and follow along the sidewalk. And don't worry, we won't blame you if you need to stop for a bite to eat at all the amazing restaurants that you'll pass by! From the South African flavors of Nando's Peri Peri, to the delicious drunken noodles at Sisters Thai, you won't go wrong. Or, pick up a sweet, rolled ice cream treat at 520 Ice Cream and Tea. Eat your heart out, you'll walk it off anyway!
After you've enjoyed something tasty, continue along the sidewalk path, crossing Merrifield Town Center Street until you've passed West Elm. You can't miss the bright blue, larger-than-life mural on the other side. 
What's better than art that speaks to you? This mural isn't only a pretty picture, but also carries a message of encouragement and unity, which couldn't be more timely. Showcasing mantras such as "Be authentic," and "Build bridges instead of walls," you could spend quite a bit of time reading and be inspired by this work of art. Snap some photos and keep on walking in the same direction, towards the Angelika Film Center & Cafe.
 
Muse Paintbar's Double-Feature 
2920 District Ave, off Strawberry Lane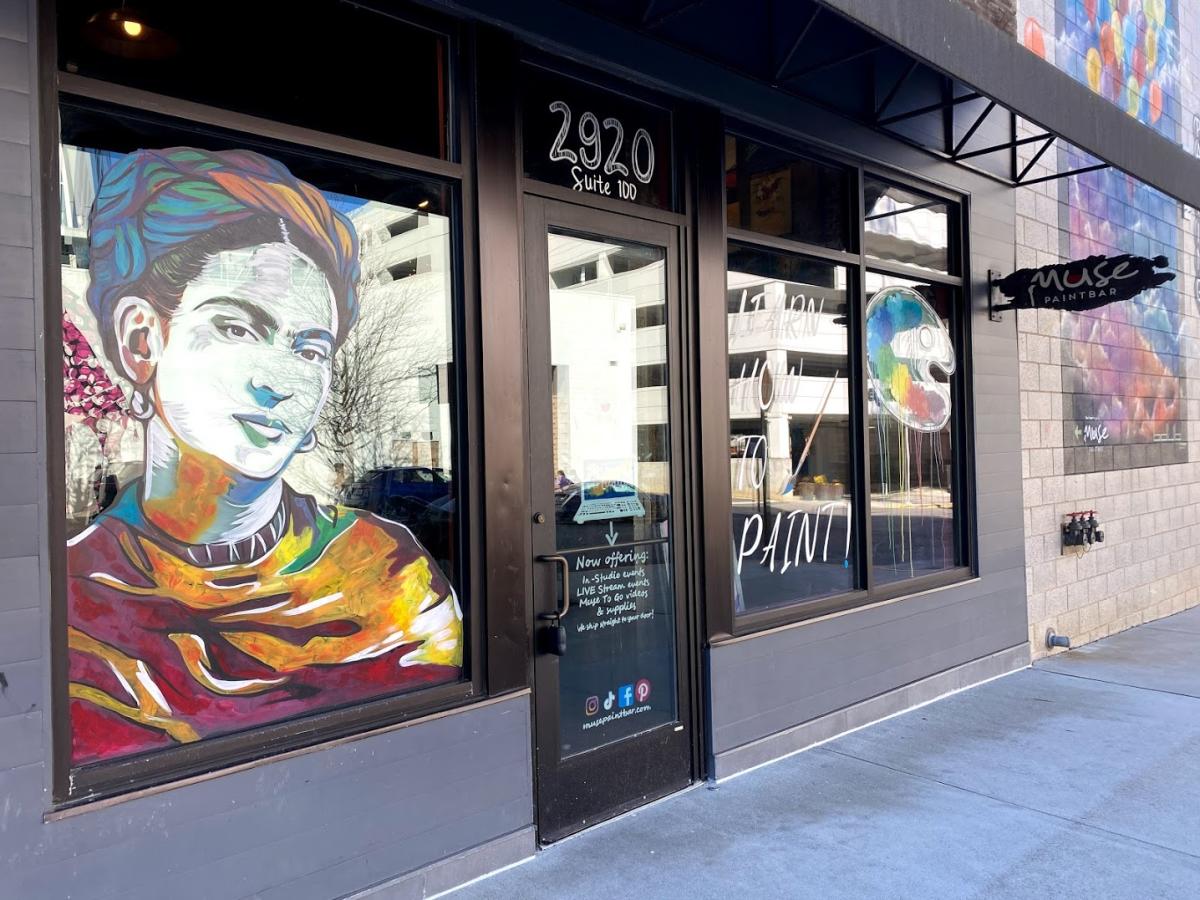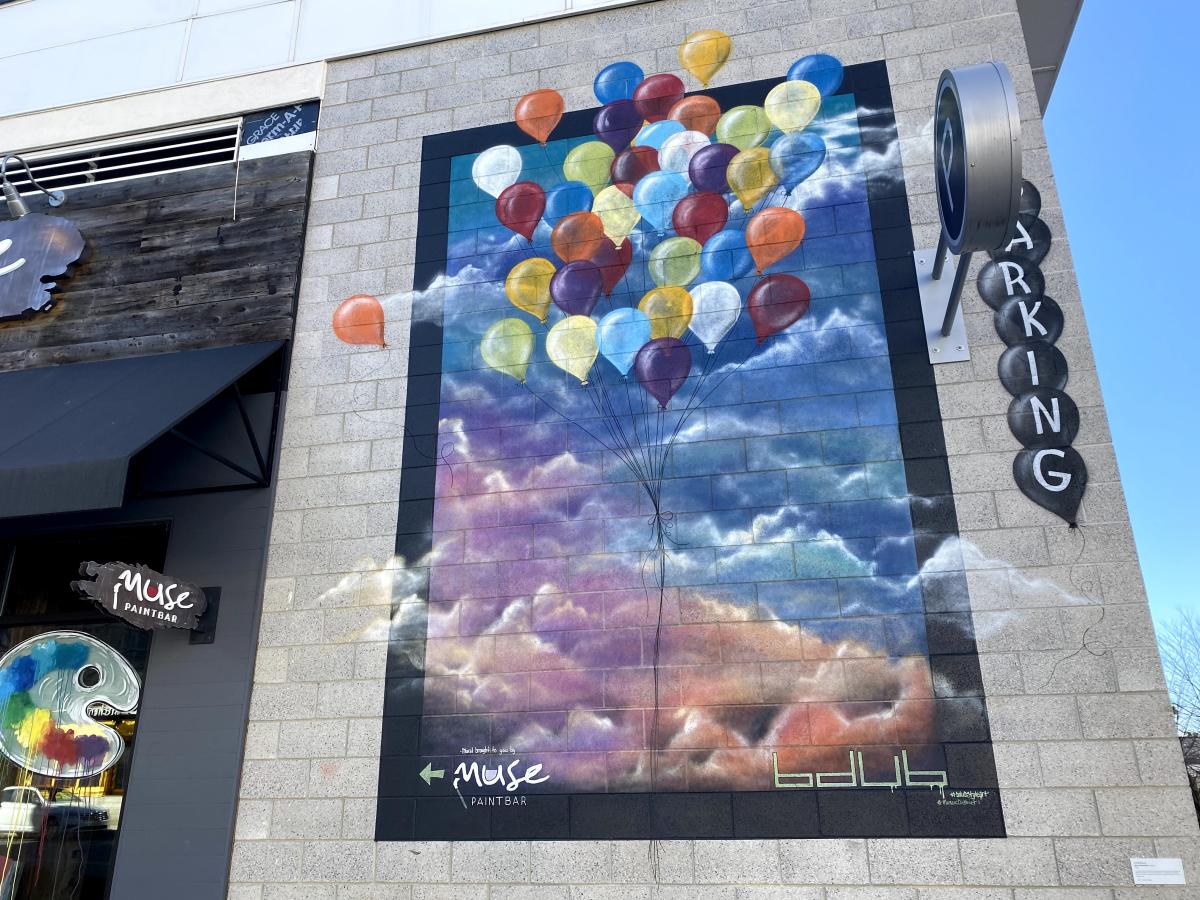 Soon after passing Mom & Pop Cafe, hang a left on Strawberry Lane, past Lululemon. Continue down the road until you reach Muse Paintbar, a beginner-friendly paint studio where you can learn to create your own artwork while enjoying beverages and tapas. It's no wonder you'd find a double-feature here - art is their specialty after all! The glass window art changes every so often, but this month's piece features the iconic Mexican painter, Frida Kahlo - a fitting choice for Women's History Month. (Read more on Women's History in our blog!) 
On the opposite side of the glass windows, you'll find a local favorite. Brian Wentworth's untitled mural was created in 2016, representing his life's philosophy that "Life begins at the end of your comfort zone." The freehand painted balloons allude to one's ability to transport to another realm as a representation of beginning a new venture. To get the best photo, stand in front and make a fist in front of the balloon strings as if you're holding them. Lean to one side, raise your leg, and give the illusion of flying away! 
Turn about-face and cross the street to find our next colorful work of art.
 
Art at New Heights
Strawberry Lane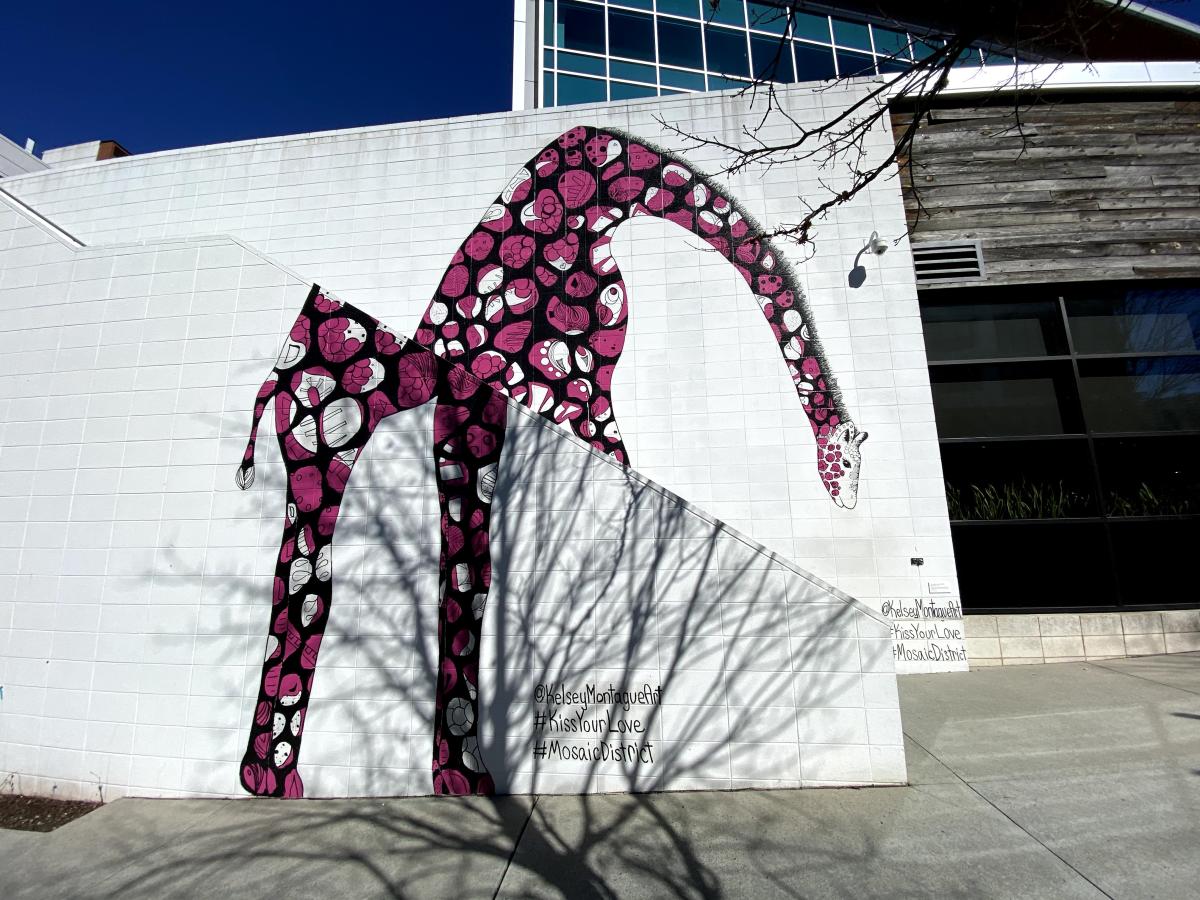 Beside True Food Kitchen, you'll see a towering pink giraffe mural by world-famous artist Kelsey Montague. Kelsey's murals are known far and wide! From Australia to South Africa, to right here in Fairfax County, she's created over 250 whimsical works of public art. One of the most unique things about this mural is its use of the stairwell space. The upper half of the giraffe is painted on the back wall, and the lower half is painted across the sidewalk-adjacent wall while the stairs run through the middle. Plus, the details within the spots are beyond impressive! 
Walk down the hill to the left approaching the main thoroughfare of Eskridge Road, towards Caboose Commons, until you reach the Mosaic Market Garage.
 
Flower Power
Strawberry Lane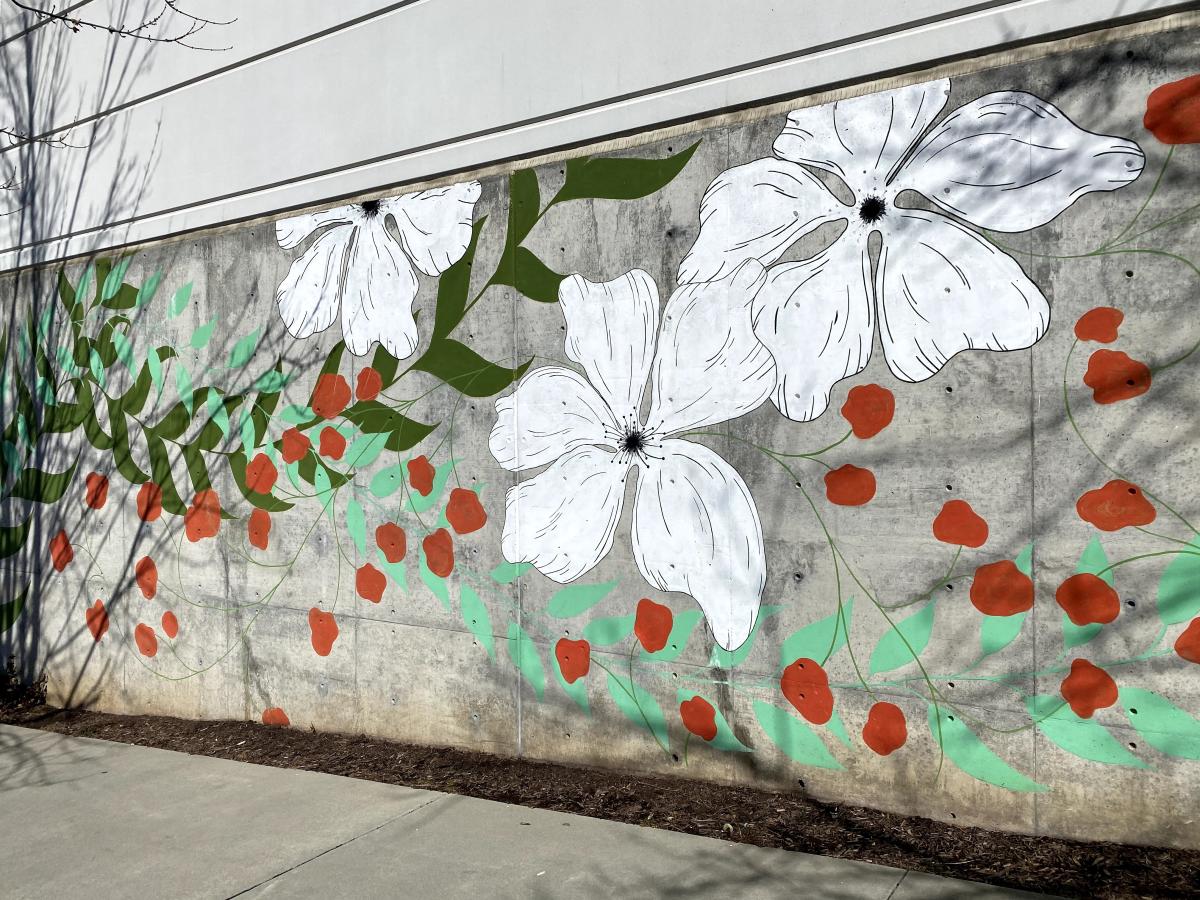 Stop and smell the lilies! This flowery mural, located on the side of the Mosaic Market Garage, is the perfect photo op for the approaching spring season. Speaking of, did you know that Mosaic is hosting a spring drive-in movie series on top of the Market Garage this April, as part of the National Cherry Blossom Festival? Tune into classics such as Mary Poppins and Ferris Bueller's Day off with the whole family! 
Head back towards True Food Kitchen and enter the Target Parking Garage for our last tour stop.

Create, Motivate & Inspire
2905 District Ave


At the entrance of the Target Parking Garage, Erin Condren's shop features a wrap-around mural that spans three out of four sides of the store's walls. Inspired by the store's bold and colorful planners and stationery, the mural is true to its message to create, motivate, and inspire! 

If you loved the Mosaic Murals tour, check out the Most Instagrammable Spots in FXVA or the 7 Must-See Public Artworks in Reston to keep the photo-op fun going! Don't forget to tag us in your photos using #FXVA and @VisitFairfax so we can see your adventures! Where are your favorite spots to take photos?