**2020 Covid-19 Update: Be sure to contact these restaurants directly for the latest information on takeout, delivery and seating options, as well as hours of operation.** 
Ok. Let's just get some simple truths out of the way on the front end of this post. 
1. Tacos are the greatest food on earth. 
2. If you don't like tacos, you can't be my friend. 
3. There is no way for me to accurately tell you what the "best" taco place in Northern Virginia is because the heavenly people that create these magical little things each put their unique spin on it and their fans would go blue in the face defending their favorite taco and taco joint.
And because of point number 3 above, I'm just going to focus on some of my favorite places to get tacos and you can chime in under the comments section to add to the conversation. Because if you tell me about a place I don't know about...I will love you, I will go there, and I will eat their tacos.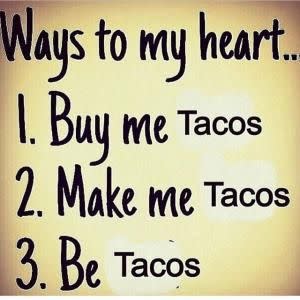 Taco Bamba
I was blessed to live near Taco Bamba's original location in Falls Church. So I went there. A lot. When I walked in for the first time, I achieved a sense of cosmic food serenity I have never felt before - I was in some sort of Taco Shangri La! I have tried many of their tacos but my go-to is the El Gringo...because, ultimately, that is what I am.  They also have locations in Vienna, Springfield, and Fairfax.
El Tio
I happened upon this place by (happy) accident. I was hungry, had driven past it a million times, and felt hangry for a taco (or five). So I go in, was enamored by the bar, had a seat, and ordered the fish tacos. Touchdown! The crusted tilapia hit the spot and kept bringing me back for more. A bonus is that the Falls Church location is just a stone's throw from Settle Down Easy Brewing Company and you can even get their food catered into the brewery while you tend to your beer. (Or just order one from the in-brewery taco stand!) Doesn't get much better than that! El Tio also has locations in Great Falls and McLean.
bartaco
I was so excited when this place opened up in Reston Town Center! I mean, they're all about tacos and tequila and there's nothing about either of those things that I don't love. As I sat there pondering what I should order from this beach-inspired slice of paradise, a little voice inside my head whispered "carne asada." My taste buds gave their stamp of approval and I've been a convert ever since. Mosaic District also has its own bartaco, which pairs nicely with a date night movie at the Angelika Film Center. 
Red Rocks Cafe and Tequila Bar
If tacos were an animal and you had to guess where they lived in the wild, my advice to you would be to look for where the tequila is. I guarantee you will find a herd of tacos nearby. Went here for tequila...found memorable tacos. Now, I've learned a couple of things in my life. ***FREE ADVICE: When you're at a bar and don't know what to order and you ask the bartender what's good, listen to what they say. When I asked that question here, the bartender told me the burgers were delicious but so were the fried beef tacos. "Uhhhh...I'd like 6 fried beef tacos please" was my response. I. Ate. Them. All. I don't know what kind of sour cream sauce creation these things are topped with but I am officially in love and in need of counseling because I can't get them off my mind. If you're in Centreville, go here.
Señor Ramon Taqueria
I was feeling a bit adventurous when I visited this place in Chantilly. And since generally in life I'm risk-averse, my idea of getting wild is trying a new type of taco. So I got all crazy and ordered their Cordero, the lamb taco. Now, lamb is one of those meats that is polarizing. People either love it or hate it. And the people who love it are constantly reminded by the people who hate it about how cute lambs are ... while they give you the side-eye. Well, the haters can keep on hating and I'll keep on loving lamb tacos because these hit the spot! 
Zandra's Taqueria
So this joint has been gathering some serious award hardware over the past few years, including "Best Tacos in the DC area" by WTOP listeners in 2019 and "#1 Best Mexican Restaurant in Northern Virginia" in 2017, 2018 and 2019 by Virginia Living Magazine. And since my second job is that of a taco connoisseur, I had to see what all the fuss was about. Well, I found out that all the fuss is about handcrafted tacos that amaze, astound, and satisfy. I had read some favorable Yelp! reviews about the Al Pastor taco (pork shoulder, pineapple, cilantro, and onion), so I went with that...and my life instantly changed for the better.  
I know there are some of you out there who are upset I didn't name your favorite taco place. And that's okay. There are dozens and dozens of awesome places here in Fairfax County making tacos that probably would've made my list had I personally known about their taco talents. So tell me in the comments section where I should go next and share your favorite place (and taco type) with us on social media using #FXVA and @VisitFairfax.