In the bustling metropolitan area near our nation's capital, spotting more than a few stars in the night sky can feel like searching for a needle in a haystack. Luckily, Fairfax County has a variety of spots tucked away from light pollution to see the world above. Whether you're an astronomy enthusiast or just someone who enjoys the mystery of outer space, these stargazing spots in Northern Virginia promise a twinkling experience under the night sky.
Turner Farm Park Observatory
📍Great Falls

Discover the wonders of the stars at Turner Farm Park in Great Falls. Offering a variety of astronomy events throughout the year, this park stands proudly as one of the darkest nighttime spots within a 30-mile radius of Washington, D.C. - free from light pollution. The on-site Observatory boasts three permanent telescopes and a retractable roof, ensuring an immersive stargazing experience. Join the Analemma Society on Friday nights for their Public Viewing Sessions, where celestial wonders come to life through various telescopes in the observatory room. Visitors are invited to bring their own telescopes, binoculars, and gear, and dress warmly for a night under the stars. Volunteers will be on hand to assist visitors in using the telescopes on-site.
Stargazing takes place every clear Friday night, weather permitting
Before heading out, make sure to check Analemma Society's Facebook for weather updates.
7:30- 9:30 p.m. (Spring 2023)
8:00-10:00 p.m. (April 7 - May 5)
8:30-10:30 p.m. (Summer 2023)
Aside from stargazing nights, there are a plethora of other special events at Turner Farm that you can sign up for through the Fairfax County Park Authority. 
 
Poetry Beneath the Stars
with Fairfax Poet Laureate & ARTSFAIRFAX
August 19 from 7:30 - 9:30PM

Introduction to Astronomy
August 16 from 8:00 - 9:00PM
September 13 from 7:30 - 8:30PM
October 25 from 08:30 - 9:30PM

Intro to Telescopes
September 26 from 7:30 - 9:00PM
Night Sky Tour at the Roll-Top Observatory
August 23 from 8:00 - 9:00PM
September 11 from 7:30 - 8:30PM
October 9 from 7:30 - 8:30PM
Telescope Observing for Beginners
October 18 from 7:30 - 8:30PM
Planet Adventure Night
October 23 from 7:30 - 8:30PM
November 29 from 7:30 - 8:30PM

George Mason Observatory
📍Fairfax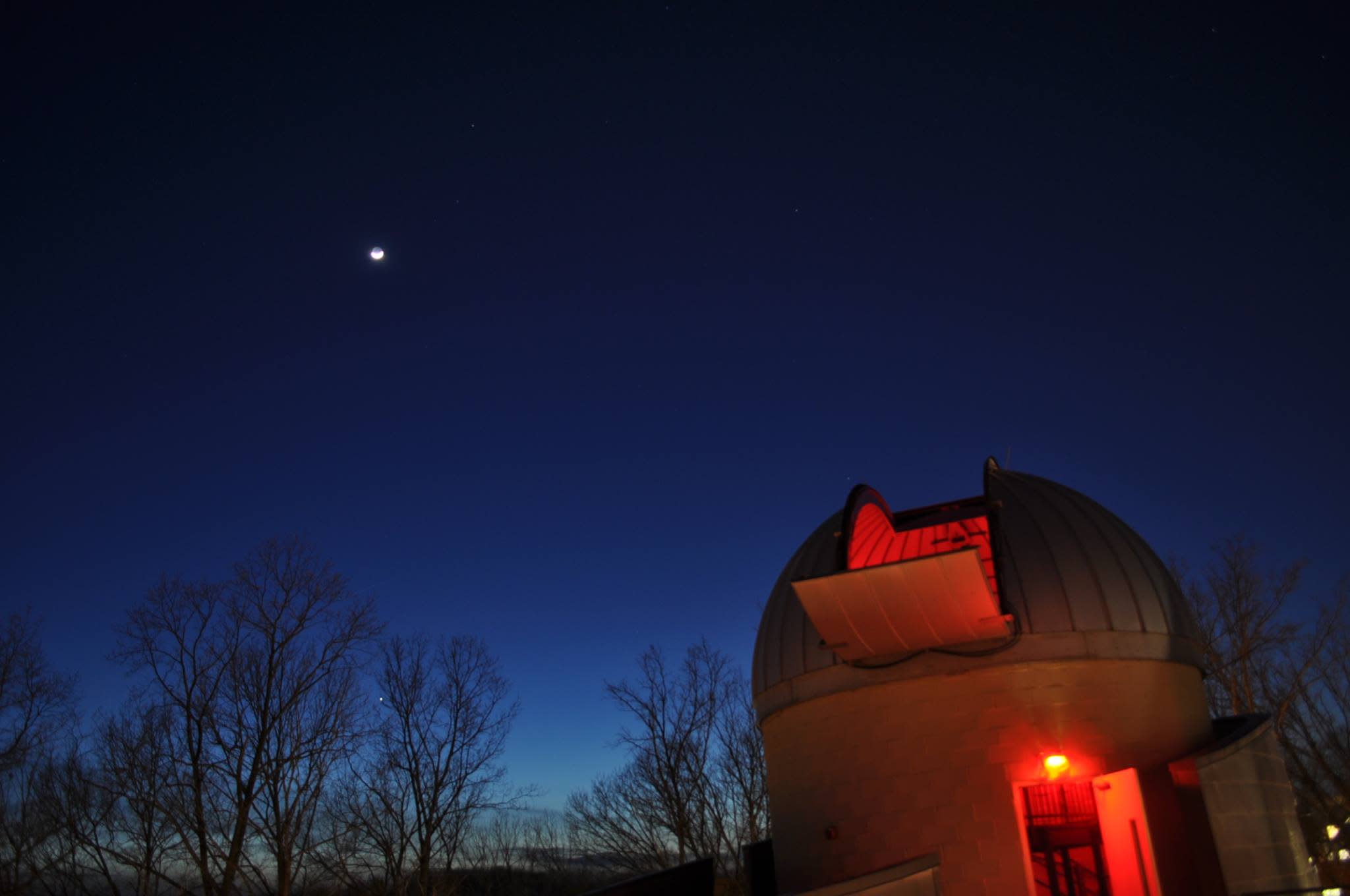 Located on the roof of Research Hall, the George Mason University Observatory hosts free public tours on alternating Tuesday evenings during the academic year right after sunset. The observatory is currently home to a very impressive collection of telescopes, including a 32″ Ritchey-Chretien Telescope, 12″ Cassegrain (Mancini), 6″ Solar Telescope, 16″ Dobsonian (Strickland), 2 Meade 12″ Schmidt-Cassegrains (SCTs) and two telescopes from Mason's original observatory. Tuesday events begin with a 30-minute scientific talk, followed by an hour-long guided telescope tour. Here's the observatory's public events calendar for the full details.
Hot tip: GMU's Observatory is also the temporary home to the Interstellar Dreams Space Center, a new endeavor by the Pearl Project Institute for Innovation in STEM Literacy to encourage STEM career opportunities in aerospace beyond becoming an astronaut.
Pohick Bay Regional Park
📍Lorton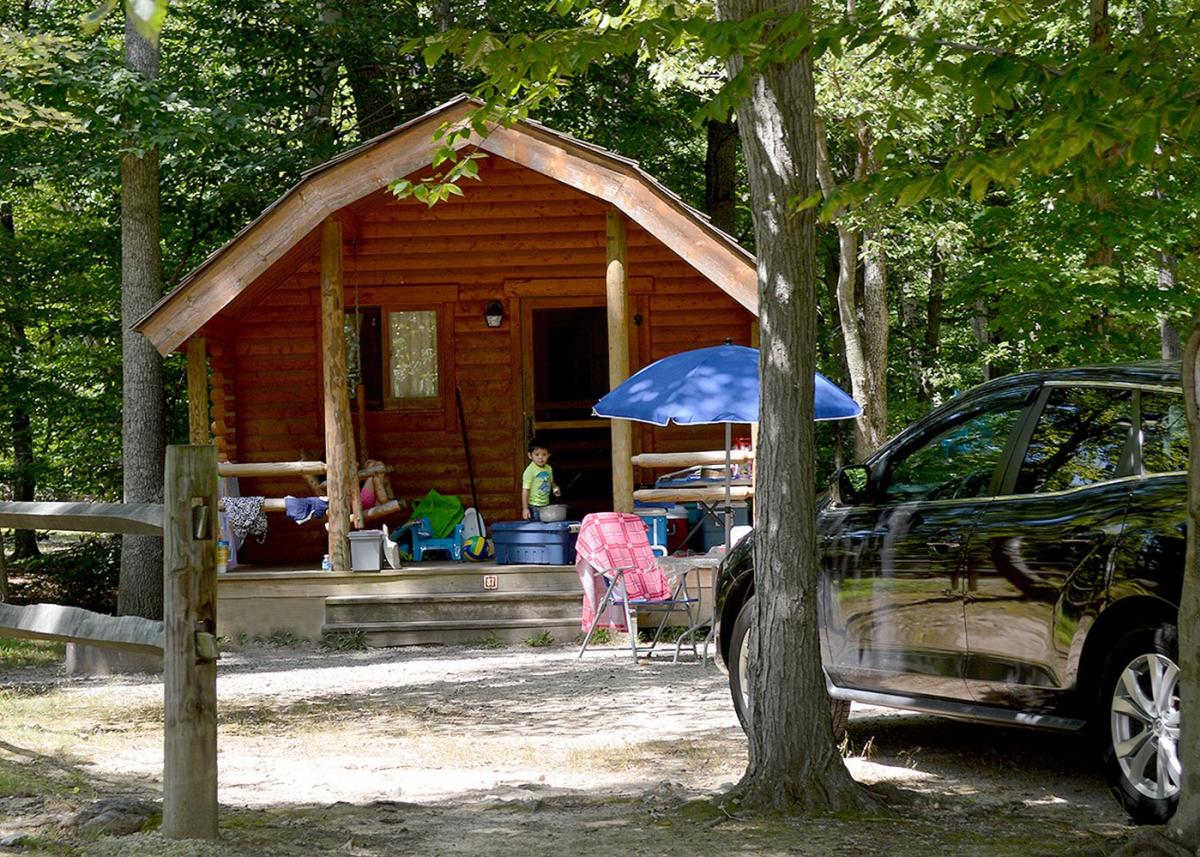 Another park on the list that offers an unobstructed view of the night skies is Pohick Bay Regional Park. Nestled along the tranquil shores of the bay, this park boasts a serene escape into the heart of nature and away from the city. Equipped with your telescope or a simple pair of binoculars, you'll be treated to a beautiful show of celestial wonders. Although there's no Clear Sky Chart specifically to forecast viewing conditions for Pohick Bay, you can utilize the aforementioned Mason Neck State Park chart. They're just a short six-minute drive away from one another! 
Want to make the adventure even sweeter? Make it an overnight! Pohick Bay offers fantastic camping opportunities - with deluxe cabins, shaded tent sites, and RV hookups available. 

More Special Events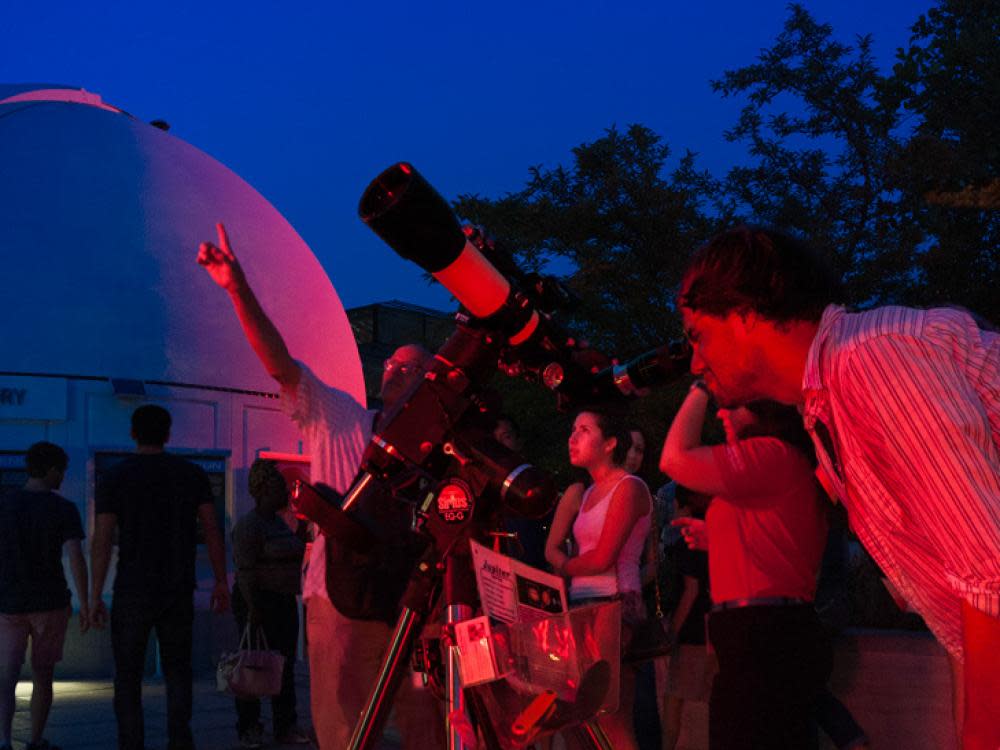 Photo courtesy National Air and Space Museum
Stargazing at Steven F. Udvar-Hazy Center
📍Chantilly
With hundreds of space artifacts and aircraft on display during the day, the National Air and Space Museum Steven F. Udvar-Hazy Center is the perfect place for astronomy enthusiasts. Join museum staff and members of the Northern Virginia Astronomy Club on August 26 from 7:30 - 9:30PM for an evening of stargazing. They'll provide the telescopes, you bring the curiosity! Experienced assistance will help you to observe a variety of things, including planets, stars, and the Moon. Click Here for Event Information
Boardwalk Astronomy at Huntley Meadows Park
📍Alexandria
Huntley Meadows Park offers a sprawling landscape of wetlands to discover as you stroll along their boardwalk. Join park naturalists as they take you on a tour along the boardwalk of constellations, comets, and other current events happening in the skies above. 
August 26 from 7:30 - 9:30PM | Register Here
November 18 from 8:00 - 10:00PM | Register Here
As you can see, Fairfax County has plenty of locations and opportunities to observe the vastness of the universe. So, pack your telescope, grab your loved ones, and embrace the magic of the night sky as you gaze up to infinity and beyond! Be sure to tag us in your celestial adventures on social media using @visitfairfax and #FXVA.