Camping in Northern Virginia may offer one of the best ways of distancing yourself from the hustle and bustle of the nearby city life. And in this day and age, surrounding yourself with nature's bounty can have a multitude of health benefits.
Fairfax County has several great options for camping and cabin rentals. Here are a few to help inspire your next camping or cabin getaway:

Burke Lake Park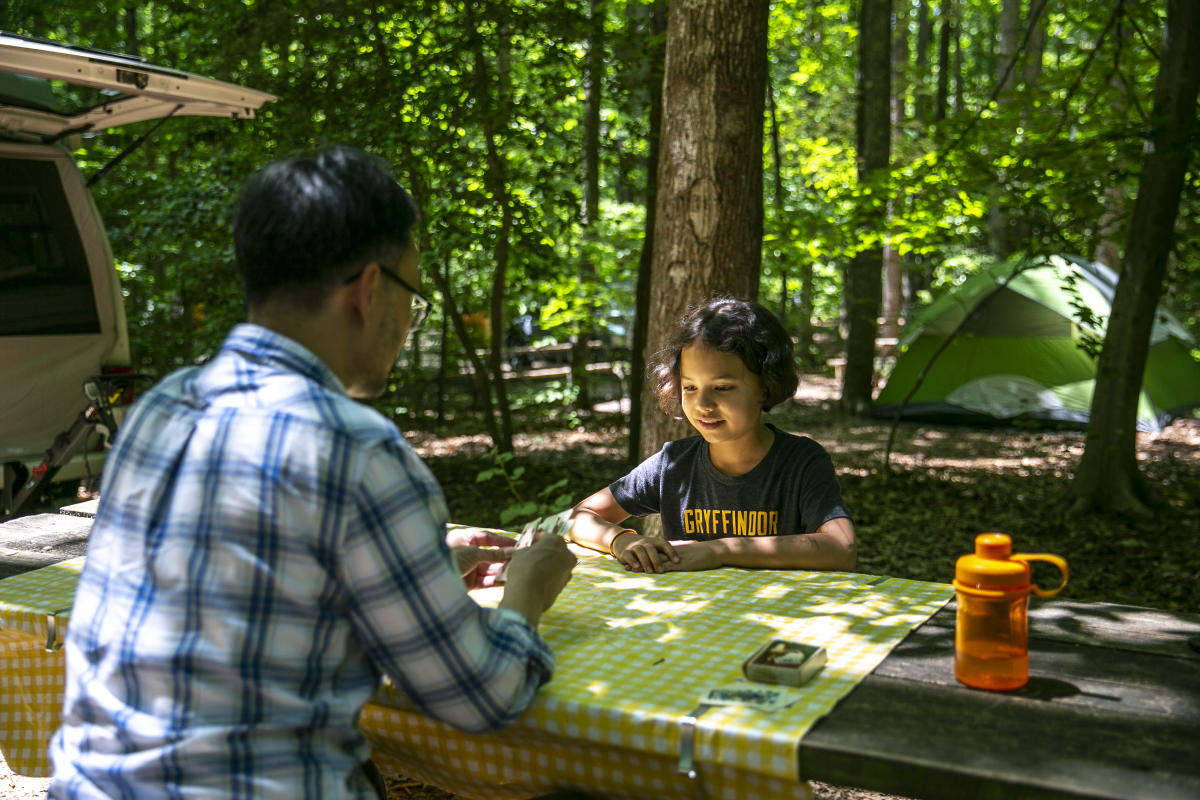 Enjoy camping at one of Fairfax County's waterfront parks, which offers campsite rentals for families and groups. Burke Lake Park's 100 wooded sites feature a grill, picnic table, and fire ring, with nearby bathhouses and showers as well as a camp store – and pets are welcome to join. Burke Lake Park also offers primitive, amenity-free wilderness camping, for those up to the challenge. 
What to Do Nearby: One of the most picturesque parks in the region, Burke Lake is an outdoor lovers' dream, offering beautiful trails, kayaks and paddleboard rentals, fishing, biking, and fun family activities like mini-golf and disc golf. In the summer, you can enjoy ice cream from the shop and take a ride on the carousel or miniature train.

Pohick Bay Regional Park Campground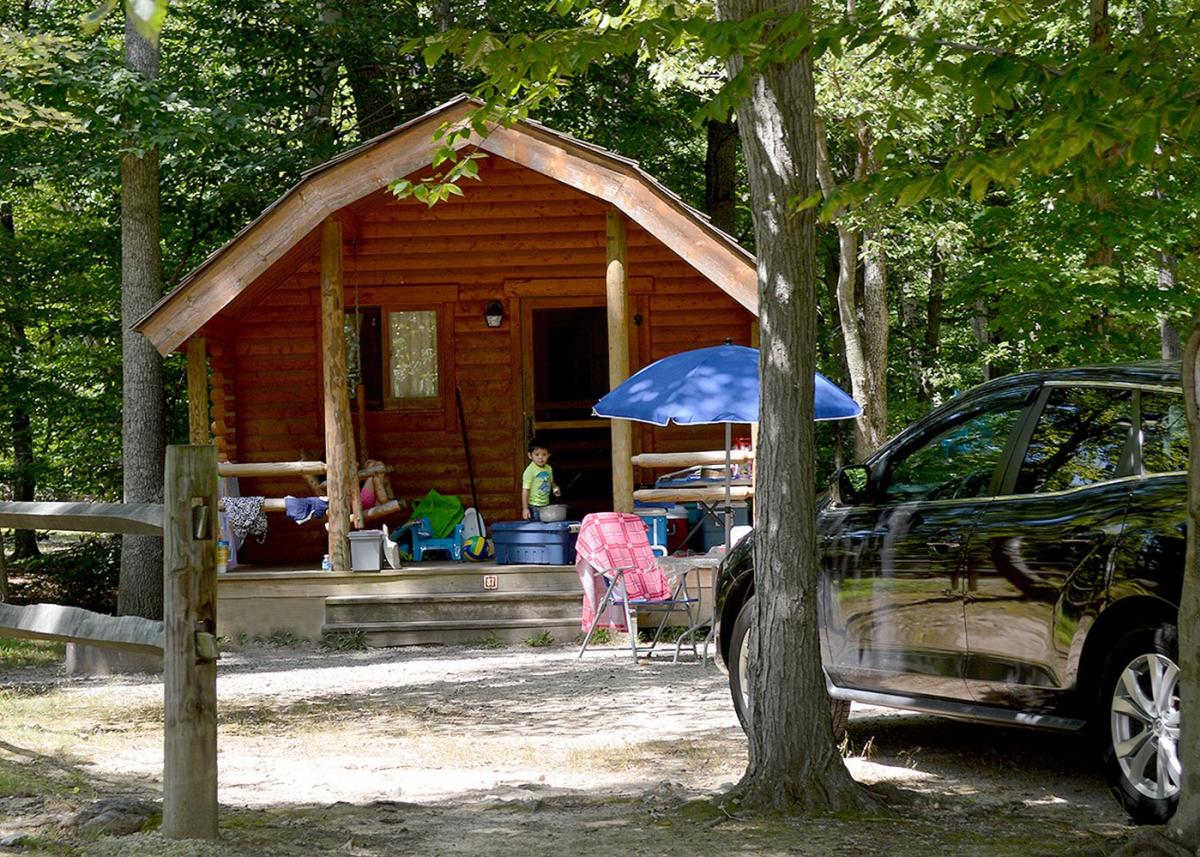 Image courtesy NOVA Parks
Enjoy an overnight outdoors experience without the commitment of tent camping at Pohick Bay Regional Park. Rustic cabins featuring electricity, AC/heat, multiple beds, a living area, porch swing, plus a mini-fridge and microwave are available. Restrooms are located within walking distance. Want an even more luxurious experience? Check out the fully equipped deluxe cabins at Pohick Bay with water, electricity, AC/heat, kitchenette, a private bathroom, and back porch with partial water views of the Potomac River. The park also offers 150 shaded campsites at the family campground, most of which include a grill, fire ring, and picnic table. Stop by the Camp Store for supplies, firewood, souvenirs, and snacks!
What to Do Nearby: Pohick Bay is in the Mason Neck area, known for its incredible wildlife watching, especially bald eagles. Rent a kayak, canoe, or paddleboard in the warmer months, or launch your boat from the park's ramp. If you're an equestrian, take your horse along the 3.3-mile trail to enjoy the scenery. Try your hand at fishing, or mini-golf, or play a round on the adjacent Pohick Bay Golf Course. And in the summer, don't miss the splish-splashing fun at Pirate's Cove Waterpark!

Lake Fairfax Park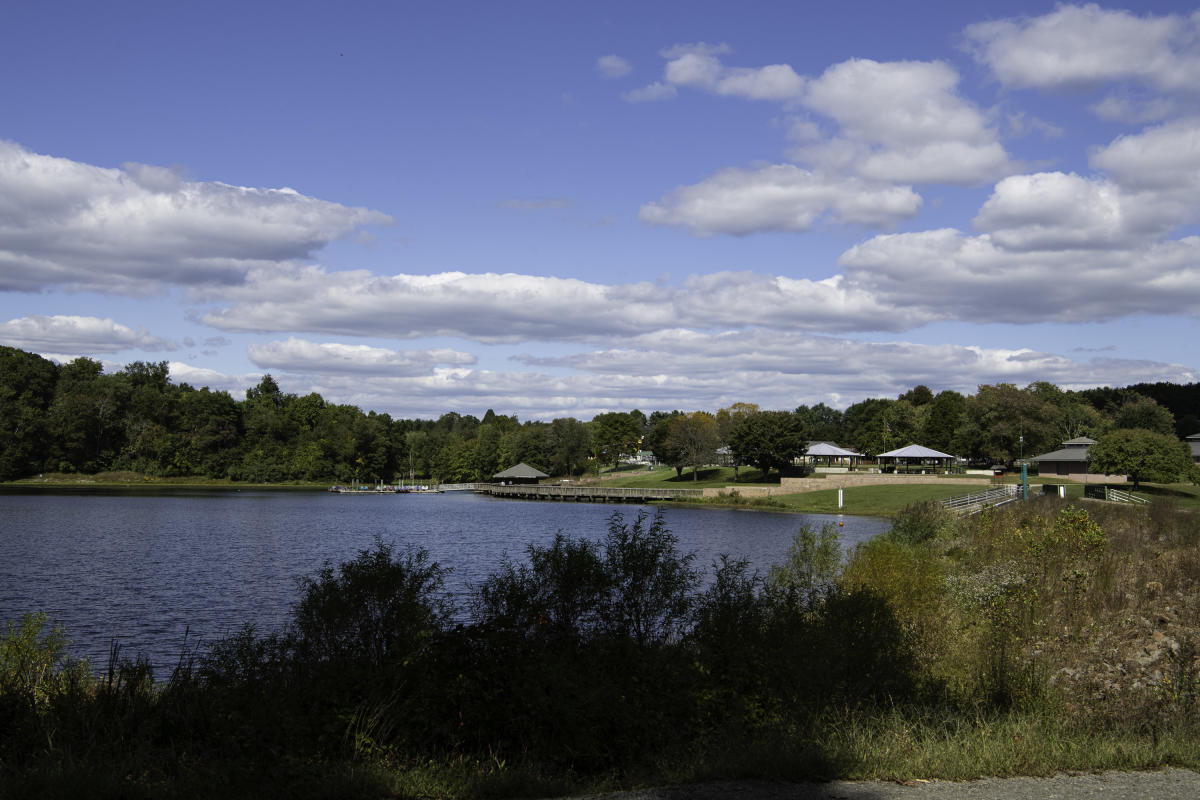 Image courtesy Fairfax County Park Authority
This waterfront park in the Reston/Vienna area of the county offers grills, picnic tables, and fire rings near its campsite, with nearby bathhouses and showers. Stop by the Camp Store for supplies, snacks, and souvenirs! There are 136 sites available, most with electric hookups, and your furry friends are more than welcome to tag along.
What to Do Nearby: Lake Fairfax is a great destination for skaters and bikers, home to a skate park and a fairly new Pump Track for biking. The area also offers fishing, boat rentals, and miles of hiking trails. In the summer, relax at the Water Mine Family Swimmin' Hole or hop on the kid-friendly antique carousel. Bonus – take a short drive to the adjacent Roer's Zoofari to meet an adorable array of animals.

Bull Run Regional Park Campground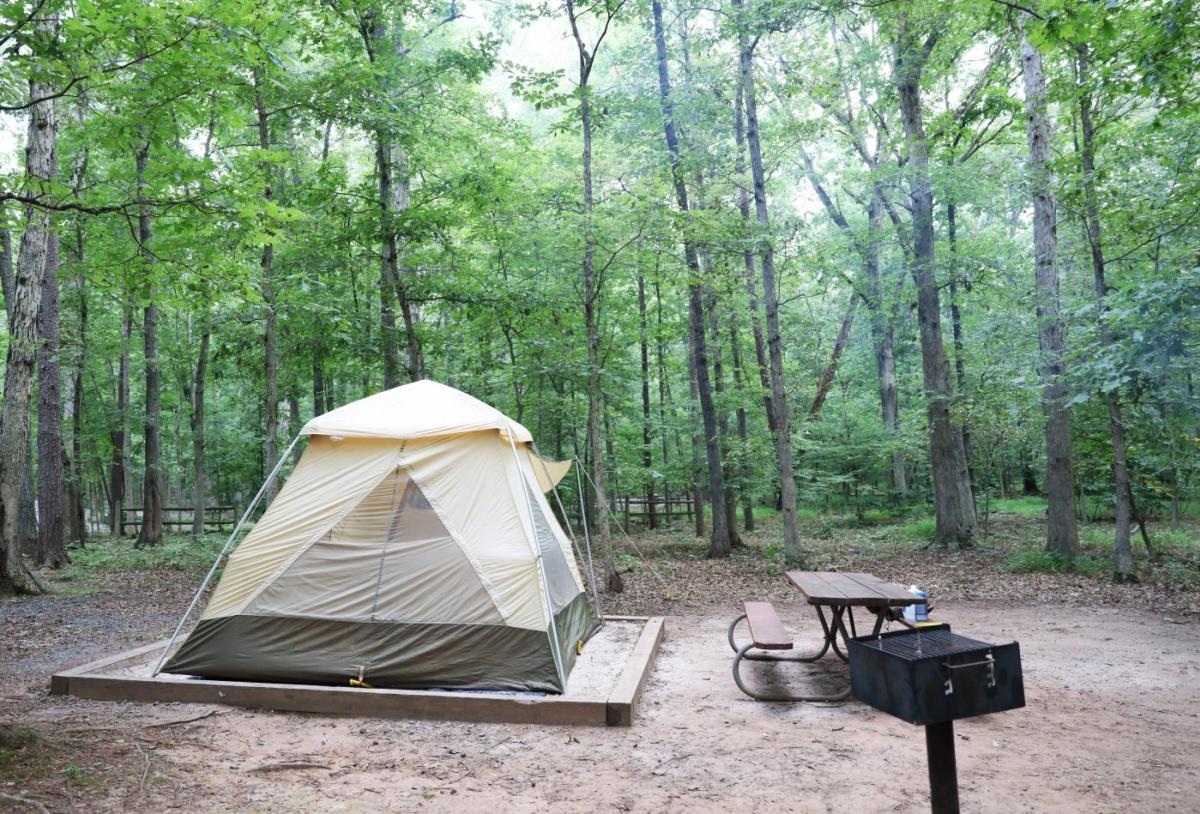 Image courtesy NOVA Parks
Similar to Pohick Bay, Bull Run's campground facilities offer 9 rustic cabins (available year-round) that feature electricity, AC/heat, multiple beds, a living area, porch swing, mini-fridges, and microwaves. There are also several family camping options available including RV sites with electric-only service, RV sites with full-service, and group camping areas.  Comfort stations, with restrooms, showers, and laundry facilities, and a camp store are just a short walk away.
What to Do Nearby: During springtime, stroll the 1.5-mile Bluebell Trail or the longer, 19.7-mile Bull Run Occoquan Trail. In the summer, cool down with the waterslides and pools at Atlantis Waterpark. In the fall, try your hand at the 18-hole disc golf course or kayak along the Occoquan Watertrail. And in the winter, hop in the car to drive through the winter wonderland at the Bull Run Festival of Lights & Holiday Village. Bonus – just a short drive from the park is The Winery at Bull Run and Manassas National Battlefield Park.

Looking for more outdoorsy fun during your weekend camping getaway? Check out these local trails that are near wineries and breweries or take a suburban wildlife safari in southern Fairfax County. More hiking options await you here, and you can find a few fun off-road bike trails right here.