Throughout the summer of 2019, Fairfax County's first permanent "LOVEwork" sign is on tour and is set to travel around to some of our most popular attractions that represent the eclectic visitor experiences found here. We're on tour stop number 7, and eventually, the sign will find a permanent home at the Workhouse Arts Center in Lorton. Once there, the letters will be creatively "bedazzled" by several of the artists-in-residence at the Workhouse, making the new Fairfax County "LOVEwork" sign a unique piece of art that visitors will enjoy for years to come.
The current stop on the "LOVEwork" tour is Caboose Commons. Located at the Mosaic District, Caboose Commons is the second location for Fairfax County brewery Caboose Brewing Co. which also operates Caboose Tavern in the Town of Vienna.  Caboose Commons is unique in the fact that it is also a full-service coffeehouse (opens at 7am daily) in addition to the brewery. They also serve up delicious locally sourced food for breakfast, lunch, and dinner making Caboose Commons a must-visit any time of day.  While the "LOVEwork" sign is there, you can plan your visit around many of their weekly events - like bringing your dog to Ruff Tuesday for the ultimate canine LOVE selfie.
And make sure that if you do visit and snap a sweet pic of the LOVE letters, upload them here or post them to social media using the hashtags #FXVA, #SHAREWHATYOULOVE, and #LOVEVA.
 
General Information
LOVEwork Sign Dates: Tuesday Morning, June 25 - Monday, July 1, 2019
Operating Hours: Sunday - Thursday 7am - 11pm; Friday - Saturday 7am - 1am (Kitchen: 7am - 12:30am)
Location: The LOVE sign will be located in the beer garden at 2918 Eskridge Road Fairfax, VA 22031
Cost: Free to visit. Beer, coffee, and food available for purchase.
Things To Know About Caboose Commons
They Have More Drinks Than Just Beer - Their beer is fantastic, but there's so much more to try.  They also have wine, cider, cocktails, cane sugar soda, and coffee!  Check out their drink menu and see what's in store for you to try.
Their Food Is As Good As Their Drinks - They have a full menu for breakfast, lunch, and dinner - with a special menu for the kids.  So if you're hungry, you won't be disappointed.  Browse their menu and see what the choices are for your visit.
They Love Teachers and Veterans - There are special coffee deals for teachers and veterans every day.  Just ask the baristas what specials they have going on when you visit.
Homebrewers Get Special Treatment - Members of the American Homebrewer's Association get Happy Hour pricing any time they visit during operating hours.
Dogs Are Welcome - Dogs are welcome to bring their owners and chill on the patio year-round.  They even have an ongoing Ruff Tuesdays event during the summer with extended happy hour when you bring your doggos to the patio. 
They Believe In Having Fun - Their calendar is full of fun events year-round, so plan accordingly for the BEST time!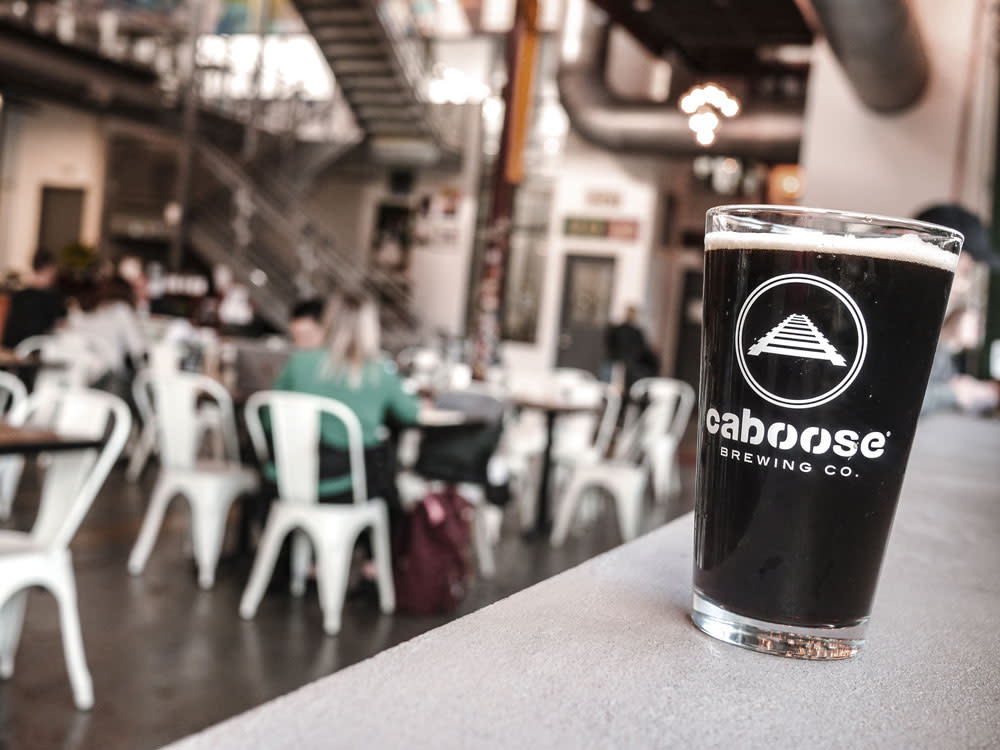 Where the LOVEwork Sign Goes From Here
Next up on the LOVEwork tour is George Washington's Distillery & Gristmill.  So if you can't make it to Caboose Commons, we hope to see you at one of the following sites instead:
July 3 – July 10: George Washington's Distillery & Gristmill
July 12 – July 24: Wolf Trap
July 26 – August 4: Frying Pan Farm Park
August 6 and beyond: Workhouse Arts Center
Fairfax County is great because of you, visitors and residents alike. Your support of our local community makes this all possible. Help us showcase our greatness:  We'll post our favorite images of you and your Instaworthy "LOVEwork" snaps on our official LOVE page, where you can also find the sign's summer-long tour dates and locations.
If you see our LOVEwork sign during its journey across the county, don't be shy, take a picture with it and upload your images here.