There is one thing that every music and performing arts lover familiar to the Northern Virginia and Washington, DC region can agree on – and that is the indelible fact that there is nothing quite like a show under the stars at Wolf Trap, America's only National Park dedicated to the Performing Arts.
For more than 50 years now, patrons of this true area cultural gem celebrate the arts by having summer picnics on the lawn while enjoying a concert from a major performing artist or an Academy Award-winning film backed by the National Symphony Orchestra. They relish in the more intimate performances held within the walls of 18th century reclaimed barns. They bring their children to educational and fun-filled performances in the theater tucked back in the National Park-land woods. And they support the Foundation's incredible efforts to further a high-quality arts education in our next generation of artists.
These experiences would not be possible today without the powerful vision of one forward-thinking woman. She is Catherine Filene Shouse, the founder of Wolf Trap.
This is HERstory.

A Love of Arts, Nature & Public Service


Image courtesy Wolf Trap Foundation / Mrs. Shouse (seated) on her farm
Growing up in Massachusetts, Catherine Filene was surrounded by arts, music, nature, and philanthropy from a young age, thanks to her parents' involvement in various arts organizations. These passions continued to drive her well into her adult life, as she became a strong proponent of women's rights, a prolific and public supporter of the arts, and an invaluable asset to President Calvin Coolidge, who appointed her as the first chairwoman of the Federal Prison for Women. (She also became the first woman appointed to the Democratic National Committee. See more of the incredible achievements she made prior to her mid-thirties here.)
Catherine hoped that her own children and grandchildren would grow to have an appreciation for nature just as she did and wanted to provide space for them to nurture that interest. One day, from her home in the Georgetown neighborhood of Washington, DC, she set out on a drive towards Virginia to look for farmland. Just 15 miles west of the District, she found and purchased the land that Wolf Trap now sits on in February of 1930 with $5,300.
The land, called Wolf Trap Farm (derived from the name of a creek that ran through the property), first existed as a working farm that grew oats, wheat, alfalfa, and other crops for family and friends, but true to Catherine's giving personality, it later became a refuge for World War II soldiers on leave to rest and nourish during the conflict.

The Dream of a Cultural Oasis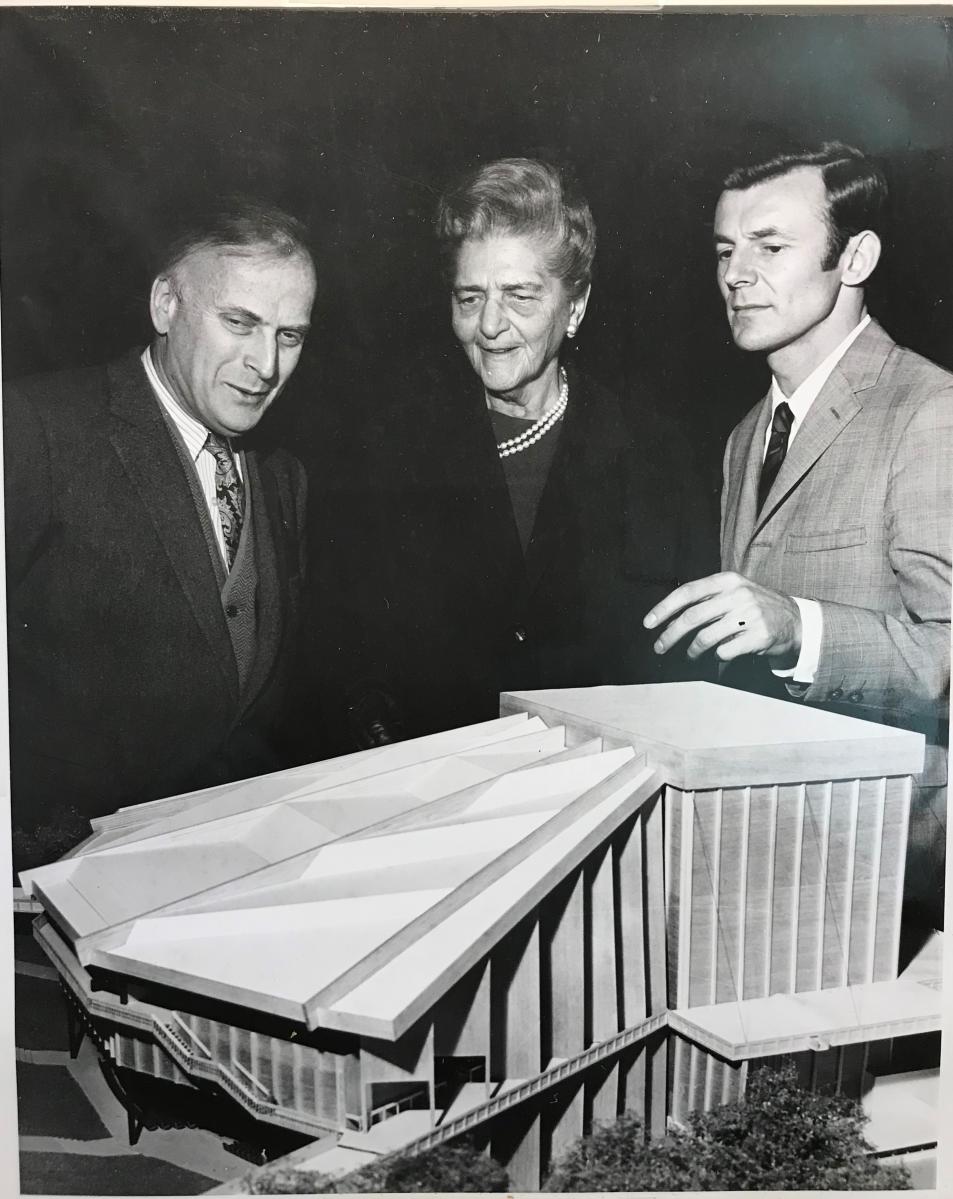 Image courtesy Wolf Trap National Park for the Performing Arts / Schlesinger Library at the Radcliffe Institute, Harvard University.
By 1956, Catherine's farmland had grown to 168 acres and had become a popular location for gatherings of the Washington social and political societies. It was likely these gatherings that helped cement Catherine's foresight that this land could work as a cultural oasis; a way to bring nature and the arts together.
So in 1966, with a goal of protecting the land from the area's encroaching development, and to enact her vision, she donated nearly 100 acres to the U.S. Department of the Interior, along with substantial funds to build a large, open-air amphitheater. (Read more on how the Interior helped save another Fairfax County oasis during this time period.)
That same year, Congress designated Wolf Trap as America's only National Park for the Performing Arts.
Seeing It Through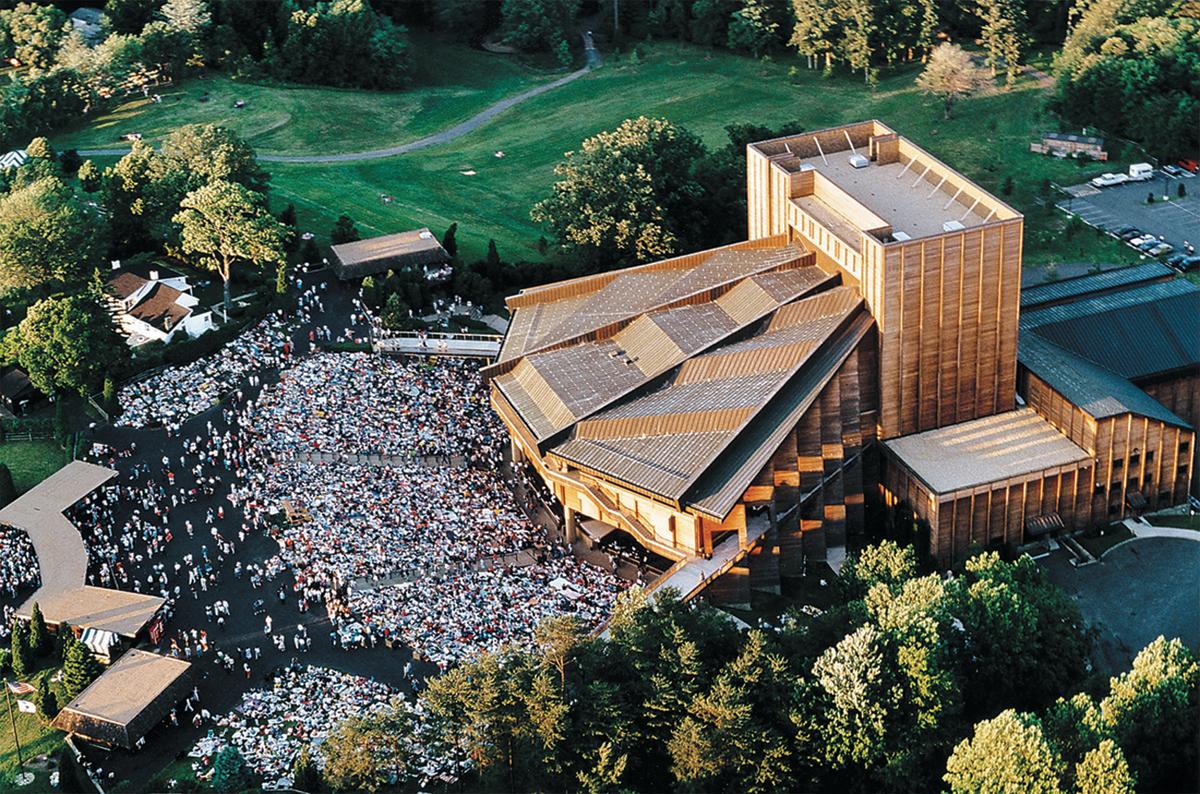 Image courtesy Wolf Trap Foundation
Wolf Trap held its inaugural performance in July of 1971, featuring Julius Rudel conducting the National Symphony Orchestra along with pianist Van Cliburn and New York City Opera star Norman Treigle, the U.S. Marine Band, The Choral Arts Society of Washington, and the Madison Madrigal Singers.
Catherine remained prominently involved in Wolf Trap's day-to-day operations, helping to scout performers, negotiating with global leaders to send international acts to its stage, and nurturing its growth into one of the leading arts venues in the Washington, DC area.
And in 1982, when the original Filene Center amphitheater (named for her parents) burned in a devastating fire, an undeterred Catherine led a rigorous effort to rebuild, acquiring relief funds from the government, driving a large fundraising campaign, and organizing a makeshift way for the performance season to continue in an alternative space on the land. The Filene Center reopened in 1984.
Around the same time, she donated yet another venue to the land. Inspired by a trip back to New England, she had two 18th century barns from New York shipped to Virginia and reconstructed on the property to be used as an intimate venue during the colder months. Learn more about the history of the unique Barns at Wolf Trap.

Wolf Trap Today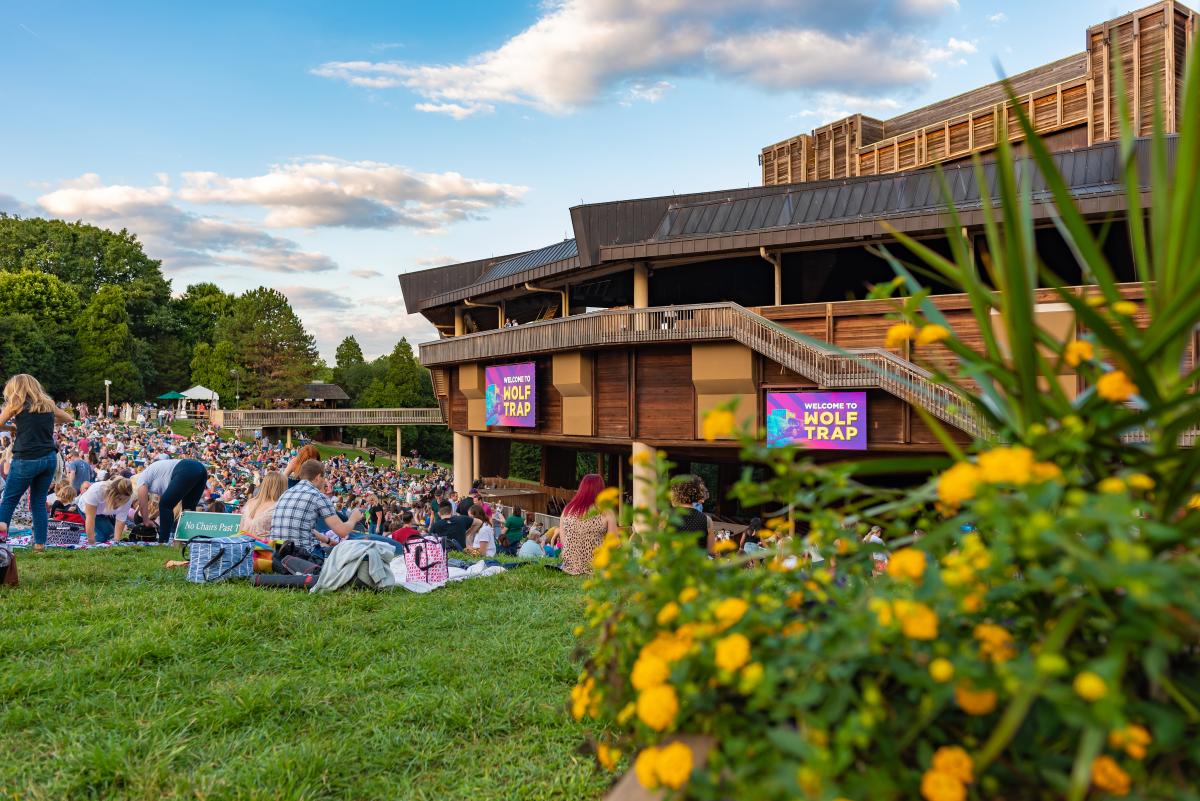 Image courtesy Wolf Trap Foundation
Catherine Filene Shouse lived a long and extraordinary life, filled with national and international recognition for her myriad of incredible accomplishments, including becoming the first and only person to receive both the American Presidential Medal of Freedom and a British Award of Dame Commander.
But her greatest legacy lies with the change she enacted to ensure that the performing arts would remain accessible to people of all ages and incomes, in a way that is rooted in the natural landscape of Virginia's rolling hills.
Today, the National Park Service continues to maintain the grounds and the Wolf Trap Foundation oversees the operations of the site as an arts venue in a public-private partnership. In 2021, Wolf Trap celebrated its 50th Anniversary. Over the last 50 years, the stage has hosted legendary artists that have run the gamut from Ringo Starr and Wynton Marsalis to Aretha Franklin and Yo-Yo Ma. Check out who will be gracing the Filene Center stage in summer 2023 right here.
Keep tabs with wolftrap.org for even more announcements about their summer season and other exciting events that celebrate this beloved institution.
To learn more about female visionaries and women's history in #FXVA, visit our HERstory page. Or on our blog, you can read about the revolutionary suffragists incarcerated at the Workhouse Arts Center, how one woman's commitment to environmental preservation resulted in the first national refuge for the Bald Eagle, and how a group of women led the way to save the home of America's first president.
What women inspire you? Join the conversation on social media at @VisitFairfax and #FXVA.