Finally! The weather is nice. Everyone has been waiting to get out and enjoy the warmth and sunshine that hasn't been around since late last summer. We have community festivals all around the county – pretty much every weekend from late April through mid-June.  So put on your shorts, grab some suntan lotion and get ready for rides, food and fun!  
Taste of Vienna
April 27th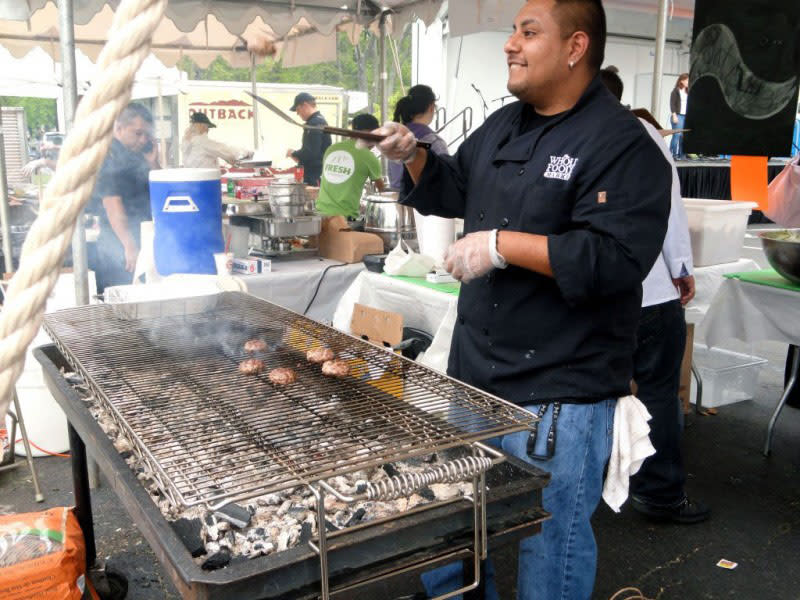 Image Courtesy Vienna Patch
I've been going to Taste of Vienna since it began 8 years ago and kind of view it as my own personal kickoff to festival season – I look at it as my reward for surviving the cold of winter. My personal challenge: devour as much food as humanly possible like a bear coming out of hibernation. Besides being an awesomely convenient way to sample all the best restaurants in the Town of Vienna, it's also a brilliant way to thank and support the first responders who work for the Vienna Volunteer Fire Department – the organization who hosts the event. Oh, and there's also local wine and beer for purchase. So beware sliders, crab cakes, pastys, kabobs, and BBQ - Papa Bear is hungry and will be on the prowl once again!  
McLean Day
Preview Day (Rides Only) May 17
May 18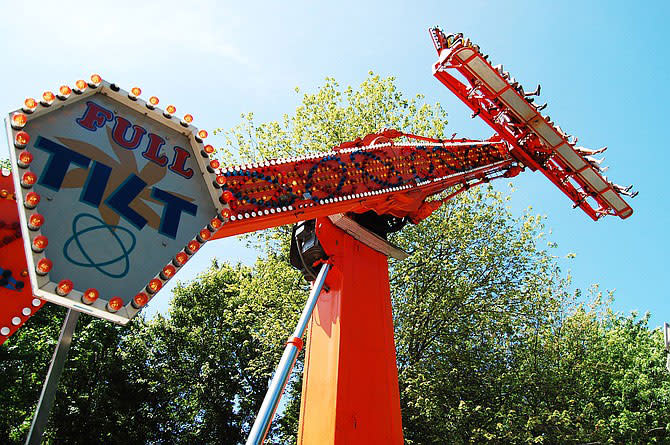 Image Courtesy Connection Newspapers
Ahhhh McLean. You're so beautiful and reserved all year and McLean Day seems the one weekend where you let your hair down and get a little wild. This event is festival season's perfect first-taste of rides, exhibitor booths, entertainment stages and everything else you'd expect a community festival to be. The large and small ticketed carnival rides will give the kids thrills while the food, music and exhibitors keep the grown ups entertained. This year on Friday May 17, a day before McLean Day, you're invited to "Preview Day" - a rides only event where you can get a taste of what to expect on Saturday.
Viva! Vienna!
May 25th - May 27th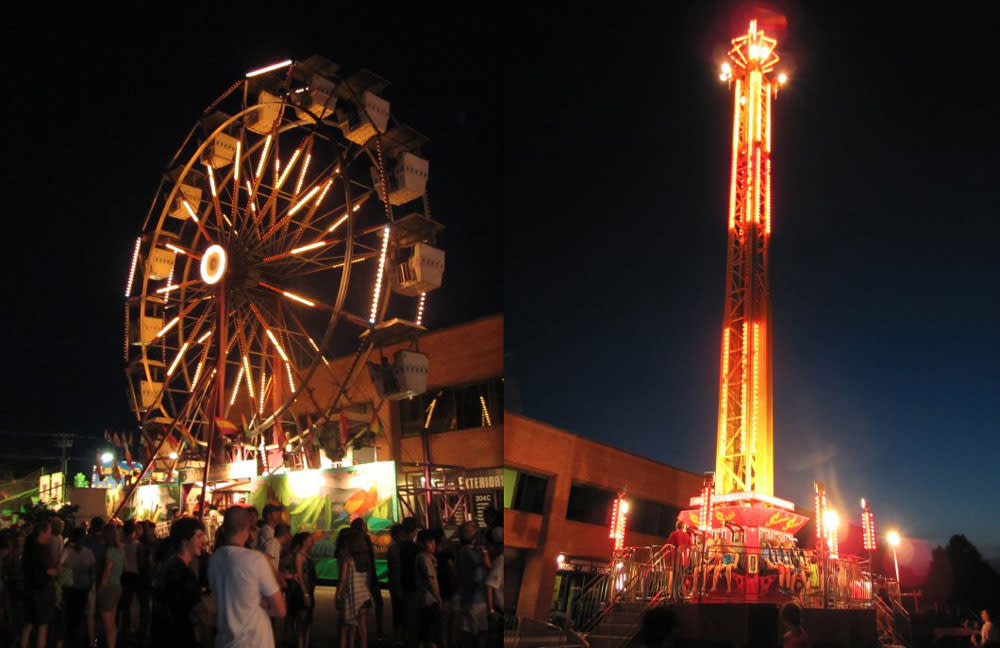 Image Courtesy Vienna Patch
Now is when we really start getting into the festival swing of things! Viva! Vienna! is three days full of rides, food, 300 exhibitors, ongoing entertainment and over 50,000 revelers. This is a glimpse of things to come, you'll notice that the rest of the festivals in our lineup span over a couple of days, rather than a single day. My favorite things to check out at Viva! Vienna! are all the great festival cuisines, those hidden gem items found in the exhibitor booths and the kids entertainment which keeps my toddler in the festival mood for hours at a time. I look forward to strolling down Church Street during this event every year – just to take it all in.
Herndon Festival
May 30th - June 2nd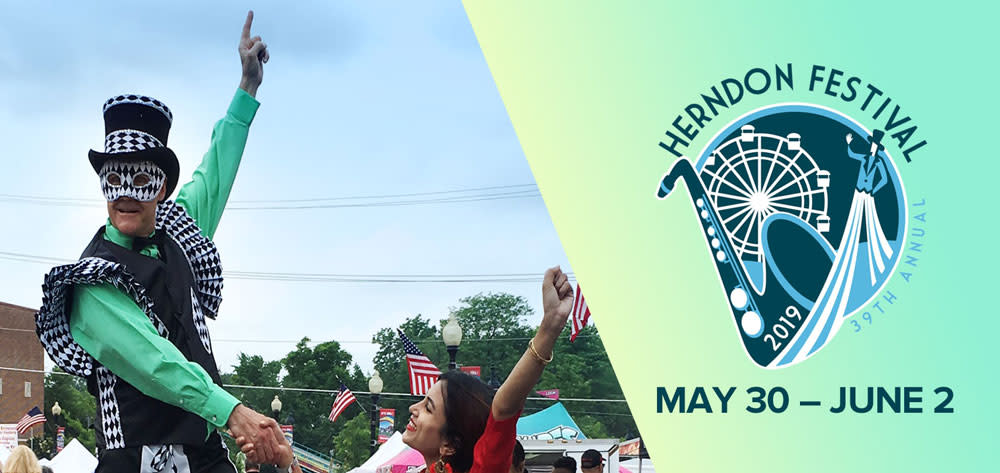 Image Courtesy Herndon Festival
Herndon knows how to party. Just to prove it, the Herndon Festival is the manifestation of the ultimate Herndon party. They have races, local food vendors, arts and crafts exhibitors, a full fledged carnival and musicians and dancers performing in all types of genres. The biggest thing I'm looking forward to this year is seeing the festival in it's new location. For years the festival was held downtown, but because Herndon is movin' and shakin' – there's a lot of construction going on to make it more awesome  This year's festival will be held on the grounds of Northwest Federal Credit Union. New location. Same Herndon style party!
Springfield Days
June 1st - June 2nd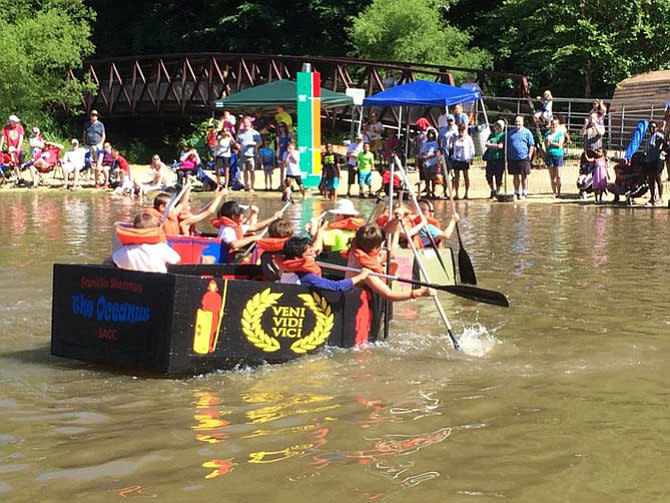 Image Courtesy Connection Newspapers
For over 50 years, Springfield Days festival has been showcasing the best of the Springfield area. Usually on the Saturday of this annual event the activities are highlighted by a 5k race and fun run, an arts and crafts fair and a car show. But on Sunday, the crème de la crème transpires – The Cardboard Boat Regatta at Lake Accotink. This showstopper features companies, kids and whoever else who dares to take to the waters of Lake Accotink. Bring your patchwork boats and answer life's most important question...will it sink or will it swim? You're invited to stand along the shore and find out for yourself. 
Celebrate Fairfax
June 7th - June 9th

Image Courtesy Celebrate Fairfax
The granddaddy of them all!  Celebrate Fairfax features everything you could possibly want in a festival.  Awesome concerts with world famous headliners (this year is Smash Mouth and Better Than Ezra), eSports tournaments, silent discos (if you don't know you better ask somebody), epic beer gardens, a "Taste of Virginia" wine area, nightly fireworks, food vendors and companies and local businesses showcasing their wares. The rides will thrill teens (and teens at heart), and the little kids won't want to leave because they have rides of their own. There's even a section full of traditional carnival games. This is the largest festival in all of Northern Virginia and has entertained generations of families that call this area home. If you want to festival this summer, this is your place.
Taste of Reston
June 14th - June 15th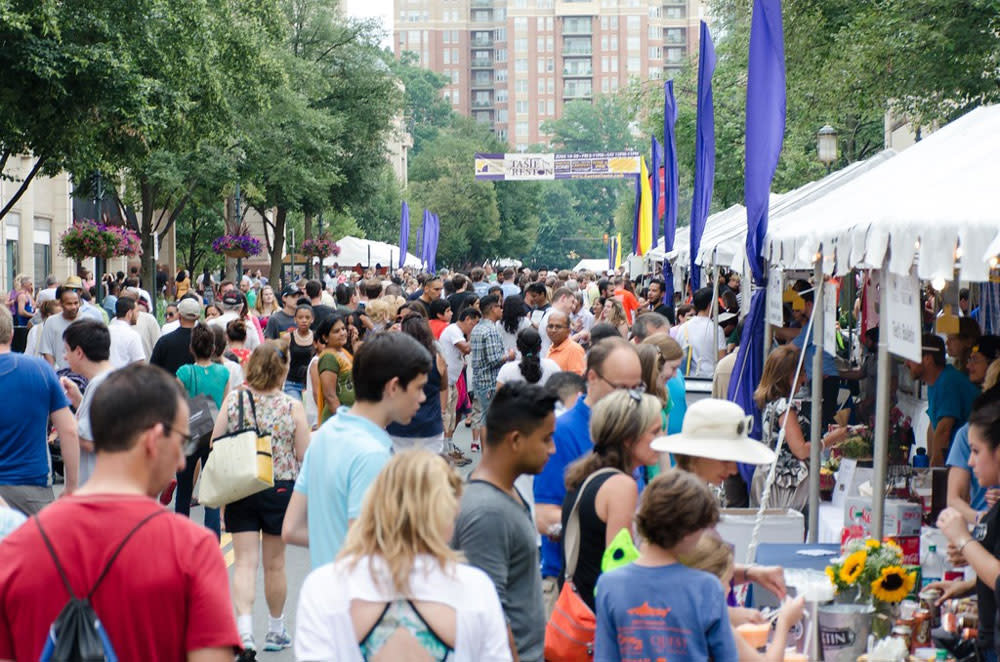 Image Courtesy Taste of Reston
We started with food, lets end with food. Taste of Reston, how I adore thee. Firstly, it's held in the middle of Reston Town Center which is always a fun place to visit anyway.  Then, you fill up that space with hundreds of delicious food choices made by dozens of the top restaurants in Reston – that my friends is a winning combination. Capping all this off is ongoing musical entertainment and an outstanding wine and beer selection – plus, all the stores are still open for you to shop at after a day/evening of spoiling yourself silly with food and drink. I mark this weekend on my calendar every year and I hope to see you there this year...you won't be disappointed.