Memorial Day around the Capital Region is unique in that it's full of opportunities to remember what the holiday is actually about, but also affords you the chance to enjoy the freedoms our American heroes fought so bravely to preserve. You can check out our complete list of Memorial Day events and activities, but here are several ways to experience this holiday in the National Capital Region that will leave you with meaningful memories.  

Visit Hallowed Ground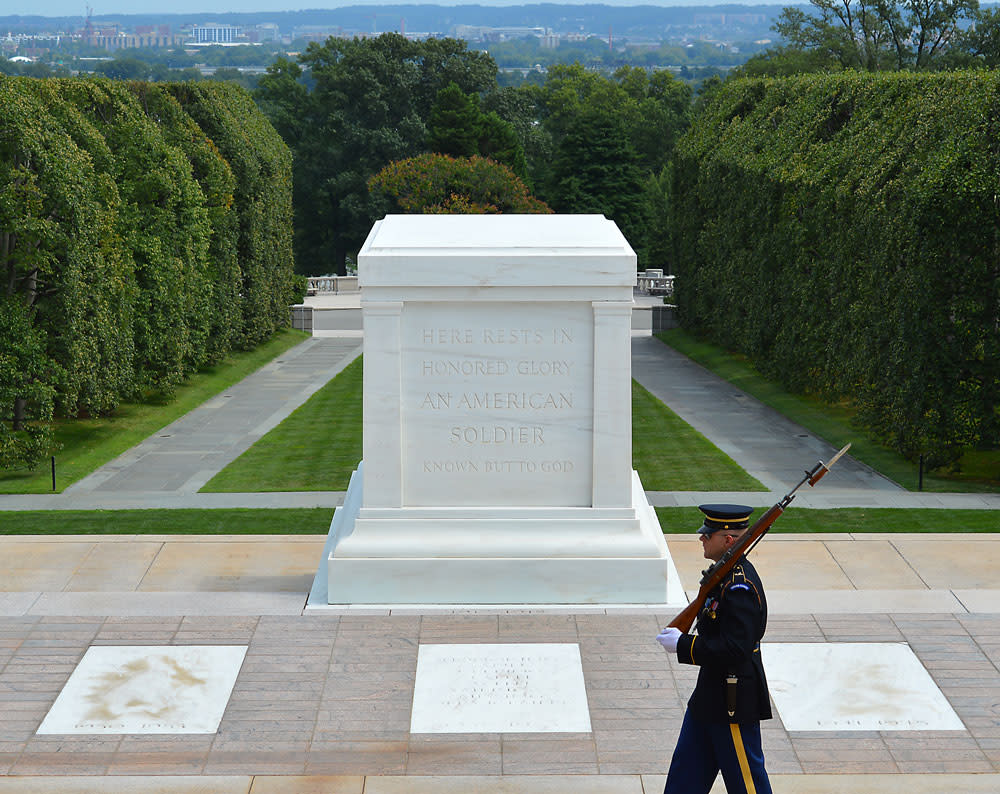 Tomb of the Unknown Soldier
One of the most poignant reminders of what Memorial Day represents is the annual event at Arlington National Cemetery. An unforgettable experience for any visitor upon first walking in is being amazed by the enormity of the thousands of graves, all decorated with an American flag. Every year, the 3rd U.S. Infantry Regiment (The Old Guard) has honored America's fallen heroes by placing American flags at gravesites for service members buried at both Arlington National Cemetery and the U.S. Soldiers' and Airmen's Home National Cemetery just prior to the Memorial Day weekend. This tradition, known as "Flags In," has been conducted annually for over six decades. Visitors can also attend the wreath-laying at the Tomb of the Unknown Soldier and go to the Memorial Day Remembrance Concert held at the Memorial Amphitheater. 
Ride of the Patriots & Rolling to Remember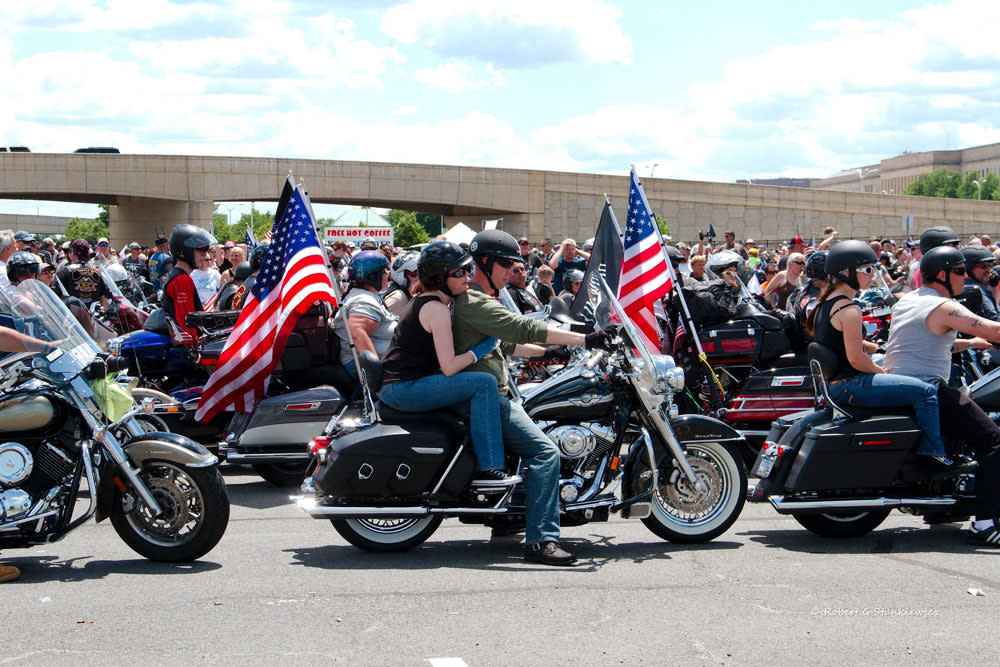 Rolling Thunder Image Courtesy Flickr User Robert Stankiewicz
Ready to ride? Start your engine and saddle up for the biggest joyride of the year! The Ride of the Patriots® has become a highly anticipated annual event honoring those in uniform, who serve every day and put their lives at risk to protect in times of crisis. Not only is this event in remembrance of men and women in the military, but also for the first responders who have made sacrifices during their service. The ride begins at Patriot Harley-Davidson in the City of Fairfax and continues into Washington, DC over the Memorial Bridge. It will feature up to 225 riders both on Saturday and Sunday making the journey down GW Parkway to connect with the annual Rolling to Remember motorcycle rally. Not a motorcycle rider? You'll still want to find a good spot to watch the riders pass by because it's quite a sight to be seen. 
Falls Church Memorial Day Ceremony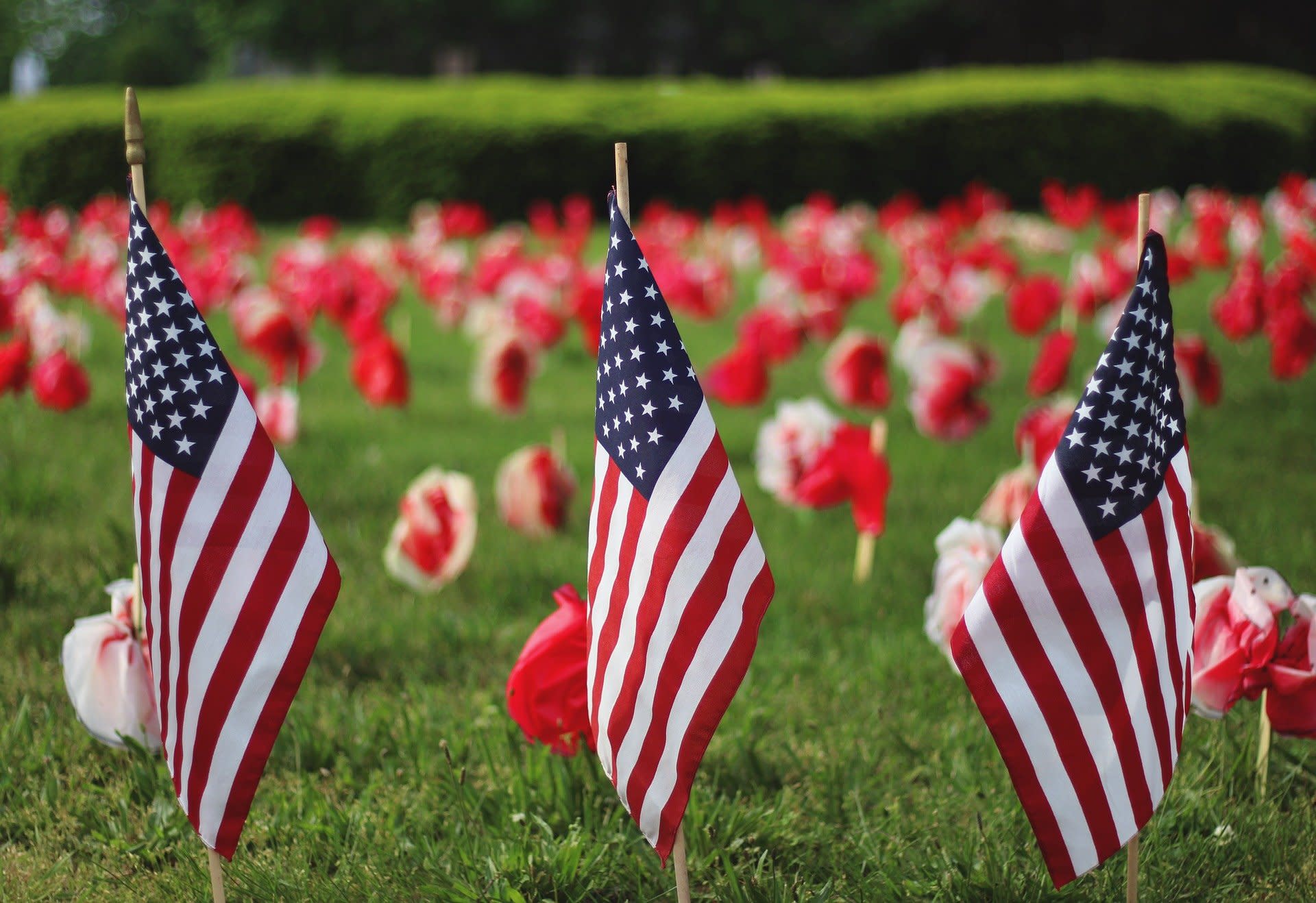 The cornerstone of every past, present, and future Falls Church Memorial Day event is the Memorial Day Ceremony, where the community comes together to honor those who gave the ultimate sacrifice for our country. This year is the 40th anniversary of this community tradition and includes a ceremony hosted by the Falls Church Veteran's Council, a 3K Fun Run, civic, merchant, craft, and food vendors, live music, kids entertainment, and a parade. 
Civil War History
Learn the stories about Fairfax County's role in the Civil War by digging into the resources offered by Civil War Trails, which is the largest open-air museum in the world. With hundreds of interpreted sites throughout the region – including dozens in Fairfax County – you'll always have a new place to explore. View their map guides online or explore their interactive map. 
Army Soundbites & Museum Exhibits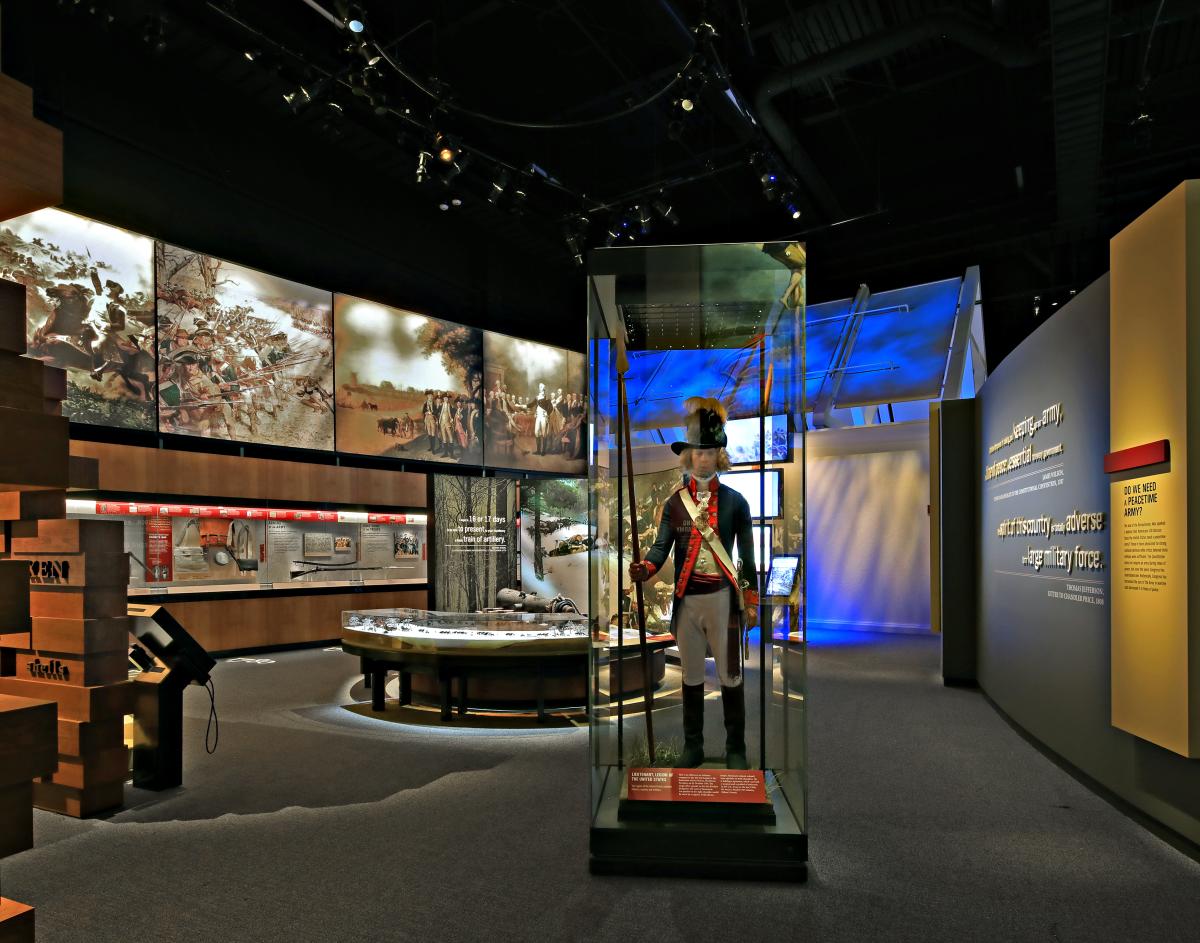 Visit The National Museum of the United States Army to witness the first national museum that tells the complete story of the 245-year history of America's oldest and largest military branch. To help you get excited, take a peek at these 10 amazing experiences you can find at the Museum. While visiting, be sure to stop by the Experiential Learning Center to create a poppy flower craft as part of the special Museum Memorial Day display. The red poppy is a nationally recognized symbol of sacrifice worn by Americans since World War I to honor those who served and died for our country in all wars. Additionally, participate in Operation Safe Passage at 9:30am and 3:30pm - an exciting role-playing experience where players train in squads and then work together to respond to a simulated humanitarian mission (special weekend offering for visitors age 7+ with an adult - learn more and register here). 
Attend ViVa! Vienna!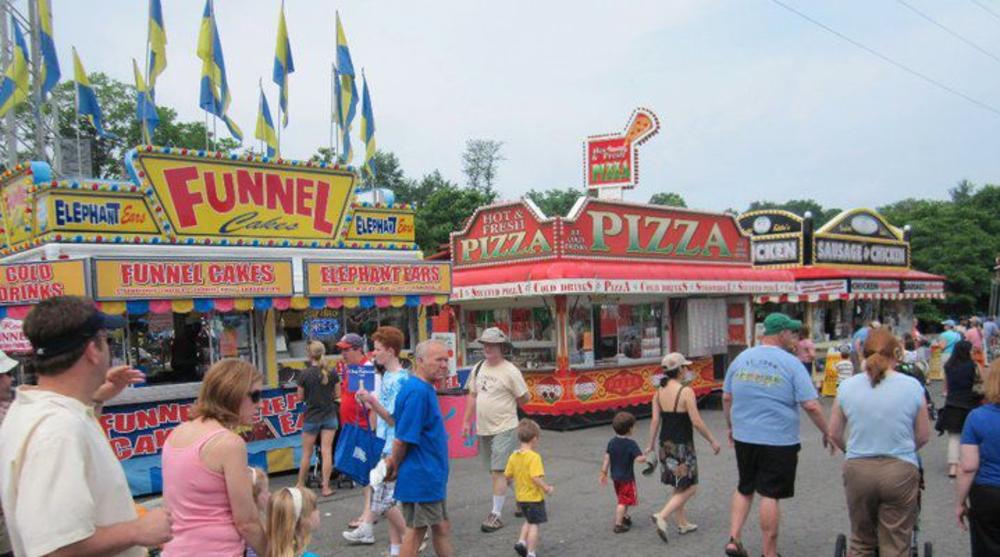 ViVa Vienna is back during Memorial Day Weekend as a family and community-oriented celebration of the greater Vienna community spirit. Enjoy thrilling amusement rides, food, crafts, vendors, and entertainment for all ages. Vendors include handcraft artisans, retail vendors, professionals, political parties and candidates, and community and non-profit organizations. Take a whirl on the Ferris Wheel and grab the oh-so-delicious carnival food we've all been desperately missing this past year. 
 
Watch the Virtual National Memorial Day Concert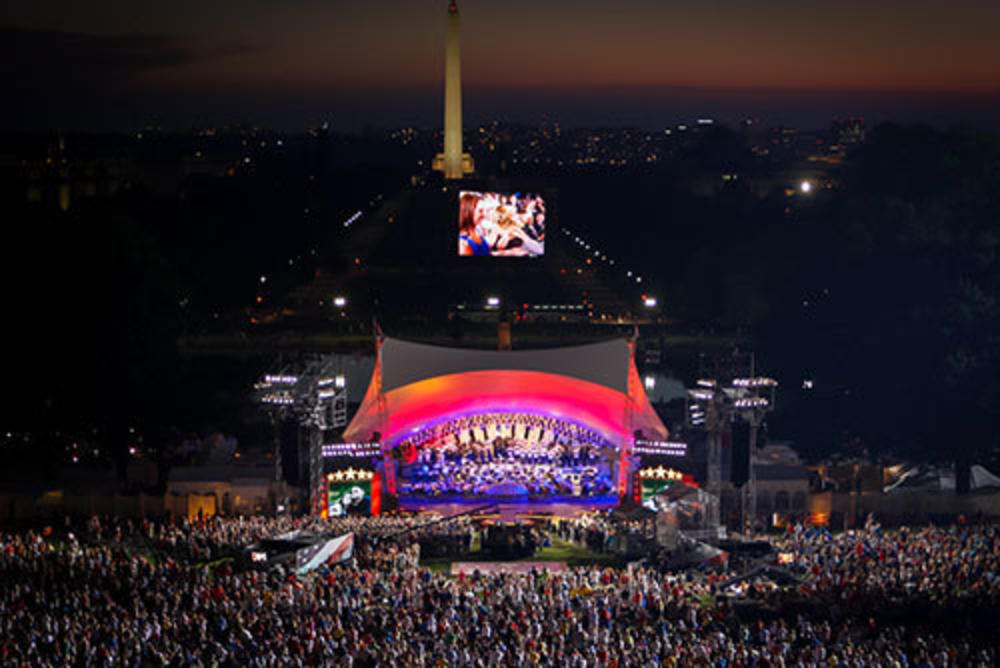 Although the National Memorial Day Concert will not be in-person this year, the show will go on! On May 29th at 8:00PM, the concert will showcase new performances and tributes filmed around the country mixed with tributes from past concerts. Grill some hot dogs, sit back, and enjoy the star-studded performances.

What are some ways you will spend this Memorial Day? At home with family? A peaceful neighborhood walk? Attending some events? Heading out to support your local establishments? Let us know in the comments below or join the conversation on social media at #FXVA and @VisitFairfax. And as always, safe stay and stay healthy!