It's no surprise that Fairfax County boasts some of the most frequented presidential spots outside of Washington, DC. We are historic. We are home to the original POTUS (President of the United States). And we are just a river crossing away, making our sites and restaurants both convenient and a world away for those who live in the White House.
But do you happen to know what the #1 site is that most presidents (and world leaders) visit without fail? Which presidents were once forced to flee the city for safety in Fairfax County? And which mapped out the back roads to avoid Fairfax County during rush hour?
Here are some interesting tales of history highlighting some truly presidential spots in Fairfax County.
Welcoming more presidents than any home outside of the White House.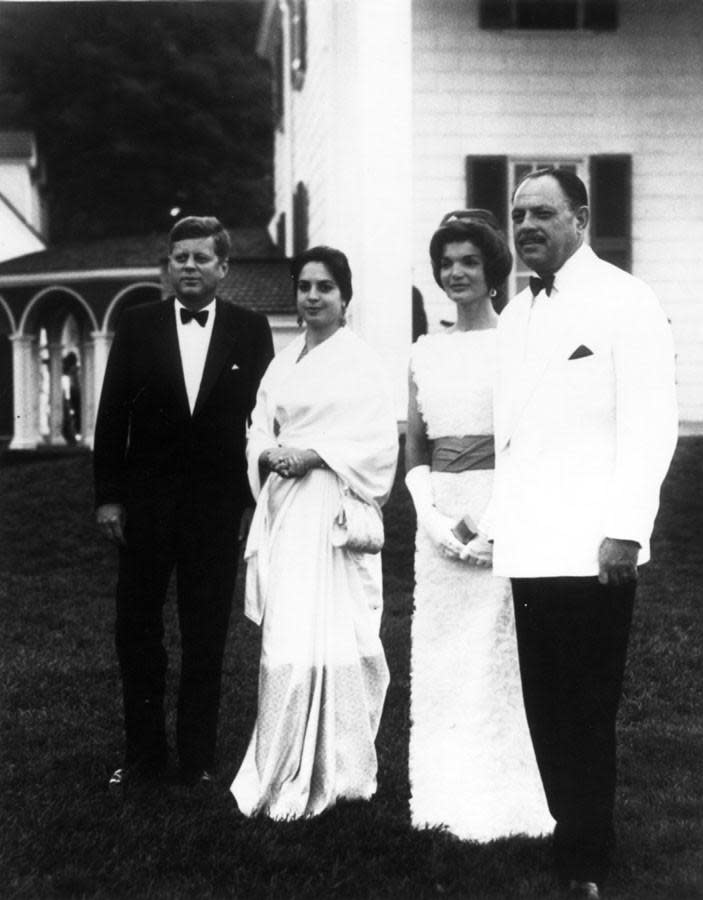 Image of the Kennedys during their 1961 state dinner; courtesy Mount Vernon Ladies Association
George Washington's Mount Vernon estate has been visited by 29 presidents so far, and possibly many more as records of visits don't exist for all the presidents. Beyond presidents, Mount Vernon has hosted first ladies, international leaders and dignitaries of every stripe, from King Edward VII to Michelle Obama to Ukraine President Volodymyr Zelensky.  It is certainly the most toured private home among the presidential set with guests paying homage to the OG of presidents and the impact he had on our nation.
The Kennedys (#35) held a state dinner on the East lawn overlooking the Potomac. The Franklin Delano Roosevelts (#32) toured Mount Vernon on George's birthday with China's Madame Chiang Kai-shek. In one of the largest crowds ever at Mount Vernon, Woodrow Wilson hosted a ceremony for 50 foreign-born citizens at Washington's tomb with a Steinway piano and an opera singer belting the "Star Spangled Banner." And Teddy Roosevelt (#26) visited many times, once riding in on horseback from the White House and getting caught in a downpour.
Seeing George Washington here, there and everywhere.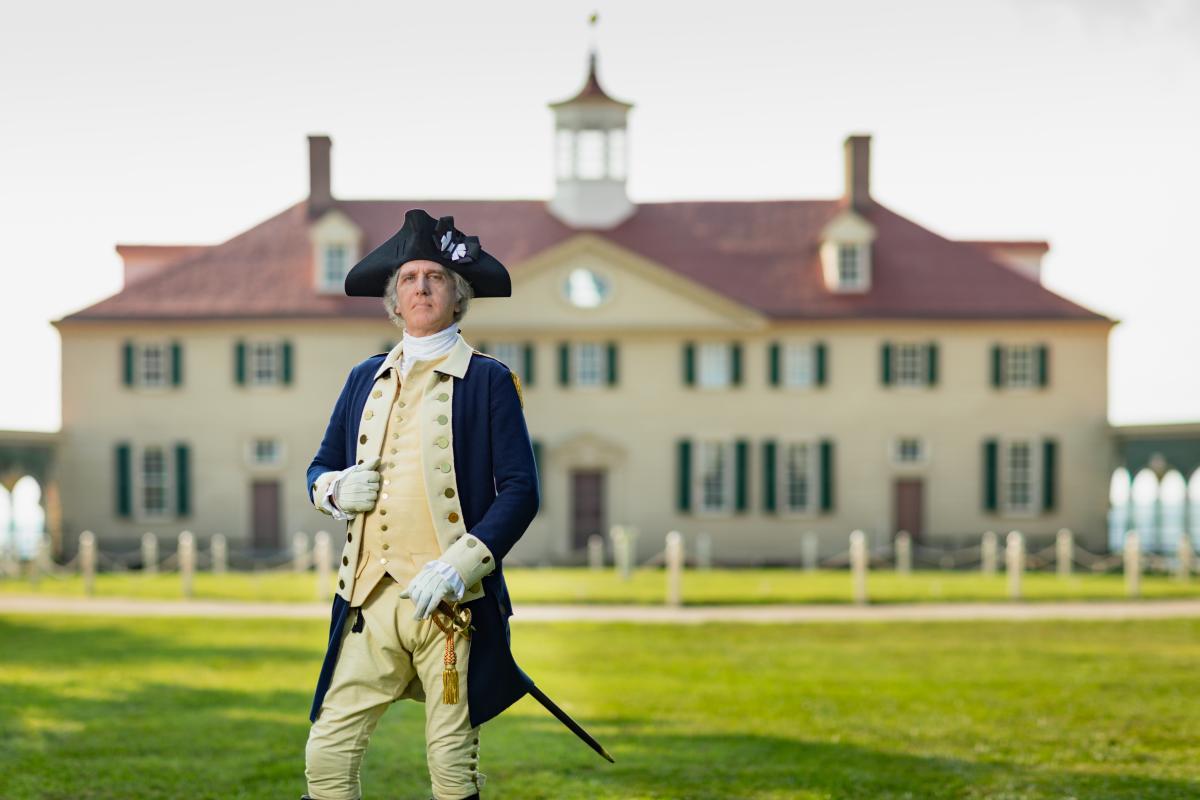 Image courtesy George Washington's Mount Vernon
George Washington lived 45 of his 67 years in Fairfax County, first as a servant to the crown, then as our nation's Founding Father and first president. That is what makes him such a compelling American hero. He and other founding fathers like George Mason and Thomas Jefferson were the architects of our democracy, freeing us from the British monarchy. Much of that brainstorming happened in Fairfax County as Mason and Washington contemplated freedom while admiring the expansive water views of the Potomac River from their homes, Mount Vernon and Gunston Hall.
Several sites in the Potomac Banks area of Fairfax County have George Washington provenance, including:
George Washington also had an influence on the opposite side of the county at one of the region's most beloved sites, Great Falls Park. Washington had a lifelong goal of seeing the Potomac River navigable as far as the Ohio River Valley. If he could establish the Potomac as a major trade route, the region would thrive.
So he established the Patowmack Canal Company to create a series of canals and locks to redirect boat traffic around the majestic (yet deadly) falls and make that part of the river more navigable. A whole town sprang up to support this enormous task: Matildaville. The canal was operational for years until the Patowmack Company went under and the canal fell to ruins. Today, traces of the canals and locks are still there—as are ruins from Matildaville—making for a fascinating and iconic hike in a National Park.
Passing through on the way home.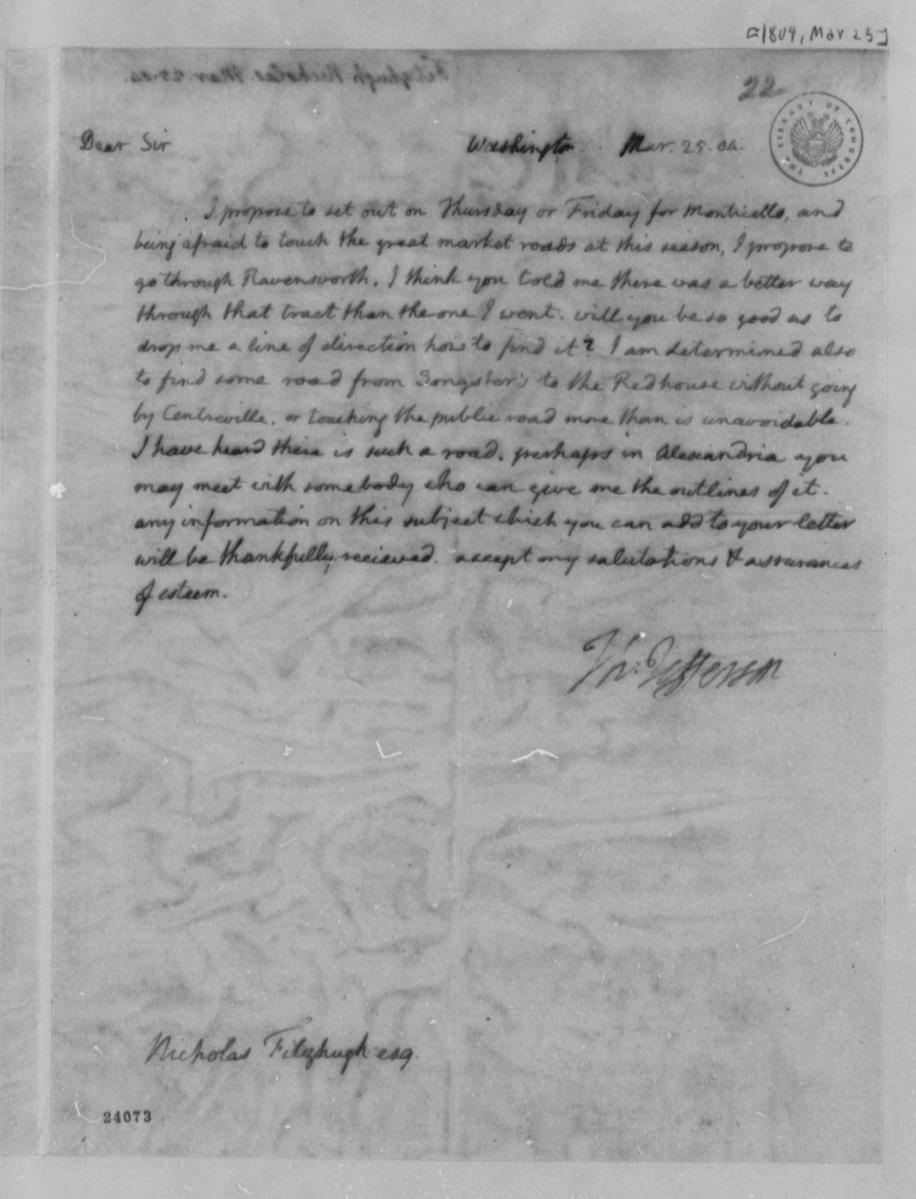 Image courtesy Library of Congress, Manuscript Division
It's safe to say that, prior to air travel, every president who hailed from the south crossed through Fairfax County. This would have included presidents like James Madison, James Monroe, Andrew Jackson, John Tyler, and Andrew Johnson, among others. Most notably, there's a funny anecdote from the third president, Thomas Jefferson:
Thomas Jefferson wanted to pass through Fairfax County on his way to Monticello in 1804 but was "afraid to touch the great market roads at this season." He wrote to Nicholas Fitzhugh, owner of the Oak Hill Mansion and the Ravensworth land tract in Annandale for help. Fitzhugh sent Jefferson a map with specific instructions on how to navigate through several properties and stream crossings. He also offered Jefferson a place to stay on his journey. This began a friendship and Fitzhugh would go on to host Jefferson at least four times over the following years.
Seeing the county through the Bushes.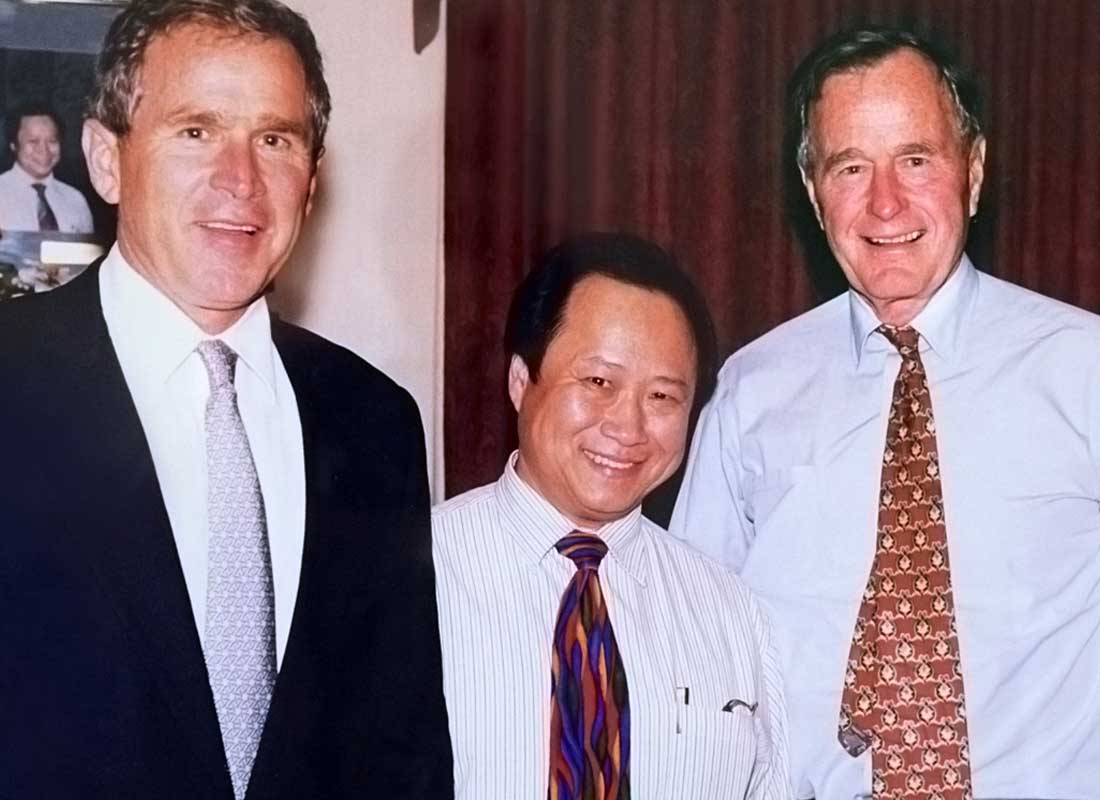 Image courtesy Peking Gourmet Inn
There's a world-famous building in Fairfax County that is so top secret that it does not welcome visitors. And it's named for the only former Director of the CIA to be elected president— George Herbert Walker Bush (POTUS #41). The George Bush Center for Intelligence (CIA) is located in Fairfax County's McLean neighborhood.
There is one other place in Fairfax County that is nearly as imprinted by the Bush family—Peking Gourmet Inn. Both presidents Bush, #41 and #43, have been known to frequent this Chinese restaurant in Falls Church with their families. So have countless celebrities from John Travolta to Colin Powell. The restaurant's walls are covered in photos of all the famous people who have dined here. And, unlike the CIA, the public is more than welcome to visit and enjoy their legendary Peking Duck.

Showing the strength of Lincoln's army.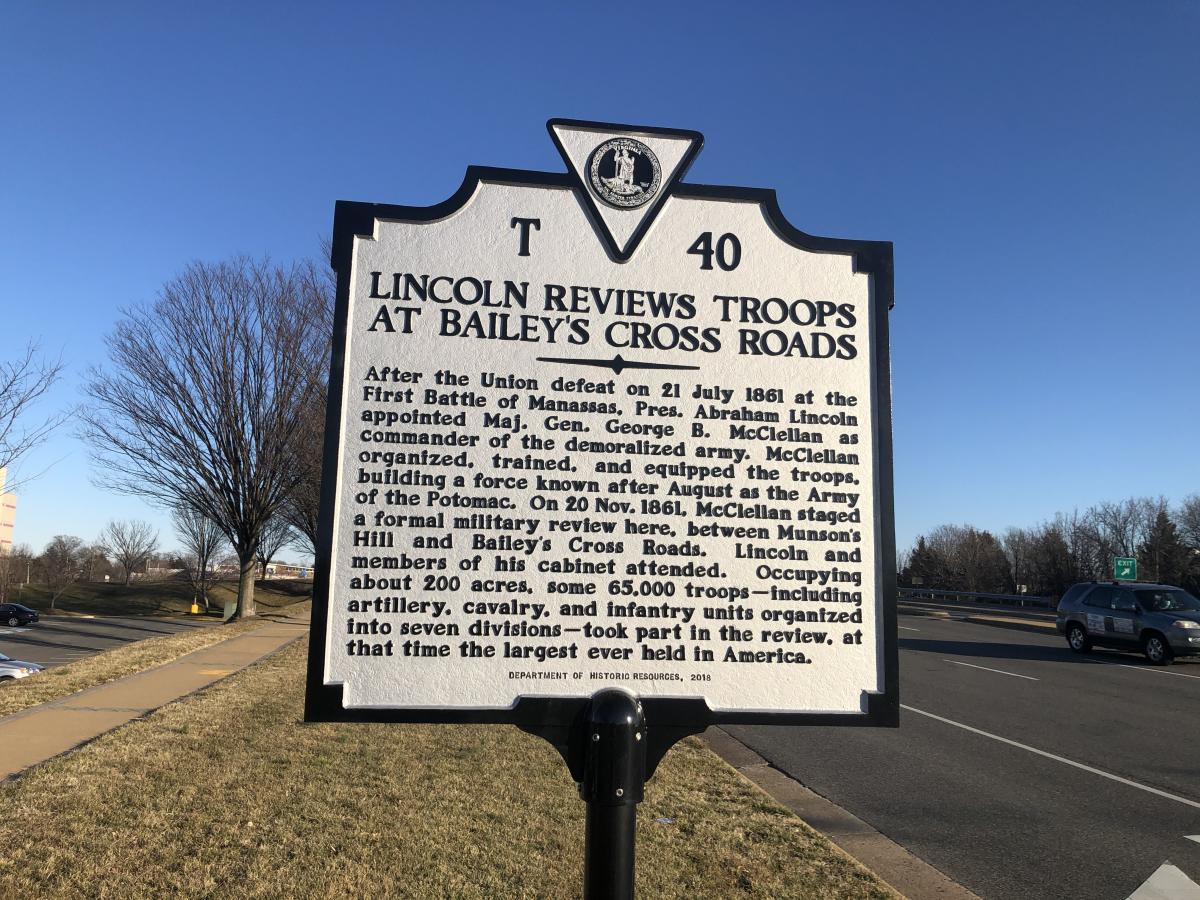 Image courtesy Devry Becker Jones/Creative Commons 0
Early in the Civil War, the Union Army just couldn't get a win. After a humiliating loss at First Manassas in 1861, Maj. Gen. George B. McClellan was appointed commander of the demoralized troops. He whipped the Union Army into shape and staged a formal military review in Falls Church. It was attended by President Lincoln and his entire cabinet. Some 50,000 troops spread out over 200 acres. It was, and still is, the largest military review ever held in America. A historical marker in Bailey's Crossroads (within walking distance of Bush's Peking Gourmet Inn) tells the story.
 

Escaping to the Fairfax County countryside.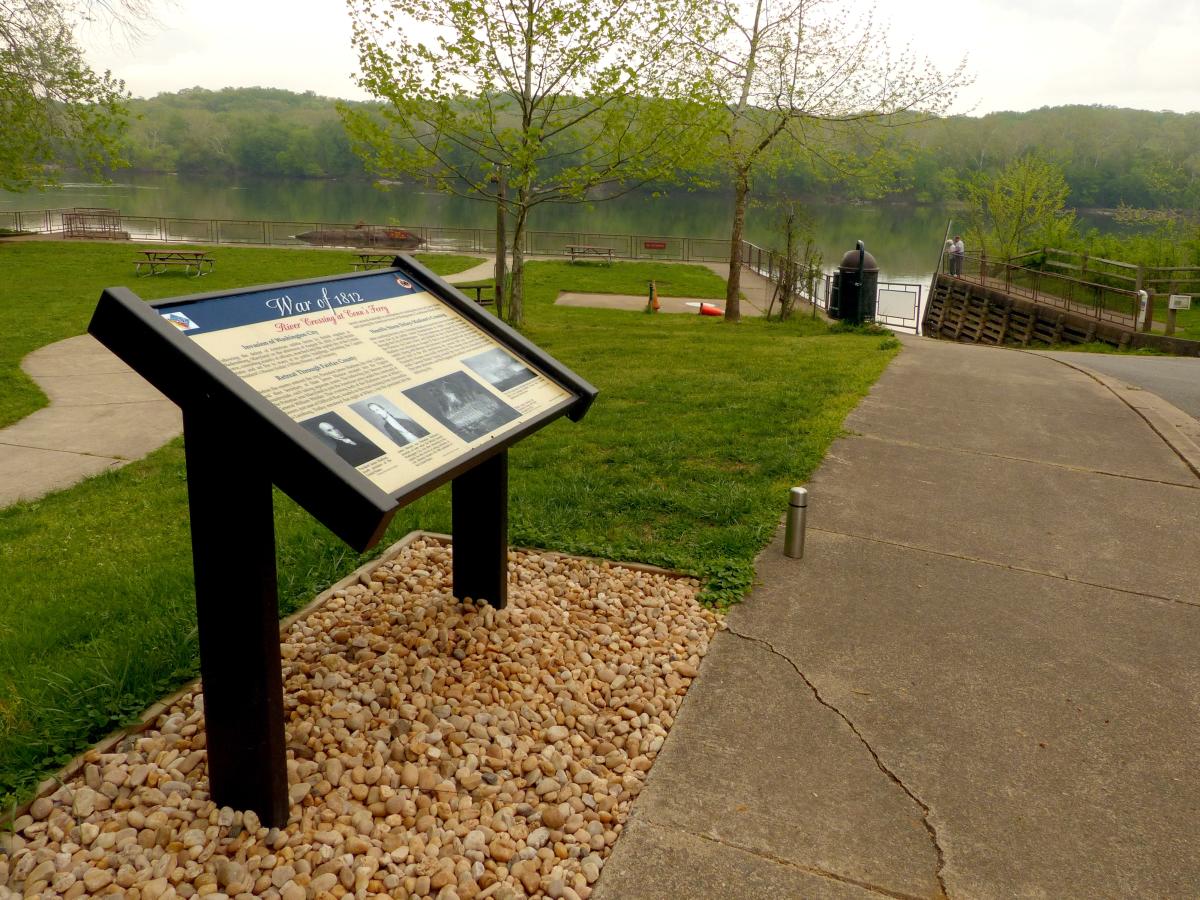 Image courtesy Allen C. Browne/HMDB.org
In 1814, the U.S. was still embroiled in the War of 1812. In August, a small British contingent marched into Washington, DC and started setting fire to buildings. Prior to the burning of the White House, President James Madison, his wife Dolly, and his Secretary of State, James Monroe, escaped to the Virginia countryside, each taking separate routes. The Madisons headed toward Great Falls, but when the president tried to cross the river at Conn's Ferry, the water was too rough from a storm, leaving him to stay near the Falls overnight. Look for the marker at what is now a boat ramp at Riverbend Park.
Hitting the presidential trail.
One hundred years after President Madison fled to Riverbend Park, President Barack Obama went hiking nearby at Great Falls Park. This would be a recurring trek for the Obama family during his presidency. In 2015, he and his family showed up and hiked unannounced to commemorate National Park Week. With the Obamas still living nearby, you never know who you might run into at this breathtaking park.
Creating a Kennedy family legacy.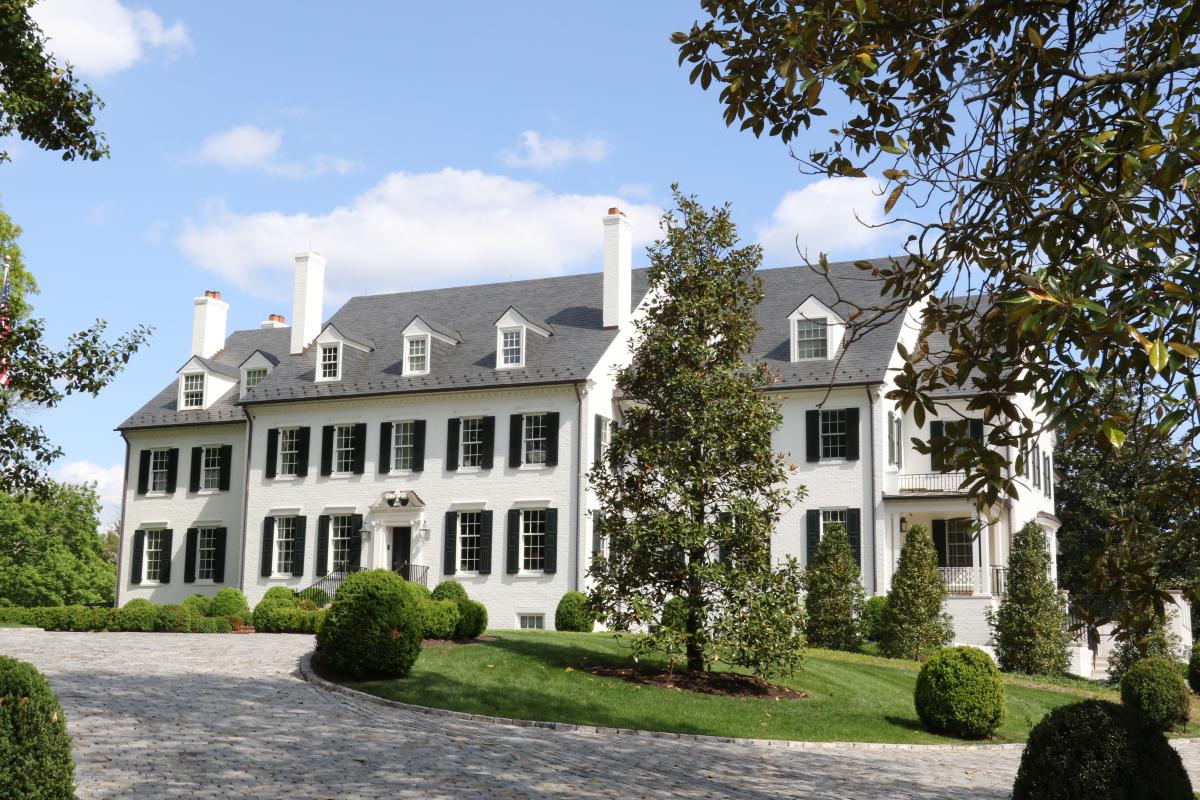 Image courtesy Wikimedia Commons/Ser Amantio di Nicolao/Beltway Photos
It's not unusual for senators, congressmen, cabinet members, justices, and other Washington DC icons to live in Northern Virginia. Fairfax County is just minutes outside of DC and offers a roomier lifestyle. In 1955, Senator John F. Kennedy (POTUS #35) and his wife, Jaqueline, bought a property in McLean known as Hickory Hill. They lived there while Kennedy wrote Profiles in Courage. Although their tenancy there lasted only one year, they sold the property to Robert F. Kennedy, who was a senator, Attorney General, and presidential candidate. Hickory Hill left the Kennedy family and was sold to a private businessman in 2009.
Pardoning the Thanksgiving turkeys.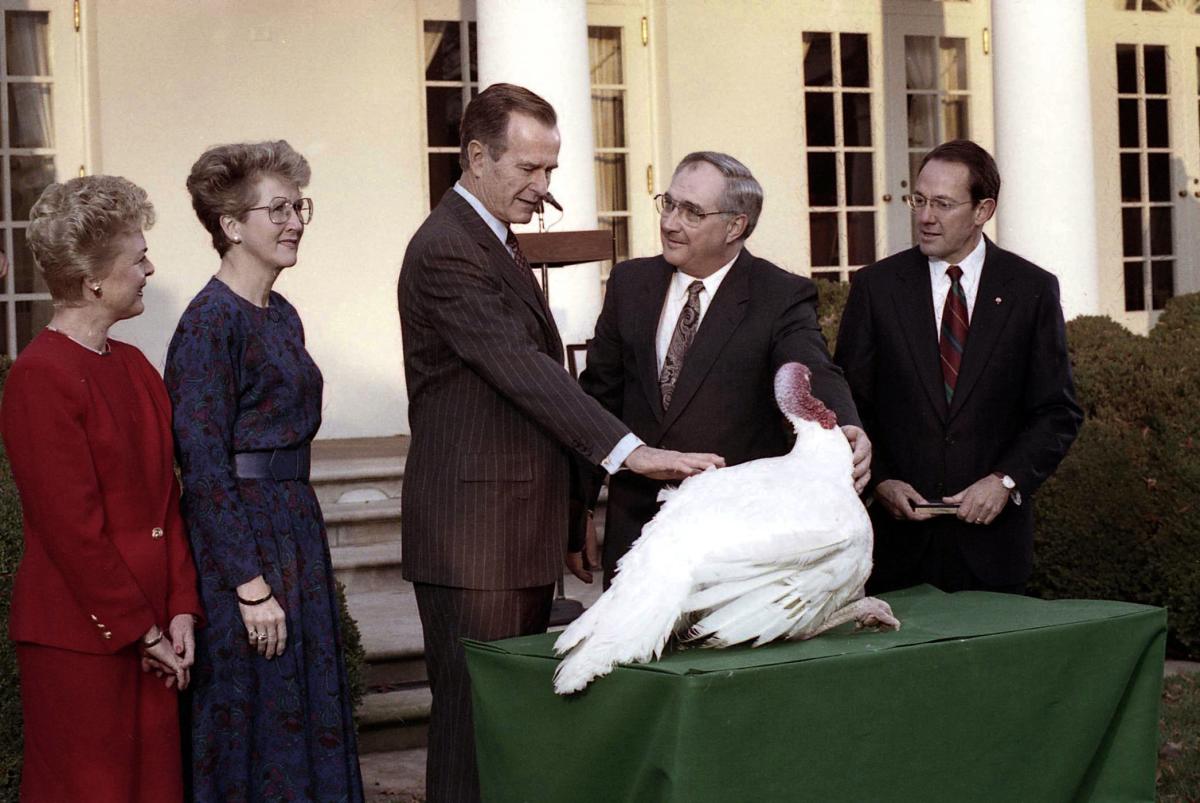 Image courtesy Public Domain/George H.W. Bush Presidential Library and Museum
There is a quirky national holiday tradition in the US that involves pardoning a turkey on Thanksgiving. While the origins of saving a turkey began with JFK (or maybe Lincoln … or maybe Truman … it's a murky turkey thing), George H.W. Bush was the first president known to actually use the word "pardon."
For over a decade and a half, the pardoned turkeys spent the rest of their natural lives at (ironically) Frying Pan Farm Park in Herndon. This throwback mid-century farm is a great place for kids to explore and talk turkey. Today, various locations around the U.S. become homes for these lucky birds.

Every POTUS since John Adams (#2) has lived in Washington, DC. It's not a big stretch to imagine all have been in Fairfax County, too, whether passing through, doing business, or being a tourist in their temporary home region. And while proximity plays a role, so do the irresistible charms of Northern Virginia, from our restaurants to our parks and sites. A visit to Fairfax County will help you see through the eyes of a POTUS and enjoy the pleasures of a head of state. Put some of these presidential stops on your Fairfax County itinerary today!