If you live in the greater Washington, DC area, you may be familiar with founding father, George Mason. In Fairfax, there is a university named after him. He has a memorial in DC. And a bridge. He even had his own stamp.
But during life, and now in history, he has sometimes been eclipsed by the OTHER famous founding father from this area named George. Heck, they were practically neighbors and even worshipped at the same church. Yet, George Mason's life and his impact on our world today is more significant than most people realize. One trip to Mason's riverfront home, Gunston Hall, will clue you in.

Who was George Mason and why is he a founding father?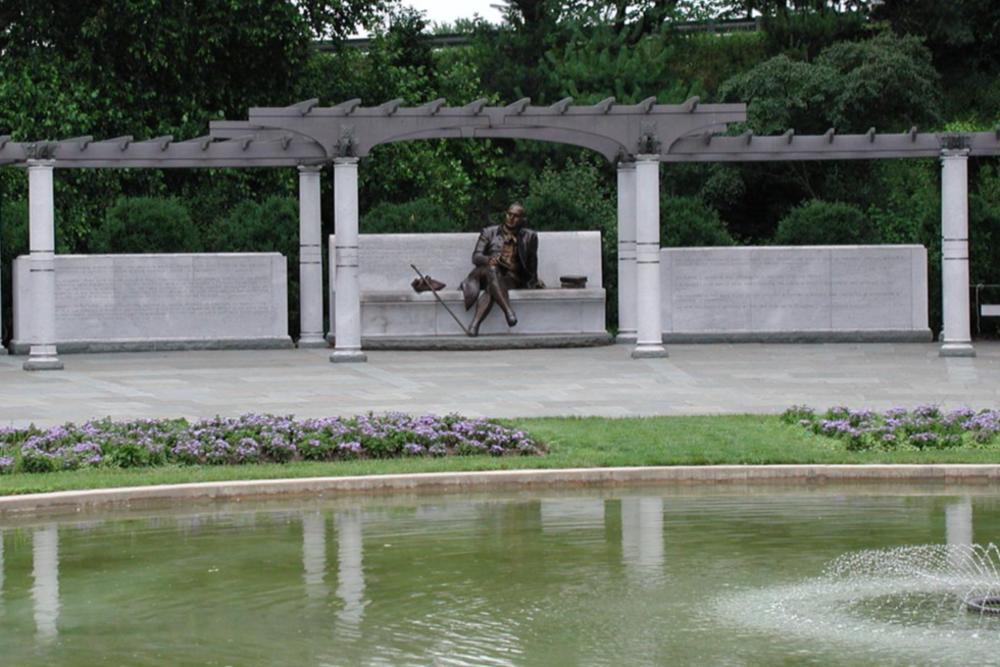 George Mason Memorial in Washington, DC
 
George Mason was a planter, politician, and delegate to the US Constitutional Convention. But his greatest, most enduring impact comes from authoring the Virginia Declaration of Rights in 1776, a document that formed the basis for the US Bill of Rights. As such, he is considered the "Father of the Bill of Rights." Thomas Jefferson wanted his own version of rights to be used, but Mason's won out. The rights to freedom of religion and speech, the right to bear arms, and a state's rights were all part of Mason's vision for our nation.
You won't find his name on the Constitution, however. He was one of three delegates who did not sign the document, citing its lack of an integrated bill of rights and the absence of anything that would end the slave trade. He was the friend of many presidents and while his name isn't as top of mind as Jefferson's and Washington's, the impact of his words and thoughts color every day of your daily life.

Tour George Mason's home, Gunston Hall.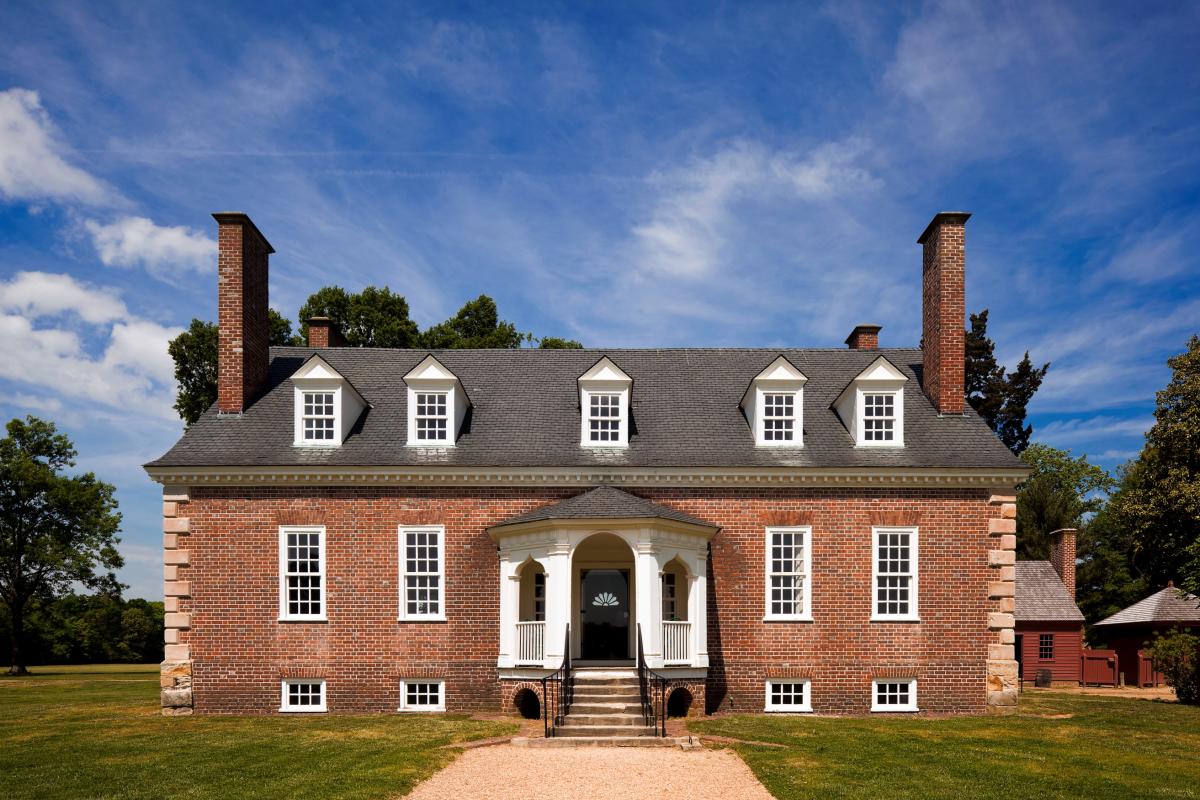 George Mason's Gunston Hall
 
Gunston Hall is an 18th-century Georgian mansion on the Potomac River in Fairfax County. Built between 1755 and 1759 as the main residence of George Mason and the headquarters of his then 5,500-acre plantation, Gunston Hall was designated a National Historic Landmark in 1960.
From its symmetrical aesthetic, Flemish bond arrangement of bricks, luxurious carvings, rich paint colors, and graciously proportioned rooms, Gunston Hall was intended to reflect the Masons' refinement and good taste. George, himself, is said to have designed the estate's façade and basic size and shape.
The interior of the home was designed and created by William Buckland, a British builder and architect who was indentured while the house was being built. Buckland's vision was realized with the help of another indentured servant who was a master carver, William Bernard Sears. Together, with the work of several enslaved residents who provided manual labor, they made Gunston Hall a showplace and the envy of colonial America.
George Mason lived at Gunston Hall with his wife, Ann; nine surviving children; and a revolving roster of in-laws and other relatives. Intricate carvings, high ceilings, lavish decorations, ornate wallpaper, period objects, and rare books and manuscripts are of particular note when touring the home.
Today, Gunston Hall is owned by the Commonwealth of Virginia and operated by the National Society of the Colonial Dames of America. Guided tours occur daily, at 10 and 11 a.m., as well as at 1, 2, 3, and 4 p.m. Purchasing tickets in advance will ensure your admission. A grounds pass will allow you to tour the grounds on your own. Grounds close at dusk or 6pm, whichever comes first.
Explore George Mason's historic grounds.

Driving up towards Gunston Hall and grounds
 
Today, Gunston Hall sits on 550 acres of Potomac Riverfront property in Fairfax County's Mason Neck Peninsula, part of the growing Potomac Banks neighborhood. The grounds include a reconstructed kitchen, dairy, and laundry; an 18th-century plantation schoolhouse and tutor's quarters; a garden, the enslaved resident's quarters, and a family cemetery.
From this spot, George Washington's Mount Vernon estate would have just been a quick row up the river, and, from Mason's original acreage that covered the entire peninsula, he could have seen George Washington's property and visa versa. Two founding fathers separated by a small peninsula that is now part of Fort Belvior! Pretty incredible to consider.
Gunston Hall sits adjacent to Pohick Bay Regional Park and right across the street from Mason Neck State Park and the Elizabeth Hartwell Mason Neck National Wildlife Refuge. On any given 70/80-degree day, both of those parks will be busy with visitors looking for bald eagles, hiking, camping, kayaking, and marveling at the stunning riverside views. But Gunston Hall holds a secret—3 miles of trails that even residents aren't aware of. A $5 grounds pass, payable in the parking area, gives you access to these historic trails.
Delve into Revolutionary rights.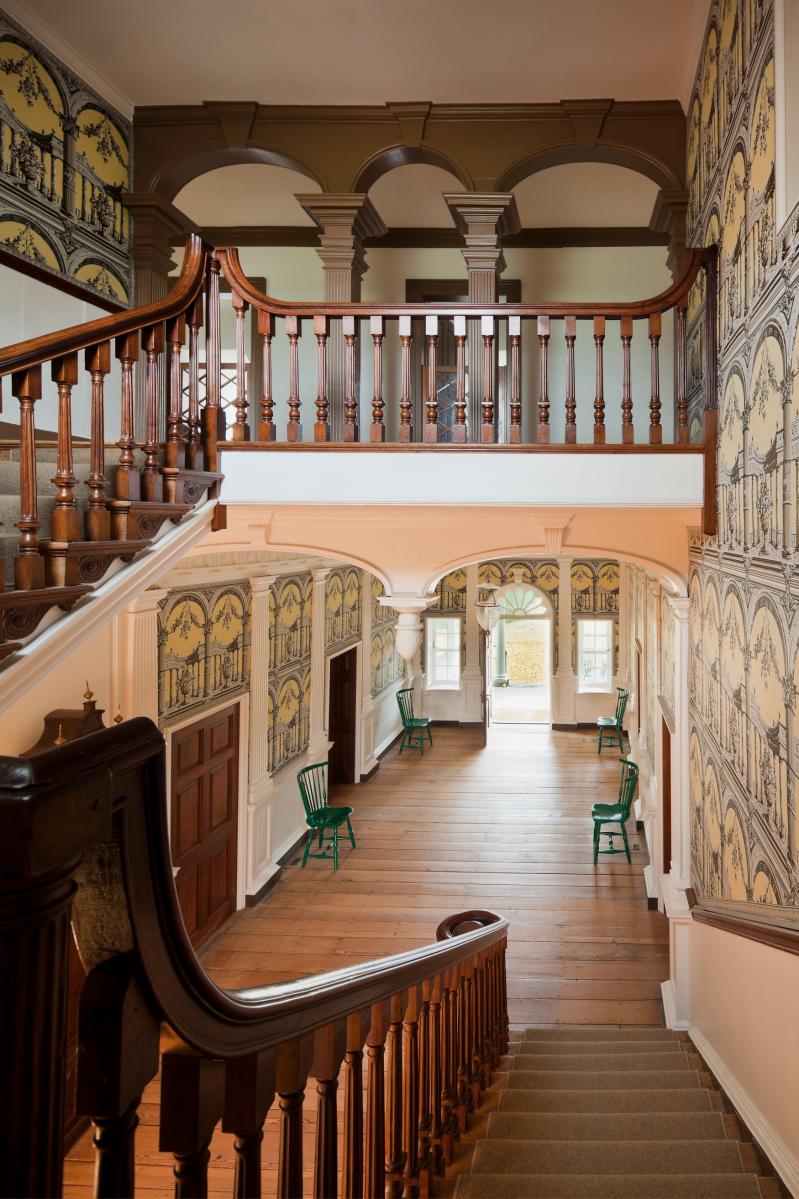 Interior entryway of Gunston Hall
 
Gunston Hall's Visitor Center features a permanent exhibit exploring the legacy of George Mason through his actions, ideas, and choices. It is so ingrained in us that all people are free and equal under our Constitution that we lose sight of the fact that somebody architected that idea of freedom and its inherent rights and put it into law. Meanwhile, Mason himself enslaved people at his estate—quite a juxtaposition. That point is not lost on Gunston Hall historians who will lead you through the life of this important, yet lesser-known founding father, and the complicated history that follows him.
There are other revolving exhibits in the Visitor Center that explore more of George Mason's world. Currently, A Woman's Place explores the lives of the enslaved and free women of Gunston Hall. Plan to spend 30-90 minutes investigating George Mason's world in the Visitor Center.
Marvel at George Mason's garden.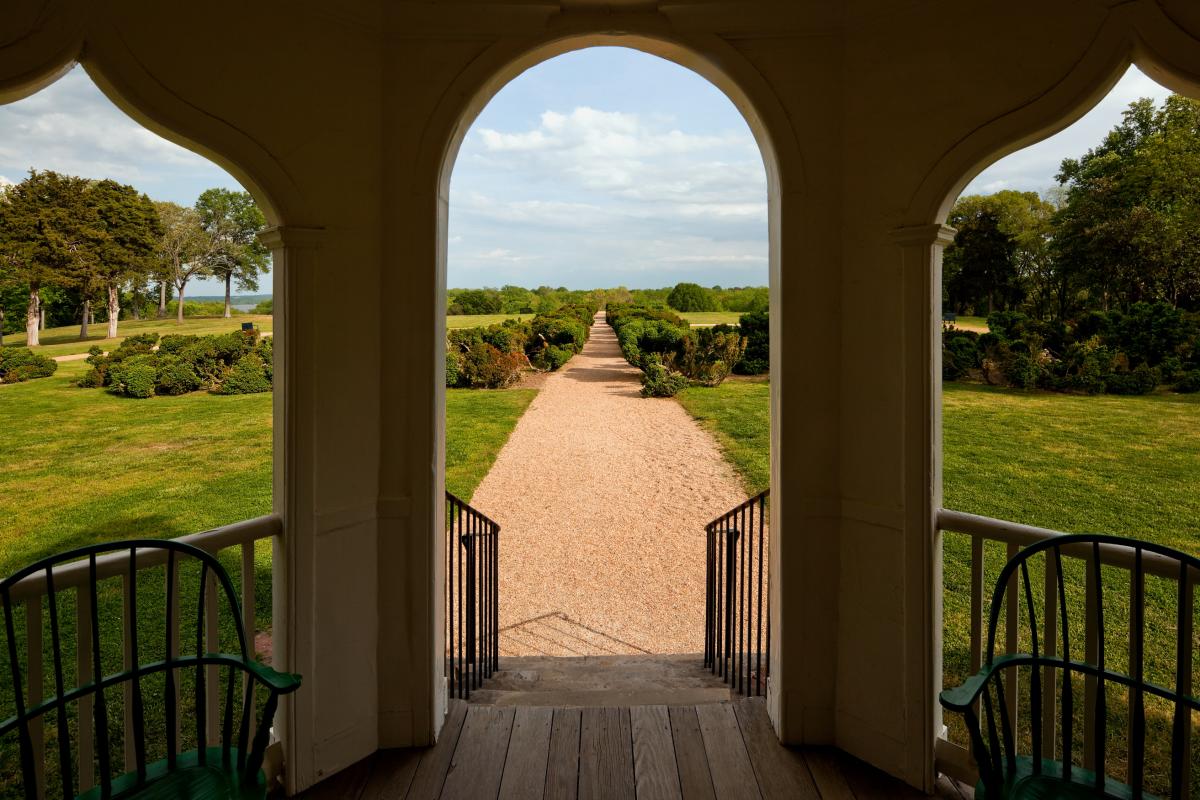 Looking out the back door, prior to garden restoration - the new riverside garden opens late September 2023
 
For years, the back garden at Gunston Hall featured rows of ancient-looking boxwoods, as you might expect at a colonial-era home. Then archaeologists started doing some digging and found evidence that much more than boxwoods once thrived there. As it turns out, the one-acre plot of land might have produced almost all of the food needed to sustain the Mason family.
"We found, through archaeology, seeds and pollen for species that don't exist any longer in Virginia," said Scott Stroh, executive director of Gunston Hall. The riverside garden also served as a contemplative space for Mason. "We know that one of the sources of his greatest reflection and inspiration was spending time in the garden. He would walk there and contemplate the issues of the day," Stroh added.
After four years of careful reconstruction, the garden is newly redesigned and planted to reflect what it looked like in the mid- to late-1700s. It has already been producing vegetables such as heirloom eggplant, peppers, tomatoes, and okra, as well as fruit trees, flowers, and medicinal herbs. The bounty is shared with a local food pantry. The garden will officially be open to visitors starting September 29, 2023 with a community garden opening event on October 7, 2023. The garden is wheelchair accessible.
Attend a special event.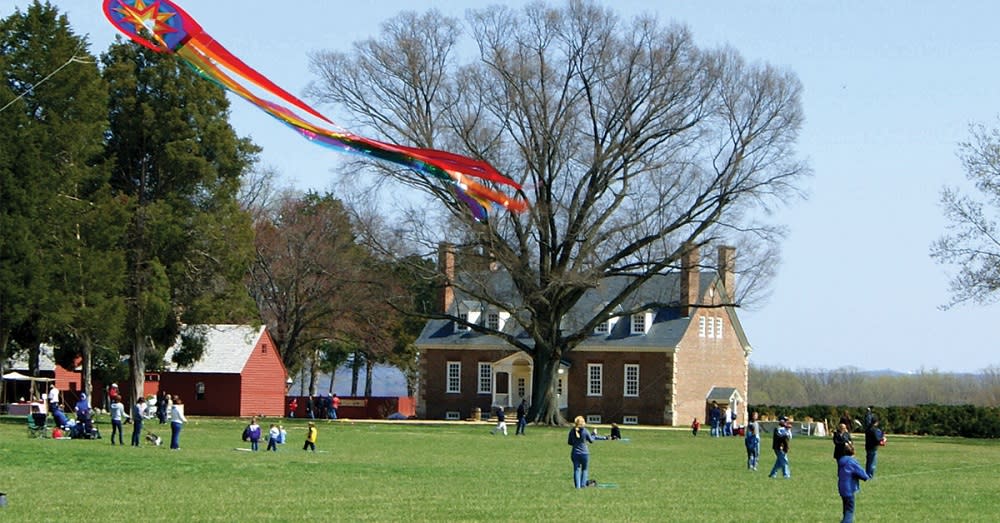 Kite Festival at Gunston Hall
 
Gunston Hall offers events year-round with everything from Storytime and Colonial Hearth cooking classes to the popular Cocktails by Candlelight.  Be on the lookout for annual events like:
Kite Festival in spring
Summer Saturdays
Declaration Day in June
Archaeology Day
Revolutionary War Day in November
Enjoy the other attractions nearby.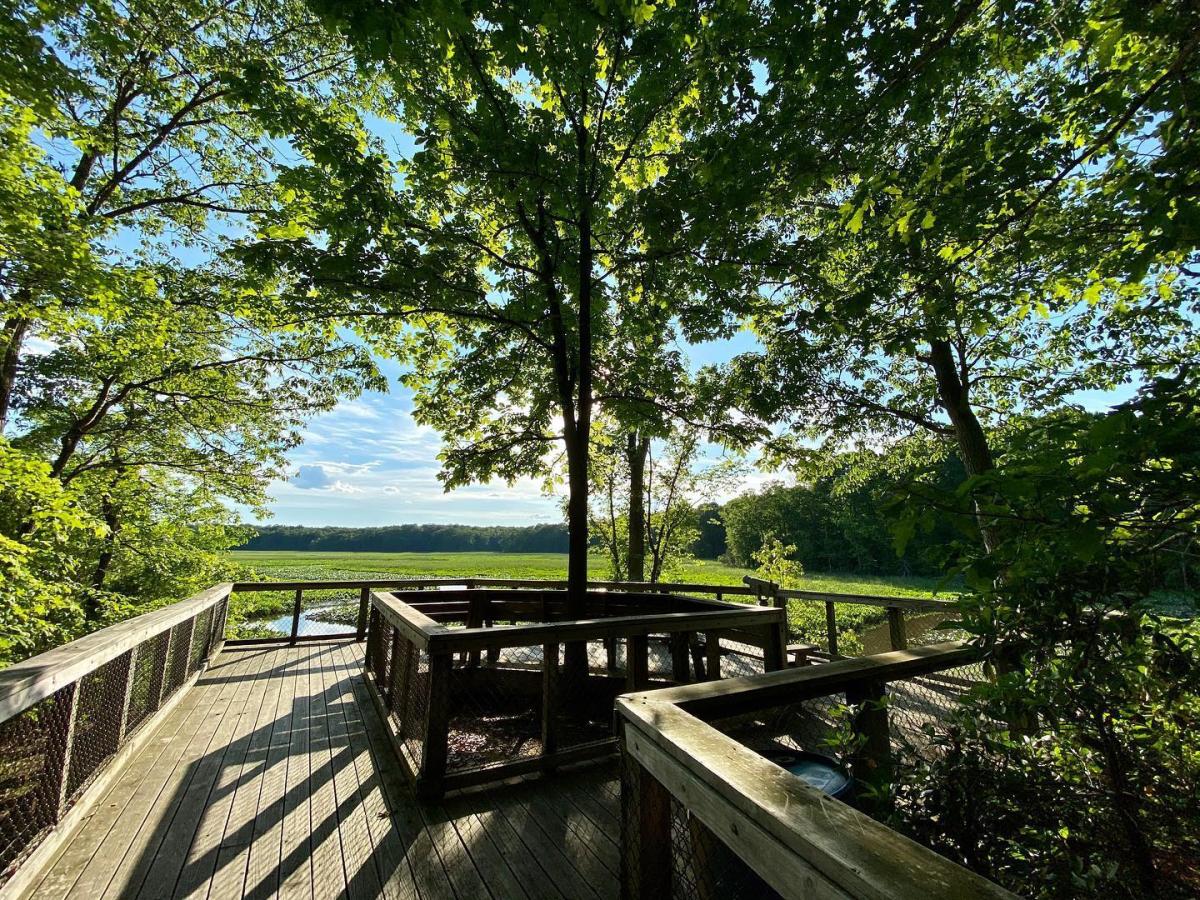 Mason Neck State Park, by IG user: @antrad214
Gunston Hall is smack dab in the middle of Fairfax County's Potomac Banks region, which is characterized by both its parks and historic attractions. Mason Neck State Park, Mason Neck Wildlife Refuge, Pohick Bay Regional Park, and Fountainhead Regional Park are all close by.
An intense concentration of historic attractions are also nearby, including George Washington's Mount Vernon, George Washington's Distillery & Gristmill, Woodlawn Historic Site, Frank Lloyd Wright's Pope-Leighey House, Pohick Church, the Workhouse Arts Center, the Turning Point Suffragist Memorial, and the National Museum of the US Army.
And if you can manage to visit all those sites in a whirlwind weekend tour, you should definitely reward yourself with a beer from Fair Winds Brewing Company or G34.3 Brewing Company, or a glass of wine from Woodlawn Press Winery.
Visitors to Gunston Hall often comment about how it affords a quieter, less crowded look at the founding of our country. Entry is down a long, wooded road with no development, transporting you into the historic essence of this site. Many will pack picnics and leave time to wander the beautiful grounds (there are no restaurants on the peninsula, though you can reach some a couple/few miles away.) Be sure to leave yourself at least half a day to enjoy the grounds and then visit one of the area parks or other sites after a quick bite to eat. Who knows? When your tour is complete, you'll have learned something new about the United States and will be able to share more about both famous Fairfax County residents named George!