NATIONAL CHERRY BLOSSOM FESTIVAL®
Festival Dates: March 20 - April 17, 2022
Peak Bloom Dates: March 22-25 (via NPS)
Join us in America's greatest springtime celebration! The National Cherry Blossom Festival® returns with nearly one glorious month to celebrate the gift of the Tidal Basin Cherry Trees to the United States from Japan in 1912. Just minutes from DC, Fairfax County is a great place to stay for the festival.

Find the best hotel rates in the DC area for the Cherry Blossom Festival, these hotels have great parking and are within minutes of this incredible annual event. If you want to ride the Metro into the city for the big event, check out our list of hotels with Metro access.
---
Fairfax County's Glorious Gardens
During the National Cherry Blossom Festival® you are invited to plan a self-guided tour of some of Fairfax County's splendid gardens. 

Green Spring Gardens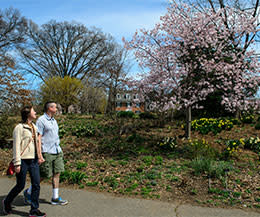 Green Spring Gardens is a "must visit" for everyone in the metropolitan Washington, D.C. area. It's a year-round gold mine of information and inspiration for the home gardener. It's also a museum, a national historic site that offers glimpses into a long, rich history with colonial origins. There's something here for everyone: a wooded stream valley with ponds, a naturalistic native plant garden, over 20 thematic demonstration gardens, a greenhouse filled with tropicals, and a well-stocked horticultural reference library. Visit the Garden Gate Plant Shop and our two gift shops where you'll find gift ideas ranging from books and gardening gloves to china and wind chimes. 703-642-5173 - Free Admission
Meadowlark Botanical Gardens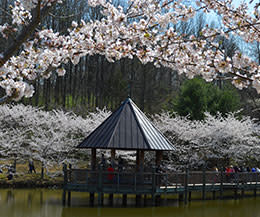 Beauty, conservation, education and discovery flourish throughout the year at this 95-acre complex of large ornamental display gardens and unique native plant collections. Meadowlark Botanical Gardens features walking trails, lakes, more than twenty varieties of cherry trees (over 100 trees), irises, peonies, an extensive shade garden, native wildflowers, gazebos, birds, butterflies, seasonal blooms and foliage create a sanctuary of beauty and nature.  Meadowlark is also home to the only public Korean Bell Garden in the entire Western Hemisphere complete with two-ton bell! Please plan a trip to the garden to see the expert craftmanship of the bell pavilion, the simplicity of the landscape and the breathtaking view of the rest of the gardens. 703-255-3631 - Small Entrance Fee
 
American Horticultural Society's River Farm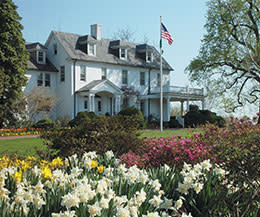 This historic 25-acre site on the banks of the Potomac River, River Farm was once part of George Washington's original five farms, and currently the headquarters of the American Horticultural Society. River Farm is acclaimed for its spell-binding vistas stretching down to the Potomac River, along with its creative children's gardens, beautiful four-acre meadow, and colorful flower displays. It is a favorite site for weddings, family picnics, bird-watchers, and painters. The Garden Shop at River Farm has a selection of garden tools, and one of the best selections of gardening books in the D.C. area.  River Farm is open Monday through Friday from 10 am to 4 pm. Facility rentals for private events and tours are also available seven days a week. 703-768-5700 - Free Admission
George Washington's Mount Vernon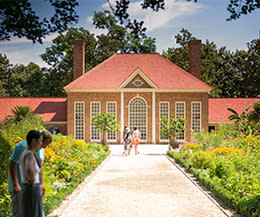 Washington's mind was rarely far from the lush gardens and majestic views at Mount Vernon. Today you can explore the gardens Washington developed and enjoy his unspoiled view across the Potomac River. The estate features four distinct gardens for you to enjoy today. Washington's Upper Garden was intended as a formal garden for the enjoyment of the Washingtons guests, and the Lower Garden was the estate's kitchen garden, which allowed the Washington's to keep fruits and vegetables on the table year round. The small botanical garden at the estate was not a major feature, but this simple plot was close to his heart as he often tended it himself experimenting with new plant varieties. And the area known as fruit garden and nursery began as a failed attempt at a vineyard. Once the grapes failed, the four-acre fruit garden and nursery was created. Mount Vernon is open 365 days a year and a ticket is required to enter. 703-780-2000 
---
Scenes From The National Cherry Blossom Festival