Happy Virginia Craft Beer Month, beer fans!
Fairfax County craft brewers are hard at work creating new and exciting experiences for us, despite the challenges and uncertainties the worldwide coronavirus pandemic has caused. Many breweries have unveiled a variety of new core and small batch brews, some are showcasing hard seltzer on tap, and others are even expanding their venues (check out the new tropical patio at Ono Brewing Company in Chantilly and the beer garden that Aslin Beer Company recently opened in downtown Herndon!). 
Finding a favorite spot to enjoy some great beer in Fairfax County has never been easier. Whether you gravitate towards lighter brews like Kolsch and lagers in the summer heat or believe that stout season never ends, chances are you will find what you are looking for at one of our Fairfax County Breweries. Your options are only limited by your taste buds and your imagination.  
To celebrate Virginia Craft Beer Month, we reached out to our local breweries to find out what their go-to brews are.
Let this be a guide to get you started on your tasting adventure.

Settle Down Easy Brewing Company
No 1 Dry Hopped Kolsch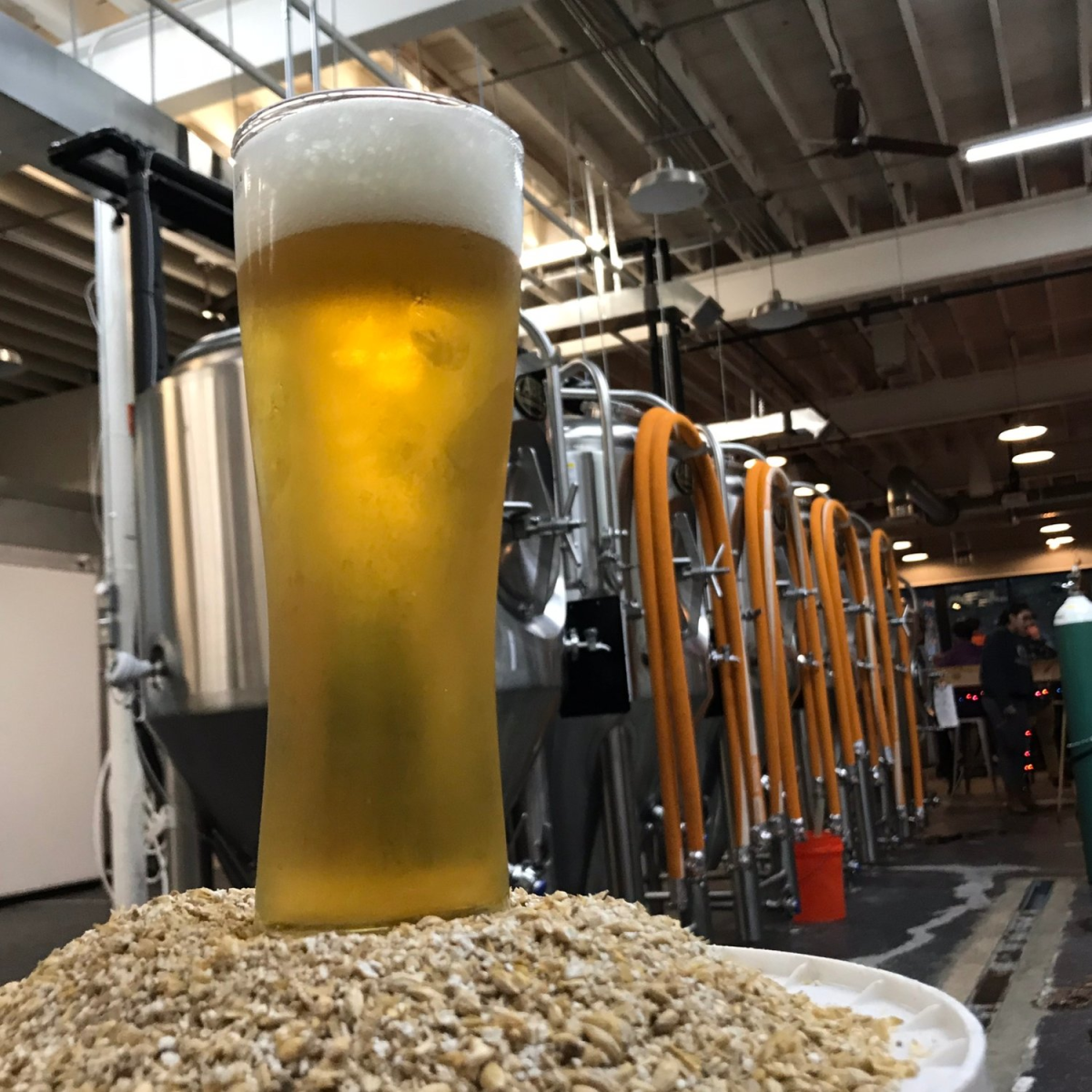 This was an easy choice for co-owner Frank Kuhns and is one that harkens back to when he and his partners were perfecting their craft at home. The No 1 Dry Hopped Kolsch was their first collaborative effort back then and is now one of the brewery's flagship beers. It is Frank's go-to summertime brew and it's easy to see why. 
Kolsch is a traditional German beer style that was born in the city of Cologne. It is a unique ale that is warm fermented with top-fermenting yeast but then conditioned at cold temperatures like a lager. The result is a delightfully quirky beer that exhibits the characteristics of both categories. It is light, with a subtly fruity or vinous characteristic from the esters produced by the ale yeast, and finishes crisp and clean like a lager.
At Settle Down Easy, they tweaked the traditional formula by adding dry Tettnanger and Hersbrucker hops to enhance the aromas. This small customization pays off with a unique floral and spicy hop aroma that imparts additional balance and complexity to this delicate style. 
In Frank's own words, "This is a sessionable, balanced beer, with a unique hop aroma. Clean, crisp, and very enjoyable."
Doesn't that sound amazing on a hot summer night? No 1 Dry Hopped Kolsch is always available on tap and to-go at Settle Down Easy.

Ono Brewing Company
Howzit Hazy IPA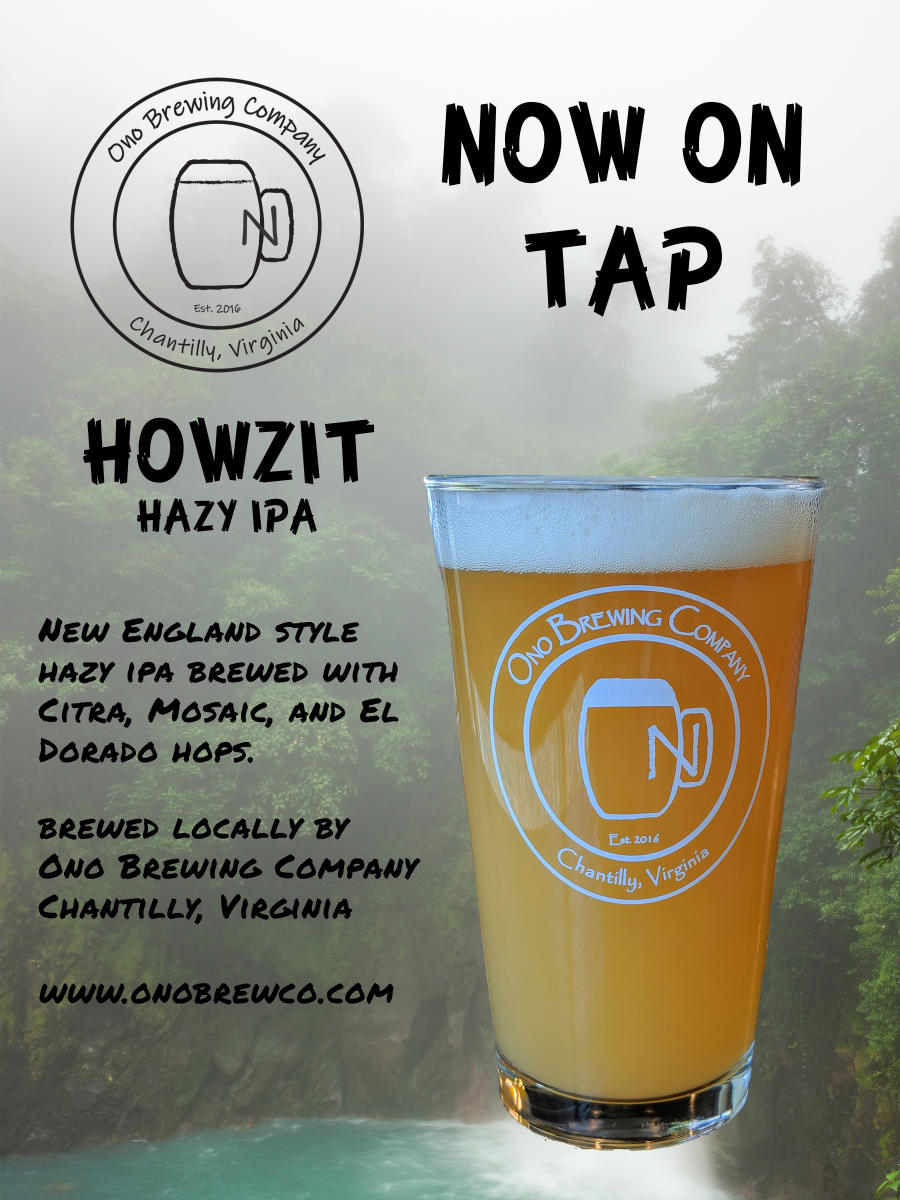 Co-owners Scott and Cyndi Hoffman have had a busy summer expanding their lineup with several hard seltzer additions and opening their inviting, laid-back outdoor tiki patio. [Get a sneak peek of the patio in this Feel Good Friday video!]
After all that hard work, Scott says there is nothing better to kick back with than the Howzit Hazy IPA. He describes it as a "super flavorful, smooth and well-rounded beer that balances just enough bitterness with juicy flavors and a lot of aroma." 
Hazy IPAs have exploded in popularity over the last several years. It's easy to see why, as this style's muted bitterness and tropical citrus aromas and flavors appeal to a wide cross-section of craft beer fans. It's been described as a "gateway beer" due to its crossover appeal to cocktail lovers and has been one of the major drivers of the craft beer boom.
Ono Brewing's Howzit explodes with tropical aromas of grapefruit, passionfruit, and stone fruits and is nicely balanced by a slight pine aroma. The taste follows the nose with hints of mango and even a subtle blueberry, courtesy of the amazingly versatile mosaic hop. It finishes moderately bitter and exceptionally refreshing. 
In Hawaii, "Howzit" is a phrase that means "How's it going?" If you have one of these beers in front of you, chances are, things are going very well indeed!

Mustang Sally Brewing Company
Potomac Pils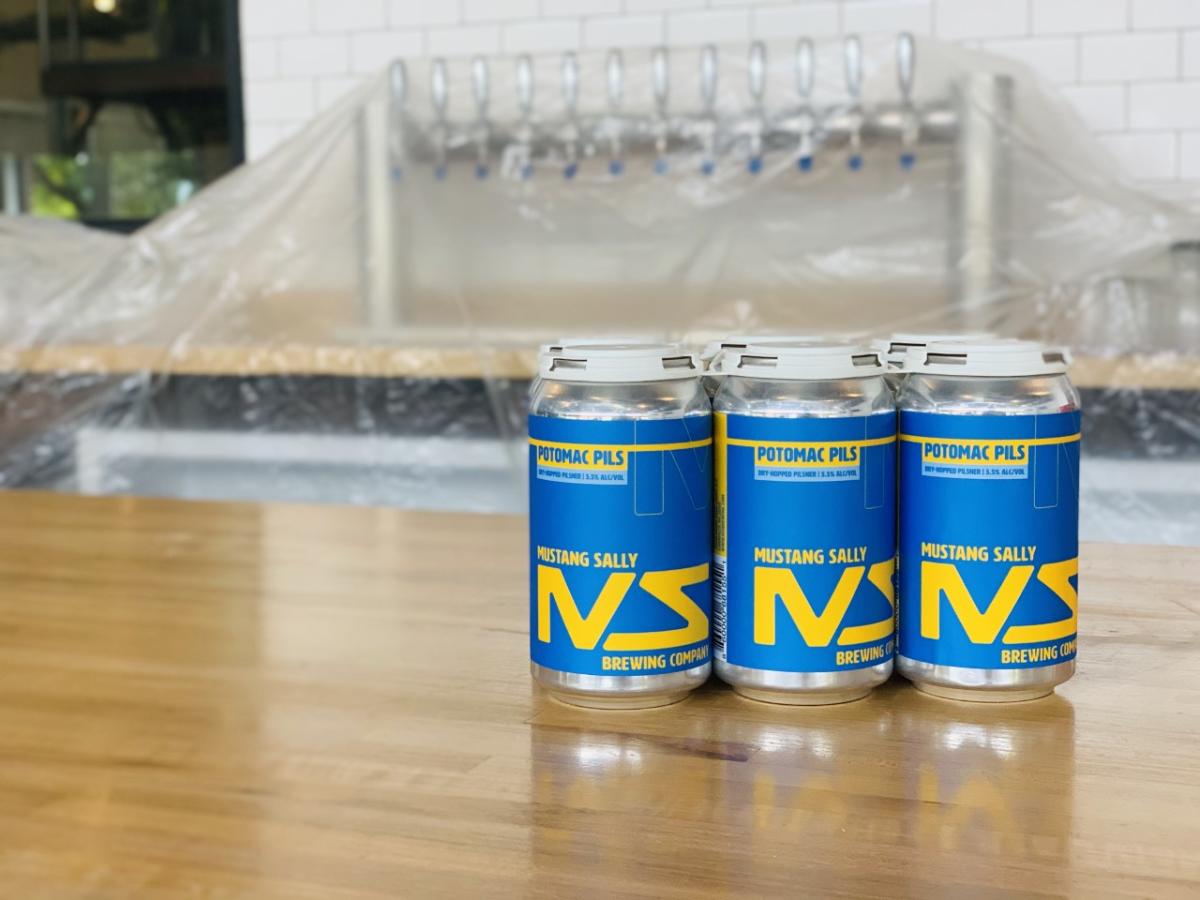 Mustang Sally Brewing Co. has been hard at work reinventing itself over the last year. In 2019, they launched a new logo and introduced large-format 16-ounce cans. They followed that up this year with an updated taproom and new, 10-barrel fermenters in the brewhouse. They'll be launching their small batch program later this month with Hello Newman IPA and Mind is Willing Sour IPA. They are also going to introduce beer cocktails in the taproom before the summer is over, including beer margaritas and beer slushies.
With all this hard work they have earned their beer, and for Sales Director Anderson Moss, that beer is their flagship Potomac Pils.  "To me, there is not much that beats a dry hopped pilsner," he said. "Whether I want to dress it up with a fancy dinner or just crack open a crispy one after work, it's pils."
Potomac Pils has all the crisp and floral characteristics of a classic German pils. It finishes deliciously and refreshingly bitter to balance its light, biscuity malt backbone. The aromas are enhanced through dry hopping and the overall result is a solid and well-crafted staple that is extremely versatile and delightful to drink on any occasion. 
Potomac Pils is always on tap at Mustang Sally. Do yourself a favor and grab one while you check out the amazing things they are doing.
Stay tuned for later in the month for more brewer top picks from a few other Fairfax County Breweries. In the meantime, tell us about your favorite local brew in the comments below or tag us on social using #FXVA and #LocallyPoured. Better yet, pick up your Fairfax County Brewery Field Guide and get out there to support your local taproom.
And if you just can't wait, check out more from our resident beer blogger, Brian Hennighausen, by doing a deeper dive into profiles of our breweries: read about Aslin & Caboose here; read about Mustang Sally & Ono Brewing here; read about Lake Anne Brew House & Bike Lane here; and read about Settle Down Easy & Fair Winds here.
*This is Part 1 in a series highlighting some of Fairfax County's best beers, handpicked by our local brewers; copy and photos provided by guest blogger Brian Hennighausen of Brewscapes.org.*