Spring is officially on its way, and outdoor patios are open and ready to serve you! But, for those of us who have a four-legged member of the family, finding somewhere to eat can bring its own sets of challenges. Luckily, Fairfax County has an abundance of restaurants offering dog-friendly restaurants with outdoor seating options. Bon appetit! 
 
Kalypso's Sports Tavern

Photo courtesy of Kalypso's Sports Tavern 
Voted "Best Al Fresco Dining in Northern Virginia" by Northern Virginia Magazine in 2021 and 2022, Kalypso's Sports Tavern offers waterfront seating adjacent to serene Lake Anne. The menu is heavily inspired by Mediterranean traditions with hummus, tzatziki, spanakopita, falafel, gyro, and more. Yum! 

Dogwood Tavern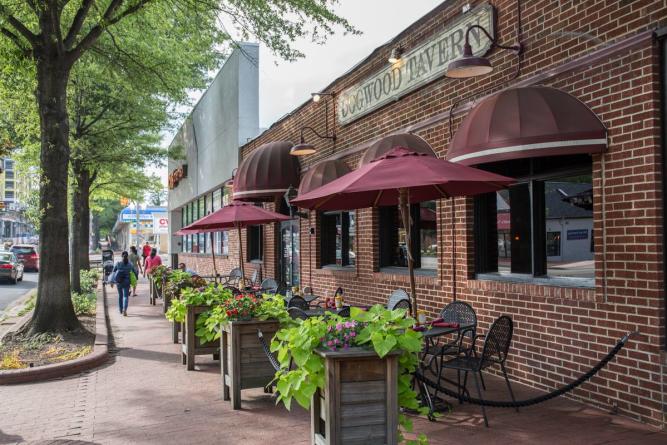 Photo courtesy of Dogwood Tavern via Facebook
Located in the City of Falls Church, Dogwood Tavern is a warm, rustic restaurant with a variety of beer, wine and cocktails, and a menu full of comfort food. The tavern celebrates all things Virginia and is even named after the Virginia state tree: the Flowering Dogwood. Plus - their cocktails are only $11! Count me in. 

Hamrock's Restaurant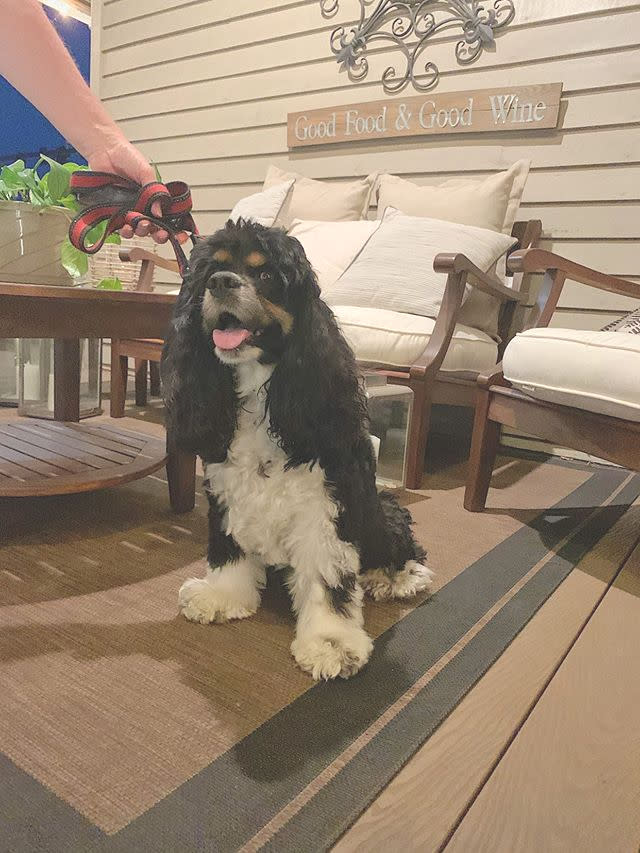 Photo courtesy of Hamrock's Restaurant
Thanks to a wrap-around porch and courtyard seating, Hamrock's Restaurant has more than enough space for both you and your pooch! Nestled in charming Old Town Fairfax, Hamrock's is located in the historic Moore-McCandlish House, which was built in 1842. The house has seen its share of history - including the Civil War and visits from both Theodore Roosevelt and William Howard Taft. Whether you're looking for afternoon tea, a great glass of wine, or a fresh plate of food, Hamrock's is an excellent choice -- and dogs are invited to the party. 

Caboose Commons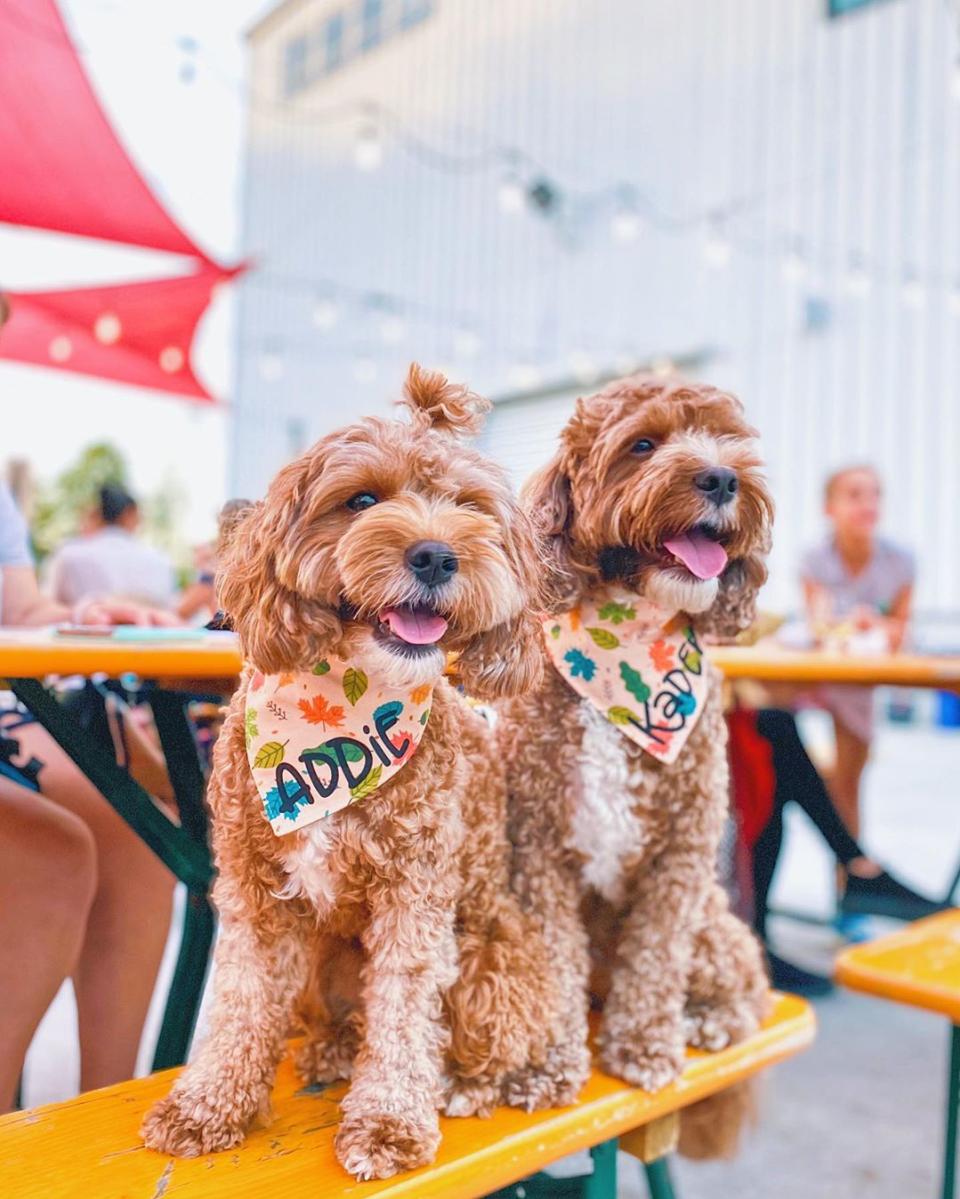 Photo courtesy IG user @with.love.kaden.and.adalynn
There's no need to choose between your furry friend and beer at Caboose Commons. a Fairfax County coffeehouse, brewery, & beer garden near Mosaic District. On Tuesdays, Caboose hosts the Woofbowl food truck for doggies for its Ruff Tuesdays event! With a beer for every taste, you're bound to find some un-beer-lievable brews at this Fido-friendly spot. 

Cafe Montmartre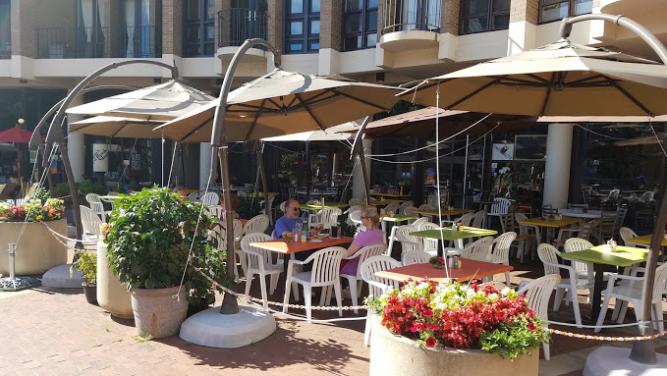 Cafe Montmarte, a hidden gem in Lake Anne Village Center, describes itself as a "French & Viet Bistro Restaurant." The restaurant serves a variety of dishes, from Vietnamese pho noodle soup to garlic-sauteed escargot. After your meal, take a stroll along the waterfront plaza or through the nearby Reston Town Center to see all the public artworks on display - including a globe over three decades old! 

Oh George! Tables & Taphouse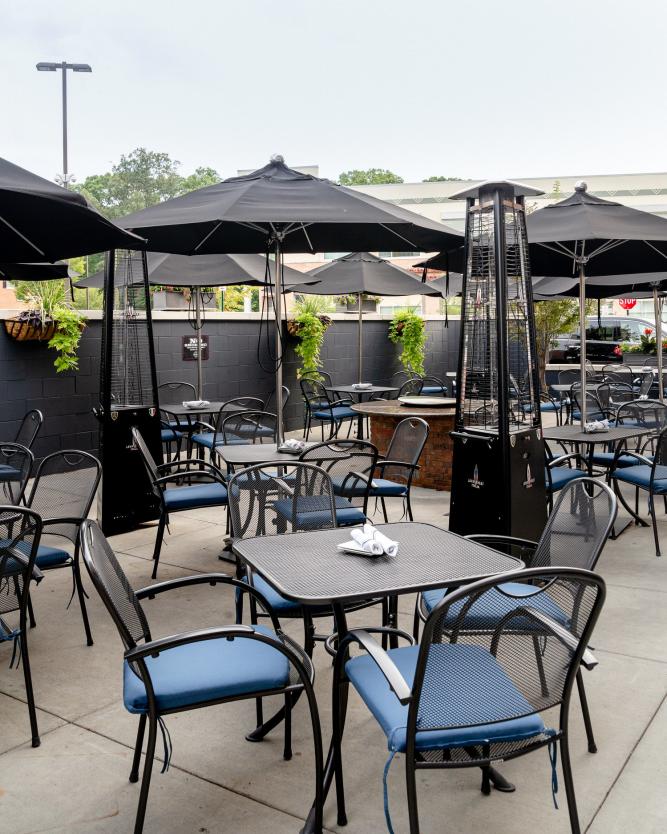 Photo courtesy of Oh George! Tables and Taphouse via Facebook 
Oh George! is a buzzy hangout serving American fare at the University Mall shopping plaza in Fairfax. Serving fire-roasted pizza, custom ground burgers, salads and entrees, and local craft beers, they've become a staple of the George Mason University community. Grab a table on their outdoor patio with your pup, and enjoy all they have to offer! 

Ono Brewing Company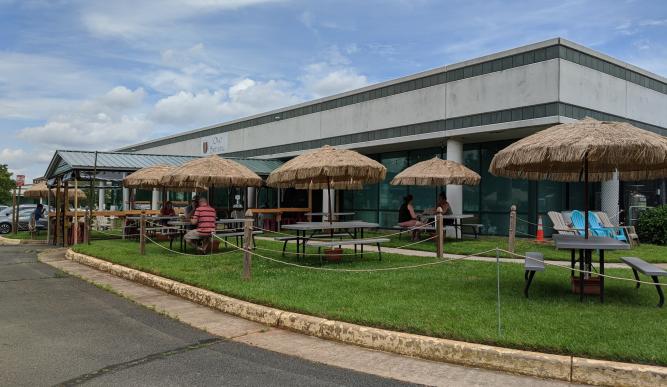 Photo courtesy of Ono Brewing Company via Facebook 
A tropical tasting room, a self-serve beer wall, and a Beach Shack concession stand - sounds impossible to pass up, if you ask me! Ono Brewing Company, located in Chantilly, is a craft beer lover's dream! Island-themed brews like the Tropical Breeze and Banana Hammock will sweep you away to a tropical coast along with your doggo. 
Hot Tip: If you're a beer fan, make sure to check out our #LocallyPoured digital passport to Fairfax County breweries!

Mellow Mushroom Chantilly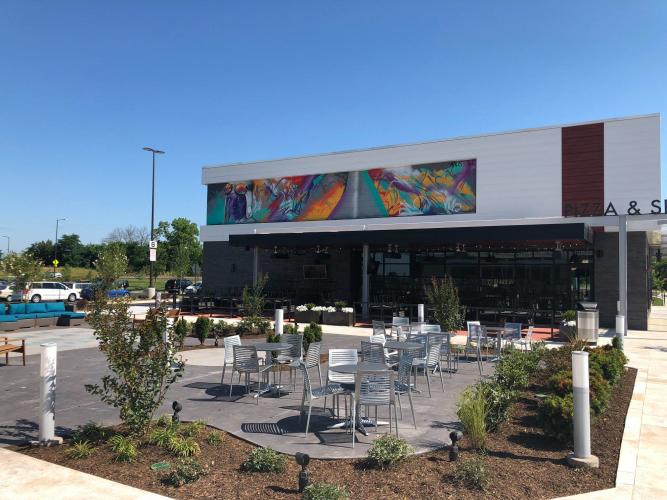 Photo courtesy of Mellow Mushroom via Facebook 
Mellow Mushroom's funky, art-filled cafe serves craft beer, one-of-a-kind stone-baked pizzas, and other delicious munchies. Can life get much better than pizza and puppies?? Good thing their Chantilly location is dog-friendly! 

Clifton Cafe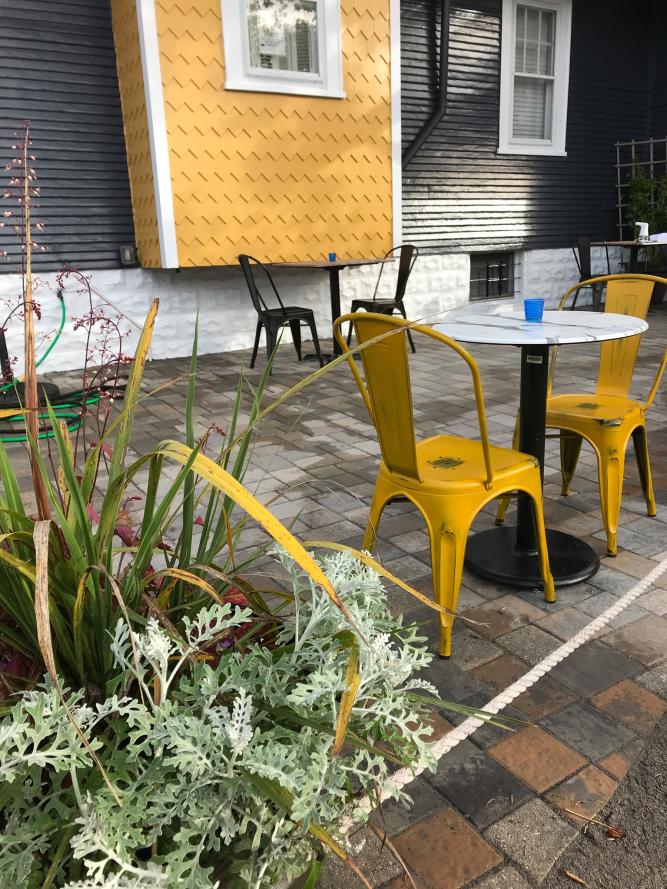 Photo courtesy of Clifton Cafe via Facebook 
Clifton Cafe is the perfect getaway from the hustle and bustle of everyday life. Styled after a European café, this quaint bistro features an inviting patio for dining al fresco with your pup. Try one of their delicious crepes or specialty coffees - the Samoa Latte is my favorite! 
Hot Tip: After your meal, jump over to nearby Paradise Springs Winery for another dog-friendly escape and some delicious, award-winning Virginia wine. Learn more about the Town of Clifton here.

Dogfish Head Alehouse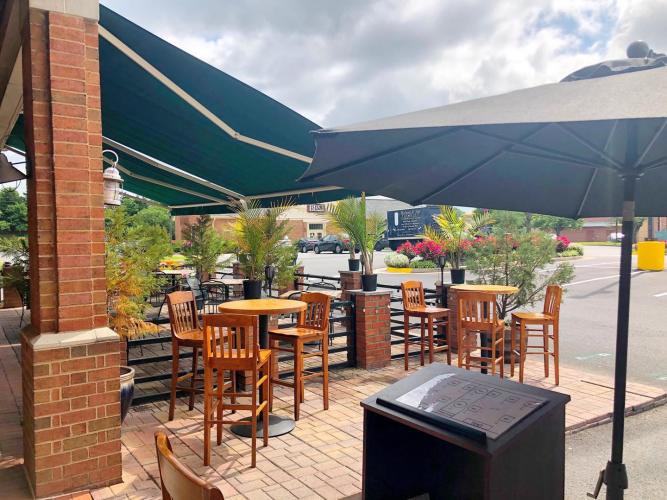 Photo courtesy of Dogfish Head Alehouse via Facebook 
Serving "off-centered food and drink for off-centered people," Dogfish Head Alehouse offers an original craft beer and dining experience. For more than 15 years, they have been serving hearty sandwiches, burgers, entrees, and a variety of brews. You'll find a warm and welcoming spot on the patio in Fairfax. 

Mookie's BBQ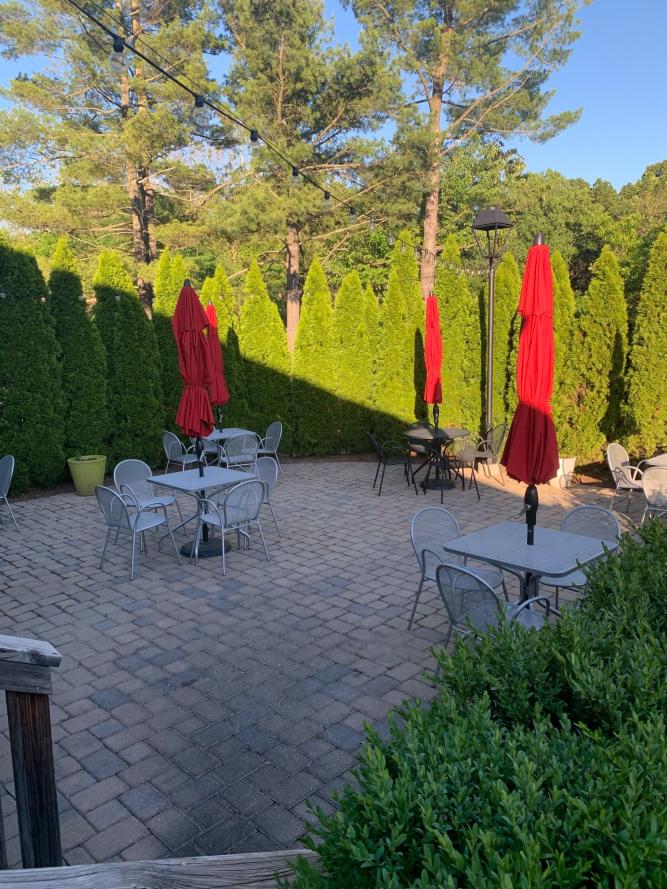 Photo courtesy of Mookie's BBQ via Facebook 
If brisket, baby-back ribs, and smoked meats make your ears perk up like Fido's, then check out the patio at Mookie's BBQ. This Great Falls barbecue joint prides itself on fresh, local ingredients and traditional low and slow BBQ techniques for the perfect flavor of sauce and smoke.

The Old Brogue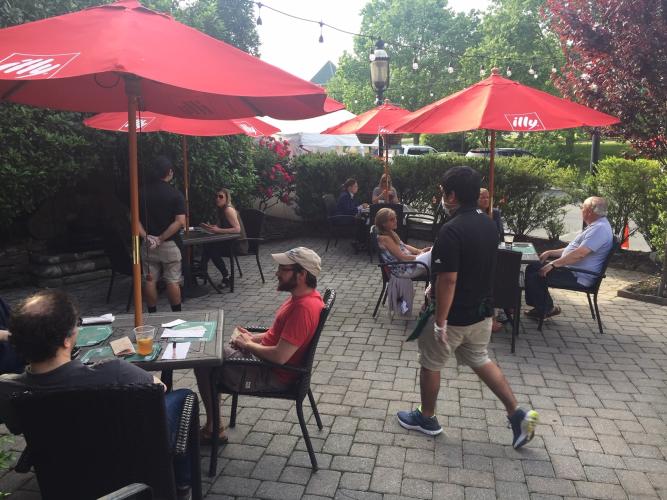 Photo courtesy of The Old Brogue via Facebook
The Old Brogue is an Irish pub offering lots of beer, traditional grub, and live music on its courtyard patio. Located conveniently near Great Falls Park, this is the perfect place to cool off with a beer and lunch after taking a hike with your pooch. Be sure to check out their website for daily specials, such as Burger Nights on Mondays and Fried Chicken Thursdays.

Coyote Grille and Cantina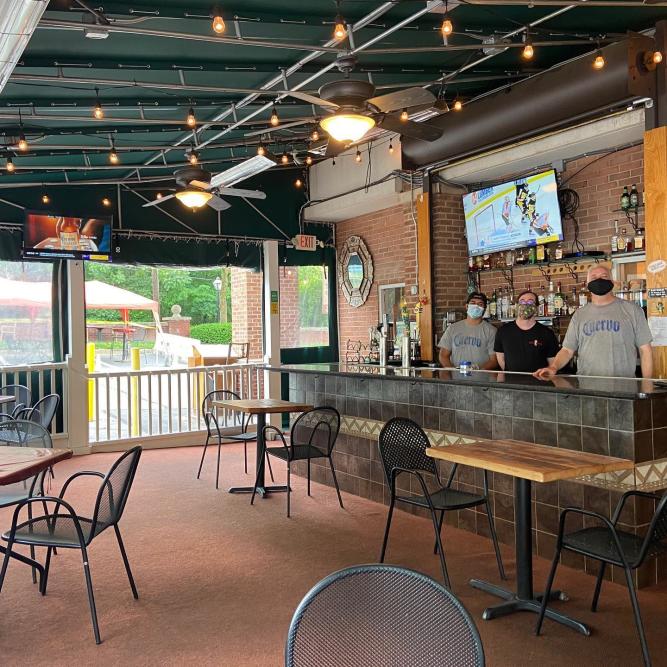 Photo courtesy of Coyote Grille via Facebook 
Looking for your fix of "The Best In Southwestern Cuisine?" Satisfy your craving with fresh guacamole, quesadillas, taquitos, enchiladas, tacos, and other favorites at Coyote Grille! They've got great Happy Hour specials, and a lovely patio for your dog to happily sit. 

Lazy Dog Restaurant & Bar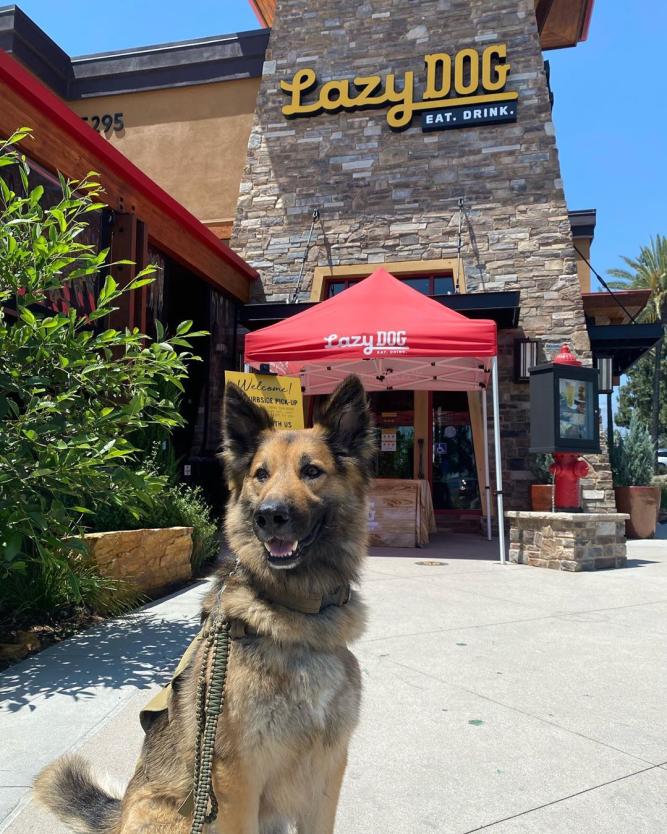 Lazy Dog Restaurant & Bar (with locations in Fairfax and Chantilly) is a relaxed, "lodge-chic" dining environment serving comfort food favorites such as pot roast, chicken pot pie, and BBQ bison meatloaf. Inspired by unplanned adventures, an enduring love of food, and fireside conversations, Lazy Dog was created to invoke the small mountain town vibe where the founders grew up in the Rocky Mountains. Your fluffy friend can even enjoy a special dog menu on the patio. Choices include grilled hamburger patty or grilled chicken breast served with brown rice. 

Clare & Don's Beach Shack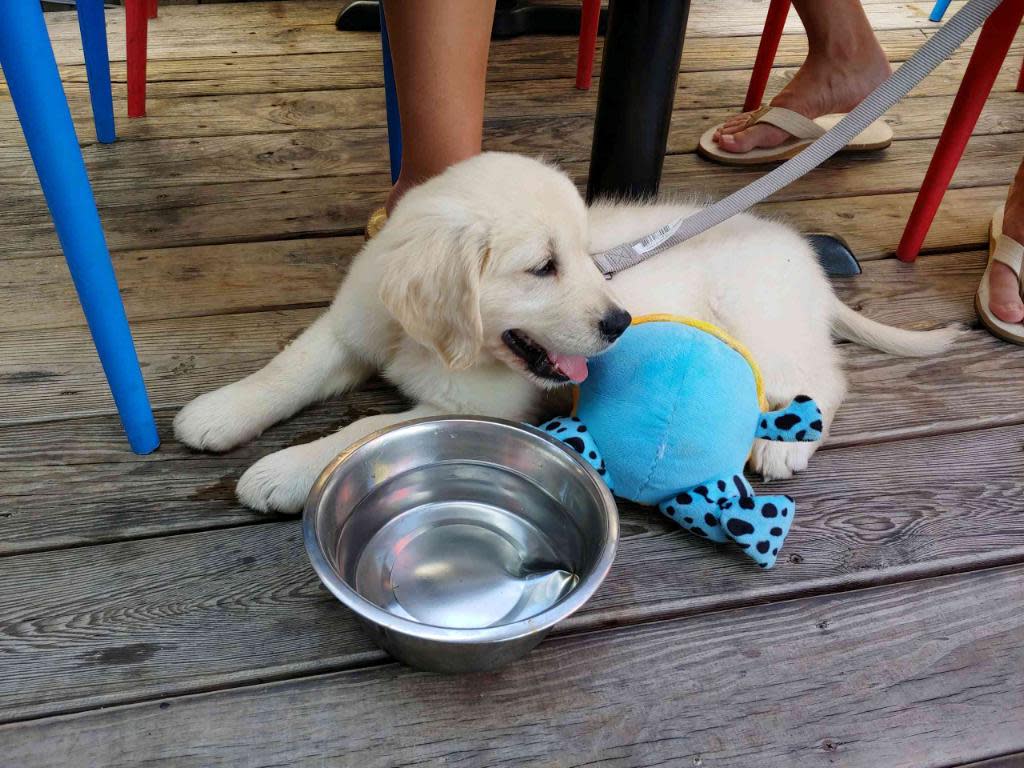 Photo courtesy of Clare and Don's Beach Shack (@clareanddons)
Clare & Don's Beach Shack offers beach-themed cuisine, including seafood, specialty cocktails, and vegetarian fare. Not to mention, they regularly host live music, karaoke, and trivia nights! Grab a taste of the beach right here in Fairfax County with man's (and woman's!) best friend. (Best to call ahead to check about bringing your pup along.)

Bear Branch Tavern

This neighborhood pub in the heart of Vienna offers a blend of American tavern favorites with fresh, healthy options and a bar program rooted in the classics. For pet parents, pull up a seat after a nice hike on the W&OD Trail at one of three unique outdoor seating options. 

Now that you've got this list, taking your dog out to eat should be a breeze! Which restaurant will you visit first? Did we miss one of your favorites? Let us know in the comments below. Don't forget to tag us using #FXVA and @VisitFairfax in all of your adventures - we love cute pet photos!