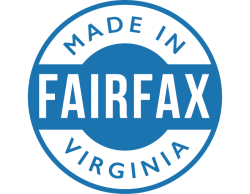 Fairfax County is home to an incredible and diverse group of artisan makers – so much so that the Made in Fairfax initiative was born.
The Made in Fairfax network aims to be a one-stop shop for maker businesses and those who want to support them. The Made in Fairfax directory features dozens of artisans who create a variety of unique gifts from Northern Virginia made in the county like custom furniture, baked goods, jewelry, and more.
This holiday season (or any time of year, really!) take "shop local" to new heights by directly supporting the makers of these gift-worthy products – created right here in Fairfax County, Virginia.

Fairfax County 2022 Gifts from Northern Virginia
Holiday Gift Guide Table of Contents
(Shop by category with these links) 

Artwork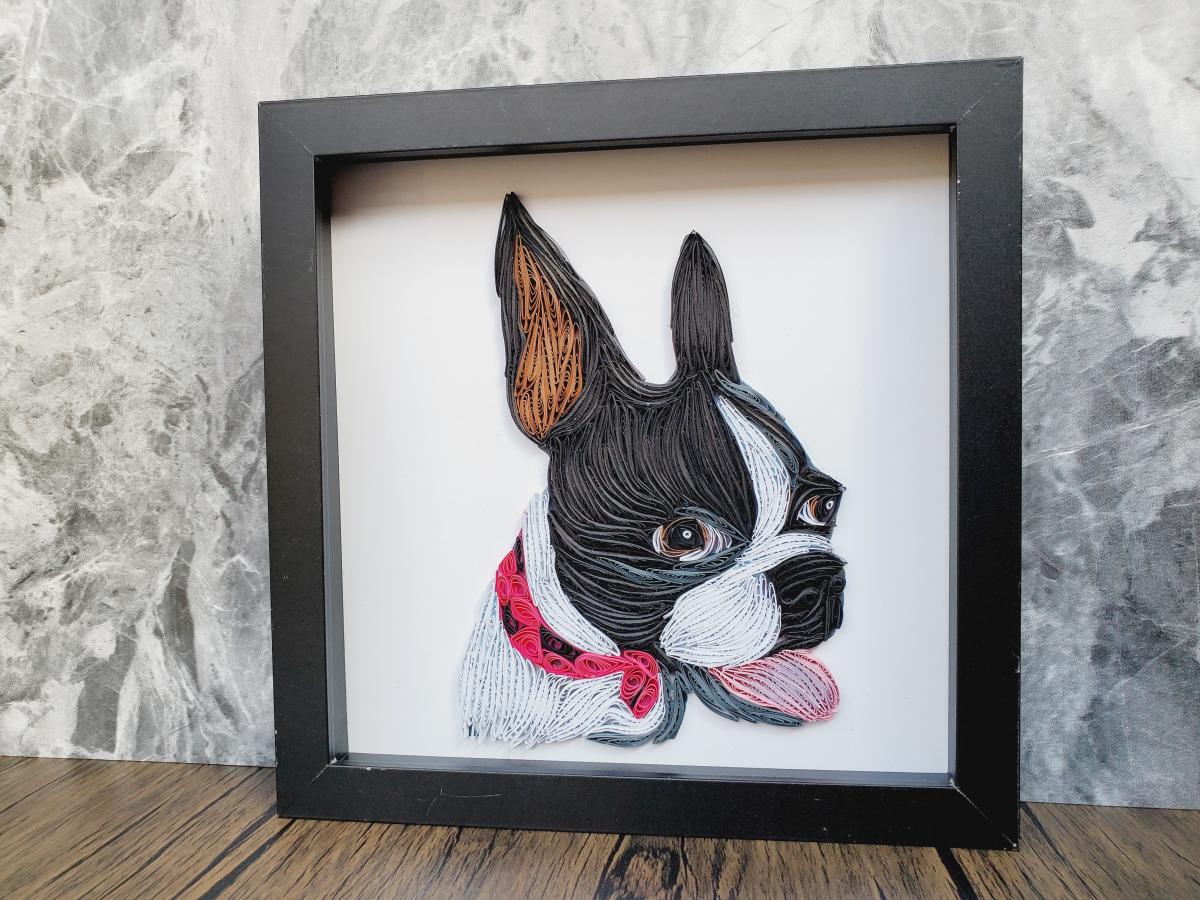 Image submitted by Trupti's Crafts
Add a one-of-a-kind piece of artwork to your home collection or bring in some unique new holiday decorations this year from Trupti's Craft Paper Quilling Art. Paper quilling is a rare, yet quickly growing form of art that involves rolling, shaping, and gluing paper strips together to create intricate designs. From holiday decor to wedding and baby nursery decor to customized pet portraits that start as low as $10 (for ornaments) and $35 (for framed prints), this is a gift that your loved one will never forget. Browse some designs on their website here.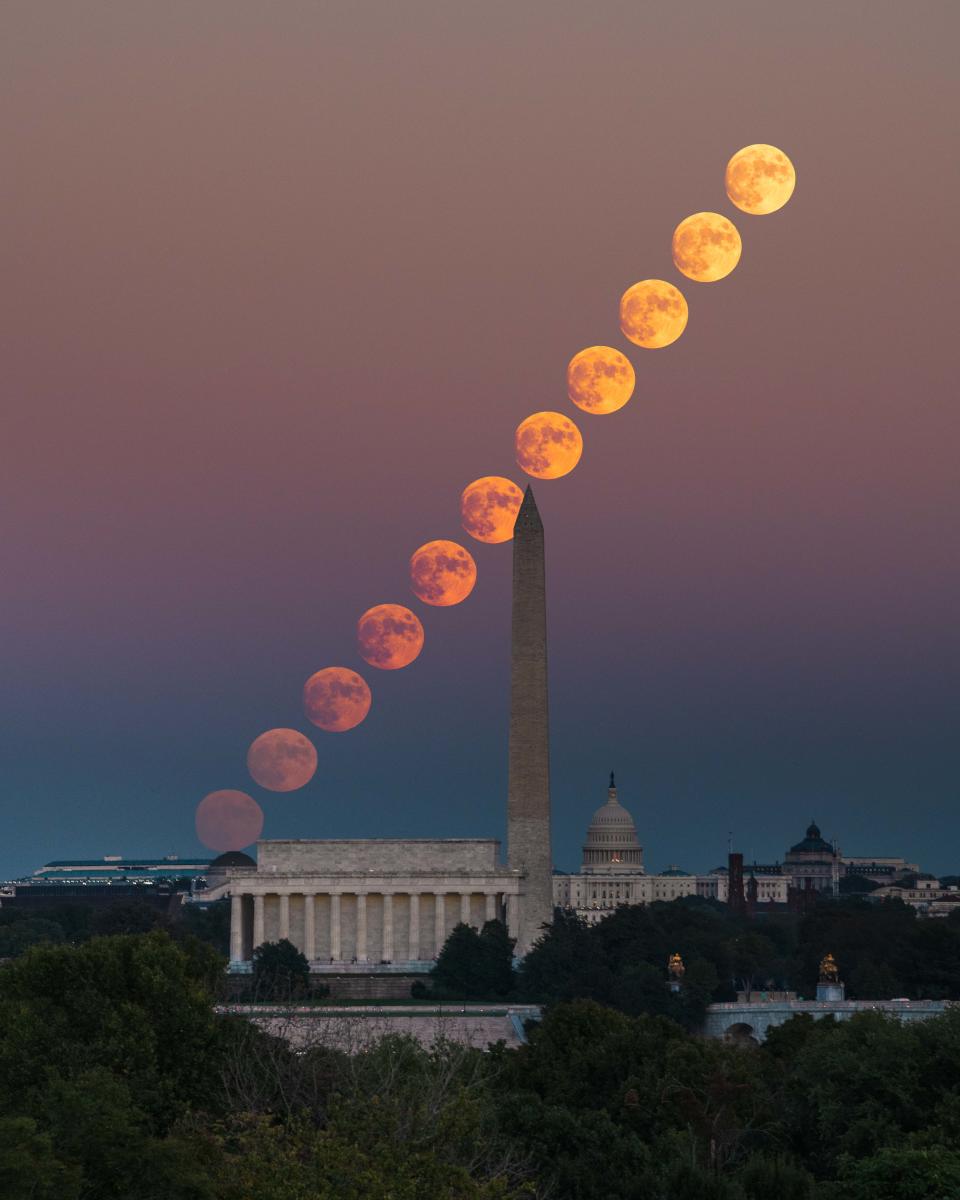 Image submitted by JHK Photography
We all know the Capital Region is a stunningly photographic area to live and visit. Why not gift some DC-area pride this holiday season with prints by JHK Photography Studio? With a focus on sunrises, sunsets, and the moon phases over time, these photographs will brighten your day and remind you why you love living or visiting this vibrant area. Prices vary by size of print; visit their Etsy shop to choose your favorites.

More ideas: Make a point to swing by the Workhouse Arts Center for unique prints and other artistic endeavors from the 65+ studio artists-in-residence at the center. We promise you'll find more than one truly unique gift for those on your list. This year, they've given you a perfect reason to stop by during their Small Business Saturday event, happening Nov. 26, Dec. 3, and Dec. 10 only - get a 20% discount on all items and support your local artists! Closer to Annandale area? Stop by the Craft Gallery by Artisans United within Annandale Community Park for more locally created artwork, textiles, toys, jewelry and more.

Body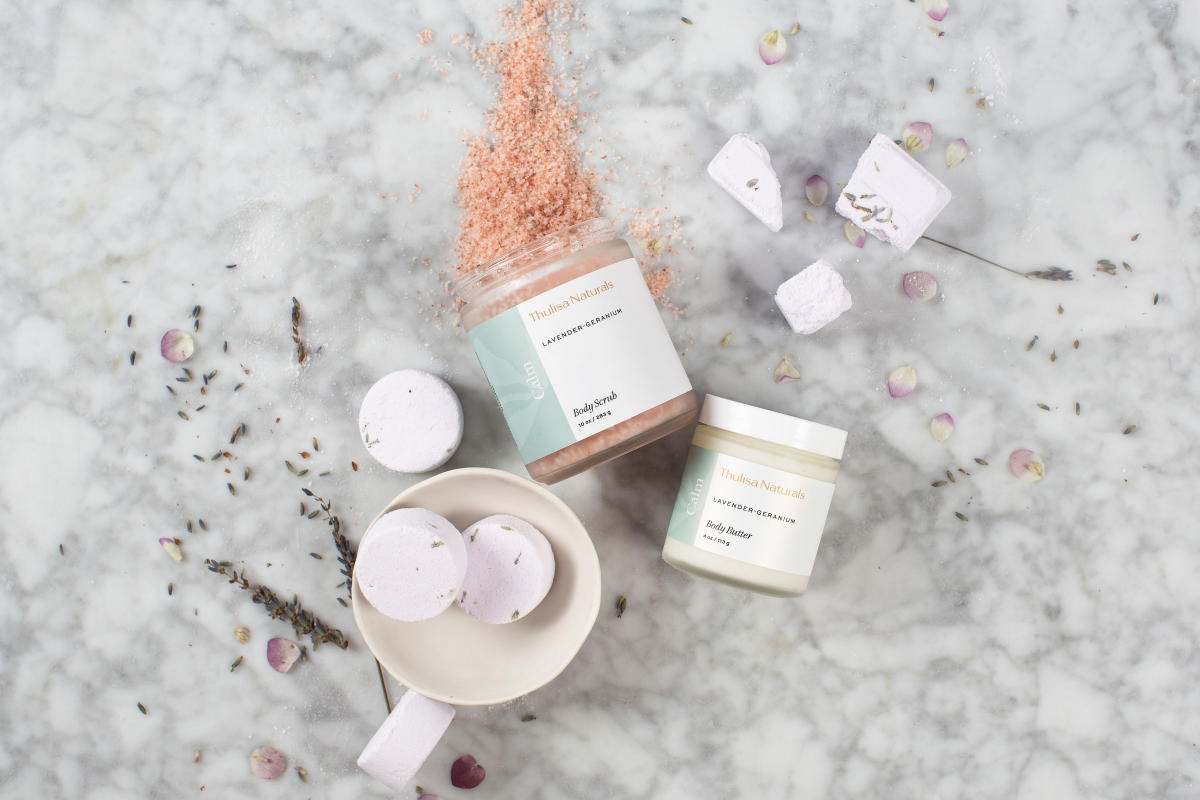 Image submitted by Thulisa Naturals
Stemming from a need for natural products due to allergies, Sara Pagani decided to start her own soap and candle company. Simply Sara creates artisan, all-natural, and handmade bath and body care products such as sugar body scrubs, bath bombs, cold process soaps, shower steamers and more. Browse the shop here to pick your favorites scents and creations.
More ideas: Stock up on Thulisa Naturals products for a nightly escape from the daily grind. From foaming fizzy bars and shower steamers to body scrubs and butters, shop owner Anusha Moodley prides herself on creating products that help women prioritize self-care in an all-natural way. Visit her site for a quiz to find out which products are right for you, browse her blog for inspiration, and order your holiday haul.

Chocolate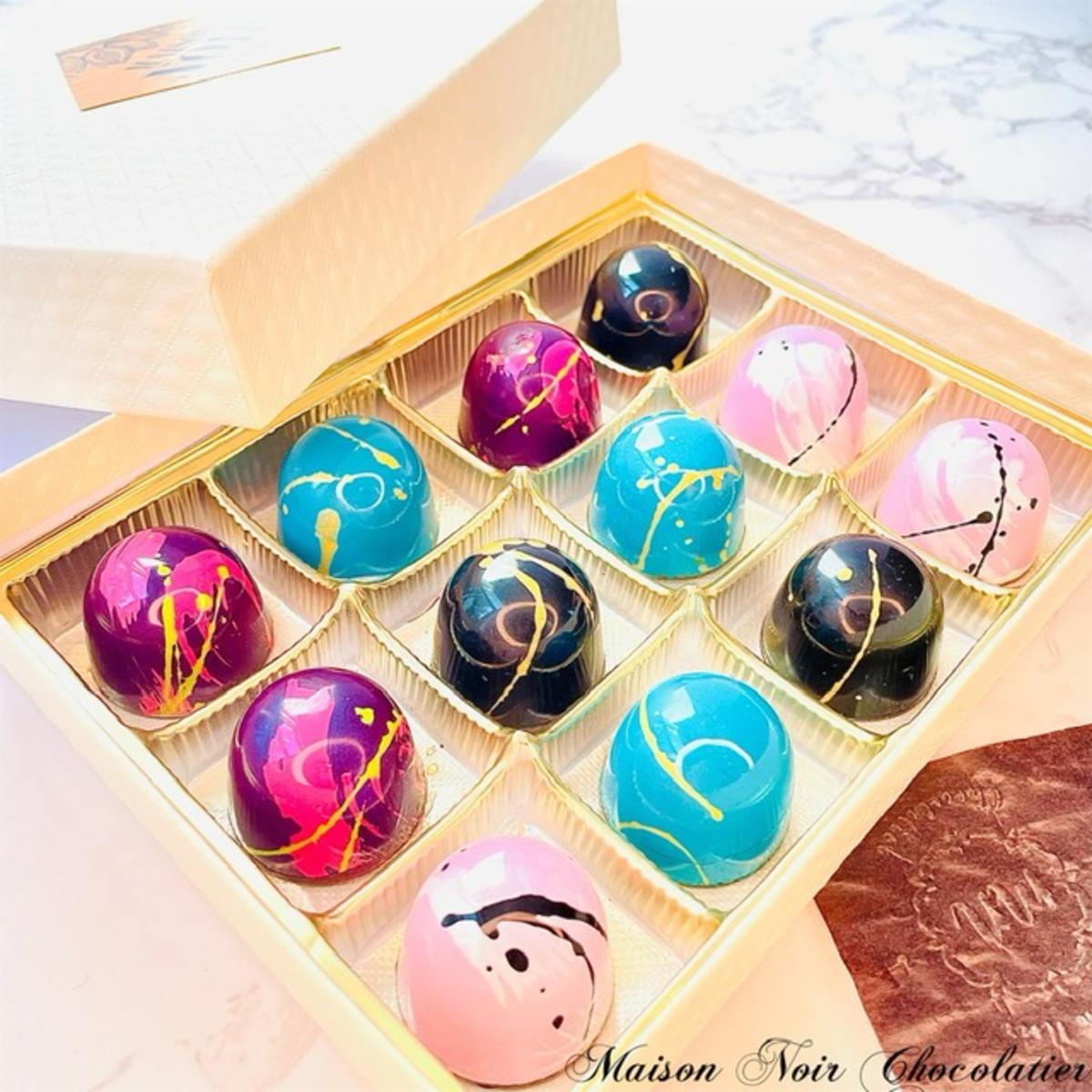 Image submitted by Maison Noir Chocolatier
Calling all dark chocolate aficionados - we've found something extra special just for you! Maison Noir Chocolatier is a sustainable dark chocolate-ONLY chocolatier specializing in French chocolate bonbons, truffles, nut spreads. Made with the finest imported "Cacao Barry" brand and packaged in 100% recyclable boxes, you can find some truly delectable treats from this shop. For gift giving, consider the 12-count Winter Collection, featuring Apple Pie Bonbons (classic American apple pie with a secret spice blend), Pecan Pie Bonbons (pecan pie with hints of orange blossom, cinnamon and saffron), Argan 2.0 Bonbons (Marcona almond butter, honey, and argan oil) and Moroccan Mint Bonbons (Moroccan tea with creamy spearmint ganache) - all of which are covered with a 64% Dark Chocolate shell. Buy on Etsy or find them at the Mosaic District Farmers Market.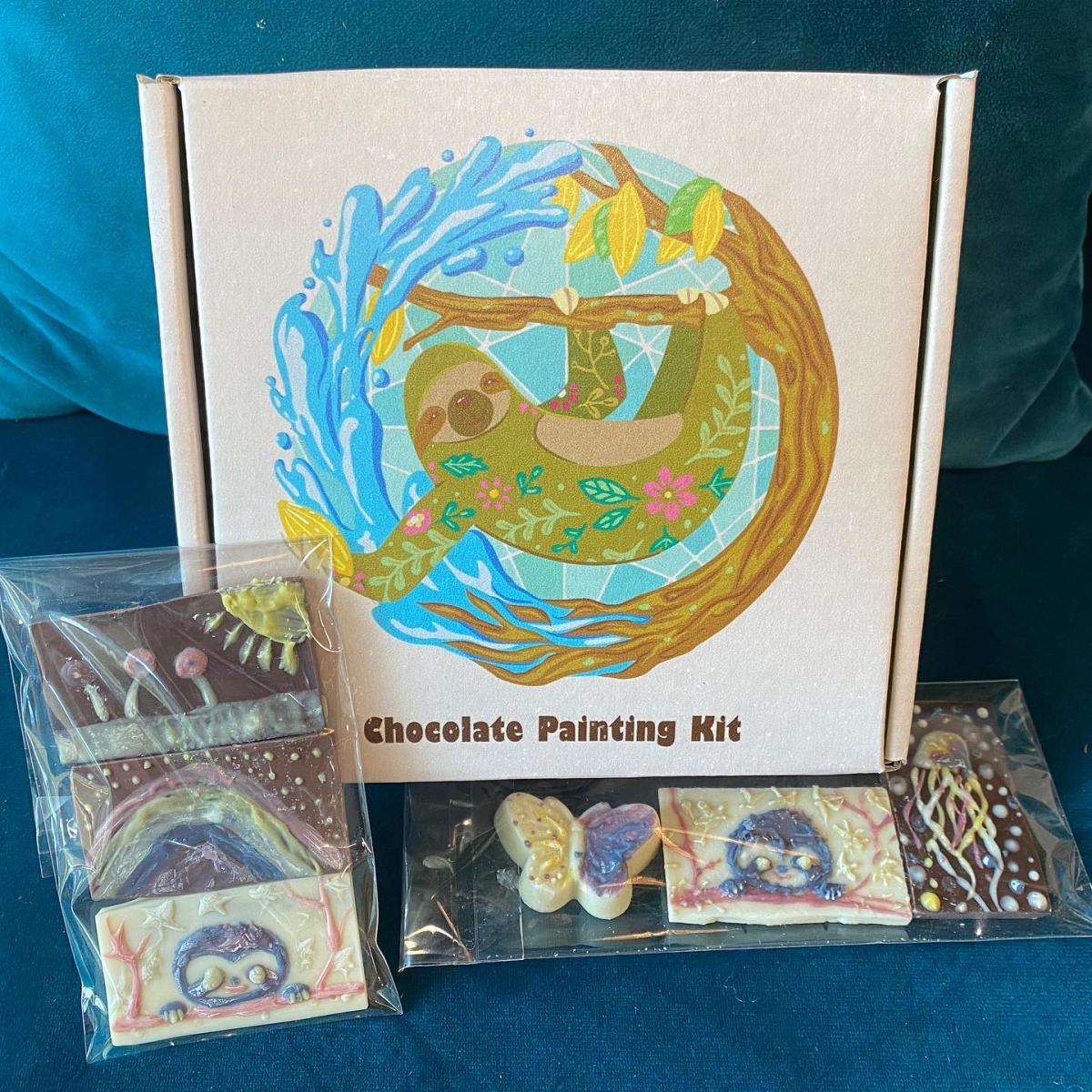 Image courtesy River-Sea Chocolate Factory/Facebook
In-the-know residents may already be clued into the amazing bean-to-bar chocolate crafted at Chantilly's River-Sea Chocolate Factory, the only one of its kind in Northern Virginia. But for the uninitiated, a perfect gift for the chocolate lovers in your life is the Chocolate Painting Kit, where you use paint made from plant-based, fruit-tinted white chocolate to design your own milk, dark or white chocolate bars. Other gift ideas include Self-Guided Chocolate Tasting Kits, Hot Chocolate Bombs, and Mini Chocolate Sets.
More ideas: Stop by or pre-order gifts from any of these amazing chocolatiers in Fairfax County, like Cocoa Vienna or Chesapeake Chocolates. Your taste buds will thank you!

Coffee & Tea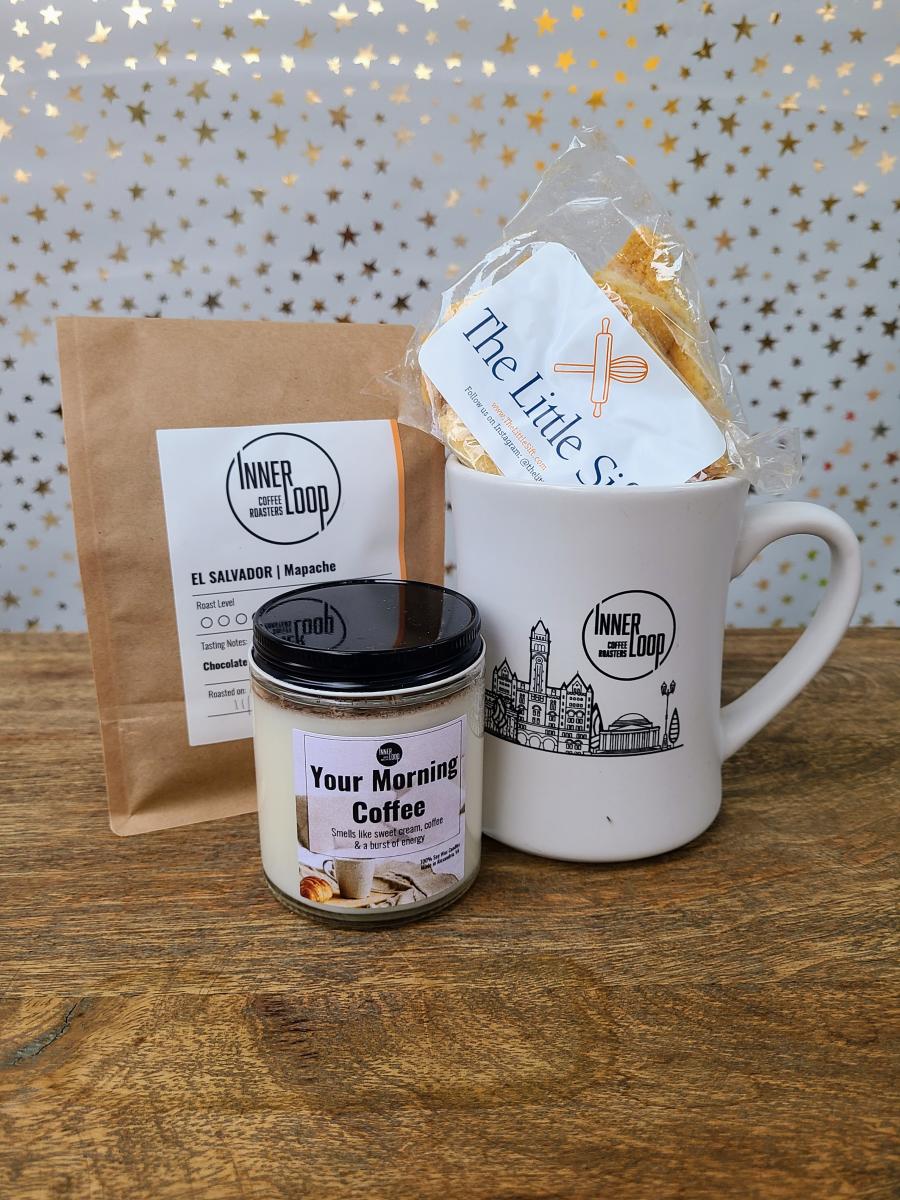 Image submitted by Inner Loop Coffee Roasters
Offer a gift that truly kickstarts your loved one's day every day – with the gift of locally roasted coffee beans. Falls Church-based Inner Loop Coffee Roasters is a family-owned roastery that is offering customizable holiday gift boxes filled with goodies including coffee beans, homemade biscotti, locally poured candles, and logo'd mugs. Each box also has the option to include a special gift tag made by a local artist. Shop gift boxes, beans, and subscriptions here. Note: Pre-orders for holiday boxes are accepted through Dec. 7 or can be picked up at The PARC at Tysons on Dec. 2, 3, 10, and 17 while supplies last.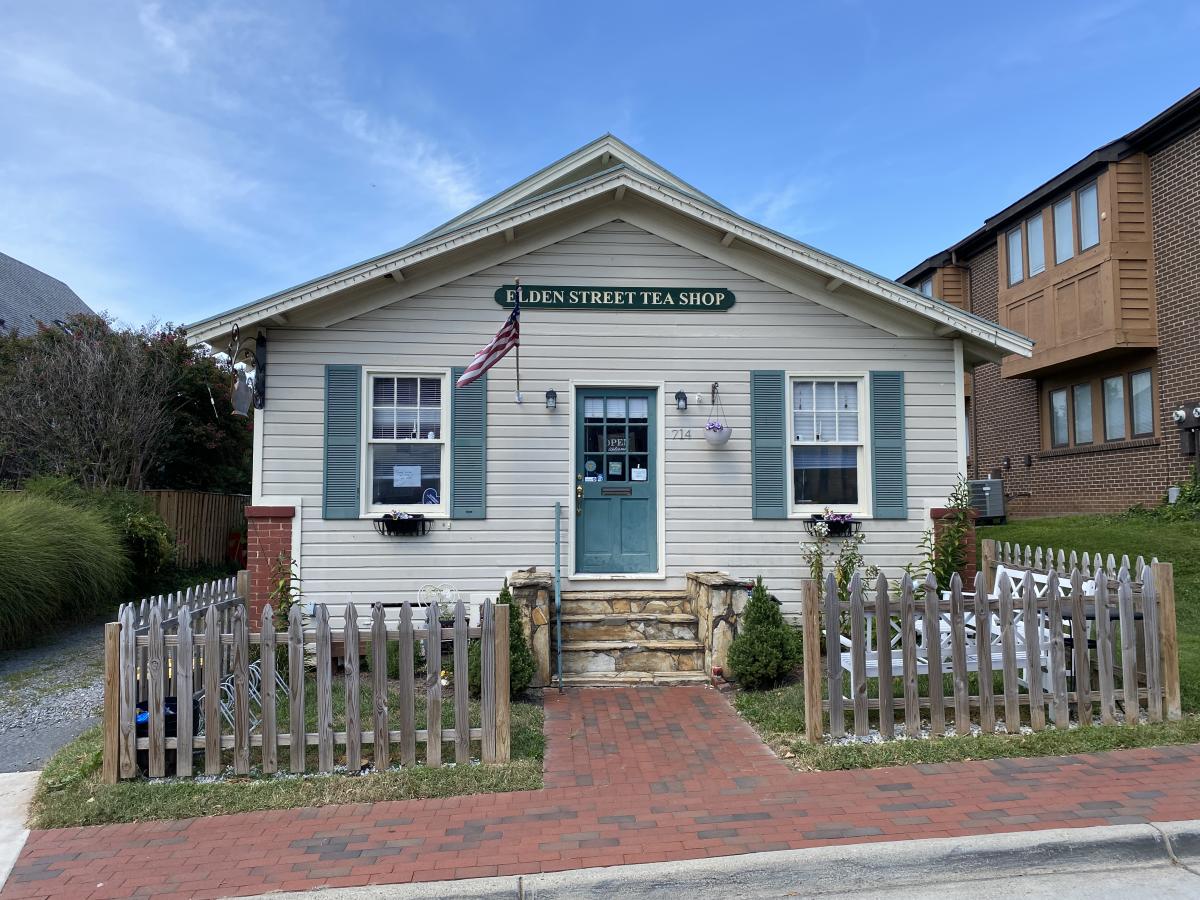 For tea drinkers, a must-visit is Elden Street Tea Shop in the quaint Town of Herndon. This holiday season, the tea shop is offering a unique advent calendar-style wooden recipe box filled with a different surprise tea per day along with recipe cards to share and enjoy with family and friends. Pre-order now for pick up or shipping on and after December 1.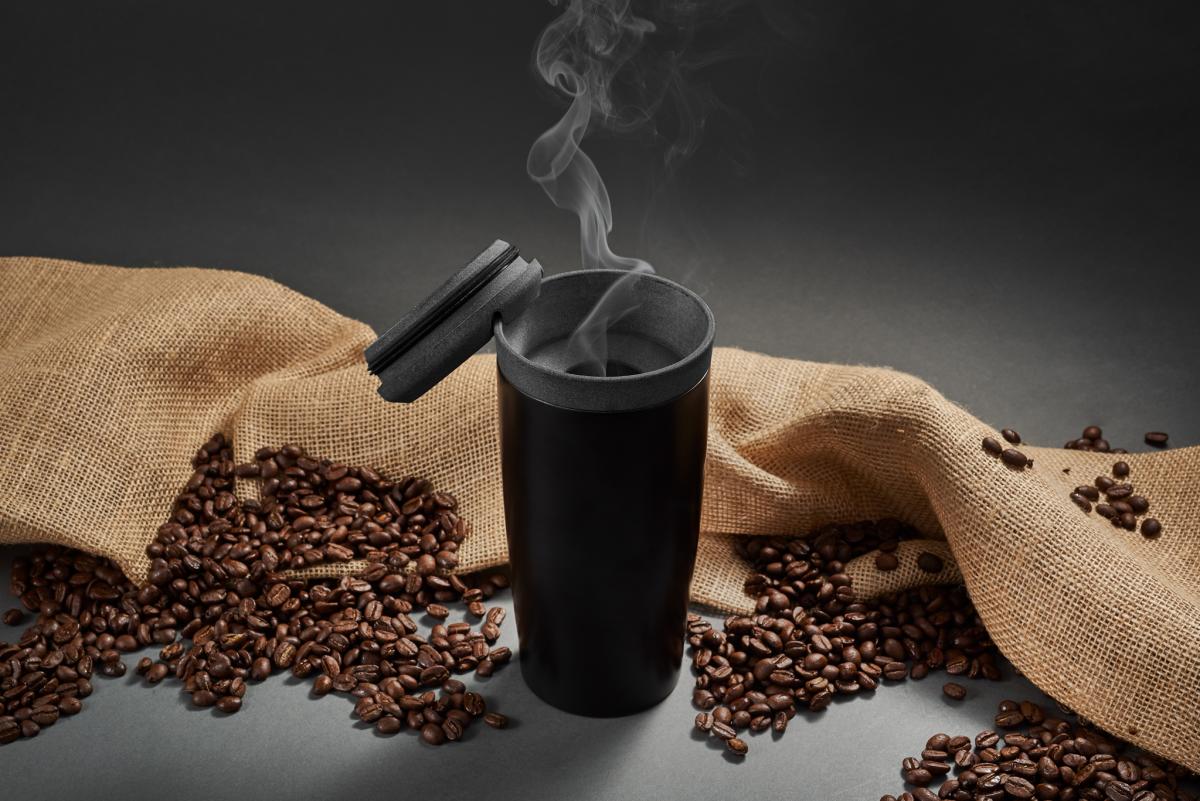 Image submitted by SHAD Aromatic Coffee Cups
If you're looking for something to pair that locally roasted bag of coffee beans or loose-leaf tea with (above), you're in luck. SHAD Travel Mugs is an area company that has created a reusable, fully insulated, aromatic travel mug that won't compromise the smell or taste of that precious liquid gold. The lid is vented to provide a simulated home mug drinking experience. Buy the full mug or talk to them about purchasing just the lid for your at-home stainless steel or ceramic mugs.
More ideas: Support woman-owned Cervantes Coffee Roasters, which offers single-origin beans and operates almost exclusively on a roast-to-order basis. Bonus: you can tour their roastery in Springfield or sign up for classes to further your coffee education. Wish you ordered more than one bag? Check out their subscription for monthly or bi-weekly delivery! You can also pick up freshly roasted beans from Town of Vienna favorite Caffe Amouri, or Herndon shop Weird Brothers Coffee. And of course, who wouldn't love a gift card to one of the locally-owned coffee shops across the county – here are several coffeehouses to consider.
Food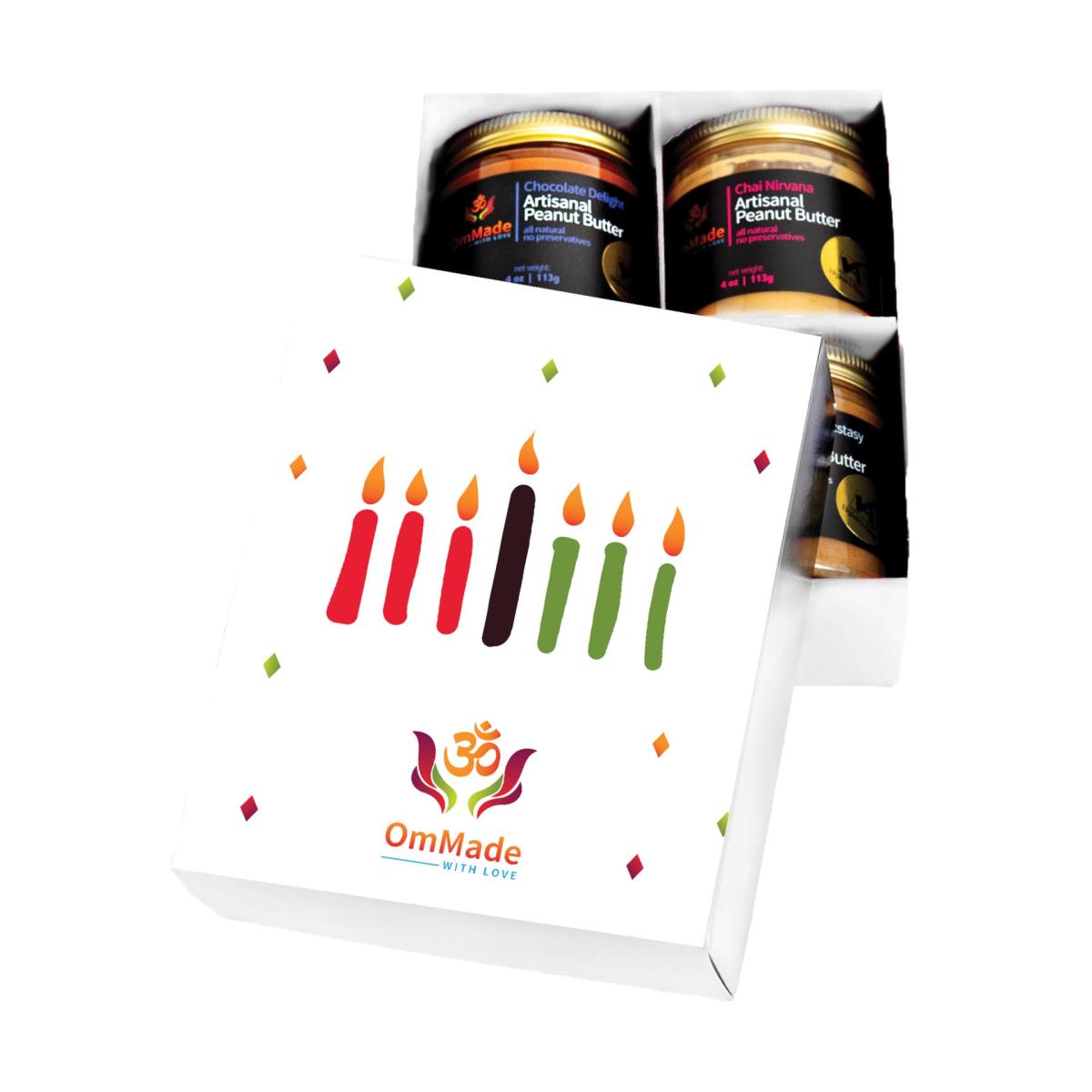 Image submitted by OmMade Peanut Butter
Virginia is known for its incredible peanuts, so Reston resident Radhika Murari decided to do something about it! OmMade Peanut Butter uses those peanuts to make about a dozen spectacular flavors of vegan, gluten-free peanut butter ranging from Vibrant Turmeric to Espresso Ecstasy to the new Mmm...Matcha. They have holiday-ready gift boxes with four different designs that will make the perfect gift! Choose from Hanukkah, Christmas, Kwanzaa or a general Holidays design. Gift boxes start at $39.99 for a selection of four 4 oz. jars of customer-favorite peanut butters and can be ordered online.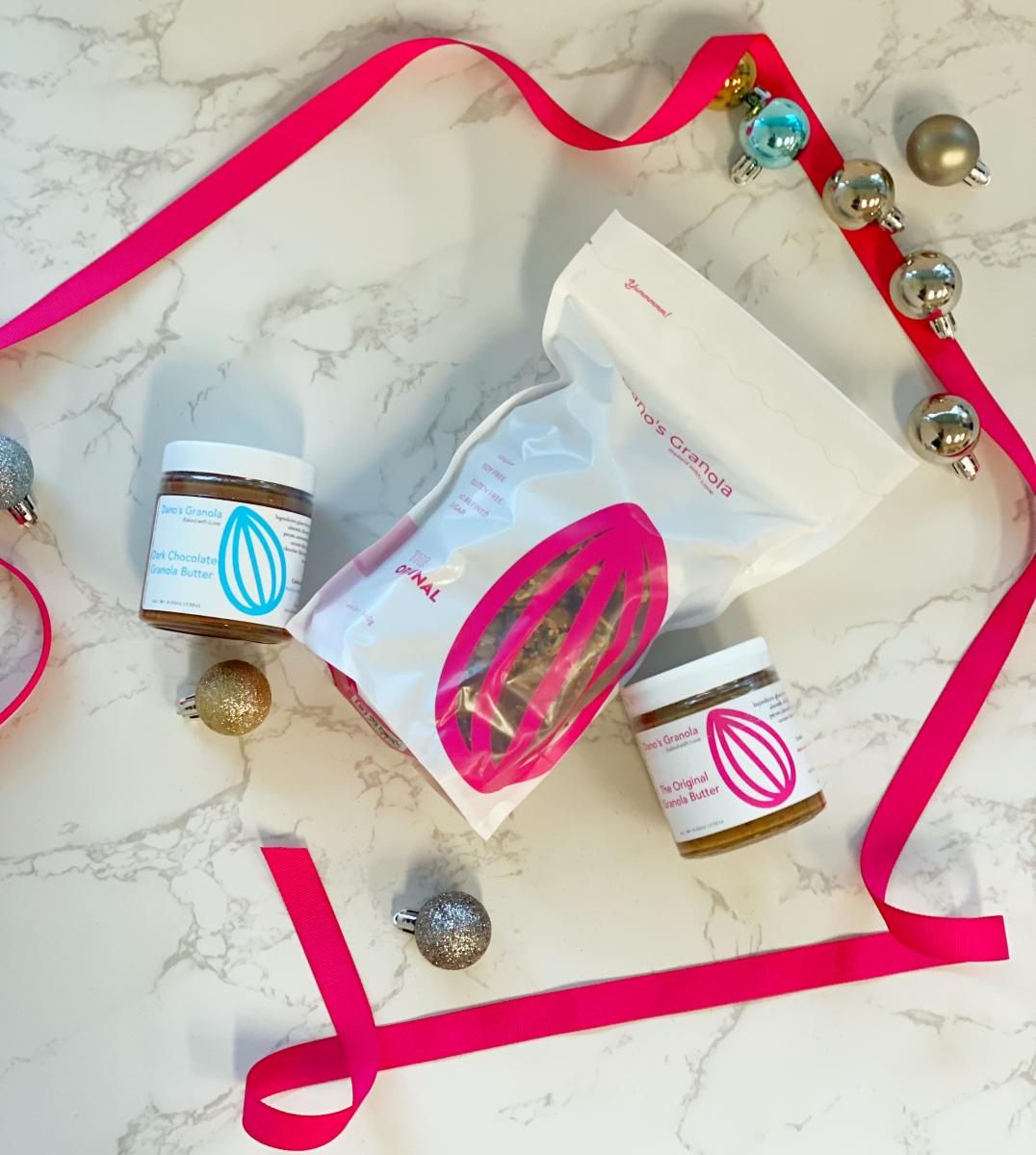 Image submitted by Dano's Granola
Packed with superfoods like almonds, chia, and hemp seeds, and sweetened up (in some cases) with chocolate chips, Dano's Granola offers handmade granola and other baked goods. Add these tasty items to your stocking stuffer list this year: the Custom Granola Gift Pack ($15 - $40) includes a coconut bowl, recipe card, and ornament with your choice of granola bags, Breakfast Cookies, or granola butter; the Chocolate Mousse Pie, a vegan and gluten-free pie with a granola crust and creamy chocolate filling ($30); or a selection of six different flavors of granola ($12.75/each), ranging from Turmeric to Vanilla. Order online.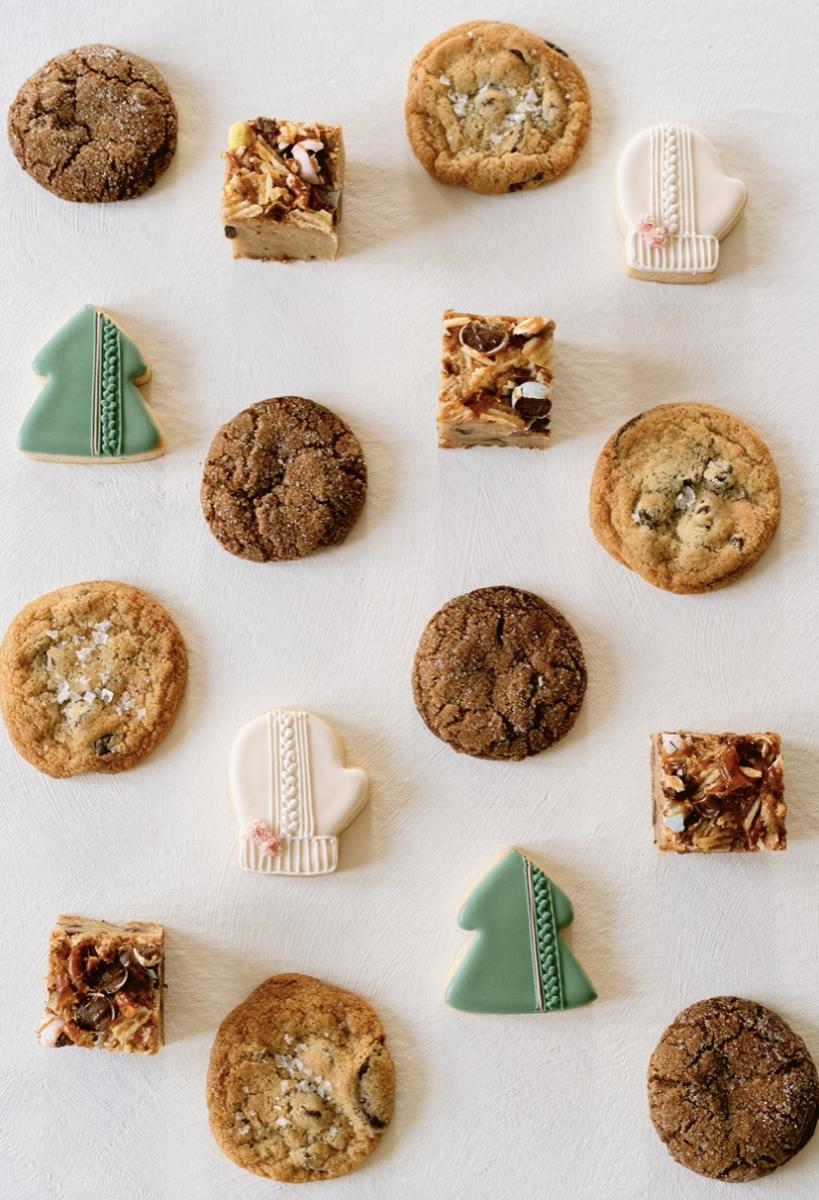 Image submitted by Liberty Baking Co.
Liberty Baking Co. is a Herndon-based, woman-owned bakery specializing in cakes, cookies, and specialty boxes. Perfect for this winter season is the Sweater Weather Cookie Box ($45), featuring their famous salted chocolate chip cookies, cowgirl blondies, chewy molasses cookies, and decorated shortbread cookies. Order online.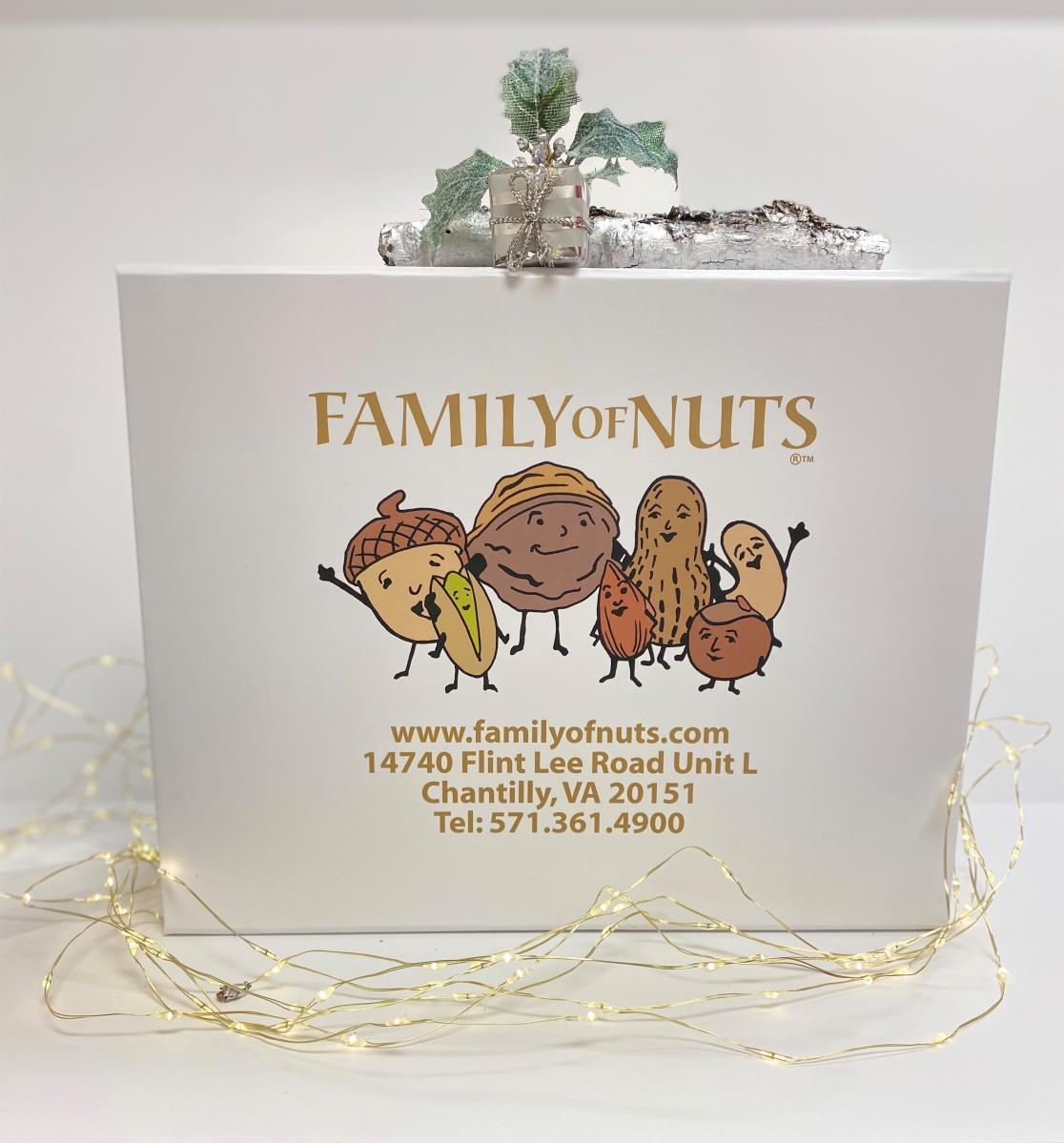 Image submitted by Family of Nuts
This family-owned nut roasting company began roasting in the winter of 2019 with a dry roast process to ensure no additional oils are added. They have since added coffee roasting and dried fruits to their repertoire. Take home a 1- or 2-lb. gift box for the holidays or try the dried fruit packs. Find Family of Nuts at area farmers' markets or order online.
Even more ideas: Be the belle of the holiday party ball this year with a handcrafted and custom pretzel charcuterie platter, pretzel party box, or pretzel variety packs from Nordic Knot. Pair these with a selection of tasty dips and you'll have the tastiest holiday ever! Order online. Or, treat your friends and family to a nice meal out (whether in-person or takeout) with a gift card to a wonderful Fairfax County restaurant.

Home Goods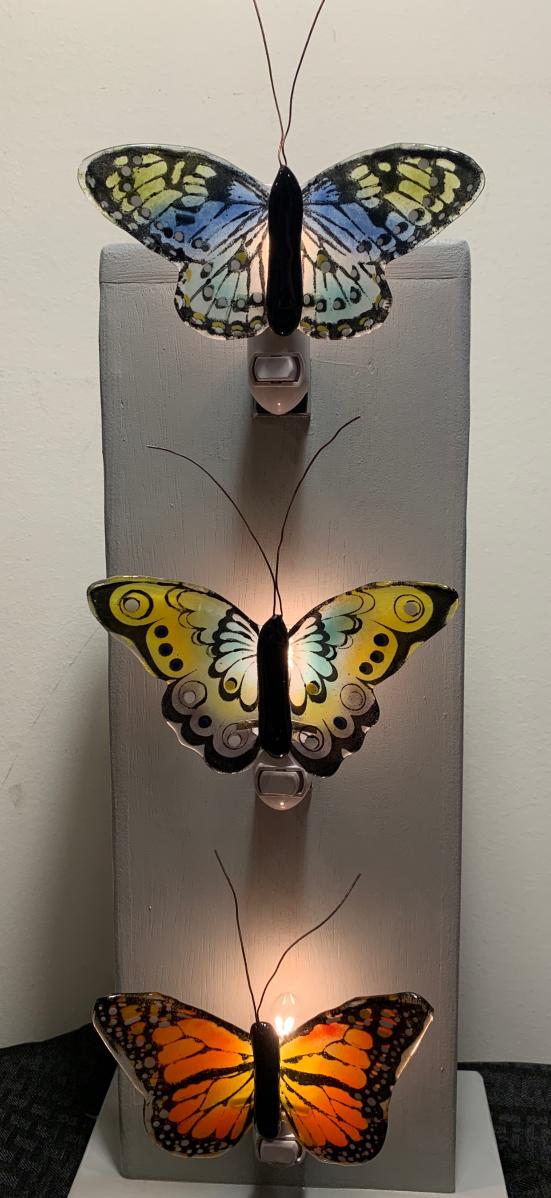 Image submitted by Blue Hyacinth Mosaics
Shona D'Cruz uses a variety of smalti, stained glass, millefiori, and other found materials to create unique, functional, and wearable mosaic art products for her company, Blue Hyacinth Mosaics. In her shop, you can find a variety of one-of-a-kind items, from earrings and pendants to ornaments to bookmarks. This year, she has focused on creating fused glass lighting like the "Elizabeth Butterfly Nightlights" ($65) and ruffled fused glass lamps ($55). Shop online or find her at various local markets.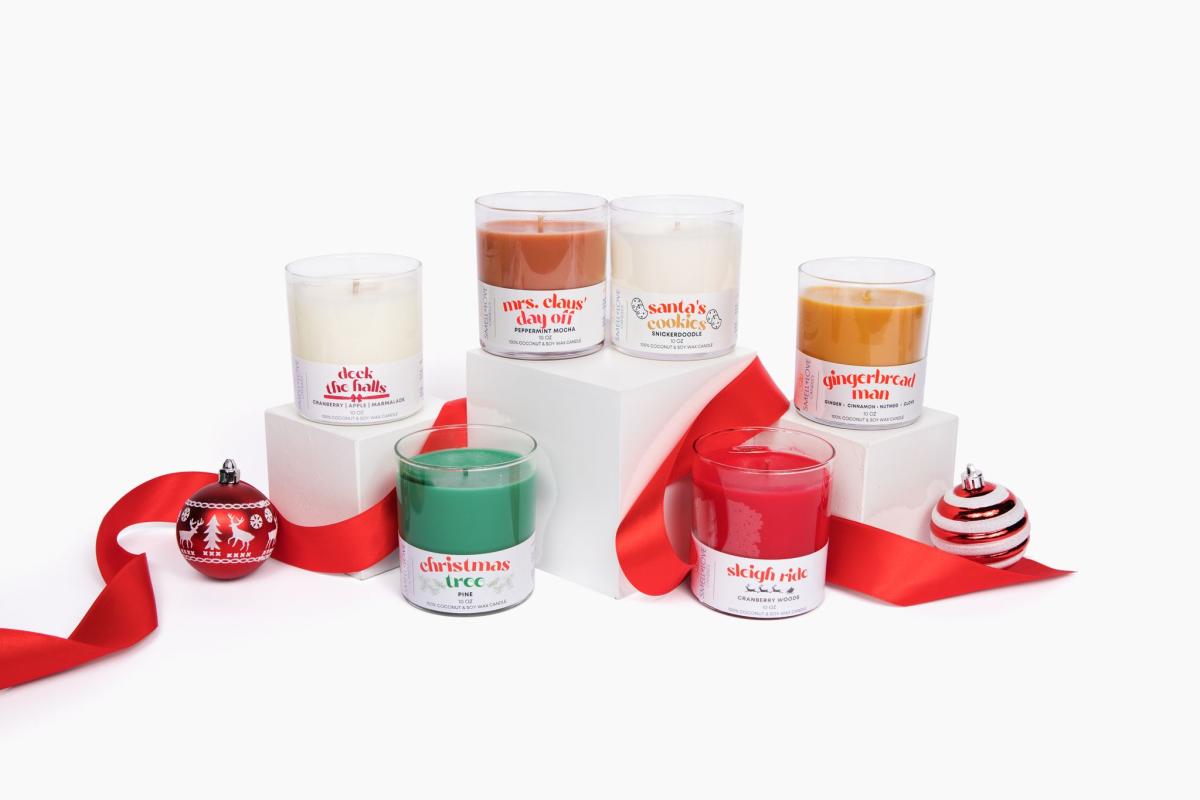 Image submitted by Smell of Love Candles
Smell of Love Candles is an organic candle company founded and led by Alejandro Buxton, a 12-year-old "Kidpreneur." (He is the youngest tenant ever to have a kiosk lease in Tysons Corner Center!) This holiday, treat your friends and family to not only this fabulous story, but also some pretty fabulous candles, which use hand-poured soy and coconut wax that are good for you and the environment, and are socially responsible. Holiday Gift Sets start at $32, Holiday Collection Bundles start at $42, and specialty candle Advent Calendars can be purchased for $65. Buy online or in Tysons Corner Center.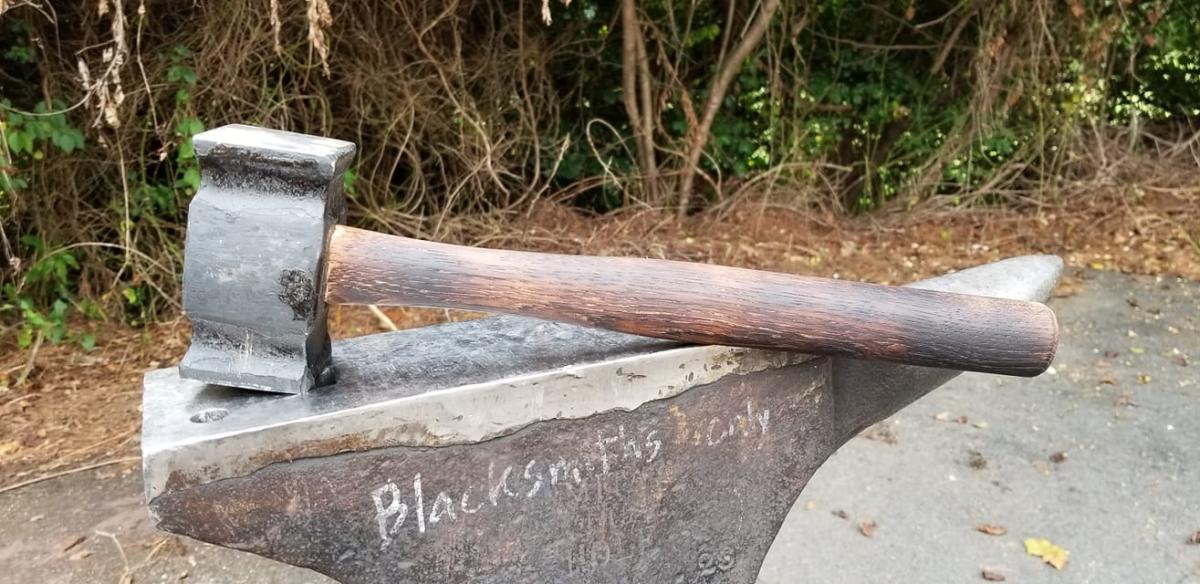 Image submitted by Semicolon Craft and Forgeworks
For experiential gift ideas, this one's for you! Semicolon Craft and Forgeworks is a group of professional in-home blacksmithing teachers. This holiday season, treat your loved one to an in-home blacksmithing class where Semicolon brings all the needed tools and supplies straight to you. Classes are fully hands-on and a great experience for those wanting to try out a new skill. Plus, you create your own hand-forged piece of art to keep forever. Gift cards are available for $349 (ages 16+, good for one class up to 2 students). Browse classes and purchase gift cards here.
Jewelry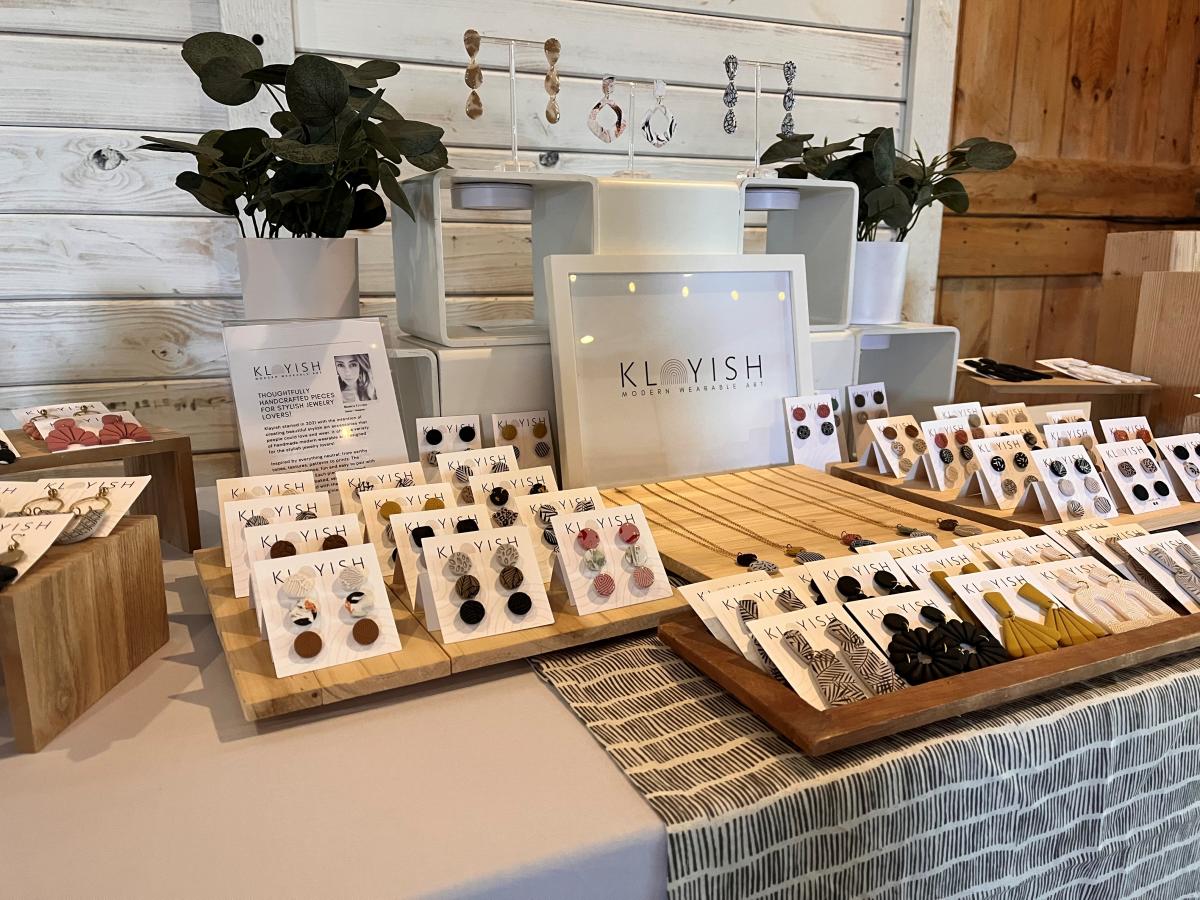 Image courtesy of Klayish
Shopping for your ultra-stylish friends? KLAYISH is a jewelry shop out of Reston, Virginia that offers a variety of handmade modern wearable art inspired by everything neutral. Browse their collection of necklaces, hair barrettes, or earrings for that special something that will match just about anything your fashionista friend pulls out of their closet!
More ideas: Born from a family love of lapidary (the practice of shaping stone, minerals, or gemstones into decorative items), Wrapture Jewelry specializes in wire-wrapped and silver-worked jewelry. Each stone is hand-selected and crafted into unique and ornamented treasures, from dichroic glass pendants to Kumihimo necklaces and Swarovski drop earrings. Browse the Etsy shop for ideas.
Kids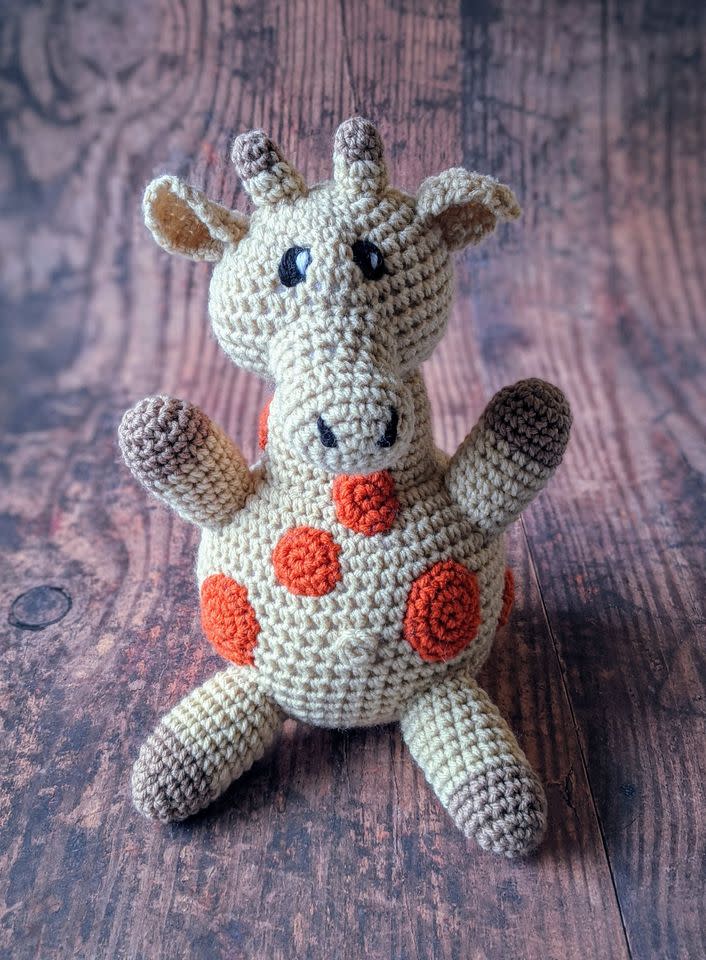 Image courtesy Meg's Minions/Facebook
Seek out those precious baby giggles by gifting some of Meg's Minions' unique crochet plush toys to the littlest ones in your life. Most pieces are machine washable (as any parent knows is a MUST) and we bet that the babies won't be the only ones swooning over these adorable animal-shaped toys. (Bonus - grab a stocking stuffer Beer or Wine Bottle Collar for the grownups along with your purchase!) 
More ideas: Swaddle your little love with safe and soothing fabrics thanks to Snugabutter, which uses bamboo fabrics to create vibrant and comfortable pajamas, blankets, swaddled, headbands, and more. Browse their website for the latest fashions, plus sales!
Pets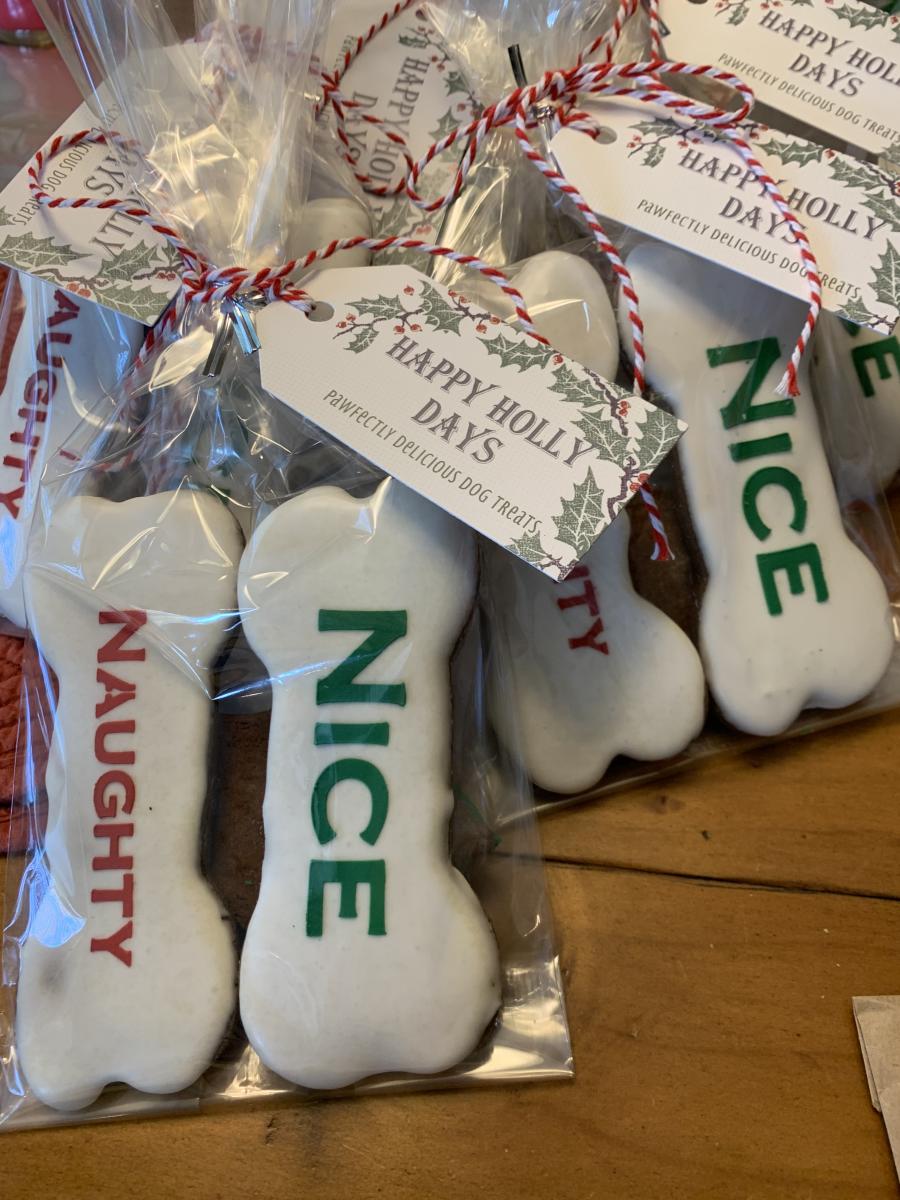 Image submitted by Pawfectly Delicious Dog Treats
Your furry friends deserve some love this holiday season, too! Luckily for you, Pawfectly Delicious Dog Treats offers up all-natural ginger doggie treats – made with love by differently-abled young adults. The non-profit has been providing job training and meaningful work to young adults with disabilities since 2017 in an effort to celebrate their unique talents and abilities within the community. Just in time for the holidays, you can treat your pup to a holiday assortment of treats that have been handcrafted, baked, and stenciled. Order online.
More ideas: For even more scrumptious pet treats, browse the seasonal delights at Wiggles & Wags Pet Bakery, from Thanksgiving gift boxes to an "I Ate Santa's Cookies" collection. Bookmark their site for birthday and other special occasion treats throughout the year! 

Stocking Stuffers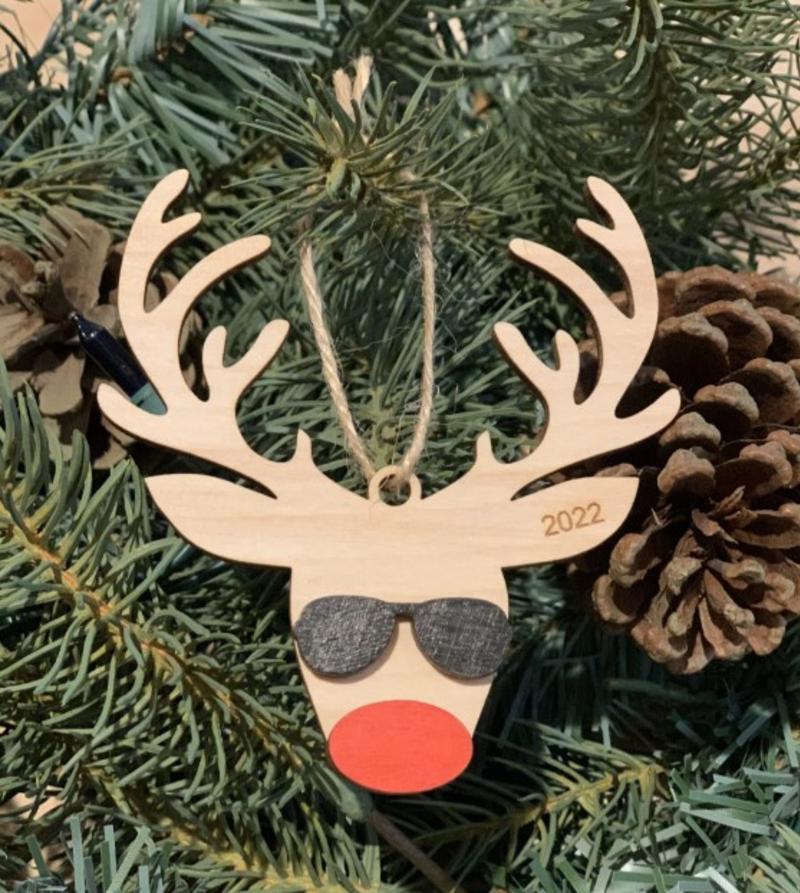 Image submitted by Crafting Thru Life
Jasmine Schwake turned her love of crafting into a successful business venture called Crafting Thru Life by creating some fabulous stocking stuffer ideas, from customized tumblers to wooden ornaments, to resin-designed pens, coasters, signs, and engraved charcuterie boards. Gifts range in cost, but start as low as $5. Custom orders are being accepted through December 7 and orders can be placed online. 

Image submitted by Curls Studio
Carolyn Belefski is an award-winning cartoonist, designer, and illustrator who has worked on projects for Cartoon Network and The Obama Administration White House, as well as numerous other national brands, and also publishes a comic strip called "Curls." She has turned her love of illustration into wearable art, so now you can take home an original piece! Browse her shop for stocking stuffer ideas that range from enamel pins to bandanas to buttons to stickers. Order online.

Textiles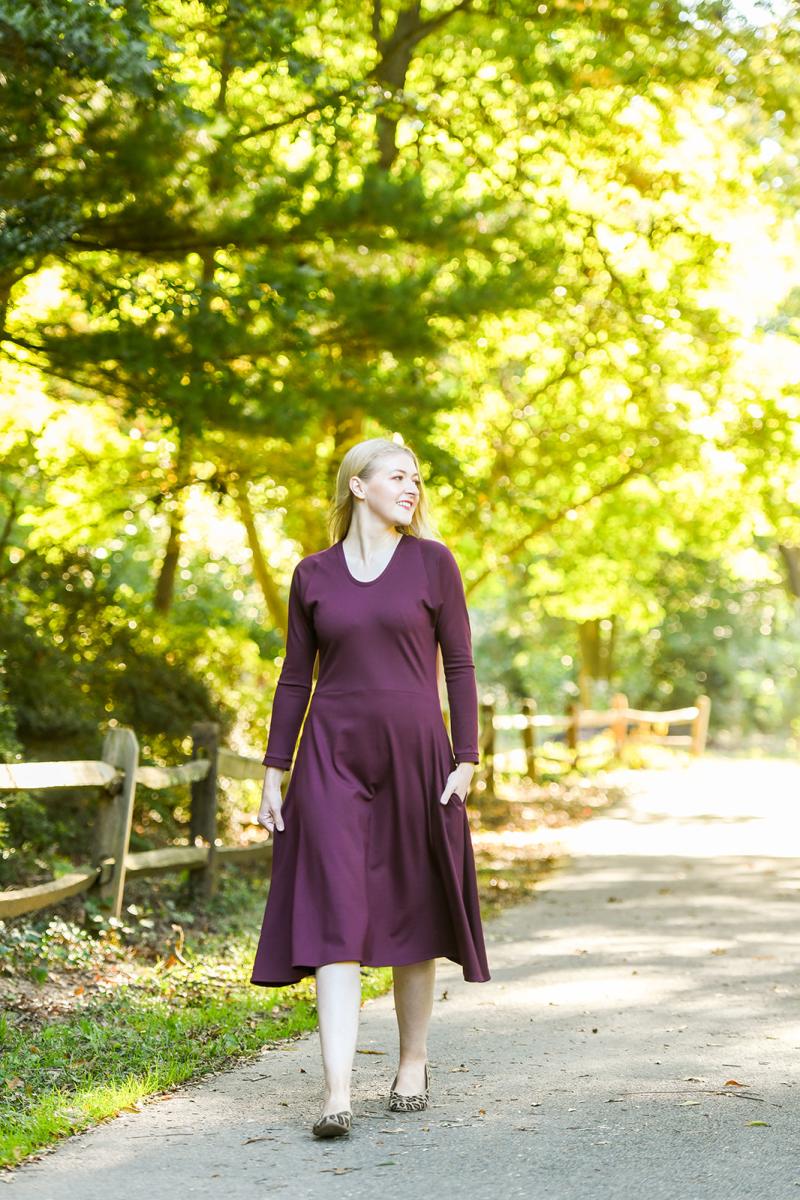 Image submitted by Knieriem Designs
Browse curated wardrobe options from Knieriem Designs, a company focused on creating simple, elegant clothing for the modern shopper. Each piece is handmade in its Virginia studio using fabrics made in the USA. Custom orders can be personalized with unique details that make each item intrinsically your own. Don't miss the Helena Dress ($205) this year - a long raglan sleeve dress with pockets (!) and full skirt that is perfect for the cooler months. Plus, it's available in three colors!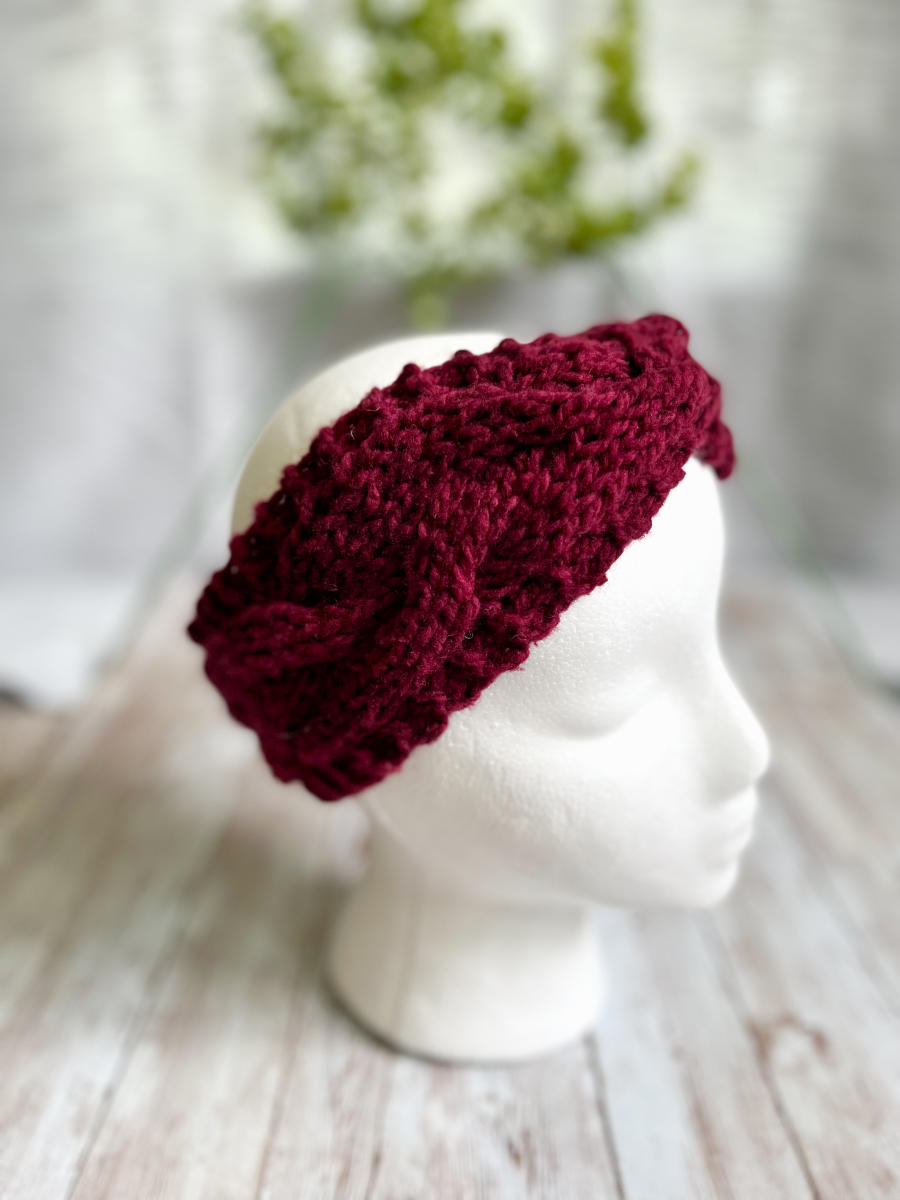 Image submitted by Hoagland Handmade
Searching for a unique and warm eco-friendly gift? Check out the natural fiber knits from Hoagland Handmade, which uses fibers farmed in the greater DMV region to create sustainable gifts that will warm the hands (or head or ears) and the heart. Some winter must-haves include the Virginia merino ear warmers, the Organic merino/cotton boho pocket scarf, or hand-dyed mittens (for both adults and children). Looking for gifting made easy? Check out the Virginia gift set, which includes ear warmers, soap savers, and reusable facial rounds.
Wine, Beer & Spirits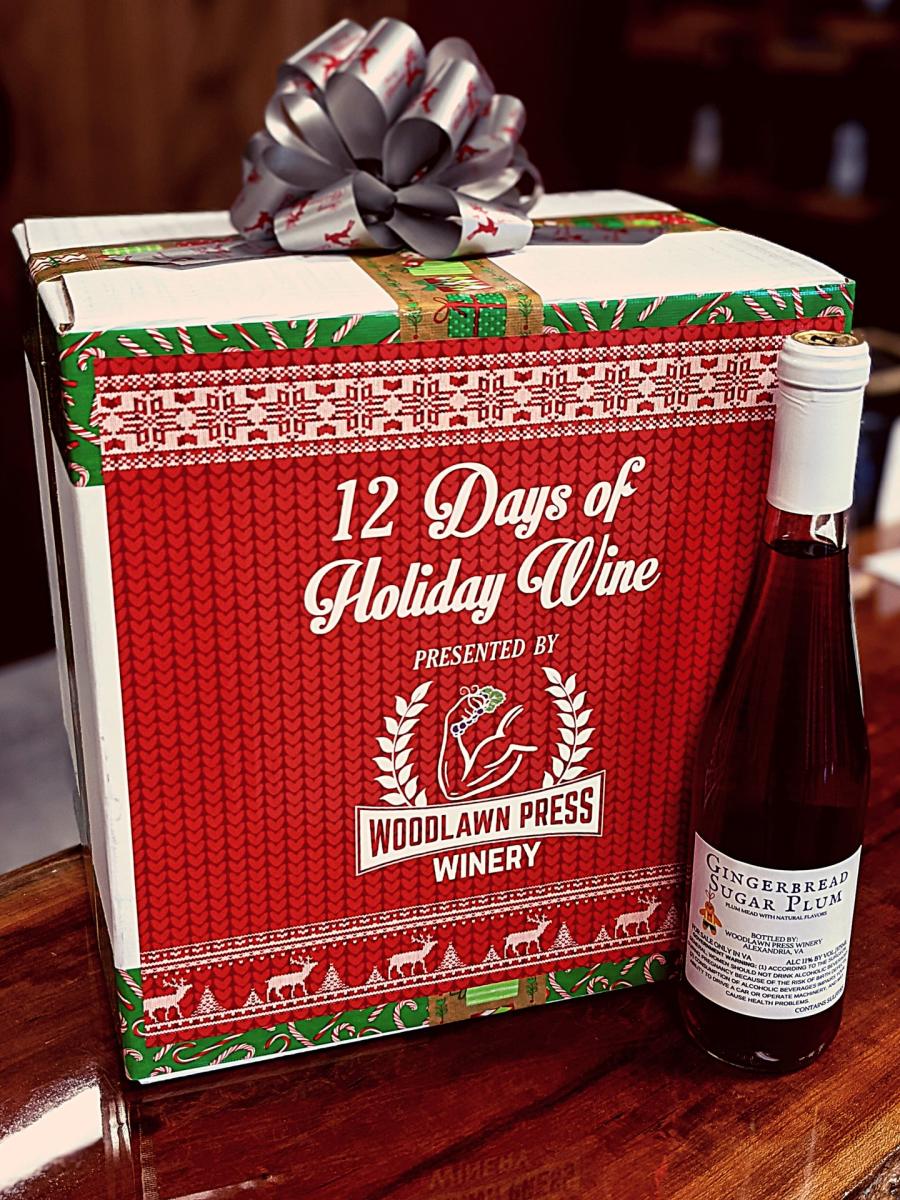 Image submitted by Woodlawn Press Winery
Did you know there's a winery on Richmond Highway? Woodlawn Press Winery is a family- and veteran-owned micro-winery that makes and bottles its own varietals and fruit wines right here in Fairfax County. Stop by this urban micro-winery for wine-based gift ideas, like the 12 Days of Holiday Wine Set ($115) - but act fast, as there is limited stock! This year, the calendar features unique blends like Watermelon Moscato, PB&J Mead, and Santa's Spiced Jolly Juice (a spiced red wine), flavors we bet you won't find ANYWHERE else. Looking for just one bottle? Consider the Verry Merry Cranberry, a seasonal winter wine release packed with sweetness and a smooth cranberry flavor.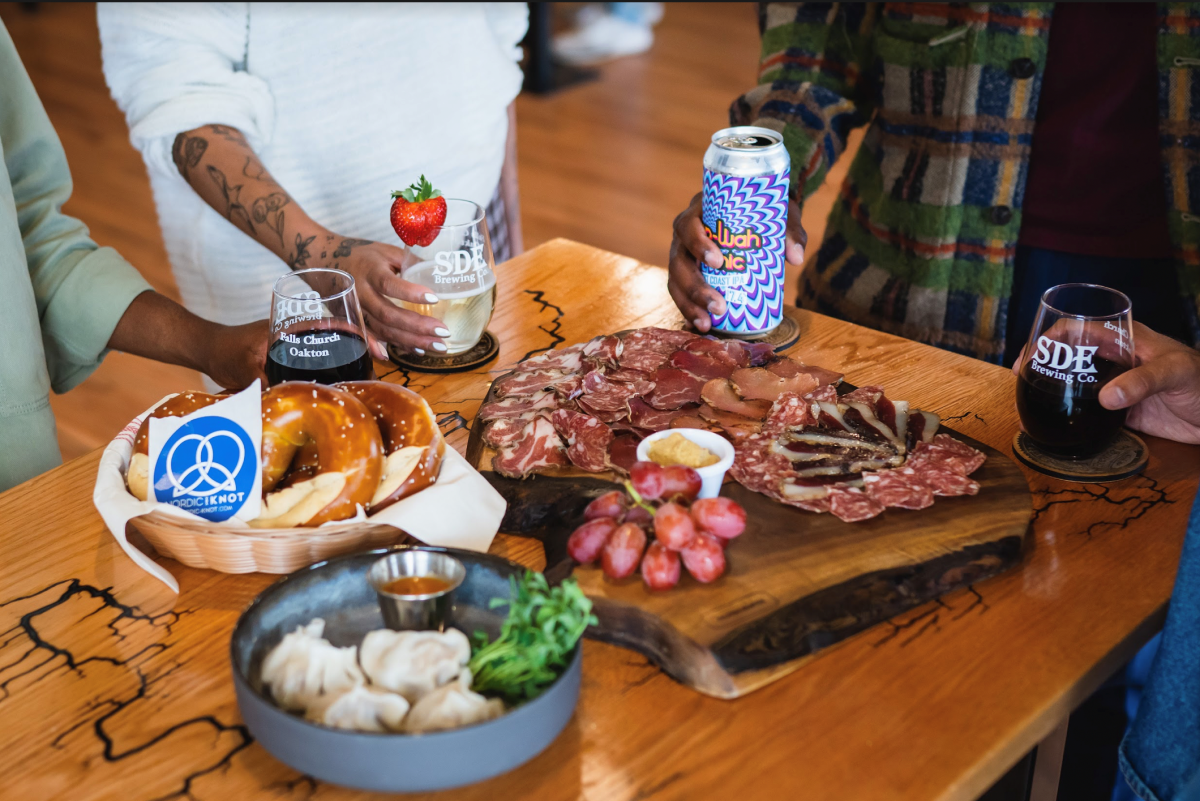 Image courtesy Settle Down Easy Brewing Co.
In November of 2022, local brewery Settle Down Easy Brewing Co. opened its second location in Fairfax County, this time in Oakton. The new taproom offers a diverse selection of craft beer, wine, cider, and prosecco. Moreover, the brewery has teamed with The Fermented Pig to offer an elevated dining experience with a menu that highlights products from area farms. Consider popping a gift card or two into your loved one's stocking this year to encourage them to visit somewhere new! Or check out Black Friday deals from The Fermented Pig for 10-20% off your order!
More ideas: You can also pick up wine, beer and spirit-related gifts at our Fairfax County wineries and Fairfax County breweries. If you're a fan of whiskey, stop by George Washington's Mount Vernon for a gift set that includes a bottle of George Washington's Signature Rye Whiskey, the official state spirit of the Commonwealth of Virginia.
For the growing list of vendors that are part of the Made in Fairfax initiative, check out their directory here. (If you are an artisan who would like to join, you can apply right here.)
What is your favorite product to find locally? Who will you be picking these gift ideas up for? Let us know in the comments below or tag us on social media using #FXVA and @VisitFairfax. Happy shopping!