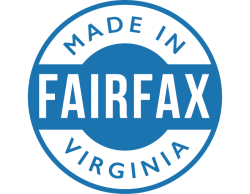 Fairfax County is home to an incredible and diverse group of artisan makers – so much so that the Made in Fairfax initiative was born.
The Made in Fairfax network aims to be a one-stop shop for maker businesses and those who want to support them. The Made in Fairfax directory features dozens of artisans who create a variety of unique gifts from Northern Virginia made in the county like custom furniture, baked goods, jewelry, and more.
This holiday season (or any time of year, really!) take "shop local" to new heights by directly supporting the makers of these gift-worthy products – created right here in Fairfax County, Virginia.

Fairfax County 2023 Gifts from Northern Virginia
Holiday Gift Guide Table of Contents
(Shop by category with these links) 

Artwork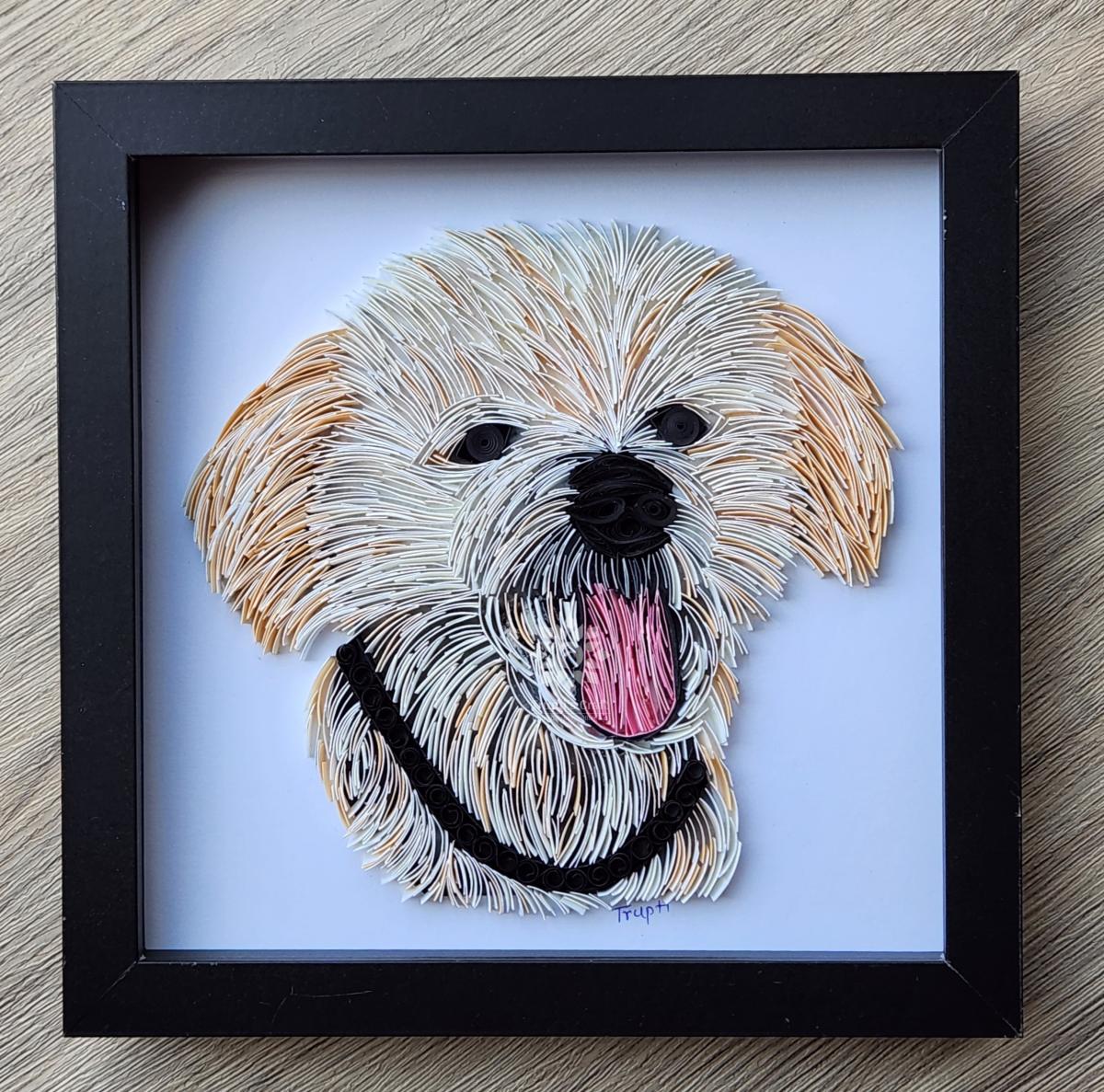 Image submitted by Trupti's Crafts
Add a one-of-a-kind piece of artwork to your home collection or bring in some unique new holiday decorations this year from Trupti's Craft Paper Quilling Art. Paper quilling is a rare, yet quickly growing form of art that involves rolling, shaping, and gluing paper strips together to create intricate designs. From holiday decor to wedding and baby nursery decor to customized pet portraits that start as low as $5 (quilling printed cards), $10 (for quilling ornaments), and $35 (for framed prints), this is a gift that your loved one will never forget. Browse some designs on their website here.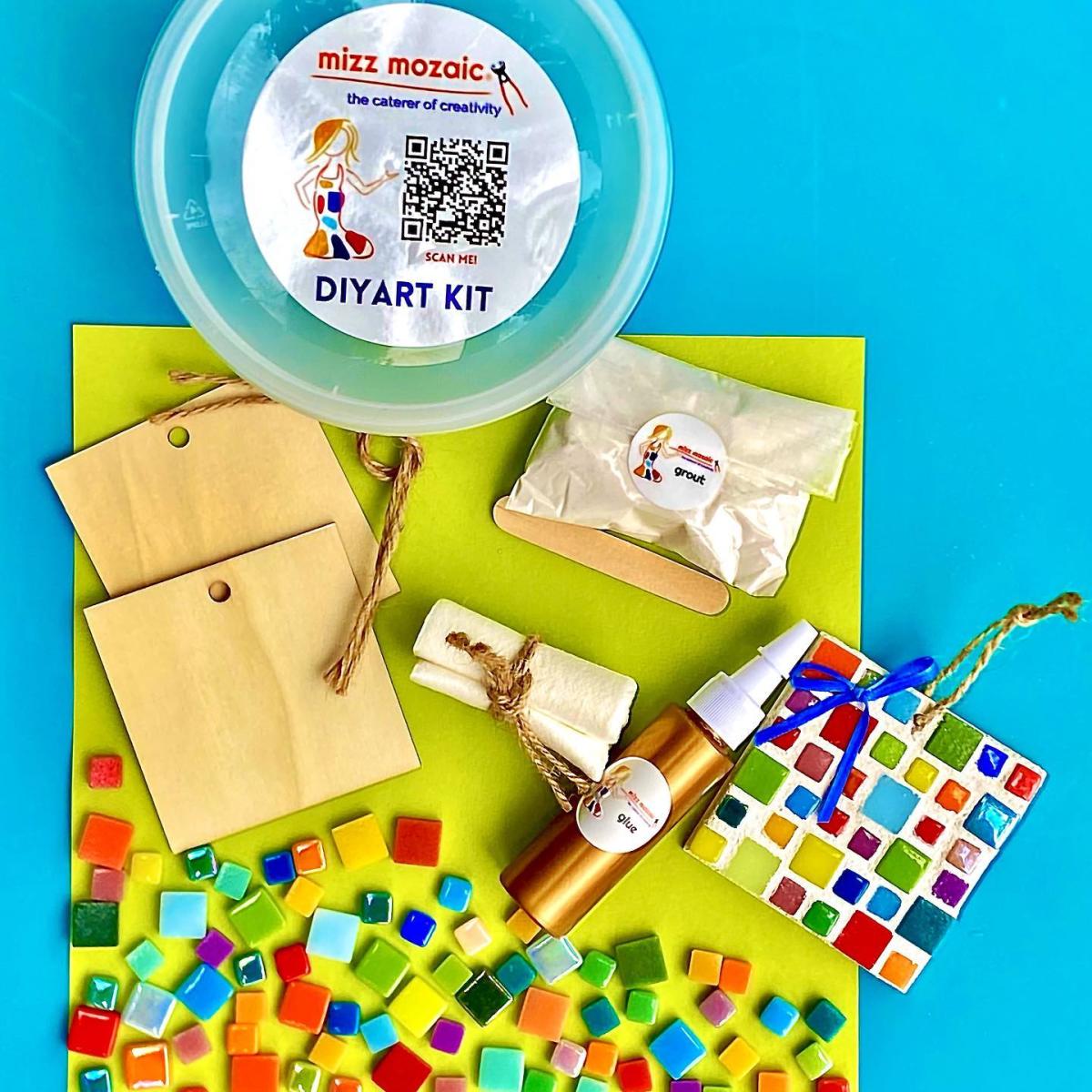 Image courtesy Mizz Mosaic/Facebook
Get the creative juices flowing this holiday season with some DIY Mosaic Kits from Mizz Mozaic, choosing between picture frames to Lazy Susan condiment trays to ornament kits ($37-$65). They include everything you need to either give an entirely one-of-a-kind gift or curate a creative experience that can be crafted together.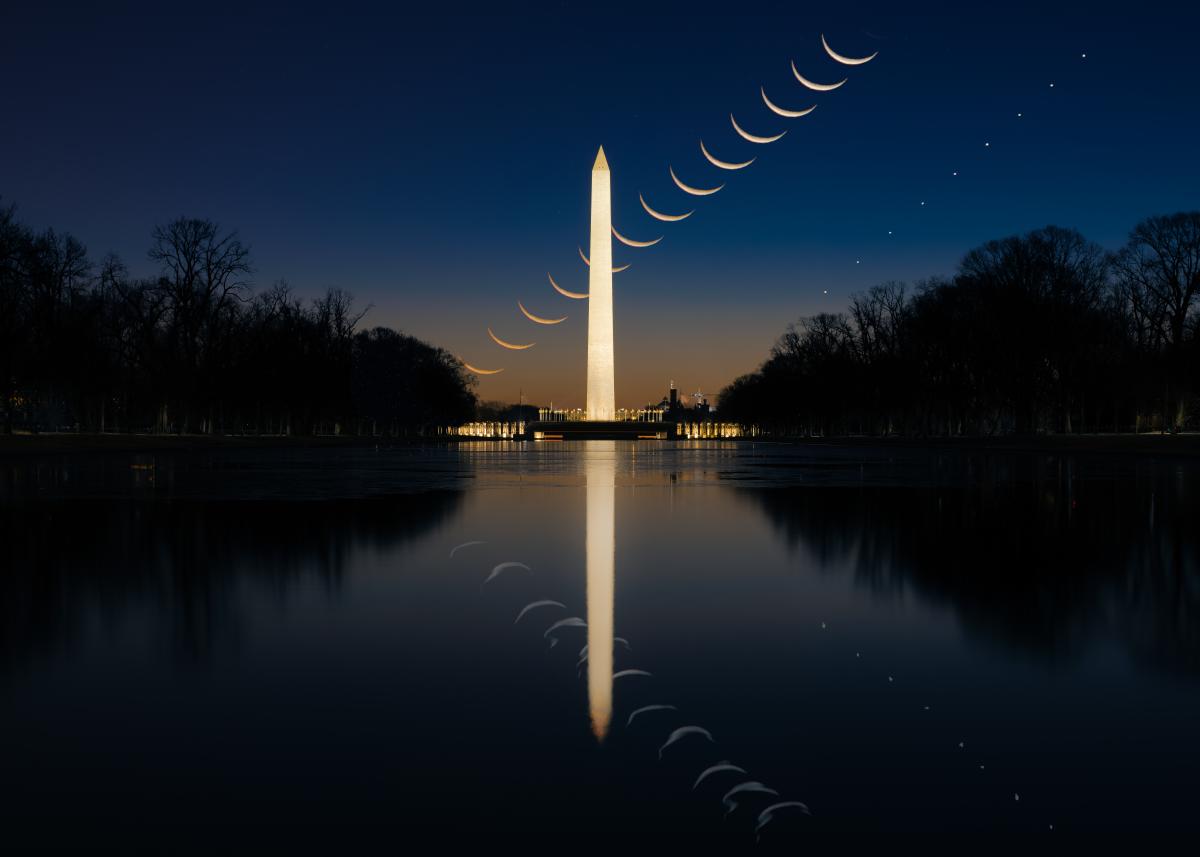 Image submitted by JHK Photography
We all know the Capital Region is a stunningly photographic area to live and visit. Why not gift some DC-area pride this holiday season with prints by JHK Photography Studio? With a focus on sunrises, sunsets, and the moon phases over time, these photographs will brighten your day and remind you why you love living or visiting this vibrant area. Prices vary by size of print; visit their Etsy shop to choose your favorites.

More ideas: Make a point to swing by the Workhouse Arts Center for unique prints and other artistic endeavors from the 65+ studio artists-in-residence at the center. We promise you'll find more than one truly unique gift for those on your list. This year, they've given you a perfect reason to stop by during their Small Business Saturday event, happening Nov. 25 - get a 20% discount on all items and support your local artists! Closer to Annandale area? Stop by the Craft Gallery by Artisans United within Annandale Community Park for more locally created artwork, textiles, toys, jewelry and more.

Body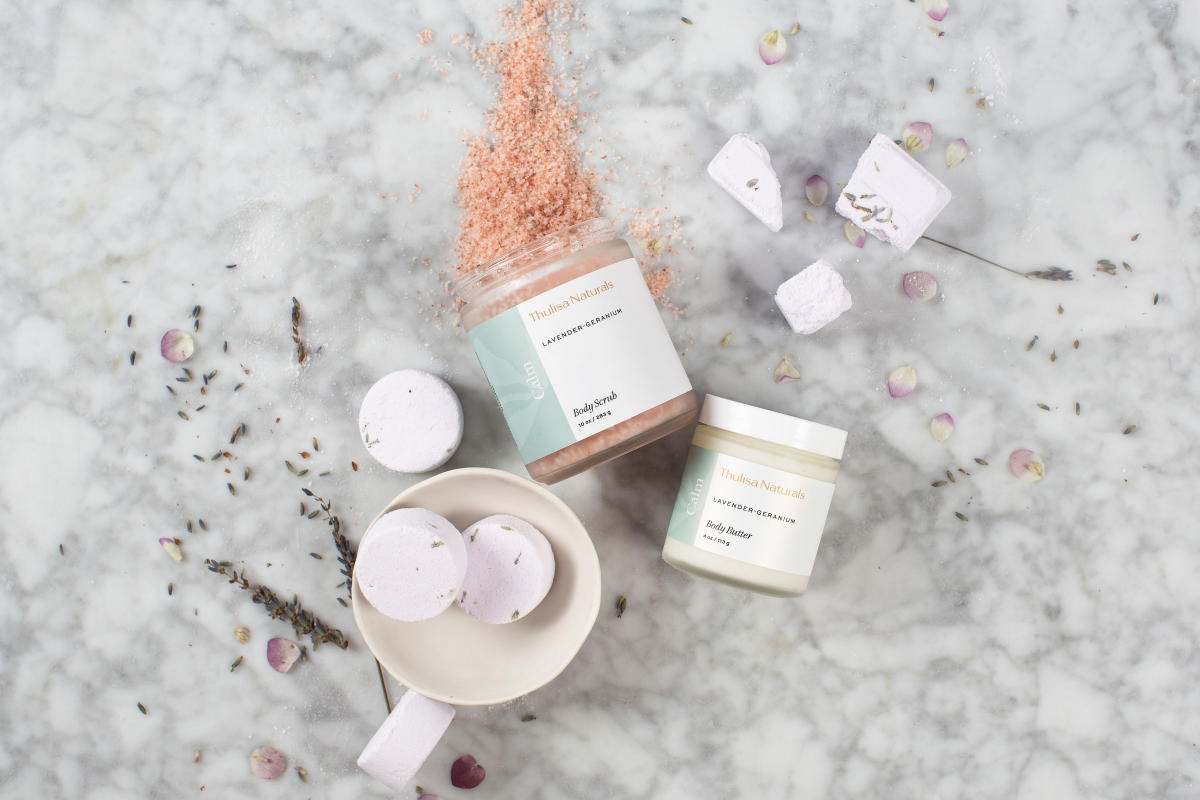 Image submitted by Thulisa Naturals
Stock up on Thulisa Naturals products for a nightly escape from the daily grind. From foaming fizzy bars and shower steamers to body scrubs and butters, shop owner Anusha Moodley prides herself on creating products that help women prioritize self-care in an all-natural way. New this year, consider a Spa in a Box gift set, which includes shower steamers, organic soap bars, a natural ramie pouf, and body scrub in either Grapefruit, Orange Mint, or Lavender ($50, while supplies last). Visit her site for a quiz to find out which products are right for you and then order your holiday haul.
Books & Things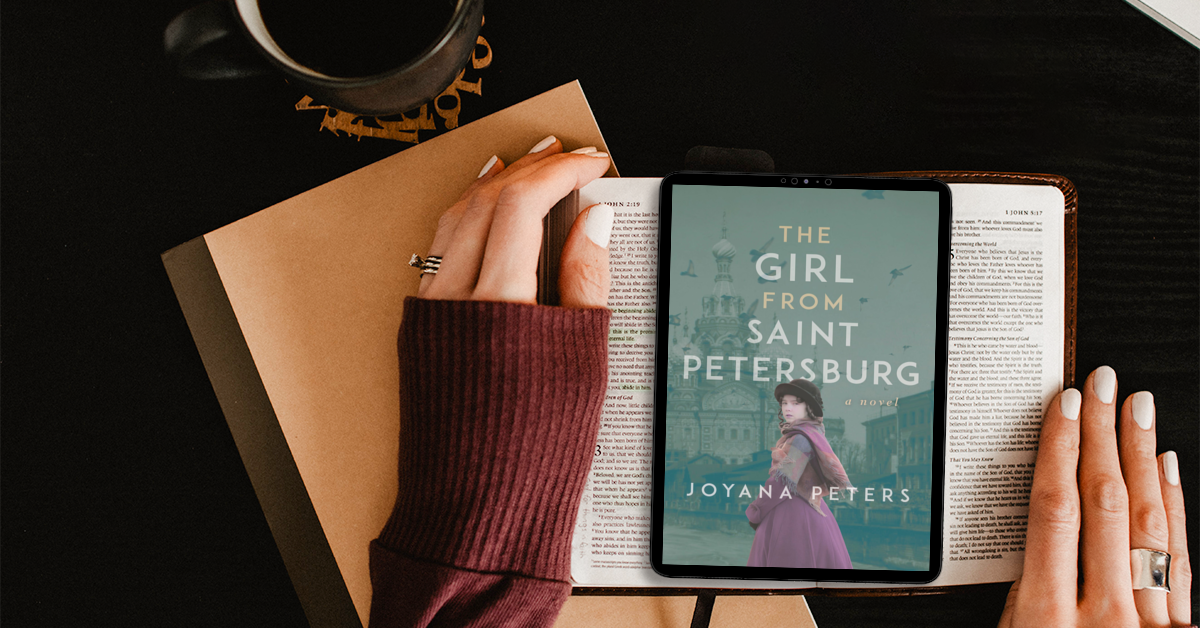 Image submitted by Joyana Peters
Joyana Peters isn't just a local historical fiction author, but she's a purveyor of book-related, hand-designed merchandise, too! For a new holiday read, get a signed copy bundle of Joyana's latest historical fiction, The Girl in the Triangle and The Girl From Saint Petersburg for just $20. Other gift ideas in her shop include ornaments, mugs, apparel, candles, and more.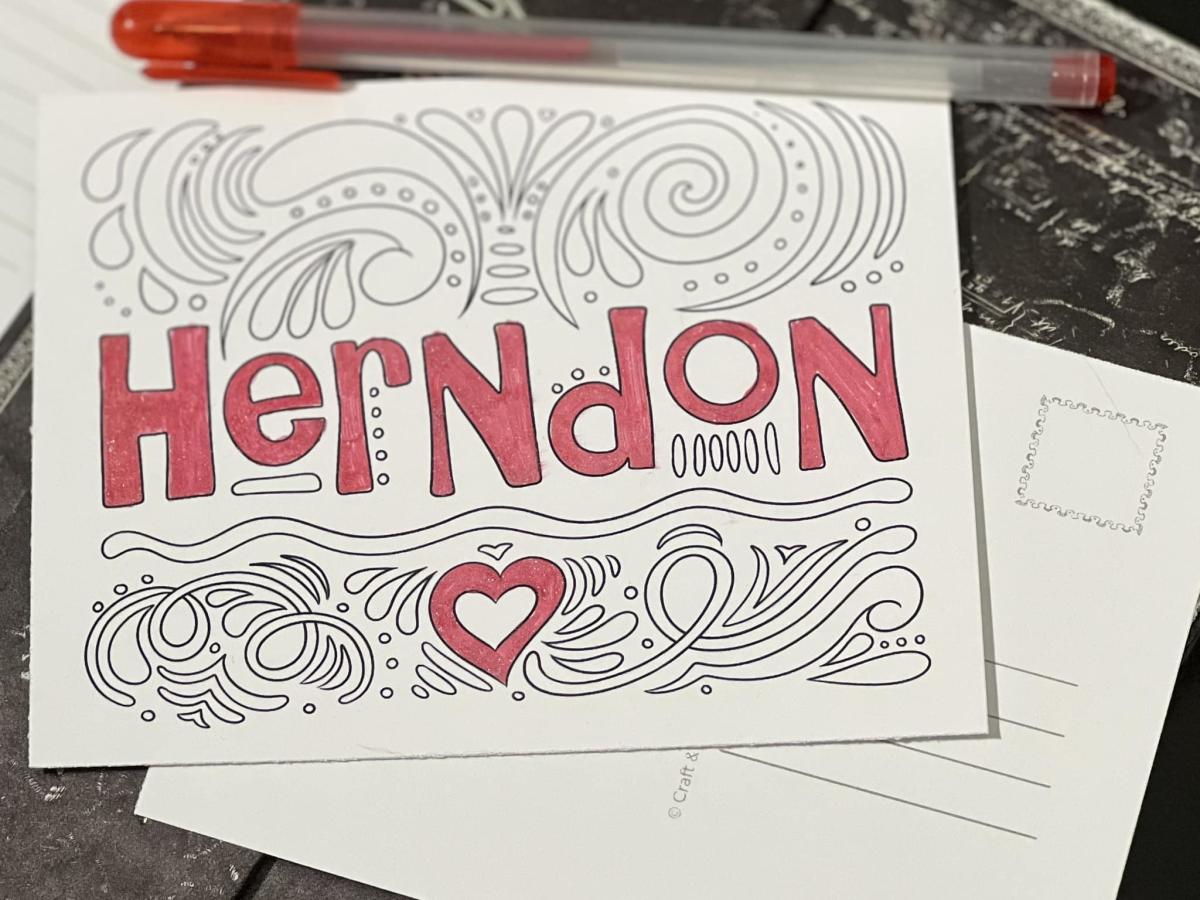 Image courtesy Craft and Color Co/Facebook
Adult coloring books have long been known to provide stress relief and a creative outlet long beyond the youthful days of childhood. At Craft and Color Co, you can find a variety of coloring books, single pages, or personalized cards and posters. Browse their shop here.

More ideas: Stock up on more good reads from our local independent bookshops, like Scrawl Books in Reston or Bards Alley in Vienna.
Chocolate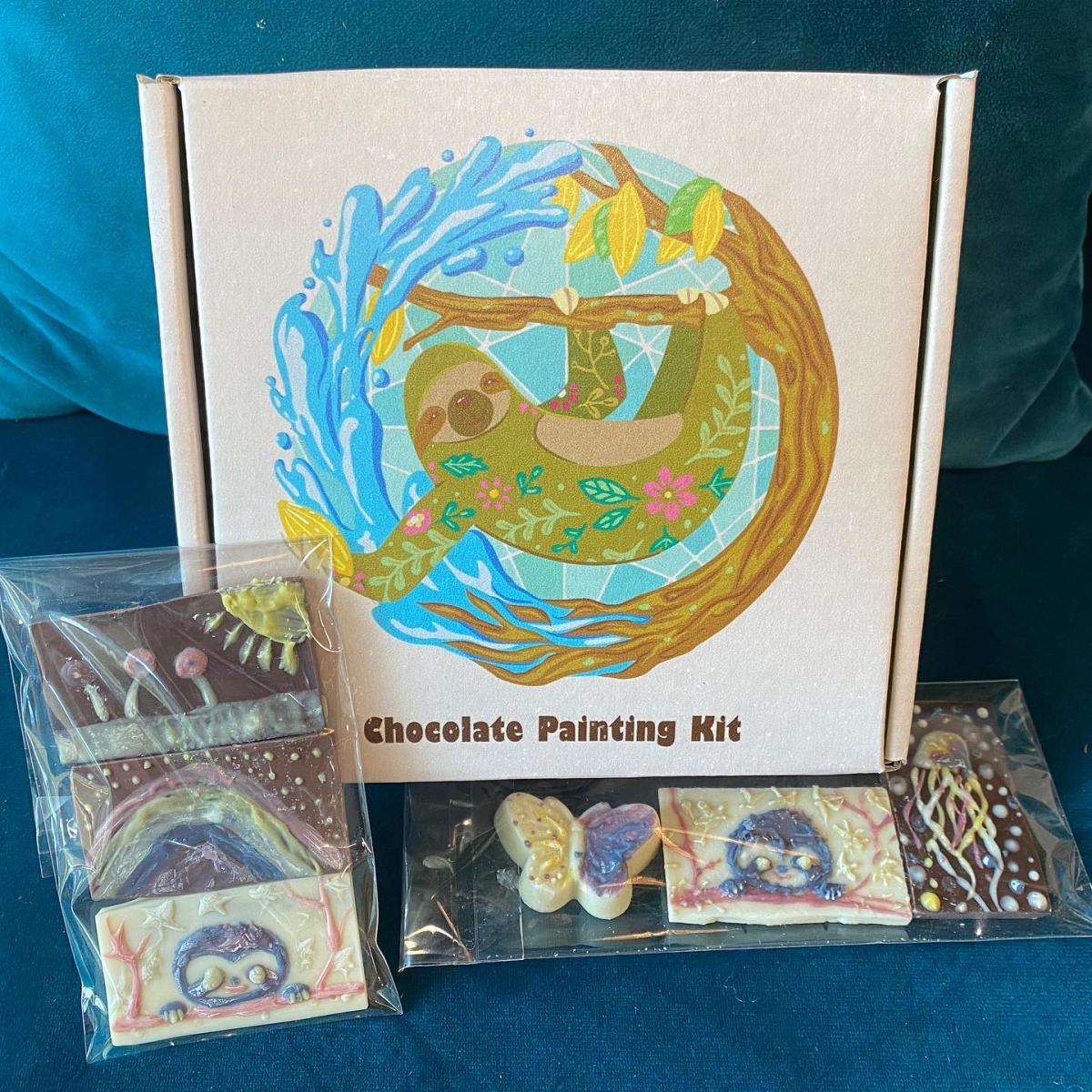 Image courtesy River-Sea Chocolate Factory/Facebook
In-the-know residents may already be clued into the amazing bean-to-bar chocolate crafted at Chantilly's River-Sea Chocolate Factory, the only one of its kind in Northern Virginia. But for the uninitiated, a perfect gift for the chocolate lovers in your life is the Chocolate Painting Kit ($39.99), where you use paint made from plant-based, fruit-tinted white chocolate to design your own milk, dark or white chocolate bars. Other gift ideas include Self-Guided Chocolate Tasting Kits ($39.99), Hot Chocolate Mix ($12.99+), and Mini Chocolate Sampler Sets ($29.99+).

More ideas: Stop by or pre-order gifts from any of these amazing chocolatiers in Fairfax County, like Cocoa Vienna or Chesapeake Chocolates. Your taste buds will thank you!

Coffee & Tea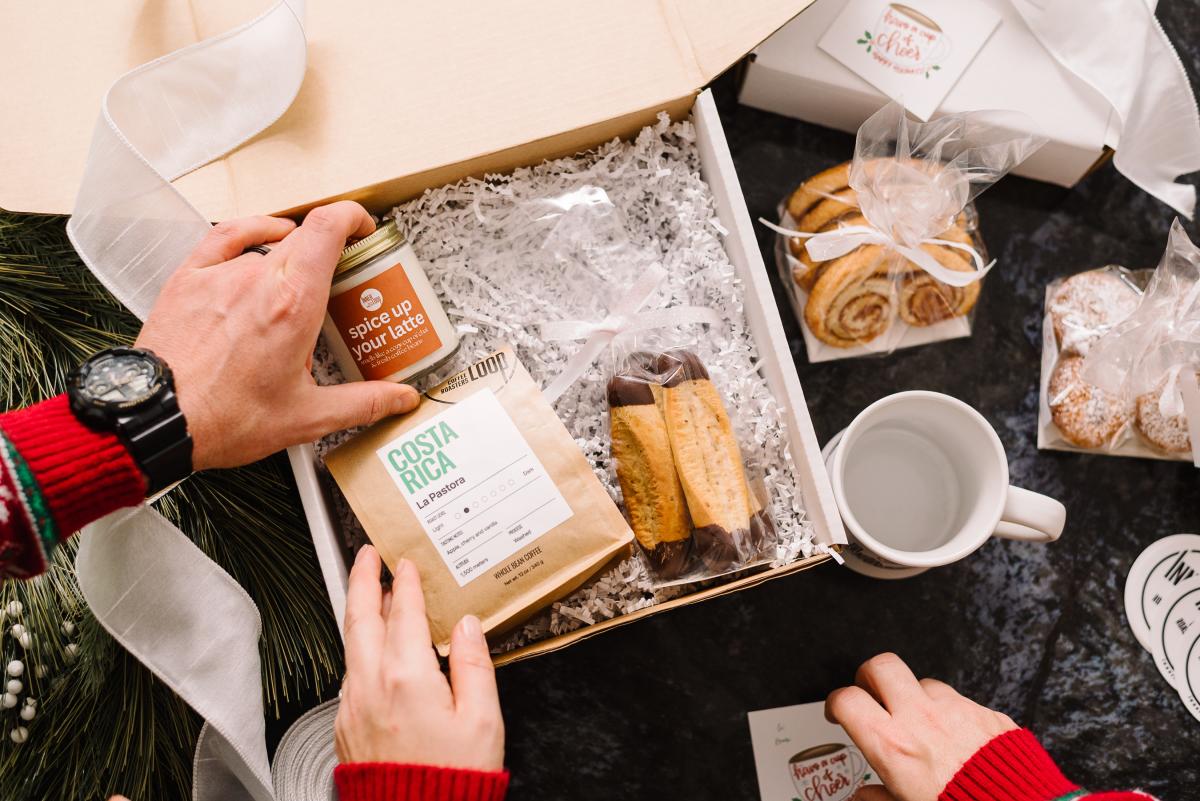 Image submitted by Inner Loop Coffee Roasters
Offer a gift that truly kickstarts your loved one's day every day – with the gift of locally roasted coffee beans. Falls Church- and online-based Inner Loop Coffee Roasters is a family-owned roastery that is offering customizable holiday gift boxes filled with goodies including 12 oz. coffee bean bags (or flights!), a locally baked treat from J'Aime Madeleine, which is owned by a former White House Chef, as well as locally poured candles and logoed mugs, and a locally created holiday-themed gift tag. Shop gift boxes, beans, and subscriptions here. (Preorders close December 9.)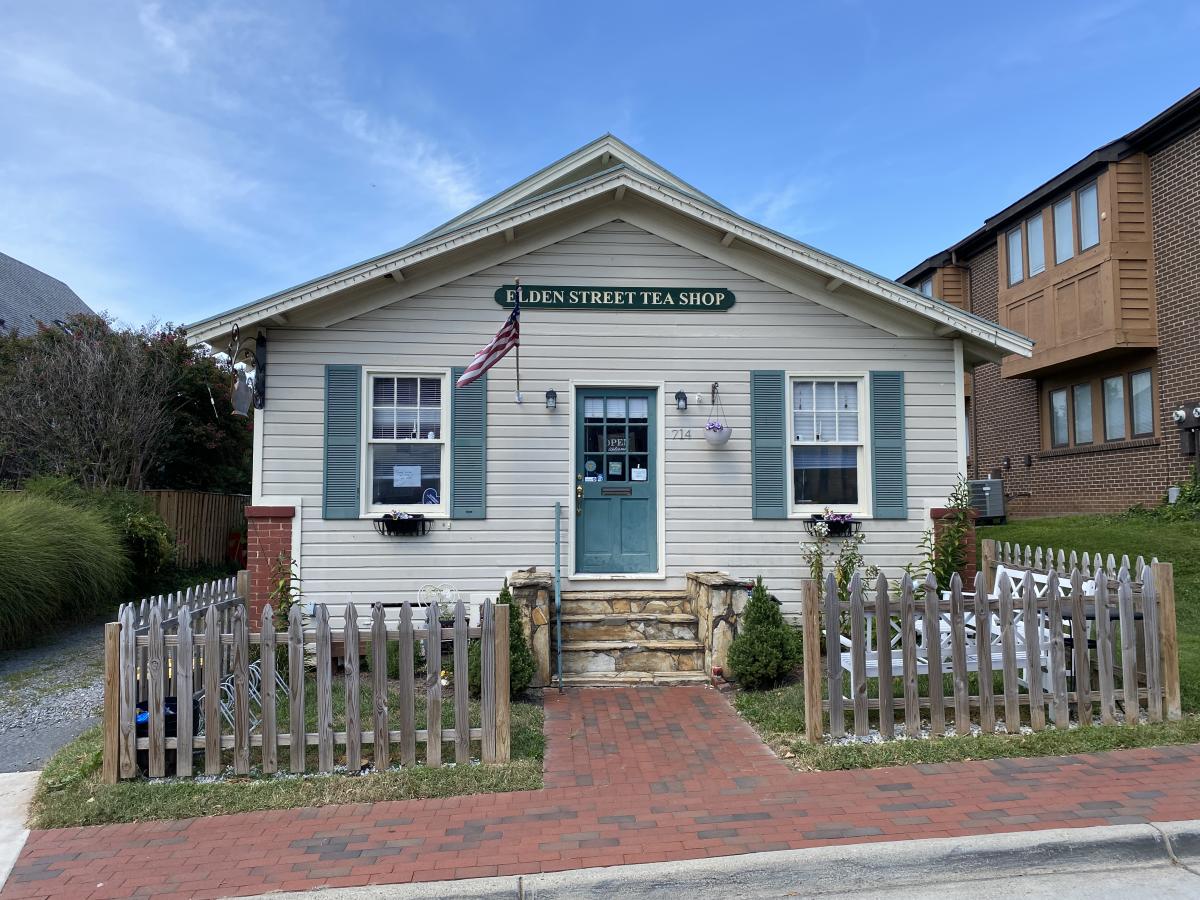 For tea drinkers, a must-visit is Elden Street Tea Shop in the quaint Town of Herndon. For a unique approach, try one of their Partea Tea Party Boxes ($39.95), which includes a 1 oz. selection of the shop's finest tea, a heartfelt card, charming tea trinkets, treats like scones or macarons, and other whimsical additions. 

More ideas: Support woman-owned Cervantes Coffee Roasters, which offers single-origin beans and operates almost exclusively on a roast-to-order basis. Bonus: you can tour their roastery in Springfield or sign up for classes to further your coffee education. You can also pick up freshly roasted beans from Town of Vienna favorite Caffe Amouri, or Herndon shop Weird Brothers Coffee. And of course, who wouldn't love a gift card to one of the locally-owned coffee shops across the county – here are several coffeehouses to consider.
Food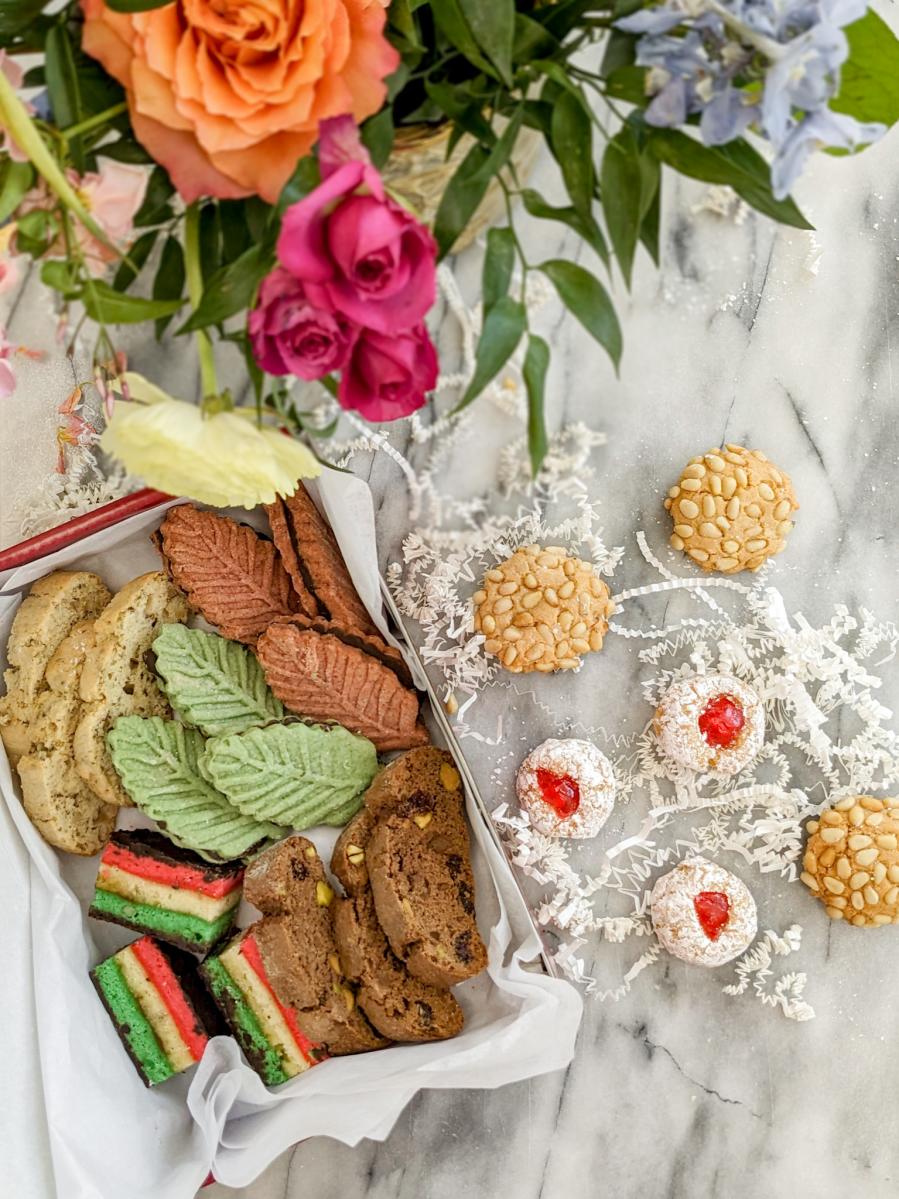 Image submitted by Bisnonna Bakeshop
Bisnonna Bakeshop serves up incredible classic Italian pastries like signature cannoli, sfogliatelle, and more from generations-old recipes that are always made from scratch as an ode to the family matriarchs who celebrated togetherness through flour, sugar, and butter. Be the star of the holiday season with the Italian Cookie Gift Box, filled with Bisnonna's best-selling Italian cookies, like Biscotti, Pignoli, Rainbow Cookies, and more. Or gift a long-lasting sentiment with their new Cookie of the Month Club, where your loved one will receive a beautifully curated assortment of handcrafted Italian cookies in either a 1-month, 3-month, or 6-month subscription.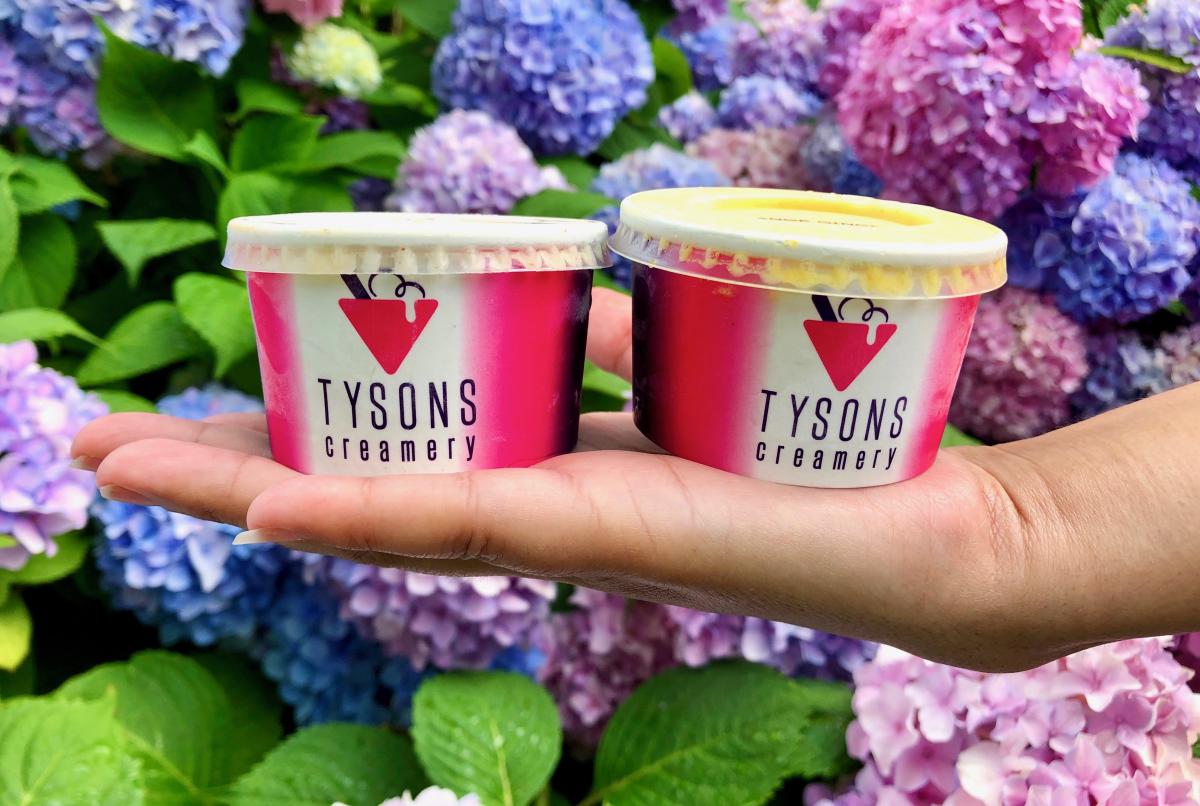 Image submitted by Tysons Creamery
Ice cream fiend? Have you tried Tysons Creamery's catered 3 oz. cups of handmade, artisan, gelato-style ice cream? Order a selection for your holiday spread by purchasing through their website or by calling 866-827-2667.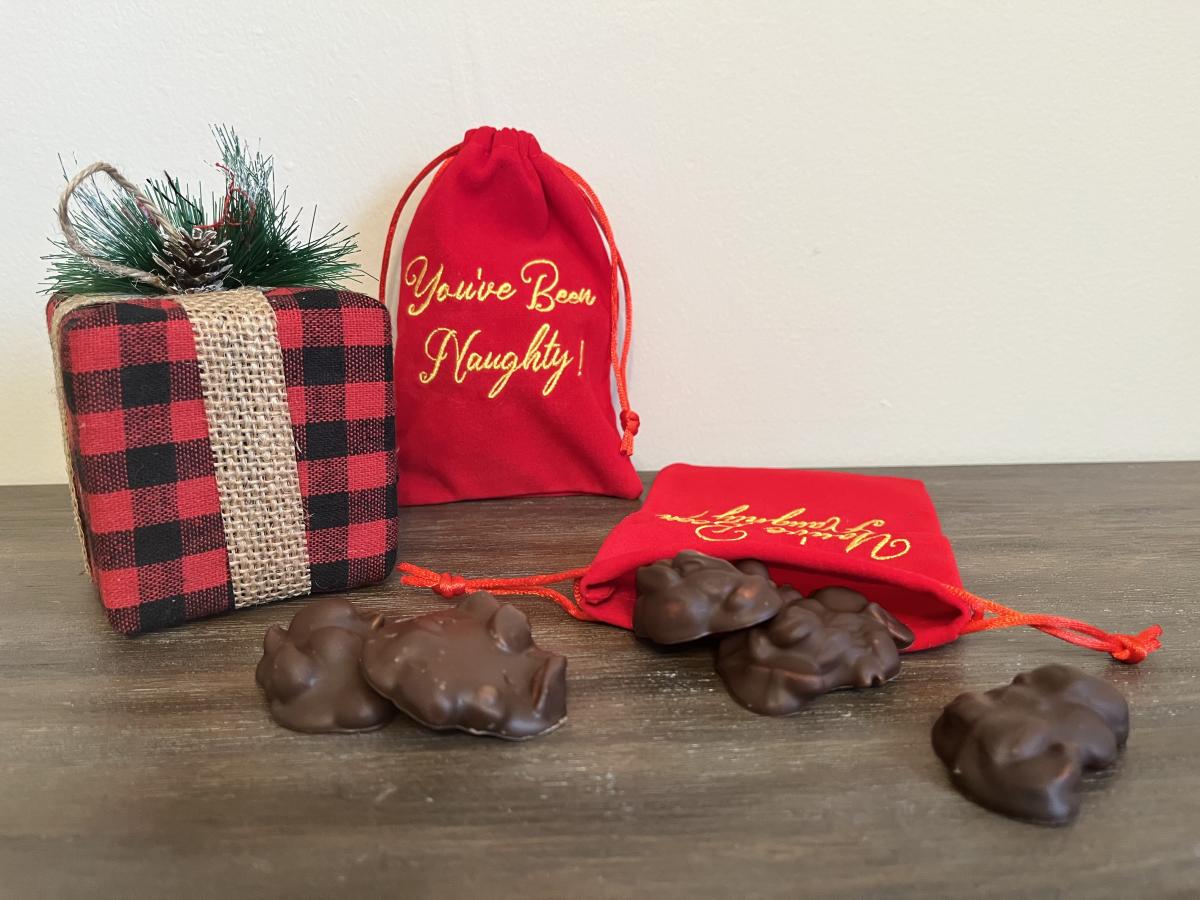 Image submitted by Mother Clusters
Give a gift and get a laugh with customizable chocolate clusters from Mother Clusters, like their "You've Been Naughty" coal bags or Reindeer/Snowman Poop cluster bags that are perfect for stocking stuffers ($15-24) or a Hot Chocolate Cluster Bomb filled with marshmallow peppermint ($34/lb). Pickup is available in Fairfax; please give at least 2 weeks advance notice to order via online or email.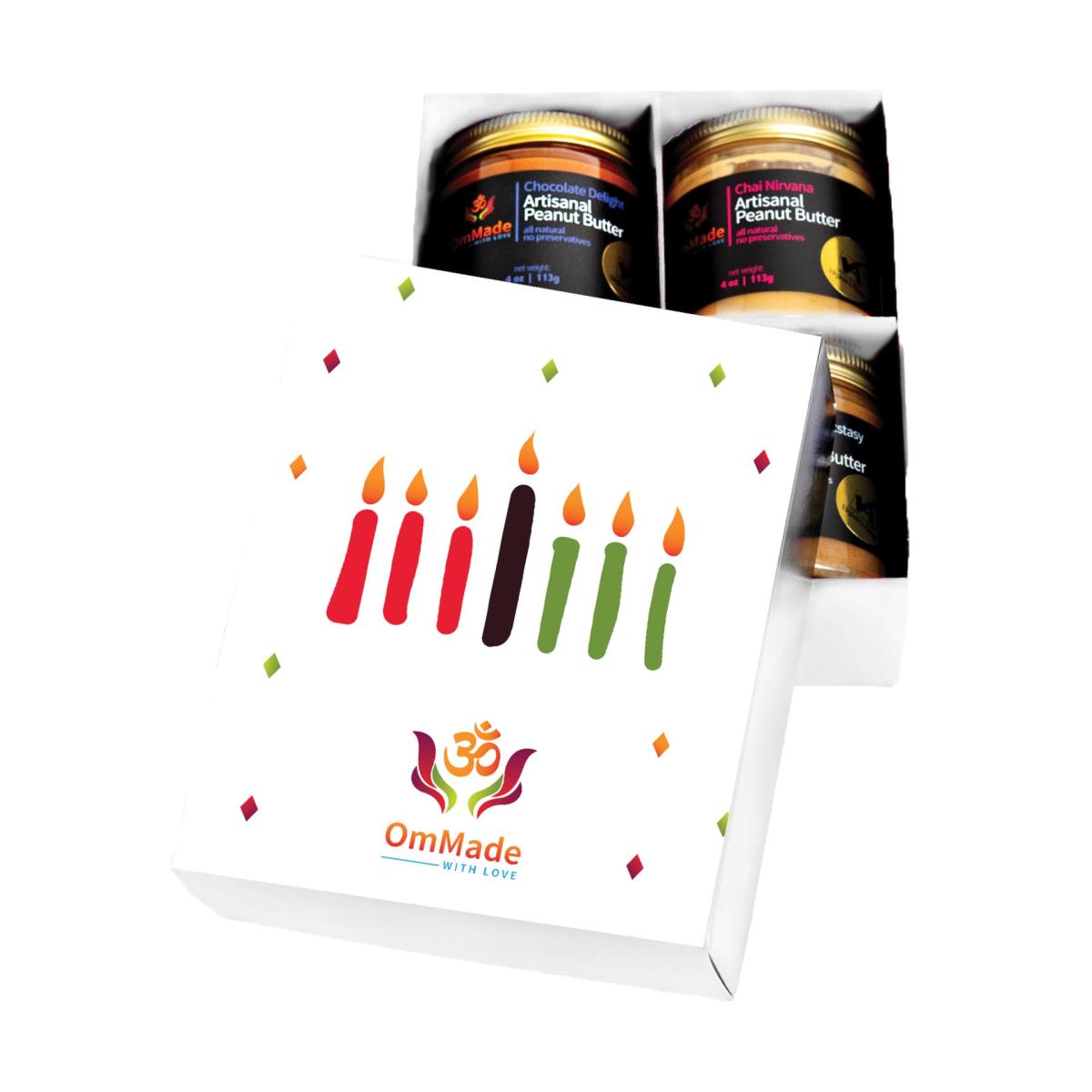 Image submitted by OmMade Peanut Butter
Virginia is known for its incredible peanuts, so Reston resident Radhika Murari decided to do something about it! OmMade Peanut Butter uses those peanuts to make about a dozen spectacular flavors of vegan, gluten-free peanut butter ranging from Vibrant Turmeric to Espresso Ecstasy to the new Mmm...Matcha. They have holiday-ready gift boxes with four different designs and four 4 oz. jars of customer-favorite peanut butters that will make the perfect gift ($39).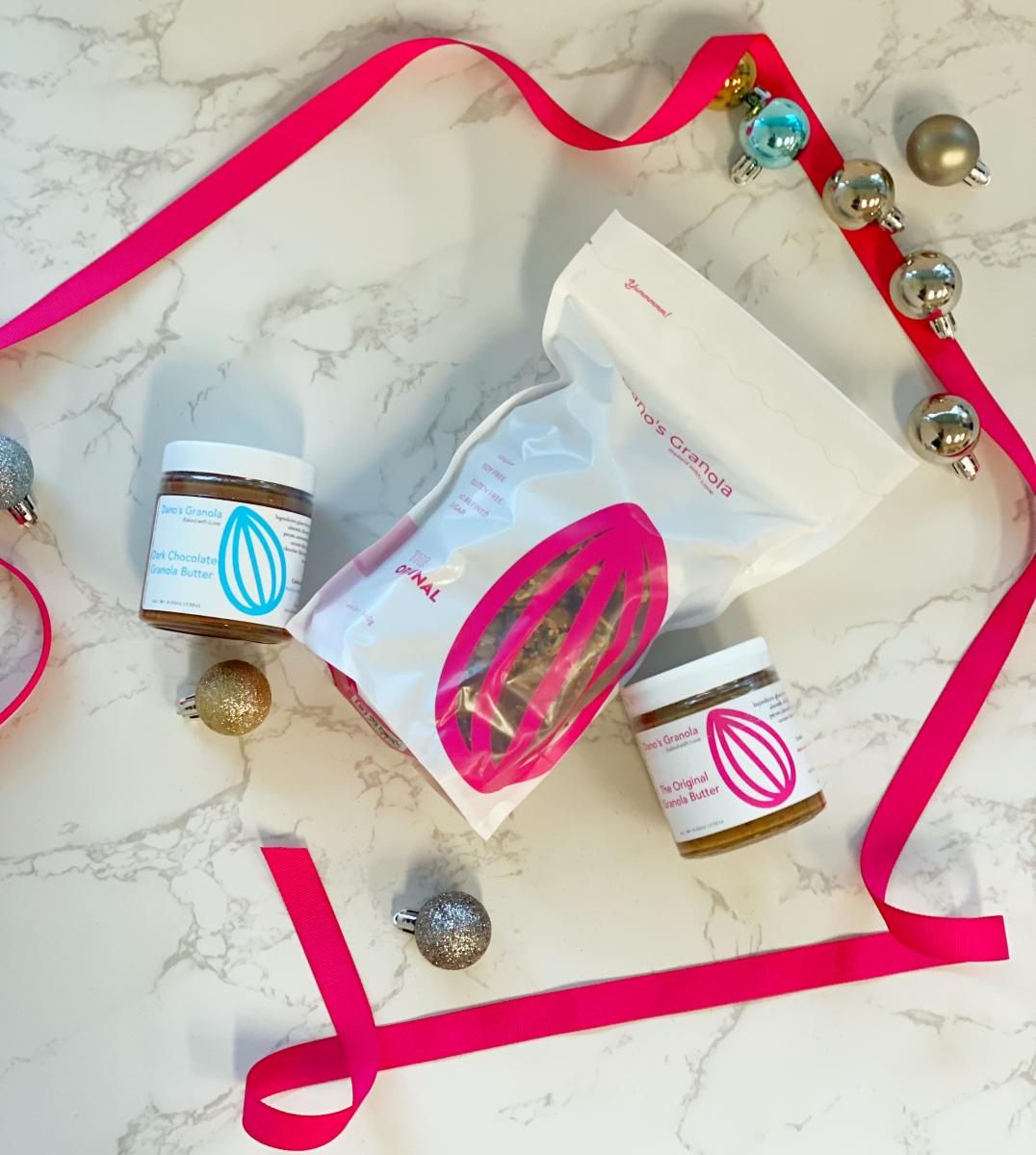 Image submitted by Dano's Granola
Packed with superfoods like almonds, chia, and hemp seeds, and sweetened up (in some cases) with chocolate chips, Dano's Granola offers handmade granola and other baked goods. Add these tasty items to your stocking stuffer list this year: the Granola Sample Pack ($22), Granola Butter ($8), or a selection of 6 different flavors of individually bagged granola. Find more ideas in their shop.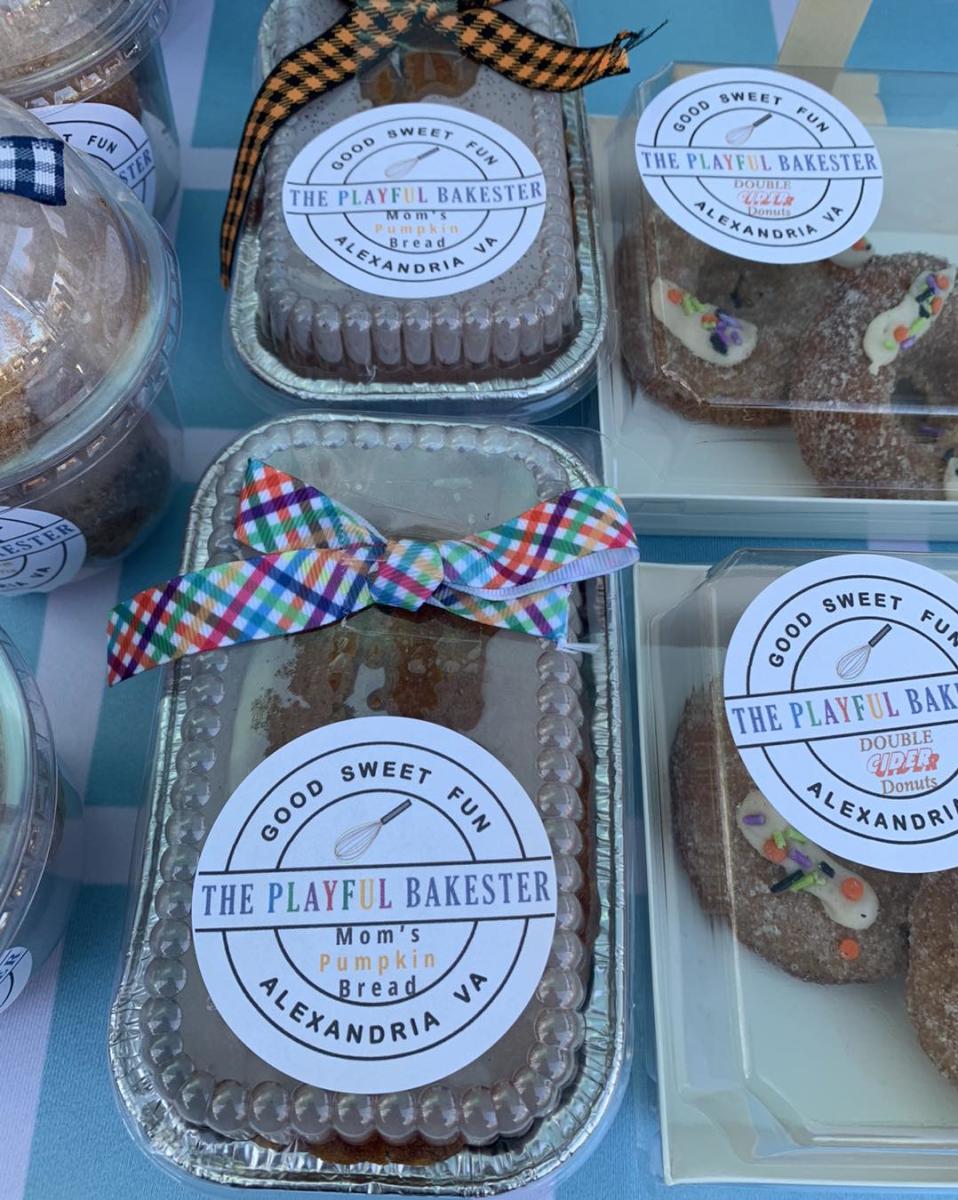 Image courtesy The Playful Bakester/Facebook
Looking for a special treat to brighten your day? Try the custom-decorated cakes, dessert bars, breakfast pastries and sticky buns, tea party-ready desserts, and more from The Playful Bakester. Contact shop owner Gretchen for more info on ordering.

Even more ideas: Be the belle of the holiday party ball this year with a handcrafted and custom pretzel charcuterie platter, pretzel party box, or pretzel variety packs from Nordic Knot. Pair these with a selection of tasty dips and you'll have the tastiest holiday ever! Order online. Or, treat your friends and family to a nice meal out (whether in-person or takeout) with a gift card to a wonderful Fairfax County restaurant.


Home Goods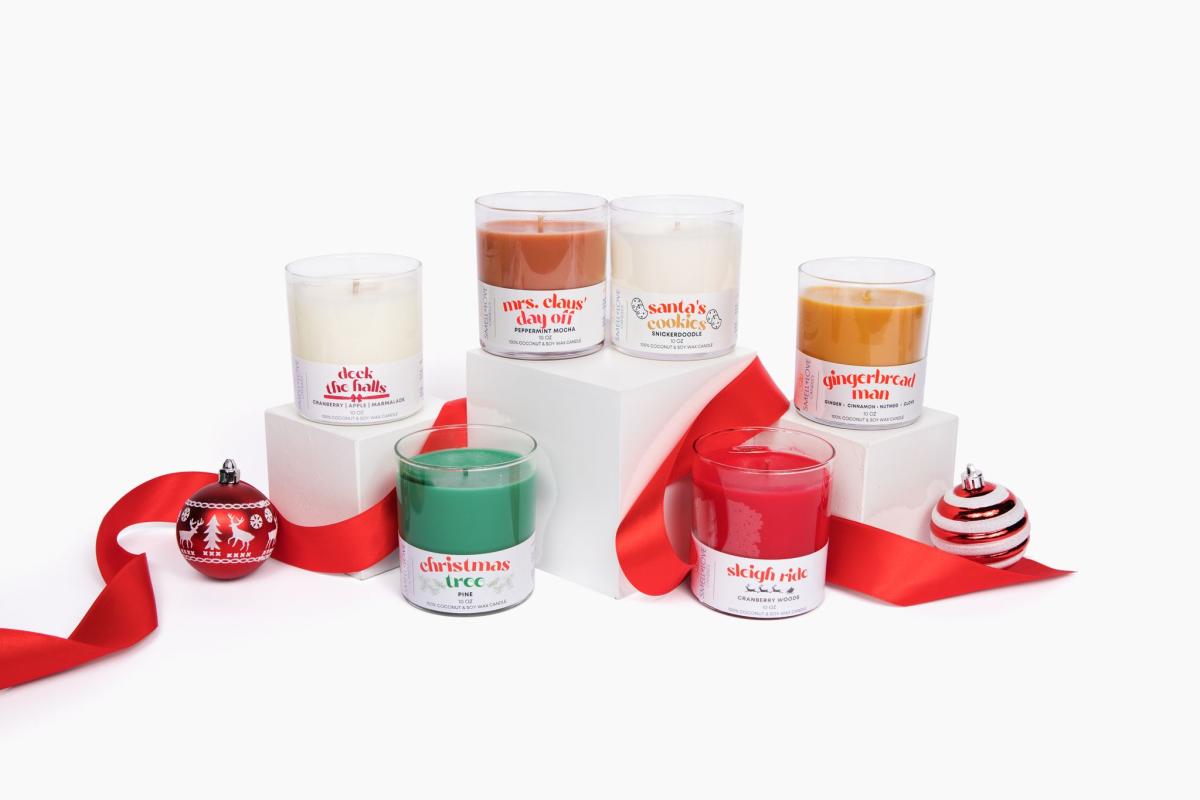 Image submitted by Smell of Love Candles
Smell of Love Candles is an organic candle company founded and led by Alejandro Buxton, a young teenage "Kidpreneur" who not only was the youngest tenant ever to hold a kiosk lease at Tysons Corner Center, but also just appeared on The Drew Barrymore Show! This holiday, treat your friends and family to not only this fabulous story, but also some pretty fabulous candles, which use hand-poured soy and coconut wax that are good for you and the environment, and are socially responsible. Holiday Collection Bundles start at $42, and the shop also offers Room & Linen Sprays, Wax Melts, Hand-Dipped Incense, and other accessories.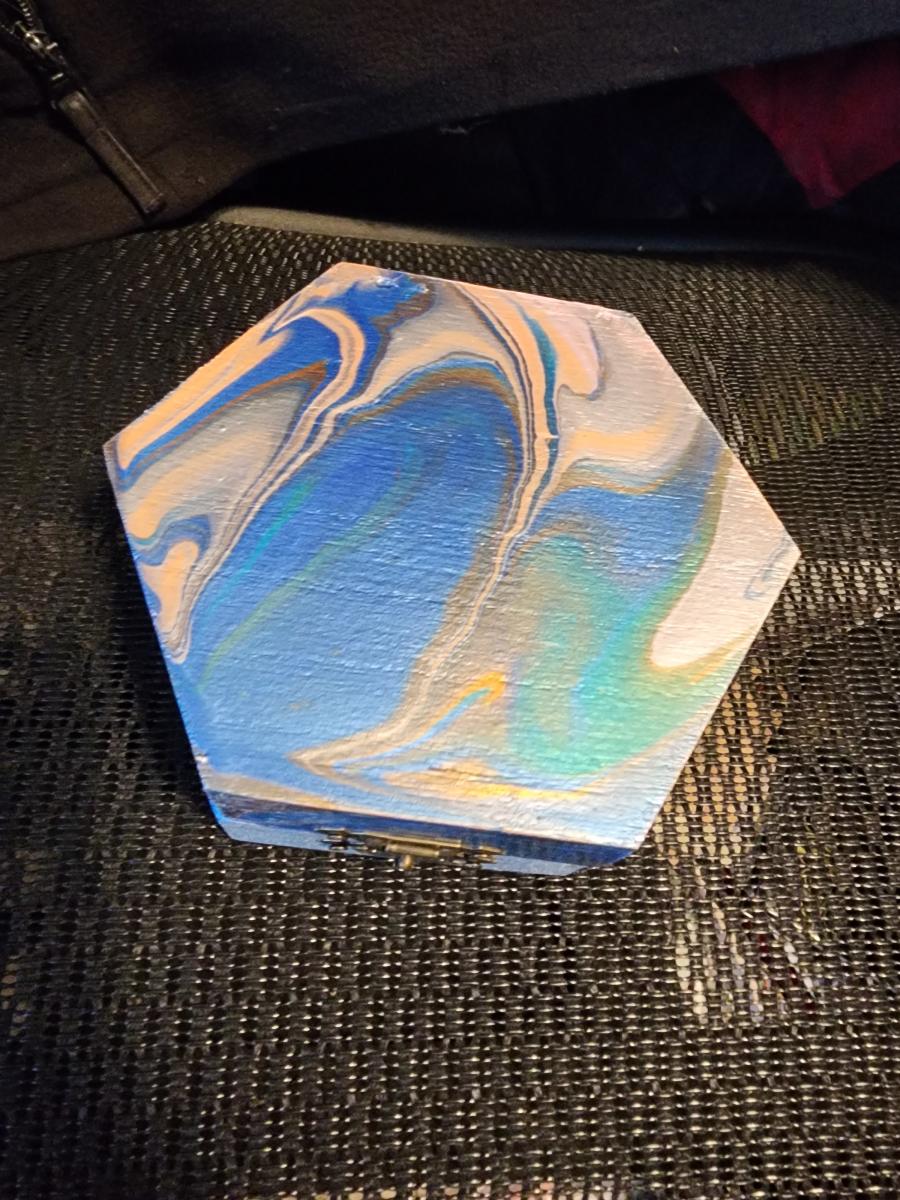 Image submitted by Magick Whimsey
Bring a bit of whimsey to your personal spaces with one-of-a-kind art and home décor from Magick Whimsey, whose shop offers intriguing gift ideas such as hexagonal wooden boxes ($30), various circular tins ($15-40) and glass jars ($30-35), and handcrafted Ceramic Tiles ($30).
Jewelry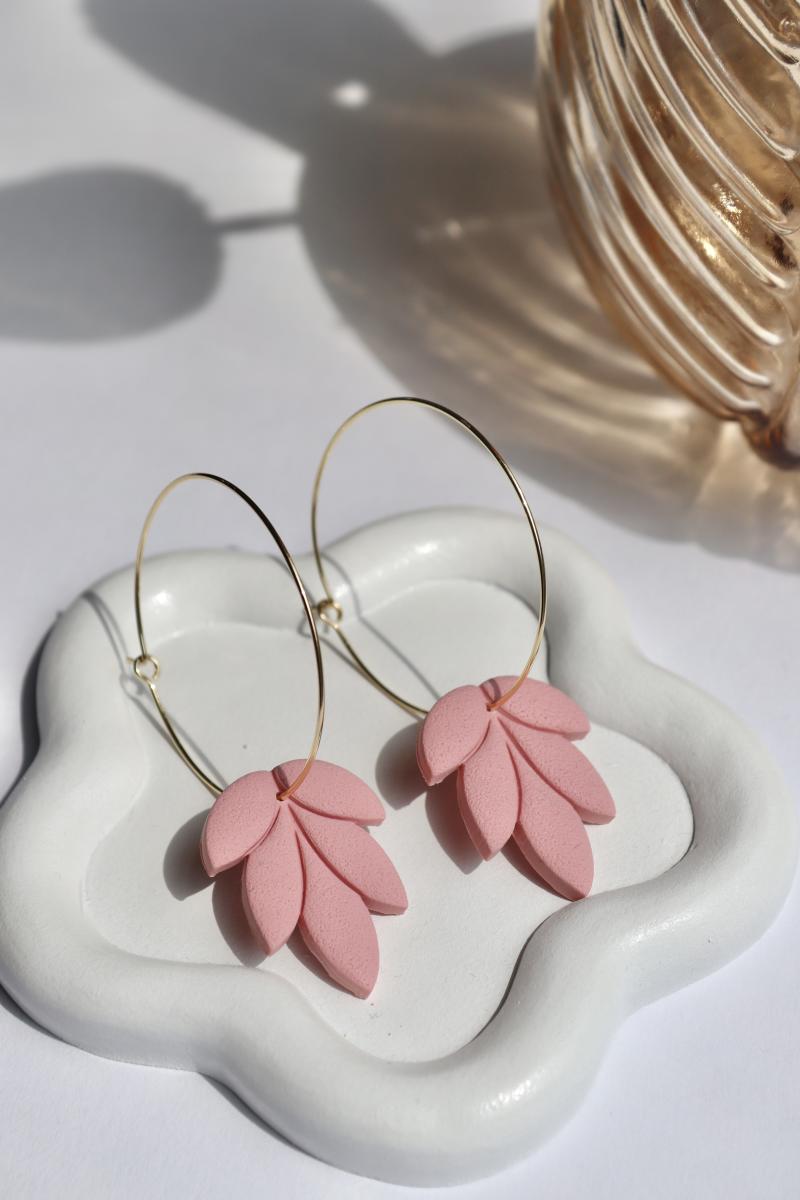 Image submitted by Lily and Sparrow Clay
Browse the Lily and Sparrow Clay shop for wearable, comfortable, lightweight, and classy jewelry created by a local law student Christine Marsden in a variety of colorful florals, fruits, or other elegant designs. Each purchase benefits the International Justice Mission to combat human trafficking. For the holidays, surprise loved ones with a mystery box ($15 - $70) or an advent box ($85 - $165). Browse their online store or find them at the Mosaic Christmas Market on December 16-17 as well.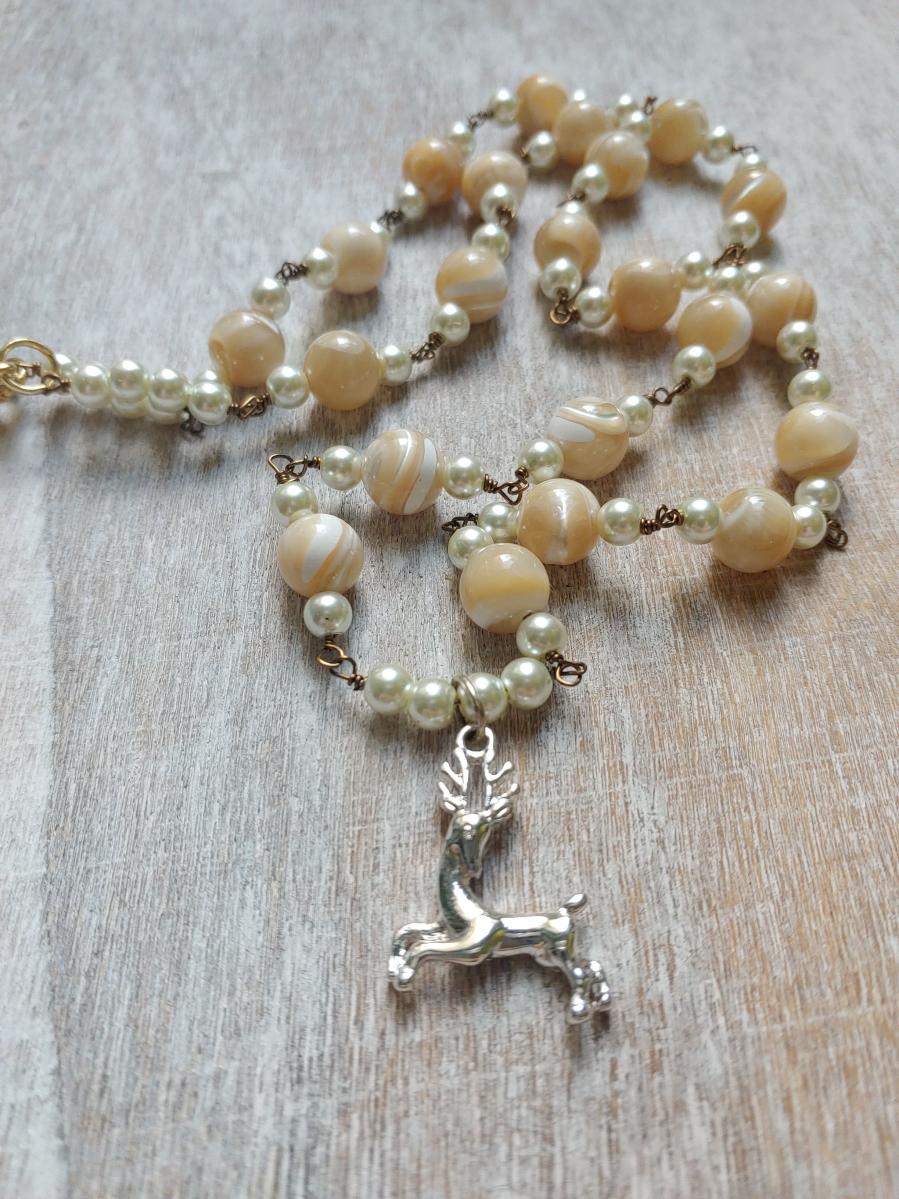 Image submitted by The Shell Patch
If you're missing the ocean this winter, check out the beach and shell-inspired jewelry at The Shell Patch, created by teenage sensation, Anna. It all began with painted seashells when Anna was 14 in 2020, but has quickly grown to include one-of-a-kind beaded jewelry pieces, unique seashell home décor, painted canvases, handstitched pillows, and more. This holiday season, browse the Etsy shop for unique pieces like the Christmas reindeer pendant necklace ($34.99), the blue glass beaded angel dangle earrings ($12.99), a handpainted seashell picture frame ($44.99), or a stunning canvas wall art ($19.99).
Pets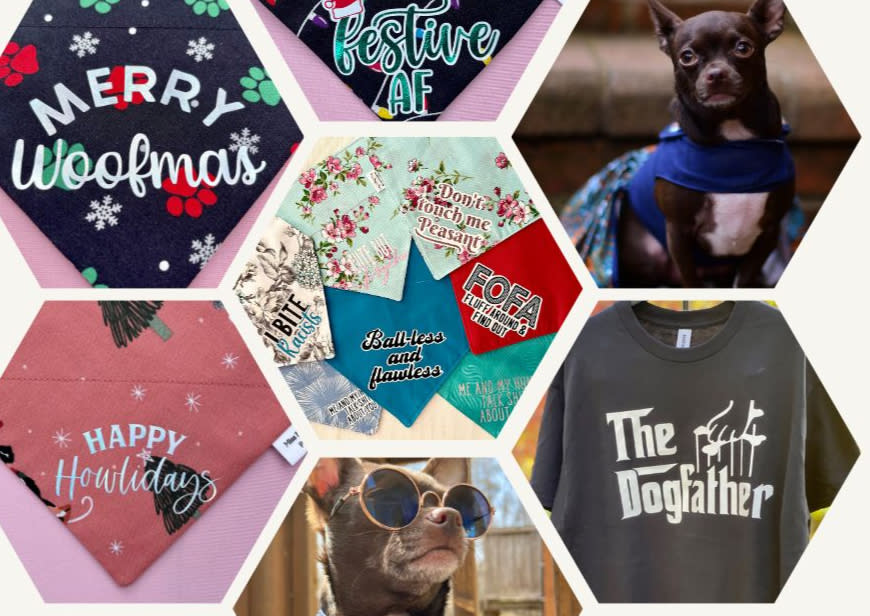 Image submitted by Miss Boujee Paws
Miss Boujee Paws is a trendy pet fashion brand that specializes in custom-designed dog dresses and stylish over-the-collar bandanas, among other unique accessories for both furry pals and their human owners. Embrace your 70s Era with The Bell Bottom Dog Outfit ($35) this year, which integrates a built-in harness to secure and control your fashionable pet instead of using one that clashes with this chic new outfit.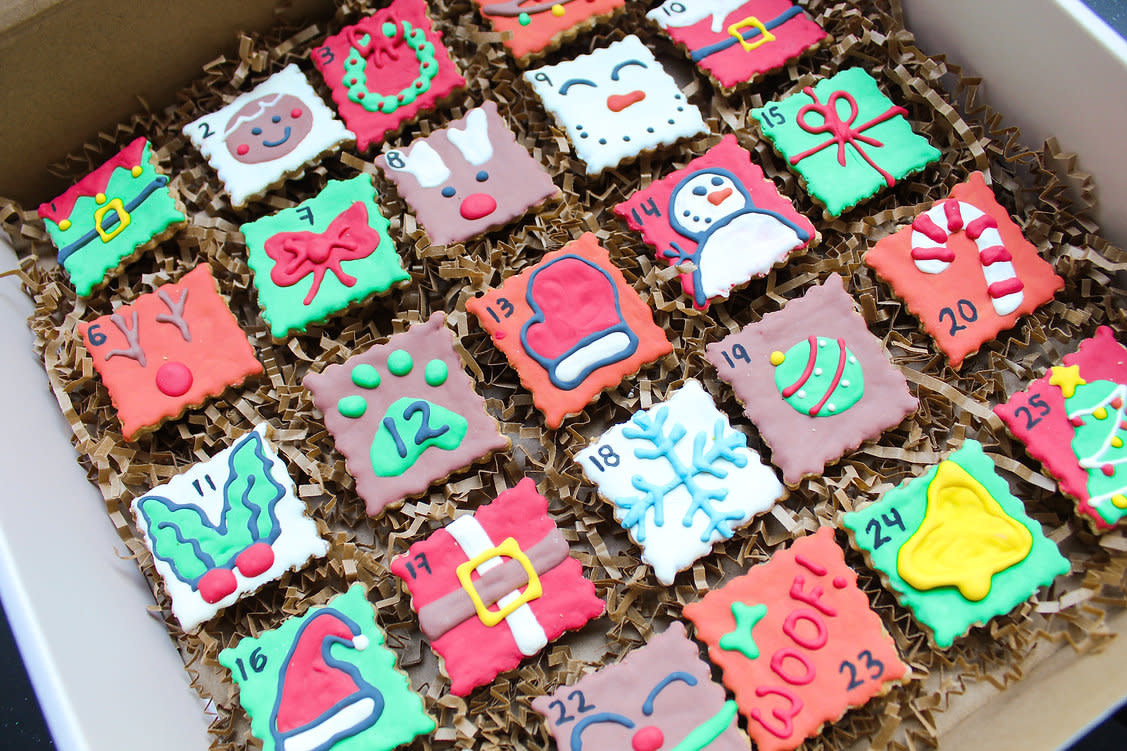 Image courtesy Wiggles & Wags Pet Bakery
Find seasonal delights at Wiggles & Wags Pet Bakery, from Thanksgiving gift boxes ($25) to a special Doggie-only Advent Calendar ($30). Bookmark their site for birthday and other special occasion treats throughout the year!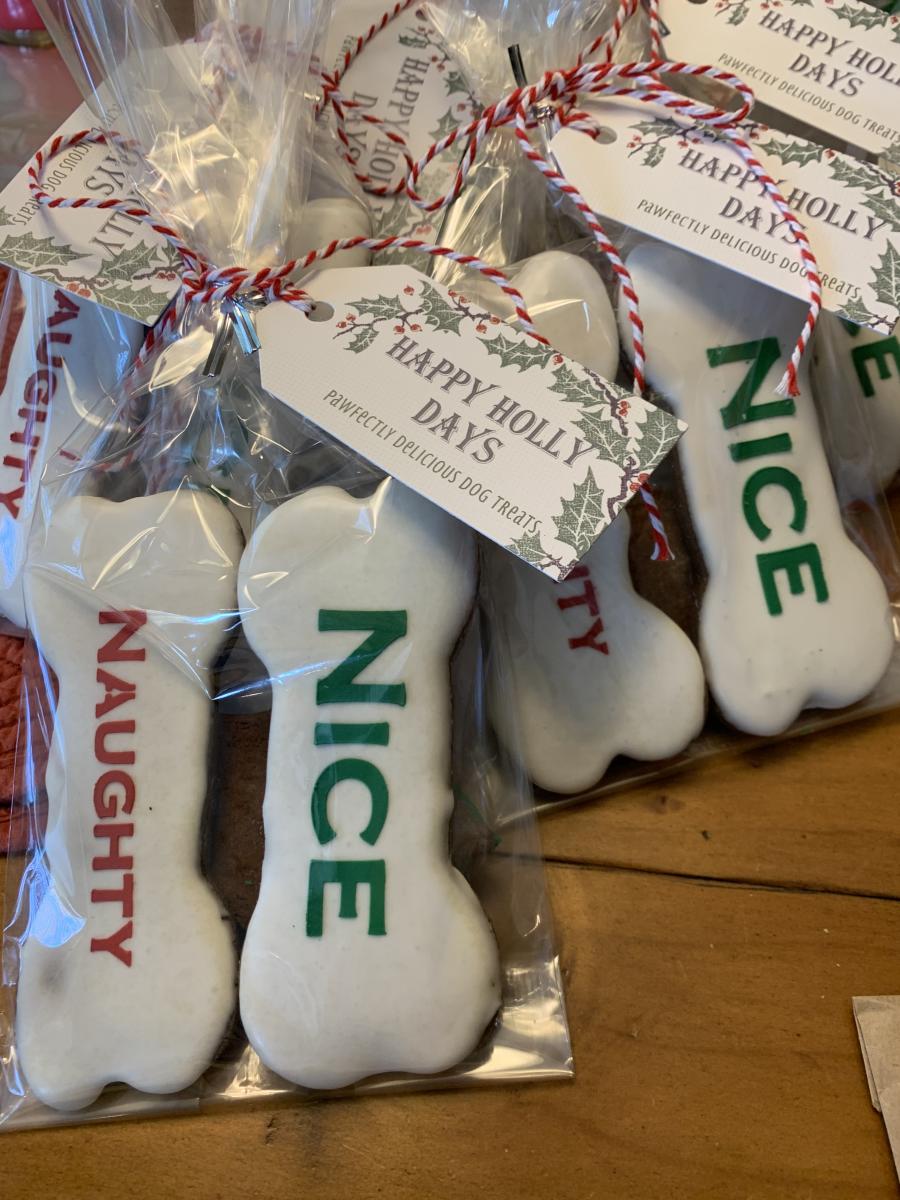 Image submitted by Pawfectly Delicious Dog Treats
Likewise, Pawfectly Delicious Dog Treats offers all-natural ginger doggie treats – made with love by differently-abled young adults. The non-profit has been providing job training and meaningful work to young adults with disabilities since 2017 in an effort to celebrate their unique talents and abilities within the community. Just in time for the holidays, you can treat your pup to a holiday assortment of treats that have been handcrafted, baked, and stenciled. Order online.

Textiles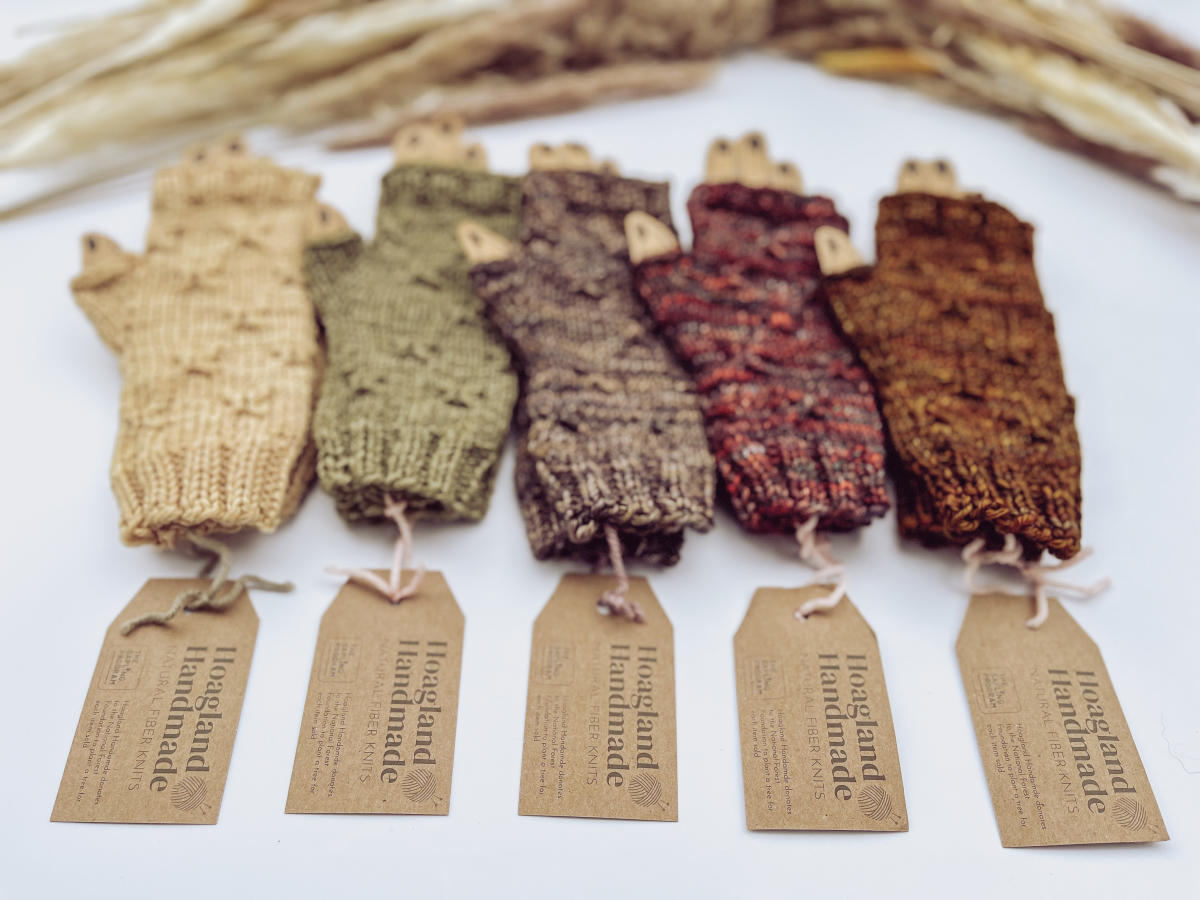 Image submitted by Hoagland Handmade
Searching for a unique and warm eco-friendly gift? Check out the natural fiber knits from Hoagland Handmade, which uses fibers farmed in the greater DMV region to create sustainable gifts that will warm the hands (or head or ears) and the heart. For each item sold, a tree is planted through a partnership with the National Forest Foundation. Some winter must-haves include the Virginia Merino mittens ($54) or the hand-dyed Merino fingerless mitts ($42), among other gift ideas.
Wine, Beer & Spirits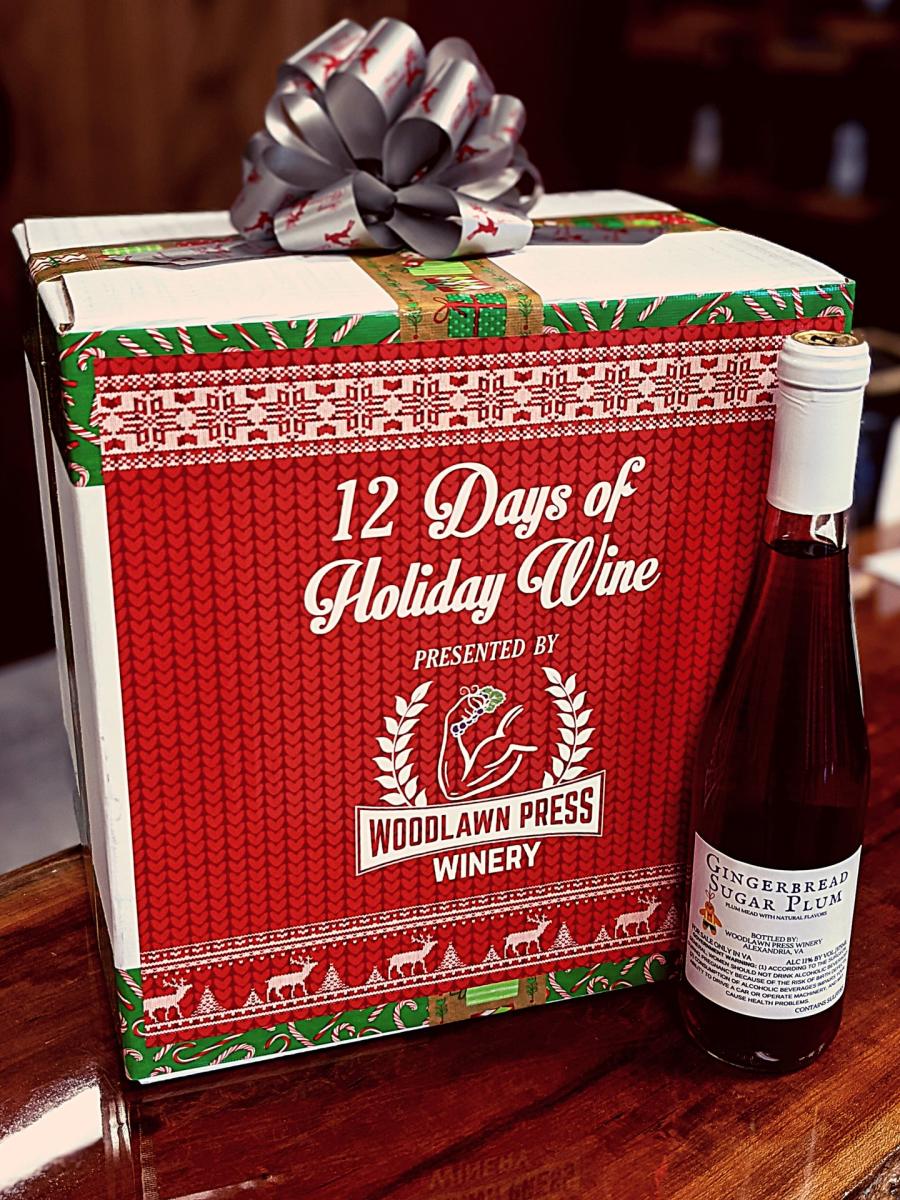 Image submitted by Woodlawn Press Winery
Woodlawn Press Winery is a family- and veteran-owned micro-winery that makes and bottles its own varietals and fruit wines right here in Fairfax County. Stop by this urban micro-winery for wine-based gift ideas, like the 12 Days of Holiday Wine Set ($120) - but act fast, as there is limited stock! Other gift ideas include the Wine Gift Bag ($35), which includes one bottle of wine, a River-Sea Chocolate Bar, spiced pecans, and a bag of slushy mix.

More ideas: You can also pick up wine, beer, and spirit-related gifts at our Fairfax County wineries and Fairfax County breweries. If you're a fan of whiskey, stop by George Washington's Mount Vernon for a gift set that includes a bottle of George Washington's Signature Rye Whiskey, the official state spirit of the Commonwealth of Virginia, or check out the brand-new Open Road Distilling Co. for a hand-bottled Gin, Bourbon, Vodka, or Rye.
 
Many of these products can be purchased online, but you can also find many of the makers from the "Made in Fairfax" initiative - and beyond - at upcoming holiday markets, like Celebrate Fairfax's Winter Market at The PARC Tysons (December 2 from 12pm-5pm) or the Mosaic Holiday Village & Market (December 16-17 from 11am-4pm). 
For the growing list of vendors that are part of the Made in Fairfax initiative, check out their directory here. (If you are an artisan who would like to join, you can apply right here.)
What is your favorite product to find locally? Who will you be picking these gift ideas up for? Let us know in the comments below or tag us on social media using #FXVA and @VisitFairfax. Happy shopping!