Looking for an excuse to eat some delicious sweet and savory goodness? Search no more! Celebrate Pi Day in Fairfax County with our unique bakeries, eateries, and attractions.

Good 'ole classic dessert pies
(or even for breakfast, we won't tell!)
 
Danielle's Desserts
1770 International Dr., McLean, VA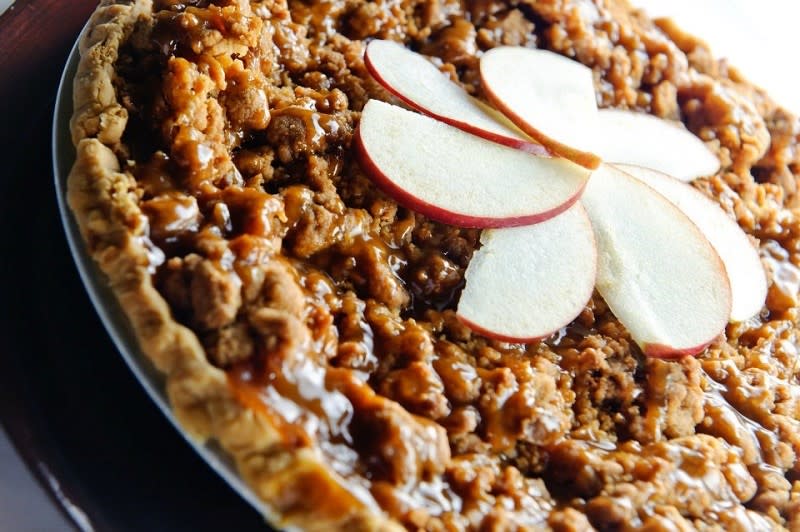 Image courtesy Danielle's Desserts
Located in Tysons Galleria on level 3 near Saks Fifth Avenue is Danielle's  Desserts. Get pies by the slice or if you feel like sharing, call 48 hours in advance and pick up a whole pie.

The Pie Gourmet
507 Maple Ave W, Vienna, VA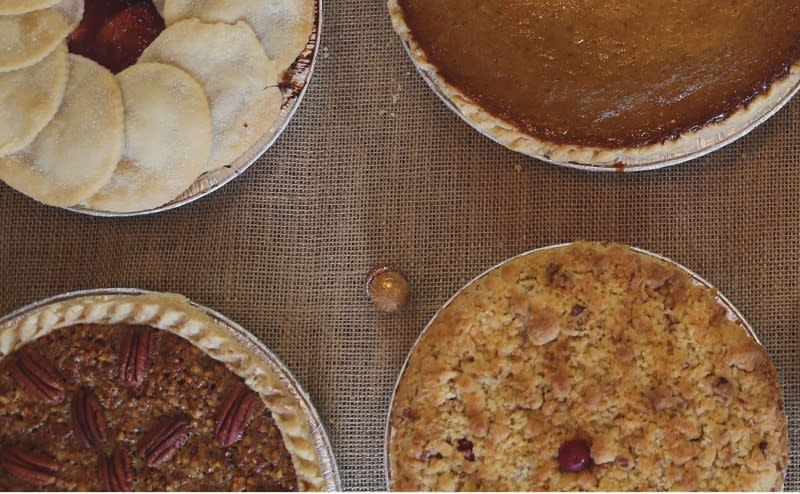 Image courtesy Pie Gourmet
Pie Gourmet offers handmade pies from scratch and has been crafting them with love since 1988. This local Vienna shop makes ordering easy: online, by phone, and even delivery. I feel inclined to tell you I've never in my life seen a Raspberry-Peach pie…and now that I have, I think I owe it to myself to pick one up from Pie Gourmet.
 
Amphora Bakery
Herndon: 294 Sunset Park Drive, Herndon, VA
Vienna: 405 Maple Ave W, Vienna, VA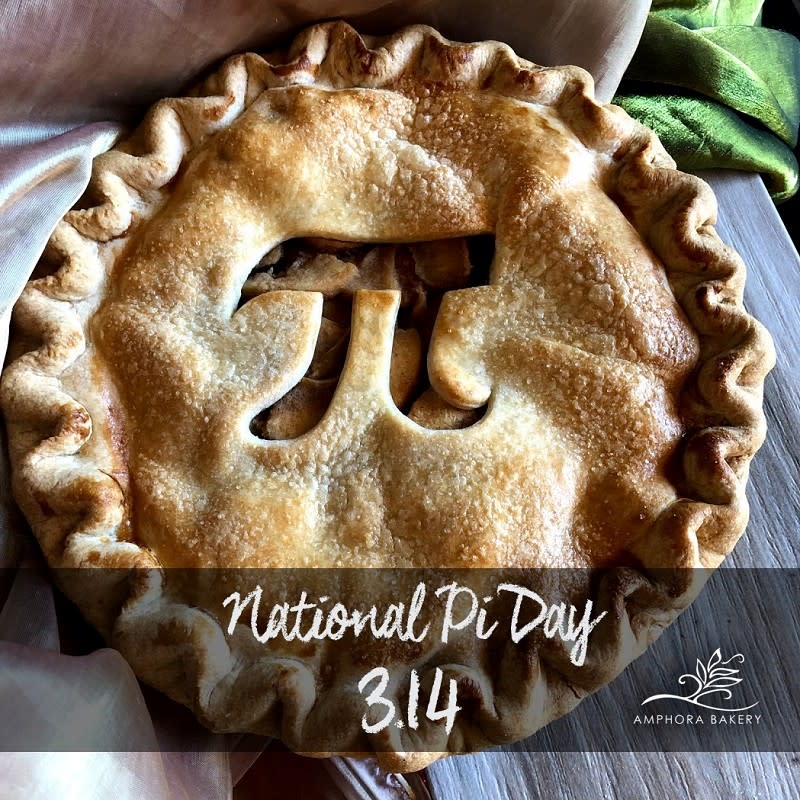 Image courtesy Amphora Bakery
Hands-down, Amphora has always been my favorite local breakfast place and their bakery is no exception. Crafted with care and detail, Amphora takes the time to celebrate Pi Day with a limited time Pi crust pie (are there too many pies in that sentence?) π
 
Kiwi Pie Shop
4548 Eisenhower Ave, City of Alexandria, VA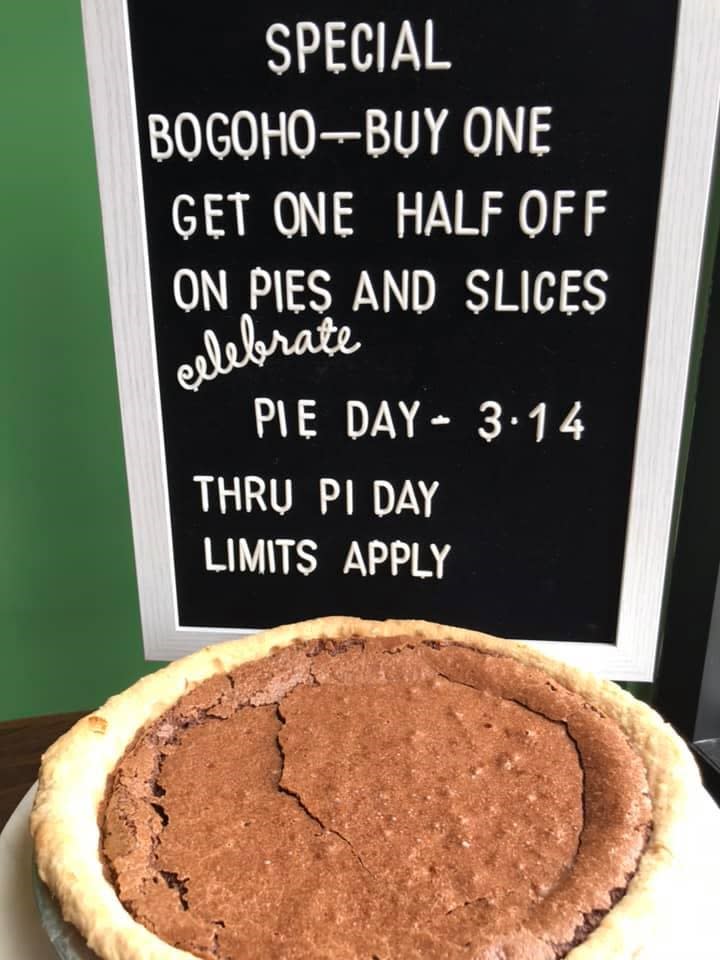 Image courtesy Kiwi Pie Shop
You're seeing it with your own eyes: buy one, get one half off on whole pies and slices! If you ask me, it doesn't get much better than that. Check out Kiwi Pie shop on 3.14!
Savory pies for lunch or dinner

Kiwi Kuisine
4550 Eisenhower Ave, City of Alexandria, VA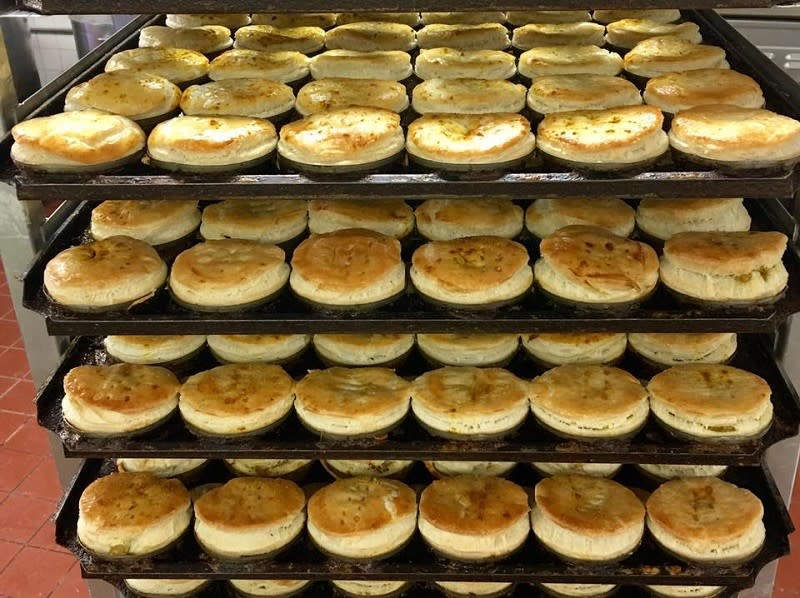 Image courtesy Kiwi Kuisine
Get the best of both worlds with a sweet and savory pie menu by Chef Bert "Ram" Todd. The savory Kiwi Kuisine pies are inspired by local New Zealand bakeries. Missing his homeland cuisine here in the D.C. area, Chef Ram returned home to learn the art of perfecting handmade meat pies. Now, here in Northern Virginia, we're able to have a little piece of authentic New Zealand.

Meat Pies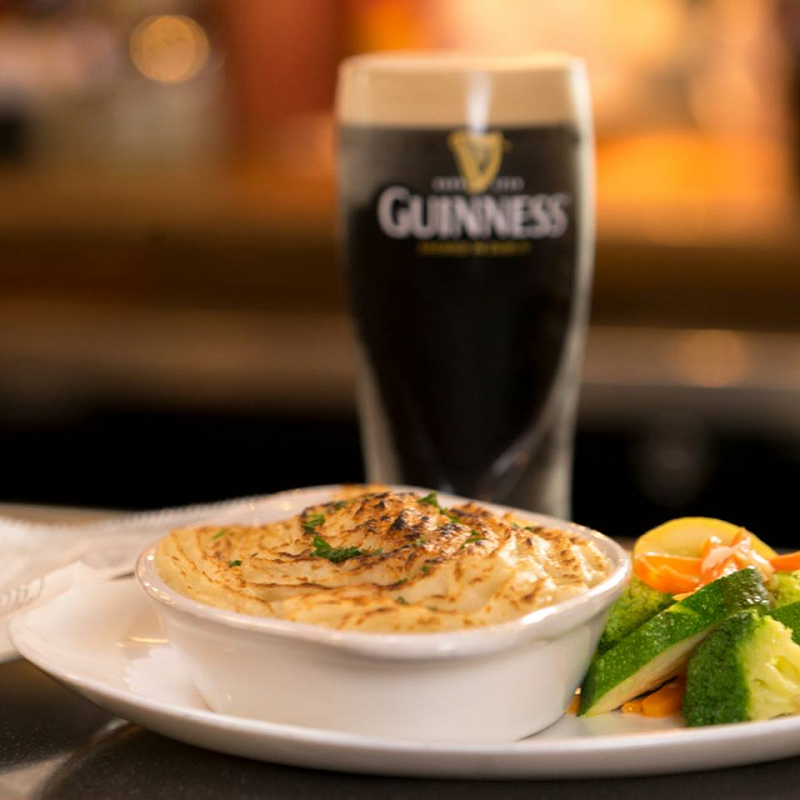 Image courtesy The Auld Shebeen
It seems all too appropriate for Pi Day to be in March when we're all craving Shepherd's Pie around St. Patrick's Day. Our Irish Pubs guide offers several places where you can most certainly find this delicious and authentic savory pie. Spots include The Auld Shebeen, Fiona's Irish Pub, Ireland's Four Provinces, Ned Devine's, The Old Brogue, P.J. Mulligans, and Paddy Barry's.

The Pure Pasty Co.
128 Church St NW, Vienna, VA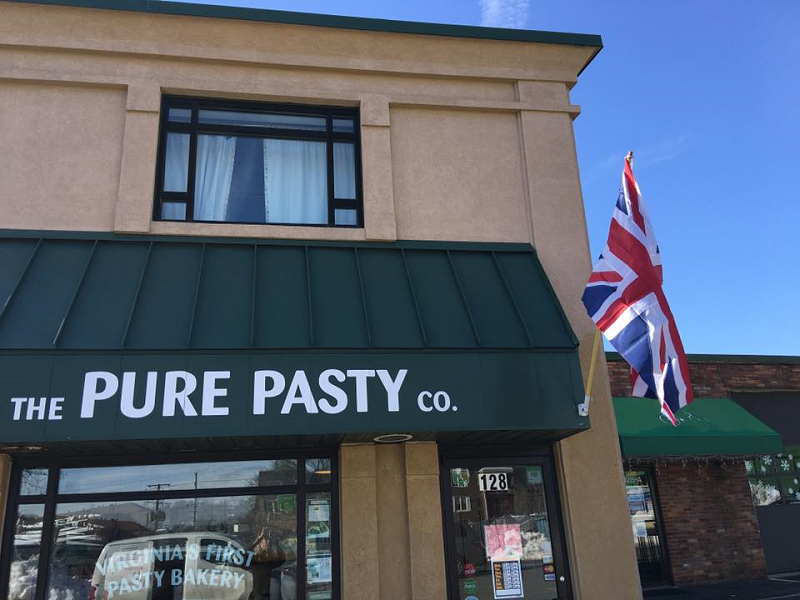 Image courtesy The Pure Pasty Co
Speaking of endless pie variations, did you know that the U.K. is known for its baked and fried pies? They call them pasties (pronounced past-ees). It's so well-known, in fact, that every year since 2012, Cornwall has held the World Pasty Championships. Even cooler, Fairfax County's very own Pure Pasty Co. in Vienna just won the Open Savoury Company category for the second year in a row. If you're unfamiliar with a pasty, (1) they're amazing and (2) they're full of meat and veggies wrapped within a delicious pastry. What's awesome about Pure Pasty Co. is their attention to detail and their commitment to using better ingredients. Their famous crust is made with heritage flour and sustainable shortening, their chicken is all-natural, free-range, never with antibiotics, and their beef is all natural and grass fed.

Pizza Pies

Image courtesy Arosto Pizza
If the sweet pie isn't for you, check out our Italian listings for a Pizza Pie, because who wants to cook dinner on a Thursday night anyway?
Fun fact: on March 12, 2009, the House of Representatives supported the designation of "National Pi Day" in an effort to recognize the importance of mathematics, science, and education programs while encouraging schools and educators to observe the day with Pi-related activities.
So if you're not a pie guy or gal, remember what Pi Day is all about…the significance of mathematics, science, and engineering to our children's education; so celebrate with a visit to our one of a kind attractions, including:
 
Turner Farm Park Observatory
925 Springvale Rd., Great Falls, VA

Image courtesy Analemma Society
Every Friday night in March (15, 22, 29) from 7:30 PM to 9:30 PM The Analemma Society holds Night Public Viewing Sessions at Turner Farm in Great Falls, VA. Always be sure to check their Twitter before visiting, just to make sure those skies are clear! Be sure to dress warm, as it may be chilly and who needs forced heat when you have the comfort of the stars. Visitors are encouraged to bring their own telescopes, binoculars, and gear. In addition, volunteers are available to help visitors use the newly-mounted telescopes on site.
This is an event for all; the observatory is even known for seeing up to 100 visitors at a time. Families, teens, young children, individuals, couples and students – come on down and celebrate Pi Day at Turner Farm Park Observatory.
Children's Science Center Lab
11948 Fair Oaks Mall, Fairfax, VA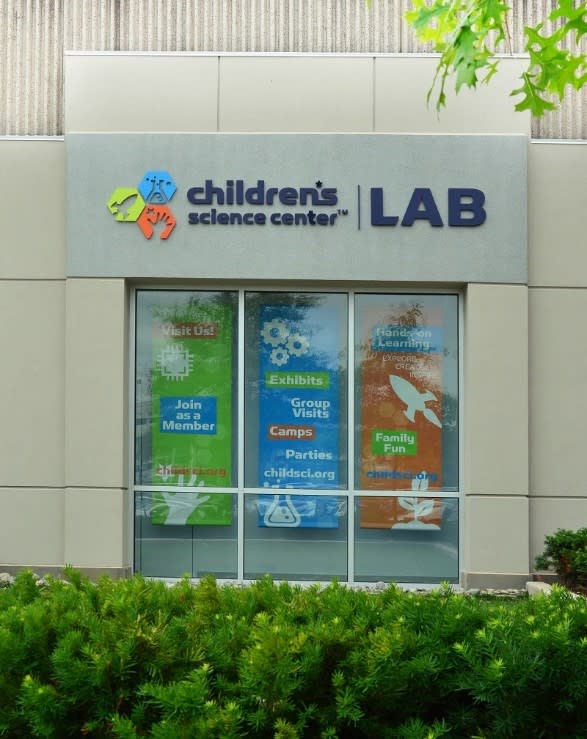 Image courtesy Children's Science Center Lab
This one-of-a-kind interactive museum for children, families, and school groups allows for fun activities that get everyone engaged. Here you'll find an Experiment Bar, Inspiration Hub, Tinker Shop, and Discovery Zone all centered around science, technology, engineering, and mathematics (STEM). Located within Fair Oaks Mall.
Smithsonian's National Air and Space Museum Steven F. Udvar-Hazy Center
14390 Air and Space Museum Pkwy, Chantilly, VA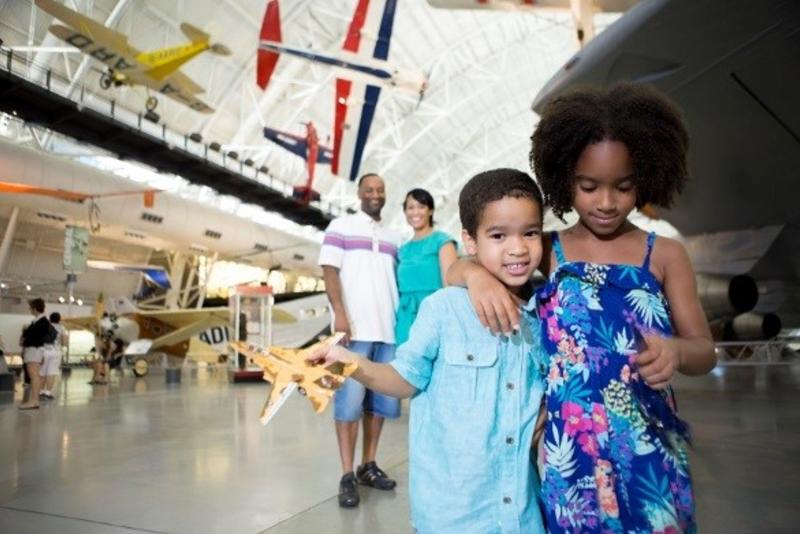 Fairfax County is so fortunate to be home to such an accessible Smithsonian museum. The Udvar-Hazy Center is a great place for groups and to participate in tours about historic triumphs in air and space. Celebrate Pi Day with a little bit of flight appreciation. Do you think astronauts had freeze-dried pie?!
Sully Historic Site
3650 Historic Sully Way, Chantilly, VA

Image courtesy Don Sweeney/Fairfax County Park Authority
Make it a two-stop trip! Right around the corner, not 5 minutes away from the Udvar-Hazy Center, is Sully Historic Site – home of Richard Bland Lee, Northern Virginia's first congressman. In honor of Pi Day and the classic food from the 1800s, Sully Historic Site interpreters are baking over an open-hearth fire. Come watch classic cooking techniques and have a taste. Entry is appropriately $3.14 and will last from 3:14 PM – 5:00 PM. 
 
Do you have a favorite spot to get pie (whichever type of pie you prefer) or a favorite place to learn about all things STEM in Fairfax County? Tell us in the comments below and be sure to join us on social media at @VisitFairfax and #FXVA.