Throughout the summer of 2019, Fairfax County's first permanent "LOVEwork" sign is on tour and is set to travel around to some of our most popular attractions that represent the eclectic visitor experiences found here. Tour stops have already included The Plaza at Tysons Corner Center and Roer's Zoofari and eventually, the sign will find a permanent home at the Workhouse Arts Center in Lorton. Once there, the letters will be creatively "bedazzled" by several of the artists-in-residence at the Workhouse, making the new Fairfax County "LOVEwork" sign a unique piece of art that visitors will enjoy for years to come.
The current stop on the "LOVEwork" tour is Reston Town Center! Reston Town Center has become an acclaimed outdoor venue offering more than 50 retailers, more than 30 restaurants, outdoor spaces, a stunning events Pavilion, and a multi-screen cinema. The center's hub features the 20-foot Mercury Fountain designed by the sculptor Saint Clair Cemin and the Pavilion hosts festivals and special events throughout the year. The sign will be located next to the Mercury Fountain from May 29 - June 4 across from the Pavilion. Make sure that if you do snap a sweet pic of the LOVE letters, upload them here or post them to social media using the hashtags #FXVA, #SHAREWHATYOULOVE, and #LOVEVA.
Let's explore some reasons why Reston is so special and why you should visit while the sign is there.
Information
"LOVEwork" Address: 11900 Fountain Dr, Reston, VA 20190
Reston Town Center Phone: (703) 579-6720
Hours: Sign is accessible 24 hours a day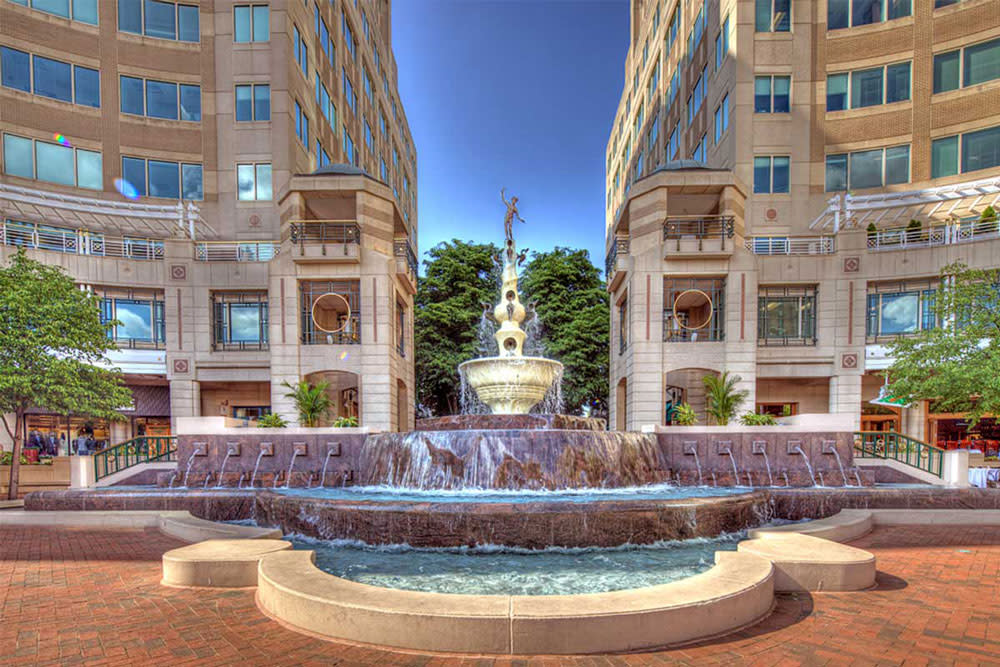 Mercury Fountain where the LOVEwork sign is being displayed
Photo by Greg Hess for
Northern Virginia Magazine
Why Visit Reston Town Center?
A Brief (And Amazing!) History Of Reston
Conceived as an alternative to ailing cities and sprawling suburbs, Reston, along with Columbia, Maryland, was among the first post–World War II "new towns" in the United States. Founded in 1964 by Robert E. Simon Jr., Reston took its name from Simon's initials and represented a kind of urban utopia—a place with swimming pools, community centers, and tennis courts in every neighborhood and no restrictions based on race. In 1961, Simon was approached by a broker who was selling land in Fairfax County. Simon visited the property and was taken with the beauty of the largely wooded farmland. He was convinced that, with the development of Dulles Airport (including a newly-added access road), the area was well-situated for a new town. Simon purchased 6,750 acres for $1,500 per acre. You can learn much more about the history of Reston at the nearby Reston Museum, located on Lake Anne Plaza.
Simon moved from New York to Virginia in order to develop Reston but returned to New York in 1967. Simon eventually returned to Reston in 1993, where he lived until his passing in 2015 at age 101.
Simon's 7 Goals For Reston were:
Reston would have housing for all

Reston would allow residents to "Live, Work & Play" in the same community

Reston would put the importance and dignity of each individual as the focal point of planning

Reston would be beautiful and nature would be fostered

Reston would accommodate leisure time

Reston would have amenities from the outset including a library, golf courses, art, and more

Reston would be financially successful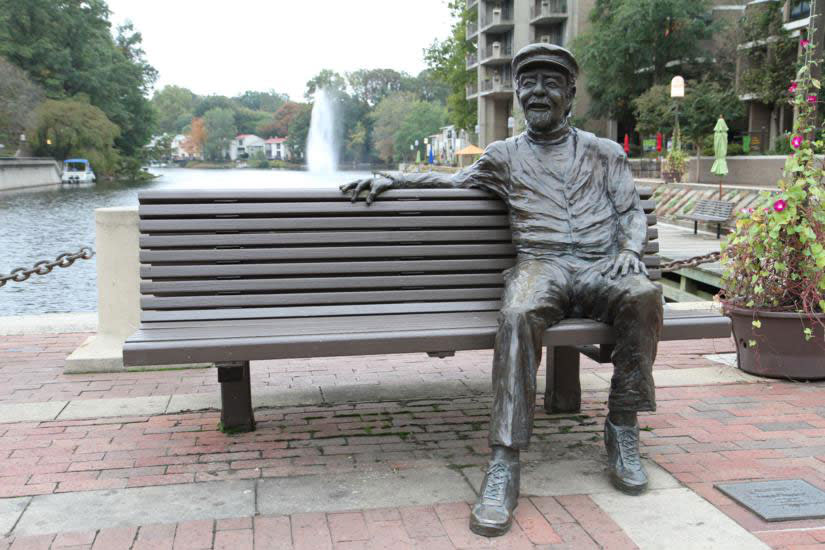 Robert E. Simon statue located at
Lake Anne Plaza
, not far from Reston Town Center  
Where the LOVEwork Sign Goes From Here
Next up on the LOVEwork tour is the Celebrate Fairfax! Festival.  If you can't make it to Reston, we hope to see you at one of the following sites instead:
June 6 – 9: Celebrate Fairfax! Festival, Fairfax County Government Center
June 11 – 16: George Mason's Gunston Hall
June 18 – June 24: The Winery at Bull Run
June 26 – July 1: Caboose Brewing Company's Caboose Commons at Mosaic District
July 3 – July 10: George Washington's Distillery & Gristmill
July 12 – July 24: Wolf Trap
July 26 – August 4: Frying Pan Farm Park
August 6 and beyond: Workhouse Arts Center
Fairfax County is great because of you, visitors and residents alike. Your support of our local community makes this all possible. Help us showcase our greatness:  We'll post our favorite images of you and your Instaworthy "LOVEwork" snaps on our official LOVE page, where you can also find the sign's summer-long tour dates and locations.
If you see our LOVEwork sign during its journey across the county, don't be shy, take a picture with it and upload your images here.