As you may have heard, throughout the summer of 2019, Fairfax County's first permanent "LOVEwork" sign is on tour and is set to travel around to some of our most popular attractions that represent the eclectic visitor experiences found here.  The first stop on the tour was The Plaza at Tysons Corner Center, and eventually, it will find a permanent home at the Workhouse Arts Center in Lorton. Once there, the letters will be creatively "bedazzled" by several of the artists-in-residence at the Workhouse, making the new Fairfax County "LOVEwork" sign a unique piece of art that visitors will enjoy for years to come.
But let's not get too ahead of ourselves...because there's plenty of fun places our LOVE letters are headed before the tour ends.  Like the next stop, Roer's Zoofari.  The sign will be there from May 21 - May 27 and the thought of the LOVE letters being surrounded by adorable animals and curious people taking selfies galore should be a sight to behold. Make sure that if you do snap a sweet pic of the LOVE letters, upload them here or post them to social media using the hashtags #FXVA, #SHAREWHATYOULOVE, and #LOVEVA.
Roer's Zoofari has plenty to see and do for kids and adults alike, so let's explore all the reasons you should visit the zoo while our sign is there.
Information
Address: 1228 Hunter Mill Rd. Vienna, VA 22182
Phone: 703-757-6222
Hours: 10AM-5PM 
Rates:
Adults – $17
Seniors (65+) – $15
Military – $15
Kids (Ages 3 to 12) – $12
Plan on spending at least 2 hours at the zoo to get the full experience.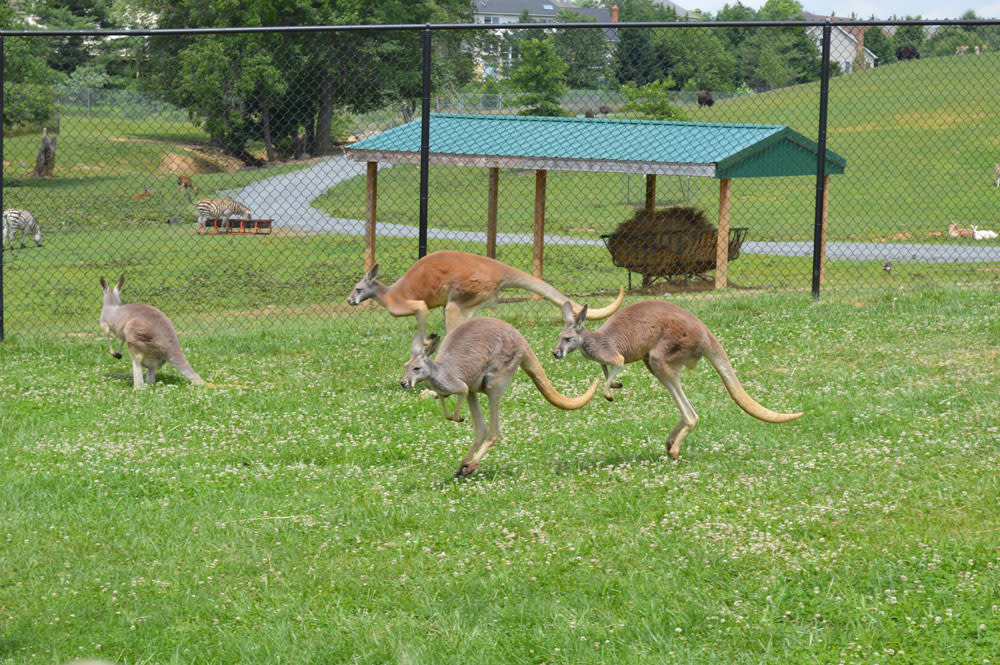 Not just kangaroos, they're red kangaroos!  
Why Visit
 
Animals!
Of course there are animals, it's a zoo (50 species of mammals, birds, reptiles, amphibians, and arachnids according to their website)!  But the thing about Roer's is that there are plenty of ways to interact (feeding and petting...but mostly feeding) with some of the animals while you're there.  Trust me when I say this, if you have kids you will be their hero if you take them here.   
Open Air Bus Ride: Hop on board and take a narrated tour through a free-roaming safari. Feed and learn about animals such as zebra, bison, watusi, buffalo, deer, llamas and many more! Ticket includes 1 Open Air Safari Bus ride. Additional rides are $3.
Bus Tour Schedule:
Weekdays: 11:00am, 1:00pm, 3:00pm
Weekends: Every hour on the hour starting at 11:00am
Animal Feeding Fun: Enjoy feeding and petting sheep, goats, rabbits, and many more barnyard favorites! Bottle feed baby goats! You can even feed some of the exotic animals! All feed options are available for purchase at the admission booth and at the gift shop.
Budgie Adventure: Walk into our special free-flight aviary and let the adventure begin! You can feed these gentle, colorful birds as they land on your feed stick.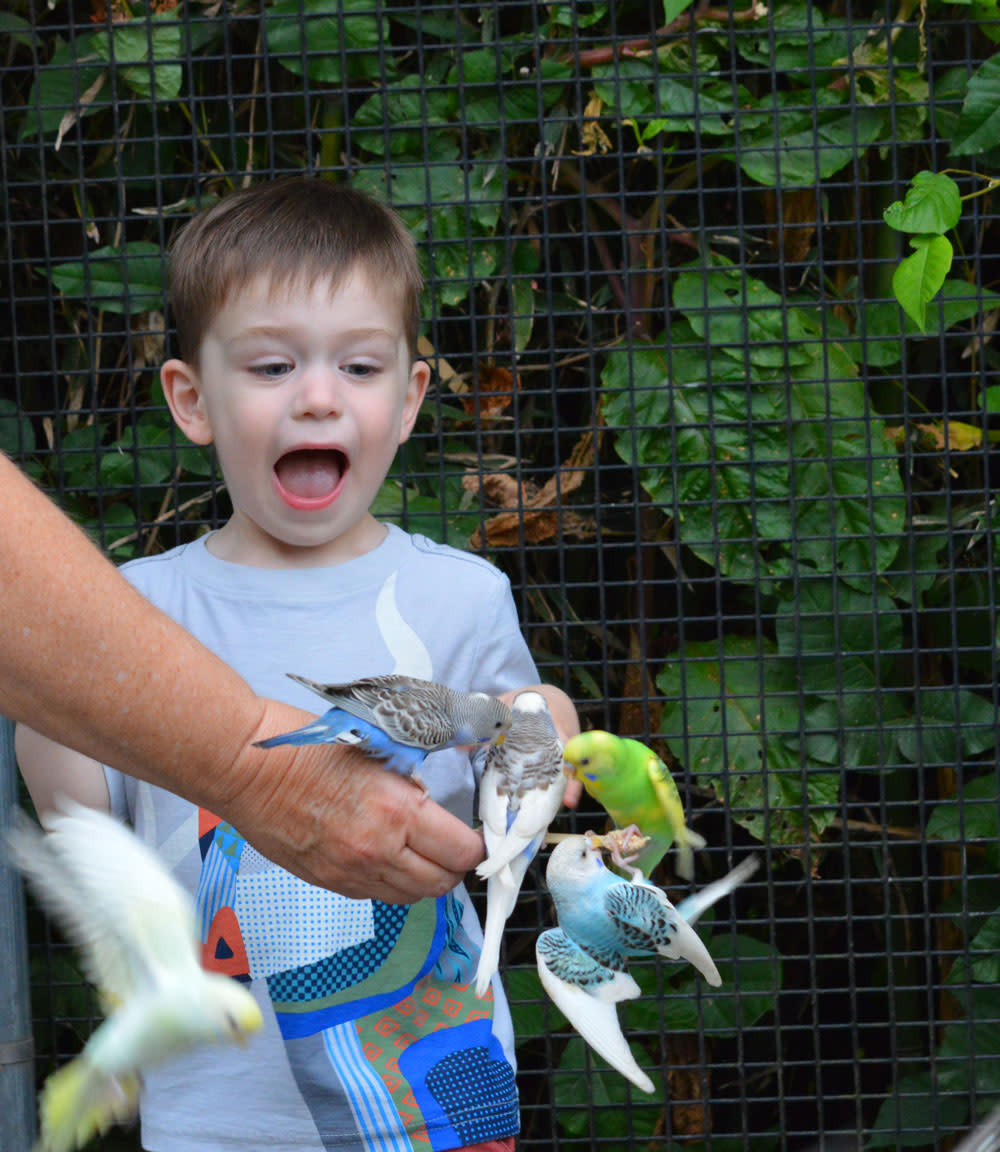 My 1-year-old son on his first budgie adventure - pretty intense.  
Special Events
Since the LOVEwork sign is there, of course there has to be a little party.  On May 21st from 5pm-7pm Roer's is teaming up with their neighbors at Lake Anne Brew House to throw their own version of Taco Tuesday with their inaugural Tacos and Ale event. This is a special event for those of us over 21 years old where participants get to experience the zoo in an adult-only environment while unwinding with a delicious pint and tasty tacos. Lake Anne has even brewed a special ale for this occasion: King Spots Belgian Pale Ale – named after the Zoofari's Watusi Bull, who enjoys his own share of their tasty spent grain post-brewing. Tickets are $40 each and this is a rain or shine event. Safari rides will be available until 6pm (included with admission) and Camel rides are available until 6pm for $8. Animal feed is available for purchase. Sign. Me. Up!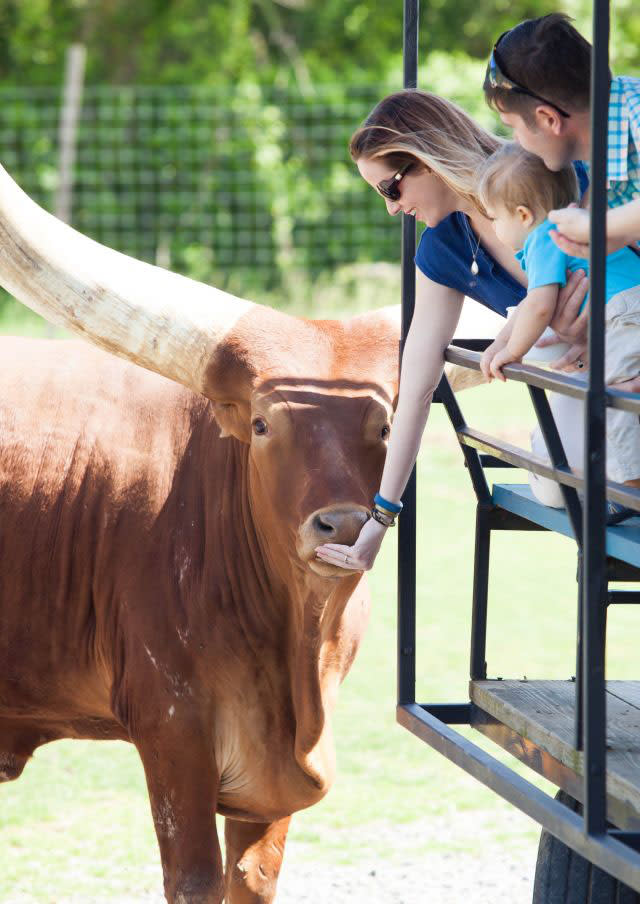 Watusi Bull 
Where the LOVEwork Sign Goes From Here
Next up on the LOVEwork tour is Reston Town Center.  If you can't make it to the zoo, we hope to see you at one of the following sites!
May 29 – June 4: Reston Town Center
June 6 – 9: Celebrate Fairfax! Festival, Fairfax County Government Center
June 11 – 16: George Mason's Gunston Hall
June 18 – June 24: The Winery at Bull Run
June 26 – July 1: Caboose Brewing Company's Caboose Commons at Mosaic District
July 3 – July 10: George Washington's Distillery & Gristmill
July 12 – July 24: Wolf Trap
July 26 – August 4: Frying Pan Farm Park
August 6 and beyond: Workhouse Arts Center
Fairfax County is great because of you, visitors and residents alike. Your support of our local community makes this all possible. Help us showcase our greatness:  We'll post our favorite images of you and your Instaworthy "LOVEwork" snaps on our official LOVE page, where you can also find the sign's summer-long tour dates and locations.
If you see our LOVEwork sign during its journey across the county, don't be shy, take a picture with it and upload your images here.