Throughout the summer of 2019, Fairfax County's first permanent "LOVEwork" sign is on tour and is set to travel around to some of our most popular attractions that represent the eclectic visitor experiences found here. We're already on tour stop number 6, and eventually, the sign will find a permanent home at the Workhouse Arts Center in Lorton. Once there, the letters will be creatively "bedazzled" by several of the artists-in-residence at the Workhouse, making the new Fairfax County "LOVEwork" sign a unique piece of art that visitors will enjoy for years to come.
The current stop on the "LOVEwork" tour is The Winery at Bull Run - a working farm vineyard focused on crafting fine Virginia wines while paying tribute to the history and preservation of 19th century pastoral Fairfax County.  There are so many cool things about this winery, in addition to their award-winning wines, that it's hard to know where to begin.  Keep reading for some unique reasons why you should visit. Oh, and while the "LOVEwork" sign is there, they will be celebrating all the hard work our school employees have put in during this past school year with a Teacher Recess special deal for educators (and a friend).  
And make sure that if you do visit and snap a sweet pic of the LOVE letters, upload them here or post them to social media using the hashtags #FXVA, #SHAREWHATYOULOVE, and #LOVEVA.
 
General Information
LOVEwork Sign Dates: Tuesday-Monday, June 18-24, 2019
Times: Sunday–Wednesday, 11 am–7 pm; Thursday, 11 am–8 pm; Friday–Saturday, 11 am–10 pm
Location: The LOVE sign will be adjacent to the main parking area at the winery at 15950 Lee Highway (Rt. 29), Centreville, Virginia 20120
Cost: Free to visit. Wine, cider, and food available for purchase.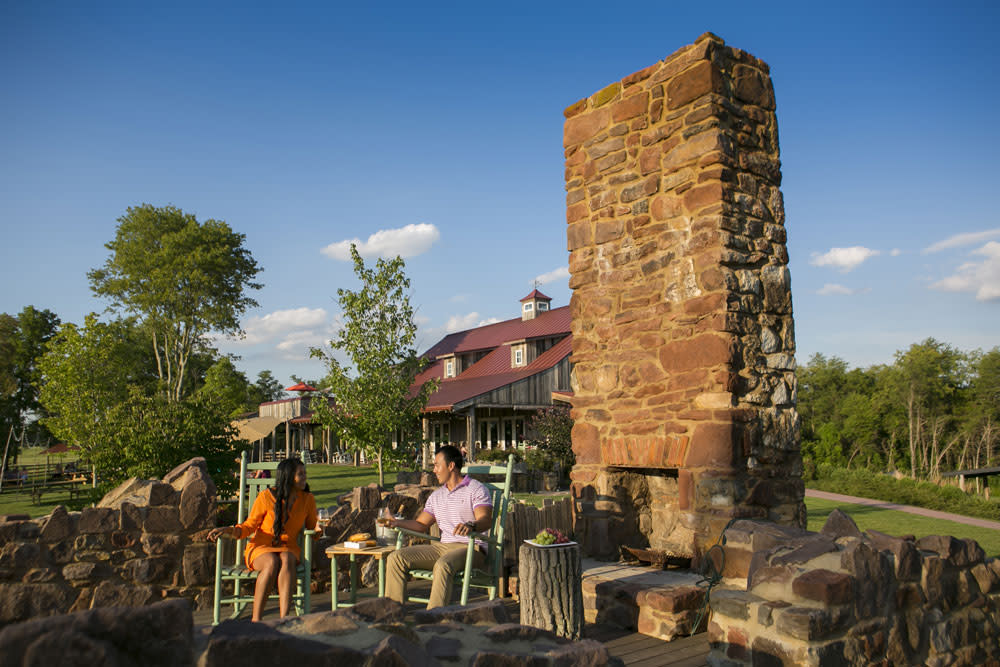 The Hillwood Ruins at The Winery at Bull Run
Things To Do At The Winery at Bull Run
Historical Tours & Tastings - The full tasting and walking tour normally takes about one hour and a souvenir glass and wine tasting of their current flight of Bull Run wines is included in this pricing. Walk the historic estate while tasting Virginia wines, and learn about the rich Civil War history behind these breathtaking, hallowed grounds. This is a group tasting combined with a guided historical tour of the property for $36.50 per guest. A tour without the tasting is also available for $26.50.
Wine Tastings - Walk-ins are welcome for wine tastings 7 days a week. No reservation is required for individuals or groups of up to 7 people. For just $15, you will taste a flight of Bull Run wines and receive a souvenir wine glass to keep! When you arrive, head to the main bar in the Tasting Room or the Outdoor Bar to get started!  View their selection of wines and decide which one you will try first!
Sip Your Wine In Different Places - There are several different places and spaces to explore and enjoy your wine by the glass, bottle, or flight.  Here are some of our favorites.

The Main Tasting Room - The charming Tasting Room is paneled in vintage barn wood and graced with hand-hewn beams. The stone bar with a copper counter is highlighted with a 20 ft. hand-painted mural by Virginia artist Tom Mullany, depicting the winery property circa 1862. Civil War relic displays are situated throughout the tasting room showcasing a collection of interesting historical artifacts found on the winery property and locally. 
The Hillwood Ruins - If you prefer an outdoor setting, the Hillwood Ruins features an expansive lawn that looks out onto the winery's Norton Vineyard. The stone patio was constructed from the stone ruins of the original Entwisle estate house built in the 1800s.
The Barrel Room - The rustic Barrel Room is home to oak barrel-aged red wines and stainless steel tanks. The entrance is at the rear of the building on the lower level; you can also access it from the stairwell in the Tasting Room. Attached to the Barrel Room is the outdoor crush pad where grapes are crushed in the early stages of the winemaking process. 
The Main Patio - Enjoy your wine year-round from the colorful rockers and cafe tables on the Main Patio. With views overlooking the vineyards, the expansive front porch is great for a relaxing outdoor experience. Cooling overhead fans are utilized in the warm weather, while retractable sidewalls and infrared outdoor patio gas heat are used during cold weather months. You will also find live music every Friday, Saturday, and Sunday on the Main Patio. 
The Vineyard - The Winery at Bull Run Vineyard has two vineyards on site, totaling over 8 acres of Norton vines. The Norton grape is the true American grape - born in Virginia, which is why they selected it!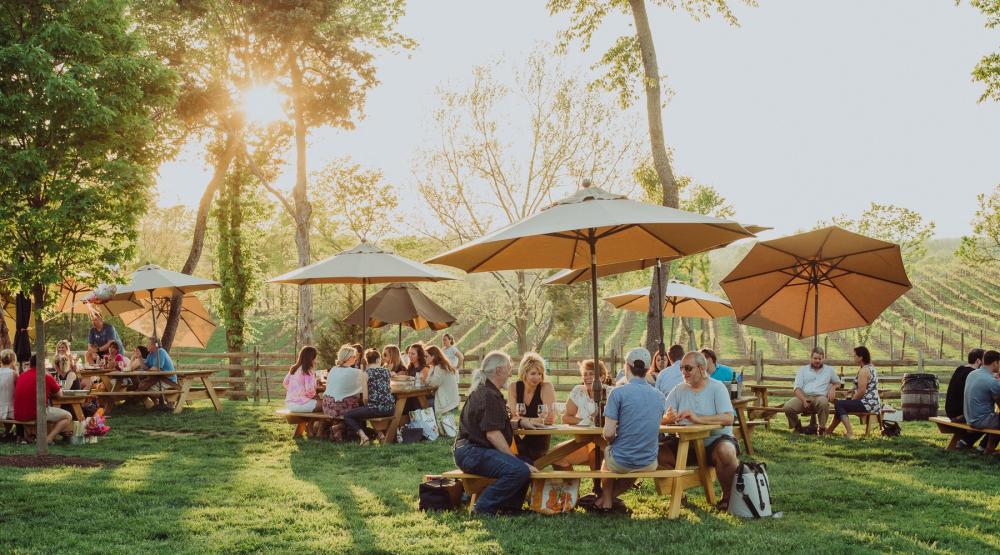 Wine on the lawn on a lovely summer afternoon
Plan Your Visit Around a Special Event - The Winery hosts different musical acts, promotional specials, and food trucks throughout the year.  Check their calendar to see what day you want to visit!
Where the LOVEwork Sign Goes From Here
Next up on the LOVEwork tour is Caboose Brewing Company's Caboose Commons at Mosaic District.  So if you can't make it to The Winery at Bull Run, we hope to see you at one of the following sites instead:
June 26 – July 1: Caboose Brewing Company's Caboose Commons at Mosaic District
July 3 – July 10: George Washington's Distillery & Gristmill
July 12 – July 24: Wolf Trap
July 26 – August 4: Frying Pan Farm Park
August 6 and beyond: Workhouse Arts Center
Fairfax County is great because of you, visitors and residents alike. Your support of our local community makes this all possible. Help us showcase our greatness:  We'll post our favorite images of you and your Instaworthy "LOVEwork" snaps on our official LOVE page, where you can also find the sign's summer-long tour dates and locations.
If you see our LOVEwork sign during its journey across the county, don't be shy, take a picture with it and upload your images here.