If you look at a map of all the local and regional trails in Fairfax County, it is quite possible that, wherever you are in the county, you're closer to a trail than a Starbucks. And that includes all those stealth Starbucks hiding out in Safeways and Targets and hotels.
There are trails in parks, as you would expect. Most are unpaved but clear and well-established. The trail at Burke Lake is waterfront the entire way. The paths at Huntley Meadows lead you past 200 species of birds and the trails at Great Falls Park offer gorge-ous views of the Potomac.
There are also trails that meander through communities—for example, much of Burke and Reston are basically just trails masquerading as neighborhoods. And then there's the fact that most trails lead to other trails…after a while, your head starts to spin!
But among the plethora of trails in Fairfax County, a few stand out. Perhaps they are beautifully paved. Or part of a much larger trail system. Or really long. Or perfect for walking, hiking, and cycling. Or maybe they are just a truly lovely experience you should have. Whatever the reason, all have a story to tell. Happy trails to you!
 
Potomac Heritage National Scenic Trail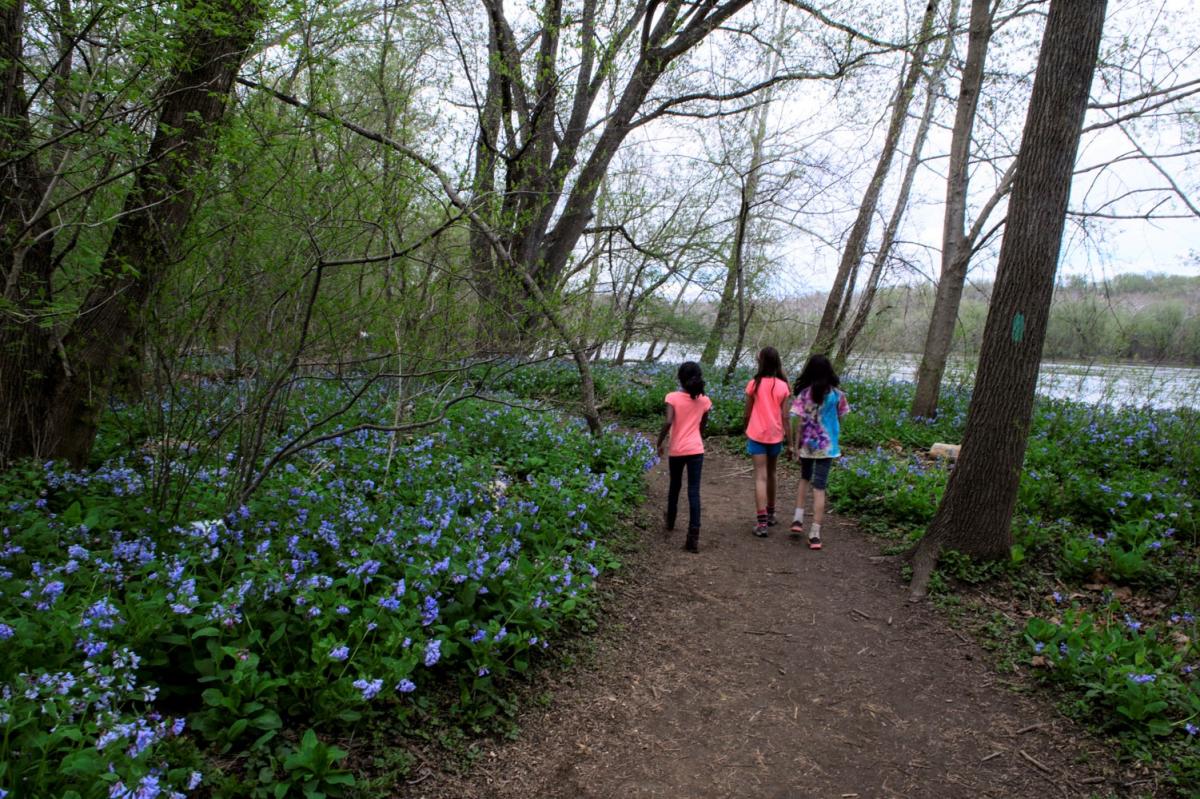 Image courtesy Fairfax County Park Authority
The National Park Service describes the Potomac Heritage National Scenic Trail as the "ultimate American Heritage experience," and Fairfax County is blessed to have a sizeable portion of it in our midst. True to its description, you'll find part of this trail snaking past Mount Vernon as the Mount Vernon Trail, rolling alongside the GW Parkway between Roosevelt Island and Scott's Run Nature Preserve, and winding through Great Falls and Riverbend Parks. Nearby, it winds through the Civil War defenses of Washington. In all, its fingers reach 710 miles through Virginia, DC, Maryland and Pennsylvania all the way from the Potomac River to the upper Youghiogheny river basin in Pittsburgh.
Washington & Old Dominion Trail (W&OD)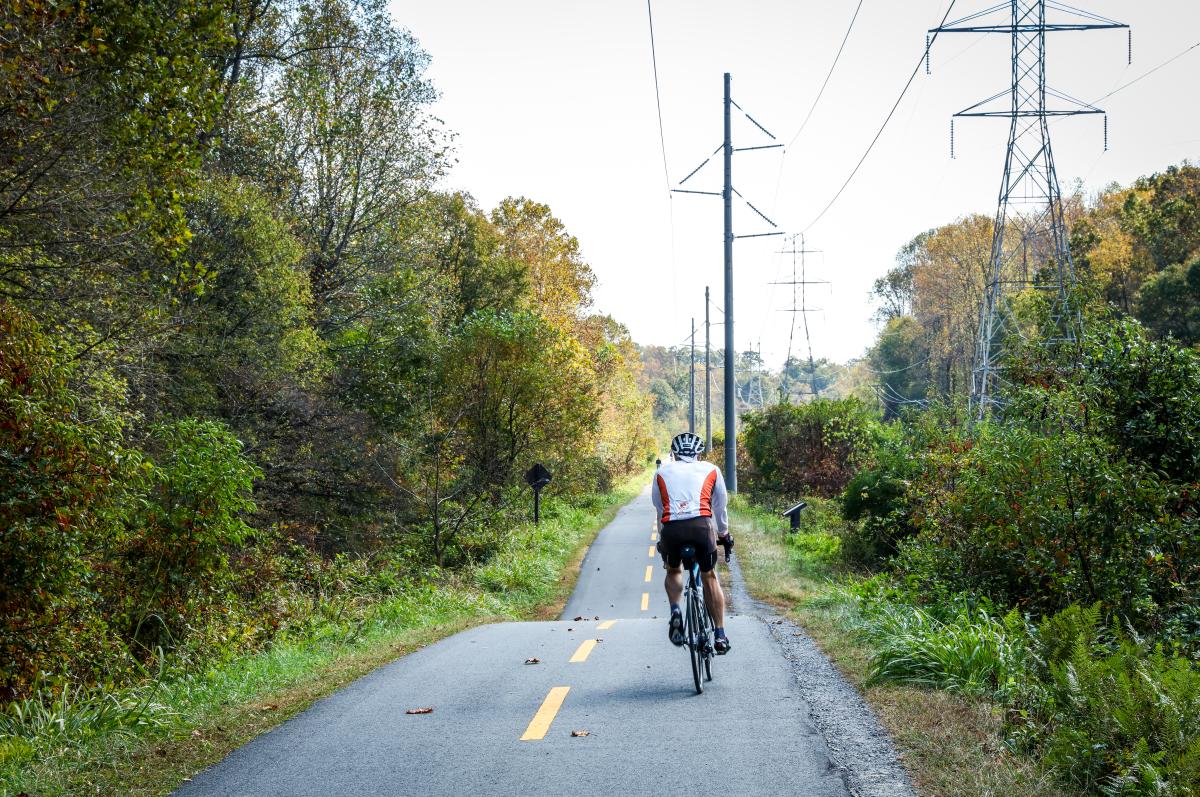 Image courtesy NOVA Parks
Known as "the skinniest park in Virginia," the Washington & Old Dominion Trail (W&OD) has transformed a historic railroad bed into one of the best paved and maintained trails in the region. The trail cuts across the northern half of the county, then goes beyond, up into the foothills. It winds through small towns, past restaurants and breweries, and by parks and other attractions. While the best stops along the trail are well documented, the 5-6 mile stretch between Vienna and Reston is popular. It offers the best of all worlds—a start in historic Vienna, then scenic trails that reach past Meadowlark Botanical Gardens and land you in the urban excitement of Reston. All along the trail's 45 miles in and around Fairfax County, you'll see historical markers that tell the story of the railroad.
Bull Run Occoquan Trail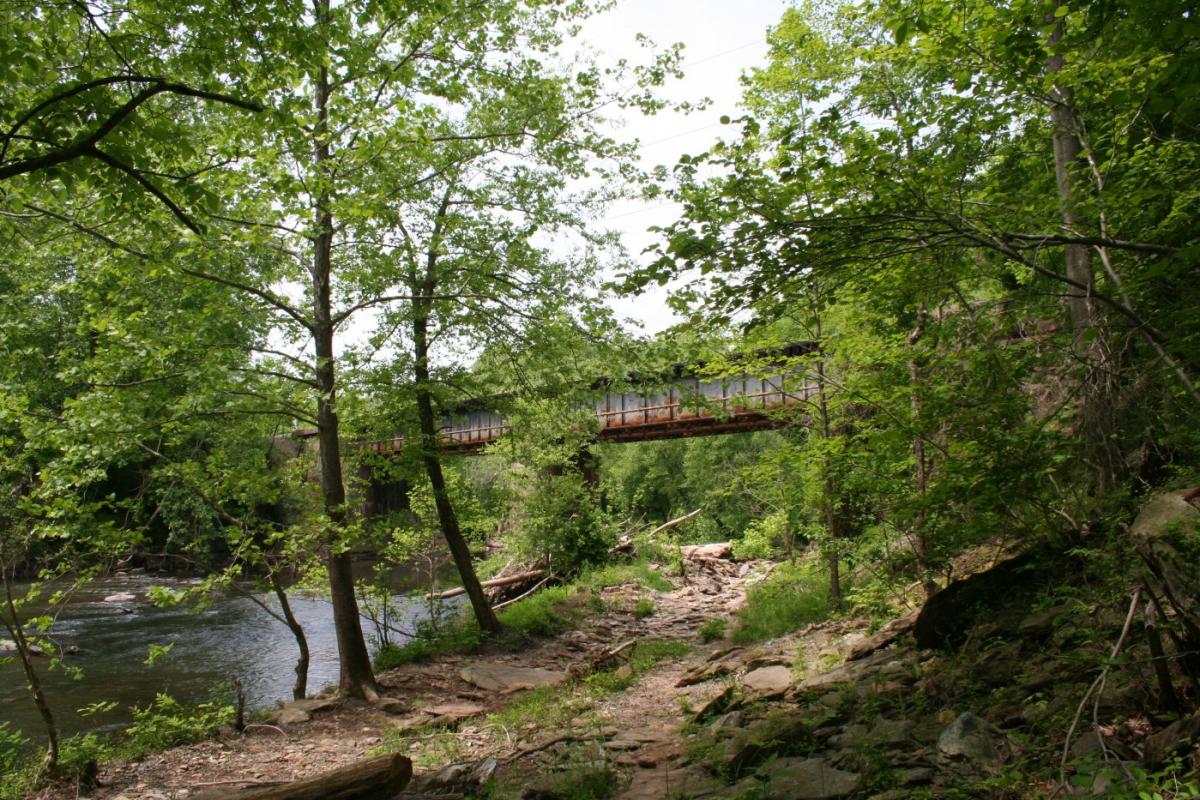 Whether you're a walker or on horseback, the well-paved, 18-mile Bull Run Occoquan Trail will lead you through more than 5,000 acres of scenic woodlands. It will also lead you through historic lands where battles were held, defenses were built, and our ancestors fought during the Revolutionary and Civil Wars. The trail begins at Bull Run Regional Park in the north and ends at Fountainhead Regional Park in the south.
Gerry Connolly Cross County Trail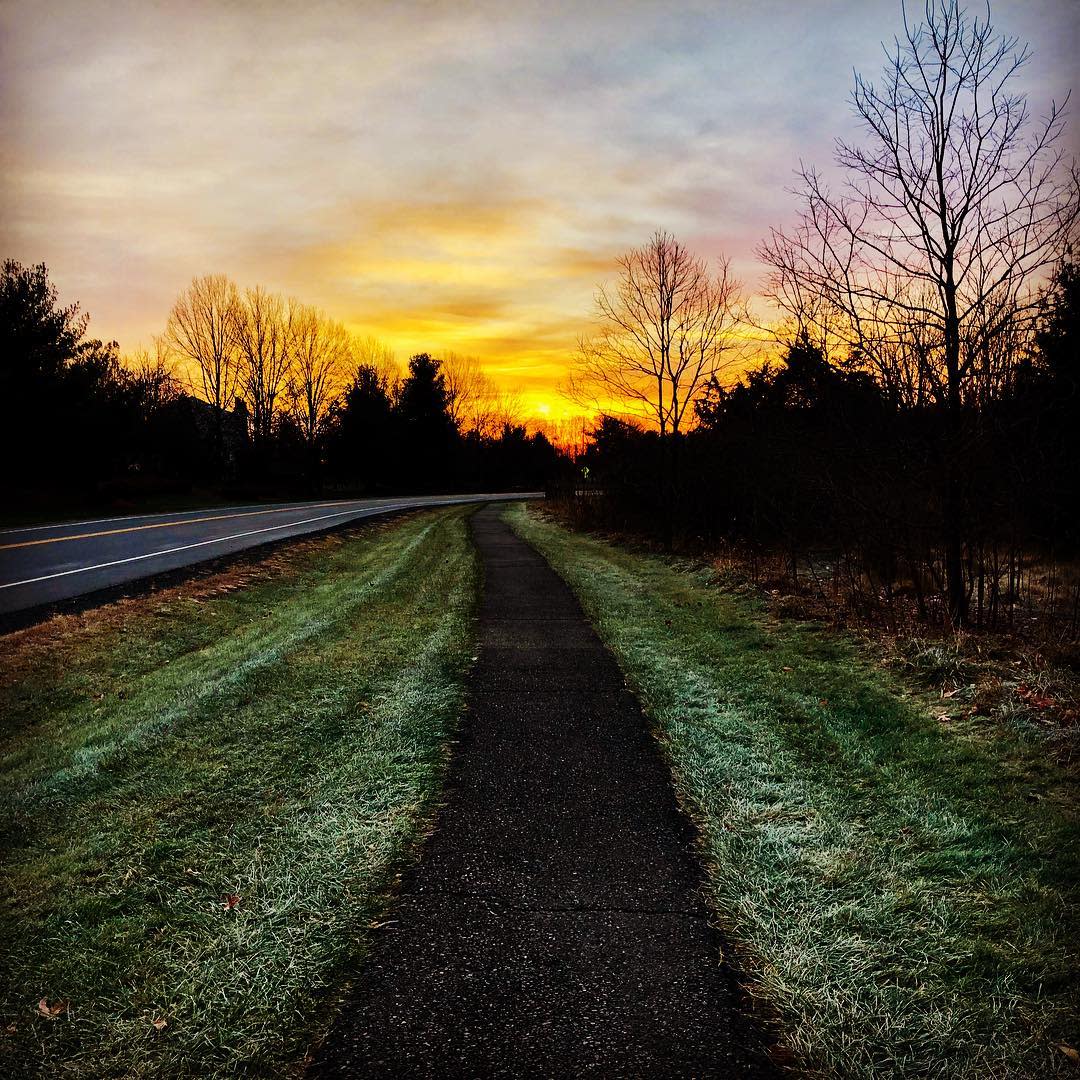 Image courtesy IG user @ponnapv
Named for a local politician who spearheaded the trail's creation, then went on to become a Congressman, the Gerry Connelly Cross County Trail reaches more than 40 miles through some of the county's most scenic areas. Beginning at Great Falls Park and extending south to the Occoquan River and the Workhouse Arts Center, it offers a cycling, jogging, and equestrian journey through the heart of Fairfax County. Springtime is especially beautiful as the surrounding woodland floor is carpeted with bluebells, trout lilies, cut-leaved toothwort, and harbinger-of-spring. If 40 miles is not enough, the Cross County Trail is also part of the East Coast Greenway, stretching from Maine to Key West!
Mount Vernon Trail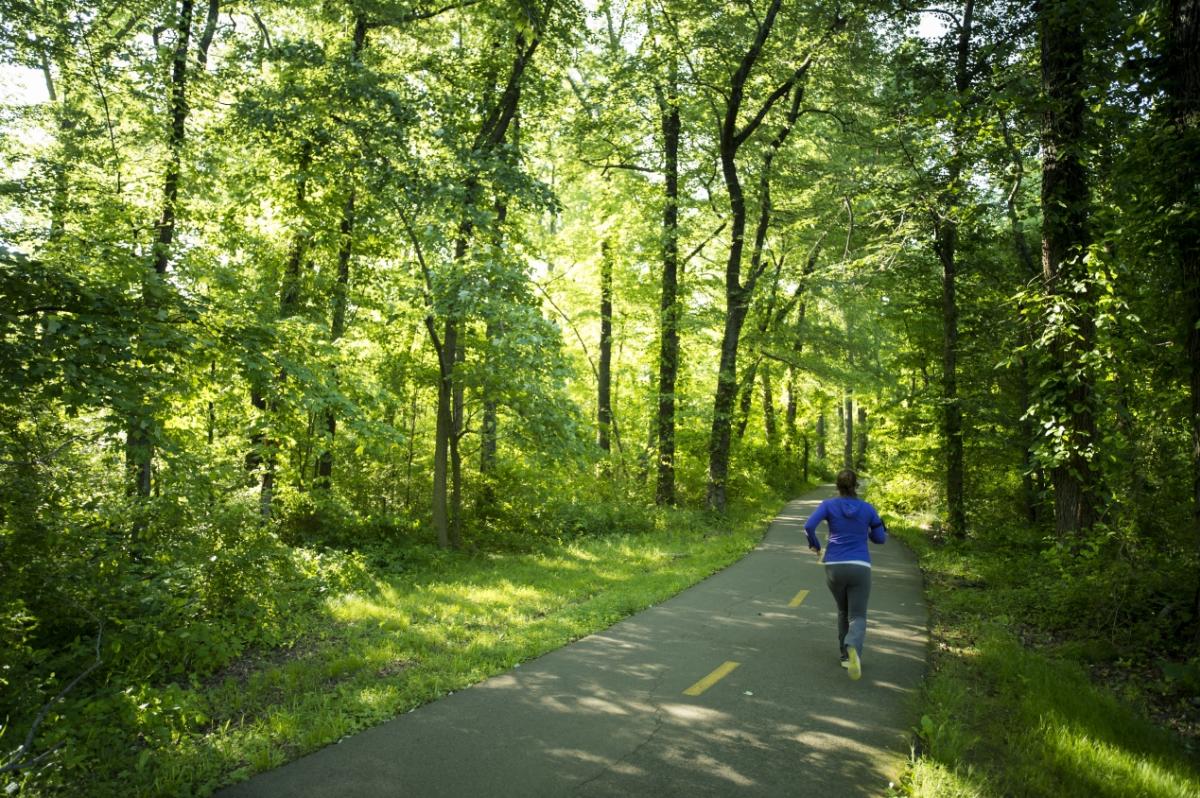 Image courtesy Virginia Tourism Corporation
Alongside the best drive in the Washington, DC area, you'll find the Mount Vernon Trail. Reaching from Roosevelt Island to Mount Vernon along the Potomac River, this beautifully paved path is extremely scenic with interesting stops along the way. See all the big sites in DC from across the river. Watch planes land so low at Reagan National Airport that you can almost touch them. Walk past cobblestone streets in Old Town Alexandria. And continue on all the way to George Washington's doorstep.
Lake Anne Walking Trail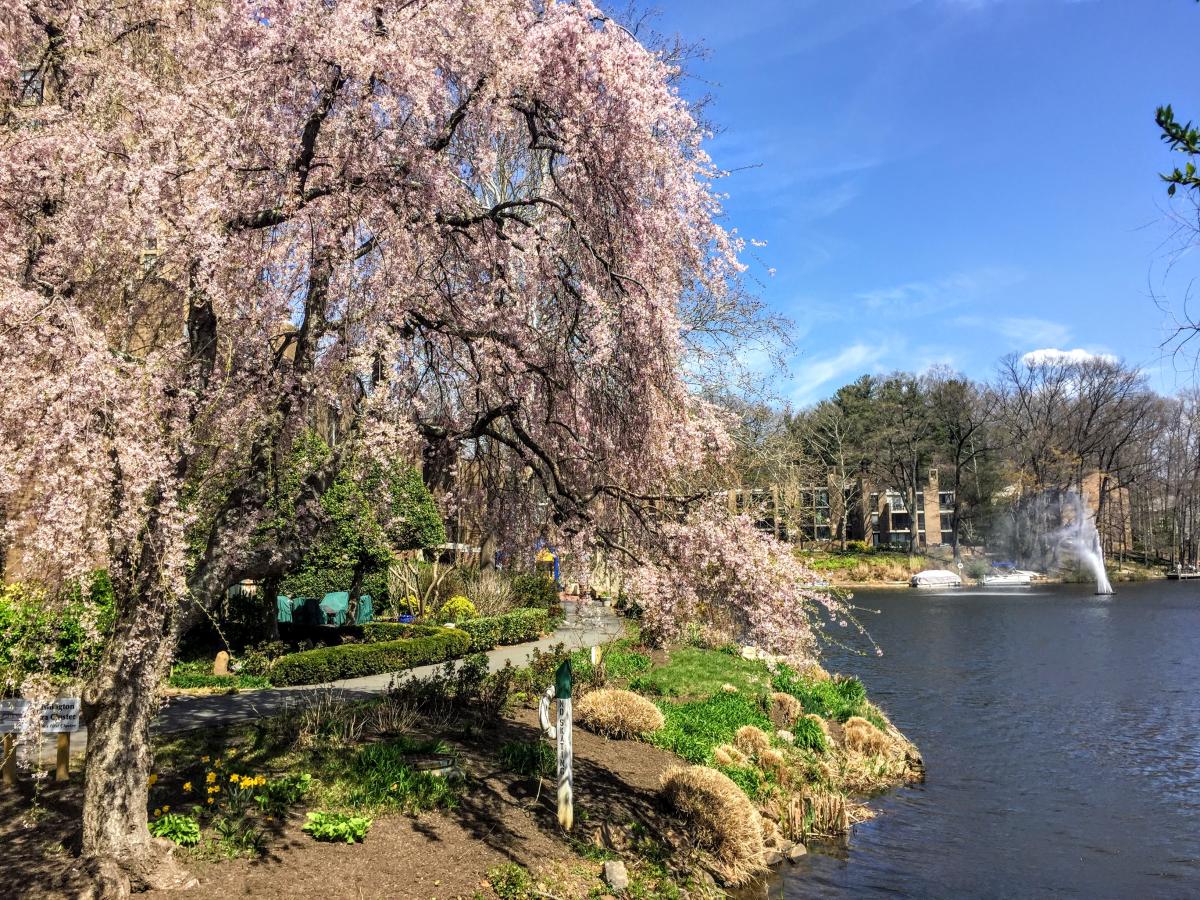 Reston was created nearly 60 years ago as a grand experiment in community planning and conservation development. Today it is one of the most vibrant and popular urban destinations in Northern Virginia. The Lake Anne Walking Trail leads you 1.5 miles around Lake Anne in the first section developed in Reston. Along the way, you'll encounter public art, scenic photo ops, interesting architecture, and a brewery; plus you can even snap a picture of yourself with a statue of Reston's founder, Robert Simon!

A trail by any other name is still a trail.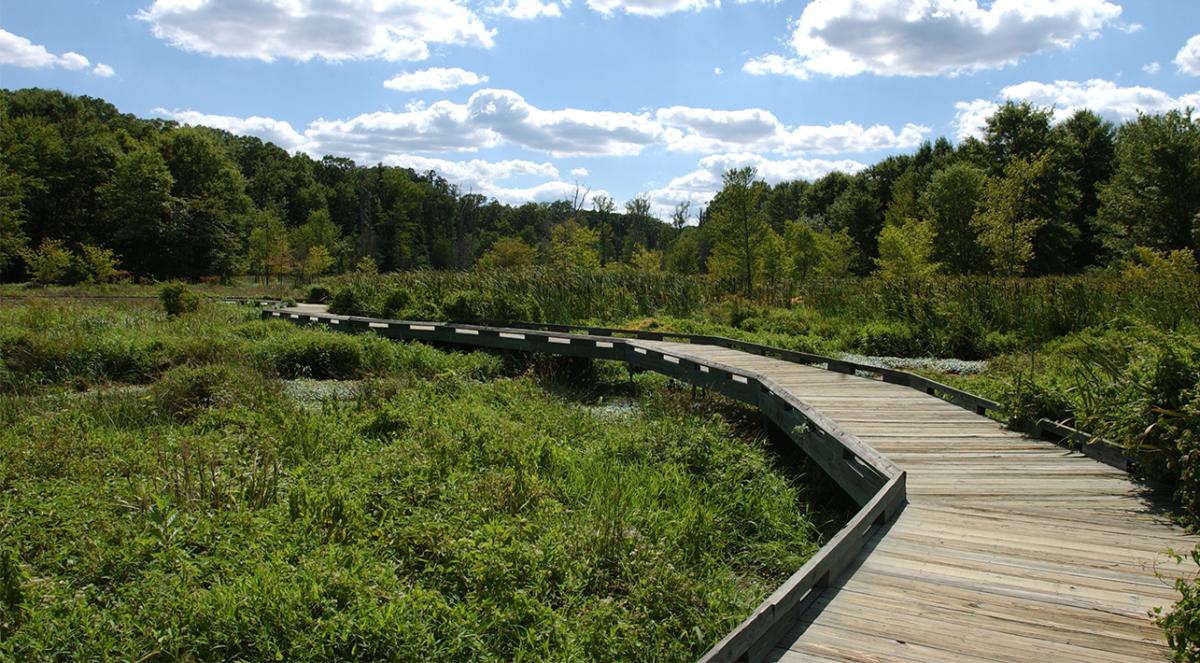 Image courtesy Fairfax County Park Authority
If you came to this article looking for other kinds of trails, you're in luck. Here are just a few alternative types of trails to try:
Nature Trails. Sure. All trails are in nature. But some trails are built for seeing wildlife, strolling along creeks, and experiencing the wonders of nature.
Wildflower Trails. The spectacle may only last a couple of weeks in spring, but Virginia's bluebells are second only to the cherry blossoms for creating a colorful natural display.
Off-road bike trails. While you can cycle on any of the paved paths listed above, sometimes you just need to hit the dirt and fly.
Horseback riding trails. You can't bring your horse just anywhere in Northern Virginia. It's not the wild west. But there are some really special places that welcome riding with open hooves.
Civil War Trails. More than 60% of Civil War battles were fought in Virginia, with much activity here in the Fairfax County area. Civil War Trails is a series of markers describing that activity.
Restaurant Trail. Save at popular local restaurants with this dining savings pass.
Trails near breweries and wineries. As long as you are working out, why not reward yourself with a sip of something good?

As you travel the many trails of Fairfax County, consider the story each has to tell as it winds through our terrain. They tell of our history, our communities, our natural treasures, and yes, even our food and drink. So set out on a path to fun. Pick a trail and discover Fairfax County!