Grab your pint glass and get ready to raise a toast to the women who are making waves in the beer industry! These women are breaking stereotypes and paving the way for more gender diversity in the brewing world. So, let's kick back, relax, and learn about the amazing women behind some of the best craft breweries in the area. Cheers to Women's History Month and the leading ladies of the Fairfax County beer scene!
Lake Anne Brew House - Melissa Romano, Co-Owner
Reston, VA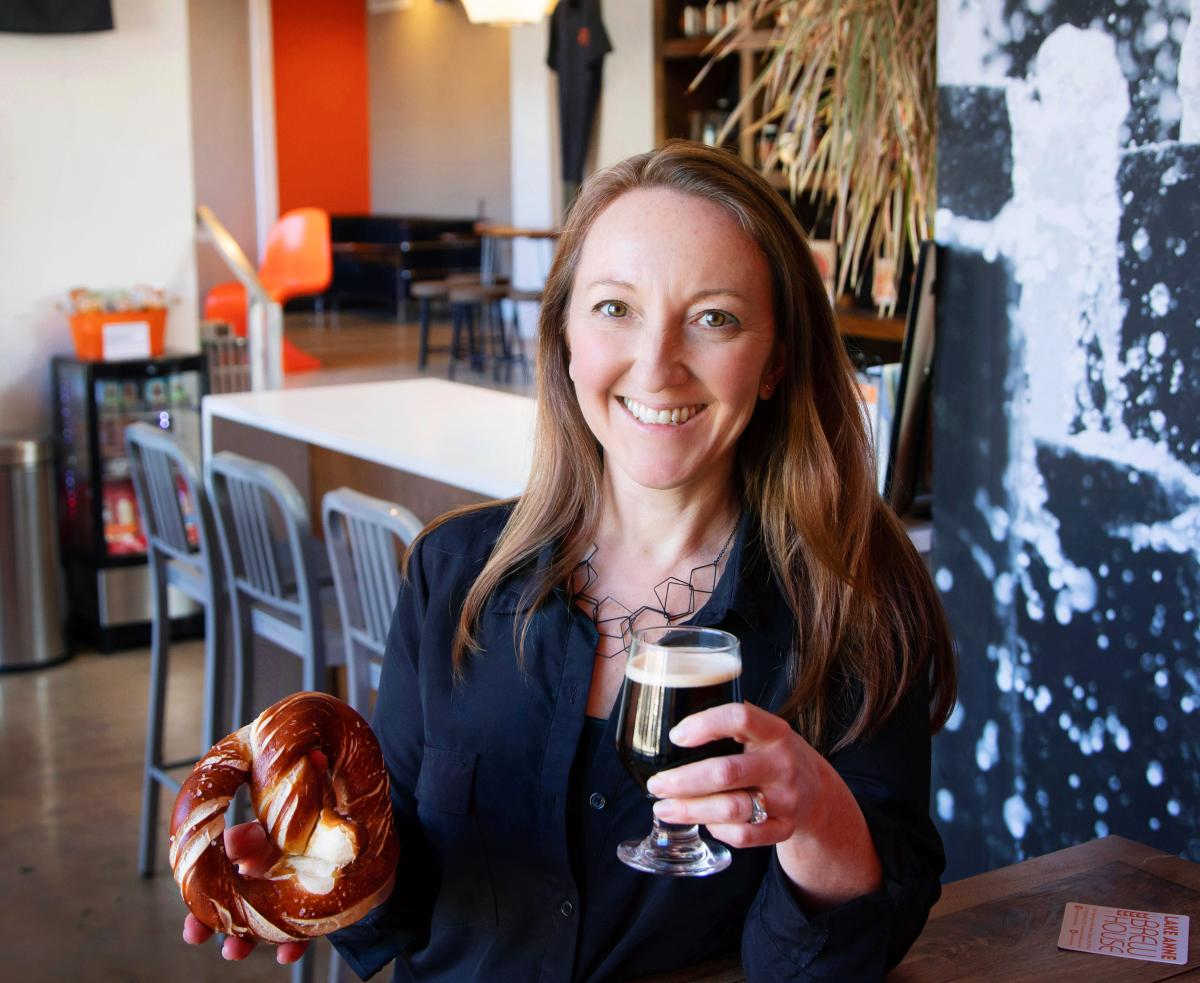 Melissa Romano is the co-owner and co-founder of Lake Anne Brew House, a small, award-winning taproom brewery in Reston, Virginia. Along with her husband Jason, they operate a two-barrel brew house to sell their extremely small-batch, hand-crafted beers directly to their customers from a lakefront nano-brewery and taproom in historic Lake Anne Village Center Plaza. A graduate of Cornell University College of Architecture, Melissa worked as a registered Architect in the commercial design and construction industry for more than a decade before retiring to open Lake Anne Brew House. In 2019, Melissa was elected as the first-ever Taprooms Director on the National Brewers Association Board of Directors. Recently re-elected, she is now entering her fourth year and second term in this seat, where she works hard to be a "big voice for the smallest breweries" in our country. Melissa is also co-owner and co-founder of Nordic-Knot, a craft pretzel bakery that supports her brewery, and has three children, who she considers her "greatest designs of all."
 
Q: How did you get involved in the craft brewing scene?
A: Melissa and her husband Jason had their first official date at a brewery (the former Bardo Rodeo in Arlington, VA) nearly 30 years ago, and have always been big supporters of the craft brewing industry and home brewing. When it came time to consider going "back to work" after a leave of absence to raise her three kids, Melissa and Jason made the bold decision to open their own small brewery in their Lake Anne, Reston neighborhood. "We had waited years and wondered why no one else had considered a brewery for Lake Anne... At some point, we got tired of waiting for someone else to do it, and decided to do it ourselves." The Lake Anne Brew House property was purchased in 2015, and the taproom opened the following year in 2016, fulfilling Jason and Melissa's dream to have an award-winning craft brewery within walking distance of their own home.
 
Q: What are you currently drinking?
A: "It's March and St. Patrick's season, so my pint glass is currently full of dry Irish stout on nitro, namely the Simon's Stout from Lake Anne Brew House.  We don't make green beer, we make GOOD beer at LABH, and we firmly believe that the true color of St. Patrick's Day is not green, it's black."

Ono Brewing Company - Cyndi Hoffman, Co-Owner
Chantilly, VA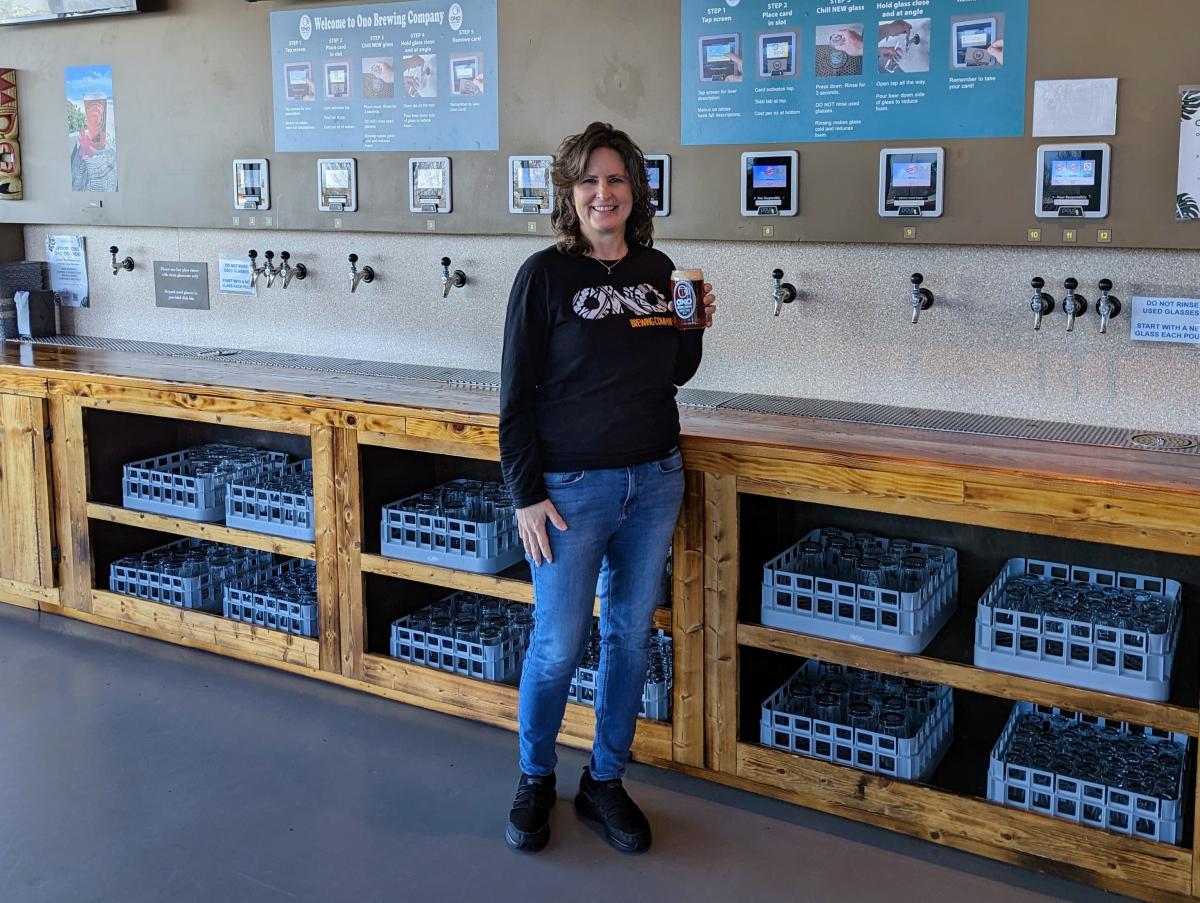 Ono Brewing Company is a craft brewery located in Chantilly, Virginia, that offers a unique Hawaiian-inspired experience through its beer selection and laid-back atmosphere. The taproom offers a variety of beer styles, from traditional IPAs to tropical fruit-infused ales, and a tiki-themed patio where visitors can enjoy the beer alongside food from local food trucks. 
Cyndi Hoffman has an incredible journey that has led her to become a co-owner of the successful Ono Brewing Company with her husband, Scott. Prior to this, she spent 18 years as a high school biology teacher, where she dedicated herself to shaping young minds. However, her experience alongside Scott's passion for home craft beer projects eventually led her to dive into the brewing industry. With 8 years of experience working in restaurants, Cyndi uses her skills and expertise to manage the front-of-house operations at Ono Brewing.
 
Q: How did you get involved in the craft brewing scene?
A: "I bought my husband (then boyfriend) his first beer brewing kit 27 years ago when we were still in college. I supported his beer hobby over the years, mostly by letting him stink up the house until eventually, he moved operations to our garage!  We would always host neighborhood parties serving his beer and one day he said, 'I think we should open a brewery' and I said, 'Let's do it!'"
 
Q: What are you currently drinking?
A: "Right now, I am really enjoying our new Irish Red Ale called Pele's Fury and our spring Maibock Lager called Talk Story!" 

Caboose Brewing Company - Jennifer McLaughlin, Co-Owner
Merrifield and Vienna, VA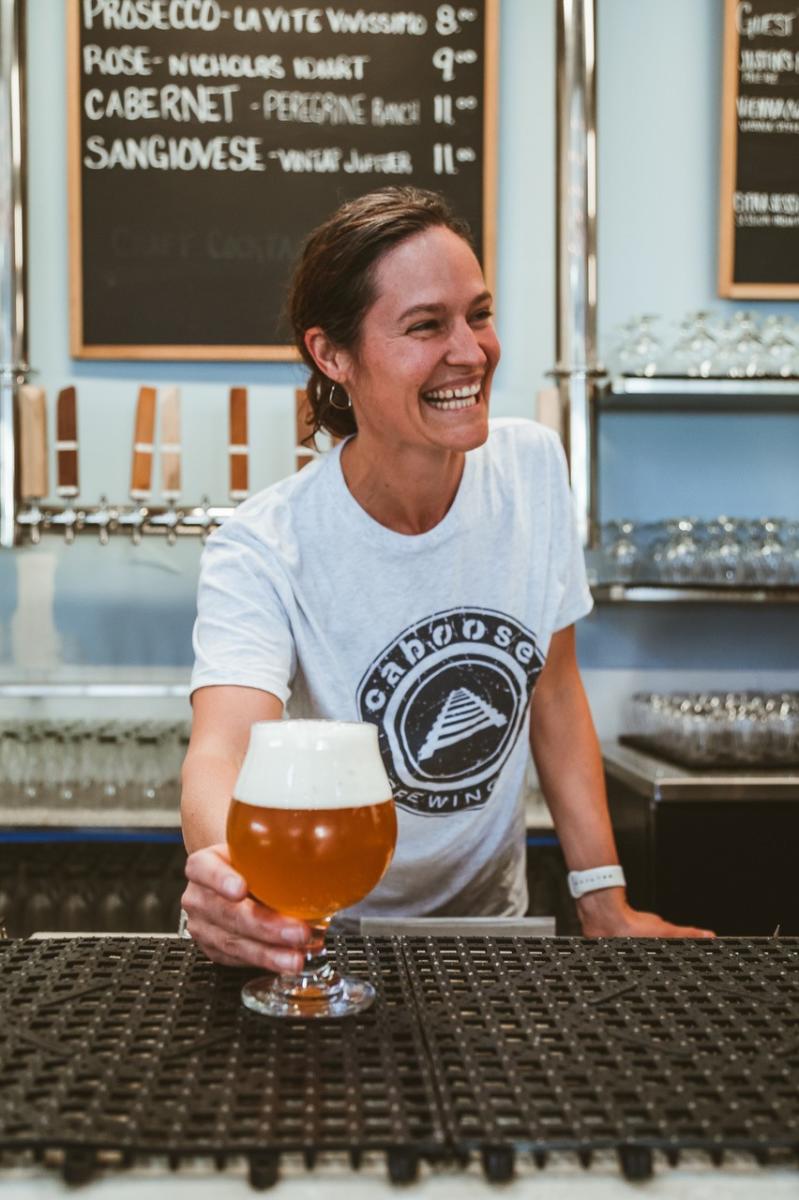 Caboose Commons in Merrifield and Caboose Tavern in Vienna are two locations of Caboose Brewing Company, a family-owned brewery based in Fairfax County. Caboose Tavern, the original location, features a cozy atmosphere with a rustic bar, outdoor patio, and wood-fired pizza, located directly off the W&OD Trail. Caboose Commons, on the other hand, is a larger space with an industrial-chic vibe and a focus on community events, conveniently located adjacent to Mosaic District. Both locations offer a variety of beers brewed on-site, as well as locally sourced farm-to-table food options.
Jennifer McLaughlin, the co-founder of Caboose Brewing Company, started the business in 2015 with her husband, Tim, and another family, the Greers. Despite having no prior experience in the restaurant industry, Jennifer and her husband, both engineers by degree, saw an opportunity to create a unique concept that combined great beer and farm-to-table food in a walkable location near their home. The first location, Caboose Tavern, was a hit, and they later opened Caboose Commons. Jennifer's background as a math teacher, nutritionist, and mom may seem far removed from the brewing industry, but her team's determination and passion for creating a community gathering place with great beer and food have made Caboose Brewing Company a success.
 
Q: How did you get involved in the craft brewing scene?
A: "My husband and I love good beer and good food and had a dream of being able to walk to a craft brewery from home. When we had the opportunity to build our own on the W&OD trail, we jumped on it and built Caboose Tavern, our home away from home, which opened in 2015."
 
Q: What are you currently drinking?
A: "I am currently enjoying Surfliner, our West Coast IPA. A delicious balance of pine and tropical fruit flavors… I just love it."

Bike Lane Brewing - Anne Mader, Co-Owner
Reston, VA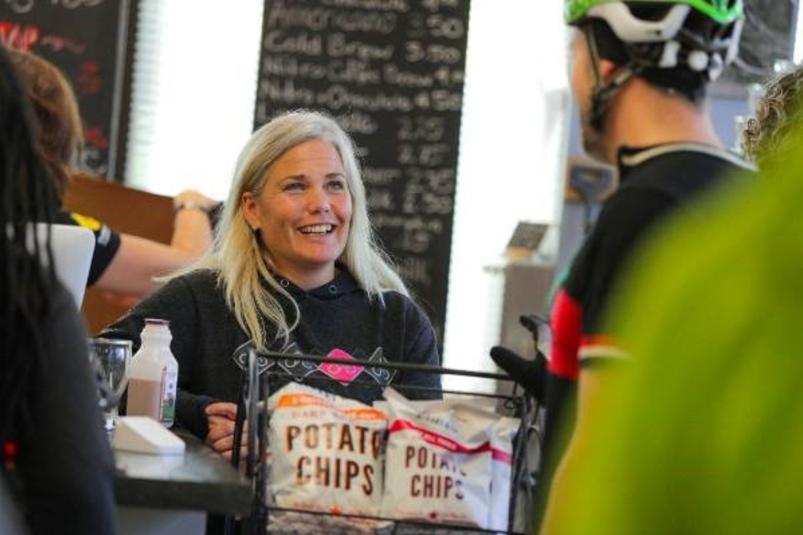 Bike Lane Brewing is a brewery located in Reston, Virginia that was founded by a team of passionate cyclists who also own The Bike Lane Bicycle Shop. As a result, the brewery has a strong connection to the cycling community and often hosts events and rides for bike enthusiasts. The brewery specializes in brewing beers that are perfect for post-ride enjoyment, and its taproom is a popular gathering spot for both cyclists and beer lovers alike.
Anne Mader is a co-owner of The Bike Lane Bicycle Shop and Bike Lane Brewing in Reston, VA, as well as a beer enthusiast and cyclist. The Bike Lane, which was founded 23 years ago, has gone through a few relocations before settling in Reston, just off the W&OD Trail and across from the Wiehle Metro Station. Growing up in Reston, Anne discovered her love for cycling after college, which eventually led her to bring together her passions for riding and beer into a thriving business. 


Q: How did you get involved in the craft brewing scene?
A: "[In addition to biking,] I also love beer and my business partner was an avid home brewer so when we had the opportunity to incorporate a brewery into the bike shop, it was an easy decision. Bikes and beer go really well together!  The bike shop has always been a draw for the cycling community and the brewery adds to this - plus brings in beer enthusiasts. We hired an amazing brewer who is passionate about craft brewing and creating high-quality, small-batch beers. Since our brewery is small, we can be creative and try new things. This past year, we started doing small distribution and canning runs of our most popular beers. It's been a lot of fun growing our business and creating beers the community loves. "
 
Q: What are you currently drinking?
A: "My favorite beer is our Hellwig NEIPA. It is one of our most popular beers and is a double dry-hopped New England-style IPA with Citra and Mosaic hops. We always have it on tap and have it cans when we haven't run out." 
As we raise a glass to these amazing women, we celebrate the creativity and talent that they bring to the world of beer in Fairfax County! Be sure to head to their breweries to try the beers they're currently loving for yourself, and tag us in your adventures using #FXVA and @VisitFairfax on social media. Cheers!