50 Years of Love. If tourism had a birthday week, National Travel & Tourism Week would be it. For Fairfax County, this year is the big cheese of all past travel and tourism weeks. 2019 marks the 50th anniversary of the iconic "Virginia is for Lovers" tourism slogan and in celebration of this golden anniversary, Visit Fairfax has partnered with the Fairfax County tourism community to welcome its first-ever permanent "LOVEwork" sign to the destination in a way that honors the spirit of travel.
Summer Tour. Throughout the summer of 2019, the mobile "LOVEwork" sign will travel around Fairfax County to various attractions, representing the eclectic visitor experiences within the destination, before finding a permanent home at the Workhouse Arts Center in Lorton. The letters will be creatively "bedazzled" by several of the artists-in-residence at the Workhouse, making the new Fairfax County "LOVEwork" sign a unique piece of art that visitors will enjoy for years to come.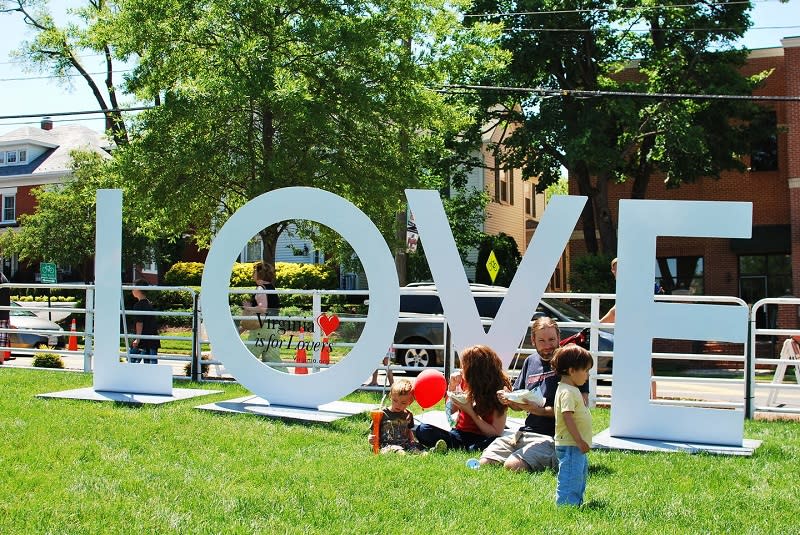 Image courtesy Herndon Parks and Recreation Department 
Be on the lookout. This is the first in a series of blog posts that will highlight each tour stop. Each blog post will highlight the temporary home (whether an event, attraction or venue) of the "LOVEwork" sign.
First Stop. The iconic Virginia LOVE letters will make their debut on May 9 at The Plaza at Tysons Corner Center during National Travel and Tourism Week, a time to celebrate the impact of tourism and the benefits of travel. The sign will be in place at Tysons through May 19.
Finding the "LOVEwork" sign. From May through August, visitors and residents can see and take photos with the LOVE letters at the following locations:
May 9 – May 19: The Plaza at Tysons Corner Center
May 21 – May 27: Roer's Zoofari
May 29 – June 4: Reston Town Center
June 6 – 9: Celebrate Fairfax! Festival, Fairfax County Government Center
June 11 – 16: George Mason's Gunston Hall
June 18 – June 24: The Winery at Bull Run
June 26 – July 1: Caboose Brewing Company's Caboose Commons at Mosaic District
July 3 – July 10: George Washington's Distillery & Gristmill
July 12 – July 24: Wolf Trap
July 26 – August 4: Frying Pan Farm Park
August 6 and beyond: Workhouse Arts Center
Fairfax County is great because of you, visitors and residents alike. Your support of our local community makes this all possible. Help us showcase our greatness: Snap a picture with our LOVE letters at one of the above locations and post them to social media using the hashtags #FXVA, #SHAREWHATYOULOVE or #LOVEVA. We'll post our favorite images of you and your Instaworthy "LOVEwork" snaps on our official LOVE page, where you can also find the sign's summer-long tour dates and locations.
If you see our LOVEwork sign during its journey across the county, don't be shy, take a picture with it and upload your images here.
See you there!!