Nestled between Washington, DC and the rolling hills of Great Falls, Tysons is ready for its close-up. Long known as a regional shopping destination and corporate home to heavy hitters like Booz Allen Hamilton, Hilton Worldwide, and Capital One, Tysons continues to grow at breakneck speed and is fulfilling its promise in becoming "America's Next Great City." With four stops on the Metro, upscale dining, innovative new entertainment venues, luxurious hotels, and some of the tallest skyscrapers in the region, it's the quintessential modern urban destination.
Shall we spend a day in the city?

A city serious about its shopping.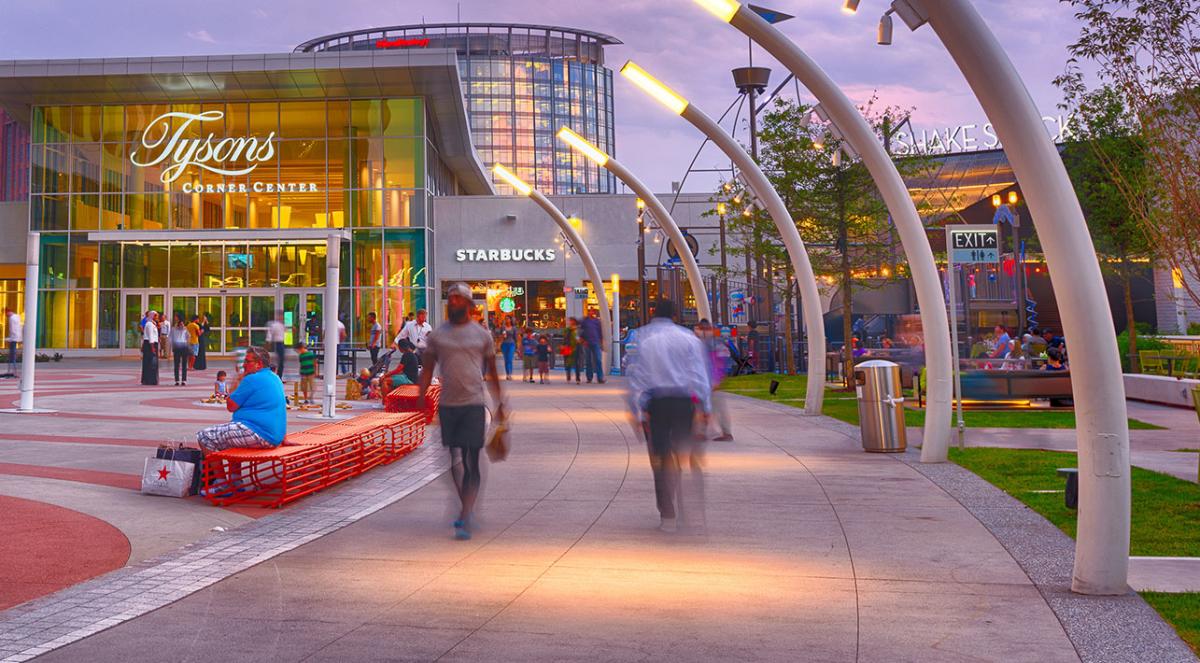 Image courtesy Tysons Corner Center

As every shopper knows, there's a difference between shopping and serious shopping. Ever since I was a little girl, Tysons Corner Center is where the entire region would go to do serious shopping. Today, people travel from all over the world to shop here – after all, it is one of the largest malls in the United States.

Stores in Tysons Corner
Anchored by Bloomingdales, Nordstrom, and Macy's, Tysons Corner Center is home to over 300 shops and services, including Lacoste, SPANX, Psycho Bunny, an Apple Store (the very first in the U.S.!), a rare American Girl store, and even a selfie museum. Located on Rt. 7 and Rt. 123, the mall's outdoor plaza is a great gathering space for events, dining, people-watching, and even overnight stays.

But wait, there's more. Just across Rt. 123 is another large mall anchored by Neiman Marcus and Saks Fifth Avenue—Tysons Galleria (often referred to as Tysons II). With 100 more upscale stores and one of the Top 50 hotels in the U.S., the Galleria is a vacation unto itself for those who value high-end designer brands like Burberry, Gucci, Prada, and Lily Pulitzer. The Spa at The Ritz-Carlton, Tysons even offers an 80-minute Mall Recovery massage to keep you primed for days of shopping. (Plus, keep an eye on the Galleria's exciting new entertainment options, like Bowlero).

We would be remiss if we didn't mention jewels and other extravagances. You'll find Tiffany & Co., Liljenquist & Beckstead, Roche Bobois, and more across Rt. 7 from Tysons Corner Center at The Shops at Fairfax Square. And with that, you see why Tysons is a legend in shopping—hundreds of stores ranging from H&M to Tiffany, all walkably convenient to each other (though most people drive.)

Great events, attractions, and other adventures.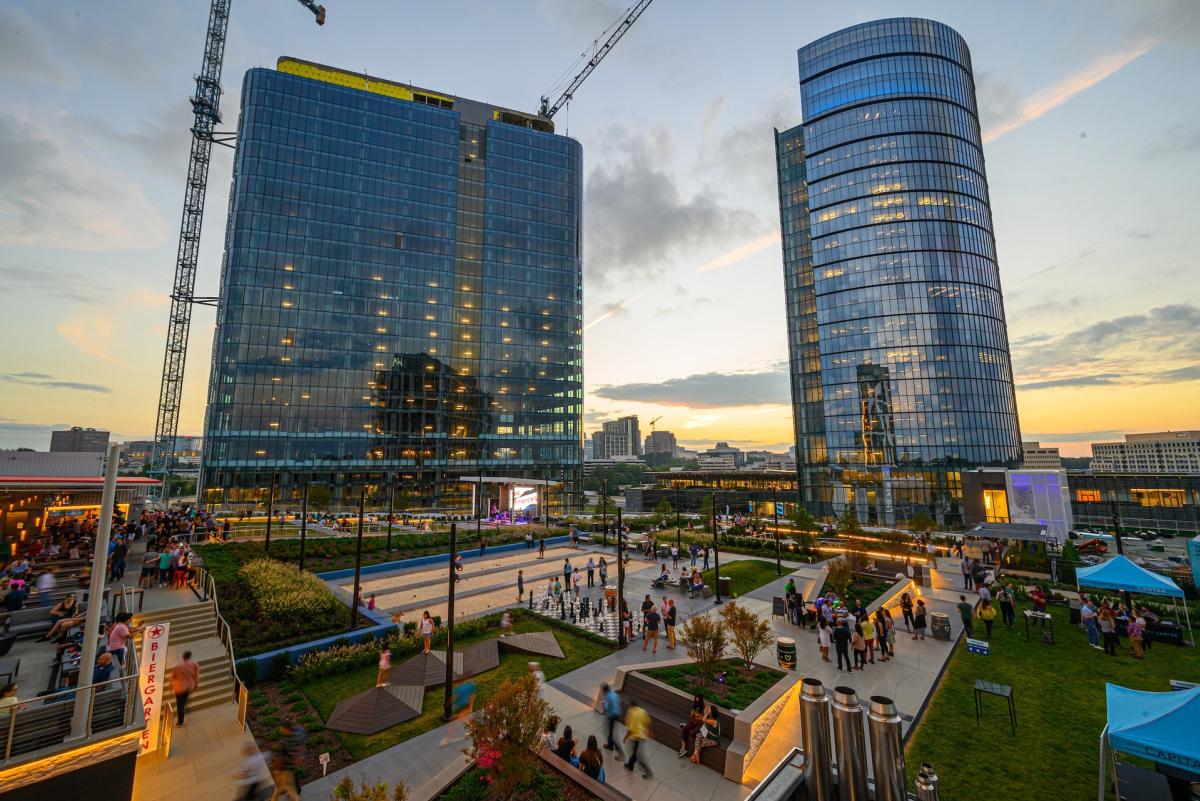 Image courtesy Capital One Center

The most recent additions to the Tysons area have really ratcheted up the excitement and appeal of the city, some in unexpected and Instagram-able ways. The Boro is a growing live/work/play development featuring the largest mural in the D.C. region, tons of events and cultural programming, restaurants, one of the largest Whole Foods in America, and a Showplace ICON Cinema (heated seats, cocktail menus, and gourmet popcorn, oh my!).

But let's say you want to see a Broadway show or a big concert. For that, you'll visit the soaring new Capital One Center (at the foot of the McLean Metro station). On this sprawling campus, you'll find Capital One Hall, which held its grand opening with shows by Josh Groban and Little Big Town and already has an impressive lineup of performances on its calendar. Eleven stories above the theater, on its rooftop, in fact, is The Perch, a 1.2-acre "park-in-the-sky," which is anchored by Starr Hill Biergarten and also features a sculpture garden, amphitheater, oversized games, and an 18-hole miniature golf course and pop-up food truck experience. For an upscale dining experience adjoining The Perch, dip into The Watermark Hotel's Japanese American fusion restaurant, Wren Tysons.

Adding to the cultural appeal of Tysons is 1st Stage, a not-for-profit, Helen Hayes Award-winning theater featuring plays, musicals, and intimate performances. Then there's The PARC at Tysons, a new outdoor space for live music and other events that stands for People, Arts, Recreation, and Community. And, just a short Uber ride away in neighboring Vienna, you'll find the legendary Wolf Trap, the country's only National Park dedicated to the performing arts.

Incredible choices for dining and nightlife.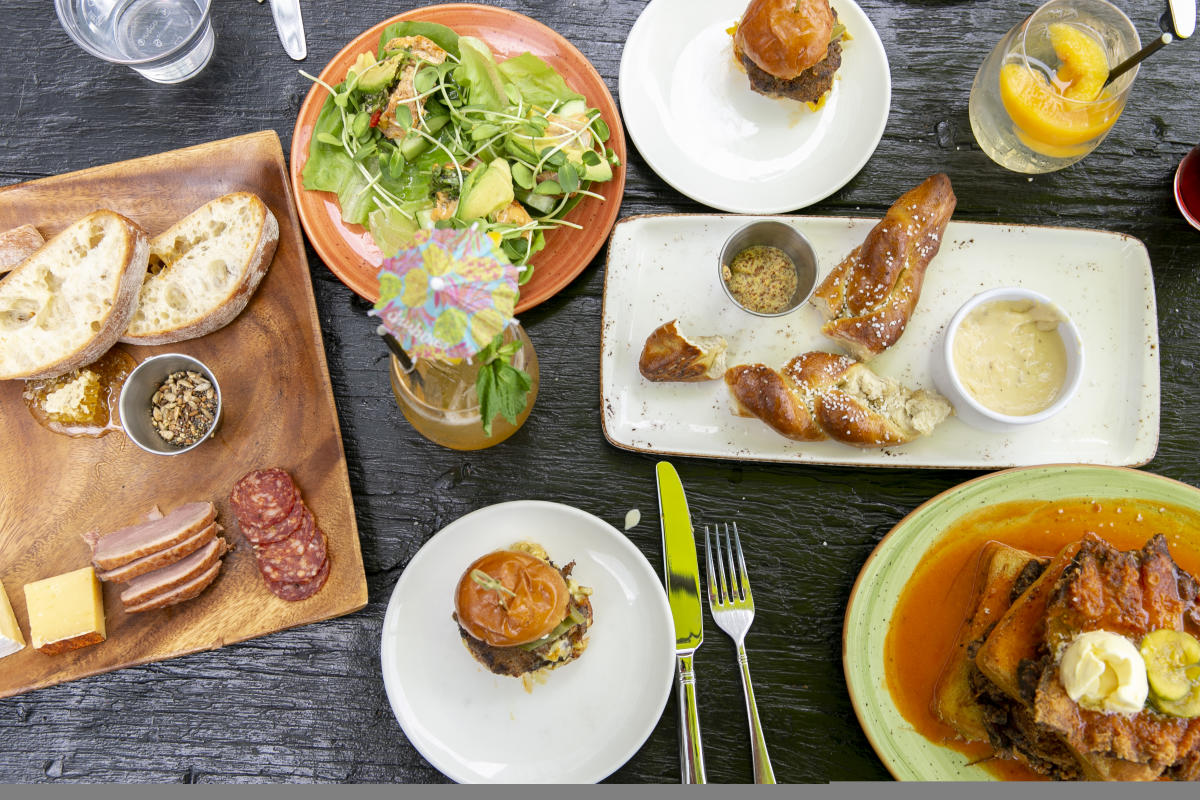 The Tysons restaurant scene was built to support high-end shoppers and corporate expense accounts, but these days you'll find just about every type of dining you could wish for – and you know the food has GOT to be good.

From the tony The Palm steakhouse to the trendy, good-for-you Founding Farmers to the Mediterranean-inspired Agora, Tysons is home to some of the most desirable foodie trends in existence. Go full-on carnivore at Fogo de Chao Brazilian Steakhouse or Fleming's Prime Steak House.

Inside Tysons Corner Center mall, you can fuel your shopping trip at Barrel & Bushel, Eddie V's, Earls Kitchen + Bar, or more than 50 other eateries in the mall (we told you it was big!). Sample popular DC-region eateries at the Urbanspace food hall in Tysons Galleria. Or dive into the region's most beloved restaurant chain (Great American Restaurants) at Patsy's American, Randy's Prime Steak House, and Best Buns.

For fun beers and a varied food experience, check out the new Biergarten in Tysons built entirely out of giant shipping containers, featuring different dining and beer concepts and aptly named the Shipgarten.

Great places to stay on your trip to the region.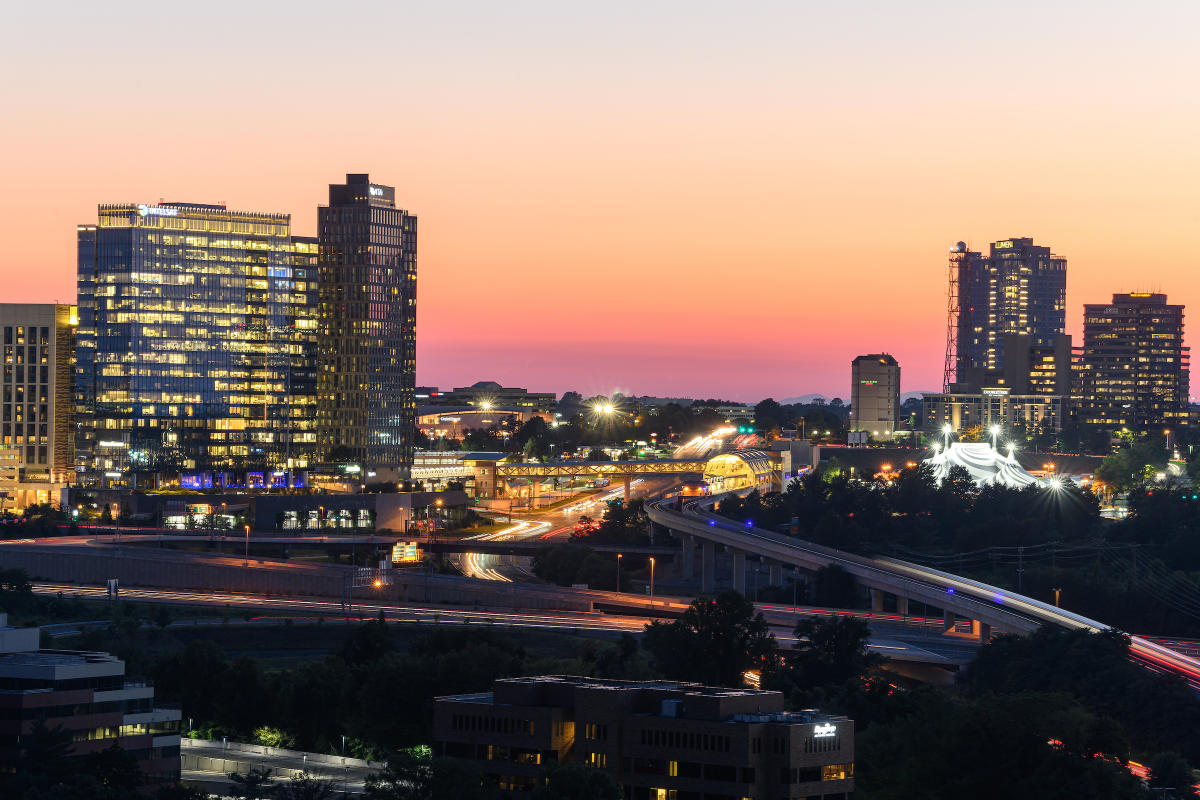 Image (and header image) courtesy Fairfax County Economic Development Authority

Want to explore Washington, DC and the historic attractions in the metropolitan area? Stay in Tysons. With its convenient Metro stations, you can zip out to Reston, explore Arlington and venture downtown effortlessly, all while staying in a sophisticated urban center with shopping as you've never seen before! Because Tysons is a renowned business center, you'll find plenty of hotels like the Hilton McLean Tysons Corner, the Courtyard/DoubleTree complex, the Hyatt Regency Tysons Corner Center, and more. Plus, two of the city's newest places to stay include The Watermark Hotel and the Archer Hotel Tysons.

Tysons has transformed a lot over the years. It began as a peach grove and corner produce stand operated by William Tyson in the 1850s and kept its rural charm until the early 1960s. As Americans moved into newly constructed suburbs, businesses followed suit, the massive Tysons Corner Center was built and corporations followed, making it a regional shopping and business destination.

Today, with residential, cultural, healthcare, consumer services, and all those Metro stations, it has become a city of its own right, a hub for everything modern, spectacular, and yummy, and a true downtown center to Fairfax County's sprawling landscape. If you like being in the middle of the action, Tysons is the place to be.